SATURDAY SIX – 6 Reasons We Love Universal's MARVEL SUPERHERO ISLAND
This week's SATURDAY SIX takes a look at Marvel Superhero Island at Universal Orlando's Islands of Adventure! Like many of you, I'm currently suffering from Avengers: Endgame fever. We've done several SAT 6's on the Marvel Cinematic Universe – including several references to the Disney theme parks – but today we're going to look at Marvel superheroes inside the Universal Orlando Resort.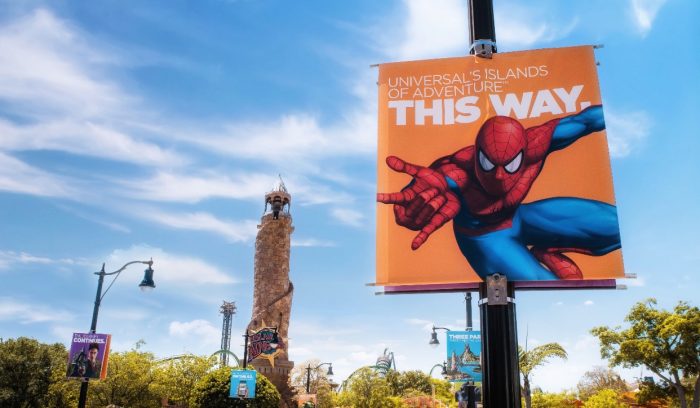 # 6 – The Backstory
Placemaking is an important part for any theme park. When done correctly, nothing in a theme park is just "there." It's there for a reason. There are often elaborate backstories made up for even the smallest feature in a park. There are even times when it is just about impossible to see the big picture from ground level, such as during the early years of DHS when there was a giant Hidden Mickey that could only been seen from the sky. Islands of Adventure has their own detail that is best seen from the air, and it happens to also be the backstory for Marvel Super Hero Island.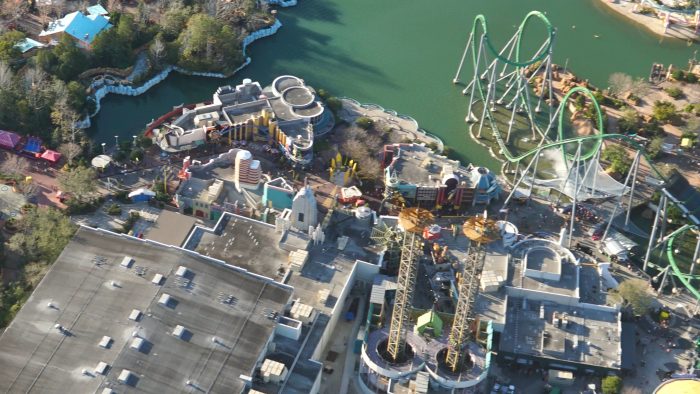 For story purposes, Marvel Superhero Island was created when a meteor hit the land. Where the meteor hit can be identified on the ground with artwork showcasing many Marvel superheroes and villains.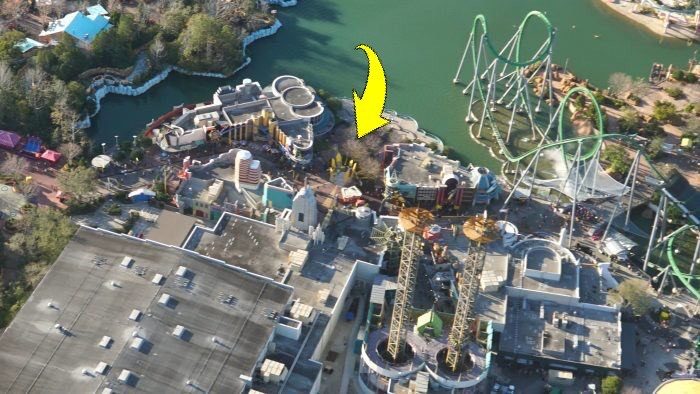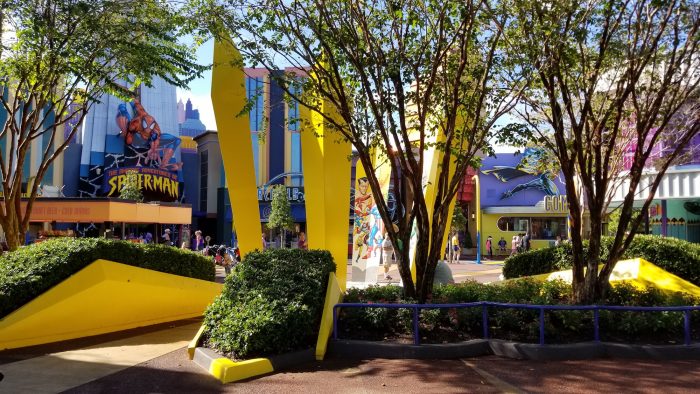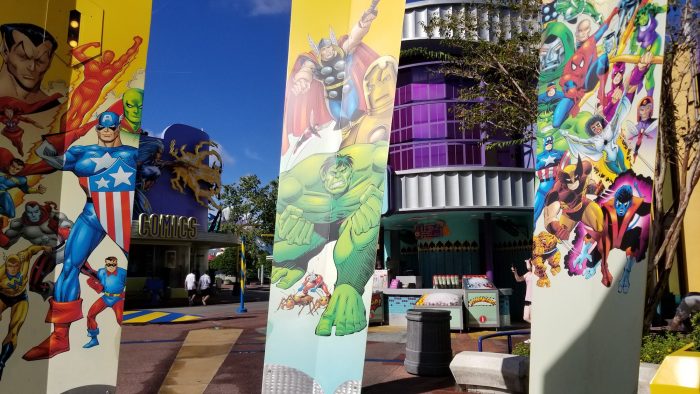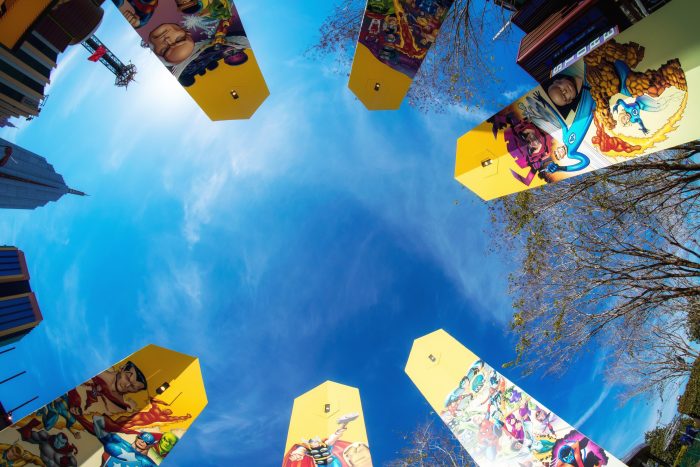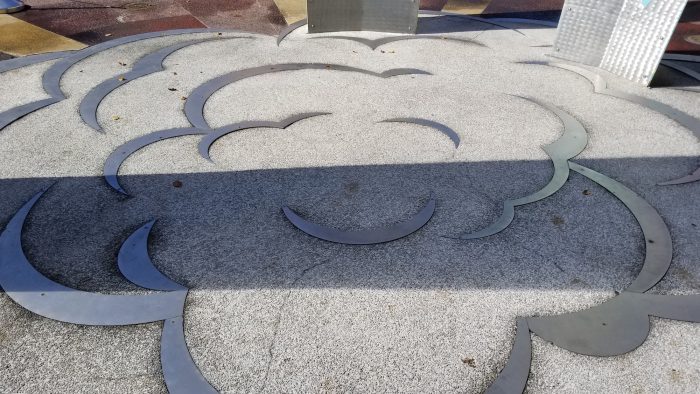 The meteor explosion created a "smoke cloud," which explains why everything leading away from the "explosion" is represented as how a comic book artist would draw it. This includes the edge of Marvel Super Hero Island facing the lagoon.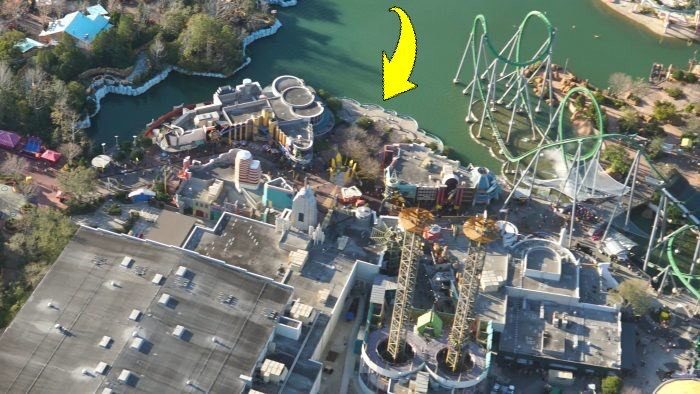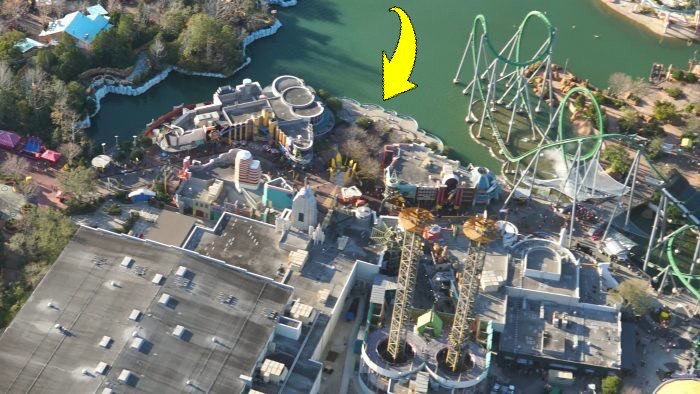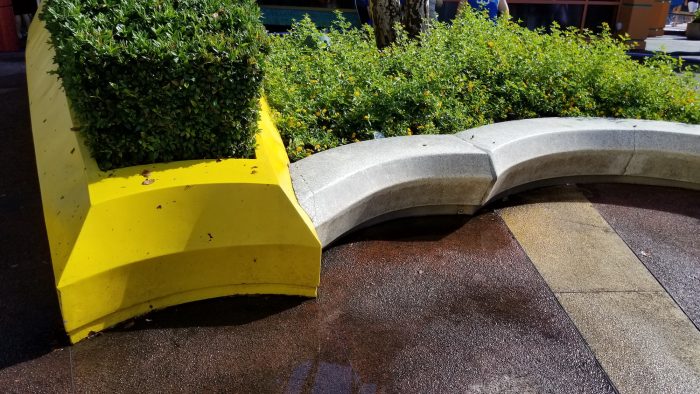 # 5 – The Meet and Greets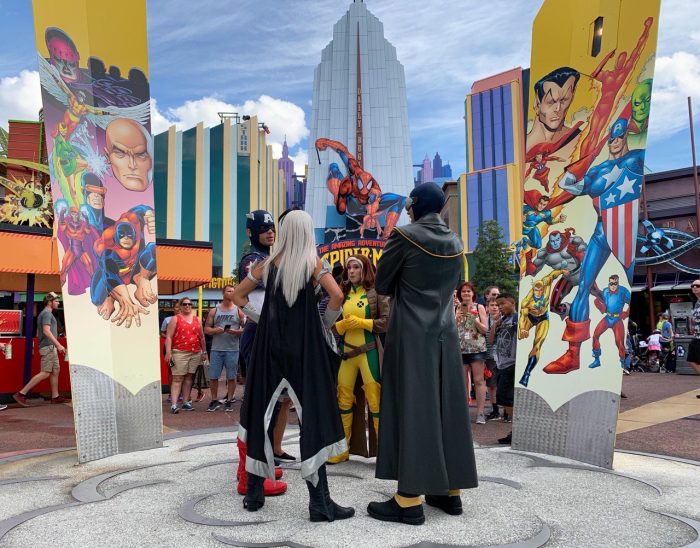 We have to start off with the Sentinel of Liberty himself, Captain America. In the last 100 years Captain America has played an important part in our culture. His creators (Joe Simon and Jack Kirby) made a character to fight the growing menace of Nazi Germany. The first Captain America comic book came out in December 1940, a full year before the attack on Pearl Harbor. At the time there was a segment of America that didn't believe we should enter the war, but the very first issue of Captain America had our star-spangled superhero socking it to Adolf Hitler on the cover, making it perfectly clear how Simon and Kirby felt. After World War II ended, the popularity of many superhero titles waned, with Captain America himself getting canceled by 1949.
In the 1960s, when Stan Lee and the rest of Marvel Comics were creating a whole new era of heroes with Spider-Man, Fantastic Four, and Iron Man, Captain America was brought back to lead the Avengers. We all know the story now, that he was a man frozen in time – literally – and thawed out to lead Earth's mightiest heroes. Captain America has been a staple of the Marvel comic book Universe ever since.
Remember those awful movie deals Marvel signed back in the day? Well, Hollywood also made a Captain America movie in 1990, which of course: stunk (and that's being generous). The general consensus was that you couldn't make a good Captain America film. The character was too square, too goody-two-shoes for a world which now wanted anti-heroes like Wolverine and the Punisher. Well, that all changed with the release of Captain America: The First Avenger. The sequel, Winter Soldier, is generally considered one of the best superhero films ever made, maybe only topped by the third entry into the series, Civil War (and its tour de force airport battle).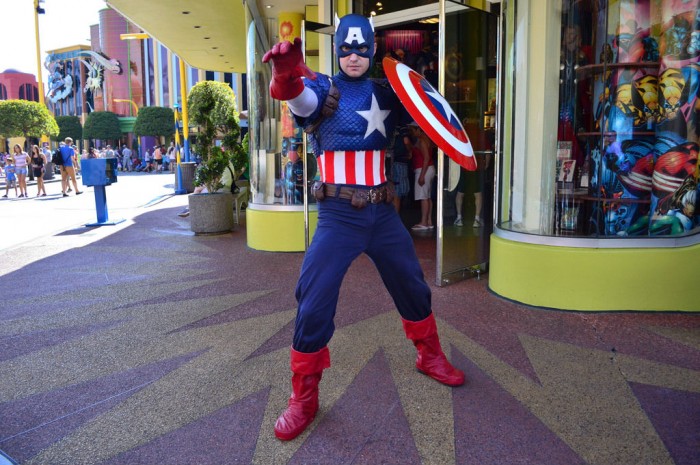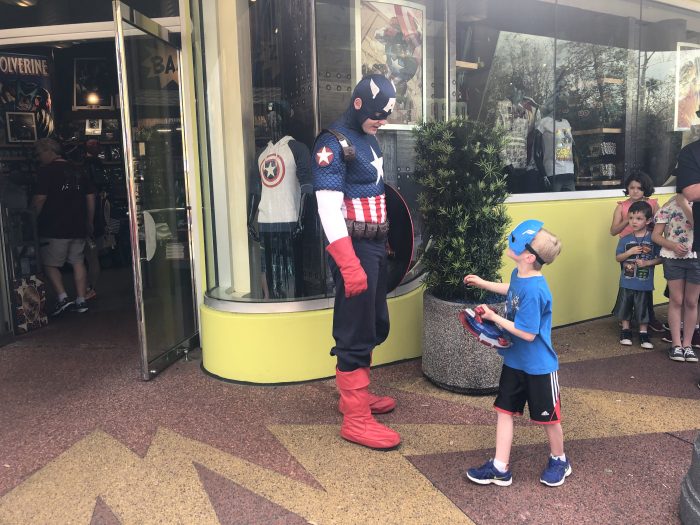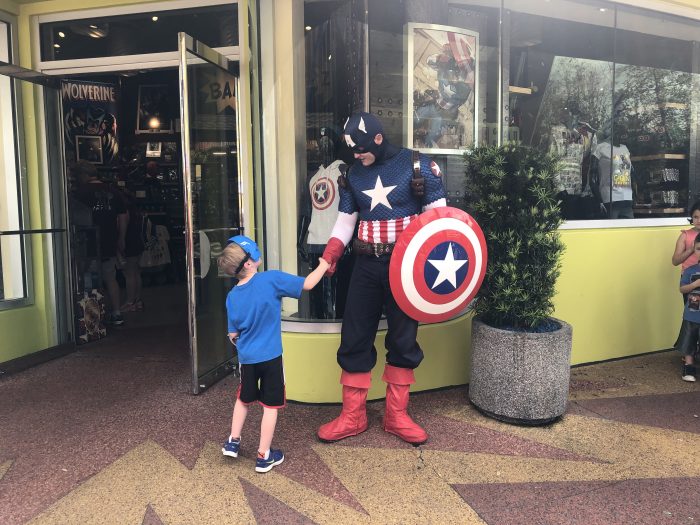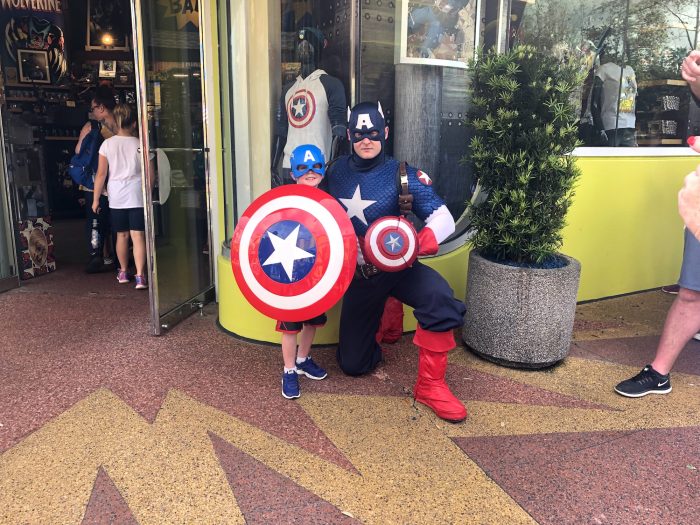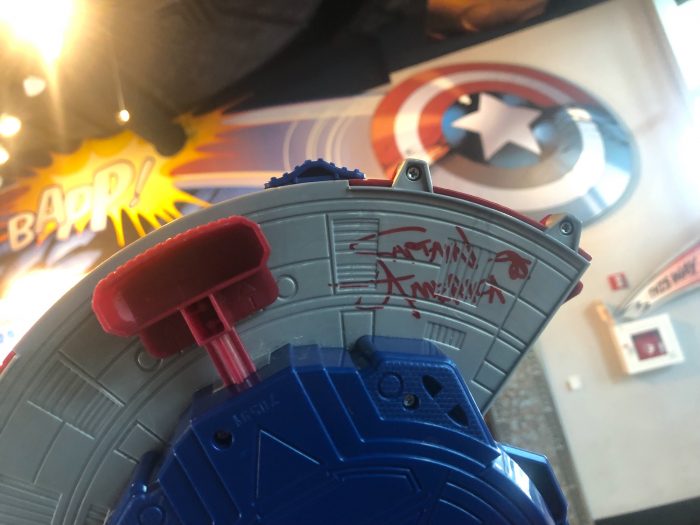 Other heroes to meet include the X-Men's Cyclops, Wolverine, Storm, and Rogue, but the best photo-op in the island, the park, and maybe the entire Universal Orlando Resort itself, is with Spider-Man. 
The picture you can get with ol' web head is actually taken across the street from the Spider-Man attraction. It's in the back of one of the Marvel gift stores. Guests will get the opportunity to meet Spider-Man, take a picture in front of a green screen, and then have that photo put onto the cover of a Marvel Comics issue of Spider-Man! The "comic book cover" is a separate purchase, but Spider-Man will also pose for pictures taken with your own camera.
Like the character "Donkey" in the Shrek meet and greet over at Universal Studios Florida, Spider-Man spends time with each guest, especially children. This personal one-on-one interaction can make a good theme park vacation into an unforgettable one.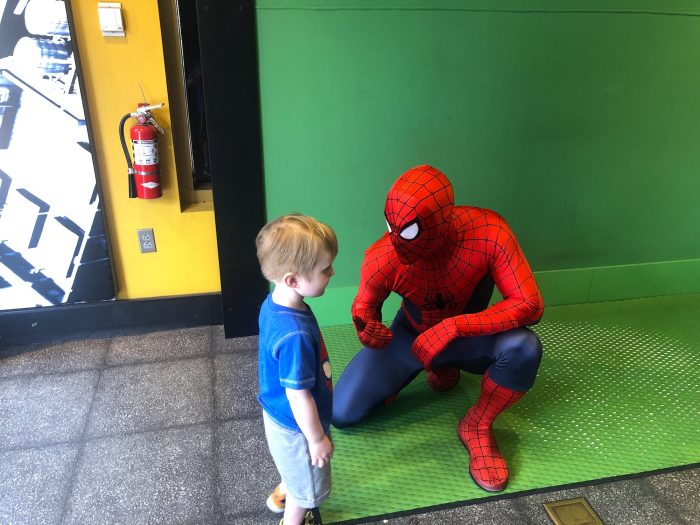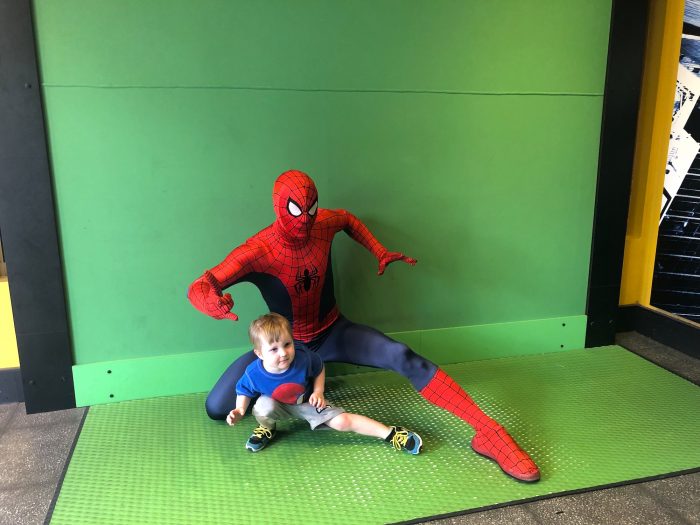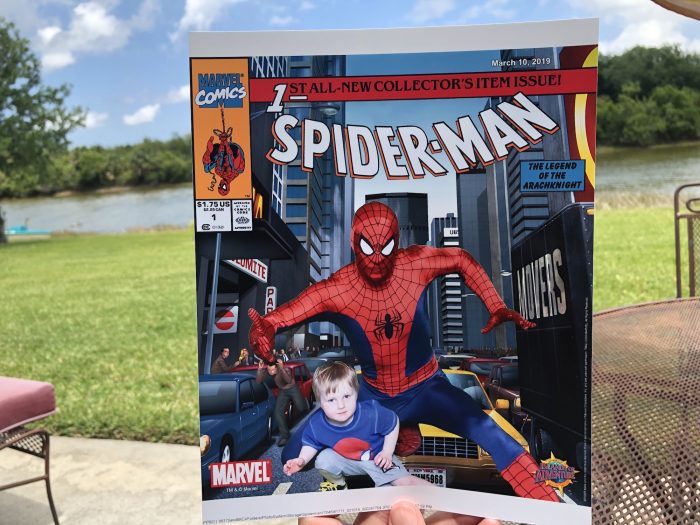 It takes a very special photo-op to make me even consider purchasing a photo at a theme park, but as a comic book fan the idea of a comic book cover was too good to pass up. Universal even offers a lenticular version, which brought me right back into my heyday as a "Marvel zombie" and buying books with gimmick covers.
Like the other characters, Spider-Man will sign items for guests.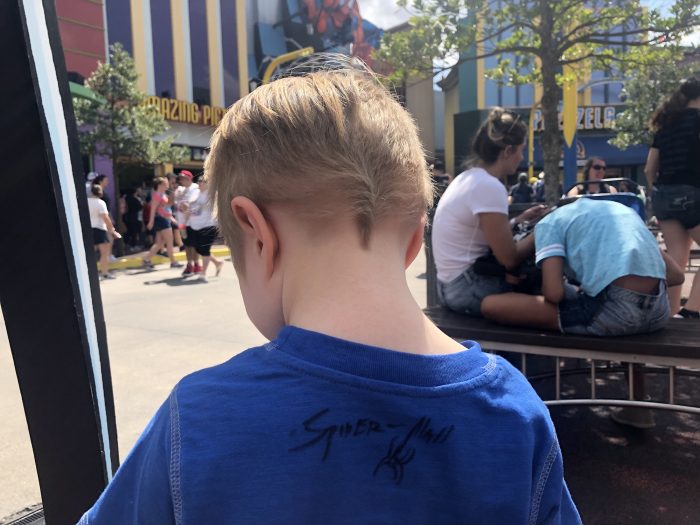 Depending on what pose you do, the Universal Photo Connect team can also add webbing onto your cover.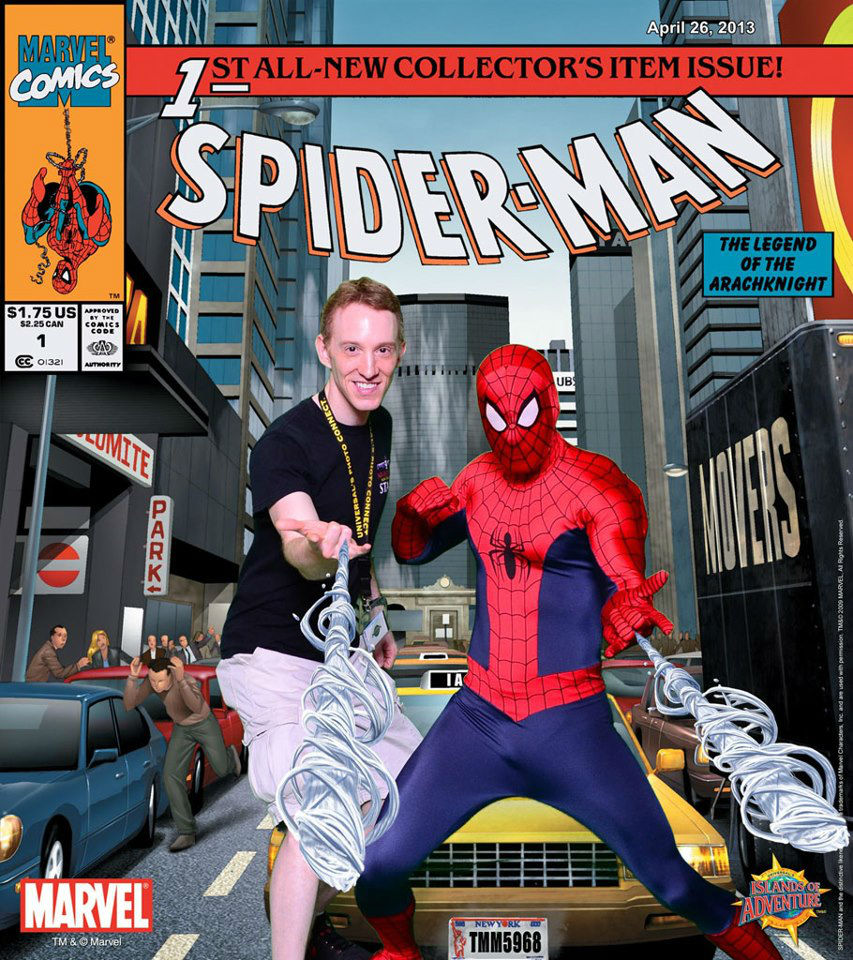 Believe it or not, some of the best pictures can be taken with the Marvel villains who come out: Spider-Man's arch nemesis the Green Goblin and the Fantastic Four's main baddie, Dr. Doom. The Goblin character is just plain creepy, and his sinister look and poses with guests make for some fantastic photos. Meanwhile guests can get creative with Dr. Doom, leading to some very fun interactions!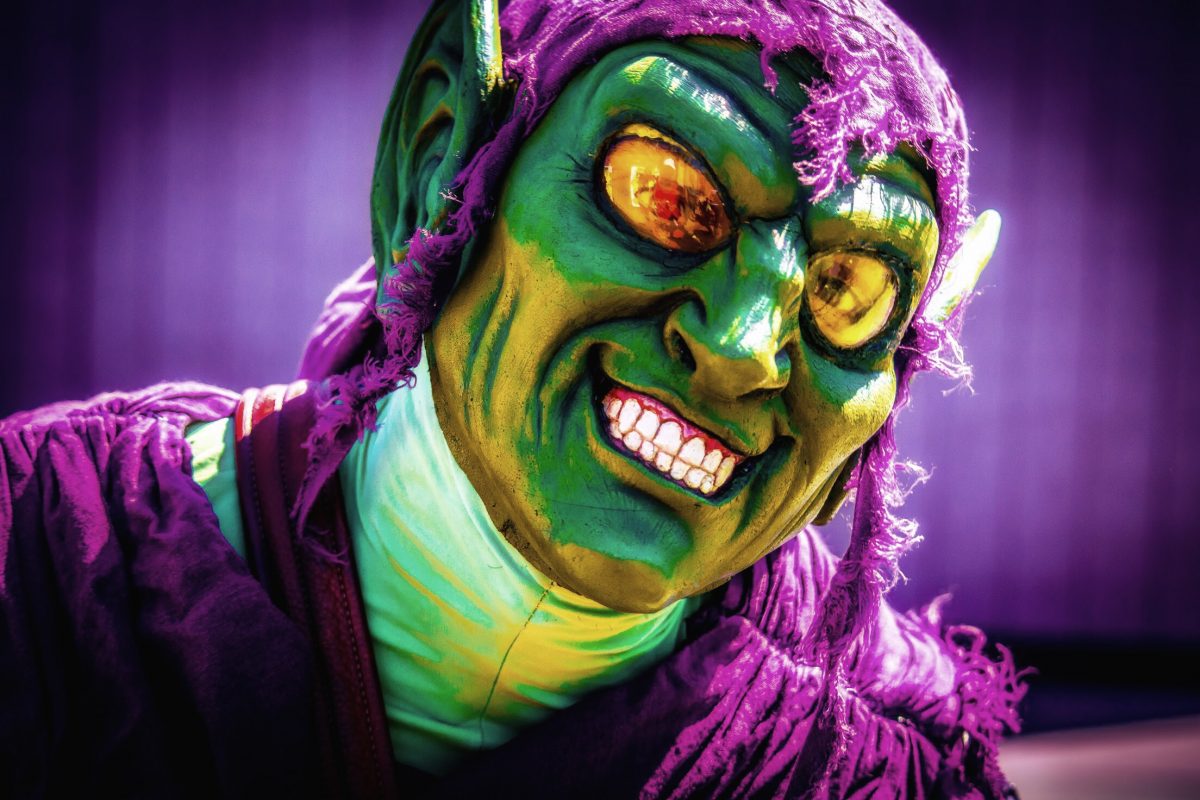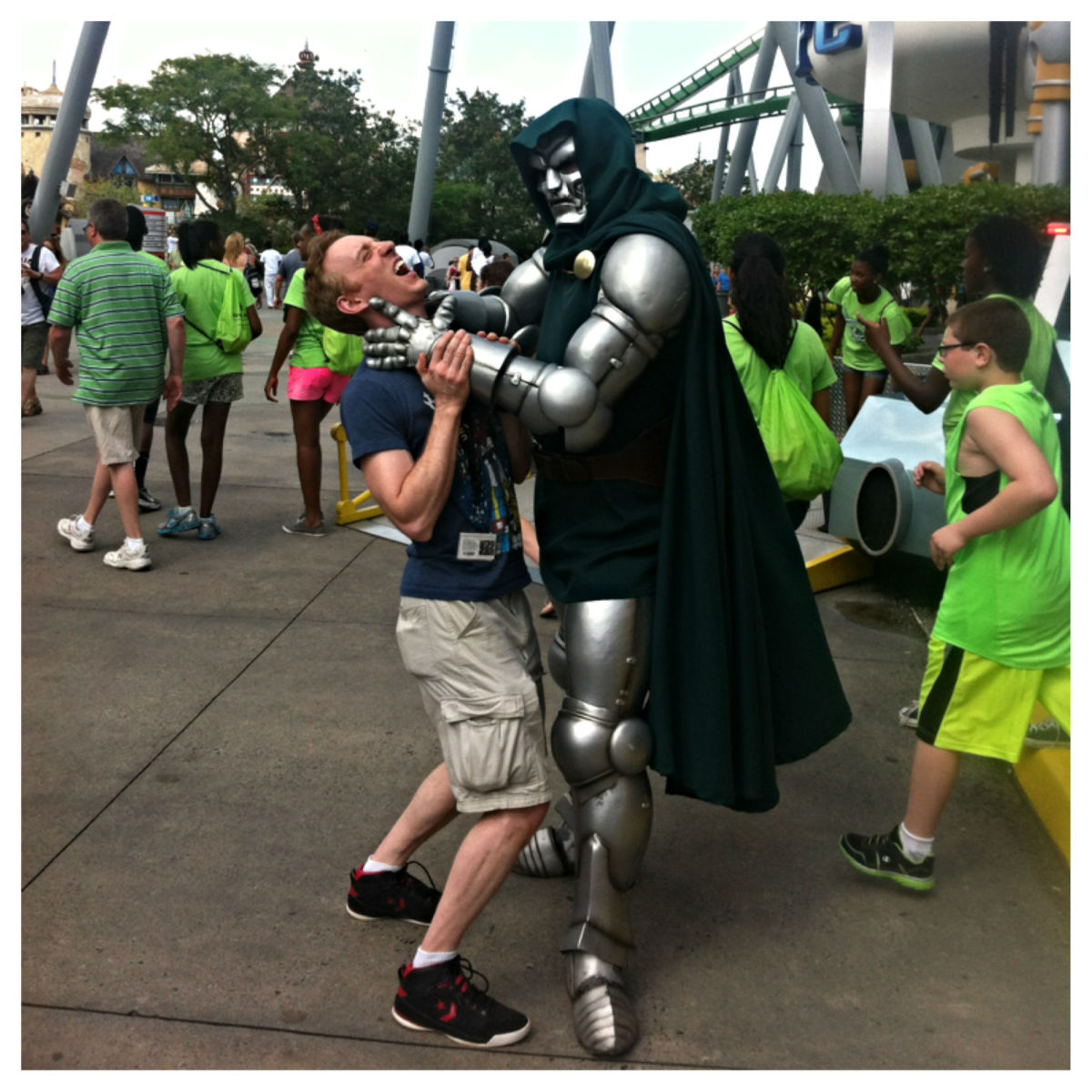 # 4 – Captain America Diner
This one may surprise you, because the overall food selection at Cap Diner may make you long for the haute cuisine available at your average counter service restaurant at the Magic Kingdom.  However, Cap Diner has two things going for it that make it a Must Do place for any Marvel fan.
The Million Dollar View. Cap Diner has a lot of seating both inside and outside, with many of the tables having an unbelievable look at the rest of Islands of Adventure. Here you can relax and look out into a picturesque setting that includes Hogsmeade Village, Mythos, and even Sneetch Beach over in Seuss Landing.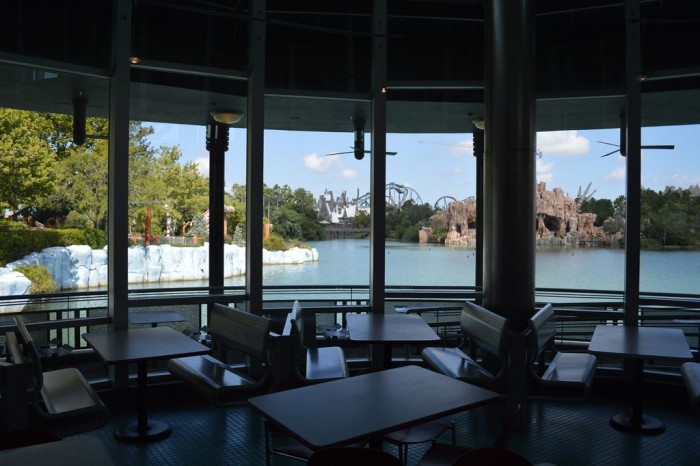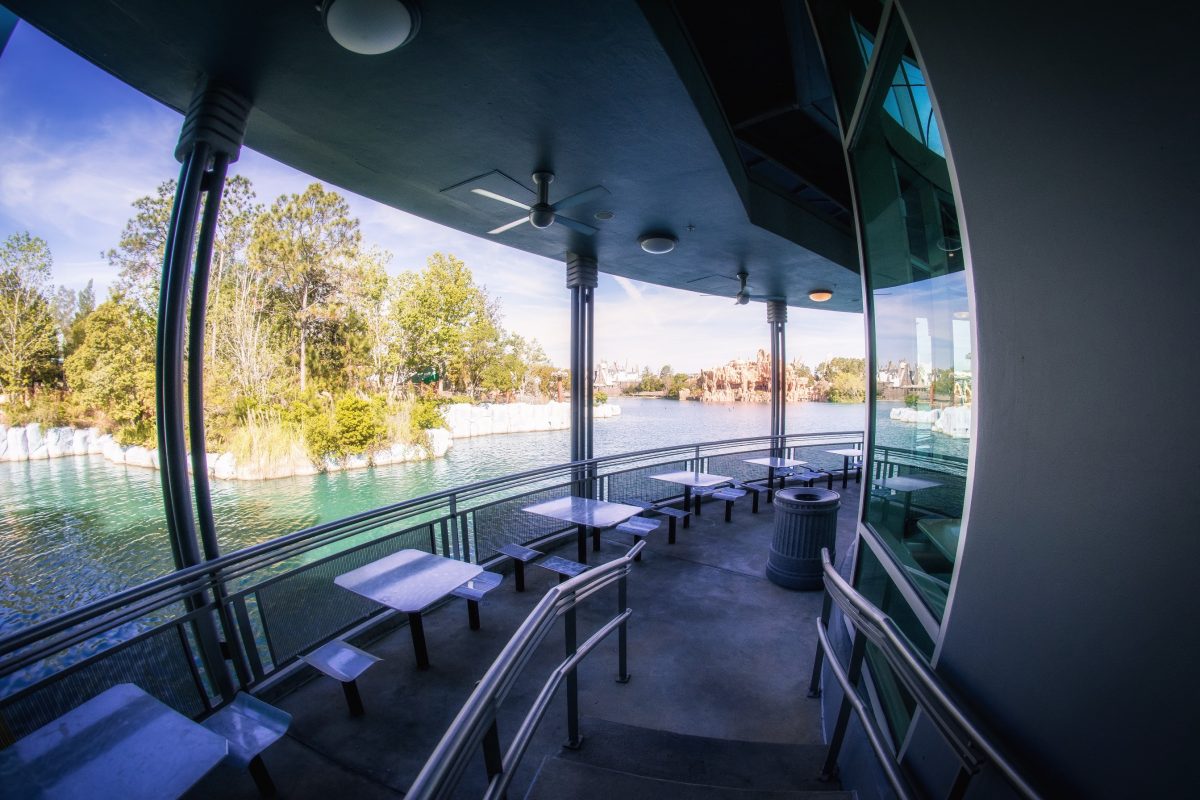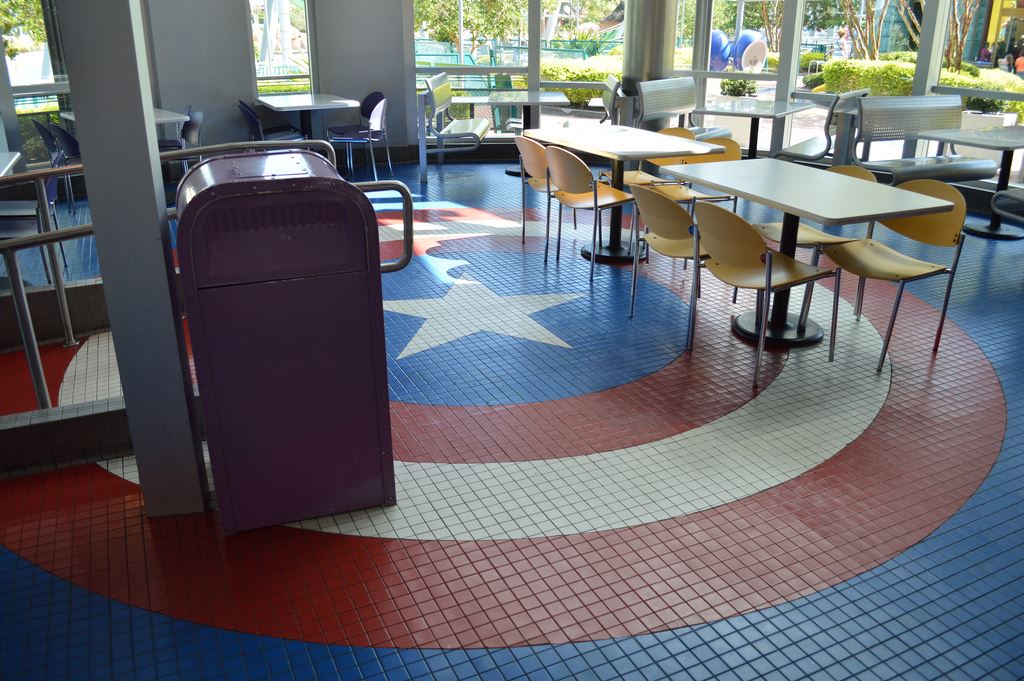 It's actually more of an Avengers restaurant than one based on Captain America. This actually may be heartbreaking for any Disney fan trying to find the loophole for any character not being used by Universal because there are so many just in this restaurant.  You have the big hitters like Thor, Iron Man, and Black Panther, but also a slew of comic book characters that, up until recently, only hardcore Marvel fans would recognize, like the Black Knight. It's absolutely incredible to see some of these characters outside of a comic book store. Imagine a Disney restaurant filled with characters from The Black Cauldron and Meet the Robinsons – that's the level of depth the restaurant mines. This is a restaurant which features The Absorbing Man. 'Nuff said true believers.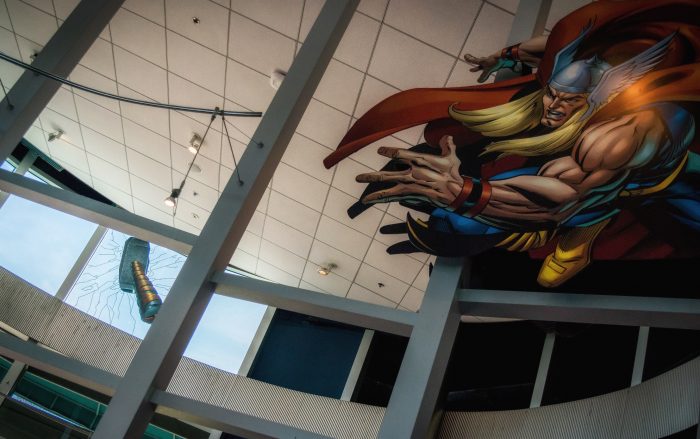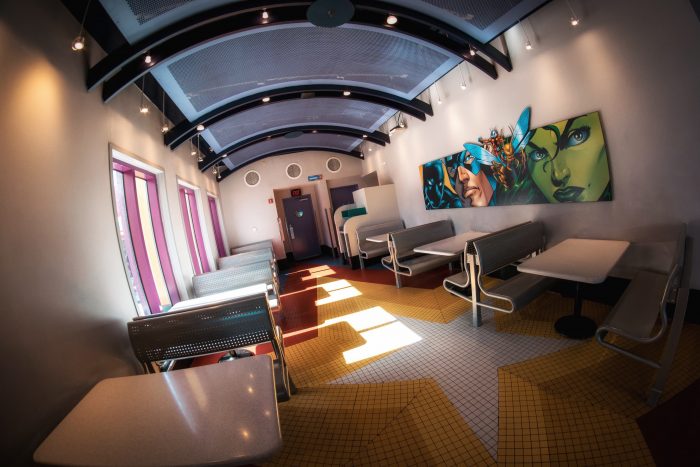 The menu for Cap Diner is appropriately based around All-American fare including burgers, chicken fingers, and milkshakes. Mobile ordering is available, so be sure to take advantage of that. For vegans, Cap Diner also offers the wildly popular Impossible burger.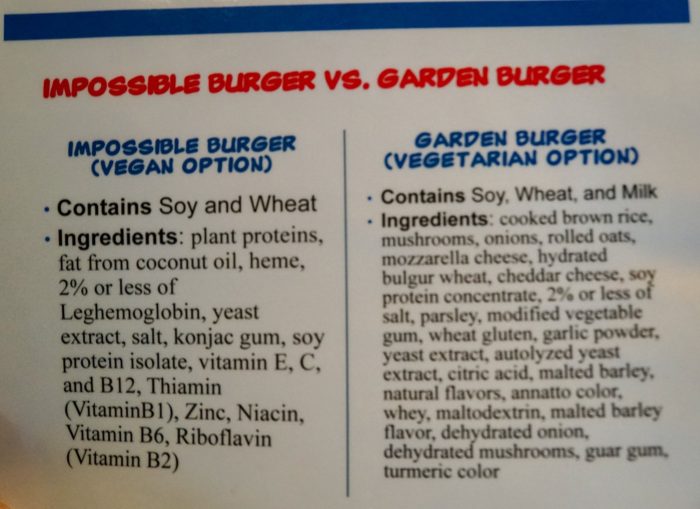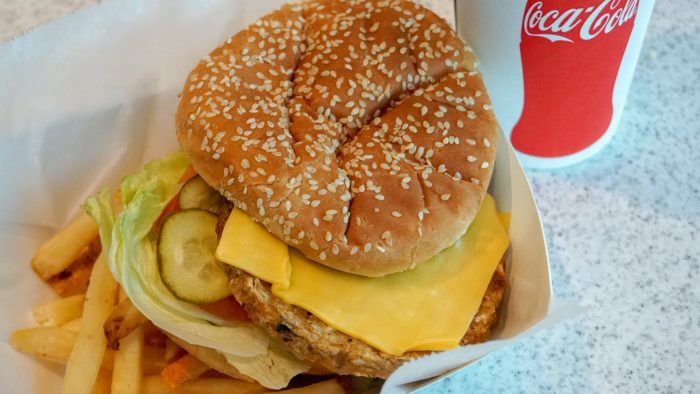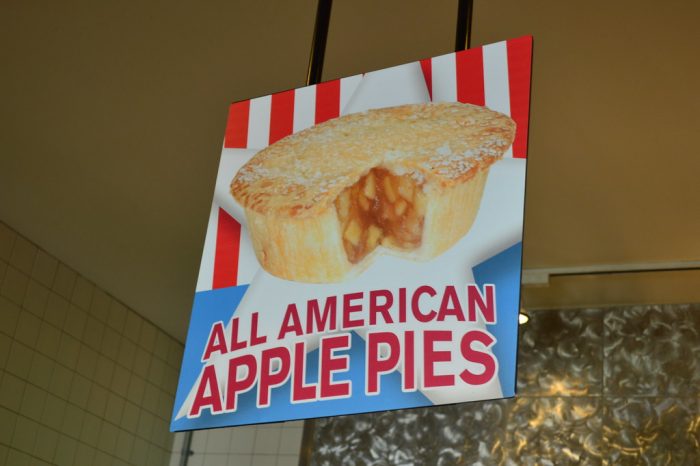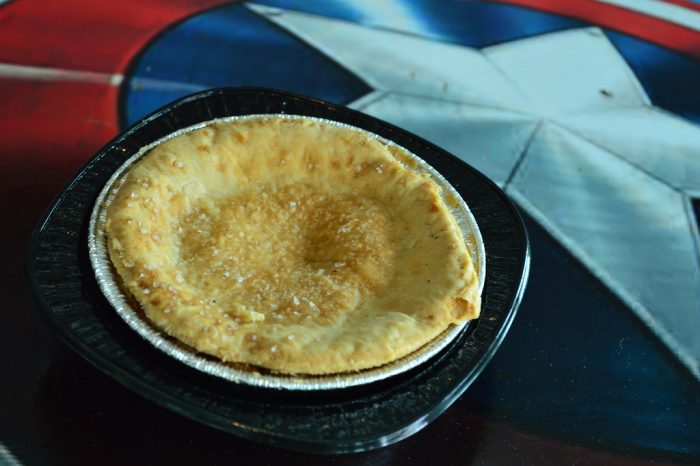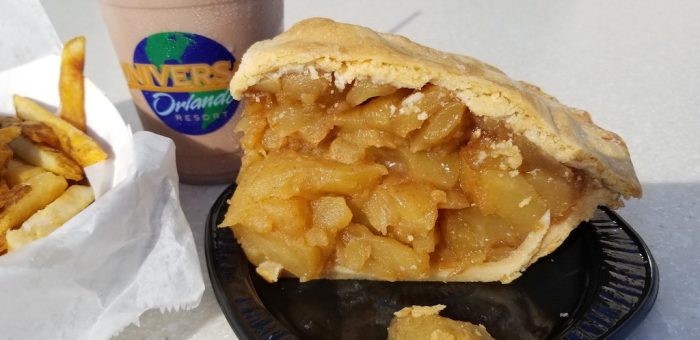 We thought Marvel Superhero Island would be the perfect place to debut a new recurring feature in the SATURDAY SIX titled: Plastic in the Parks. Ace photographer Michael Carelli will be taking shots of appropriately themed LEGO figures at locations in Universal Orlando and Walt Disney World.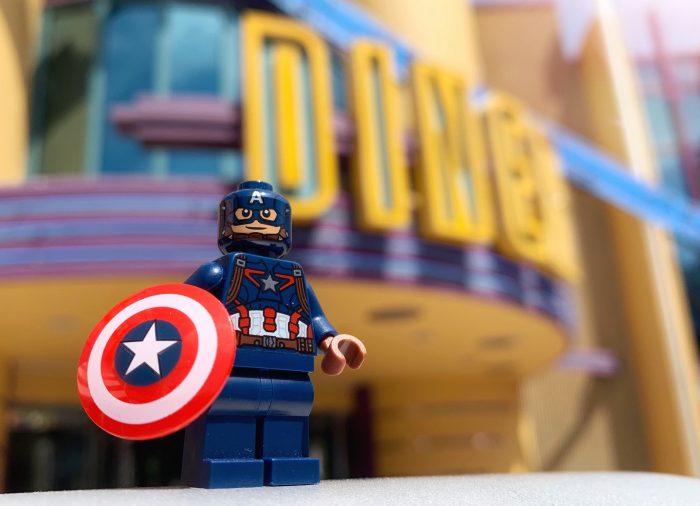 # 3 – A Working Comic Shop
Comic books and theme parks are a natural fit. The biggest readers of comics are kids and adult males, two of theme park's biggest demographics. The SATURDAY SIX has looked at the very best theme park-related comic books, and followed that up with another article featuring even more of our favorite comics. With a comic book already out based on the Iron Man attraction at Hong Kong Disneyland and a new Star Wars: Galaxy's Edge series about to debut, look for a third spotlight on comic books coming to the SATURDAY SIX later this year.
After purchasing Marvel in 2009, Disney has started to bring comics slowly back into Walt Disney World (mostly in the form of trade paperbacks, but Memento Mori at the Magic Kingdom not only carried single issues of the Haunted Mansion comic, it had park exclusive variant covers). Both Universal Studios Florida and Islands of Adventure carry a lot of comic books, with Marvel Superhero Island having a working comic book store.
Stocked with single issue comic books, trade paperback collections, action figures, and other collectibles (Marvel high end guitars?), this is a store that the guys from the Big Bang Theory would have no problem spending some time in. Even better, the store has an entire backstory that is told in a comic book form via a huge mural by one of the registers. The story goes that the X-Men villain Magneto amassed a huge treasure trove of Marvel comics and was able to channel the entertainment value of the items themselves into pure energy.
The X-Men's Storm ended up defeating Magneto and allowing guests the ability to purchase their favorite Marvel products. Talk about a story told in the Mighty Marvel Manner that would make Stan Lee proud.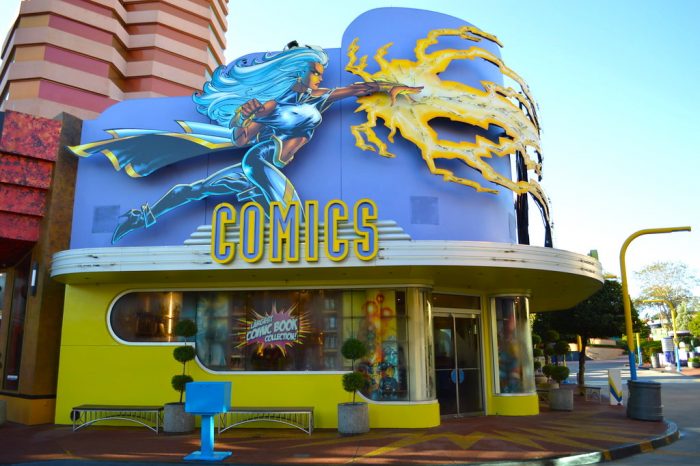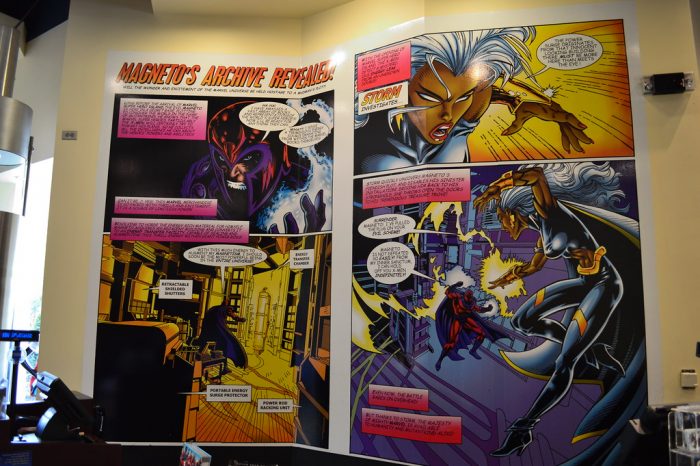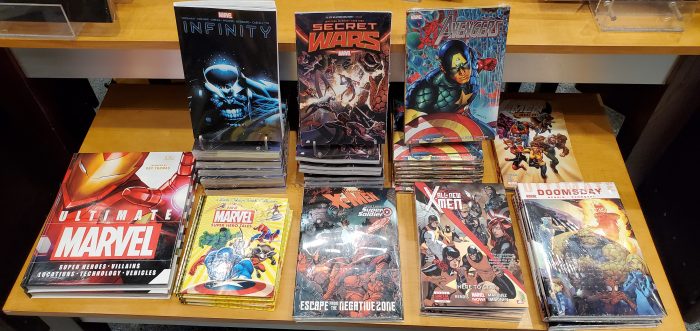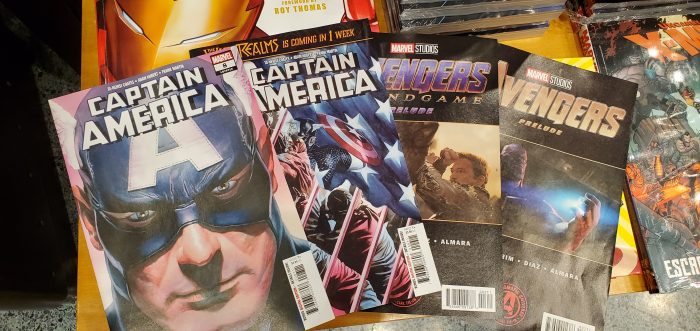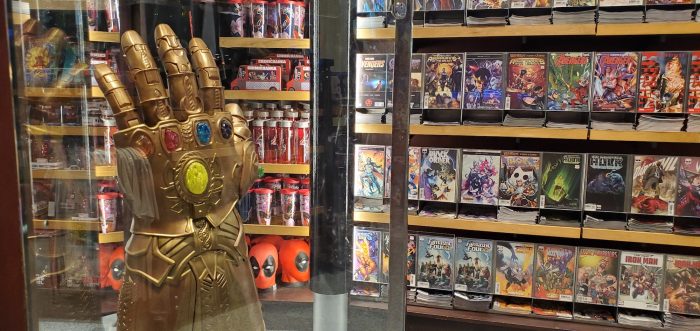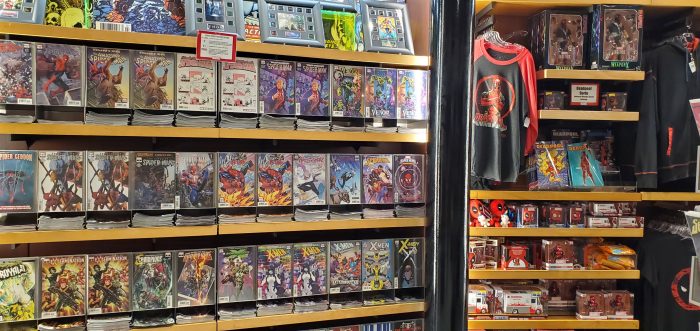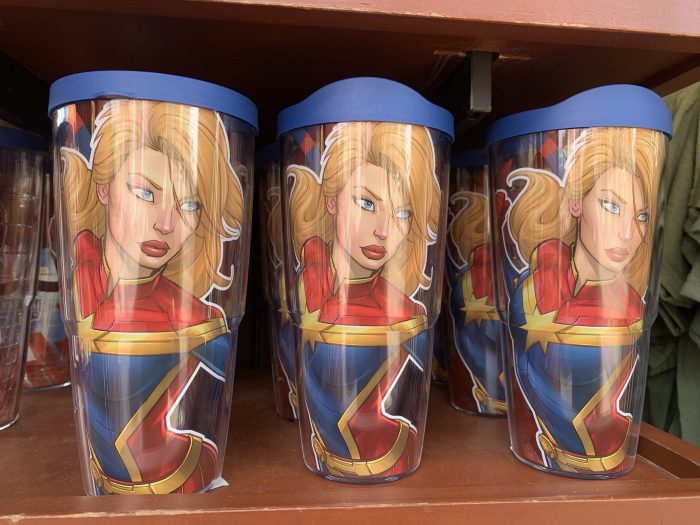 # 2 – The Incredible Hulk Coaster
Until Hogwarts Castle took its place, the Hulk Coaster was for all intents and purposes the icon of Islands of Adventure from Day One. It's curved green track dominates the landscape and you can hear (happy) screams from guests well before you even enter the park. Hulk is also one of the rare coasters at Disney or Universal where guests can get some fantastic shots of people riding it because of how the track is laid out. A couple years ago the coaster had a total overhaul; with every piece of track replaced, new ride vehicles added (with on-board audio) and an enhanced queue. The new logo for the attraction even has an impressive Hulk figure preparing to "smash" one of the older ride vehicles!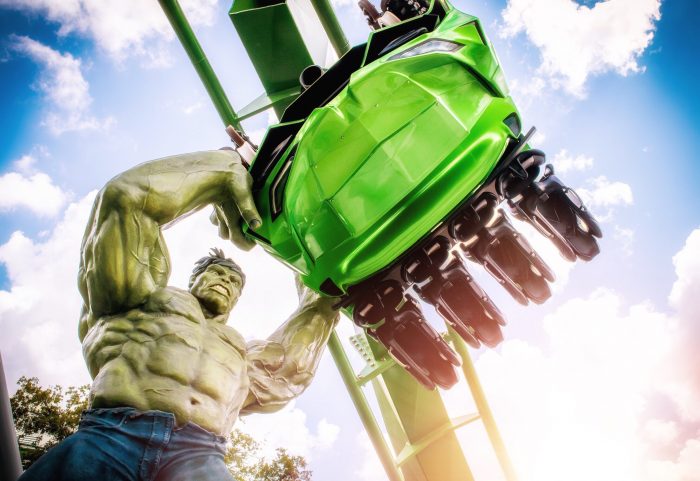 One of my favorite things to do when taking new visitors to Universal is ride the Hulk with them. I always try to make sure they know as little about the ride as possible, because the start of the Hulk coaster is one of my favorite experiences in any theme park ride! Total exhilaration.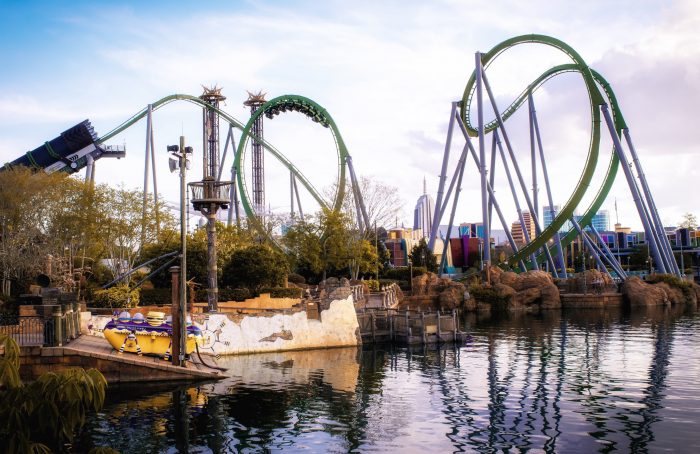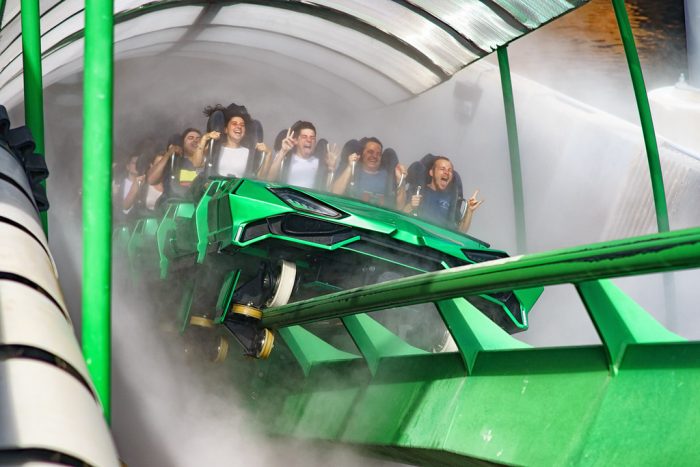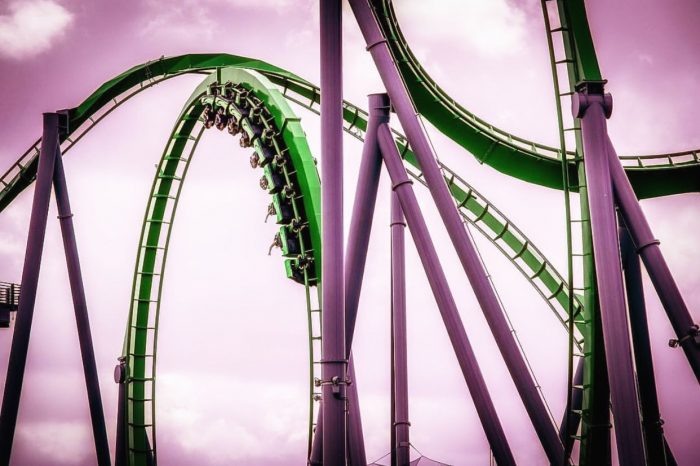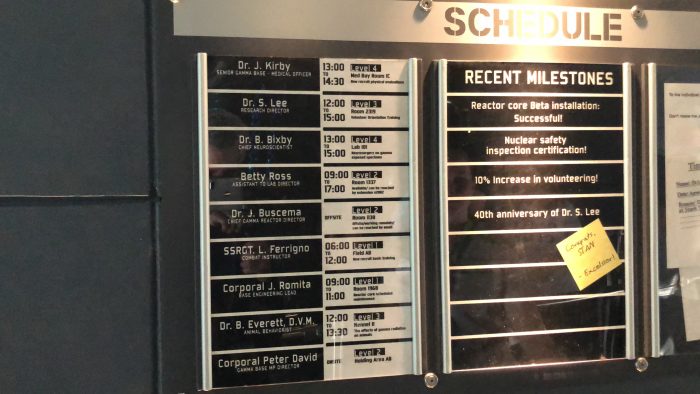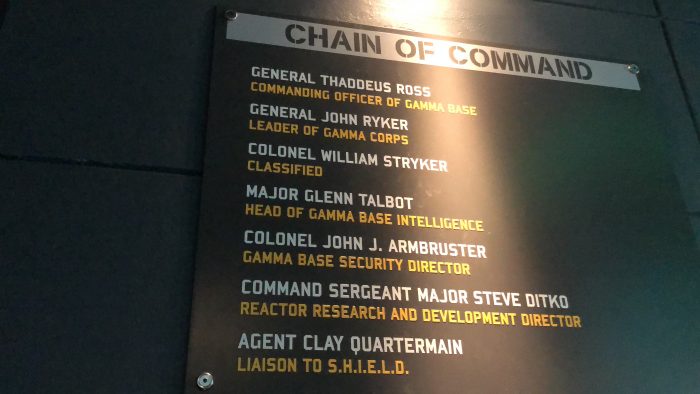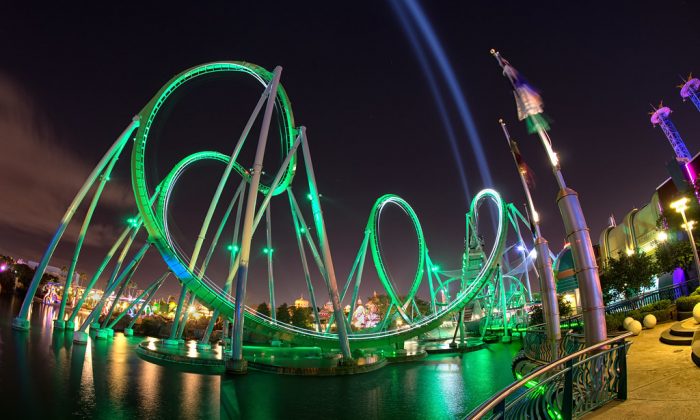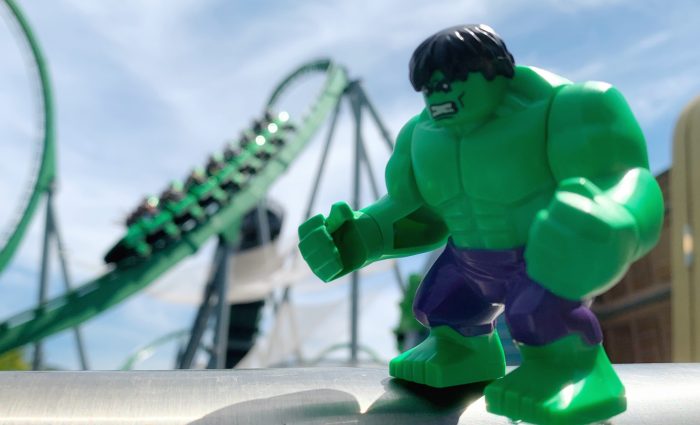 # 1 – The Amazing Adventures of Spider-Man
What else can we say about The Amazing Adventures of Spider-Man? It has been over 15 years since it made it's debut, and it still may be the best attraction in Orlando. A ride that will leave you in awe, Spider-Man combines 3-D screens seamlessly with actual sets and props, having you constantly wonder "how did they do that?!" Filled with humor, action, and a thrilling finish, Spider-Man appeals to all demographics, and is everything we want in a theme park attraction. It even has two completely themed queues (one for standby and one for Universal Express) along with terrific gags to catch along the way. If you are a comic book fan…if you are a Marvel fan… if you are a fan of ol' web-head…you OWE it to yourself to ride The Amazing Adventures of Spider-Man.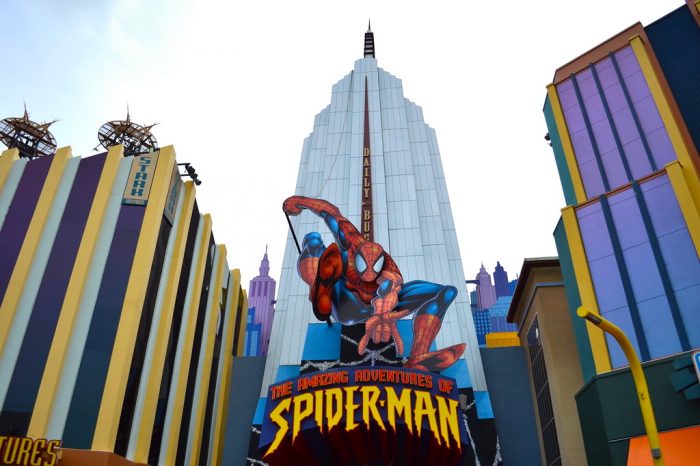 Both the Stand By and Express Pass queues are a lot of fun to walk through in the Amazing Adventures of Spider-Man attraction. They simulate walking through different rooms inside the Daily Bugle and have different things to see. The Express Pass line includes going through Peter Parker's photography darkroom, as well as a room full of filing cabinets filled with references to Marvel characters. The standby queue walks you through a lot of the news rooms, but it also leads you by a trophy case filled with references to people who worked on the Spider-Man ride.
Some of the names you will see are Scott Trowbridge, Theirry Coup, Abraham Chorbajian, and Benjamin Lovelace. While Lovelace was a Senior Ride Show Manager and Chorbajian head of the audio/video systems, both unknowns to most theme park fans, Trowbridge and Coup have long ties to both Universal and Disney and can be considered the masterminds behind this incredible attraction. How revolutionary was Spider-Man for IOA? It won the Golden Ticket award from Amusement Today for Best Dark Ride for 12 straight years. While Trowbridge moved on to WDI and is the lead imagineer behind the upcoming Star Wars: Galaxy's Edge, Coup is now the Senior Creative VP of Universal Creative and has been involved in the creation of Harry Potter and the Forbidden Journey, the Hogwarts Express, and  Transformers: The Ride-3D. Good luck finding a theme park resume better than that!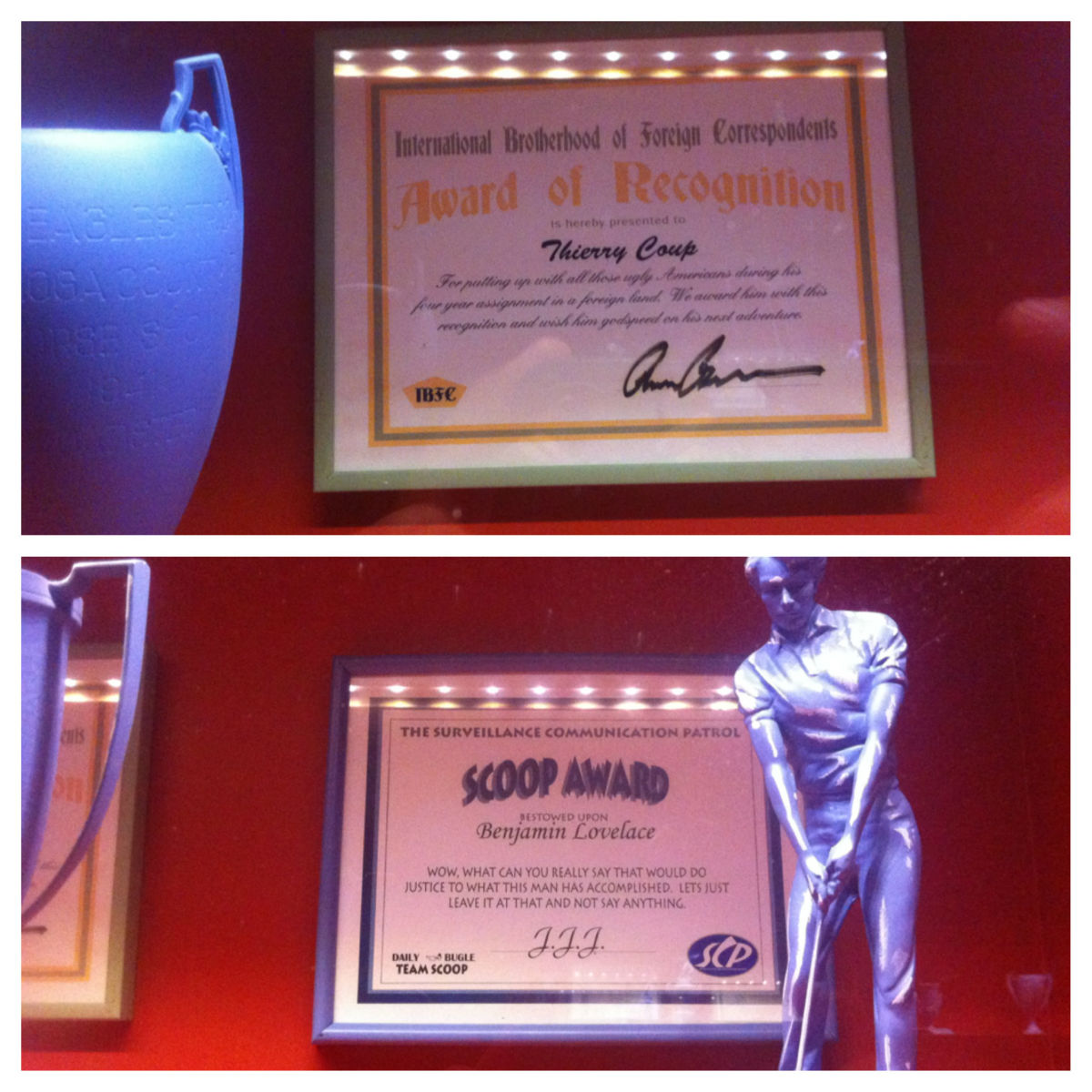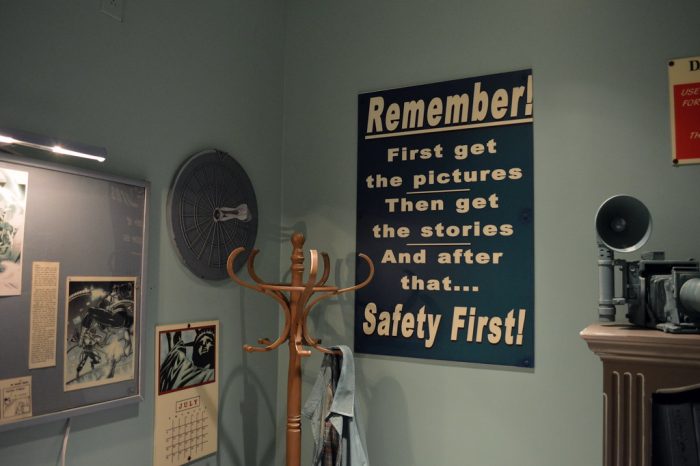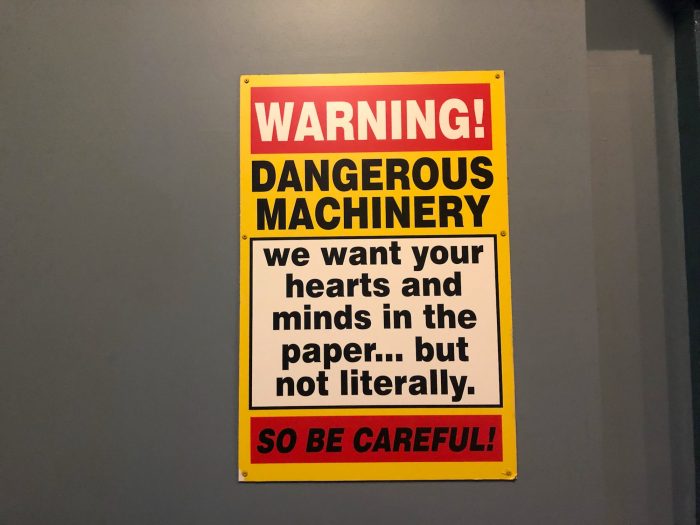 For some final thoughts on the Spider-Man ride we reached out to none other than Len Testa, co-host of the Disney Dish podcast and the grand poohbah of all things TouringPlans: "The high-definition film and projector upgrades that went in to this attraction in 2012 improved the look of what was already the best ride in Orlando. Spider-Man combines a truck-like ride vehicle with fairly detailed sets and amazing video effects. I still can't believe the ride vehicles don't leave the ground. The 3-D effects work better for people with glasses (like me), and the effects are less likely to induce motion sickness."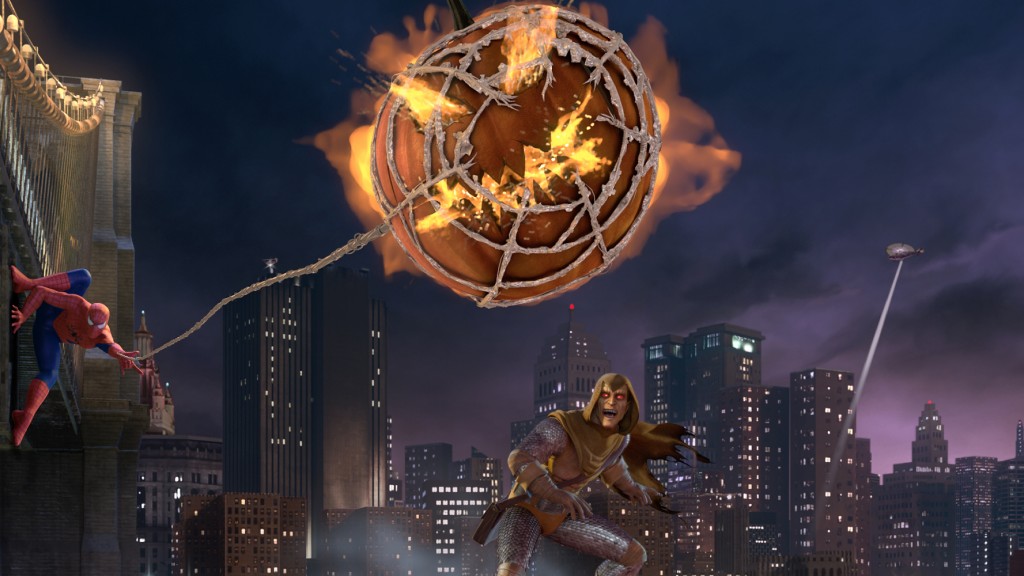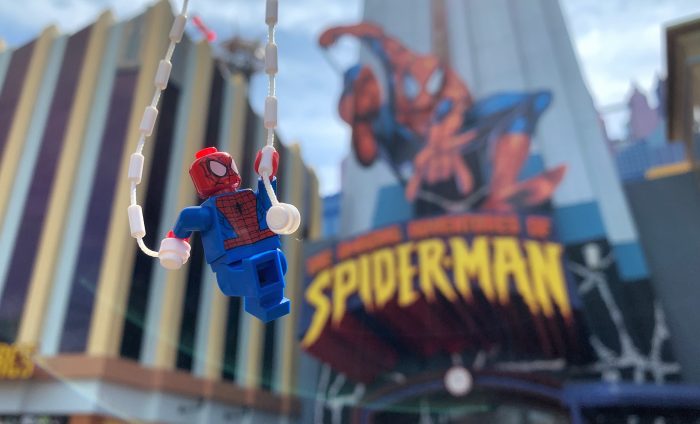 "With Spider-Man nearby, trouble can't be far away. And you know what trouble means… HEADLINES! National coverage! So don't screw this up…I mean, good luck." – J Jonah Jameson, The Amazing Adventures of Spider-Man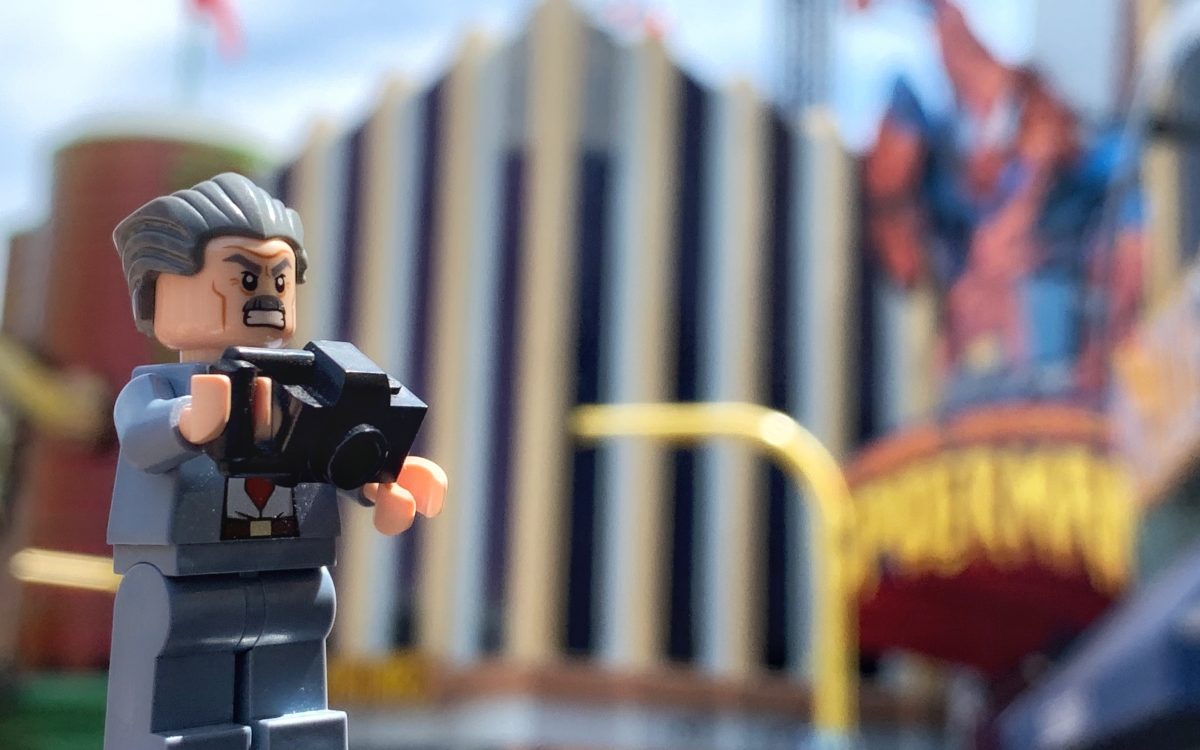 HONORABLE MENTION – Celebrate the Villains
We've said it many times in the past, but the theme parks just don't give enough love to "the bad guys." Heck, a hero is only as good as his villain. We've got Gaston's Tavern in the Magic Kingdom along with the occasional meet and greet with a villain but we need more. Have you ever have an interaction with Lady Tremaine, Anastasia, and Drizella? It is priceless.
We all love Diagon Alley, but how great is Knockturn Alley? It's nice just to bask in the creepiness of it. Marvel Superhero Island has an entire section of the land dedicated to the bad guys that we love to hate with Villain's Alley. It all starts off with Kingpin's Arcade, and anyone who has had to drag kids away from video games while in a theme park knows an arcade operator is a natural fit for a true baddie.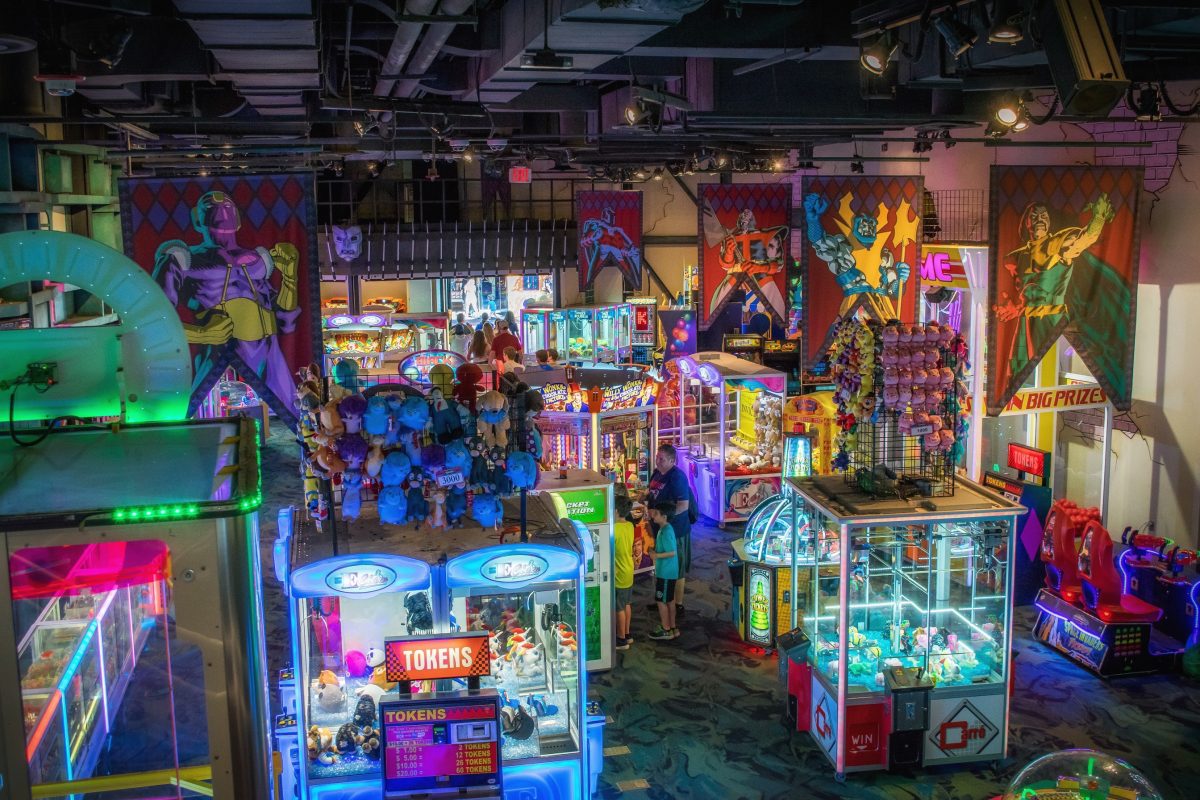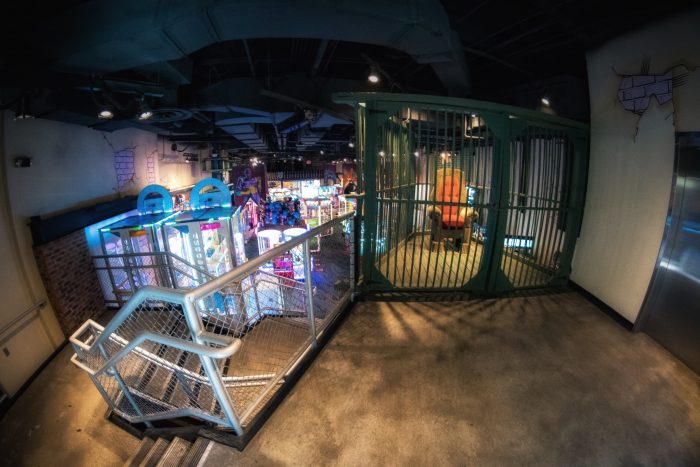 Of course the main feature of the area is Dr. Doom's Fear Fall. This is an attraction where the queue needs to be experienced as it is completely subversive for a theme park ride. The videos that play are a must watch. In a next level touch of evil, on the ground surrounding Fear Fall are outlines of characters who have fallen from the ride. Nothing will ever touch the Twilight Zone Tower of Terror in terms of quality, but as far as drop rides go, Doom's Fear Fall presents a great take on the concept.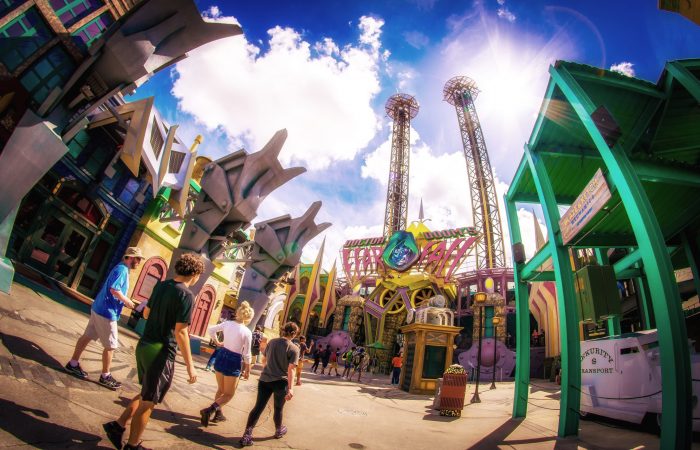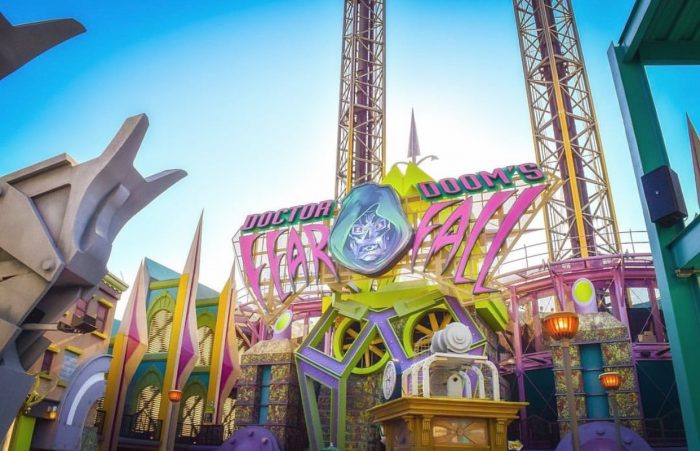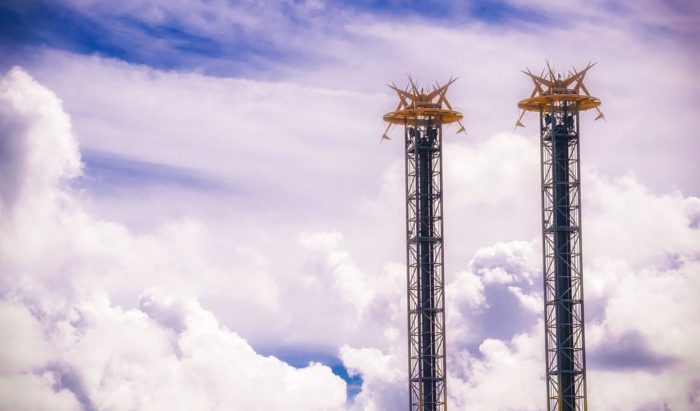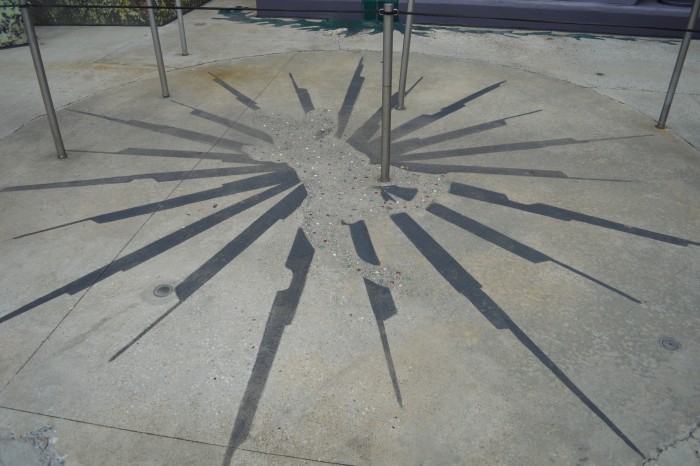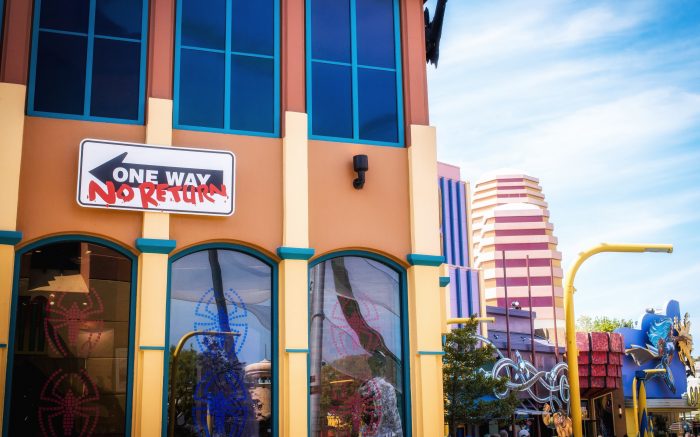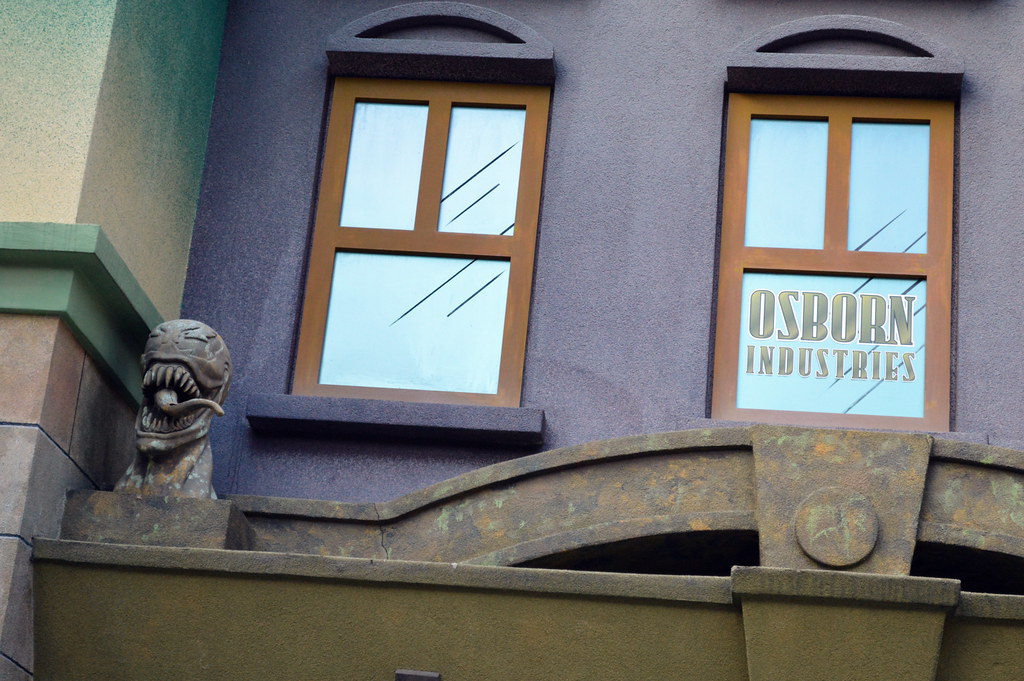 Double Secret Honorable Mention – Artist Adam Kubert
We all love the little details and "Easter eggs" hidden in Walt Disney World and Universal, but one of my favorite examples is located in Islands of Adventure. Artist Adam Kubert created many of the larger-than-life drawings that you see throughout Marvel Superhero Island, and if you look closely you will find the name "Adam" cleverly drawn into many of the characters.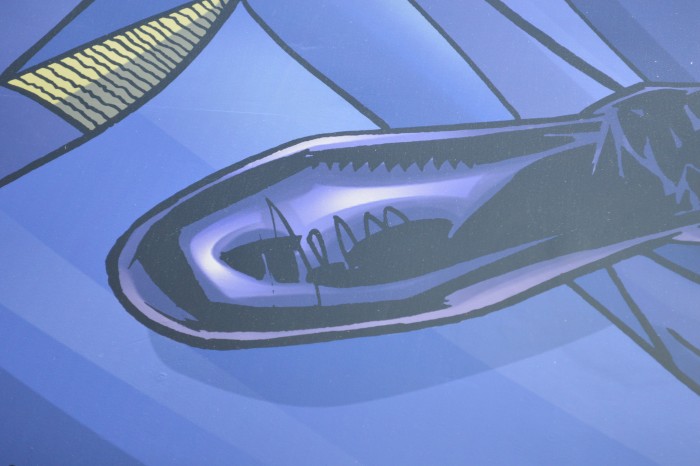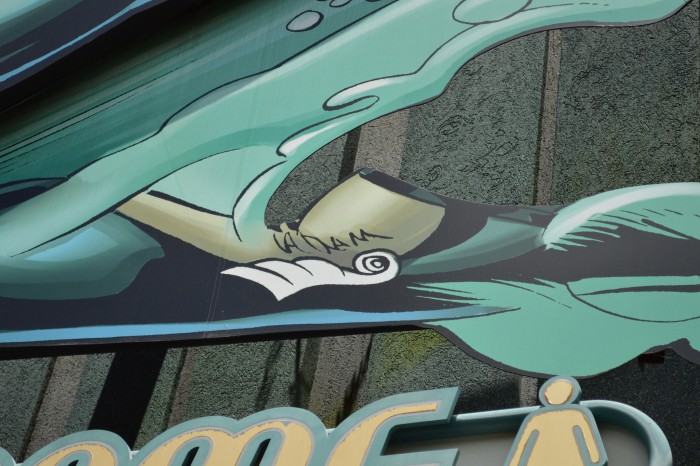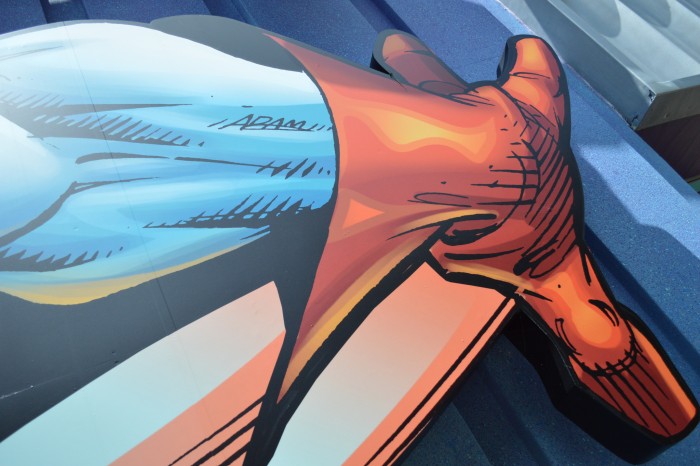 Adam Kubert even hid his son's name Max into a drawing of the character Iceman!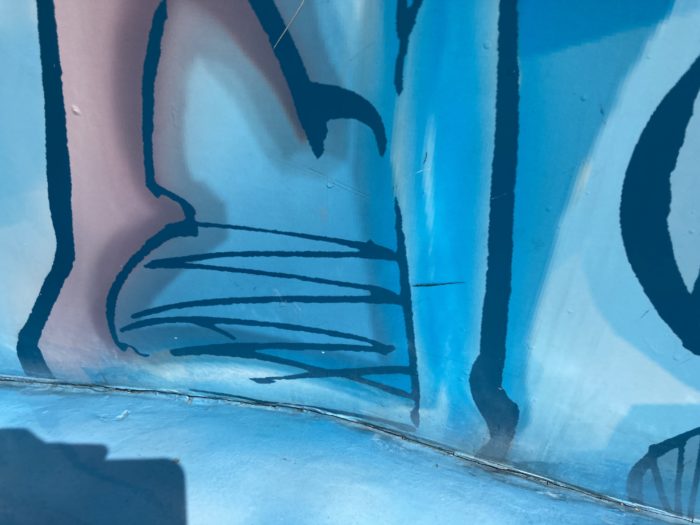 TRIPLE THREAT HONORABLE MENTION – The Comic
When Marvel Superhero Island officially opened in 1999, one of the pieces of merchandise available was an actual Marvel comic book based around the characters and attractions in the land.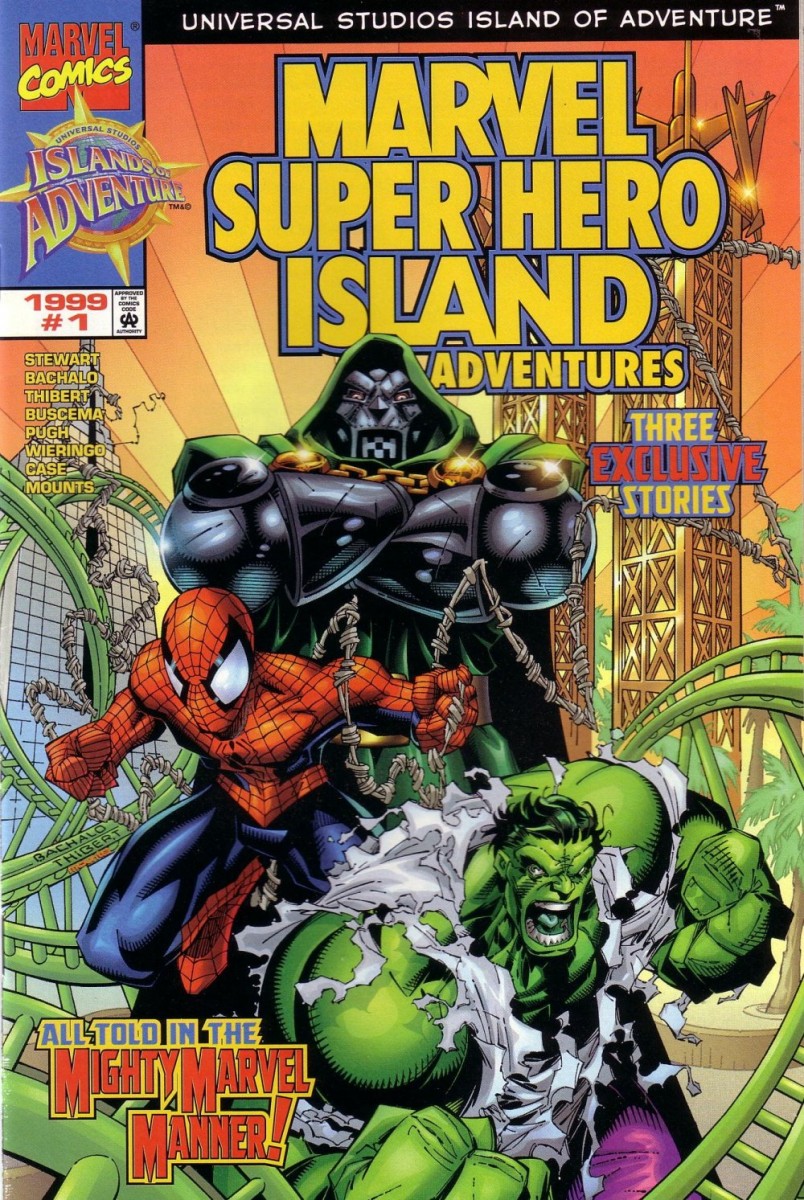 A Marvel comic based around Marvel Super Hero Island at Universal's Islands of Adventure? Talk about perfect synergy. And talk about top talent being put on a theme park book, Mike Wieringo was the artist for the Dr. Doom story, Sal Buscema for Hulk, and Chris Bachalo for Spider-Man. The first story in the book is actually one about the Fantastic Four thwarting a Doom plot, only to reveal at the end that Doom had taken his technology to Orlando and was going to use it on park guests. This was more satisfying story wise than the recent Fantastic Four movie. Unfortunately Mike Wieringo passed away a couple years ago, but his blog still lives on and you can see some unused art and a story on how the comic became more Doom-centric by CLICKING HERE.
While the Hulk story is more of a standard HULK SMASH! villain-of-the week deal, the Spider-Man story to close out the book establishes everything to set up the Amazing Adventures of Spider-Man ride at IOA. We follow the story of a reporter trying to get the scoop on a story involving Doc Ock and the Sinister Syndicate, ending with Spider-Man saving the day but Doc Ock getting the levitation ray we see used in the ride. A great little story with top-notch art.
The awesome cover to this book was done by another comic book A-lister, Art Thibert along with inks by Chris Bachalo. You can see the original art to the cover by CLICKING HERE. Just stunning.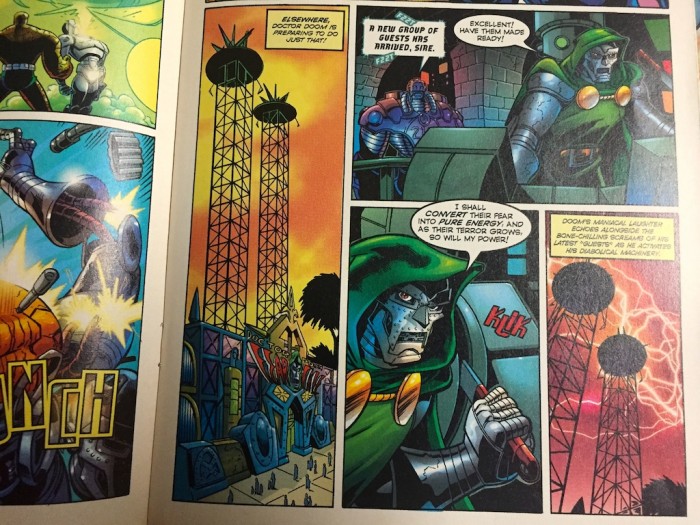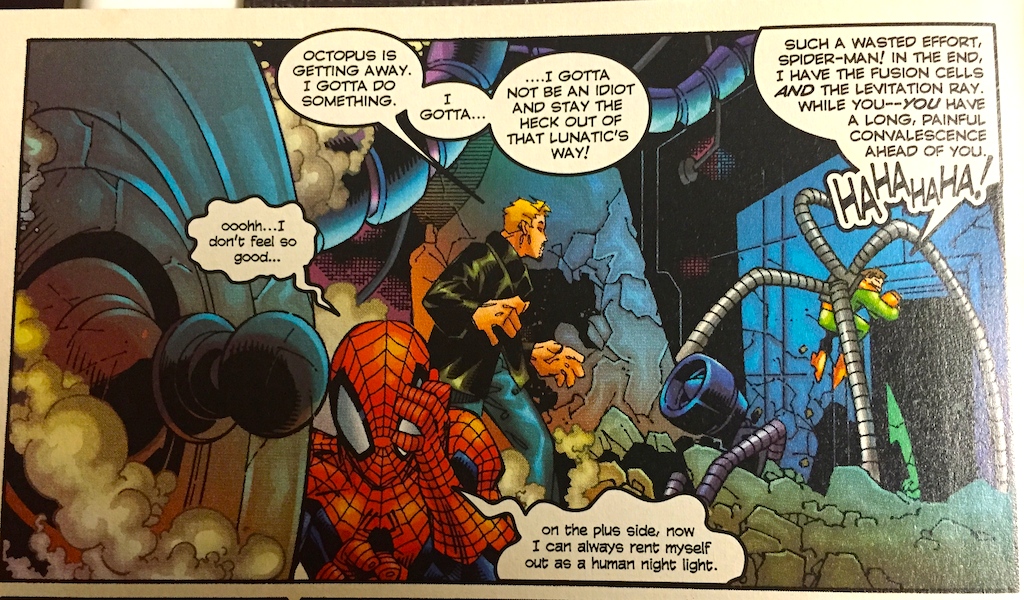 So there you have it: Six Reasons We Love MARVEL SUPERHERO ISLAND! See you next weekend for the latest installment of the SATURDAY SIX, where we'll look at something fun from the world of Disney and Universal. If you enjoyed yourself, be sure to check out The Magic, The Memories, and Merch! articles, or, for your listening pleasure, check out the E-Ticket Report podcast. You can also follow Your Humble Author on Twitter (@derekburgan).
If you enjoyed this article, you will surely like the following: 
6 Reasons We Love PORT OF ENTRY at Islands of Adventure
6 Reasons We Love SEUSS LANDING at Islands of Adventure
6 Reasons We Love JURASSIC PARK at Islands of Adventure
6 Reasons We Love the WIZARDING WORLD OF HARRY POTTER – HOGSMEADE VILLAGE
Special Thanks to The Elite Brandon Glover, Captain Cruiseline Scott Sanders of the world famous Disney Cruise Line Blog, my personal protege Hunter "Elvey" Underwood, the bio-est of all reconstructs @bioreconstruct, Mr. 'Ohana Tim Grassey, the SAT SIX Fun Squad of Parkscope Joe and Nick, hot shot Michael Carelli, crazy cat lady – and our Fearless Leader – Laurel Stewart, and Hermione Granger's tutor Megan Stump for their invaluable assistance with this article. The SAT SIX is inspired each week by goofballs Aengus Mackenzie and LitemAndHyde and you Potterheads will  enjoy Meg's other blog work over at the Central Florida Slug Club.
FINAL PLUG! Did you know The 2019 Unofficial Guide to Universal Orlando has a special edition of the SATURDAY SIX in it?That's right, ANOTHER NEW ONE EXCLUSIVE TO THIS EDITION!Finally, someone came up with an actual reason to read a book. ORDER this baby now!