SATURDAY SIX: 6 Reasons We Love PORT OF ENTRY at Universal's Islands of Adventure
This week's SATURDAY SIX covers Six Reasons We Love PORT OF ENTRY at Universal's Islands of Adventure. One of my favorite places at either of Universal's two theme parks doesn't have a single attraction or show. Port of Entry is the first official "island" you experience when walking into Islands of Adventure (IOA) and I consider it the best entry area of any theme park in North America. The layers of detail throughout the area transports guests into a world that never existed, yet somehow feels completely real.
The journey through this exotic land starts before you even hit the park, as the impressive Pharos Lighthouse stands tall outside the gates and the wonderful Ocean Trader Market theme plays in the background. I love the short walk from the Royal Pacific Resort to the park as this charming music grows louder the closer I get.
Once through the turnstiles, guests pass by the archway which promises "The Adventure Begins" and they generally make a beeline to the Wizarding World of Harry Potter or quickly head over to the Hulk Coaster and Spider-Man at Marvel Superhero Island. With this edition of the Saturday Six we are going to make a plea to you, Dear Reader, to slow down on your race to the rest of the park and take a moment to take in the immersive land Universal Creative has delivered with Port of Entry. We are going to look through some of our favorite things and let's kick off the countdown with…
# 6 –  The Love Birds
Sitting together along the walls of Port of Entry are two love birds.  These two birds actually took me a while to find myself, and I have combed over the Port of Entry many times. I had asked Team Members about them and even went to Guest Services and you would have thought I asked where the Seven Dwarfs Mine Train was in the park. No one had any idea what I was talking about.
While I won't spoil the fun in discovering where they are, I actually stumbled upon them when checking out another item on this list (there's your only hint.)  There is a "coo-ing" playing over speakers in their area, and once you see them you'll wonder how you missed them for so long. I would imagine this is a detail that 99.44% of IOA guests never notice, and that's what I love about it. The term "Disney Difference" gets thrown out a lot when it comes to detail in theme parks, and while some may be wondering where the Disney Difference went at Epcot and Disney's Hollywood Studios, I think they will find it in spades at IOA.
–
# 5 – "Main Street Windows"
Getting a window on Main Street at the Magic Kingdom is one of the highest honors one can achieve at Walt Disney World. Whether it's Disney family members Elias and Roy Disney, Imagineers Mary Blair and John Hench, or management like Lee Cockerell and Frank Wells, having your name in tribute on one of these windows is a theme park equivalent to having a star on the Hollywood Walk of Fame, except that they are much harder to attain and actually mean something.
Universal also pays homage to the people who helped create their resort in a variety of ways at both Islands of Adventure and Universal Studios FLorida, including window tributes. This particular window in Port of Entry is for "Codiga Adventures" and is referencing David Codiga, a former Executive Vice President of Universal Creative. Mr. Codiga's most recent project was the High Roller observation wheel in Las Vegas, the world's tallest ferris wheel.
Keep your eyes open and you'll see other tributes in the land including one to James Nagy (a former Sr. Vice President of Universal who helped create IOA, CityWalk, and the Universal/Loews Hotels partnership) and even a referenc to Seagram's, the former owner of the Universal Orlando Resort.
–
# 4 – The Photo Ops
We all love taking pictures at the theme parks, and Port of Entry is loaded with tons of fun photo ops for kids and those young at heart. With a variety of vehicles, animals, and artifacts to use as props, Port of Entry is one of the most fun places in any park to get Instagram worthy pics that don't include a purple wall.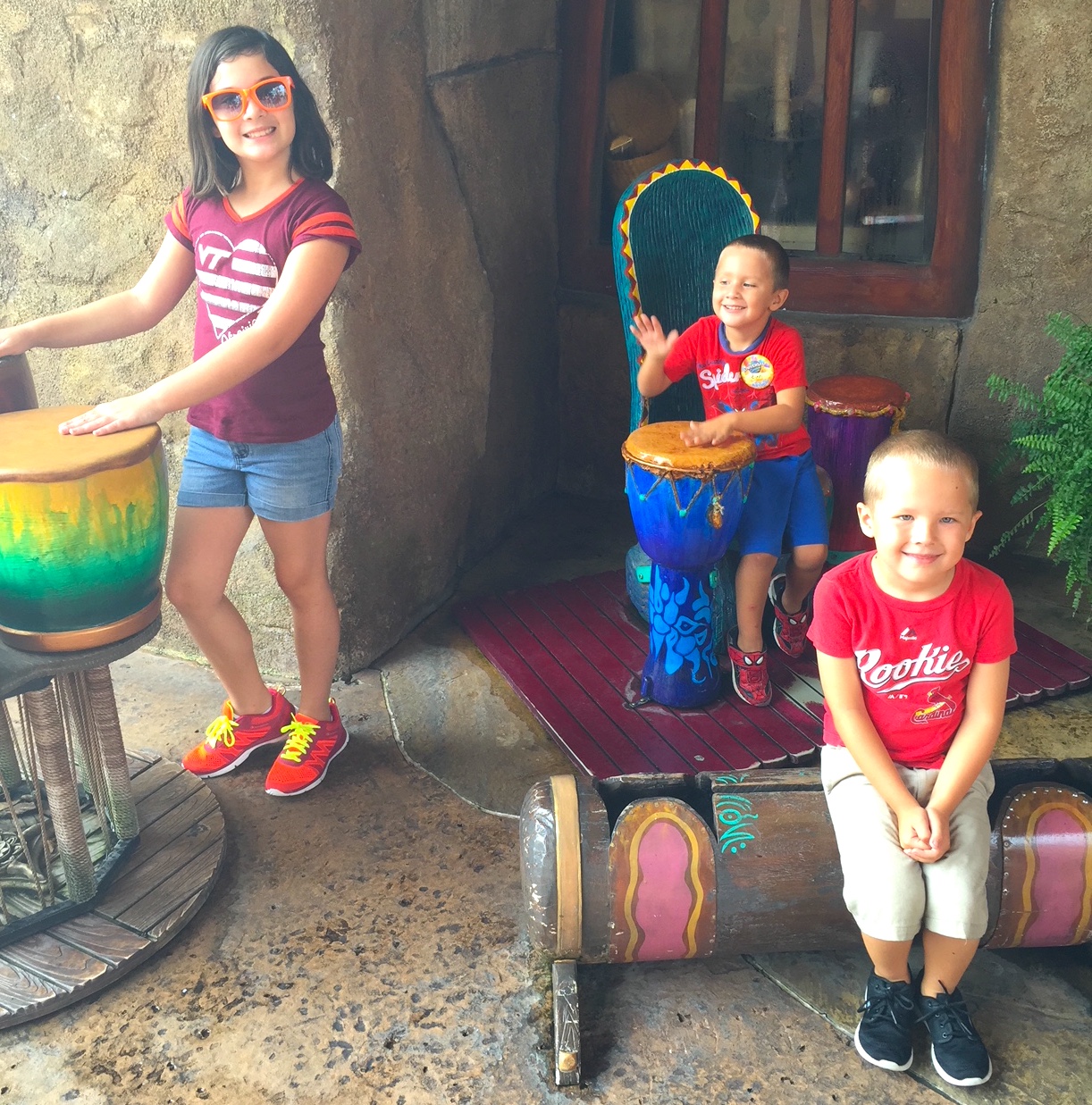 –
# 3 –  Port of Entry Christmas Shoppe
If there was a Venn diagram showing the overlap of "theme park fans" and "Christmas fans," it would seem to be near 100% (the only thing with a stronger common element is the overlap between "bloggers" and "attention seeking complainers.") Let's face it, we love Christmas in our parks! Both Disney and Universal have incredible holiday celebrations along with year-round Christmas stores such as Disney's Days of Christmas, Ye Old Christmas Shoppe, and the Christmas store in Germany at EPCOT. Both Universal parks have dedicated Christmas stores, but Port of Entry Christmas Shoppe is worth checking out. One of my favorite things is the Grinch Christmas Village displays. As a person who loves Christmas, loves theme parks, and loves collecting, it takes every ounce of will I have not to buy a piece each time I'm in the park.
–
# 2 – All The Little Details Throughout the Land
Throughout Port of Entry the overall richness of design is spellbinding. Like the best lands at Disney, theming in the area is taken to the Nth degree wherever you look. From signs outside the camera store, to giant skeletons of mythological creatures hanging in a gift shop, to a wheelchair rental sign that includes dirigibles and gondolas, Port of Entry is packed to the brim with great details. While I love the whimsical signs like The Lost Explorers Club (with all the meeting times cleverly cancelled,) one of my favorite touches in Port of Entry is references to other areas in IOA including Jurassic Park.
–
# 1 – Confisco Grille
Speaking of references to other lands in the park, Confisco Grille is one of the more underrated dining venues at the Universal Orlando Resort, but hands down the best place to go for hardcore fans of IOA. The restaurant's name refers to items that have been confiscated from travelers coming into Port of Entry. While one can only marvel at a land that is conspicuously absent from the collection, inside you will find some really neat props from the other "islands of the park." With a menu featuring options including Mediterranean, Italian, Mexican, and Asian dishes, there's something for even the pickiest of eaters. Our best bet is to go with the wood fired pizzas and take in the ambiance. Also worth checking out is the adjoining Backwater Bar, which offers the Confisco Grille menu and has a great selection of cocktails and appetizers.
–
Honorable Mention – Mail a Letter from IOA
In a previous edition of the SATURDAY SIX we wrote about how guests can mail a letter from Hogsmeade Village, but there is also another special mail box for outgoing mail in Port of Entry. Rocket Air Mail is located to the left of the turnstiles once you enter the park and mail is picked up on Monday, Wednesday and Friday. Unlike the Owl Post's special Hogsmeade Village postmark, letters and cards mailed from the Rocket Air Mail box will only be postmarked from Orlando, but it's certainly one of the coolest mailboxes you can mail your "Wish You Were Here" postcards from.
–
Double Secret Honorable Mention – THE MUSIC
While Universal Studios Florida is filled with popular music, Islands of Adventure mostly has background music created exclusively for the park. While I love the iconic theme of Jurassic Park from John Williams, it is a calypso version of that very music that I absolutely adore. Port of Entry has pound for pound the best music in the entire park. I recommend checking out this episode from the Unofficial Universal Orlando Podcast where they interview the man behind the music of IOA, William Kidd. Also head on over to YouTube where UORadio has a ton of awesome Universal music up, including all the best stuff from IOA.
So there you have it: Six Reasons We Love PORT OF ENTRY at Islands of Adventure! See you next weekend for the latest installment of the SATURDAY SIX, where we'll look at something fun from the world of Disney and Universal. If you enjoyed yourself, be sure to check out The Magic, The Memories, and Merch! articles, or, for your listening pleasure, check out the E-Ticket Report podcast. You can also follow Your Humble Author on Twitter (@derekburgan).
If you enjoyed this article, you will surely like the following:
6 Pieces of Disney Merchandise That Don't Exists (But Totally Should)
6 Times The Simpsons Nailed Being A Theme Park Fan
Walt Disney World Locations Used in Hulk Hogan's THUNDER IN PARADISE
SATURDAY SIX Looks At Ways Disney Can Introduce MARVEL Into The Parks
The SATURDAY SIX Uses Disney Villains To Explain Theme Park Blogging
6 Times Our Favorite TV Shows Went To Walt Disney World
Special Thanks to crack staff photographer Brandon Glover, my personal protege Hunter "Elvey" Underwood, hot shot Michael Carelli, theme park music man @ThemeParkJosh, the seductive siren of Star Wars Scarlett Litton, the Foursquare Mayor of Guest Relations Tim Grassey, one of those Parkscope guys (just how many are there anyway?) Joe Matt,  and blogger to the stars Megan Stump for their invaluable assistance with this article. Be sure to also check out Brandon on The Park Blogger podcast with goofballs co-hosts Aengus Mackenzie and LitemAndHyde , while fellow Potterheads may enjoy Meg's work on the Central Florida Slug Club.
FINAL PLUG! Did you know The 2017 Unofficial Guide to Universal Orlando has a special edition of the SATURDAY SIX in it? Finally, someone came up with an actual reason to read a book. ORDER this baby now!