SATURDAY SIX: Six Reasons We LOVE Universal's Portofino Bay Hotel
This week's SATURDAY SIX takes a look at Six Reasons We Love Universal's Portofino Bay Hotel. Currently, the Universal Orlando Resort has four on-site hotels, with a fifth (Sapphire Falls) opening later this summer. Disney has three classifications for their resorts: Value (including Pop Century), Moderate (Port Orleans Riverside), and Deluxe (Contemporary). Universal also has three levels: Preferred (including Royal Pacific Resort), Prime Value (Cabana Bay Beach Resort), and Premier, which is where the Portofino Bay Hotel resides.
First, a little backstory. Steven Spielberg can be considered one of the main "architects" of the entire Universal Orlando Resort. Universal Studios Florida, the park which started it all, was built on the back of films that Spielberg either directed (Jaws, E.T.) or was a producer on (Back to the Future, An American Tale, Twister, Transformers). While the Wizarding World of Harry Potter is the current draw to Islands of Adventure, it's Spielberg's Jurassic Park that sits directly in the middle, and the iconic Jurassic Park visitor center is the first thing you see in the park when coming out of the Port of Entry. It's only natural that when Universal was putting together Islands of Adventure back in the 1990s that they would pick Spielberg's brain about ideas for the new onsite hotel they would also be developing.
Spielberg's suggestion was for the new hotel to be inspired by the classic feel of Portofino, Italy. Loews took that idea and ran with it, faithfully recreating a classic Mediterranean fishing village by the lagoon, as well as representing the luxury of many high end Italian hotels on the inside of the resort. Portofino Bay and its 750 rooms can be considered the flagship resort of Loews at Universal. Today we are going to look at several of the reasons we absolutely love Portofino, including what may be the best themed room in all of Orlando. So sit back, put on The Three Tenors as background music, and let's begin our list with…
# 6 – The Pools
A little while back we took a trip to Disney's Caribbean Beach Resort and fell in love with their Fuentes del Morro Pool. The Beach Pool at Portofino blows away the one at Caribbean Beach and joins the elite of Orlando pools including  Stormalong Bay at the Yacht & Beach Club, and the Nanea Volcano Pool at the Poly. There are a lot of activities surrounding the main pool, including a children's water play area (complete with pirate ship), pool tables, ping pong, a giant checker board, a fantastic pool bar (with tons of seating and a great menu), two hot tubs, a sandy beach and more, The pool itself is an impressive fort-like structure you can walk around in, a grotto you can swim through, and a great slide. 
There are two other pools at Portofino, including the impressive Villa Pool. Located near the Beach Pool, this area includes even more lounge chairs, 16 cabanas, a hot tub and a plunge pool. Just a gorgeous area with maybe the best pool bathroom area in the entire state of Florida. The third pool is a true quiet pool and located on the other side of the resort.
For the first time ever, we rented a cabana at the Beach Pool during our stay and actually will rent again in the future. I always used to assume a cabana would be a waste of money, but it ended up being incredible. We rented it on our check in day and arrived at 11AM. Our room wasn't ready so we just brought all of our bags over to the cabana and had plenty of room (you can also drop off your bags at Bell Service.) The cabana had several seats inside, a ceiling fan, and a flat screen TV along with a DVD player (about 50 movies were available to watch, all included with the price of the cabana.) The cabana came with a fruit and cheese plate along with your choice of six drinks. A cabana attendant also came by many times throughout the day to see if we needed anything or wanted to order from the pool bar. The cabanas start at $150 and will now be a staple of our Universal vacations on the first or last day of the trip as it made life so much easier.
–
# 5 – Portofino is Pet Friendly
For those of you. like us, that have a four legged member of the family, Portofino Bay (along with the Hard Rock Hotel and the Royal Pacific) is pet friendly. Surrounding the resort are long walkways (and we mean long. runDisney people may want to check out the Portofino for relaxing runs) along with a large spaces for your pets to play in.
–
# 4 – BiCE
Like Victoria & Albert's at the Grand Flo, BiCE at the Portofino is more of a dining experience than a meal. Service across the board at Portofino is among the best you'll find at any theme park resort, but the service at BiCE takes it up a notch. The servers are knowledgable, friendly, and are there before you know you need them. While Portofino is a great destination for families, it also is one of the best places for couples, with BiCE being the ultimate date night dinner. With an exquisite menu and an extensive wine list, you're going to search long and hard to find a better place for a romantic meal. While the attire for BiCE is technically "business casual," you're not going to be run out of town wearing your theme park attire (unlike Victoria & Albert's, where if you wear a t-shirt you're immediately brought to the stockades in Liberty Square.) We've tried almost everything on the menu and there is almost nothing we wouldn't recommend. Even the penne pasta with spicy tomato sauce was probably the best pasta dish I've had at any restaurant in the theme park corridor.
Don't Forget Sal's Market Deli or Mama Della's Ristorante!
Two other dining areas at Portofino are also worth checking out during your stay. Sal's Market Deli is a quick service venue with one of the best pizzas on Universal property (and that includes the great tasting pies you'll find at Red Oven Pizza Bakery and Vivo.) Mama Della's Ristorante is a table service restaurant with solid Italian dishes and strolling musicians performing as you eat.
–
# 3 – Location, Location, Location
Like all the Universal Orlando resorts, Portofino is steps away – or a leisurely boat ride – from CityWalk, Islands of Adventure, and Universal Studios Florida. While both the Royal Pacific and Hard Rock hotels are closer to the parks, being set back a little farther also makes Portofino much more immersive. When you are at the resort you don't see or hear the parks at all (outside of Cinematic Spectacular fireworks.)
–
# 2 – Ambiance
With only 750 rooms, Portofino isn't a sprawling resort, but when walking around the grounds it seems gigantic. Because it's so large, guests are spread out and it never feels crowded. There are so many fantastic photo ops throughout the entire resort, but you'll probably be drawn the wonderful harbor area where several of the restaurants are located (along with a Universal gift store, Starbucks, and other miscellaneous shops.) In a word, it's beautiful and like my favorite WDW resorts like Animal Kingdom Lodge or Wilderness Lodge, it always feels like you're someplace special and not just a hotel.
–
# 1 – Despicable Me Kid's Suite
In general, at 450 sq feet and up, the guest rooms at Portofino Bay are even larger than your average room at a Disney Deluxe Resort. Many rooms have an outstanding view of the harbor, a few with balconies. But we're here to talk about THE room. As a family who loves Disney's Art of Animation Resort, we've been looking forward to checking out the Despicable Me Kid's Suite at Portofino Bay from the day it was announced. Would it deliver? Well, let's check it out.
One of the only negatives we have with the Lion King, Cars, and Finding Nemo suites at AOA is that the master bedroom – where the adults sleep – is seperated from the rest of the room, giving kid's access to the hotel door. Universal's kid's suites are the complete opposite, with the adult bedroom having the only access to the room's entrance. The door to the kid's area only opens into the adult's room. The adult's bedroom is gorgeous, with a king size bed, a love seat, a sitting area, and a bathroom that may be larger than my first apartment. "Look at all this floor space. So many activities!"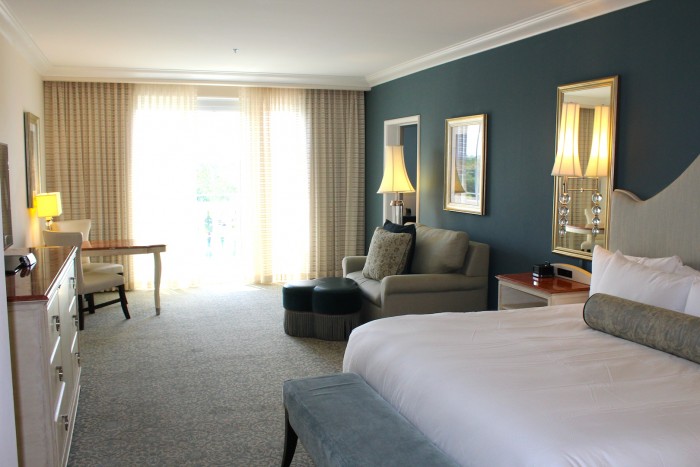 The door to the children's area is themed so well that the kids loved slamming the door and pretending they were Gru from Despicable Me. There is even a spinning wheel like you would see on some old timey bank vault. When we opened the door, the pictures just do not prepare you for how large everything is. The bomb beds are much bigger than a regular twin, and the kids loved playing in, around, and on top of them. Gru's scarf as an accent on the bed was a great touch, with the chair and lighting fixtures in the room seemingly straight from the movie. You know you've hit a home run when the kids need to say goodbye to the room when we checked out and added, "we love you."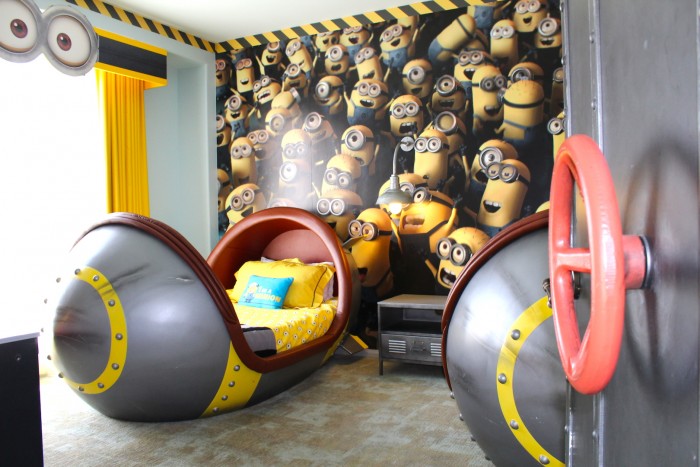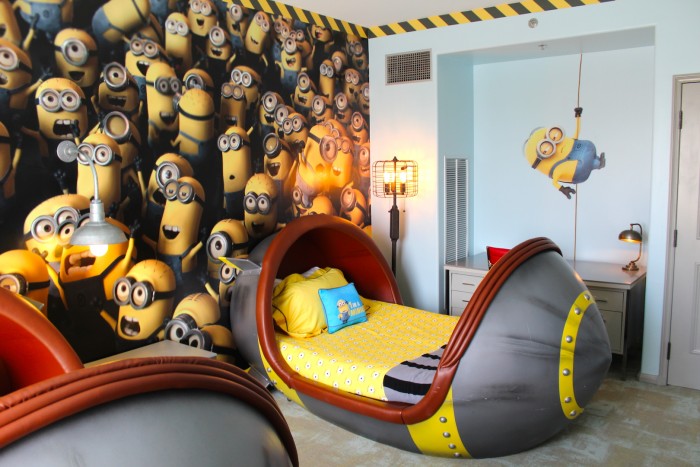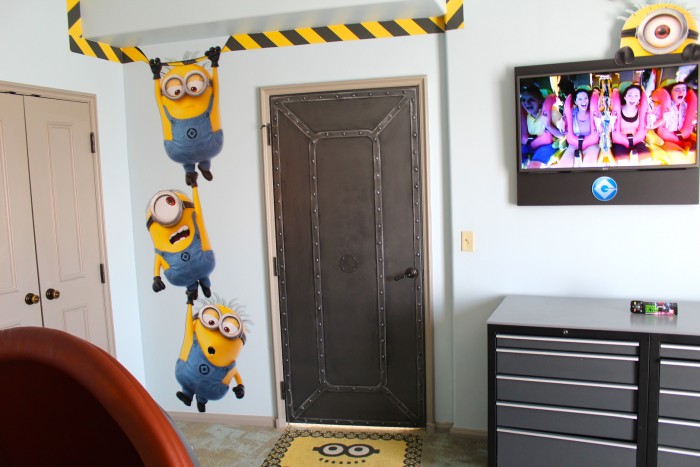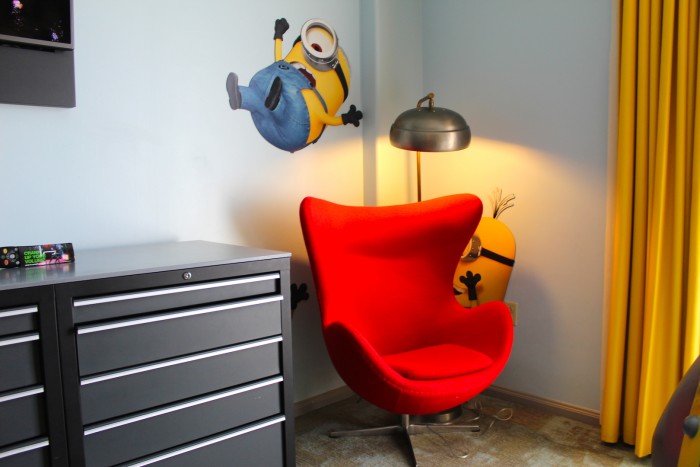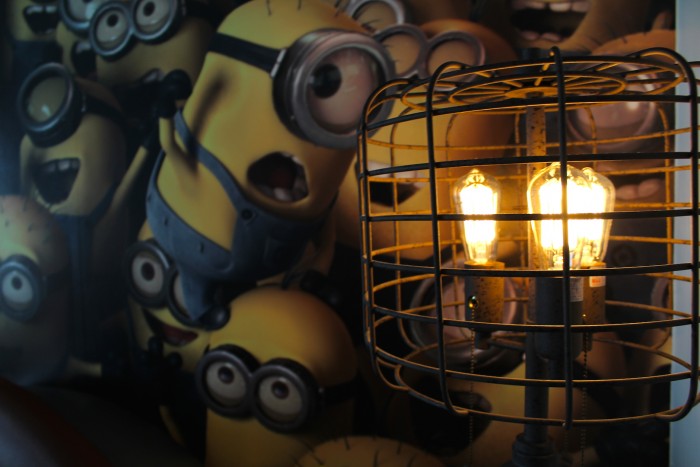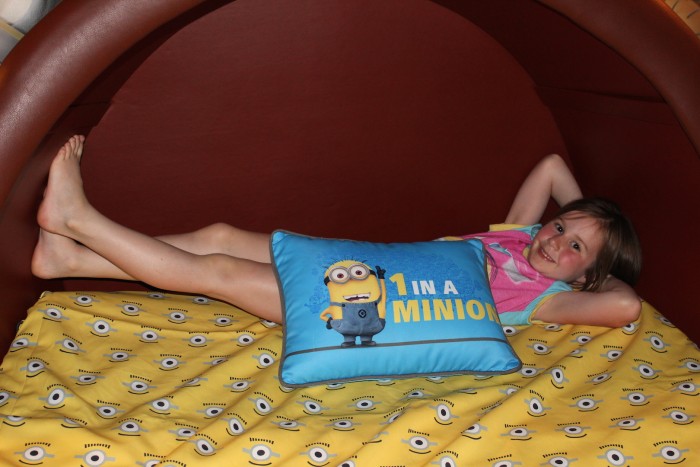 –
HONORABLE MENTION – Bocce Ball Court
I have absolutely no idea what Bocce Ball is, and after reading the rules for the game I think I may actually understand it  less than I did before. However, thanks to Portofino's blessing of size (© Walt Disney) they have a Bocce Ball area near the Villa Pool.
So there you have it: Six Reasons We Love Universal's Portofino Bay Hotel. Again, I can't stress how amazing the service was across the board at the resort. Everyone in the pool area was attentive. Check in was fast and easy. Housekeeping was terrific. A special shout out to Amanda and Anthony as two shining stars in the Loews team. Couldn't have had a better time. See you next weekend for the latest installment of the SATURDAY SIX, where we'll look at something fun from the world of Disney and Universal. If you enjoyed yourself, be sure to check out The Magic, The Memories, and Merch! articles, or, for your listening pleasure, check out the E-Ticket Report podcast. You can also follow Your Humble Author on Twitter (@derekburgan)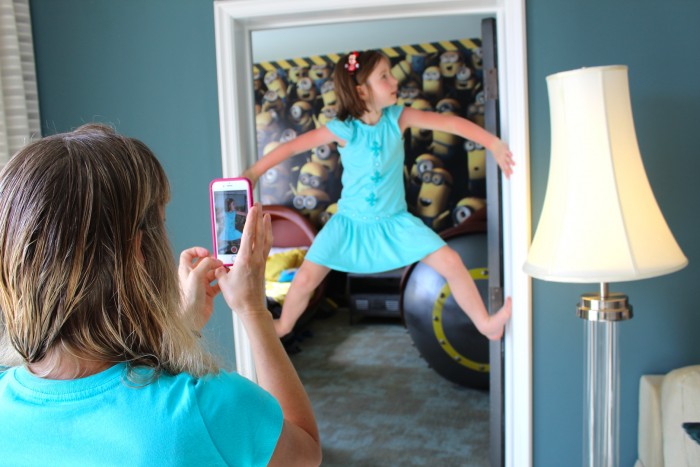 If you enjoyed this article, you will surely like the following:
Six Reasons We Love Universal's Royal Pacific Resort
Universal Dining: Emeril's Tchoup Chop 
Universal Dining: Wok Experience at Islands Dining Room
Our Six Favorite Jokes in Universal's Springfield USA.
Special Thanks to crack staff photographer Brandon Glover, crazy cat lady Laurel Stewart, and blogger to the stars Megan Stump for their invaluable assistance with this article. Be sure to also check out Brandon on The Park Blogger podcast with co-hosts Aengus Mackenzie and Brian Carey. 
FINAL PLUG! Did you know The Unofficial Guide to Universal Orlando has a special edition of the SATURDAY SIX in it? Finally, someone came up with an actual reason to read a book. ORDER this baby now! (For every copy sold, a percentage of the profits* go towards buying a DVD of the Seven Dwarfs Mine Train rap video.)