The SATURDAY SIX looks at the latest happenings at WALT DISNEY WORLD and the UNIVERSAL ORLANDO RESORT
This week's SATURDAY SIX takes a look at the recent happenings at WALT DISNEY WORLD and the UNIVERSAL ORLANDO RESORT!  Florida is preparing itself for a pretty big 2019 and an absolutely HUGE decade following that, so this week we're gonna give a quick look at some projects currently in the works along with other news and notes that should be on your radar. Let's kickoff the countdown in a big way with…
# 6 – Star Wars: Galaxy's Edge
To say Disney is putting all their eggs in one Galaxy's Edge basket may be an understatement. For those who are immersed in theme park news, there have been reports from just about every major theme park website reporting soft crowds and even softer hotel bookings this year. Disney all but confirmed that things aren't going well by only blocking out seasonal passholders for less than one week this summer and throwing an additional bone to annual passholders. Recently they listed out 19 NEW Things Coming To WDW in 2019 which includes a bunch of dance parties and things that already exist (SURPRISE, there's an Epcot Food & Wine Festival next year!)
With the lack of major attractions showing up within two years at Animal Kingdom, Epcot, or Magic Kingdom, one can make a reasonable assumption that Disney believes strongly that the opening of Star Wars: Galaxy's Edge at DHS is going to cure many of its current ills. From what we can see of Galaxy's Edge, it certainly appears to be absolutely STUNNING. It's the Star Wars land everyone always wanted. The sheer size of the area is almost impossible to take in unless seeing it in person as pictures do not do the land justice.
Let's take a look around the land, shall we?
The following two pictures show an area of Galaxy's Edge compared to what the scale model of the area shows in the Walt Disney Presents gallery. Have to honestly say that just seeing Star Wars related space ships in real life makes the 10 year old me cry in sheer joy.
Here workers on putting some details on a section of wall, followed by a picture of the model in the Walt Disney Presents gallery showing how those details will look in the overall big picture.
Here rock work is being applied to the latest spire to be added to the area.
Aerial view of the BATTLE ESCAPE attraction. With the combination of current technology, the Star Wars brand, and Imagineer Scott Trowbridge – the man behind Universal's Amazing Adventures of Spider-Man – Battle Escape has all the potential to be the greatest theme park attraction ever made.
The Millenium Falcon will be sitting in the open spot in the middle of this area.
The Black Spire Outpost will have a large themed area for food and merchandise.
The rock work is actually "petrified tree" theming.
# 5 – Coronado Springs
The new tower at the front of Coronado Springs is coming along nicely. It was just about one year ago where we had a family vacation at Coronado and they had recently started the project. As someone who absolutely loved both Coronado and Caribbean Beach, its going to be interesting to see how these gigantic hotels affect the "feel" of each resort. I get it, Coronado needed a way to get some better amenities for conventioneers who need to wine and dine their clients, but this is a huge change for a couple of "relaxing" resorts.
What I'm definitely looking forward to is the lounge that is being built right on the lake itself in front of the new Tower. We loved just grabbing a beverage and taking a leisurely stroll around the lake, and I think its going to be great to enjoy a meal while sitting above the water!
There will be three different bridges to the lounge leading from different areas of Coronado Springs. Here is one of the bridges.
This is the last of the three bridges to be built. As you can see it is still in the process of construction. Until recently a barge with a crane on it needed to maneuver in this area, but now it appears all the major work is done.
The Pepper Market, in my opinion pound for pound one of the best food courts at Walt Disney World, has recently been rebranded into EL MERCADO DE CORONADO for reasons unknown. The new name sounds like a Mexican luchador (professional wrestler,) so I'm all for it. This seemingly completes months of minor refurbishments to the area (there was also a complete overhaul to the nearby Rix Lounge, transforming it into Rix Sports Bar & Grill.)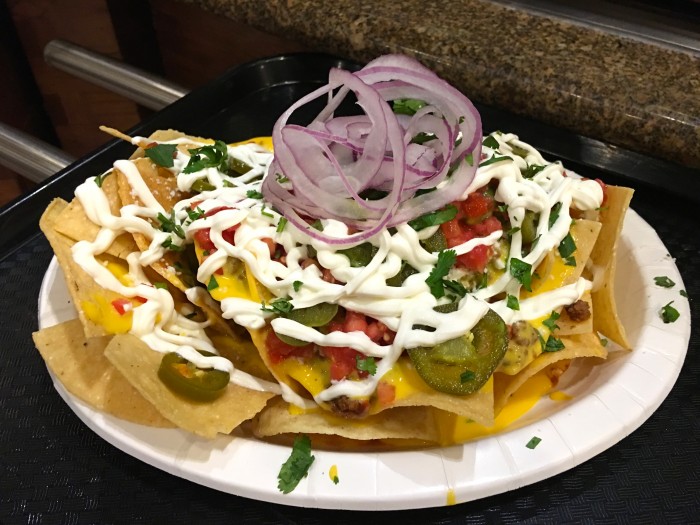 # 4 – Disney Skyliner
If your life is obsessed with Disney social media channels like mine, then you spent way too much time reading about people complaining about whether or not the upcoming Disney Skyliner transportation system will have air conditioning. The bad news: it doesn't appear like it will, which sounds disastrous. The good news: by all accounts it looks like guests won't be on any section of the Skyliner for a long length of time. Based on an 11mph speed, which has been used by similar gondola systems, the longest stretch of distance would still be under 4 minutes of ride time. We're also hearing these gondolas will travel even faster than that. Regardless, as we all know nothing bad ever happens to Disney transportation systems, so thankfully there is a less than zero chance that a guest will be stuck in a glass tube under the Florida sun in the middle of an August day where the temperature is approximately 105 degrees with 100% humidity.
Gondola station outside DHS.
This is the Skyliner "turn station" as guests travel between Disney's Caribbean Beach and Epcot (note Spaceship Earth in the far left background.)
Close-up of the "turn station."
Disney's Caribbean Beach is going to be the main "hub" of the entire Skyliner, so its station is much larger than the others.
Aerial view of the Skyliner station in-between Pop Century and Art of Animation.
Art of Animation station.
Close-up of Art of Animation Skyliner station.
# 3 – Universal's Surfside Inn & Suites
A lot of hotel owners on International Drive are stocking up on Pepto Bismol, as Universal is rapidly putting up its newest hotel, Surfside Inn & Suites. With price points starting at just $73 for standard rooms and $111 for family suites, nearby "cheapo depot" hotels are going to have to really raise their game to compete with Universal. Believe it or not, Surfside is actually closer to the UOR transportation hub than Cabana Bay.
Surfside Inn is part of the ENDLESS SUMMER RESORT, with its sister hotel, Dockside Inn being built directly next door. In the picture below you can pretty much see the entire Universal Orlando Resort directly behind Surfide Inn, including the short bus ride to the transportation hub.
Painting of Surfside Inn began in earnest this week. The colorful swatch seen on the end of one building has been there awhile, but now large sections of the hotel are being painted as well.
# 2 – Universal Debuts Mobile Ordering
There's no one better than Universal at surprising guests with things that probably should have been hyped up earlier, and they've gone and done it again with mobile ordering appearing on the UOR app out of nowhere. Mobile Ordering at Walt Disney World can be a lifesaver. Recently I was standing in line at Aloha Isle to get a pineapple upside down cake. The line wasn't moving at all and of course it was a million degrees out. I broke down and decided to mobile order. Placed my order, was immediately informed by the app that my order was ready, and was picking up my dessert while THE LINE HADN'T MOVED.
As of right now, only The Burger Digs at Islands of Adventure offers mobile ordering, but Those In The Know say it will go to Captain America Diner next. The only negative of mobile ordering – and this applies to both Disney and Universal's version – is that you can't use any discount on your order. Normally that would drive me nuts, but the time saved from not standing in line makes me just say "serenity now" and move on.
# 1 – Harry Potter Coaster at Islands of Adventure
As the story goes, when Universal announced the Wizarding World of Harry Potter – Hogsmeade in 2007, it saw attendance drop because guests wanted to wait until the Potter section was open in 2010. Since being "burned," Universal Orlando now rarely gives much detail on big projects in advance. Last year they had a brief announcement that Dragon Challenge was closing and would be replaced by a Potter themed "family coaster" and that was pretty much it. No name of the attraction. Not when it may open. Not a single detail about the actual ride. Keep in mind this attraction will almost assuredly be open before Mickey & Minnie's Runaway Railway at DHS.
There is some informed speculation about what the upcoming coaster will be, and the rumors seem to be all but "confirmed" as construction goes on. Before checking out the construction pictures, I recommend watching this video made by Alicia Stella, who has put together information from some solid sources to give us an idea of what may be coming.
First of all, if the final attraction is even half as cool as that video makes it sound, we are in for a magical treat in 2019!  Imagine a coaster which looks to combine some of my favorite features of Busch Garden's Cheetah Hunt coaster, the "going backwards" part that is so awesome in Expedition Everest and Revenge of the Mummy, and also happens to have dark ride scenes, audio animatronics, AND A SUDDEN DROP FEATURE. I'm not sure we are worthy of such a ride!
If you zoom in, you'll see some great details in this show building.
An aerial look at the portion of the coaster in which the ride will actually drop the coaster straight down!
This area is rumored to be Hagrid's Hut and looks more and more like it every day.
HONORABLE MENTION –  Universal Expansion
Speaking of Universal rumors, everyone is waiting for the big announcement of their third official theme park. They have quietly been obtaining back a good amount of land they had sold under previous management, and have been getting a large site ready for what appears to be another resort. The photo below is a spot of land that is actually larger than the current Universal Orlando Resort! The arrows refer to entrances from Destination Parkway and Universal Blvd. Here is where we will probably see a large Nintendo presence, which could reignite Central Florida in much the same way the original Wizarding World did. What else will the new park bring? Jurassic World? How to Train Your Dragon? Kung Fu Panda? A Wizarding World area themed to Fantastic Beasts? A Fast & Furious attraction THAT IS ACTUALLY FAST (sorry, venting there.) Now that Galaxy's Edge is nearing completion, this is the Next Big Thing for all us theme park fans to salivate over.
DOUBLE SECRET HONORABLE MENTION – Brigitte's Garden
There are so many details at Walt Disney World that even a seasoned theme park veteran can be surprised by something that has always been in plain sight. Brigitte's Garden is located at DHS and is in honor of Brigitte Hartley. An animator who worked on several high profile projects including Who Framed Roger Rabbit?, The Rescuers Down Under, and The Prince and the Pauper, Brigitte passed away from cancer at an early age. Max Howard, at the time head of Disney's animation department, had a garden built and dedicated it in her honor. While the Disney's Florida animation studio at DHS is long gone, the animation building itself along with Brigitte's Garden still stands.
TRIPLE THREAT HONORABLE MENTION – New WDW Refillable Cup
In recent years, Disney hasn't updated their resort refillable mugs with any regularity. At one time each resort had its own cup, but like many things at WDW they all switched to become one generic theme. Thankfully several years ago a wonderful new design came out which referenced a whole bunch of resorts. We've had those same cups at WDW for well over three years now, while during the same time period Universal's Cabana Bay has come out with four different versions for their guests (including one themed to Halloween and another to Christmas.) This year Disney released a Halloween themed refillable cup for its resort guests, and it is fantastic! A hot seller – in fact unavailable in many places almost immediately – the cup features Goofy, Mickey, Minnie and Donald dressed up in Halloween outfits.
FIRST EVER FOUR HORSEMEN HONORABLE MENTION – Mickey Oreos
While not park related, the new Mickey Mouse Oreos are all over the place down here in Florida. There are three different cookie designs, and somehow the "birthday cake" creme inside is even sweeter than the normal Oreo creme. There was a brief time when Disney didn't want to celebrate Mickey Mouse's "age" as they wanted to him to appear as "timeless" instead of "old," but a 90th birthday celebration means we're about to see a whole bunch of food and merchandise themed to everybody's favorite mouse!
So there you have it: The SATURDAY SIX Looks At What's Going On At WDW and Universal! See you next weekend for the latest installment of the SATURDAY SIX, where we'll look at something fun from the world of Disney and Universal. If you enjoyed yourself, be sure to check out The Magic, The Memories, and Merch! articles, or, for your listening pleasure, check out the E-Ticket Report podcast. You can also follow Your Humble Author on Twitter (@derekburgan).
If you enjoyed this article, you will surely like the following:
The Best SOUVENIR CUPS at Walt Disney World
6 Events That Won't Be On Any Theme Park Calendar
Are Disney's Hotels Going To The Dogs? A Review.
Special Thanks to our spirit animal Brandon Glover, the bio-est of all reconstructs @bioreconstruct, best selling author of The Unofficial Guide to Universal Seth Kubersky, Mr. 'Ohana Tim Grassey, the SAT SIX Fun Squad of Parkscope Joe and Nick, hot shot Michael Carelli, and blogger to the stars Megan Stump for their invaluable assistance with this article. The SAT SIX is inspired each week by goofballs Aengus Mackenzie and LitemAndHyde and you Potterheads will  enjoy Meg's other blog work over at the Central Florida Slug Club.
FINAL PLUG! Did you know The 2018 Unofficial Guide to Universal Orlando has a special edition of the SATURDAY SIX in it? Finally, someone came up with an actual reason to read a book. ORDER this baby now!