SATURDAY SIX: The Six BEST Souvenirs at Walt Disney World
This week's SATURDAY SIX takes a look at The Six BEST Souvenirs at Walt Disney World. Last week we took a look at some of our favorite pieces of merchandise available at the Univeral Orlando Resort and today we are going to cross the street and see what the very best souvenirs are at Walt Disney World. This is a much harder task because as we mentioned previously, Universal only ramped up their merchandise game with the opening of the Wizarding World of Harry Potter – Hogsmeade in 2010. Disney, on the other hand, has been producing great souvenirs from Day One. In fact several items on this list are as synonymous with a Disney vacation as Cinderella castle or Mickey Mouse himself. So sit back, relax, and let's begin our countdown starting with…
# 6 – Mickey Ears
The classic Mickey Ears are THE iconic souvenir at Walt Disney World and one whose popularity has exploded in the last decade. Besides the classic black ears, there are now Mickey Ears for almost any part of the Disney fandom: princesses, pirates, Muppets, Star Wars, World Showcase, and almost any Disney character you can imagine. Who hasn't seen a newlywed couple at the parks wearing bride and groom Mickey Ears? Getting a pair of Mickey Ears has become part of the Disney experience itself.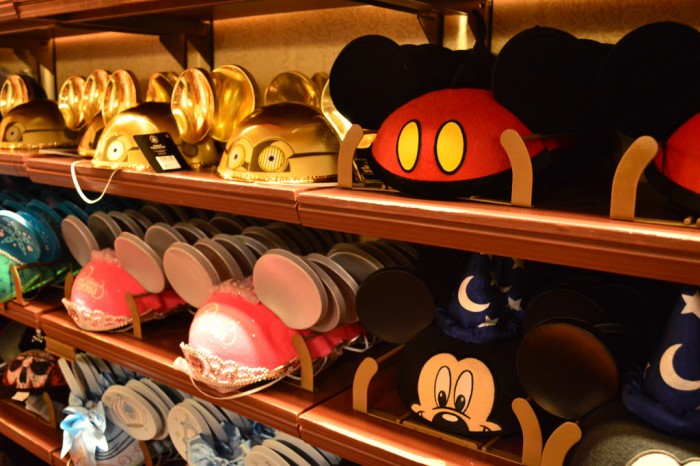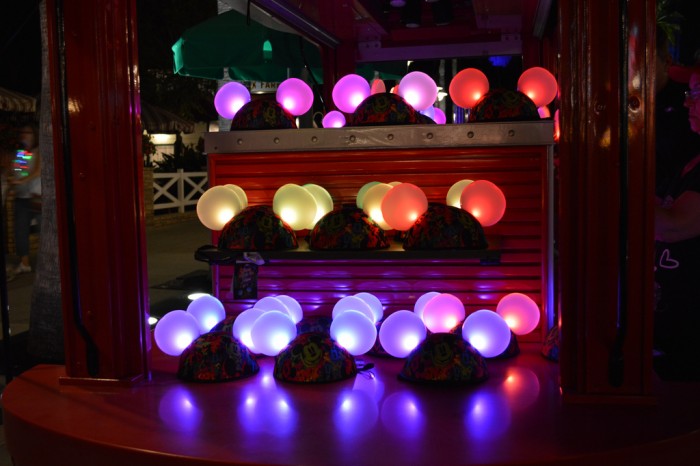 You can even custom make your own pair of Mickey Ears!
–
# 5 – Pressed Pennies
Pressed pennies are hands down the most economic souvenir choice on Disney property. Each costs 51 cents (although there are also pressed dimes in Tomorrowland, and pressed quarters across property that cost slightly more) and are small enough to easily collect a bunch without having to buy an extra suitcase for the trip back home. Pressed penny machines are EVERYWHERE at Walt Disney World: the theme parks, resorts, water parks, mini-golf courses, and even Disney Springs. Some people like to collect their favorite characters, while others like to get one as a memento of places where they have stayed at, like Port Orleans.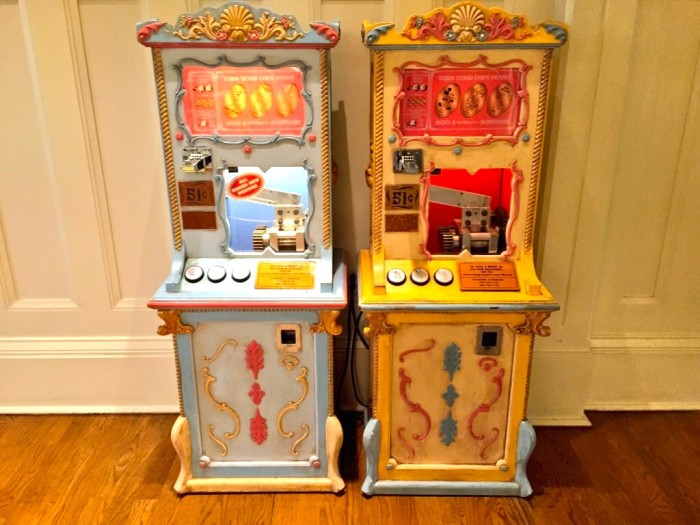 Related article you may enjoy: Julia Mascardo's Pressed Pennies: A Beginner's Guide
# 4 – Souvenir Cups
We are currently in a golden age of theme park souvenir cups. Recently on Twitter I held a Souvenir Cup Tournament and it seemed everyone had their personal favorite, from the Orange Bird sipper available in Adventureland, to the lighthouse themed cup at BOATHOUSE, to the incredible new Country Bears jug in Frontierland. The designs of Disney's souvenir cups are becoming so well themed that they are rivaling their more expensive counterparts in the resort's gift shops.
We'd also like to nominate Trader Sam's Grog Grotto into the Souvenir Cup Hall of Fame as they took themed drinkware to a new level (some even have show elements that are played in the bar when you order them). Dani has a Complete Guide to Grog Grotto Tiki Mugs that shows exactly why Trader Sam's is head and shoulders above the pack.
–
# 3 – Resort Specific Merchandise
If there is one complaint about current WDW merchandise, it is that many of the gift shops are becoming exactly the same. What you see in one park is exactly what you see in another park, and this extends over into the resorts. I don't know about you, but when I look through souvenirs of my vacations growing up, one of the things I enjoy seeing the most are items from the Disney resorts my family has stayed at. We have magnets from the Animal Kingdom Lodge and Art of Animation, shirts from Port Orleans French Quarter and pins from The Contemporary and Old Key West. It also seems like WDW has been ramping up resort specific merchandise over the last year or so, including taking Pop Century from one of the weakest of all of the resorts (merchandise wise) to one of the best.
# 2 –  Ghost Photo at Memento Mori in the Magic Kingdom
Having just said that many gift shops across WDW are selling the exact same merchandise (goodbye Villains in Vogue, you will be missed), we do have to point out a new shop at the Magic Kingdom that is doing the complete opposite: Memento Mori. The unofficial gift shop of the nearby Haunted Mansion, Memento Mori is filled to the brim with exclusive items that you won't find anywhere else, but the best item is one that allows you to transform yourself into a ghost. The backstory of the photo is that you are inside a witch's house and having a portrait done of your corruptible mortal state. Your visage will transform – or decay if you will – as you move the photograph. Unique to the Magic Kingdom, this photo gives each guest a keepsake that feels as if it could adorn the walls of the Haunted Mansion itself.
–
–
# 1 – Autograph Book
We have said it several times in the SATURDAY SIX but it bears repeating: Meet and Greets are becoming one of the most important aspects of a Disney vacation, rivaling guest's favorite attractions, resorts, and restaurants. Theme parks now join other hobbies where autographs have become big business. How many sporting events do you see people hanging over barriers trying to hand athletes items to sign? Comic conventions are filled with readers lining up to having their favorite books autographed by the creators. With Disney, autographs are just part of the experience. Not only do you get to interact with the character, along with take a photo, but the sheer amount of detail in the autographs can bring a smile to even the most jaded fan's face. From Goofy having a backwards letter in his John Hancock to Donald Duck writing he's "#1," to Ariel adding air bubbles around her name, these autographs are more than just signatures, they are memories.
–
HONORABLE MENTION – The Monorail Toy
This particular souvenir is more of a personal choice, as it is something we here at the SATURDAY SIX offices have wanted for years. We've seen pictures of people who set up a monorail loop around their Christmas tree, and are green with envy. We see The Contemporary accessory at Once Upon a Toy in Disney Springs or The Poly accessory on eBay and for both we want to Buy. It. Now. One day we will have this monorail toy in our collection, and fulfill a lifelong dream. But for now it just brings a huge smile to our face every time we pass by at Walt Disney World, and that's what these vacations are all about.
–
So there you have it: the Six BEST Souvenirs at Walt Disney World. See you next weekend for the latest installment of the SATURDAY SIX, where we'll look at something fun from the world of Disney and Universal. If you enjoyed yourself, be sure to check out The Magic, The Memories, and Merch! articles, or, for your listening pleasure, check out the Pardon the Pixie Dust podcast. You can also follow Your Humble Author on Twitter (@derekburgan)
If you enjoyed this article, you will surely like the following:
Six Reasons We Love Disney's Port Orleans French Quarter
Six Best SHOWS at Walt Disney World
Six Most Unique Dining Experiences at Walt Disney World
Six OUTRAGEOUS Food Items at Walt Disney World
Special Thanks to crack staff photographer Brandon Glover, Confessions of a Disney Nerd's own Stacey Lantz, and blogger to the stars Megan Stump for their invaluable assistance with this article. Be sure to also check out Brandon on The Park Blogger podcast with co-hosts Aengus Mackenzie and Brian Carey.
FINAL PLUG! Did you know The Unofficial Guide to Universal Orlando has a special edition of the SATURDAY SIX in it? Finally, someone came up with an actual reason to read a book. PRE-ORDER this baby now! (For every copy sold, a percentage of the profits* go towards buying a DVD of the Seven Dwarfs Mine Train rap video.)
*0%