SATURDAY SIX: Six Reasons We Love Disney's OLD KEY WEST Resort
This week's SATURDAY SIX takes a look at Six Reasons We Love Disney's Old Key West Resort. One of Walt Disney World's biggest strengths against all of its competitors is the wide variety of unique resorts it has on property to offer guests. We've covered several here on the SATURDAY SIX including Value Resorts such as Art of Animation and Pop Century, Moderate Resorts with Port Orleans French Quarter and Riverside, and Deluxe Resorts including the Contemporary. While our reviews on both Animal Kingdom Lodge and BoardWalk Inn & Villas included a Disney Vacation Club component, today we are going to take a look at our first DVC exclusive resort with Old Key West.
In fact, Old Key West was the very first Disney Vacation Club resort built at WDW. Originally named Disney's Vacation Club Resort in 1991, it wasn't until 1996 when the name was changed to Old Key West. With its pastel colored buildings and lush vegetation throughout, the resort definitely stands out from the other hotels on property. When Walt Disney said "Here in Florida, we have something special we never enjoyed at Disneyland…the blessing of size" he may have been foreshadowing Old Key West, as the resort itself is massive.
With the sprawling size comes some downsides, including many rooms being quite far away from the check-in area and several of the resort's amenities. There is an internal bus system, and the grounds are gorgeous to walk across, but it may be a shock to guests who have not stayed at such a large resort. Thankfully the TouringPlans Hotel Room Request will help make getting a room closer to front easier, but it is still something to consider. That said, the size of Old Key West is also a positive, as it is one of the best places at WDW to spend time at outside of the parks because there is so much to do. So sit back, grab a plate of conch fritters and an ice cold margarita and let's begin counting down our top six reasons we love OKW starting with…
# 6 – The Sandcastle Pool Area
Anyone who travels with their family on vacation knows how important pools are when it comes to selecting a resort. For our family, pools with slides now rank above any E-Ticket attraction or dining experience at WDW. Old Key West has a total of 4 pools spread out across property, but the Sandcastle Pool located by the front of the resort is where you want to be. In this area you'll find the main pool along with its incredible 125 foot waterslide and a plethora of  nearby activities. There are several play areas for the younger set, a whirlpool spa, a sandy beach, and even a themed sauna!
The large lighthouse in the main pool area happens to be the resort's icon, however at the base of this lighthouse is an actual working sauna. While the entire state of Florida technically classifies as an outdoor sauna from May 1st until September 30th, this cleverly themed one inside the lighthouse is one of the only saunas on Disney property you will find outside of a spa.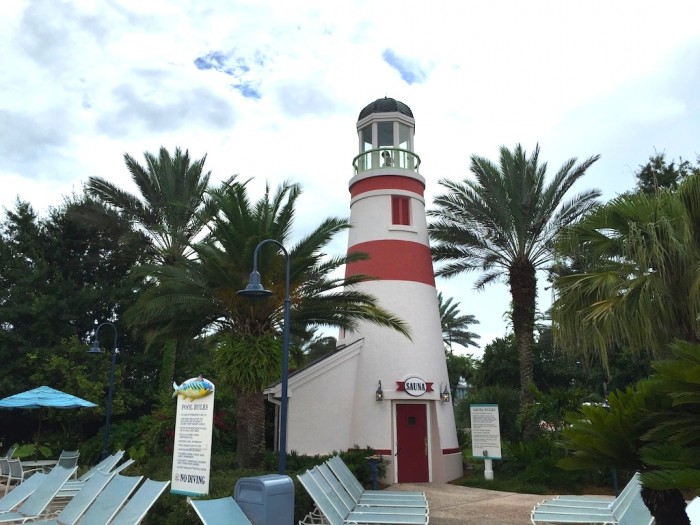 –
# 5 – The Gurgling Suitcase
The Sandcastle Pool is set directly off a wonderful dockside strip where you are going to want to spend a lot of time hanging around while at Old Key West. The atmosphere at this marina is laid back and it is a great place to enjoy a drink and relax. Speaking of drinks, there's no better place to get an adult beverage than the Gurgling Suitcase. A small hole-in-wall bar oozing with charm, the Gurgling Suitcase gets its name dating back to the days of Prohibition. Because alcohol was illegal in the US and the Florida Keys were so close to Cuba, rum would be snuck into the country in suitcases and transported back up north. Police would inspect luggage for bottles by shaking them, and the term gurgling suitcase was born.
The Gurgling Suitcase at has very limited seating inside and at the bar, but there is more seating available right outside the front door and plenty nearby overlooking the marina. There is a full bar, TVs playing sporting events (all too rare across WDW for our tastes), along with a ton of little details and knick knacks on the walls to appreciate. This is a true hidden gem at Walt Disney World.
# 4 – Olivia's Cafe
Speaking of hidden gems, Olivia's Cafe at Old Key West is one of WDW's more underrated restaurantS. Don't get us wrong, Olivia's isn't Hoop Dee Doo or Sanaa in terms of resort dining you need to go out of your way to experience, but it has unique menu options with a lot of reasonably priced items. Right upon check-in at the restaurant you'll notice the amount of pictures of actual DVC members hanging on the walls. This type of personal touch makes the restaurant feel a little different than your average casual dining venue on property, and the friendliness of the wait staff is always a highlight. Olivia's can get noisy inside, but there is also patio dining outside.
–
# 3 – The Rooms
The first thing you will notice when walking into any type of room at Old Key West is the amount of breathing room you will have. These rooms have SIZE. Studios clock in at 376 square feet; one-bedroom villas at 942; and two-bedroom villas at 1,333.  The Studios even have two queen size beds inside them. So much floor space! So much room for activities! I have found myself being spoiled by the size of DVC rooms, especially at Old Key West, and walking into standard hotel rooms  now makes me feel like Harry Potter living in the cupboard under the stairs. 
–
A side benefit of the rooms at Old Key West is the parking for each building is closer than any other resort on Disney property. Much closer. The parking spots are right outside your door, and a car is certainly recommended if staying at OKW unless you are a big fan of Disney buses. My FitBit gave up after the first 10,000 steps from my car to my room at Disney's BoardWalk Villas, but I was about 30 feet away from my car at Old Key West. Those steps add up when you end up being the family pack mule for luggage and grocery items.
As a side note, until Old Key West I personally never really understood the "Welcome Home" message when it came to DVC. I love Kidani Village, Bay Lake Tower, and the BoardWalk Villas, but none of those resorts felt like a "home," just a great place to have a vacation. Old Key West felt like a home. I also enjoyed the amount of palm trees across property because palm trees were always one of my first indications of actually being in Florida when my family would take vacations back in the day. Welcome Home: it took a while, but I get it now.
–
# 2 – The Lobby
The lobby at Old Key West is one of the most family friendly in Walt Disney World, and you can imagine what ground that is covering. Instead of the generic coloring pages and stickers for kids, there are fun balloon animals and swords behind the registration desk. The lobby also has a large secondary room where people can also wait while a family member checks-in or just hang around in to relax. Aside from having a large amount of books to read among the shelves (although no copies of The Unofficial Guide 2015 unfortunately) there is also a dedicated area for children with a TV playing Disney cartoons. Similar to the BoardWalk having pieces of New York/New Jersey history on display, Old Key West's lobby has miniature versions of things from Florida, such as the Key West's first electric trolley car and a model train from the Florida East Coast Railway. While not containing the jaw dropping spectacle of walking into some WDW lobbies like Jambo House or Wilderness Lodge, I found Old Key West to have one of the best lobbies of any on-site property.
# 1 – The Recreation
This is it. This is what separates Old Key West from the pack. There is literally something for everyone. Volleyball. Basketball (including lights for nighttime play.) Tennis courts. Golf. Shuffleboard. A good sized gym. A fire pit to roast marshmallows. Multiple playground areas across property. Two arcades. Cornhole. X-Box and Playstation. Billiards. Ping Pong. Foosball. Bike rentals. Walking path. And the previously mentioned four pool areas. Old Key West is a resort where the family can all stay together to do group activities, or everyone can split up and do what they like.
HONORABLE MENTION: Ferry Service to Disney Springs
Thanks to places like the BOATHOUSE, Splitsville, and Erin McKenna's Bakery NYC, Disney Springs is becoming great place to go on your Disney vacation. The shopping and dining district is only looking to get better with the expansion to the World of Disney as well as the the upcoming Jock Lindsey's Hanger Bar and The Edison. Because of all the construction going on at Disney Springs and the surrounding roads outside of it, driving to the area can be a pain. Thankfully Old Key West has a water taxi that will take you straight from OKW to Disney Springs. Our personal motto here at the SATURDAY SIX is "there is never enough boat rides," and that applies to Disney Cruises, attractions like Pirates of the Caribbean or Living with the Land, and any water taxi/friendship boat across property.
So there you have it: Six Reasons We Love Disney's Old Key West Resort. See you next weekend for the latest installment of the SATURDAY SIX, where we'll look at something fun from the world of Disney and Universal. If you enjoyed yourself, be sure to check out The Magic, The Memories, and Merch! articles, or, for your listening pleasure, check out the Pardon the Pixie Dust podcast. You can also follow Your Humble Author on Twitter (@derekburgan)
–
If you enjoyed this article, you will surely like the following:
Six Reasons We Love Disney's Port Orleans Riverside
Six Reasons We Love Disney's Contemporary Resort
Six Reasons to Check Out Disney's Pop Century Resort
Six Reasons We Love Disney's Animal Kingdom Lodge
Special Thanks to crack staff photographer Brandon Glover, Jammin' Julia Mascardo, and blogger to the stars Megan Stump for their invaluable assistance with this article. Be sure to also check out Brandon on The Park Blogger podcast with co-hosts Aengus Mackenzie and Brian Carey. 
FINAL PLUG! Did you know The Unofficial Guide to Universal Orlando has a special edition of the SATURDAY SIX in it? Finally, someone came up with an actual reason to read a book. PRE-ORDER this baby now! (For every copy sold, a percentage of the profits* go towards buying a DVD of the Seven Dwarfs Mine Train rap video.)
*0%