Step by Step: How to Make a Walt Disney World Dining Reservation Online
We've talked you through how to make a Walt Disney World hotel reservation online. Now here's the scoop on how to make a Disney World table service dining reservation online. To use the app for this, check out Jennifer's post.
Before we start, also note that you can call Disney at 407-939-3463 to make dining reservation by phone (although Disney is now trying to discourage this) or, if you've been working with a travel agent, they may be able to make dining reservations for you as part of their service. Additionally, some non-Disney-owned restaurants with locations at Walt Disney World allow reservations to be made via Open Table or by calling the restaurant directly.
Also note, Disney World currently allows guests to make dining reservations on their website up to 60 days in advance. If you're staying on property, that window is expanded by the length of your stay, up to an additional 10 days. This means that if you're staying on site, you can make reservations for your entire trip (assuming it's not more than 10 days long) at the 60 day mark rather than having to log in every successive day to make more reservations. Disney sometimes tinkers with the reservation window timing; pre-pandemic the window was 180 days in advance. Be sure to double check the current dining booking window as soon as you make your plan to visit.
1. Go to the website disneyworld.disney.go.com.
If you haven't yet created a Disney account, you'll need to create one. If you do have a Disney account, sign in. Note: If you have an account with some other Disney property (Disney+ TV, for example), the login information will likely work for this as well.

If you have a Disney hotel stay booked, take a quick peek at My Plans in the My Disney Experience tab to make sure that your stay is properly linked to your account.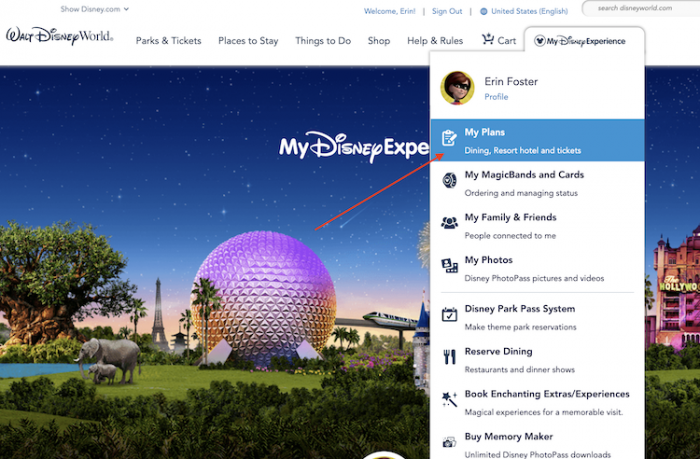 2. Go to the "Things to Do" menu on Disney World homepage and scroll down to "Dining" and then click on "Make Reservations."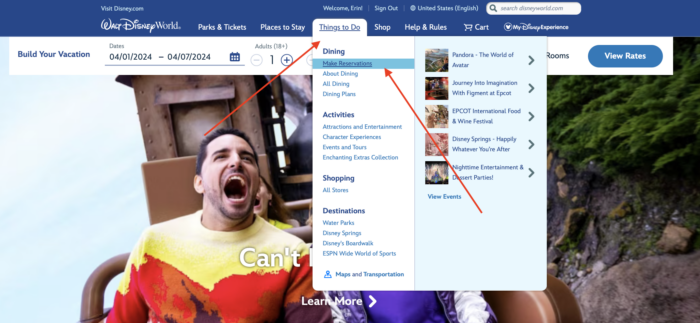 3. Choose your requested party size.
You should include all members of your party in the count, including babies.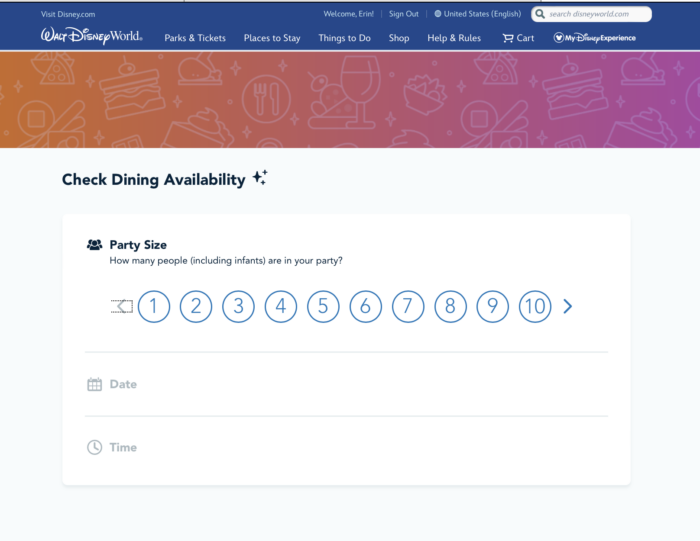 Note: The party size selection tool allows you to choose up to 20 guests in your party. Although this is an option, many WDW restaurants are unable to accommodate parties of more than 6 or 8 in a single reservation.
4. Choose your desired date.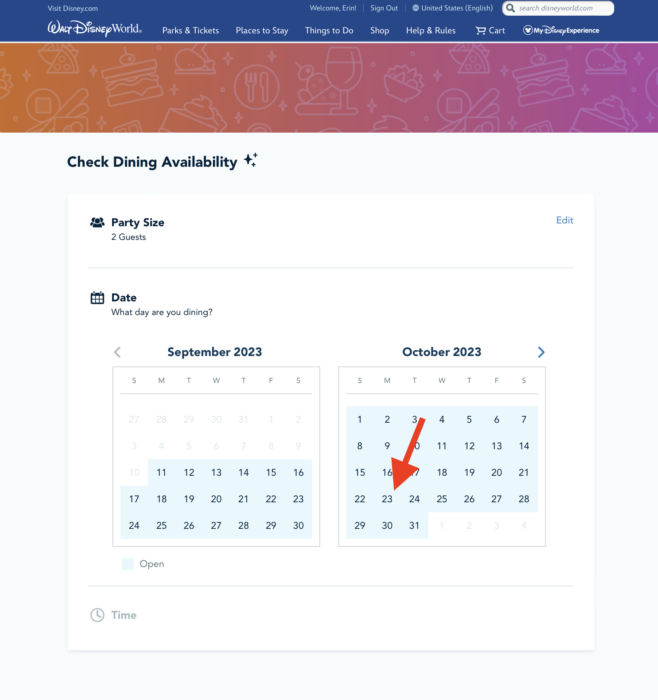 5. Choose your approximate desired dining time. At this point your options are "all day," "morning," "afternoon," or "evening."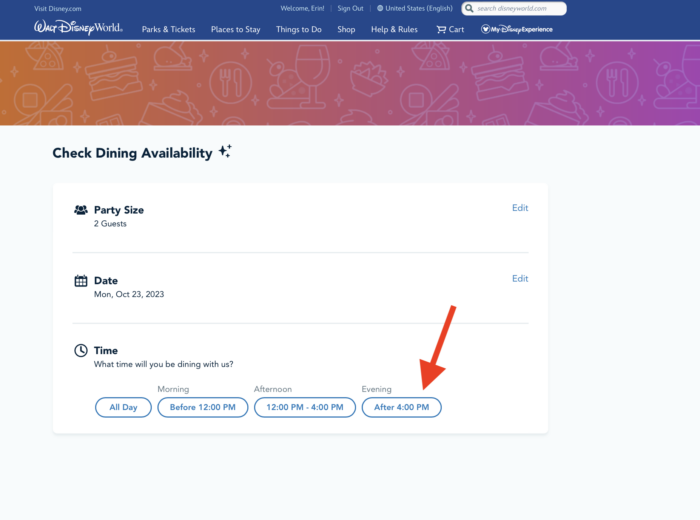 6. Set your filters.
The next screen will bring you to a giant alphabetical list of all dining options available at your selected date and time.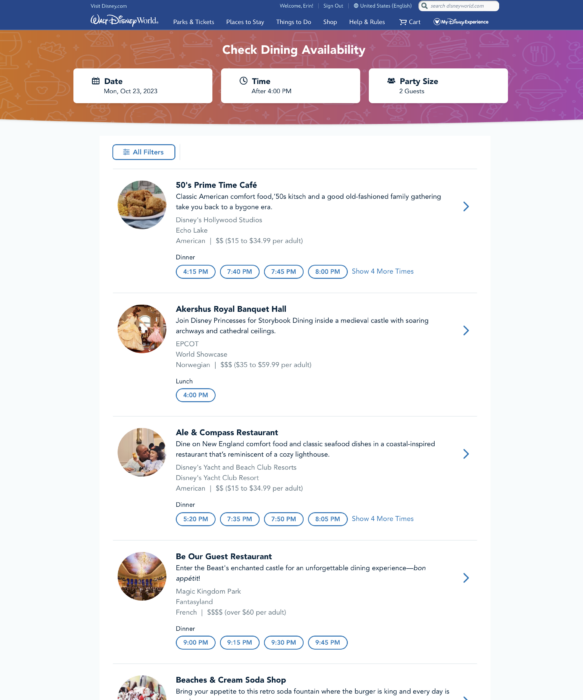 To narrow your options, click the "all filters" button.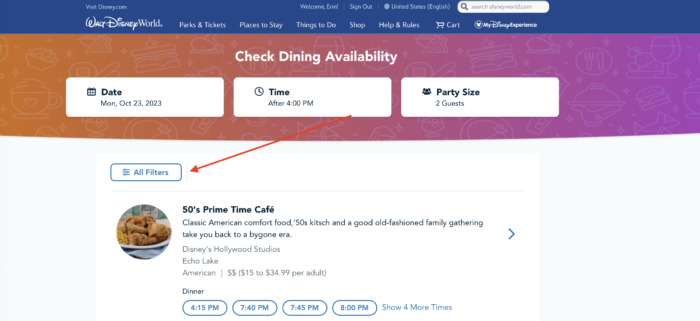 If you only want to look for locations in a specific theme park, hotel, or other area, select that via the "Locations" boxes. Or if you want to search by type of dining experience, cuisine, price range, etc., you can further narrow your search using those boxes.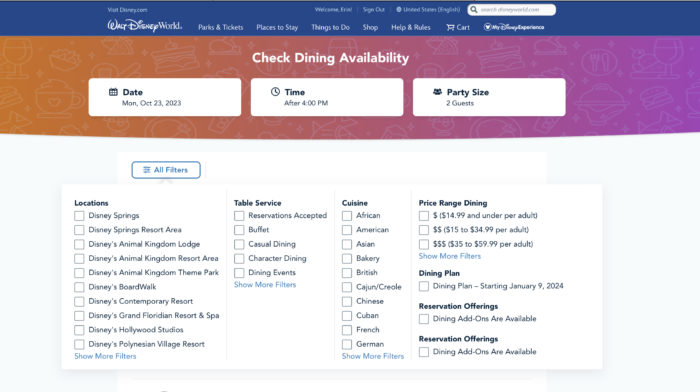 For example, below I am looking for a restaurant in EPCOT on October 23 for a party of two. I'll eat American, Asian, British, Cajun, or Bakery cuisine.
Note: If you already know which restaurant you want to reserve, you can just input this is in the general search bar at the top right of the main WDW page. You can make reservations there directly.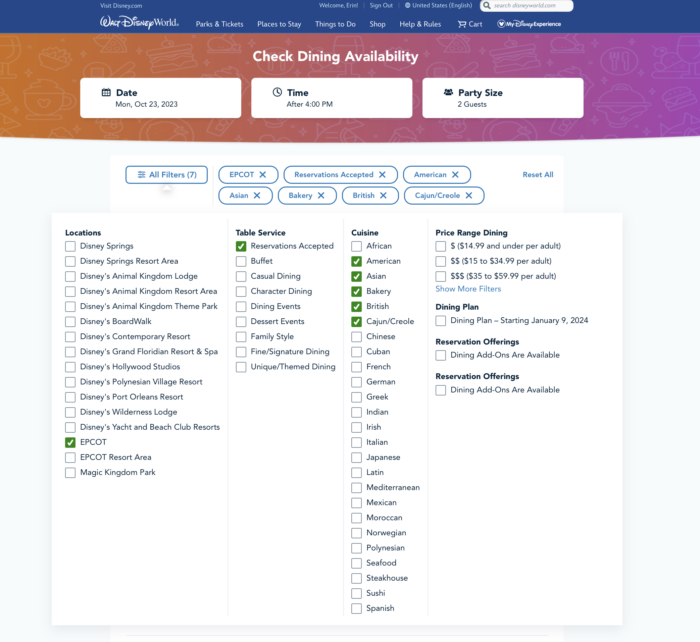 These filters brings my restaurant choice set from dozens of restaurants to just six.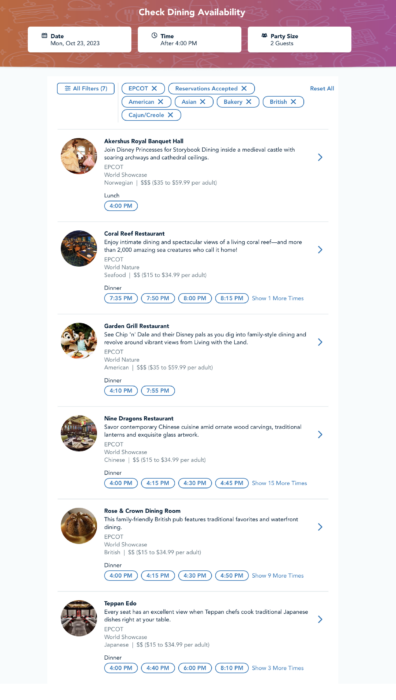 7. Select your dining time.
You'll see above that each restaurant shows your options for dining times. Akershus, a popular character dining venue, has only one time available on my chosen date. Rose & Crown shows four open times, plus more times available.
Clicking on "more times" shows more availability.

8. Set your reservation.
When I clicked on one of the Rose & Crown time options (6:05), I was immediately taken to the page to confirm my reservation.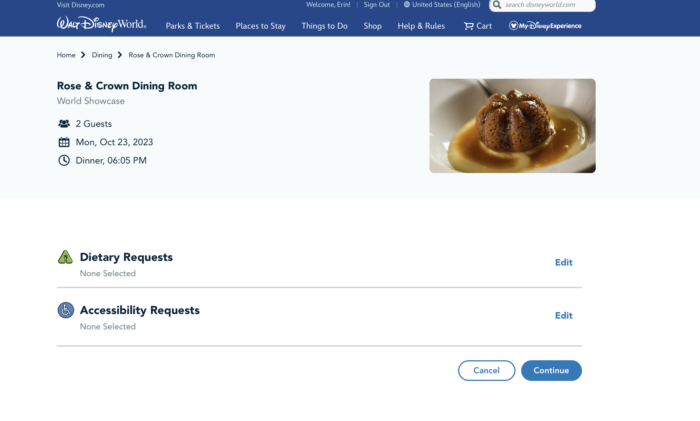 9. Select any necessary accommodations.
This is where you'll indicate if someone in your party has one or more food allergies or needs their seating to be wheelchair accessible.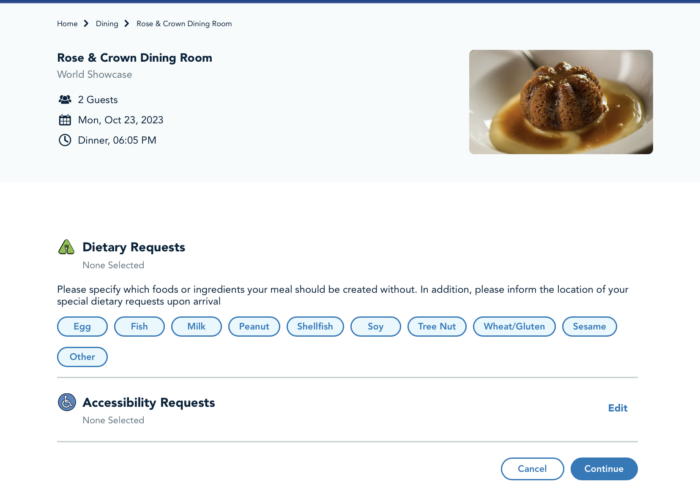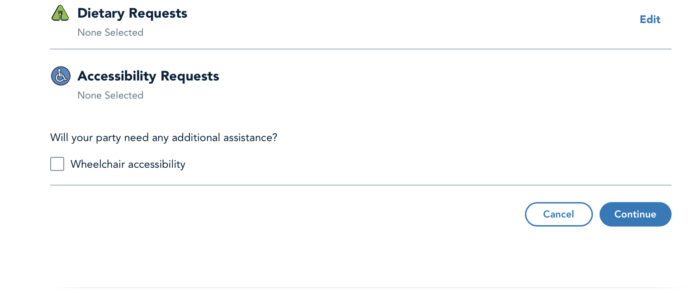 10. Next, you'll identify the primary contact for the reservations (typically this will be yourself) and select a payment method.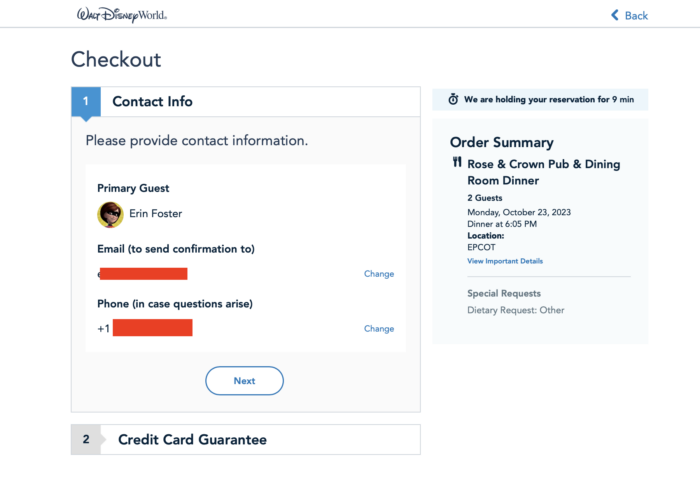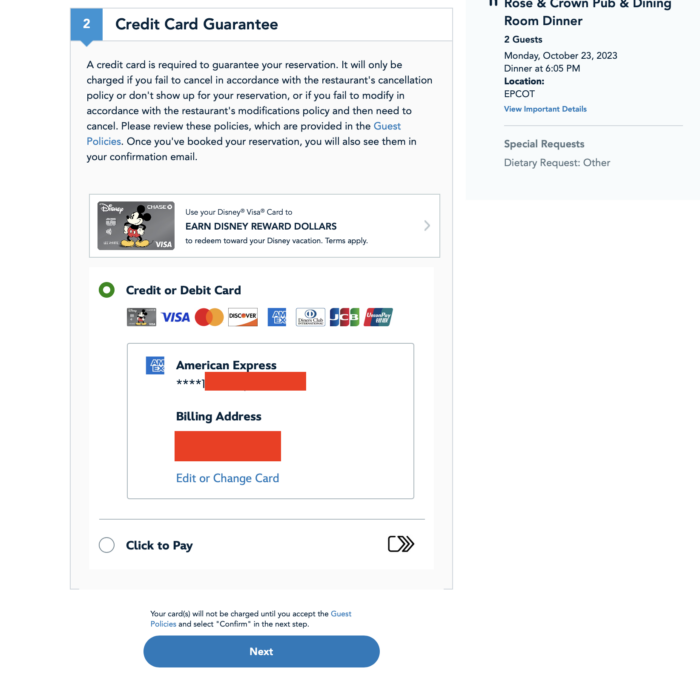 Booking a table service meal reservation through Disney requires the use of a credit or debit card to hold the reservation. You will be charged a $10 per person cancellation fee if you don't show for your reservation. (See more about this on our Table Service FAQ page.) When you're at the restaurant later, you can choose another method of payment for your food; it doesn't have to be the one you input here.
Now you have your reservation!
11. Double check that your reservation "took."
You will get a confirmation screen and an email with confirmation information. Make note of your confirmation number.
The reservation may also be automatically added to your My Disney Experience account in the "My Plans" section. If it isn't there, use the confirmation number to manually add the reservation to your plans.
Have any questions about making dining reservations? Let us know in the comments.

Originally published May 2021. Updated September 2023.