Survey Suggests Quick Return of Walt Disney World Trips
At the end of April we sent out a survey to 12,227 TouringPlans subscribers that had a Walt Disney World trip planned between March 15 and May 31, 2020. The survey asked if and when they were planning to re-book their trips. We're using the survey results as part of our crowd calendar forecasts. Thank you to all 5,757 people who responded to the survey.
The survey results indicate that Disney World may see a quick return of guests to the parks once they re-open.
A couple of things to note up front: The survey is probably not a representative sample of all Walt Disney World visitors. For one thing, our survey results skew towards out-of-state guests, with 96.5% of respondents coming from outside of Florida. Orlando-area residents planning to visit the parks are probably under-represented in the survey. Likewise, the survey probably has more responses from people who visit the parks frequently. Finally, we know that TouringPlans subscribers are the most passionate and informed visitors to the parks – they like to plan trips. Therefore, the survey probably under-represents the intentions of those who plan less. Still, when we shared these results with travel agents and other theme park professionals, they said these results roughly match what they're seeing.
Have You Re-Booked Your Walt Disney World Trip?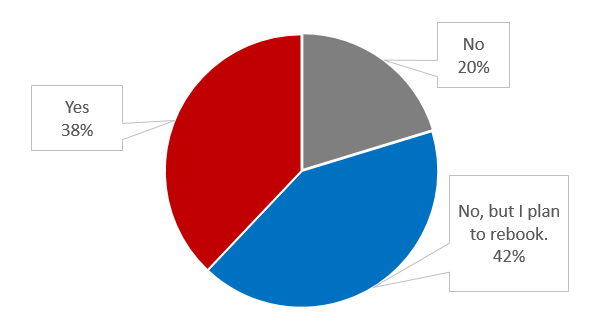 Twenty percent of respondents said they're not planning on re-booking their Walt Disney World trip. With the unknown future of the economy and COVID-19, I would have expected a higher number there. However, we know that the cost of a Disney World trip makes it most affordable to the top 20% of American households by income. Perhaps those households have been better able to withstand the downturn.
The number of respondents who have re-booked or plan to re-book is split evenly.
When Did You Re-Book or Plan to Re-Book Your Trip?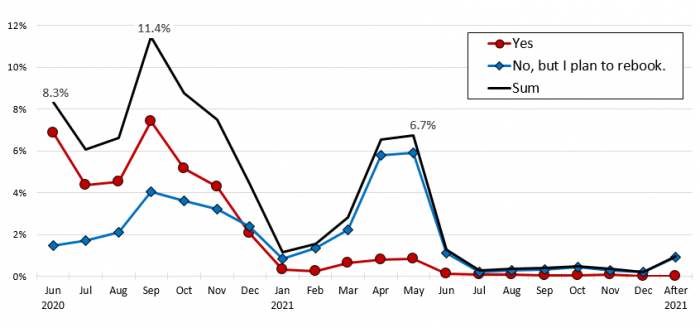 There are three waves of re-booking: the "as soon as possible" group; the "fall" group; and the "same time next year" group.
Most people who have re-booked their Walt Disney trip have re-booked in 2020, indicating that they'll return to the parks relatively soon after they re-open. September is the most popular month for those who've already re-booked. That's interesting because September is usually the least busy month for Walt Disney World. Fall breaks for schools have become popular, so it's also a popular time to visit Disney. We expect fall to be busier this year than normal. As of now, January and early February seem to be the optimal times to avoid others who are re-booking.
People who plan to re-book are planning on returning the same time in 2021 as their original trip.
Who filled out the Survey?
We asked people where they live, if they were Annual Passholders (AP), and when they took their last trip to Walt Disney World.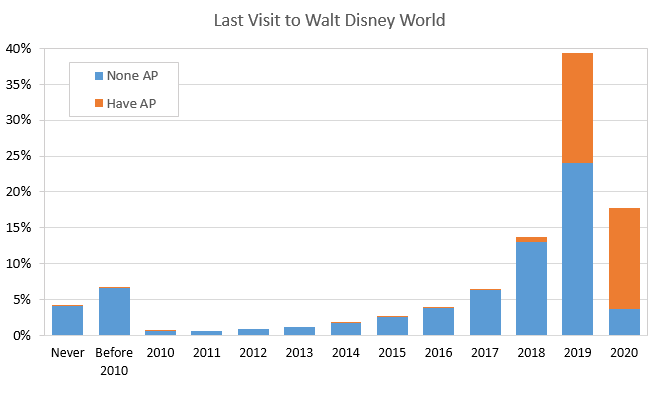 It is not surprising that people who had a trip planned in spring 2020, and who already visited Walt Disney World in 2020, are Annual Passholders. I suspect the distribution of "last visit to WDW" for all Walt Disney World guests is less skewed.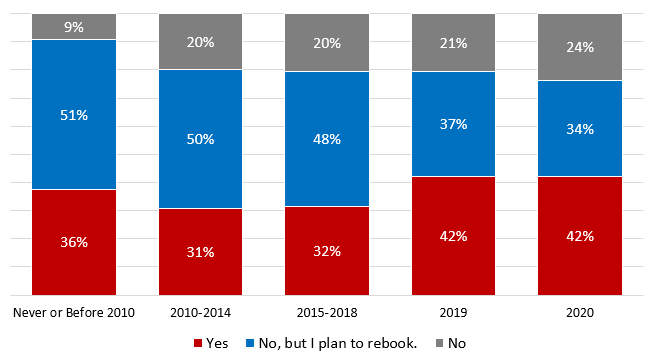 Guests' decisions to re-book depend on when they last visited the parks. Only 9% of the people who have not been to Walt Disney World since 2010 plan to re-book, or have re-booked their trips. Guests who have already been to Walt Disney this year are more likely not to re-book if they have not already re-booked.

It is not surprising to see that people who have park admission that will expire are more likely to have already re-booked. Similarly, we think that guests who own expiring Disney Vacation Club points are more likely to return sooner, in order not to lose those points.
We had people from every state in the United States, and across the globe respond to the survey.
| Country | Total Surveys | Not Panning on Re-Booked | Have Already Re-Booked |
| --- | --- | --- | --- |
| United States | 5,166 | 20% | 40% |
| United Kingdom | 249 | 17% | 23% |
| Canada | 243 | 26% | 25% |
| Australia | 13 | 15% | 8% |
| Other | 86 | 14% | 24% |
It is not surprising that the majority of responses came from the United States, or that the United States had the largest percentage of people who have already re-booked. With travel restrictions, I'm surprised any of the international guests have re-booked.
What Does It All Mean?
It is a good sign that 80% of the people want to return to Walt Disney World. These numbers will likely change up or down depending on how everything unfolds. The economy will affect who can afford to visit the parks. The procedures that Disney implements to minimize disease transmission will make some people more comfortable visiting Walt Disney World, while some people may decide the procedures take "the magic" out of a Disney vacation, and postpone their trips.