The Best Outdoor Dining at Walt Disney World's Theme Parks
Right now many of us are preferring to stick outdoors as much as possible when out in public. We've discussed the best outdoor activities in each of the parks: Magic Kingdom, EPCOT, Disney's Hollywood Studios, and Disney's Animal Kingdom. Now get your appetite ready as we help you discover the best outdoor dining at each of the Walt Disney World theme parks.
Best Outdoor Dining at Magic Kingdom
The trouble with Magic Kingdom is there is not a lot of outdoor dining. This can be a blessing in the heat of summer, normally, but right now it would be nice to have a variety of places with outdoor dining. Only one table service restaurant has outdoor seating, and that's Tony's Town Square Restaurant. This Italian restaurant, with a "Lady and the Tramp" theme is cute, but there are plenty of Disney restaurants with a better menu. Still, the outdoor seating, overlooking Main Street U.S.A. is quite unique.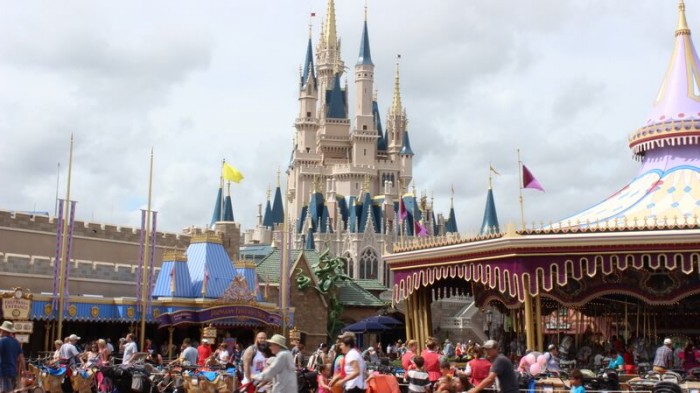 For counter service with outdoor seating at Magic Kingdom there are a few more options, though not a robust selection. Pecos Bill Tall Tale Inn and Cafe is a popular spot for a casual bite in Frontierland. The interior has fun details, but you can find a good amount of tables outside, overlooking Frontierland. Pinocchio Village Haus is enjoyed by Disney fans for its classic Fantasyland feel – it hasn't changed much since the 1970's. A courtyard outside the main entrance offers views of Fantasyland and Cinderella Castle. Of course, the largest counter service restaurant at Magic Kingdom, Cosmic Ray's Starlight Cafe in Tomorrowland, wouldn't be complete without its own outdoor seating area.
Update: two walk-up counter locations have now reopened at Magic Kingdom: The Lunching Pad in Tomorrowland and The Friar's Nook at Fantasyland. Both of these locations are walk-up order only and have some tables and chairs nearby.
Best Outdoor Dining at EPCOT
Naturally the best dining, and practically the only dining, at EPCOT right now, is in World Showcase. Two signature dining locations offer outdoor seating. At the United Kingdom Pavilion enjoy garden dining at the Rose and Crown Dining Room. Just ask if there is outdoor seating available, as it is limited.  Around the bend at the Morocco Pavilion is Spice Road Table which has a large outdoor dining area that overlooks World Showcase Lagoon.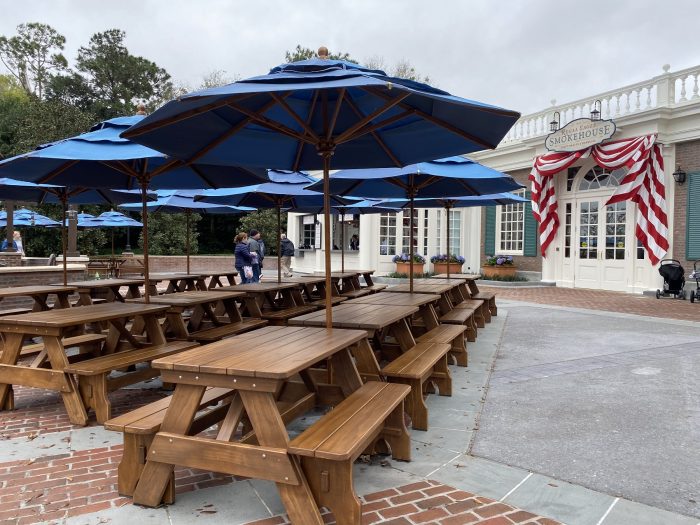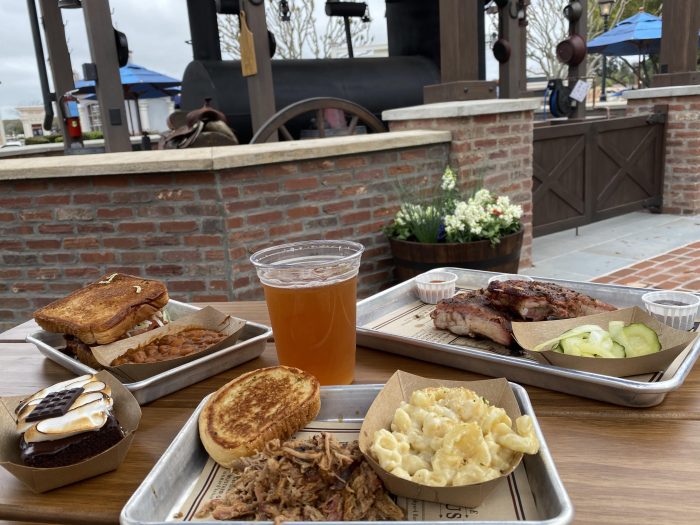 There's quite a few counter service options at EPCOT that offer great outdoor seating. My personal favorite is Katsura Grill at the Japan Pavilion. I love the food, and the outdoor dining is peaceful and quiet in the midst of a Zen garden. New on the scene is Regal Eagle Smokehouse at the American Adventure Pavilion. Enjoy outdoor seating with a view of a genuine meat smoker, and grab a cocktail from the walk-up outdoor bar. Finally, La Cantina de San Angel in the Mexico Pavilion offers the largest outdoor space of all, overlooking World Showcase Lagoon.
There's also Les Halles Boulaoulangerie-Patisserie at the France Pavilion, it does have an interior dining area, but it is easy to walk out to the table and chairs in the courtyard, and the food is easily portable.
Also worth noting is that many (but not all) of the food booths for the Taste of Epcot International Food and Wine Festival, continuing through this fall, are outdoors.
Best Outdoor Dining at Disney's Hollywood Studios
None of the table service restaurants have outdoor dining at Disney's Hollywood Studios, unfortunately. The close exception would be  The Hollywood Brown Derby Lounge, which is not a full restaurant, but does offer some highlights from the Brown Derby menu, hand-crafted cocktails, and a great outdoor atmosphere.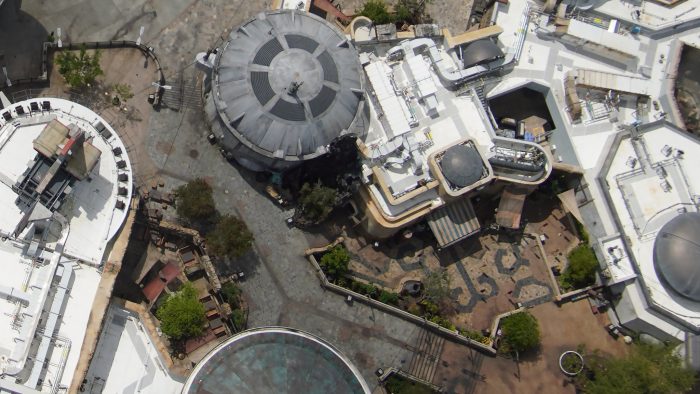 A whole slew of counter service restaurants have outdoor dining in this park. PizzeRizzo has outdoor seating both upstairs and downstairs. Docking Bay 7 Food and Cargo at Star Wars Galaxy's Edge has outdoor dining that is somehow peaceful even though you're at a galactic destination. Rosie's All-American Cafe slings out American casual fare and offers nothing but outdoor seating, overlooking bustling Sunset Boulevard. Backlot Express has casual lunchtime favorites with decor that hasn't changed much since the park's 1989 opening. The outdoor dining area is covered which is great on a warm Florida day.
Update: ABC Commissary has now reopened and with a brand new menu that's actually pretty good. Outdoor seating is limited, but fairly shaded and great for people watching along Commissary Lane.
Best Outdoor Dining at Disney's Animal Kingdom
Leave it to the park themed around the natural world to have some of the best outdoor dining. Unfortunately, not all of it is available right now (I'm looking at you Harambe Market). None of the signature dining restaurants have outdoor dining, however, Nomad Lounge has one of the best outdoor areas in all of Walt Disney World and offers some great food prepared in the same kitchen at Tiffins.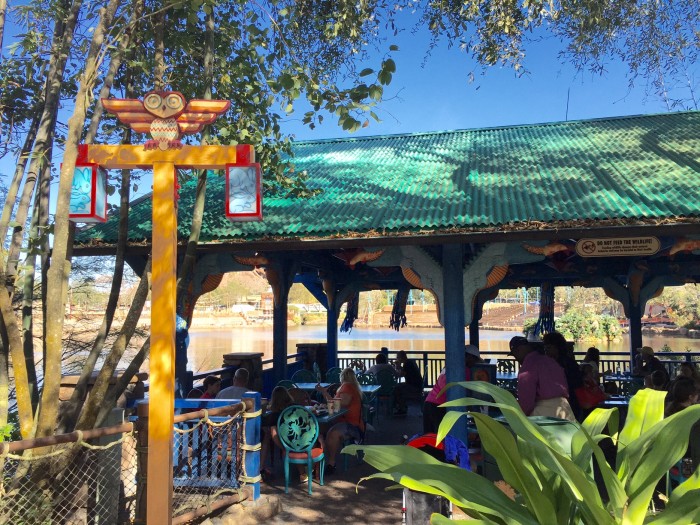 My favorite outdoor dining is Flame Tree Barbecue which only offers outdoor seating, but it is shaded and winds around gardens and a water feature. It is lovely when the weather cools down a little. Restaurantosaurus at Dinoland USA and Satu'li Canteen at Pandora – World of Avatar each have outdoor seating options, though the atmosphere at both leaves a little to be desired.
What are your favorite outdoor dining spots at Walt Disney World? Are there any that we missed? Let us know in the comments.