The Best Staterooms in Each of the 10 Categories on the Disney Wish
It's almost time to book the Disney Wish!  I'm sure you've been printing out deck plans, and scouring them for the perfect stateroom, right?  No?  Just me?  Well good news– I've done the work for all of us!  Let me tell you, I'd be happy anywhere on this ship, I just want to be on it.  Crew quarters?  No problem.  Soft couch somewhere quiet?  Sign me up.  But hey, may as well aim high, right?  There could be some hidden gems in there!
Before I give my recommendations, I have a few things to note.
I have (obviously) not been onboard. These recommendations are solely based on the virtual deck plans released by Disney, Scott Sanders's website – The DCL Blog, and the concept art of the outside of the ship.  I am trusting Disney that the plans are somewhat to scale, and accurate.  Don't yell at me if it turns out they weren't!
I'm not going to recommend accessible staterooms. If you don't need one, please leave them for others who do.
I normally recommend avoiding connecting staterooms whenever possible if you don't need them. On the Wish, that will be pretty hard, as over 900 staterooms connect.
There are (obviously) no actual guest reviews of staterooms on the Wish yet. Once we get some, and I get onboard, I'll rewrite as necessary.  In fact, if Disney releases more information before bookings begin on the 17th, I'll update this particular post.  Check back on the 16th for the most up-to-date information.
If you want to compare staterooms to the other four ships, here are my recommendations for those.
So, without further ado, here are my recommendations for each category!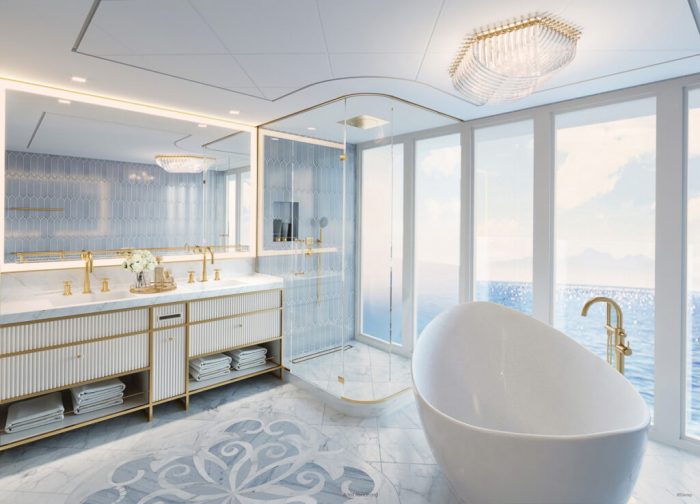 1. Category 1 – There are two (possibly three), very different category 1's onboard the Wish. SO FAR, we only know of Category 1B – Concierge 2-Story Royal Suite with Verandah, and Category 1C – Concierge 1-Story Royal Suite with Verandah.  Do you see anything missing there?  Like Category 1A?  Why would Disney skip A?  More on that in a minute…  Category 1B and Category 1C's both look stunning.  The 2-story 1B's are found all the way forward, and right next to the private concierge sundeck and pool.  Stateroom 13000 is the Princess Aurora Royal Suite, and 13500 is the Briar Rose Royal Suite.  If I had to pick one, I'd go with 13500, because I always choose starboard for Castaway Cay views.  Otherwise, I'd quite happily take either one!  There is one accessible Category 1C, and one regular (if regular is a word that can ever be applied to a Royal Suite) 1C.  So, keeping to my ground rules above, I'll recommend stateroom 10666.  Interestingly, it's all the way aft (and down on deck 10), and thus not near the concierge lounge.  But the views should be amazing!  Now what about that 1A?  The 1A hasn't appeared on a single deck plan or been in a single announcement.  But cruise guru Scott Sanders sniffed out a reference that no one else has found, and he thinks there will be a 1A.  Stateroom 14000.  IN THE FUNNEL.  Can you even imagine?  This stateroom may be so special it merits its own special announcement.  My guess is that we will hear more about that this week.  I don't see Disney beginning bookings without that one!  Unless maybe it's not available for booking?  A Make-a-Wish room?  Or a Castle Suite experience kind of thing?  Interesting thought!
Edit – We have the 1A news! It is indeed, a stateroom in the funnel! The Concierge Tower Wish Stateroom! This stateroom is lightly inspired by Moana and is 1966 square feet. There are two main bedrooms, one children's room and a library that converts to a bedroom! And FOUR AND A HALF bathrooms!! I can't get over that one. There are floor to ceiling windows, and a porcelain sculpture that comes to live in an "only-Disney-can-do" way. Color me beyond intrigued.
2. Category 2 – The category 2's look more like the 1-Bedrooms we are used to. They are broken down into two types – Category 2A Concierge 1-Bedroom Suite with Extended Verandah, and Category 2B Concierge 1-Bedroom Suite with Verandah. There are only two 2A's, stateroom 12000, and stateroom 12500.  I have to say, from the deck plans, it looks like more than the verandah is extended on those two.  But even if not, that verandah looks huge!  Between the two, I will go starboard again, and recommend 12500.  The 2B's are found on decks 12 and 13.  Deck 13 appears to be more convenient to the concierge sundeck and pool, and deck 12 is more convenient to the concierge lounge.  Pick which of those you would rather be closer to, and then I'd recommend starboard.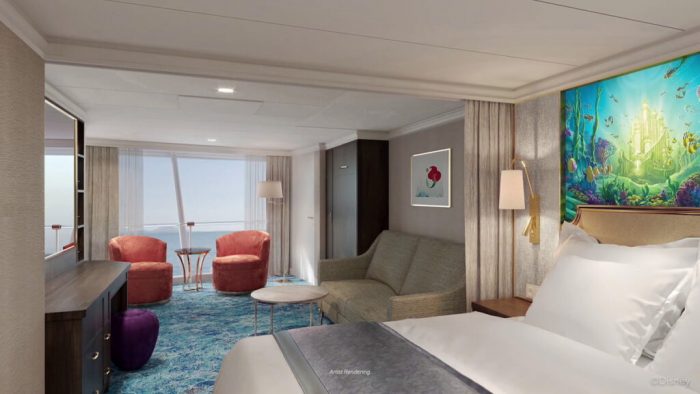 3. Category 3 – There are two category 3's – Category 3A Concierge Family Oceanview Stateroom with Verandah and Category 3B Concierge Family Oceanview Stateroom. Category 3B is a brand-new category. Disney has not had a concierge stateroom without a verandah before!  We'll come back to that.  Like the category 2's, Category 3A's are located on decks 12 and 13.  Staterooms 12502 and 12002 do appear to have larger verandahs than any others,  so I'd be inclined to grab one of those if available.  After that, same recommendations as above:  Decide if you would rather be near the pool or the lounge, and then I recommend starboard.  Now for the 3B's.  They look so cool!  This is actually the first stateroom I'd like to try.  What they lack in verandahs, they make up for in views.  Located directly above the bridge and all the way forward, 3B's have floor to ceiling windows for what should be some absolutely spectacular views.  The two on the sides look the largest by far.  One of them is accessible, so I would recommend the other – stateroom 11006.  After that, 11000 is dead center and even looks just slightly larger on the deck plan.  Whether the deck plan is to scale or not, that's got to be a great stateroom.  After that, it looks like 11004 and 11502 have a little more window space, so I would pick one of those next.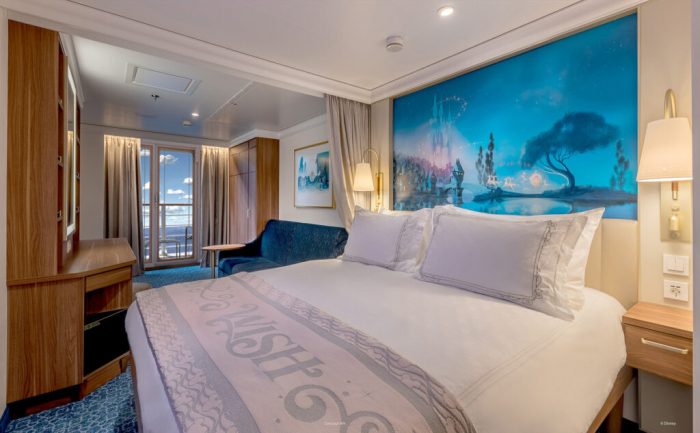 4. Category 4 – Category 4's are known as Deluxe Family Oceanview Stateroom with Verandah. There are 4A's, 4B's, 4C's and 4E's. A-C only denote how high of a deck they are on.  A's are located on deck 10 and 11, B's on decks 8 and 9, and C's on decks 6 and 7.  4E's are all the way aft on decks 6, 9 and 10, and have extended verandahs!  Category 4's are where we first encounter the bumpouts.  The Disney Wish is the first ship Disney has built with a bumpout along the sides, and it has two!  I've sailed on a ship with a bumpout before, and while it doesn't affect the views looking straight out from your verandah, it does slightly affect the views from side to side.  While category 4's are the only kind of staterooms on the bumpouts, they are not all on the bumpouts.  I'd probably pick a stateroom on a bumpout if possible.  The staterooms on the center of the bumpouts do seem to have slightly larger verandahs though, so those would be my first recommendation.  For 4E's the staterooms on decks 9 and 10 are more convenient to the pool deck, but the 4E's on deck 6 (staterooms 6196 and 6696) look to have both a bigger configuration and huge verandahs!  I'd pick those first.   My only caution would be parts of decks 10 and 6.  We just aren't sure of the impacts of pool deck noise from above when you're on deck 10, or the entertainment noise from below when you are on deck 6.
5. Category 5 – Category 5's are what most of us picture when we picture a normal stateroom. Known as a Deluxe Oceanview Stateroom with Verandah, they tend to be my go-to category. I don't think any of them are in bad locations, although I would offer the same cautions as above for decks 10 and 6.  The hidden gems here for me would probably be the ones on the edge of the bumpouts.  On deck 10, for example, 10544, 10546, 10044, and 10046 all appear to have bigger verandahs.  The ones toward the front of the bumpout would have a slightly better view facing forward, and the ones toward the back would have a slightly better view facing forward.  So, pick your desired view, and decide if starboard matters to you when you're picking.  If you are interested in the far aft of the ship with what may be a bigger verandah, try 6198, or 6698.  Interestingly, those appear to be category 5's and not 4E's.
6. Category 6 – Category 6's are still called Deluxe Oceanview Stateroom with Verandah. They are similar to category 5 but have a slight obstruction on the verandah–not usually a huge one, though.  If it follows along the pattern of the staterooms on the Dream and Fantasy, it should be fairly minimal, like a short solid wall on the bottom of the verandah.  Category 6's are all found aft on decks 6, 7, 8 and 9.  They should all be fairly similar, so I would pick a starboard one.  It also appears that 8192 and 8690 are 6A's on the back of the ship, which means they may have a big verandah!
7. Category 7 – Category 7's are still called Deluxe Oceanview Stateroom with Verandah, but they should have a bigger obstruction than a category 6. It looks like they are similar to the 7A staterooms on the Dream and Fantasy, with an overhang of metal from the structure of the ship. They're located on decks 6, 7, 8 and 9.  If I had to guess by looking at the concept art, I would guess that deck 6 staterooms have the least obstruction.  But concept art is just that – a concept.  Much can change when the ship is actually built!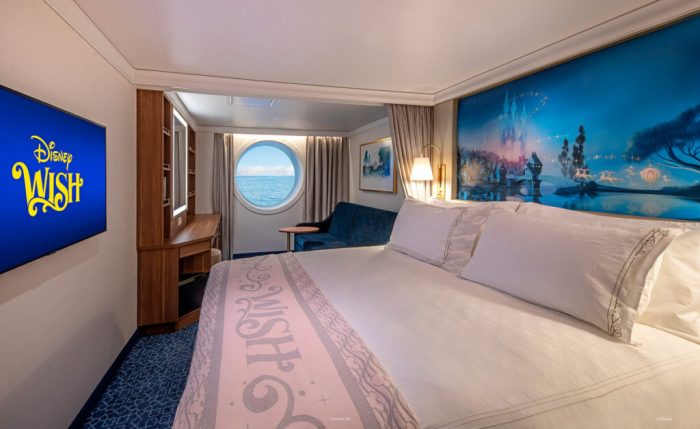 8. Category 8 – Category 8's have that magical word – "Family" in their title, which means they fit 4-5 guests, instead of 3-4 guests like most other staterooms. They are called Deluxe Family Oceanview Staterooms, and there is one interesting thing to note about these! There are no 8A's!  That's sad news for those that love category 8A's on the Dream and Fantasy, which are known for their massive size and double portholes.  8B's and 8C's are all aft or forward and look to be the same. It's possible that 6510-6512 and 6012-6014 may have some noise from things that haven't been announced yet, but that's also hard to tell at this point,  so, my recommendation is starboard.
9. Category 9 – Category 9's are the regular oceanview staterooms, and are called Deluxe Oceanview Staterooms. Because of the angle of the ship, 9D's have slanted portholes. There are a few options here to note.  There are some category 9's on the front of the ship on deck's 6, 7 and 8 that look big. In fact 8006, 8504, 7006, and 7504 look huge!  7004, 7502, and 6500 also look oversized although they will have the slanted porthole if that matters to you.  Some of the oceanviews on deck 2 will butt up to the Walt Disney Theatre, so there's a chance that they have a little bit of noise.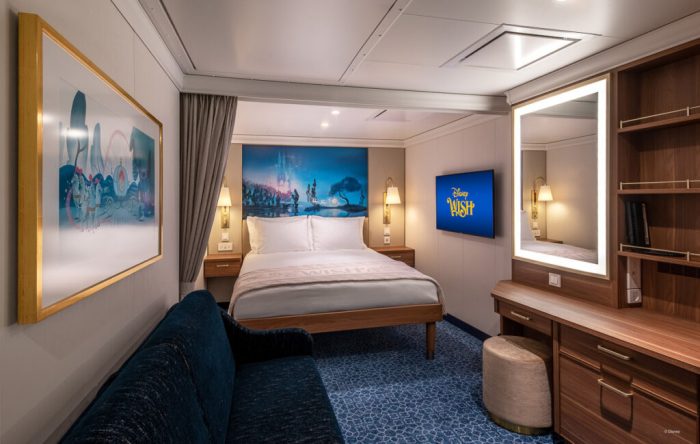 10. Category 11 – The first thing you may notice about these Standard Inside Staterooms, is that that's all there are! There are no category 10's (Deluxe Inside Staterooms) onboard the Wish. That basically means there are no split bathrooms in any of the inside staterooms.  I think that's an interesting choice, given that Disney pioneered the split bathroom concept onboard cruise ships, and they were included in many inside staterooms on the other four ships.  But that's their choice, and make it they did.  They also said there will not be any virtual portholes which is another interesting choice!  Is it possible there is more to be announced about the inside staterooms?  Like virtual verandahs?  Not according to the concept art!  But again – concept.  Looking at the options here, 11529 and 11511 look intriguing.  If those drawings are accurate, I'm not sure what's happening there!  But it could be a good space.  Some on the starboard side on deck 2 look to have an interesting shape.  And two, 2061 and 2055, on the port side look like they are the sideways layout that some people love!  7533 and 9525 could also be sideways layouts.
That's it, that's my list.  I hope this helps on booking day.  Good luck, and may the Force, may the odds, all of that.  Let me know if you see anything I missed or have any questions!
Tammy Whiting is the owner of Storybook Destinations. Did you know Storybook Destinations offers a complimentary subscription to TouringPlans with qualified Disney and Universal bookings? Click here for a no-obligation quote on your next vacation.