SATURDAY SIX Presents: The Theme Park Artwork of Jess Siswick
This week the SATURDAY SIX Proudly Presents: The Theme Park Artwork of Jess Siswick! To coincide with Disney's Festival of the Arts, each February the SATURDAY SIX spotlights four artists in the theme park community. Last year we began this annual tradition with features on Sam Carter, Brian Cooper, @SonderQuest, and Sterling Denham. We kicked this year's event by featuring the artwork of Rob Yeo, followed up with a spotlight on Ava Buric, and this week we will focus our attention on Jess Siswick, who has brilliantly combined the world of Disney parks & movies with Broadway.
Jess Siswick: I am so thankful to Derek for reaching out to me to be featured among artists I admire and look to for inspiration daily.
I can pinpoint my combined love of visual storytelling and musical theatre all down to the worn-out VHS of the Little Mermaid I received for my 3rd birthday. I was conflicted about what I wanted to study, art or theatre?   I was very fortunate to go to WDW for family holidays as a child and that's when I discovered: Theme parks are both. Theme park are immersive theatre. An explorable stage meticulously designed, to entertain, make us feel, and get us lost in stories. They serve as my constant inspiration as they intersect perfectly between design and theatre.
#6 – E-ticket to Broadway
With Hello Dolly and Oklahoma playing on loop down Main Street USA, there's no denying there is a  special connection between Broadway and the theme parks. Partnering with the E-ticket to Broadway podcast, we set out to make designs that pair popular musicals to beloved rides.  We start with a ride and start throwing out lyrics until we either make each other laugh or groan, that's the decider. There are many sketches that don't make it to final designs
I roughly block out a layout of the design and sketch out the characters before finishing the design in illustrator. For my Climb Every Mountain design, I thought it would be fun to combine the iconic mountain range at Disney's Magic Kingdom with the nuns from The Sound of Music.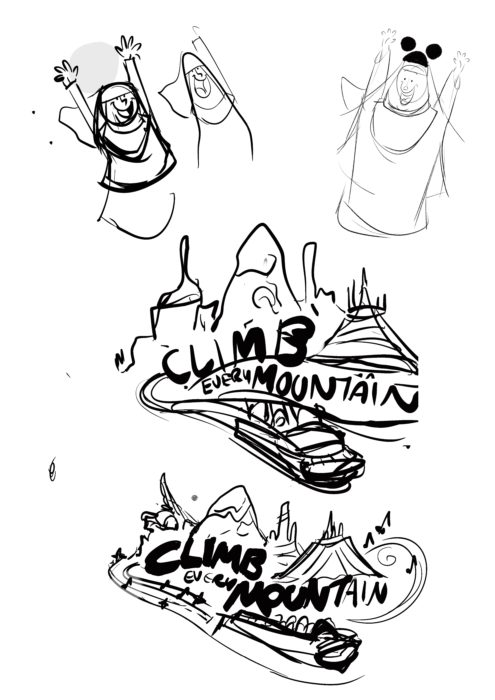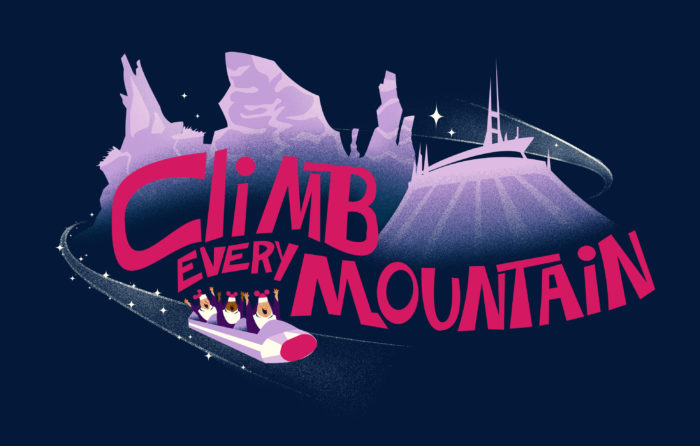 Not all ideas make it to "center stage," including this drawing mixing my favorite snack and an iconic reference from the musical "RENT."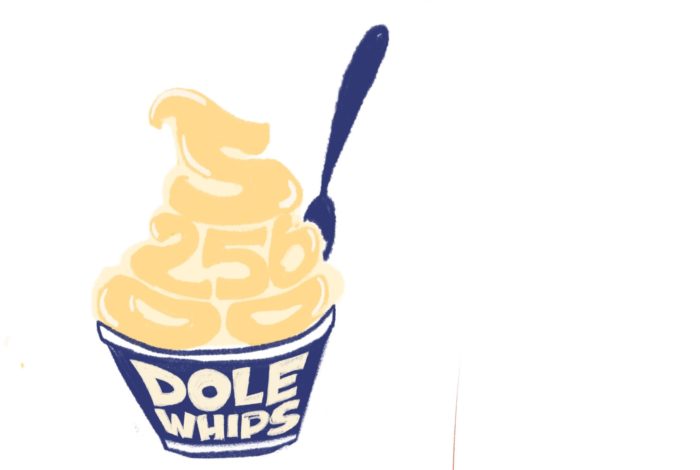 There is a lyric in the song On Broadway by George Bensen which goes "They say the neon lights are bright on Broadway." I decided to mash that lyric up with one of my all time favorite things at the Disney parks, the Main Street Electrical Parade.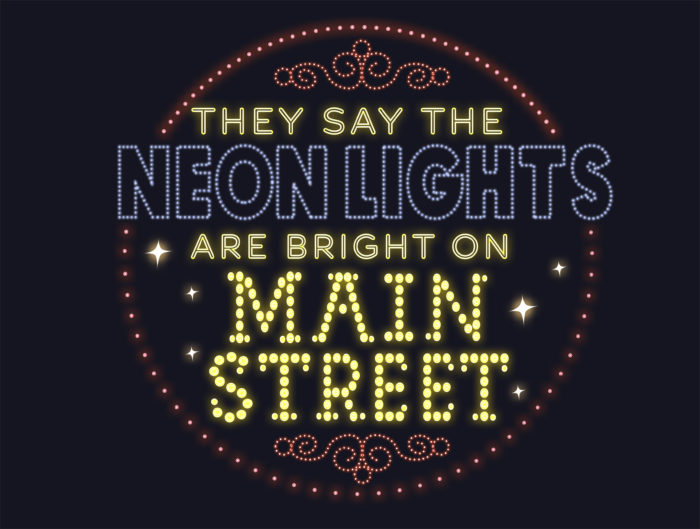 "High on a hill was a lonely goatherd," is the opening line to the song The Lonely Goatherd in the show The Sound of Music. While Big Thunder Mountain doesn't have any goatherds tending to it, it does have a well known goat holding a stick of dynamite its mouth!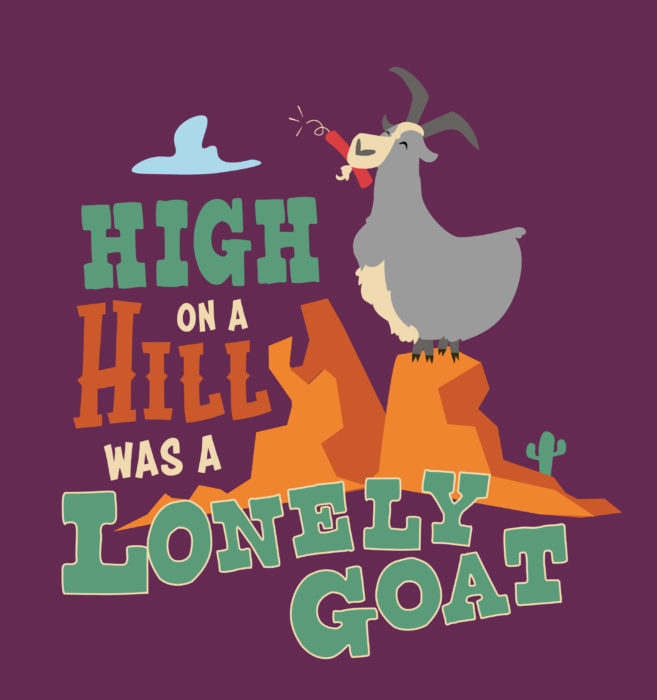 "All the world's a stage, and all the men and women merely players" comes from the play As You Like It, written by none other than William Shakespeare. With this mash-up, I've combined this famous line with a famous attraction in Fantasyland.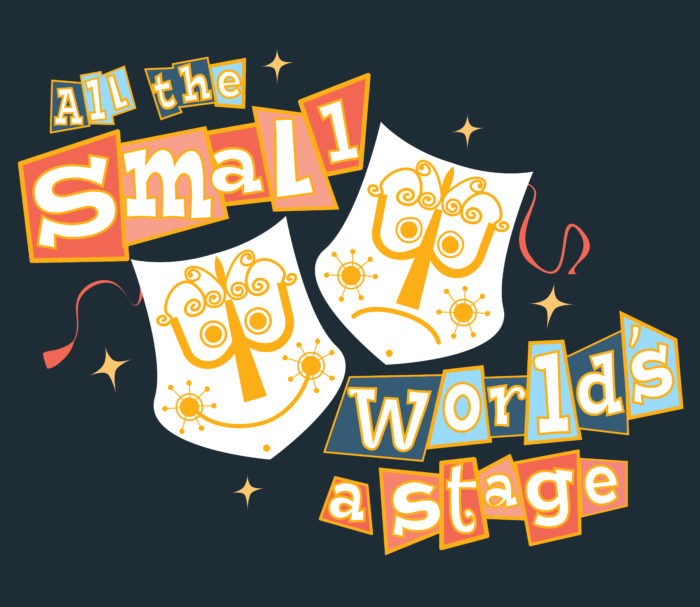 "See you at the parks!" is a tagline from the E-Ticket to Broadway podcast.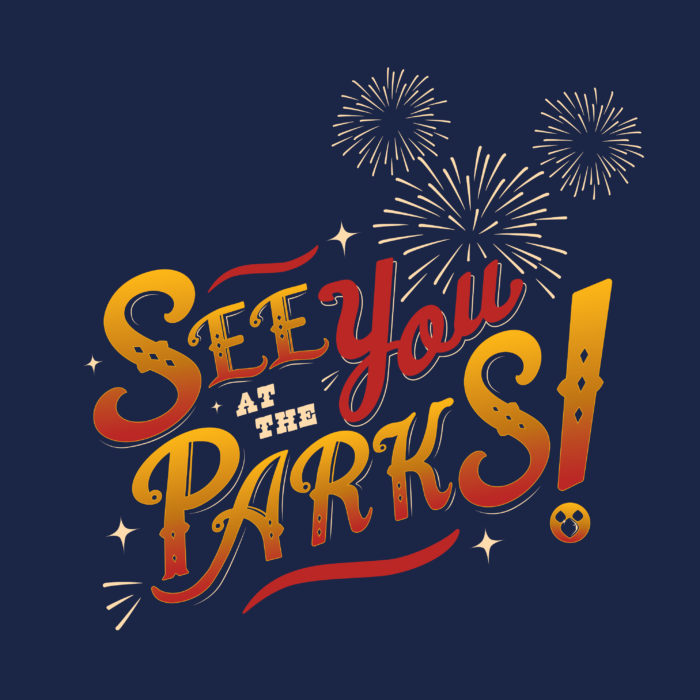 It's amazing seeing this podcast grow and to see a few faces from Broadway wearing the designs, including Susan Egan (the original Belle from Broadway's Beauty & the Beast show and the voice of Meg from the animated Hercules movie!)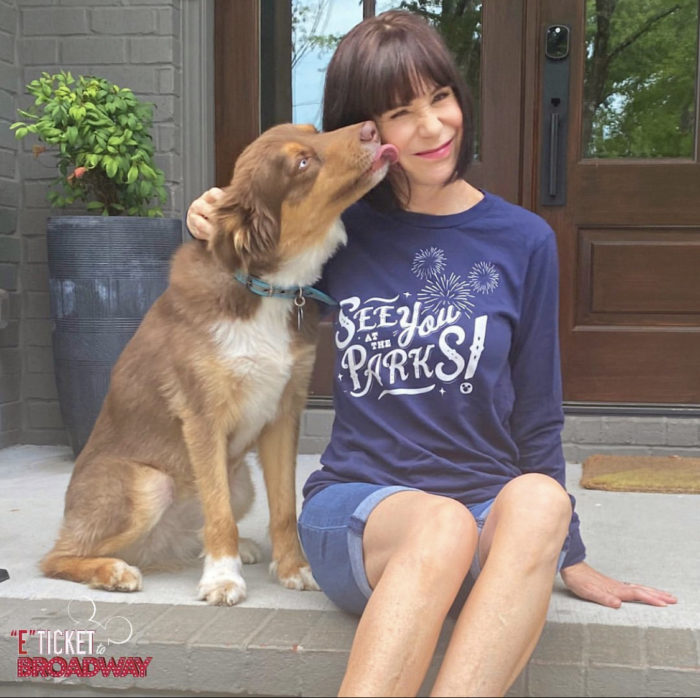 #5 – Musical Posters
There's certainly a running theme here. I love the challenge of rebranding a known IP, the most fun challenge is reimagining it as a musical. I'm slowly making my way through Pixar's catalog, but I had to do one immediately on the film Luca as it such an emotional chord within myself as an artist.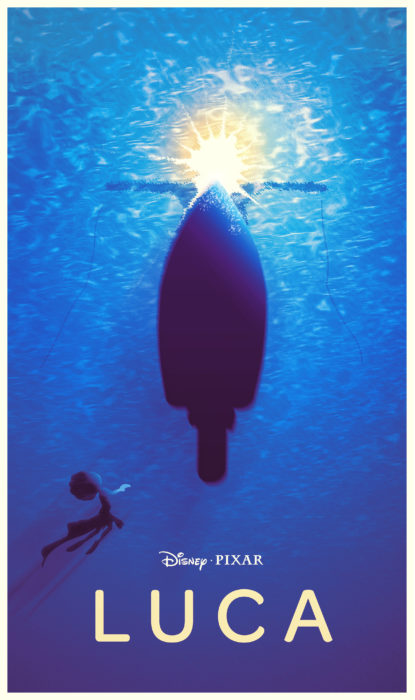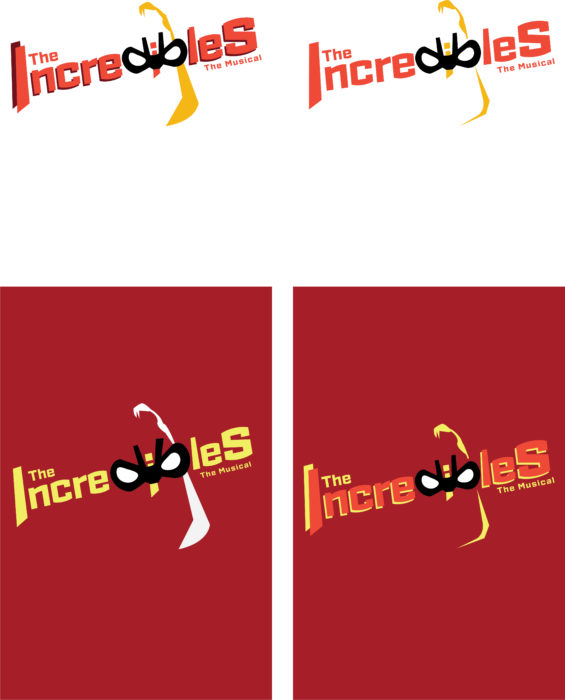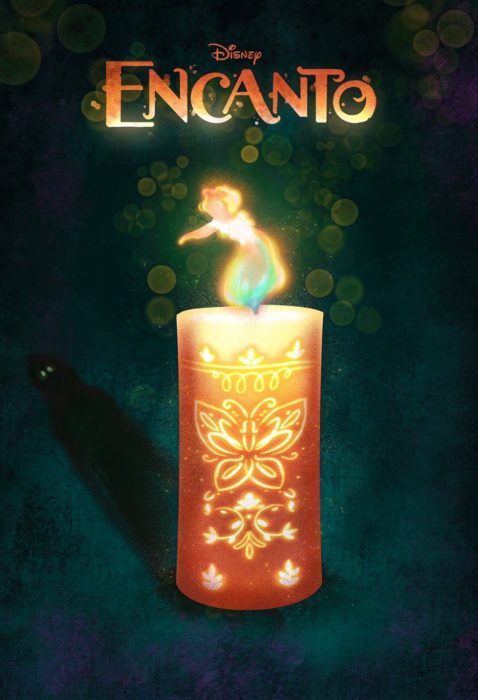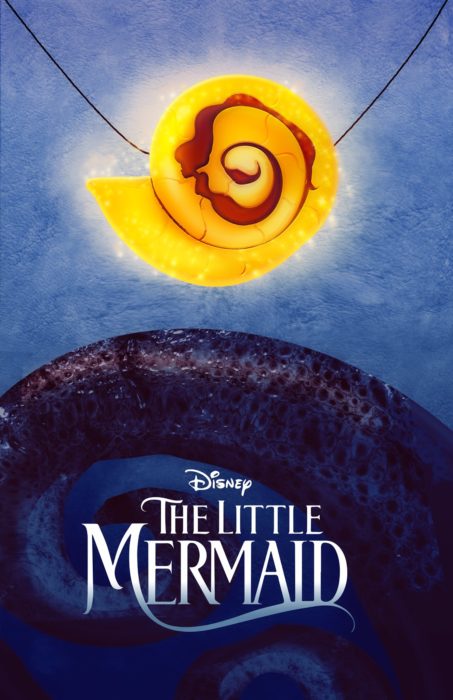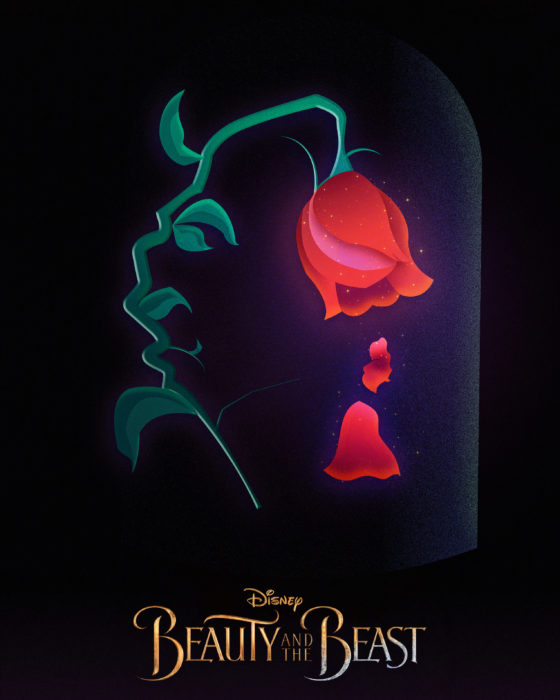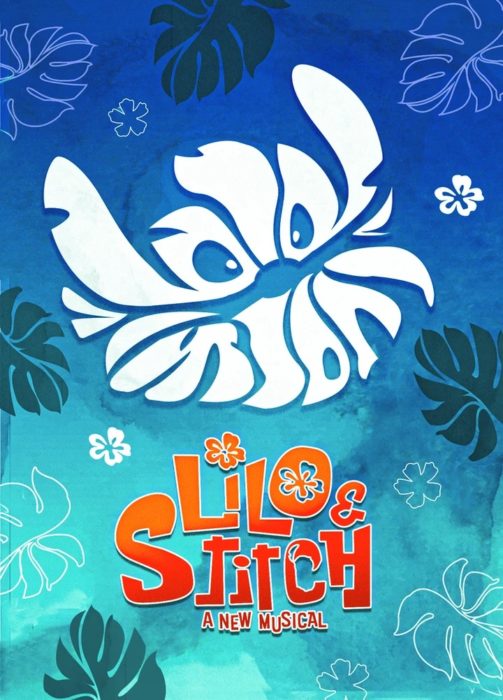 I was thrilled when I saw the trailer for the Hawkeye show on Disney+ teased Rogers the Musical. While the design was a nice homage to Hamilton, I thought it could be a little more, well, cheeky.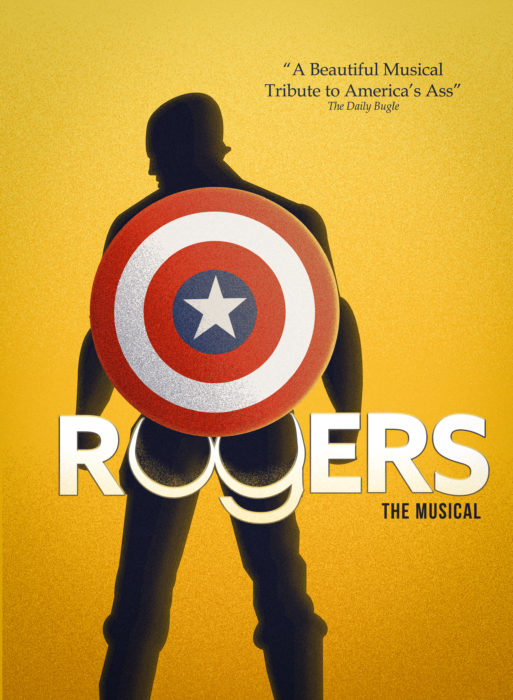 My idea for a serious version of a Captain America musical was to visually capture the man behind the shield. Using negative space of a broke shield to form his silhouette, but then pivoting for a more optimistic image with a complete shield.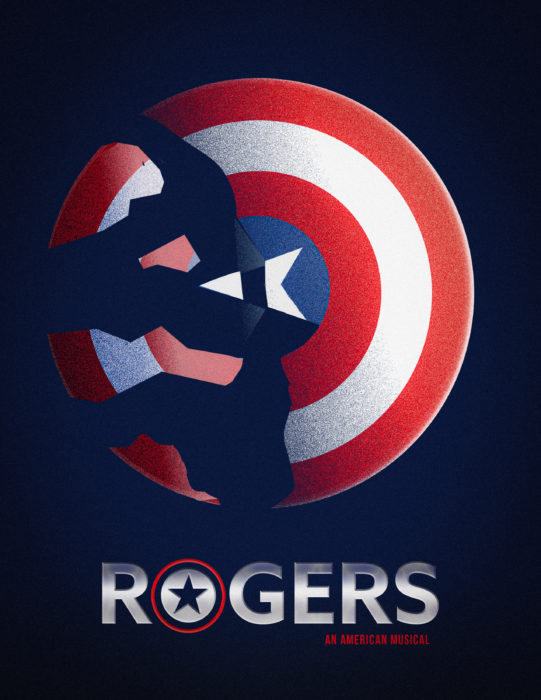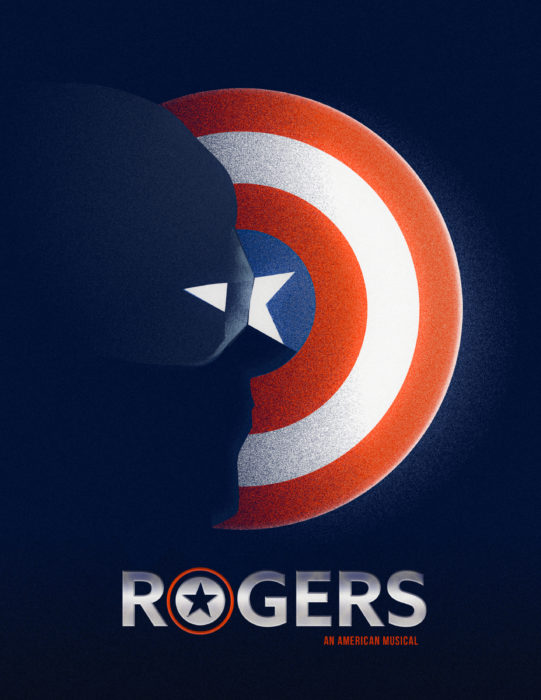 #4 – Parody + visual Jokes
While we're still on the subject of "America's Ass" a lot of my parks inspired design work comes from the online community. Theme park fans can be hilarious, and I love making dumb visual jokes to join in on the fun and make them laugh. The launch of Kitetails remains the gift that keeps on giving.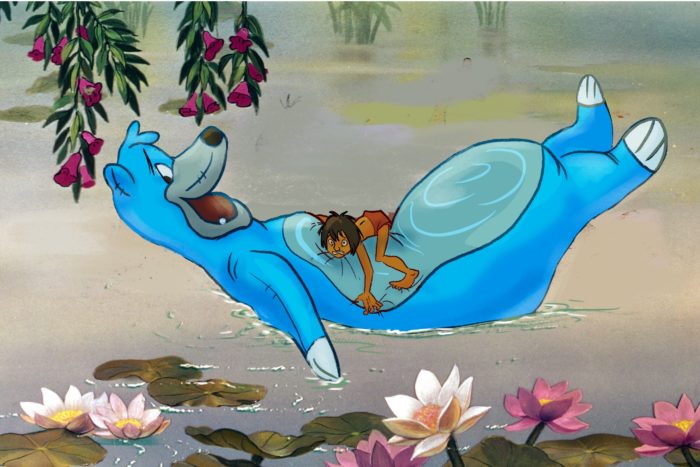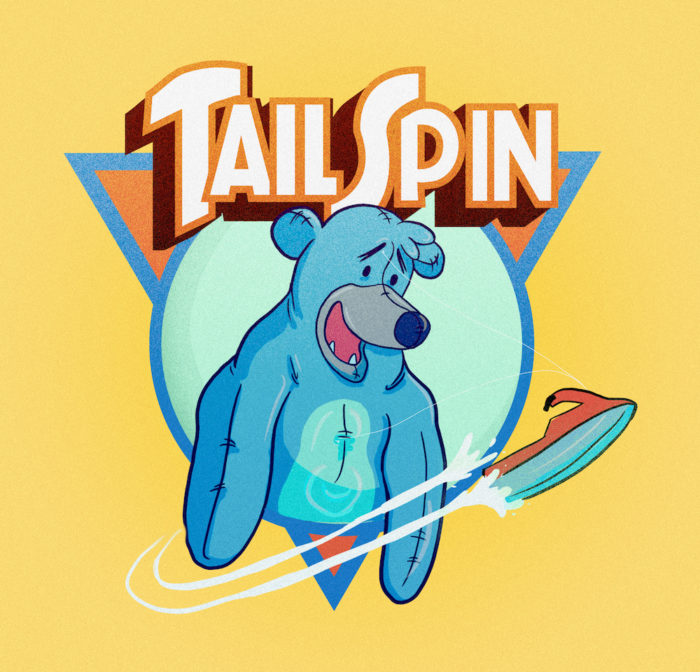 The crazy story of the Donald Duck animatronic in Gran Fiesta Tour is one that, well, tickled my feathers. Like many, the sight of Donald being replaced by a plant wearing a sombrero seems straight out of a fever dream. But it actually happened and I knew I had to draw it!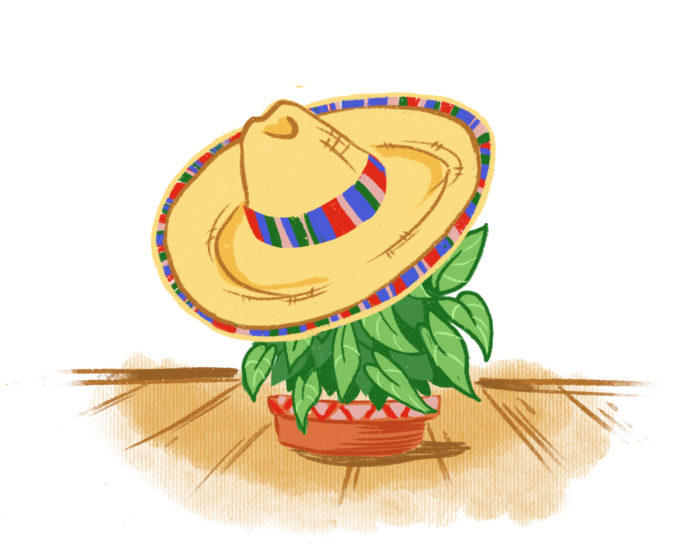 I will truly miss KiteTails at Animal Kingdom. I guess it's true what they say, the brightest flames burn the fastest…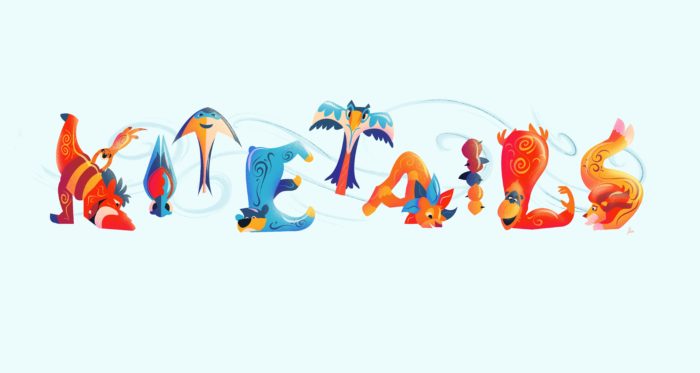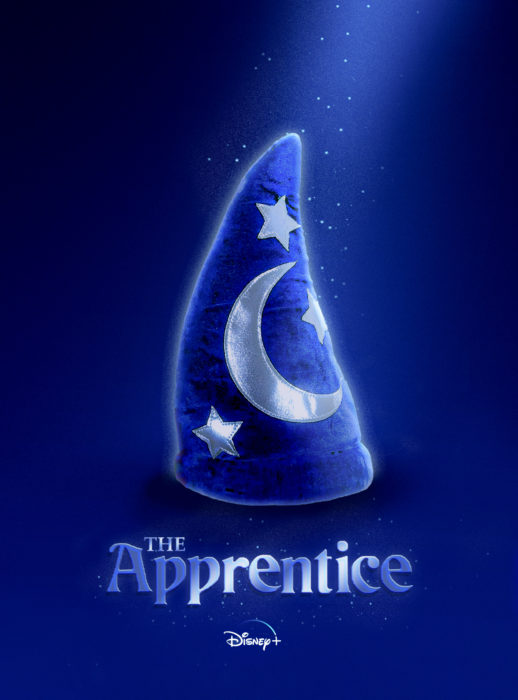 #3 – Stephen Sondheim + Disney Parks
Stephen Sondheim has been a huge influence of on my life. I would ballpark that 80% of my lyric pitches for E-ticket to Broadway are based on Sondheim lyrics. These designs include lyrics from Sweeney Todd, Company, and Sunday in the Park with George. The latter's "Finishing The Hat" song holds an incredible significance on me. I feel that particular song captures Walt Disney's intense creative energy. Using Sorcerer Mickey for the Disney representation on the design is a beautiful homage to two brilliant men who have shaped so much of my life.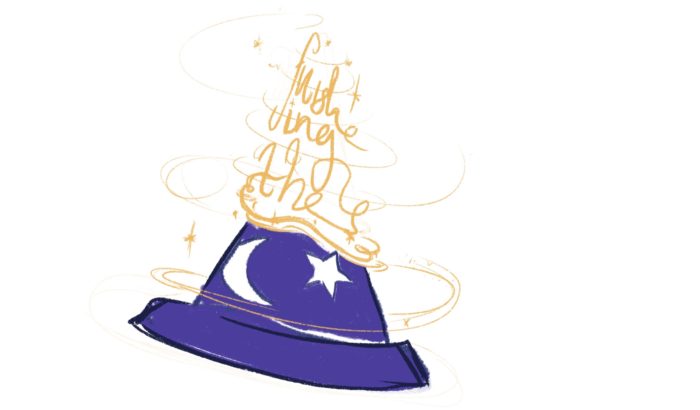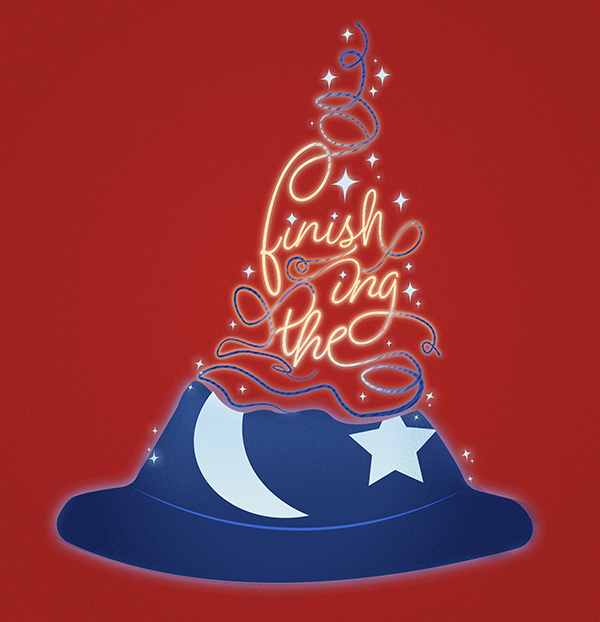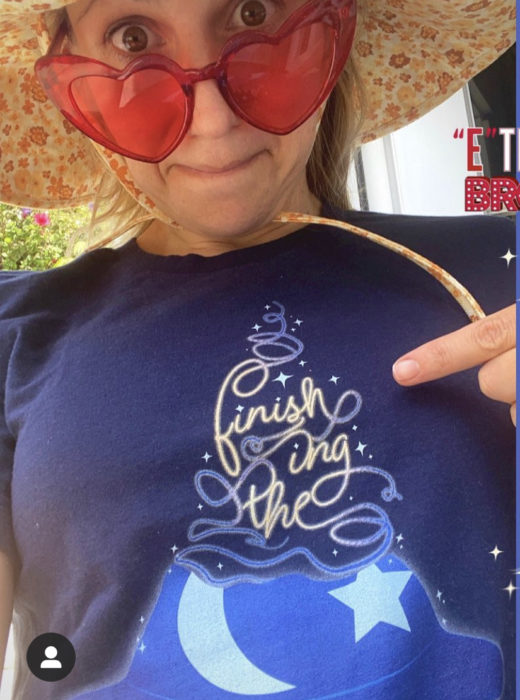 I am the biggest fan of the hatbox ghost. I love the lore surrounding the animatronic, and I absolutely adore his design. "Does anyone still wear a hat" is a lyric from the musical Company, and I felt it fit perfectly with this Haunted Mansion resident.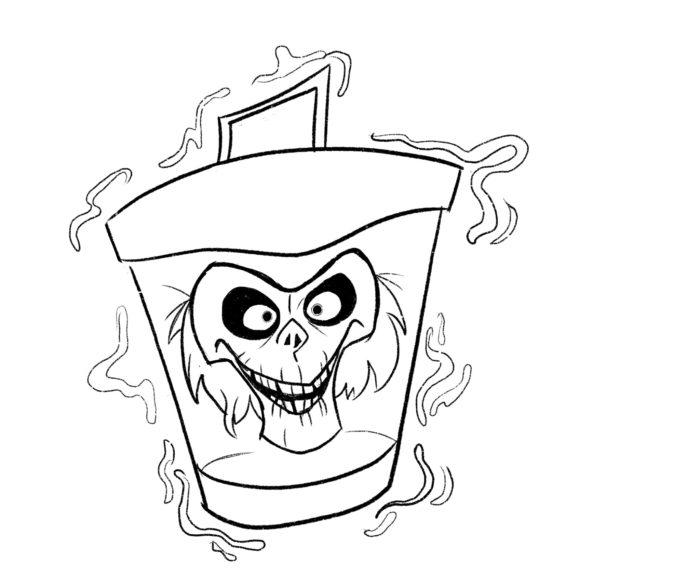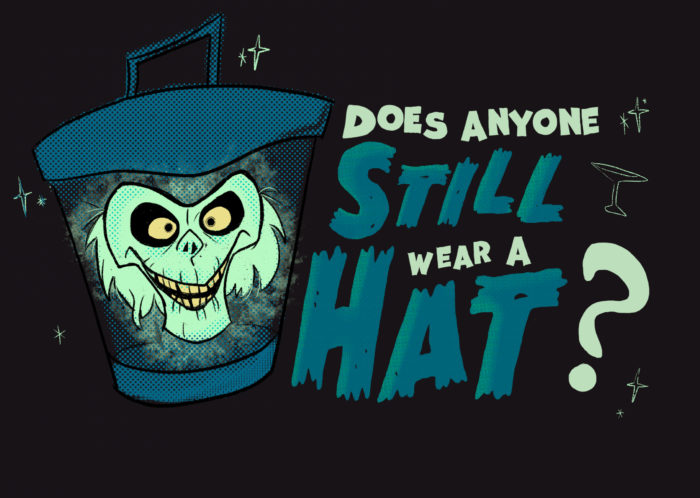 "Green finish and Linnet Bird" is a song from Sondheim's Sweeney Todd. When it came to a Disney attraction which featured  birds to mash it up with, well that one was a no-brainer…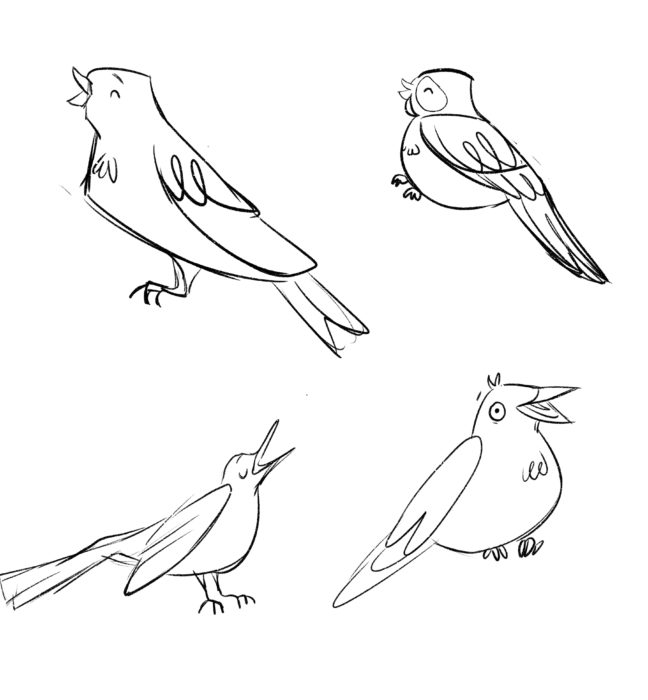 Stephen Sondheim, meet the Enchanted Tiki Room.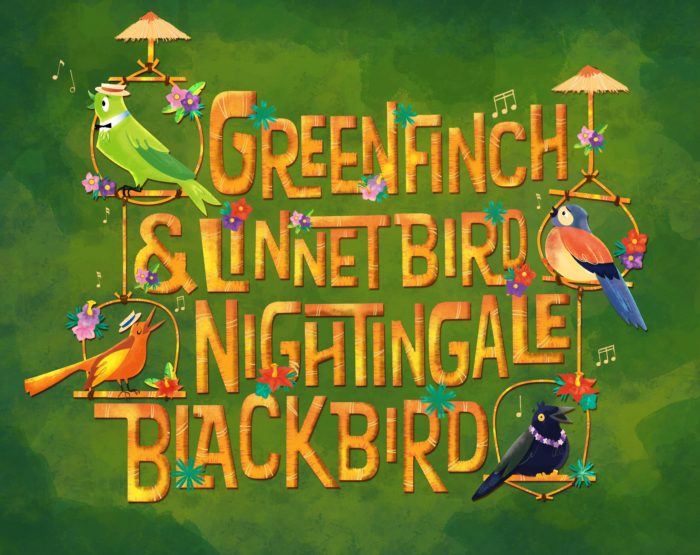 #2 – Homemade Disney
When Disney first shut down at the beginning of the pandemic, I made a little video recreating an evening at the Magic Kingdom from home to mourn my canceled trip. I called it #HomemadeDisney and I ended up recreating over 10 of my favorite Disney rides using a whole lot of cardboard. Here are some examples of #HomemadeDisney that I made including; Soarin' over California, Buzz Lightyear Space Ranger Spin, and Star Tours. This trend took off, as the online Disney community was so creative joining in and recreating their favorite moments and sparking fun collaborations. There were even some wonderful videos made by fans of the Universal theme parks. like Men in Black: Alien Attack and Back to the Future…the Ride!
I put together our own fake ad for the "homemade Disney parks."
Here are some of the props I created for #HomemadeDisney "rides." First up is from a video I did for the Hollywood Tower of Terror (which I followed up with a completely different, all new original video for Guardians of the Galaxy: Mission – BREAKOUT!)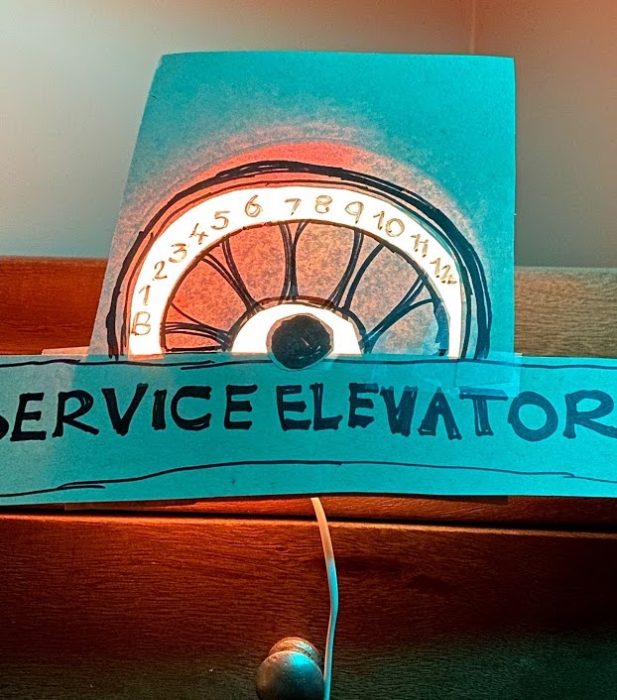 I had a little fun with the idea of a attraction not operating by putting this sign on my closet door.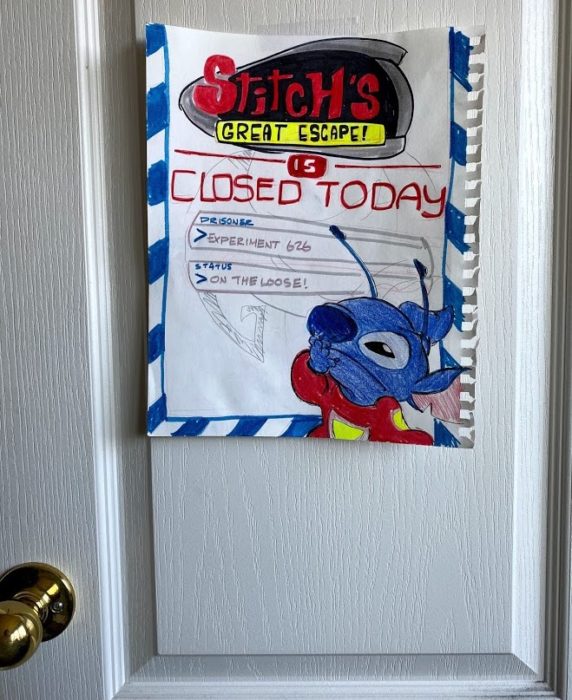 Below are some drawings of  Haunted Mansion stretching room portraits I created that I ended up recycling for another attraction.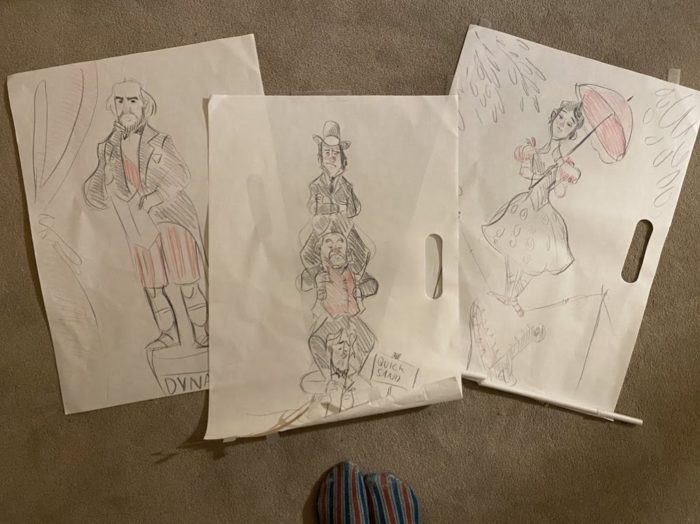 One of my favorite places in any theme park is the animation courtyard in Disney's California Adventure, so I had a little fun with the concept using Beast's Library and asked fellow theme park fans to submit photos to reveal "Which Disney Character Are You?" I was overwhelmed with the responses and very happy with the results. You can see a couple examples of this interactive project by CLICKNG HERE and HERE.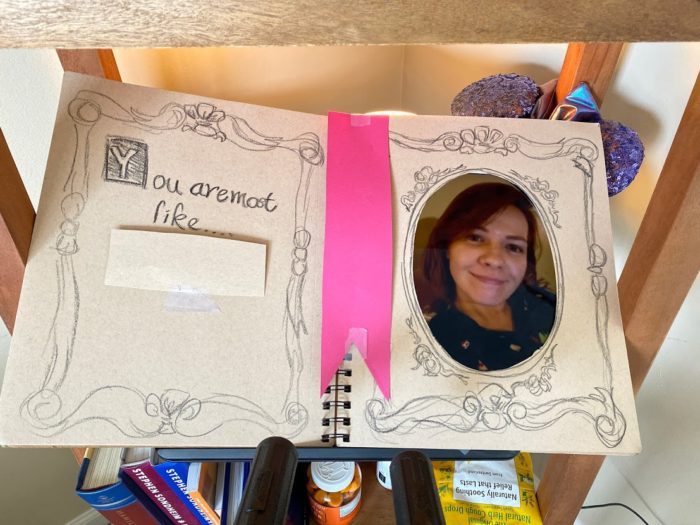 I designed a map of my bedroom to play an Easter egg hunt, which you can still play online by CLICKING HERE.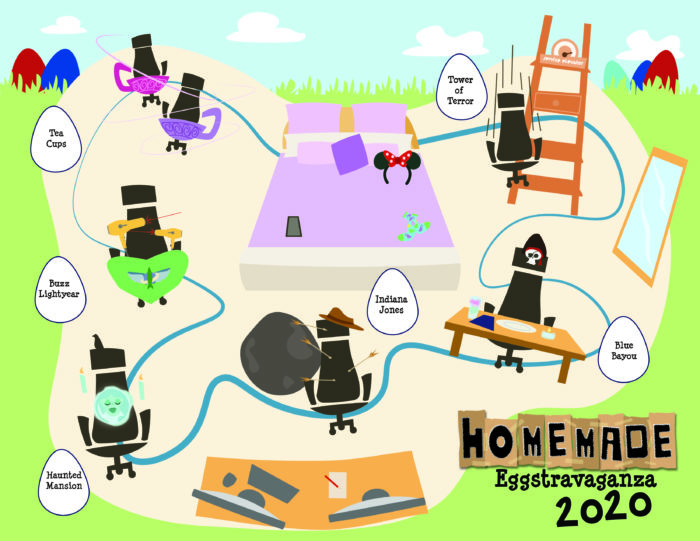 #1. Ratatouille the Musical
"Yes….and," is a game used by those in improv to generate ideas. You take what one person has done and make the next step, continuing the story. Most of my inspiration comes from bouncing off others. While I was on Tik Tok, I heard the lyrics to a loved ballad titled "Remy, the Ratatouille" and I couldn't get the idea of rat shaped ratatouille out of my head. So I hit the drawing board, so to speak, and created a Playbill for Ratatouille The TikTok Musical. I uploaded the video of my creative process, and thought nothing of it. Three weeks later I received a phone call telling me Disney theatrical just approved a concert version of Ratatouille The TikTok Musical and that I was being brought on board!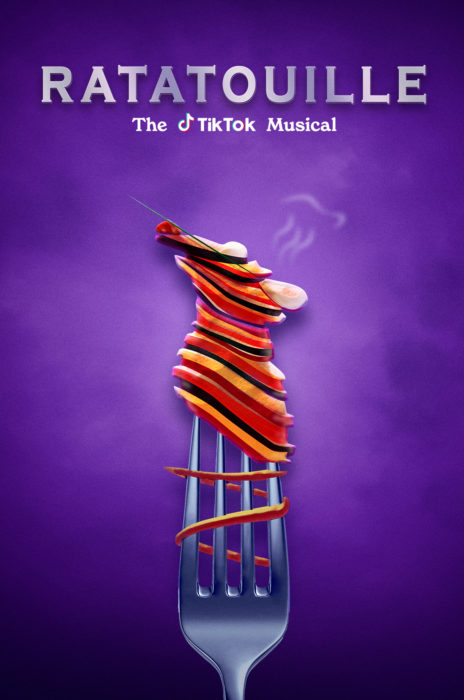 A theatre marquee, a times square billboard my very own official playbill. This poster is the very definition of a visual joke going too far.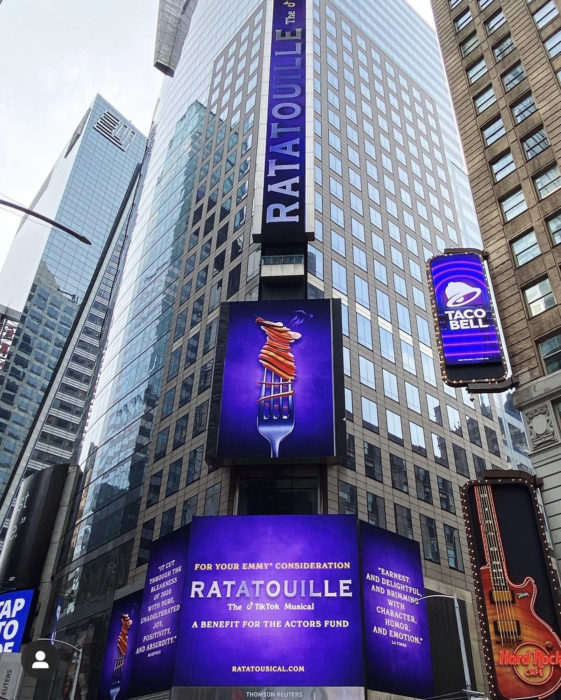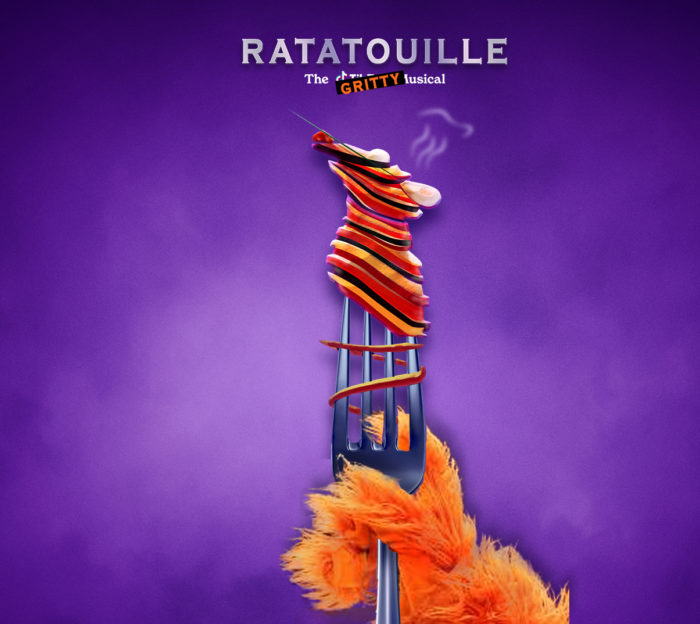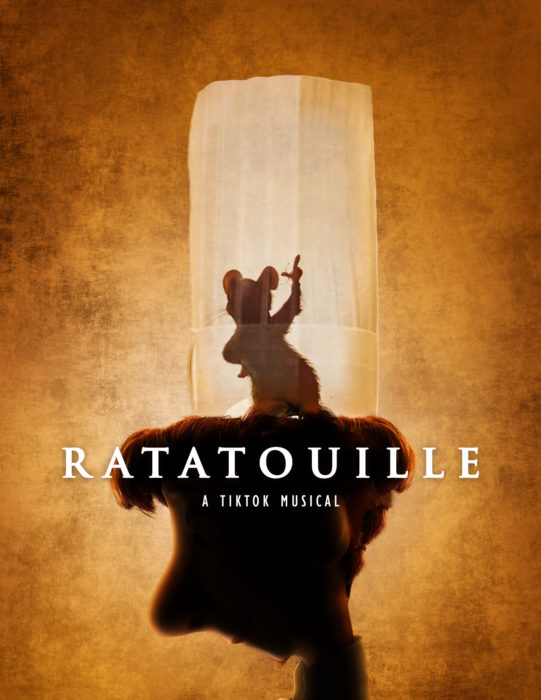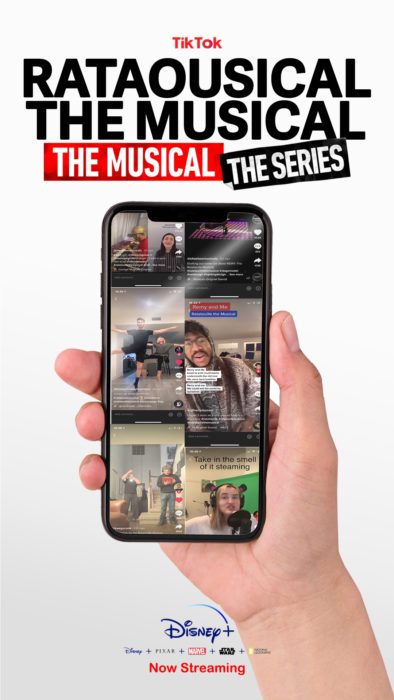 HONORABLE MENTION: Fun with Disney Parks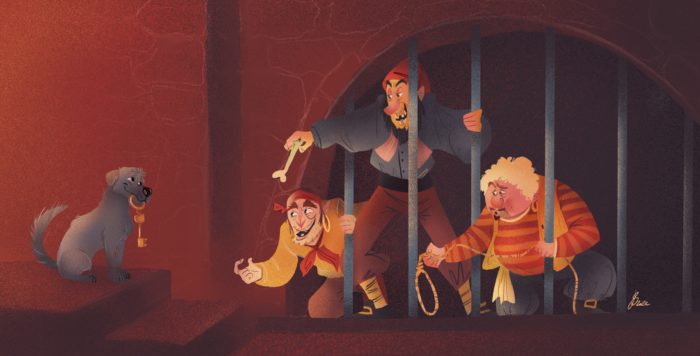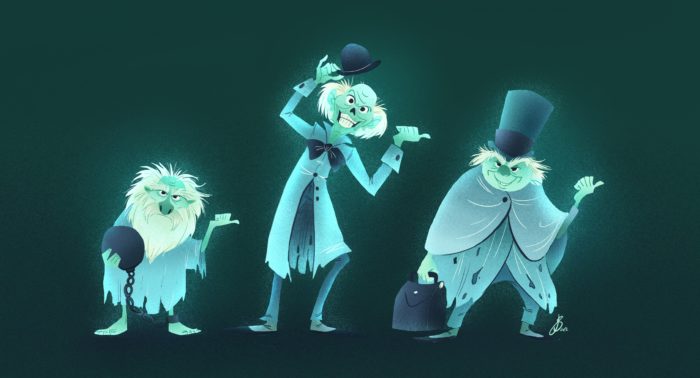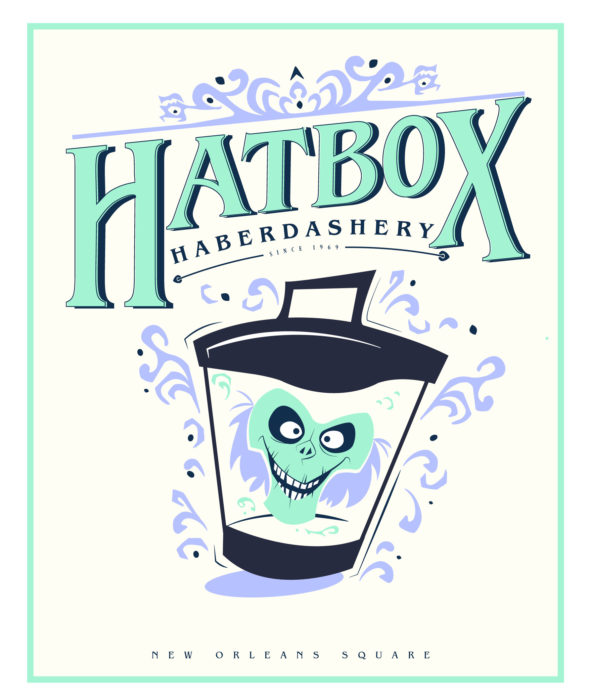 So there you have it: The Theme Park Artwork of JESS SISWICK! See you next weekend for the latest installment of the SATURDAY SIX, where we'll look at something fun from the world of Disney and Universal. If you enjoyed yourself, be sure to check out the THEME PARK ENJOYMENT INDEX, giving a monthly recap of all the theme park news you need to know (and a lot more you don't need to know, but we're gonna tell you anyway). You can also follow Your Humble Author on Twitter (@derekburgan).
If you enjoyed this article, you will surely like the following: 
Artist Spotlight Class of 2021: SonderQuest | Sam Carter | Brian Cooper | Sterling Denham
Artist Spotlight Class of 2022: Rob Yeo | Ava Buric | Jess Siswick | Hayden Evans
SATURDAY SIX Presents: Artists Inspired by Universal's VELOCICOASTER
SATURDAY SIX Presents: Artists Inspired by Universal's HALLOWEEN HORROR NIGHTS
SATURDAY SIX Artists Inspired by HHN Series: Dead Skull
Special Thanks to The Elite Brandon Glover, Digital Maestro Scott Walker, the bio-est of all reconstructs @bioreconstruct, Captain Cruiseline Scott Sanders of the world famous Disney Cruise Line Blog, my personal protege Hunter "Elvey" Underwood, artist @SonderQuest, the mighty maven of merchandise Hedgehog's Corner, the SAT SIX Fun Squad of Parkscope Joe and "the Dadalorian" Nick, hot shot Michael Carelli, charter member of the Universal Four @Nitro230, and Hermione Granger's tutor Megan Stump for their invaluable assistance with this article. Absolutely no help was added by SeaWorld Influencer @SuperWeenieHtJr. The SAT SIX is inspired each week by goofballs Aengus Mackenzie and LitemAndHyde and you Potterheads will  enjoy Meg's other blog work over at the Central Florida Slug Club.