This Month in Disney Parks History: July
Welcome back and thanks for joining us for another edition of Disney Parks History! Hope you're ready to relive some of the magic of Disney's past from the month of July. We've got the opening of Disneyland, the premier of not one, but two Splash Mountains, and much more to celebrate this month, so let's get going!
1955: Disneyland opened after just about a year of construction. Doesn't that sound incredibly short given the multi-year projects we're so accustomed to these days? Opening day attractions included Jungle Cruise, Mr. Toad's Wild Ride, and Snow White's Scary Adventures. The celebration was broadcast on national television to an estimated 90 million people and included Walt Disney, Ronald Reagan, and many more.
1965: Great Moments with Mr. Lincoln opened in Disneyland. The attraction originally premiered at the 1964 World's Fair before finding a more permanent home on Main Street, U.S.A.
1966: Walt Disney opened his newest land, New Orleans Square, with the help of New Orleans Mayor, Victor Schiro.  It was the first land to open since the original opening of Disneyland and was one of the last times Walt would be in the public eye before passing away later that year.
1967: Disneyland's Tomorrowland got an update, including the addition of Rocket Jets, PeopleMover, and The Carousel of Progress. The latter would eventually relocate to Walt Disney World's Tomorrowland.
1975: A Disney classic, the WEDway PeopleMover, opened at Walt Disney World. The attraction gives guests an inside look at Tomorrowland attractions and even has picturesque views of Cinderella Castle.  Paging Mr. Morrow, Mr. Tom Morrow!
1985: Tinker Bell wowed guests with her first flight over Magic Kingdom park. The tradition began in Disneyland decades earlier, and her first flight over Magic Kingdom was originally supposed to be reserved for special occasions. The success and popularity of the event turned it into a nightly occurrence that's continued for over 30 years.
1988: This one may hit close to home for those still mourning the loss of Maelstrom, but the attraction debuted in the Norway pavilion of Epcot back in July 1988, a few months after the opening of the pavilion itself.
1989: Splash Mountain opened at Disneyland, treating guests to the story of Brer Rabbit, Brer Fox, and Brer Bear, inspired by the Disney film, Song of the South.
1992: Walt Disney World's Splash Mountain opened shortly thereafter in Magic Kingdom, but this time, it featured wider vehicles to accommodate more guests per ride. Do you have a favorite version of the attraction, Disney World or Disneyland?
1994: Innoventions East and West opened in Epcot's Future World, replacing CommuniCore.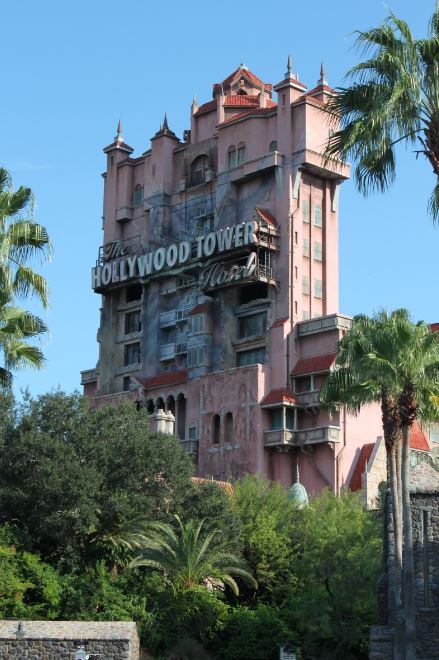 1994: The Twilight Zone Tower of Terror premiered at Walt Disney World over 20 years ago. Randomized drop patterns were added for the 10th anniversary, so be careful, or you may find yourself a permanent resident of… the Twilight Zone.
1995: Disney's Wedding Pavilion officially opened, bringing guests' fairy tale weddings to life. The pavilion, located next to the Grand Floridian on the shores of Seven Seas Lagoon, holds over 300 guests and features a 75-foot-long aisle.
1996: Disney World began welcoming its first guests to the turn-of-the-century Atlantic City-themed resort, Boardwalk Inn. It's a favorite resort of many, and it's not hard to see why. The resort is situated within walking distance of not one but two parks and features plenty of dining, entertainment, and nightlife options.
1998: Disney Magic departed on its inaugural cruise. Though it was originally scheduled to first set sail in March, delays continued to push the maiden voyage back further and further until it finally embarked on July 30.
1999: Aerosmith was on hand for the opening of Rock 'n' Roller Coaster at Disney's Hollywood Studios. Accelerating guests to almost 60 mph in less than 3 seconds, it's one of the fastest attractions at Walt Disney World.
2005: After a two-year hiatus, Space Mountain reopened at Disneyland. The attraction closed without notice in 2003 (can you imagine the backlash if they did something like that today?!) and reopened to guests in 2005 as part of Disneyland's 50th anniversary celebrations.
2005: Turtle Talk with Crush opened in Disney's California Adventure, less than a year after first debuting in Epcot.
2006: An updated version of Pirates of the Caribbean, featuring Captain Barbosa and Captain Jack Sparrow, opened in Magic Kingdom. The opening date coincided with the release of the Pirates of the Caribbean film, Dead Man's Chest.
2007: Disney began removal of the Mickey Mouse arm/glove, wand, stars, and Epcot lettering surrounding Spaceship Earth. The 50-ton addition was originally installed to mark Walt Disney World's 2000 millennium celebration, but with Epcot's 25th anniversary fast approaching, they felt the time was right to restore Spaceship Earth to its original state.
2008: Tokyo Disneyland Hotel, a Victorian-style hotel just outside of Tokyo Disneyland park, held its grand opening.
2012: Toy Story Midway Mania! opened in Tokyo Disneyland following its success in Hollywood Studios and Disney's California Adventure.
Hope you enjoyed this month's edition, and we'll see you next month!