SATURDAY SIX Father's Day Special: Celebrating Dads at Walt Disney World and Universal
First published June 18, 2016. Updated June 20, 2021.
We're celebrating Father's Day with this blast from the past — a Saturday Six Father's Day special from 2016.
This week's SATURDAY SIX is a special FATHER'S DAY SPECIAL, paying tribute to all our favorite dads at Walt Disney World and the Universal Orlando Resort. After a challenging week in Orlando, we here at the SATURDAY SIX headquarters think it's time for some lighthearted fun. With tomorrow being Father's Day, it's about time we gave a little attention to all the dads we see in Walt Disney World and the Universal Orlando Resort. So sit back, put on your favorite pair of dad jeans, and let's begin our list with…
# 6 – WALT DISNEY: The Father of All Theme Parks
What else can we say about Walter Elias Disney? Without him we wouldn't have the glorious theme parks we enjoy today and instead would be suffering in the shoddily made and poorly themed rides that make up America's amusement parks. Even worse, we may have been forced to go to places like museums and libraries to actually learn something. I think I speak for us all when I say UGH. However, thanks to a visionary genius like  Walt Disney creating Disneyland – and then improving upon with Walt Disney World – we all get to enjoy one of the most amazing pieces of entertainment in the entire world.
Unlike most of our hobbies and interests, theme parks are a place we can go with the whole family and enjoy our time together. The theme parks are one of the very few places you can go where no matter who you are, you are accepted. It just doesn't matter what size you are, what race you belong to, what religion you pray to,  your sexual orientation, or handicap you have. If you're in a theme park, you are in a safe place. We all owe an unpayable debt to Walt Disney, as his foresight led to us being able to enjoy places that completely transport us away from the real world – and all of its problems – into an alternative reality where everything is as we wish it would be. A world in which the good guys always win. A world where we can fly. A world where our wishes come true.
# 5 – LEW WASSERMAN: The Father of Universal Theme Parks
While the name Walt Disney is as well known as Abraham Lincoln and William Shakespeare, not nearly as many people know who Lew Wasserman is, even fans of the Universal theme parks. For the most park, Lew Wasserman is a name lost to history, but in the 20th Century he was as influential as just about anyone outside of US Presidents and other world leaders. Making a huge mark on Hollywood, and even US politics, Wasserman's biggest claim to fame – at least to SATURDAY SIX readers – is that he is responsible for giving the green light to the Universal Orlando Resort. There is a statue dedicated to Wasserman in Universal Studios Florida (not unlike the partners statue of Walt and Mickey at the Magic Kingdom) along with several references to him throughout the park.
The Disney parks are not just good, they're great, but everyone needs competition. Universal putting parks in Florida, and greatly expanding the theme park aspect to Universal Studios Hollywood, helped to create an "arms race" with Disney in which the true winners are us, the park guests.
For a terrific book on the life and times of Lew Wasserman, including tales of dealing with both Disney and SeaWorld, check out When Hollywood Had a King: The Reign of Lew Wasserman, Who Leveraged Talent into Power and Influence.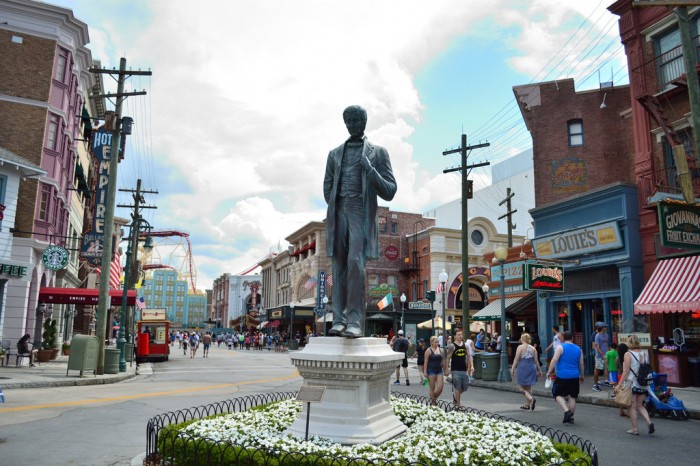 –
# 4 – DARTH VADER: Luke Skywalker's Father
Is there a more famous father on the silver screen? Vader's "No, I am your father" (famously misquoted as "Luke, I am your father") is one of the most quoted lines in movie history, right up there with Dorothy's, "Toto, I've a feeling we're not in Kansas anymore" and The Godfather's "I'm gonna make him an offer he can't refuse." Vader is now featured more than ever in the Disney parks, with a starring role in Star Tours: The Adventure Continues and the new A Galaxy Far, Far Away show. The Star Wars Universe has given us many memorable baddies over the years including Darth Maul and Jabba the Hut, but Darth Vader is not just a great Star Wars villain, he's one of the most intimidating bad guys of all time.
For those who like a good laugh, check out the Darth Vader and Son along with the Vader's Little Princess books. (Yeah, we know Vader is also Princess Leia's dad, but we're going to try and forget that for now because the more you pull on that string the less any of these movies make sense.)
–
# 3 – Fathers at the Universal Orlando Resort
The Universal parks are very father friendly, including one of our favorite dads of all, Homer Simpson. The Simpsons is one of the longest running shows of any kind, and while it is known as one of the funniest shows in TV history, it is also one filled with heart. In one memorable episode, Homer's kids Bart and Lisa wondered why he didn't have any pictures of their sister Maggie in the photo albums. It was revealed that Homer took all of the photos of Maggie to his job, and used them as a daily reminder of why he gave up his dream job and went back to one he hated. The "Do It For Her" ending is as touching a moment as you'll find anywhere on screen, animated or live action.
The area of Toon Lagoon is oft maligned by hardcore Universal fans, but because it is centered around comic strips, it is very family friendly. Those of us who grew up reading The Sunday Funnies in our local newspaper (#Millienials across the world are Googling "what are newspapers?" as we type this) will recognize the dad from Family Circus trying to track down his son Billy. There's a huge Dagwood Bumstead, from the strip Blondie, and you can even order his trademark sandwich for lunch. Even Poopdeck Pappy's Popcorn stand is a tribute to Popeye's dad. Keep your head on a swivel, because Universal has a lot of cool dads around the parks.
–
# 2 – Fathers at Walt Disney World
When we're talking about famous dads inside the theme parks we could almost start and end the list with the father character in Carousel of Progress. "John" is about as iconic as you get, and CoP is one of the rare WDW rides that has the personal touch of Walt Disney himself. We can't discount the Founding Fathers that you'll find in the Magic Kingdom's Hall of Presidents and EPCOT's underrated American Adventure. While in EPCOT you can head to The Seas with Nemo and Friends to see Nemo's dad Marlin, along with Squirt's dad Crush. Dad's are everywhere at WDW, including the resorts with Ariel's dad King Triton at Art of Animation and even Mr. Potato Head at Pop Century (the little green aliens do consider him "daddy.")
–
# 1 –  JIM HILL: The Father of Theme Park Blogging
We must close our list with a look at not just "a" father (to the lovely Alice,) but also "the" father to all of us theme park bloggers. That's right, theme park blogging, the noblest of professions that is right up there with teachers, firemen, nurses and doctors strictly in terms of value to society. While other journalists wasted their time on issues such as politics or sports, Jim Hill was a trailblazer in giving theme parks the attention it deserved. Jim's record on theme park rumors is second to none (he gets some wrong, but gets more right than any dozen other "experts" combined. He was telling us about MagicBands years before they came to WDW and was also talking about a film Disney was high on called "The Ice Queen" long before Frozen became a worldwide phenomenon. What separates Jim from the pack is that not only he is a world class storyteller on audio, but when he writes an article he fills it with history, humor, and heart (there's that word again.)
We'd like to close with a few words from a man who could be considered Jim Hill's stalker protégé.
It's funny that you say that Jim Hill is the father of theme park blogging. His role in the community is very much that of a father figure. He gets ride names wrong, he wears Hawaiian shirts that would embarrass John Lasseter, and he literally uses the word literally more than any person I know.
But, well, you know he is beloved by the community. He is a theme park historian, a rumor authority and a master raconteur. And like any good father he is always there to impart his wisdom and experience. – Tim Grassey WDWThemeParks.com
–
A Very Special Tribute to the "Fathers" of the SATURDAY SIX
BRANDON GLOVER – Fathers teach us many important life lessons: from how to throw a baseball to baiting a fishing hook, as well as how to fix things after you've broken them. But the most important lessons I'll always remember were the ones that have helped shape who I have become today. When I was in my early teens, I would help clean up my dads shop after school once a week for $5. One afternoon I was complaining about having to do my duty when he stopped me and gave this valuable life lesson: "You're not going to walk in to any company and just take over. You have to start at the bottom and work your way up to the top. Nothing is going to be handed to you, so you're going to have to work for it." And then he handed me the broom to resume sweeping. He taught us to never give up on anything you want in life, nor to settle for anything less than what you want; to treat people with the dignity and respect they deserve, and to be honest and fair with your fellow man. But above all, he showed us how to live and enjoy life to the fullest even in moments when life seemed to be fleeting. Today we may work side by side, but I still take a moment every day to sweep the floors as a reminder of why I am in the position I am today.
–
JULIA MASCARDO –  A huge shout out to my dad, who instilled a love of classic comedic timing (Abbott and Costello, Three Stooges, etc.) that constantly tries to creep into my writing. Because both of us always seem to be behind the camera, it's rare to get a photo of either of us — but because he's still a big kid at heart, pictures with character are a must. Love ya, dad, and Happy Father's Day!
(Julia is our intrepid Disney Outlet Store intern who helps us each and every month in The Magic, The Memories, and Merch! articles by braving the wretched hive of scum and villainy known as Vineland…)
–
MEGAN STUMP – According to my mom, my dad is the first person I ever smiled at. Why is that so important? Well, I'm adopted, and for the first 5 weeks of my life I was in foster care and never smiled. But clearly I loved music from that point, because as soon as he plopped me in front of the stereo, I was a happy kid! 
My mom has always said we're so much alike. Both of us are super stubborn, impatient, musical and can't handle intolerance and general mass stupidity. My dad even told me not to be a music teacher, and my stubborn self refused to listen. I even went to the same school as him!!! Looking back-I probably should have listened to him. 
As much as my dad and I butt heads though? He's pretty much a hero. Not only has he had to put up with me for…..a lot of years, but he's dragged me around to lessons, special choir practices, football games, and even drove me to Youngstown the other night when he was exhausted, because he was worried for his little girl. I wouldn't be where I am today without him. He's my biggest fan and my biggest supporter. I know he would do absolutely anything for me. 
People ask me if I know who my real dad is. He's the guy who got my first smile. 
–
YOUR HUMBLE AUTHOR has a different version of Father's Day than many of you. My father left before I was born, and I have never met him. I was raised  by a single mother, one of the hardest working and most under-appreciated jobs in the world today. My mom, Daneen Burgan, loved theme parks more than anyone I know. While we couldn't afford annual Disney World trips growing up, we certainly went to as many as we could, and my mom would always get the latest copy of The Unofficial Guide whether we had a trip planned or not. Thinking about trips to Florida always made a cold winter night in New Hampshire easier to suffer through. Thanks to my mom, along with my grandmother (a walking Saint if there ever was one), when EPCOT Center opened I was able to ride the fabled Horizons and get to experience Journey Into Imagination when it was actually good. To this day I can still sing songs from Kitchen Kaberet. We were there when Disney-MGM opened, when Animal Kingdom opened, and they even managed to slip in trips to SeaWorld, Busch Gardens, and Universal. At the time, I never truly appreciated how hard these two women worked to provide me with a childhood of unforgettable memories.
After I moved to Florida, my mother and grandmother made even more trips down south to the Orlando parks. I always told them they were crazy, and they should go to more places around the world like Aruba or Hawaii, but looking back I think they came down so much to see me. They also became big fans of cruising, and tried for years to get me to go on a cruise with them. I always declined, saying that I didn't understand why anyone would want to spend a whole week on a boat. They raved about the Disney Cruise Line and Castaway Cay, but I wouldn't budge. In 2011, my mom couldn't have been more excited to see the Wizarding World of Harry Potter. We spent a day at Universal and she was in awe of Hogsmeade Village and Hogwarts Castle, but believe it or not it was Popeye's Bilge Rat Barges that she loved the most. Here she was, 95 pounds soaking wet, with a smile on her face a mile wide wanting to ride again and again. This was the first time where I was actually the one showing her around the theme parks, switching the roles we had played our whole lives.
That was the last time I got to see my mother, as she passed away unexpectedly later that year. There isn't a single day that goes by where I don't think of her. Many times up in Orlando I even convince myself that I see her, and all I want to do is tell her I love her one last time.  In 2012, I started writing about theme parks, eventually making my way to TouringPlans. In the last year I've had some work published in several books in The Unofficial Guide series, including The Unofficial Guide to Universal Orlando. Wherever she is, I think this brings another smile to her face.
I will always beat myself up for not taking that cruise with her, because when I finally took one after she passed away I understood why she fell in love with them. I've been able to bring her ashes to many of the places she loved in life, even her favorite place on Earth, Castaway Cay. It helps me at least knowing that a part of her can always be around the things that made her so happy.
Everything that I am today I owe to my mom and my grandmother. My work ethic, my compassion, my sense of humor, and – something I had never really considered until writing this article – my love of theme parks.
I love you mom, you were the greatest dad I could have ever had.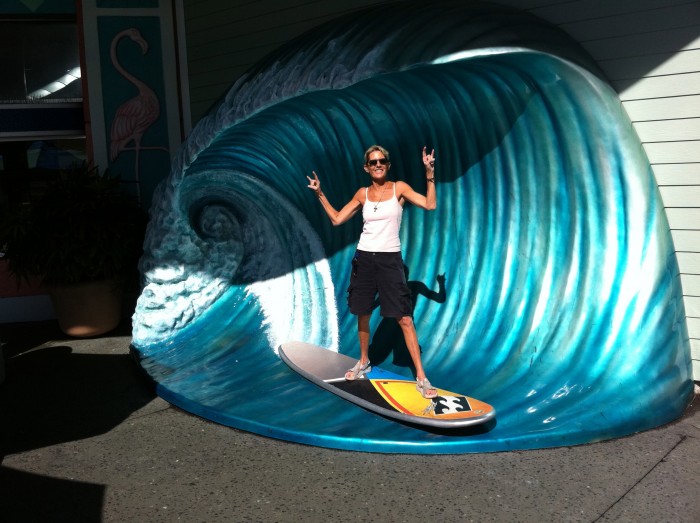 So there you have it: A SATURDAY SIX FATHER'S DAY SPECIAL. See you next weekend for the latest installment of the SATURDAY SIX, where we'll look at something fun from the world of Disney and Universal. If you enjoyed yourself, be sure to check out The Magic, The Memories, and Merch! articles, or, for your listening pleasure, check out the E-Ticket Report podcast. You can also follow Your Humble Author on Twitter (@derekburgan)
If you enjoyed this article, you will surely like the following:
Six Reasons We Love Universal's Royal Pacific Resort
Universal Dining: Emeril's Tchoup Chop 
Six Reasons We LOVE Marvel Superhero Island at Universal
A SATURDAY SIX SALUTE To All Nations (But Mostly America)
Special Thanks to crack staff photographer Brandon Glover, photo wunderkind Mike Sperduto, #blocked and reported for spam Michael Sheehy, and blogger to the stars Megan Stump for their invaluable assistance with this article. Be sure to also check out Brandon on The Park Blogger podcast with co-hosts Aengus Mackenzie and Brian Carey along with Meg's Yeti To Be Named Disney Podcast.
FINAL PLUG! Did you know The Unofficial Guide to Universal Orlando has a special edition of the SATURDAY SIX in it? Finally, someone came up with an actual reason to read a book. ORDER this baby now! (For every copy sold, a percentage of the profits* go towards buying a DVD of the Seven Dwarfs Mine Train rap video.)