Top 10 Festival of Holidays Food Items at Disney California Adventure
If you're visiting Disneyland Resort November 8, 2019, through January 6, 2020 then you'll definitely want to check out Festival of Holidays at Disney California Adventure. One of the best things about this seasonal celebration is the many unique food items that are only available during this time of year. There's a ton of new items and a handful of returning favorites from previous years, so to help you out here's our top 10 Festival of Holidays Food Items at Disney California Adventure.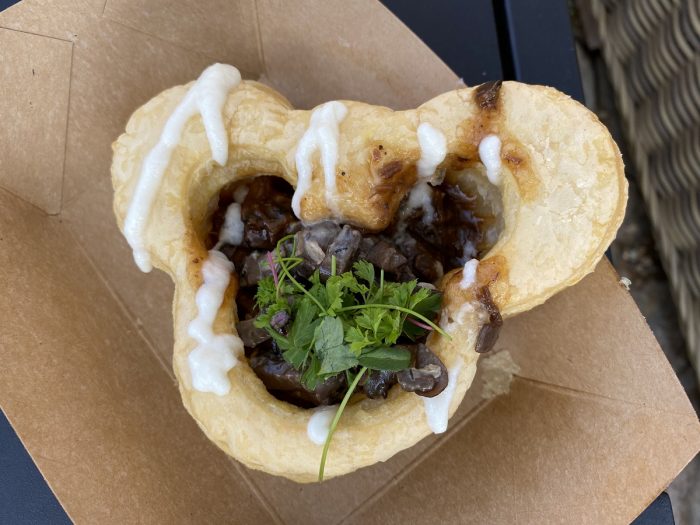 Reimagined Beef Wellington – A Twist on Tradition – $8.50
The beef wellington is not only the best item of this year's Festival of Holidays, but it's the best item of any of the DCA's seasonal festivals so far. It has a generous portion of beef, wonderfully flaky pastry, table service quality ingredients, and it's Mickey shaped. What more could you want?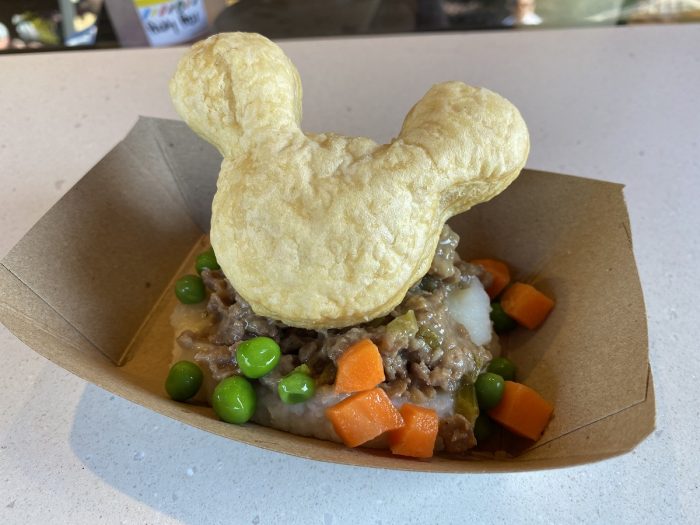 Shepherd's Upside-down Pie (Plant-Based) – Grandma's Recipes – $7.75
For a vegetarian entree this item was surprisingly hearty. The "meat" being plant-based was unnoticeable and I would have never known if I didn't read the entree name before I ordered. Like the previously mentioned beef wellington, the Mickey-shaped pastry here is also flaky and tasty.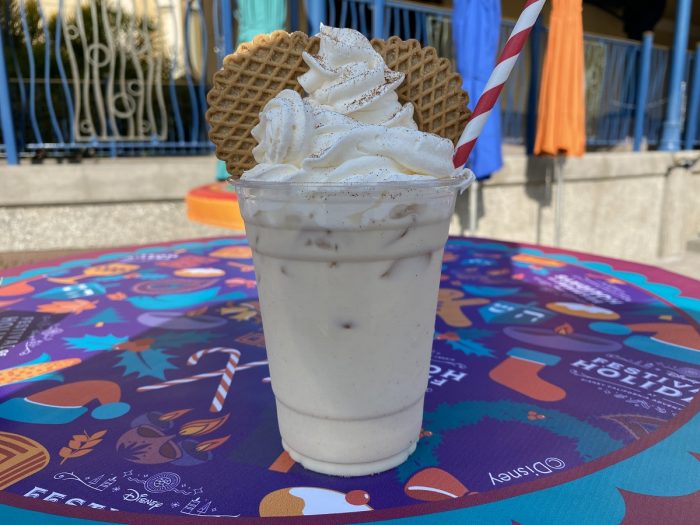 Non-Alcoholic House-made Horchata – Merry Mashups – $6.50 ($13.00 for alcoholic version)
The "House-made" Horchata (should we consider something being "house-made" when it's coming from an industrial kitchen at theme park, made in portions that serve hundreds of thousands of people?) is sinfully creamy with just the right amount of cinnamon and a gigantic helping of whipped cream. I enjoyed getting this drink first and taking it with me to the other booths while I ate some of the more salty items.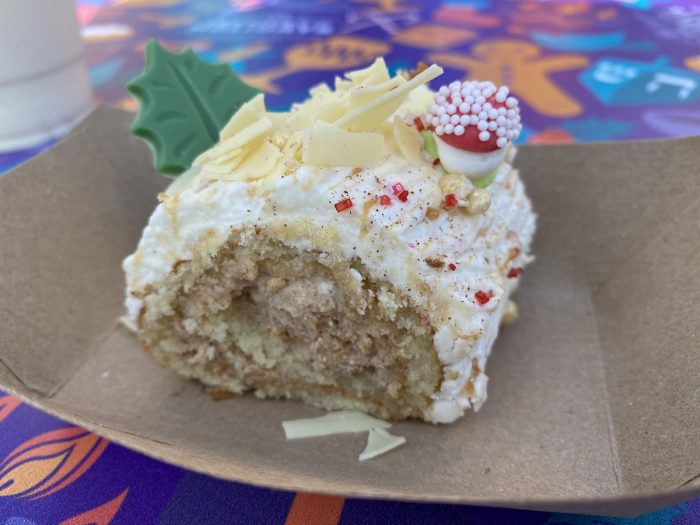 Churros Yule Log – Merry Mashups – $6.00
Perfect for all those churro fans out there is this Churros Yule Log. The name doesn't lie, it tastes like a churro!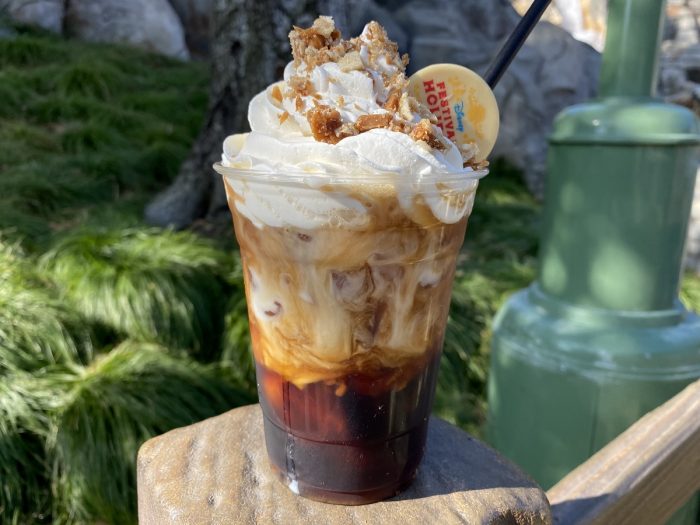 Churro Toffee Cold Brew (Non-Alcoholic) – Holiday Duets – $6.50
You really can't go wrong mixing toffee and churro flavoring in anything. I feel like some people will find this drink too sweet, but if you can handle the other desserts on this list you wont have a problem. Also the Churro Toffee Cold Brew is over $1 more than the cold brew drinks found at the Starbucks on Buena Vista Street, but at least you get some interesting ingredients here that aren't available otherwise.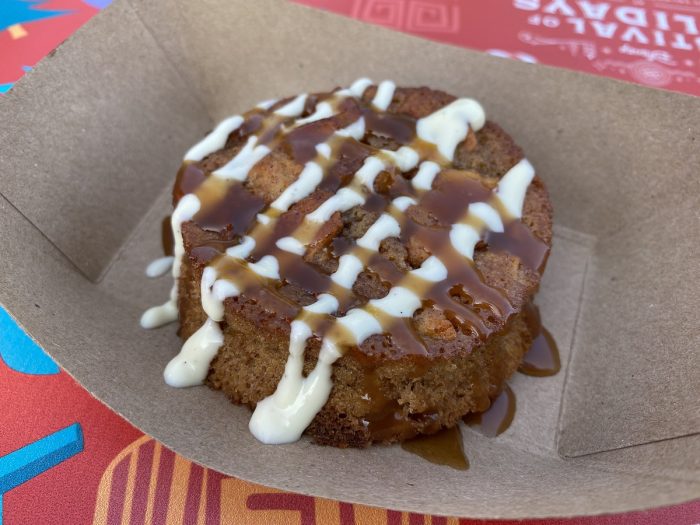 Caramelized Apple Cake – With Crème Anglaise and Salted Caramel Sauce – Making Spirits Bright – $5.00
Why do warm apples covered in salted caramel taste so good? Can we get some scientists to investigate that? Anyway, this is a perfect dessert for those chilly nights during the holiday season.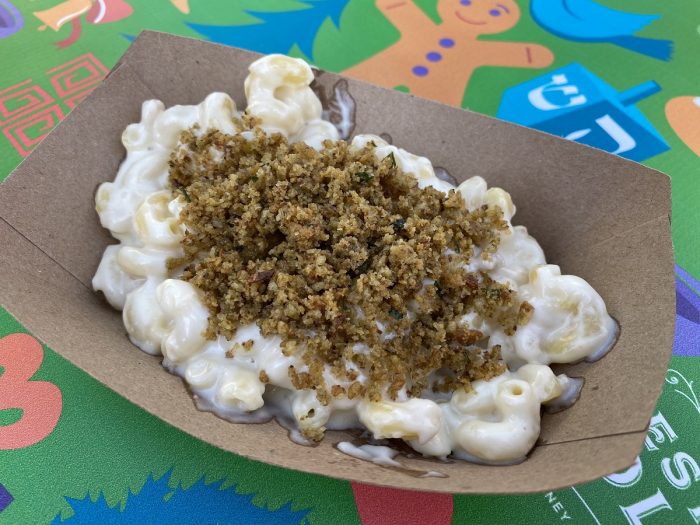 Holiday Stuffing Mac & Cheese – Favorite Things – $7.75
The rich and creamy mac & cheese blend perfectly with the stuffing, which has a wonderfully pleasant crunch to it.
Turkey & Stuffing Tamale with Cranberry Relish – Merry Mashups – $7.75
Tamales are one of my favorite food items. I've probably had thousands of them in my 36 years on this earth, and surprisingly this was up there in terms of taste. It was like a Thanksgiving dinner, but in a tamale. The turkey was perfectly cooked, the sauce on top was not too thick or rich, and the tamale itself was just right (not dry at all). Shockingly, the price for this item did not go up this year.
"Hot Cocoa" Marshmallow Macaron – Making Spirits Bright – $5.50
First of all, take a look at the presentation on this thing. I really like that it looks like a campfire. Second, the taste is very very good. It really does taste like a cup of hot cocoa with marshmallows. This item is very sweet, which may turn some people off. Those people are crazy. Thank them for not wanting any of your precious macaron and eat it all on your own.
Chorizo Queso Fundido – with house-made tortilla chips – Brews & Bites – $6.50
Chorizo is sinfully good. Thankfully, calories don't count when you're in a Disney theme park. Yes, these are pretty much fancy nachos. But hey, they're delicious and easily shareable with a group of people.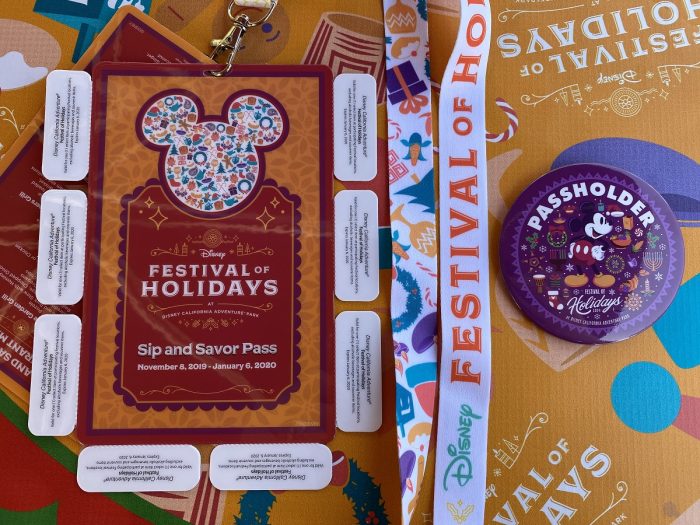 If you want to try multiple items you should definitely consider getting the Sip and Savor Pass, which is available at multiple kiosks and shops throughout the park. It allows you to pay one price, and then try eight items of your choosing. The DCA Festival of Holidays Sip and Savor Pass is $54 (or $51 if you're an annual passholder). Remember to use the pass on high-value items, not the cheaper desserts. If you use your pass to get eight items that cost $7.75 each, the total if you paid cash would be $62. But if you use your Sip and Savor pass to get eight desserts that cost $5.50 each, your total in cash would be $44. Be sure to do the math on what you want to buy to make sure the Sip and Savor Pass is a good value for you.
Let us know what you think about our top 10 Festival of Holidays Food Items at Disney California Adventure. Let us know about any items that you think should be on this list.