What to Expect During Festival of Holidays at Disney California Adventure
The holiday season and Christmas celebrations are right around the corner at Disneyland Resort. Both Disneyland and Disney California Adventure will soon be stuffed to the brim with holiday cheer and festive decorations. The 2022 holiday season begins November 11, 2022 and runs all the way until January 8, 2023. Last week we took a look at Disneyland's plans for the holidays. Today well go over Disney California Adventure's Festival of Holidays celebration.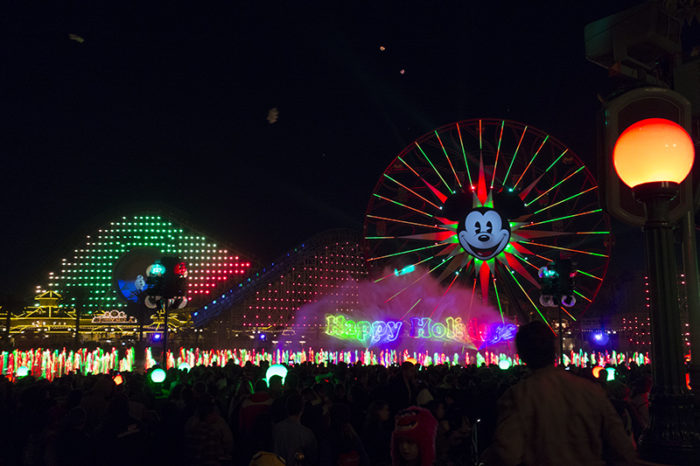 World of Color – Season of Light
All time classic holiday songs and some Disney favorites are mixed with a spectacular a water and light display. World of Color – Season of Light is one of the must see offerings of Festival of Holidays.
During the holiday season World of Color will usually have two performances a night.
You must join a virtual queue in order to access a World of Color viewing area at night. The virtual queue "opens" at noon each day in the Disneyland app, and you should join immediately if you want to see the show. If you miss out on the virtual queue or do not want to deal with that hassle, you can purchase a dining package that includes a viewing spot, or you can try to watch from outside the designated viewing areas–although the view won't be great, you can see aspects of the show from all around the lagoon.
See our step-by-step guide for how to get a World of Color virtual queue spot.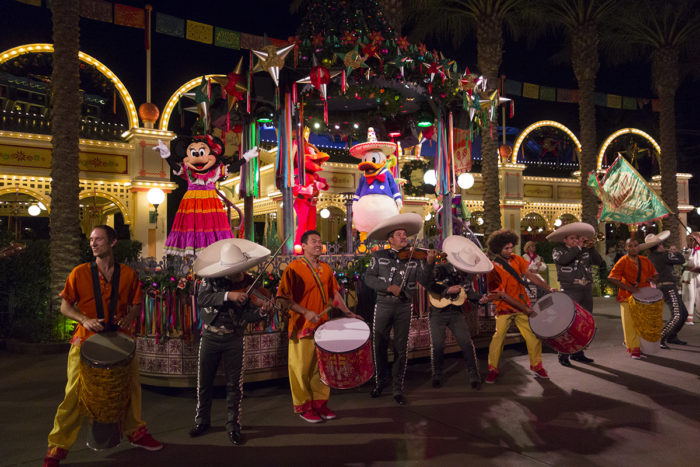 Disney ¡Viva Navidad!
We're huge fans of Viva Navidad. The show is full of dancers, drummers, a mariachi band, and Disney characters. The stars of the show are Three Caballeros, but Mickey and Minnie also make an appearance. Each performance ends with everyone singing along to Jose Feliciano's Feliz Navidad. It's high energy and a ton of fun.
Viva Navidad is usually performed at least five times each day in the Paradise Gardens Park area of DCA. The viewing area isn't that big, so good spots can quickly fill. Arrive at least 30 minutes early to obtain a viewing spot for the show.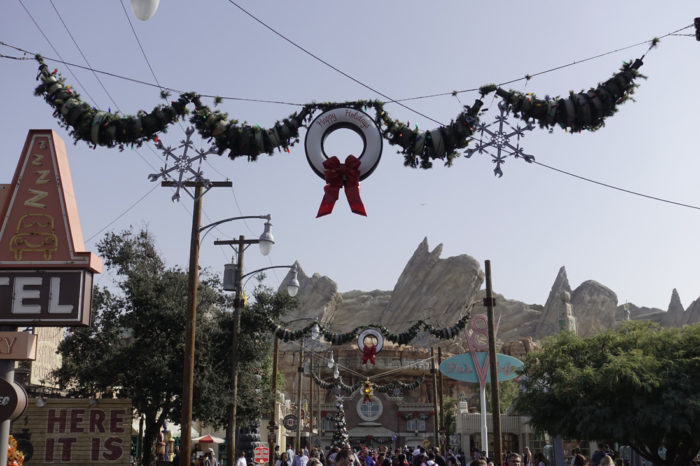 Cars Land Holiday Decorations
Cars Land is home to one of the biggest collection of holiday decorations in Disneyland Resort. The twist is that everything is decorated like the land's residents have done the decorating. Garland is made out of air filters, snow flakes are made of wrenches, and Christmas trees are covered in hubcaps.
Mater's Jingle Jamboree and Luigi's Joy to the Whirl are seasonal versions Mater's Junkyard Jamboree and Luigi's Rollickin' Roadsters. There's nothing too elaborate going on here but it's fun to hear special seasonal music while riding these two attractions.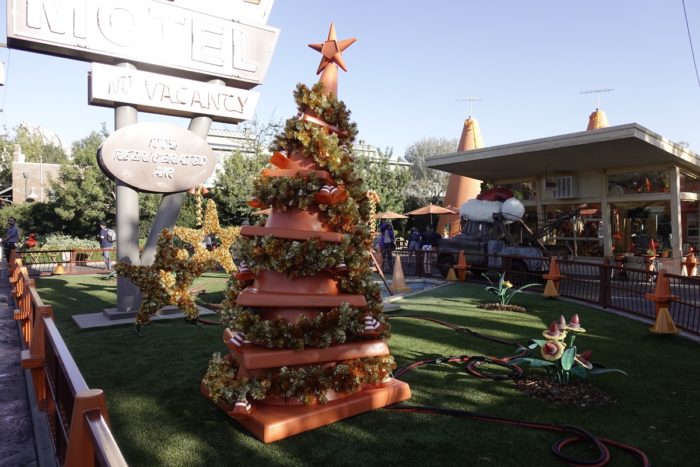 Cozy Cone Motel is home to this unique Christmas tree made out of traffic cones.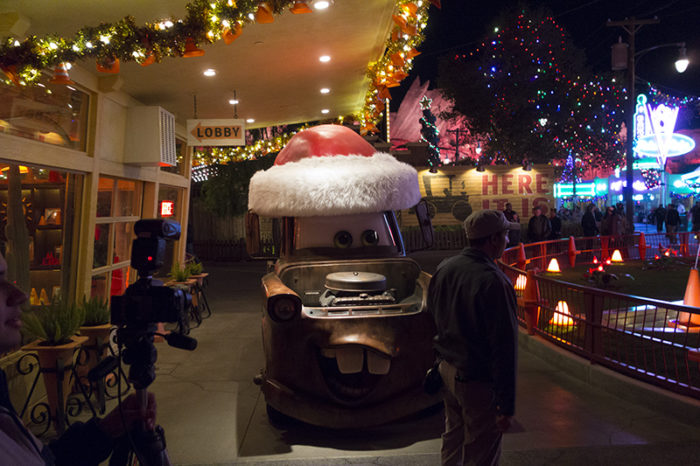 Mater and the other residents of Cars Land get in on the holiday fun as well.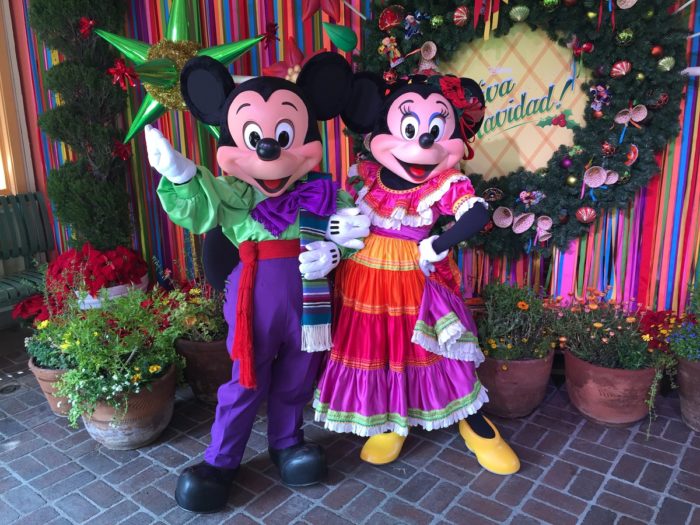 Characters in Holiday Outfits
Keep an eye out for Mickey, Minnie, Donald, Goofy, Pluto, and Chip & Dale in special seasonal outfits. They can be found in town square on Buena Vista Street during most of the day. Usually each character will have their own line, and they'll come and go at random times and locations. Be patient, hang around Buena Vista Street and jump in line when you see a character appear. Mickey, Minnie, Goofy, and the Three Caballeros also meet in Viva Navidad attire in the Paradise Garden Park area near Paradise Garden Grill.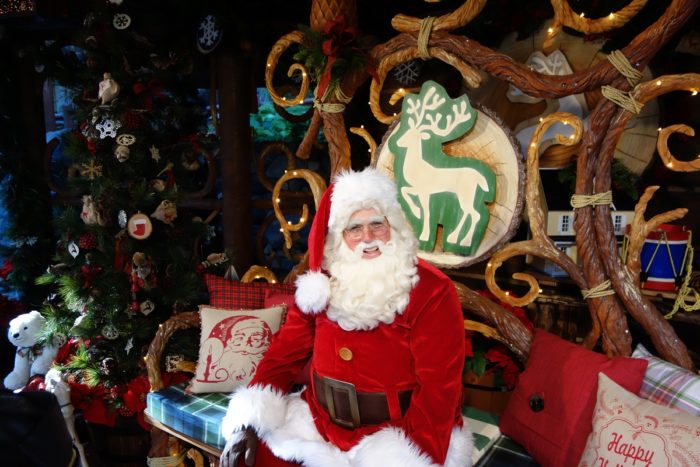 Meet Santa
Disney California Adventure visitors are able to take a picture with the one and only Santa Claus. Santa meets in Redwood Creek Challenge Trail. Keep in mind Santa only meets November 11 to December 24, 2022.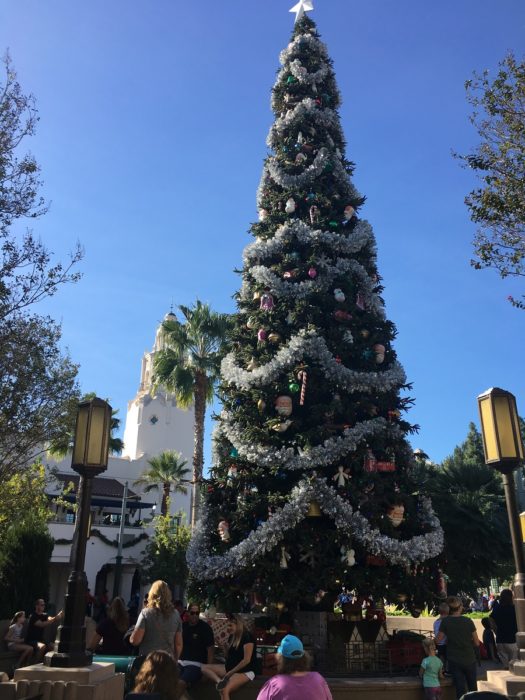 Holiday Decorations and Christmas Trees
Fans of holiday décor will love Buena Vista Street during this time of year. Beautiful wreaths, garlands, and poinsettias grace every surface, but the highlight is the 50 foot tall Christmas tree.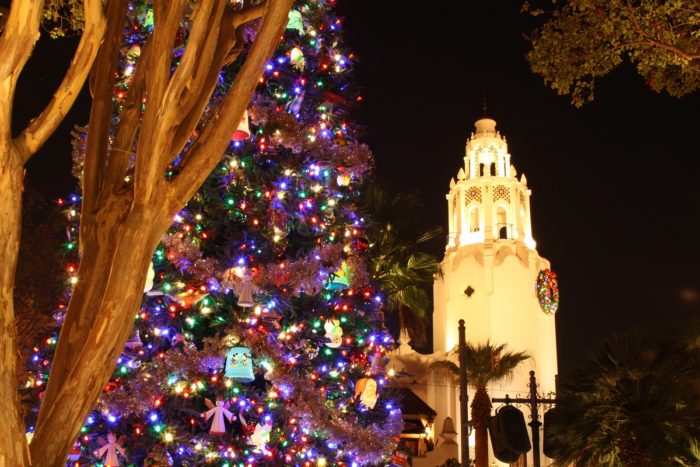 At night thousands of lights make the tree sparkle. It's gorgeous!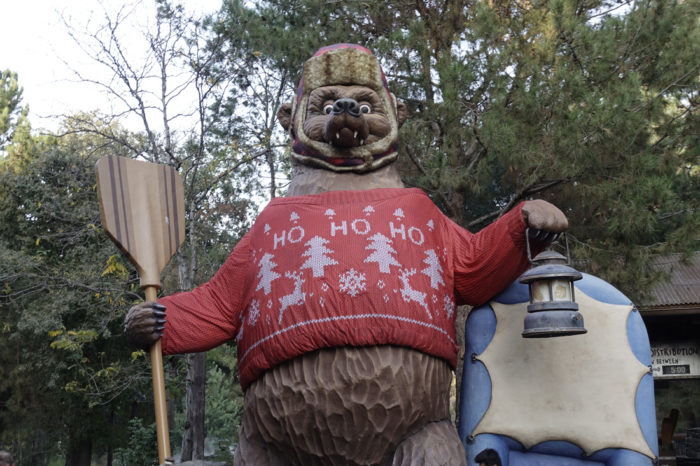 Buena Vista Street isn't the only land to receive decorations. It's fun to explore and discover everything so be sure to make time in your time to walk around and soak it all in!
Festival of Holidays Food Booths
Disneyland and DCA goes all out with seasonal treats and food offerings. In DCA, several booths are set up around the park serving special food and drink options. There's savory items, such as beef wellington, stuffing mac & cheese, and tamales. Also available are dozens of sweet treats, such as macarons, milk shakes, bread pudding, cookies, and so much more. Wine flights and seasonal beers are also available.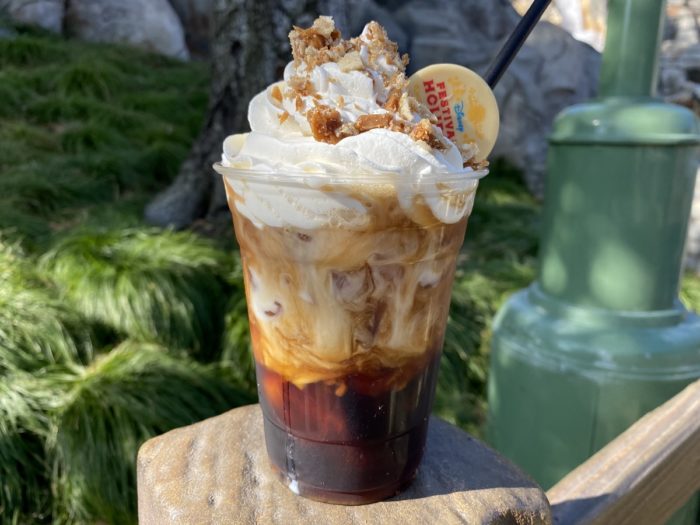 Here's some Festival of Holidays food items that appeared in 2021 so you can get an idea of what to expect this year.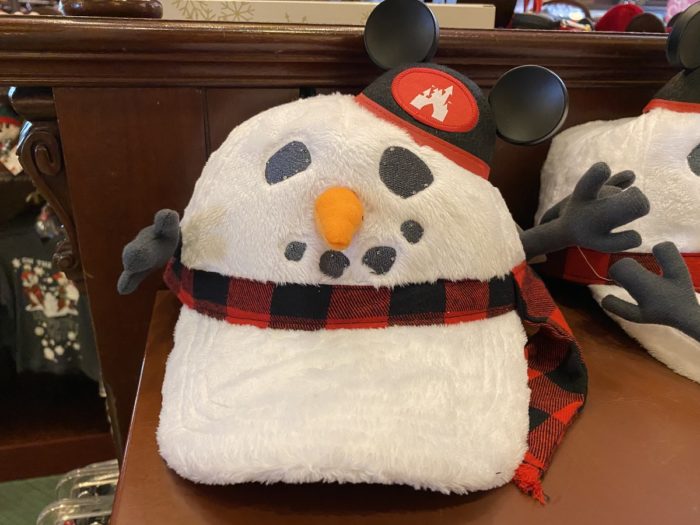 Merchandise
Each year Disneyland Resort stocks more holiday merchandise than you could ever buy or use in 10 lifetimes. Anything you can imagine is available; funny hats, sweaters with Disney characters also wearing Christmas sweaters, light up and music playing wreaths, Christmas countdown statues, dozens of different Christmas tree ornaments, toys of Star Wars droids painted like Santa, and much more.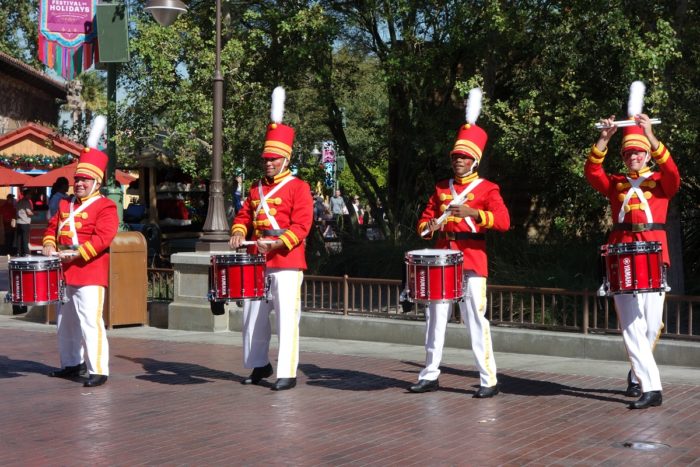 Celebrate Holidays From Around the World
Throughout the season, dance and musical groups celebrating Christmas, Hanukkah, Diwali, Kwanzaa, and Three Kings' Day appear at Disney California Adventure. Check the Disneyland app for which performers are appearing on any given day.
Plan your holiday 2022 Disneyland trip with us! Check out our Disneyland Crowd Calendar, which rates every day of the year on a scale of 1 to 10 so you can see how busy Disneyland and DCA will be during your visit. Also check out our Disneyland Touring Plans which show you how to beat the crowds and spend less time in line at your favorite rides. We can even book your vacation for you. Our agents are the best in the world and they're ready and waiting to help you plan your perfect Disneyland trip. Click here to get a quote!
What's your favorite thing about DCA's Festival of Holidays? Let me know in the comments.