Top 3 WDW Grilled Cheese Sandwiches for National Grilled Cheese Day
Today, Monday, April 12, is National Grilled Cheese Day. What's really great about grilled cheese (aside from the fact that it is deliciousness of bread and cheese) is that there's so many different ways you can modify it for any mood. Want a simple comfort-food sandwich? American cheese on white bread. Want a gourmet nosh? Up the cheese and bread quality and you can make it as fancy as you like.
In our travels around Walt Disney World, we've had some different grilled cheese variations recently, and narrowed it down to our three favorites. Here's the grilled cheese we'd suggest you try for celebrating National Grilled Cheese Day — or any day!
Grilled Cheese at Woody's Lunch Box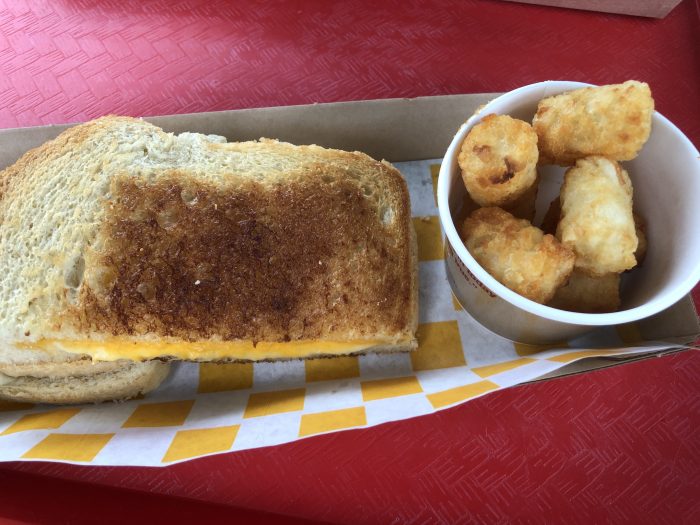 At Woody's Lunch Box, you can get a plain ol' good and gooey grilled cheese sandwich. The version at Woody's Lunch Box has melted provolone, cheddar, and American cheese on grilled sourdough bread. A kids' grilled cheese meal is half a sandwich with a side of potato barrels, a Cuties mandarin orange, and beverage for $6.19. For heartier appetites, the full-size sandwich is $8.99 and then a side of potato barrels would be another $3.49.
Buffalo Chicken Grilled Cheese at ABC Commissary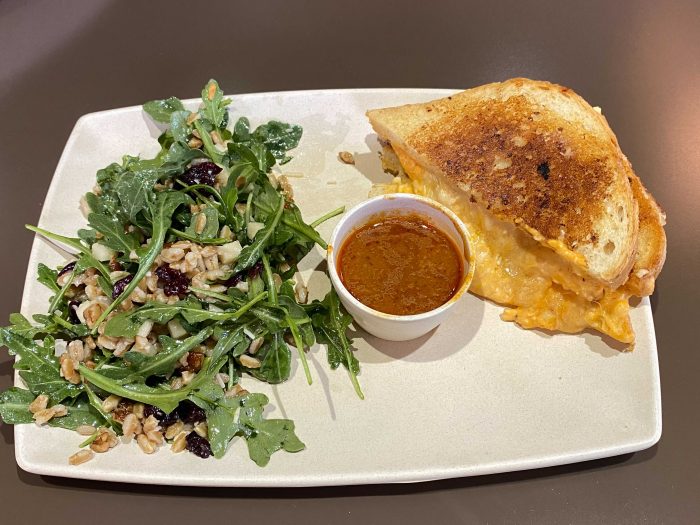 When ABC Commissary reopened last year, we were really impressed with the new menu. One of the items on the menu was the Buffalo Chicken Grilled Cheese Sandwich, which is packed with spicy Buffalo flavor. Think of this as a grilled cheese if you want bolder flavors than just cheese. There's four kinds of cheeses (Monterey, provolone, cheddar, and cream cheese) on this sandwich, but the real flavor comes from that Buffalo chicken! The sandwich comes with your choice of side for $10.99.
Land Crusher at Sunshine Seasons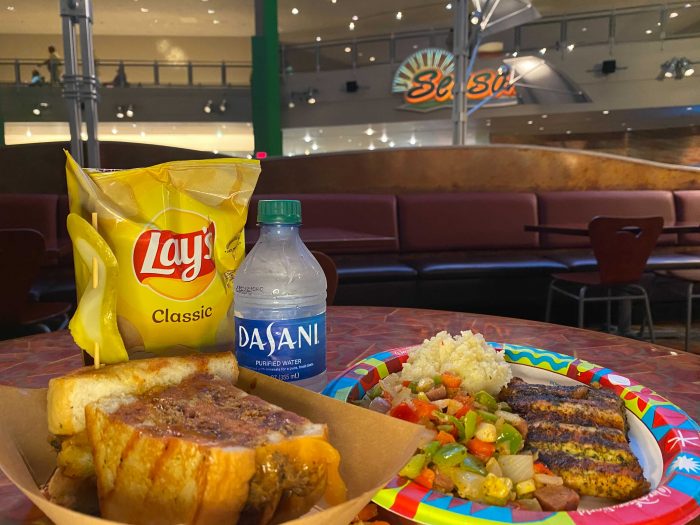 Hope you packed your appetite! The Land Crusher sandwich at Sunshine Seasons in EPCOT may not be your typical idea of a grilled cheese sandwich, but it is so good that we can't leave it off our list for today. Pulled pork and cheddar are piled high on Texas toast. This comes with a side of chips for $10.99. It is a hearty meal, and easy to split between two people.
What are your thoughts? Should a grilled cheese just be cheese and bread or is it okay to plus it? Do you have a favorite for National Grilled Cheese Day at Walt Disney World? Let us know in the comments.