Top 5 Burgers at Universal Orlando
Back in 1921, the White Castle company became the first chain restaurant to market the food item we love known as the hamburger. If you are planning to visit Orlando area anytime soon while craving a slider from White Castle, then you are in luck. The world's largest White Castle opened in Orlando on May 3, 2021, to exceedingly long lines.
Now if you are a fan of real burgers and find yourself at Universal Orlando resort on May 28, which is International Burger Day, then there are some excellent options. Here are the top 5 burgers you need to try at Universal Orlando for International Burger Day — or any day.
The first one is Cheeseburger in Paradise from Margaritaville at CityWalk.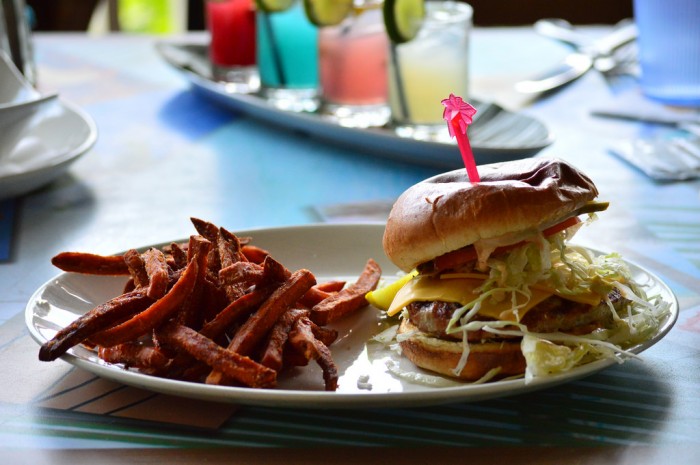 You can't have a signature song about a cheeseburger without adding it to the menu for your restaurant right? Orlando Magazine once voted this burger best in Orlando. This burger comes with American cheese, lettuce, tomato, pickles, and "paradise sauce" on a brioche bun. On a recent trip, I upgraded my burger to include bacon for only 50 cents more. You also can choose fries or a salad. The burger was good, but the themed seating experience with live music on the patio is clearly also part of this burger's appeal.
The best tasting quick service burger is at Wimpy's in the Toon Lagoon area of Islands of Adventure.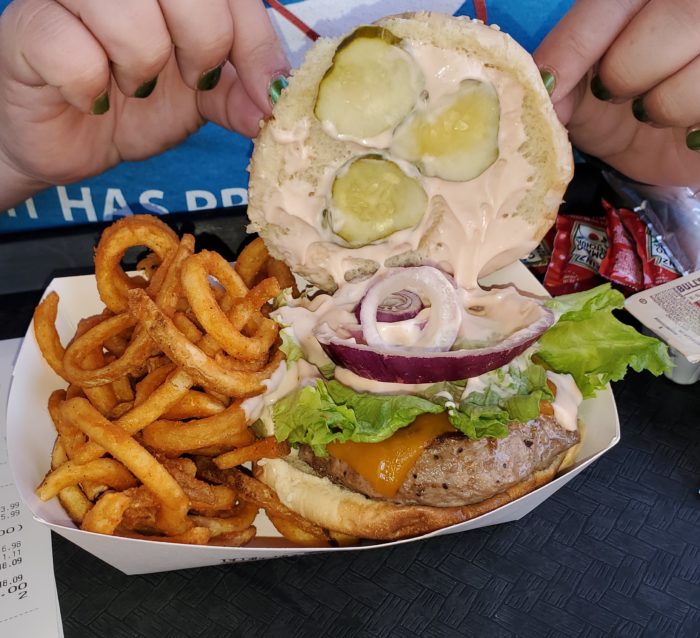 This used to be a rarely open food location, but it has been consistently open from 11 to 5 since park reopening. This burger comes with curly fries and is the Islands of Adventure location where you can get a Dole Whip also. The burger is not remarkable in appearance, but it is a quality beef patty prepared when you order. Of quick service options in Orlando area theme parks, this is one with the best burger patty.
Though there are some great burgers at Universal Orlando Resort/Loews resorts, like at Jake's at Royal Pacific and The Kitchen at Hard Rock Hotel, our next burger you must try is the Cabana Bay Burger.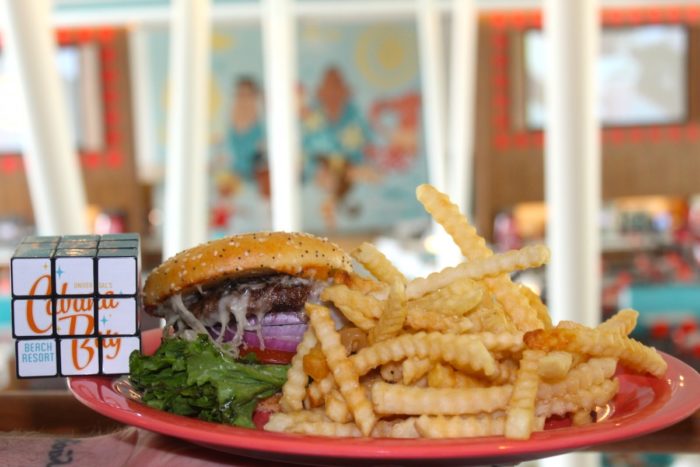 It is a great combination of value and taste. I am not sure what voodoo is done for this $12 burger that comes with truffle salt and rosemary seasoned fries and coleslaw, but it works. This burger is decorated with signature sauce, Swiss cheese, caramelized onions, mushrooms, lettuce, and tomato on a toasted bun. This burger may not compare to your favorite hometown burger, but it works wonderfully with feel of Cabana Bay.
Though the lamb burger at Mythos should be mentioned, based on guest reviews, the Webb Burger at Finnegan's in Universal Studios is beloved and probably the best table service burger at Universal Orlando Resort.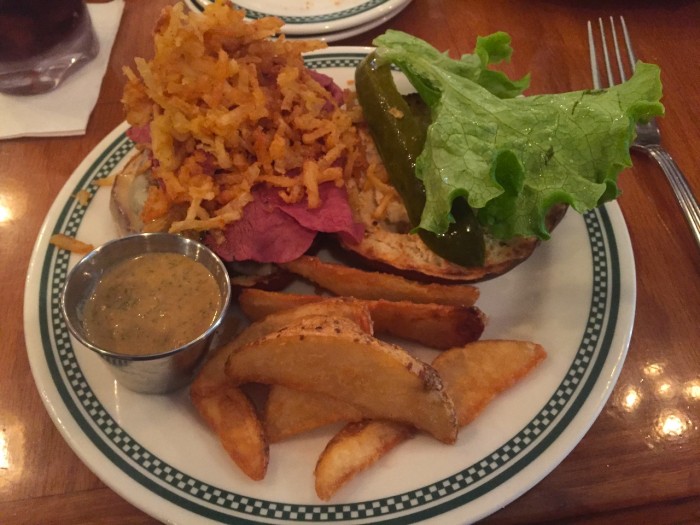 This is a combination of a popular appetizer there and a burger. The Webb consists of thinly sliced potatoes and onions dipped in beer batter. They are surprisingly good on their own with a little malt vinegar. Now these are placed on a burger. The comparison is a Reuben sandwich and a burger merged in some tasty combination. Similar to our next burger your must try, the combination is way better than it sounds.
Though the Bison burger from BigFire needs mentioning, the burger you most need to try is from Cowfish in CityWalk. Cowfish has the most unique (and fun) menu at any theme park resort.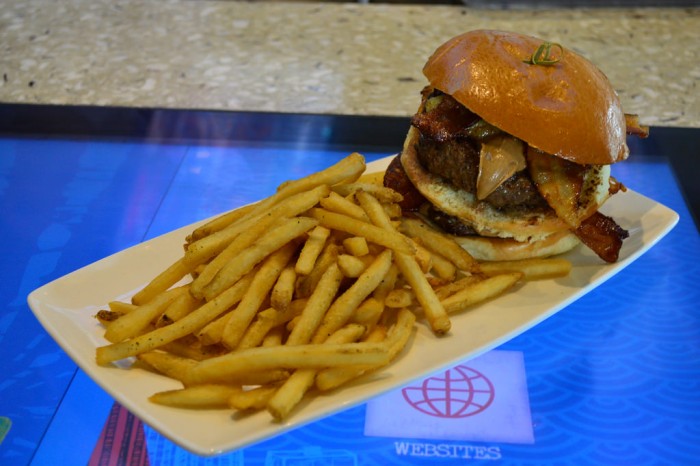 Cowfish offers a wide amalgamation of sushi, bento boxes, and burgers, including one burger that sounds  bananas (literally). The burger is known as the Cowfish Has Officially Left the Building burger. As you might expect from the name, the burger is a tribute to Elvis. It is a full-pound beef burger with creamy peanut butter, fried bananas, applewood bacon, and a brioche bun for $17. You can also get a half pound version for $2 less. This is a burger, so it does come with fries. Needless to say, this burger is for extreme burger fans only and one you should eat at your own risk if you're not a fan of heavy meals in Florida heat.
The dining across UOR has improved so much in last seven years. The burgers are not exception. So whether you're headed to Universal for International Burger Day or any day that you just want a burger, there are so many great options to try.
What's your favorite burger at Universal Orlando? Let us know in the comments.