Top 5 Walt Disney World Resort Hotel Pools
Who says you cannot have fun outside of the Disney parks? The Disney World hotel pools are a great place to relax, unwind, and cool off. During your arrival and departure days, they can be a way for the family to have some fun without going to the parks. After a long day riding roller coasters and turning tea cups, a refreshing dip in the pool can put the cherry on an already perfect day.
Here are the top five Disney World hotels to book if you are looking for the best pools. This list is from surveyed guest experiences, the atmosphere, activities available, and any additional amenities.
#5 – Disney's Contemporary Resort
With its unique architecture, impressive dining, and eclectic art, Disney's Contemporary Resort validated itself as a go-to Disney World resort from its opening. The Contemporary's easy access to the Magic Kingdom means its guests can take a mid-day break for pool time with little time spent going back and forth.
Disney's Contemporary Resort offers the Feature Pool. While most pools are tucked away or in-between buildings, Disney amplifies the pool views by situating it close to Bay Lake and Seven Seas Lagoon. Watch the boats go by, wave at passersby, or people watch those on the nearby beach.
The Feature Pool is the family-friendly option that will see the most activity throughout the day. While not the largest on Disney property, there is a 17-foot high water slide that many will enjoy. For those who want to kick back, rows of chaise lounge chairs are available. There is also a hot tub for those colder days. Toddlers can enjoy the splash pad that is conveniently placed next to the water slide.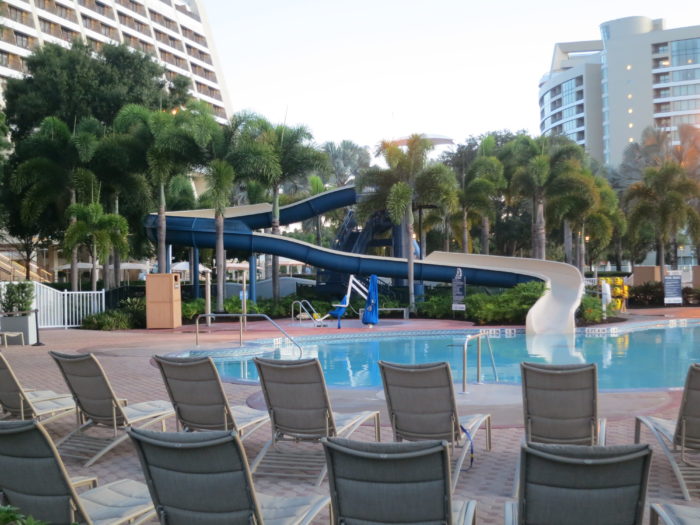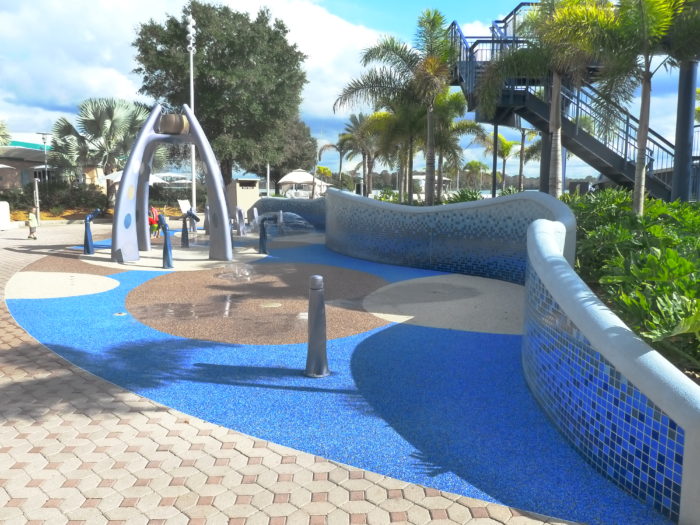 Poolside amenities are available, including bar food and cabanas. Cabanas are rentable by the hour or day and feature luxury amenities like mini-fridges and a TV. We suggest making cabana reservations well in advance if possible, as there are not many at this resort.
#4 – Disney's Polynesian Resort
Disney's Polynesian Resort is a Disney fan favorite – and with good reason! The resort continues to immerse guests in a Polynesian-inspired environment since its opening in 1971. Disney's Polynesian Resort features the Lava Pool, which is fun thanks to its unique theming and adventurous undertone. Expect an exciting, bustling environment in this seemingly tranquil resort.
The beach entrance gradually slopes into the Lava Pool, as if you were stepping into a personal paradise. The theming is characteristic of the sloping palms and ukulele music the resort is known for. The pool is close to the Great Ceremonial House, which is perfect if you leave your bags off on arrival or departure days and you need an afternoon activity.
Towering over this area is a gigantic volcano, which also happens to be a 142-foot long water slide. Or, you can head under the waterfall to a little hidden cove. Walk (don't run in the pool) around, splash the day away, and then head to the nearby Barefoot Pool Bar for a snack.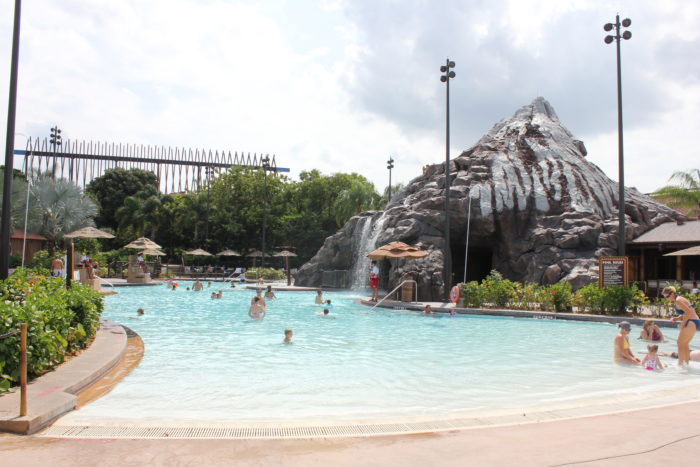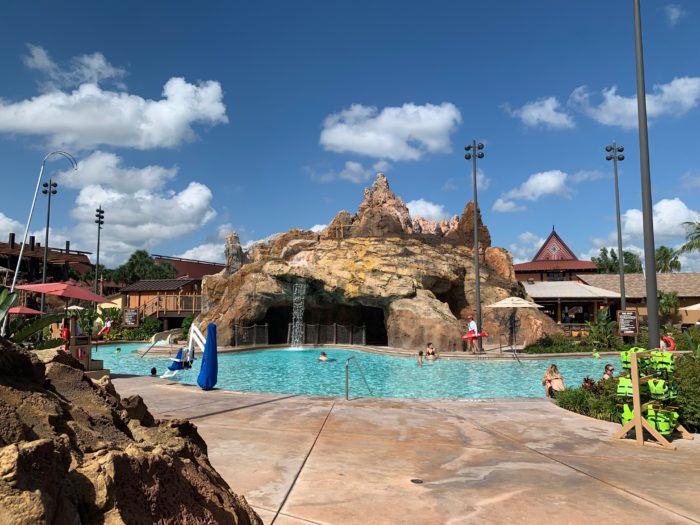 #3 – Disney's Wilderness Lodge
Disney's Wilderness Lodge is an immersive, peaceful resort that can transport any guest to the Pacific Northwest. Enjoy the tranquility of nature while enjoying their primary pool, the Copper Creek Springs Pool. The Copper Creek Springs Pool at Disney's Wilderness Lodge is gorgeous for many reasons. When you walk outside of the lodge, there are flowing creeks and greenery everywhere that blend into the surrounding landscape. As soon as you spot the water slide in the rocks, it's all about fun and the sun!
What stands this pool apart from the others is its aesthetics and space. The Copper Creek Springs Pool is for all ages, thanks to its combination of whirlpool and water slide spaces. The water slide is 67 feet high, making it a medium-sized slide that most children can handle. The pool blends into the environment of the lodge seamlessly, where you can hardly tell there is a pool from inside the lobby. There is also a newly built splash area for little ones so they can join in on the fun, too. Along with the pool space, guests have quick access to poolside food and drinks at the Geyser Point Bar & Grill.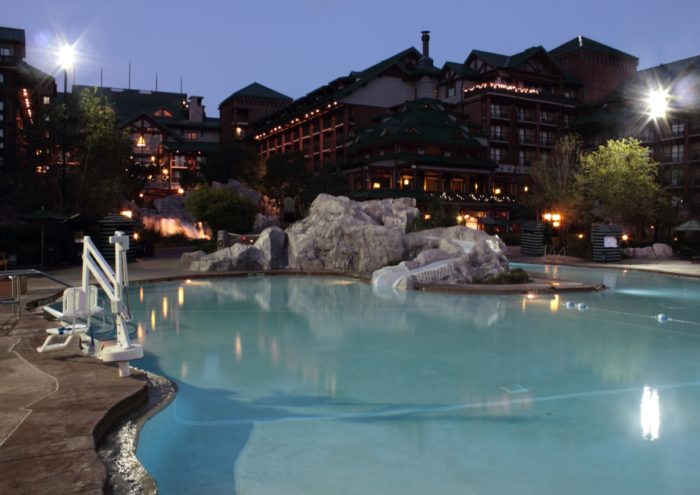 #2 – Disney's Riviera Resort
Disney's Riviera Resort is one of the newest resorts on property. The detailing and theming at this Disney Vacation Club resort immediately takes you Europe and the Mediterranean. This luxurious hotel features two pools. The Beau Soleil Pool is perfect for traditional swimming and lounging. Chaise loungers and umbrellas grace the pool's outline, making it an ideal place to catch the sun's rays. This pool is known to open as early as 5:30 a.m., making it one of the earliest places to get some light exercise before starting your day.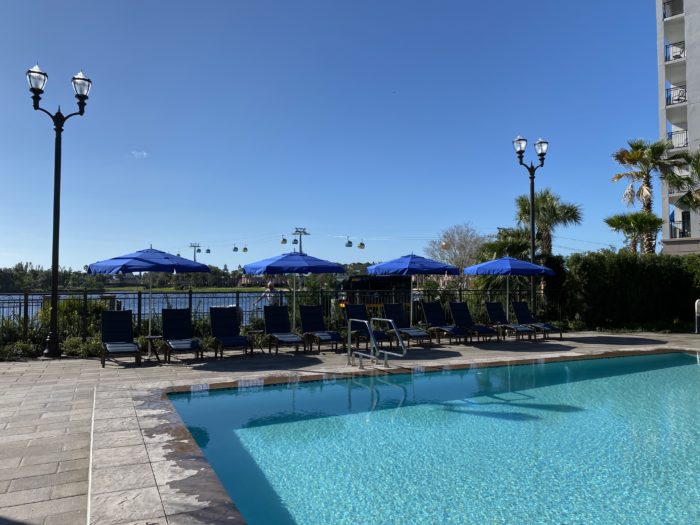 The second, larger Mediterranean-inspired Riviera Pool caters to almost every family's needs with its S'il Vous Play kid's area and water slide. The Riviera Pool is lively and energetic in part thanks to its erupting Fantasia-themed fountains.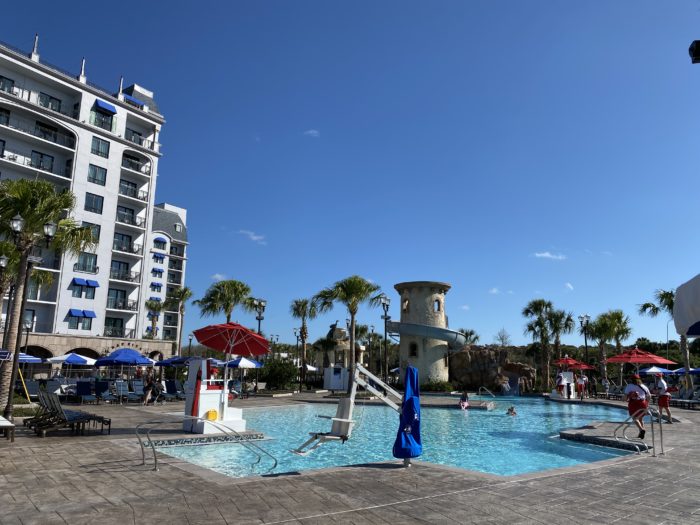 #1 – Disney's Beach Club Resort / Disney's Yacht Club Resort
We know it seems peculiar to lump two EPCOT-area resorts into one for our top Disney World pool. We combined the top-rated answer because you can visit Stormalong Bay while staying at either of these resorts. This location is one of the most popular pools on the property, and spaces fill up very quickly, so you will want to plan to enjoy this premium amenity.
Stormalong Bay is a fun, exciting 3-acre pool for many ages and features one of the only sand-bottom pools. Little ones can enjoy the play area next to the shipwreck, which offers a smaller pool and a small slide. Or, they can build sand castles in the shallow sand area. The more adventurous types can head up to the adjacent shipwreck to careen down the 230-foot-long waterfall (which happens to be the ship's mast). It is a little narrow during the first half, so some people might feel uncomfortable in the enclosed space until it opens up during the second half of the slide.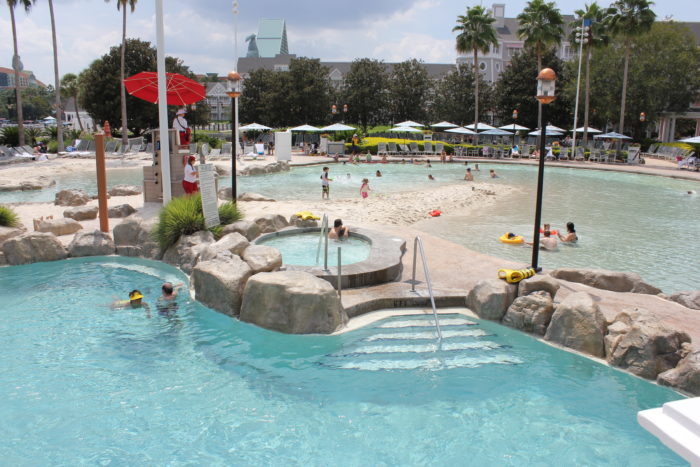 Along with some thrills, you can also enjoy a leisurely stride along the lazy river. Glide and sway with the river as it transports you through this large pool area.
With so much available, you could easily spend several hours to a whole day at Stormalong Bay. If you feel like splurging, you can rent a cabana and have luxury cast member service, delivered food from Hurricane Hanna's, designated seating, and privacy.
In Conclusion
It's important to note that the top five Disney World resort pools on this list are also some of the most expensive Disney hotels. There are many options available that can satisfy most needs, including those at Moderate or Value resorts. The pools on this list stand apart from the rest because they have elaborate theming, spacious water and lounging areas, and heightened amenities like adjacent hot tubs, water slides, and play/splash areas. Spending a day by the water can be a fun experience, and while we do not expect you to make a booking decision based on a pool alone, it is helpful to know your options to maximize your next vacation.
Planning your next Disney World resort stay can be tricky, especially with sifting through all the different amenities available (like pools). Let Touring Plans help craft your next adventure, saving you time and money. Visit our travel page to receive a free quote from one of our Destination Specialists.