Touring Plan Test: Magic Kingdom (3-27-2021)
On Saturday, March 27, we did another side-by-side test of the COVID-19 Magic Kingdom Unofficial Guide Adult One-Day Touring Plan. The plan includes 19 attractions, but three were not available on the day of testing (The Hall of Presidents, Swiss Family Treehouse, and Tomorrowland Transit Authority PeopleMover).
Attractions in Magic Kingdom Touring Plan Test
1
 Seven Dwarfs Mine Train
2
 The Many Adventures of Winnie the Pooh
3
 Jungle Cruise
4
 Pirates of the Caribbean
5
 Splash Mountain
6
 Big Thunder Mountain Railroad
7
 Peter Pan's Flight
8
 Under the Sea ~ Journey of the Little Mermaid
9
 "it's a small world"
10
 The Haunted Mansion
11
 Country Bear Jamboree
12
 Walt Disney's Enchanted Tiki Room
13
 Mickey's PhilharMagic
14
 Walt Disney's Carousel of Progress
15
 Space Mountain
16
 Buzz Lightyear's Space Ranger Spin
The predicted crowd level on March 27, was a 5, and the actual crowd level was a 2 at the Magic Kingdom. Park hours were 8:00 a.m. to 9:00 p.m. We had three staff members in the park, with Morgan starting her test at 8:00 a.m., Chrissy starting at 9:00 a.m., and Ivonne starting at noon. Each plan was optimized for its specific start time.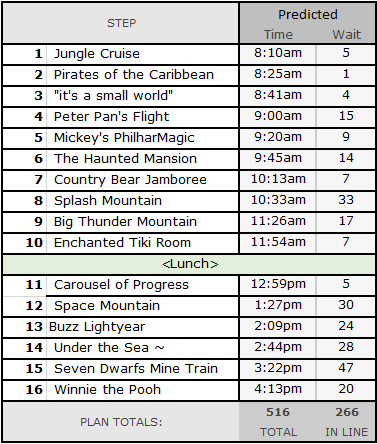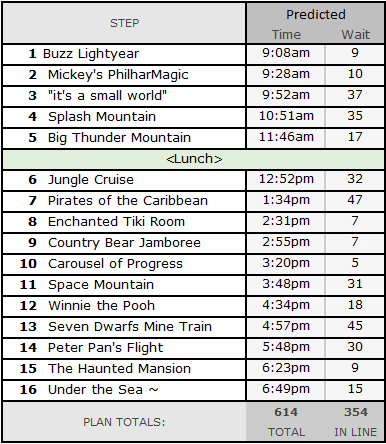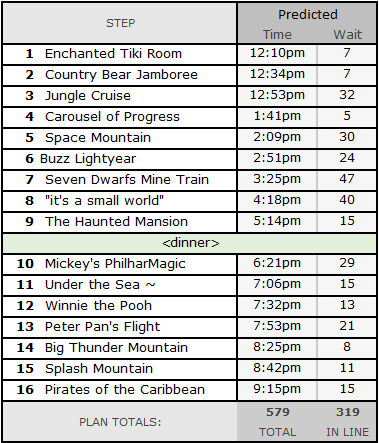 The initial plans predicted that Chrissy would wait 88 minutes more than Morgan, just because Chrissy is starting 1 hour later. Ivonne starting at noon, had her wait times somewhere between Chrissy and Morgan. Ivonne's plan also predicted she would only have time to do 15 attractions. All three testers re-optimized their plans often so the plans would incorporate current conditions in the park.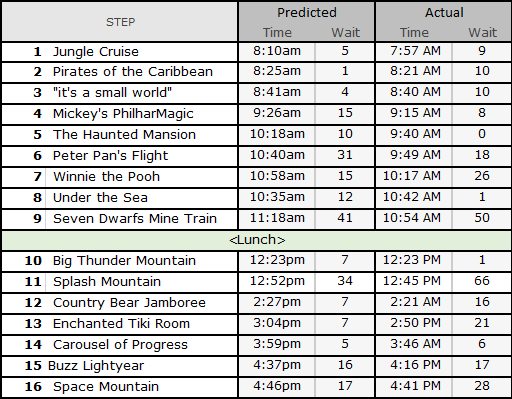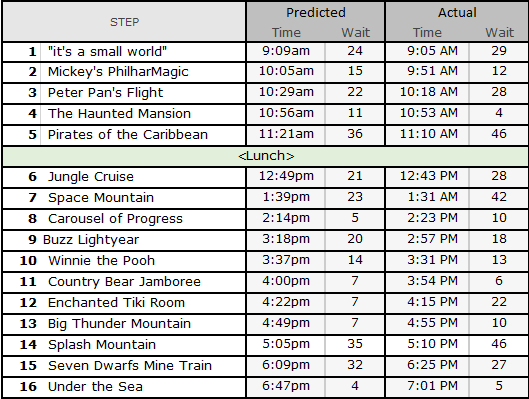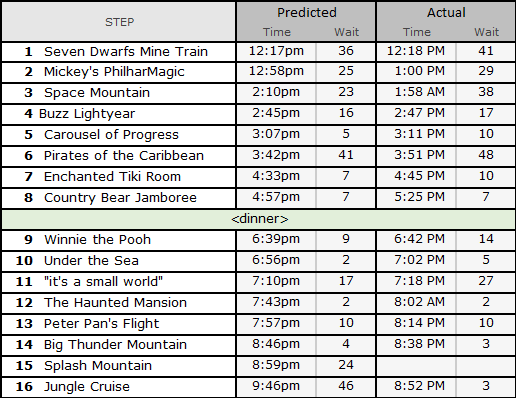 Morgan and Chrissy completed all 16 attractions. Morgan waited in line 287 minutes, and Chrissy waited in line 349 minutes. Chrissy waited 59 more minutes than Morgan. Since Morgan started earlier, she finished two hours before Chrissy.
We were hoping Ivonne would make up some time, and get all 16 attractions completed. Unfortunately, that did not happen, and she only completed 15 attractions. To compare all three plans, if we only compare the 15 attractions that all three testers completed, here's the results.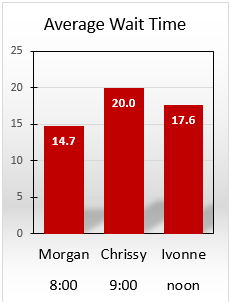 Even with Morgan starting at "park opening" she had thousands of guests ahead of her. All parks are opening 30-60 minutes before the official opening time.  Our tests where we arrived prior to official opening times will save an additional hour of wait in lines. You can review our prior Magic Kingdom test.
Have any questions about our in-park testing? Let us know in the comments.