TouringPlans Travel Beat 8-26-2023
At Travel Beat we have all the "other" news from the last week or so—the stuff that wasn't big enough to stop the presses for. What did the newsroom bring us this week? (Sneak peek: it's a smorgasbord this week, but there's lots to love including some serious eye candy.) Bullets are just ahead if you're in a hurry, and more details follow below. Don't forget to check out the Headline News Recap, in case there was something you missed!
Parking Trams Return to All Four Parks
Death Eaters to Appear at Universal Orlando During Halloween Season
Stormalong Bay Refurbishment in 2025
Ahsoka Appearing at Galaxy's Edge in Disneyland
Details Released for Fantasy Springs
Tiana's Palace Menus Released
Update to Early Entry Procedures at Disneyland
We Got A Treasure Map For the Disney Treasure
No More COVID-19 Mandates for Australian Cruises
New Floral & Gifts Service at Disney World
Headline News Recap
If anything you read below tickles your feet, feel free to reach out to our friends at TouringPlans Travel for a free quote.
Parking Trams Return to All Four Parks
Our long national nightmare is over! If you've visited Disney World in the last few years since it reopened after the COVID shutdown, you may have arrived at a park and been … surprised to find that there was no tram service. Even after trams returned to the Magic Kingdom and (sometimes) to Animal Kingdom, they have not been running at EPCOT or Hollywood Studios. On busier days, that meant a loooong walk from those parking lots. Well, Disney has announced that in September, the parking trams will return to EPCOT and Hollywood Studios, meaning they'll be available at all four parks.
Why has it taken so long at these two parks, when Disney had originally announced that trams would return to all parks in 2022? Well, none of us work for Disney (and I'll note that I've personally observed trams to be spotty at Animal Kingdom as well), but both of these parks are served by multiple types of non-bus transportation if you're staying on-site; so its likely these parks see the least demand for parking from on-site guests, and therefore lower demand for parking overall. As a guest myself, I'm frustrated enough with how long the trams have taken to return to point out for you that "September" can mean September 30 as easily as it can mean September 1.
Death Eaters to Appear at Universal Orlando During Halloween Season
No one questions that the Harry Potter lands are some of the best-themed areas at any Orlando park, and this year they'll get a sprinkling of Death Eaters to bring you even more into the mood. UOR has announced that the Death Eaters will appear in Diagon Alley on select dates from September 1 through November 4. As you might expect, you'll be able to find Death Eater-themed treats to gird your loins for the interaction, or purchase Death Eater-themed merchandise to memorialize the occasion.
Stormalong Bay Refurbishment in 2025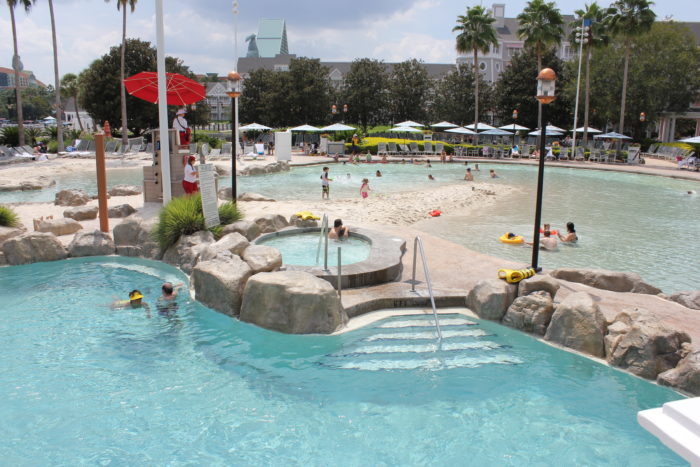 It's the best pool at Disney World, and if you're planning a visit around the opportunity to use it you'll want to avoid the months between January and May of 2025. During that time, Stormalong Bay and Shipwreck Pool will be undergoing refurbishment and will be unavailable to guests. Tidal, Admiral, and Dunes Cove leisure pools will remain open for the use of guests at the Yacht Club, Beach Club, and Beach Club Villas.
Ahsoka Appearing at Galaxy's Edge in Disneyland
Coinciding with the release of Ahsoka on Disney+, the famed former Jedi has begun appearing at Galaxy's Edge in Disneyland. As with the majority of characters at Disneyland, Ahsoka roams freely and does not appear on a specific schedule.
Details Released for Fantasy Springs
If you're looking for a reason to visit Tokyo Disneyland, we've got one! The Fantasy Springs port is nearing the end of construction and Disney has released a trove of details about what to expect when it debuts. We admit, this trove is so large that it ought to have been headline news, so this will be a teensy bit longer than your average Travel Beat segment. Sorry.
The land will contain three distinct areas themed to Frozen (Frozen Kingdom), Tangled (Rapunzel's Forest), and Peter Pan (Peter Pan's Neverland). Frozen Kingdom one of the first themed areas fully devoted to Anna, Elsa, and the denizens of Arendelle. Timeline-wise it's set in the period after the first film, when Elsa has made peace with her ice magic. But inside the land's attraction, Anna and Elsa's Frozen Journey, you'll be able to relive the events that got everyone to this point, where the sisters discover that true love can thaw a frozen heart. The Royal Banquet of Arendelle Quick Service will be found inside Arendelle Castle, and if you just want a quick pick-me-up you can grab a snack from Oaken's OK Foods.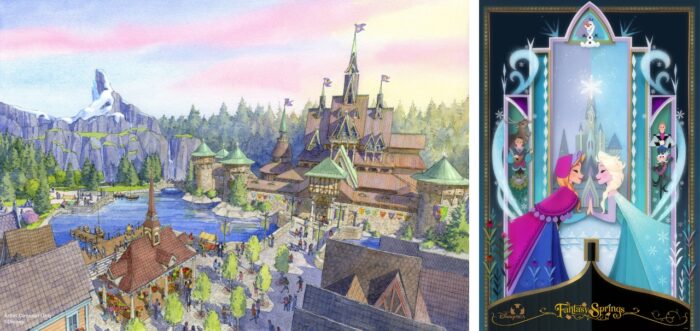 Rapunzel's Forest will have a tower (shocker!) and a boat ride attraction Rapunzel's Lantern Festival. You'll be able to ride along with Rapunzel as she falls in love with Flynn Rider on a romantic boat ride to the annual Lantern Festival. You'll also find the Snuggly Duckling Quick-Service restaurant in this area.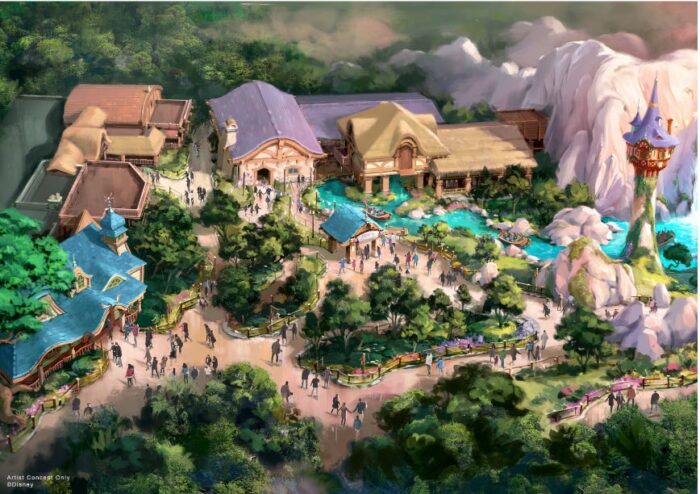 Last but not least, Peter Pan's Neverland will feature two attractions: Peter Pan's Neverland Adventure where you can join Peter and Tink as they explore Neverland and help rescue John from Captain Hook, and Fairy Tinker Bell's Busy Buggies where you can help Tinker Bell deliver packages to the seasonal areas of Pixie Hollow. You can also explore a pirate ship, and drum up some grub at the Lookout Cookout which will be the land's Quick Service eatery.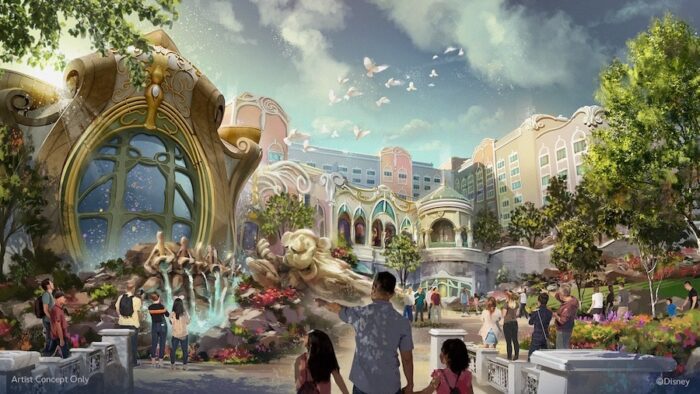 The Fantasy Springs Hotel right next door will offer lodging (duh!) as well as merchandise at Fantasy Springs Gifts, and more dining options. The Grand Paradis Lounge will be a lobby lounge offering a relaxed atmosphere, Fantasy Springs Restaurant will offer a buffet service, and La Libellule will be a more exclusive venue offering French cuisine.
Curious to learn more about Tokyo Disneyland? Check out our 2023 Tokyo Disneyland Trip Planning Guide.
Tiana's Palace Menus Released
If you're feeling like there's been some new buzz about Tiana's Palace every week, you're not wrong. This week we got menus, so let's take a look! When the Quick Service opens at Disneyland on September 7, you'll be treated a sampling of Cajun and Classic New Orleans fare, including a scrumptious-looking filled beignet.
What was that you just scrolled through? Well in addition to the not-pictured Gumbo (both House and a 7-Greens that comes with or without chicken and Andouille sausage) and a Cajun Spice Half Chicken, you saw classic handhelds like the Muffuletta Sandwich, Beef Po-boy, and that time-honored favorite Gulf Shrimp and Grits. For sides you'll find Buttermilk Cornbread, Baked Macaroni and Cheese, Red Beans & Heirloom Rice, Coleslaw, Cheesy Grits, and plant-based Heirloom Rice. And I think I already mentioned that House-Filled Beignet? It's filled with lemon icebox pie filling and topped with a lemon glaze. Let's skip dinner and go straight to dessert.
Update to Early Entry Procedures at Disneyland
If you're a resort guest at Disneyland tomorrow, you'll have your choice of Early Entry at either Disneyland Park or Disney California Adventure, a half hour before the parks open to non-resort guests. Beginning on January 20, 2024, Early Entry availability will change so that only one of the parks will be open during Early Entry per day. Our guess? A similar slowdown in demand to what we've seen at Disney World has reduced the need to offer this benefit to resort guests, and the bang-for-buck on Disney's side associated with the extra expense of the Early Entry in a second park. Prior to the pandemic Early Entry was also only in a single park per day, but it was a full hour instead of 30 minutes. The schedule will be available on the Disneyland Calendar.
We Got A Treasure Map For the Disney Treasure
You may remember from last week's Travel Beat that Disney will be live streaming an "unveiling" of the Disney Treasure on August 30, 2023 at 11 a.m. Eastern. This week, several media associates got a teaser package with hints as to what we might find in this announcement. Included was this Treasure Map. You may be sure that this unveiling will be Headline News for us in next week's Travel Beat, as we'll publish a recap of the livestream on Wednesday.

No More COVID-19 Mandates for Australian Cruises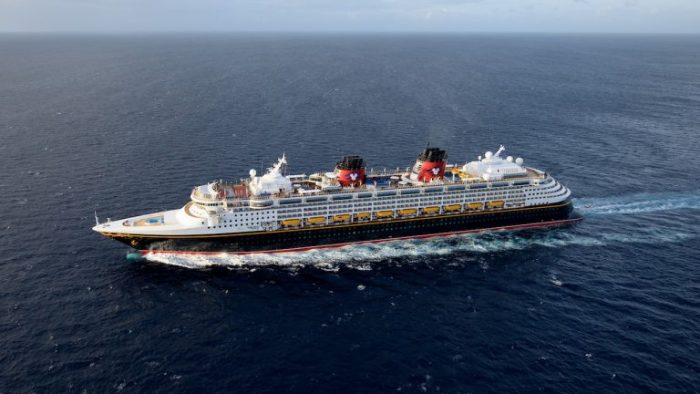 You may know that the Disney Wonder will be making its first-ever sailings in Australia and New Zealand beginning in October 2023. Even if you're not a Disney cruiser, you'll probably want to know that Australia – one of the last countries to retain COVID-19 vaccination mandates for cruise ships – is in the process of removing them and other COVID-related restrictions. The Australian Health Protection Principal Committee has rescinded the guidelines that drove these policies as of August 25, 2023, and New South Wales state government has already scrapped COVID-related requirements in the wake of the announcement. Other states are expected to follow in short order.
New Floral & Gifts Service at Disney World
Beginning Sunday, Aug. 27 2023 (that's tomorrow), Florida Fresh Floral will begin providing floral arrangements, gift baskets, and balloon bouquets for Disney World guests and groups. Beginning tomorrow, orders for these items can be placed by calling 1-888-814-8718 or visiting www.magicalfloralandgifts.com. Orders may be placed in advance or on the same day before 12 p.m., with deliveries to rooms occurring during Resort delivery hours (9 a.m.-9 p.m.)
Headline News Recap
You can now book a 2024 vacation to Disneyland: Disneyland 2024 Vacation Packages Will Go On Sale August 24.
That's it for this week's Travel Beat. What news are you most excited about? Let us know in the comments!