Theme Park Enjoyment Index for AUGUST 2023 (Disney Treasure Map, More HHN, RIP Paul Reubens and more!)
The Theme Park Enjoyment Index (TPEI) is a monthly look at the events that have made an impact, both positive and negative, in this wild world of theme parks we all love so much. Each TPEI comes out on the last Saturday every month, and we assign each piece of news a positive or negative number, tally it all up at the end and chart it. The range goes from 0-100 with 0 being
Mission: SPACE replacing Horizons
 while a perfect score of 100 would be 
Pandora: The World Avatar replacing Camp Minnie-Mickey
.
Remember, all links in TPEI open up in a new browser window. So feel free to check stuff out, we'll be here when you get back!
*OUR LONG NATIONAL NIGHTMARE IS OVER
When the theme parks re-opened from the Covid Shutdown in 2020, not everything came back immediately. In fact some things, like the Poly's Spirit of Aloha dinner show (RIP) and Disney Springs' NBA Experience (good riddance) stayed closed forever. Parking Trams did not come back, and it took all the way until the very end of 2021 – that's right, the following YEAR – for trams to finally return to Disney's Magic Kingdom, the most popular theme park in the world. At the time, Disney said that Parking Trams for the other Walt Disney World parks would return "sometime in 2022."
2022 came, and this is what we saw.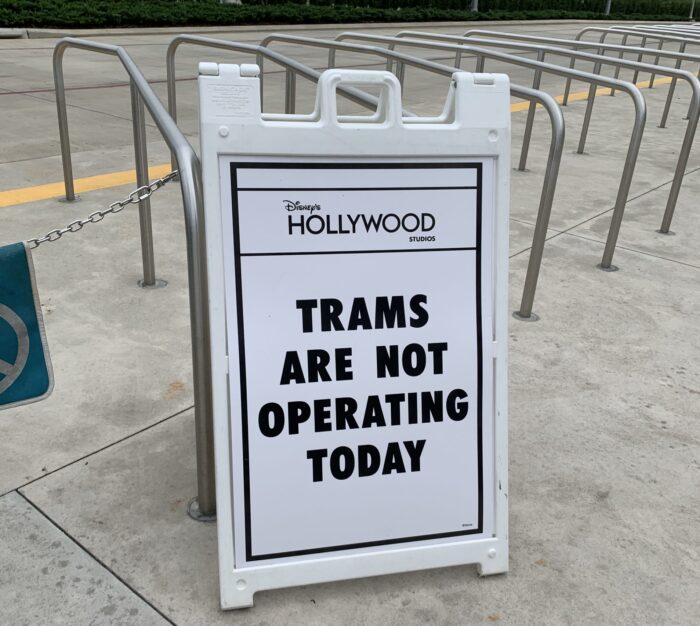 In May of 2022, Parking Trams returned to Animal Kingdom, but no word was given for EPCOT or Disney's Hollywood Studios.
Here we are in August 2023, and right before press time Disney announced that the Parking Trams for EPCOT and Disney's Hollywood Studios would be returning in September!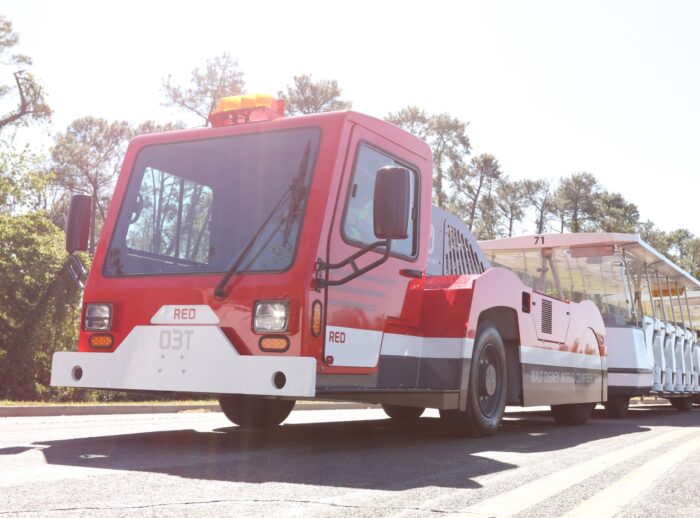 Don't forget when Parking Trams do come back next month, you can be just like your favorite theme park blogger and annoy every Cast Member working them for Disney Transportation Cards. In all seriousness, these cards are a pretty neat piece of "Disney Magic" and while – more often than not – the Cast Members do not have cards on them, when they do its a great day at the parks.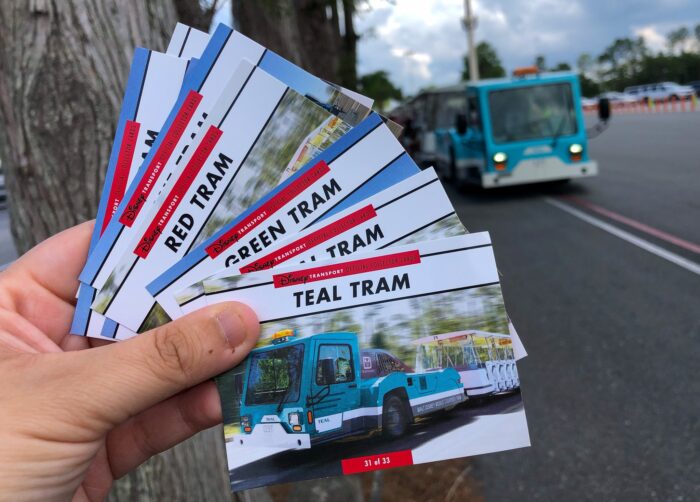 TPEI Score: -1 Sorry, you don't get a cookie for doing the bare minimum.
*OUR EVEN LONGER NATIONAL NIGHTMARE IS OVER…
…kinda.
After years of pleading by fans, Universal Orlando FINALLY gave an official re-release to the legendary soundtrack to Islands of Adventure.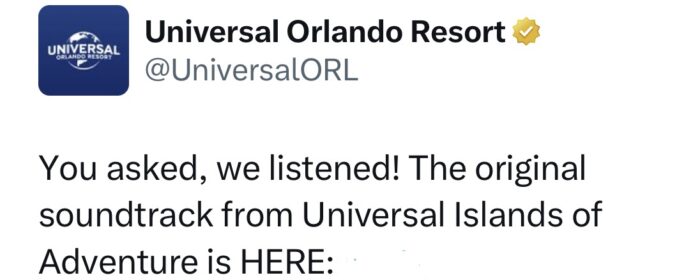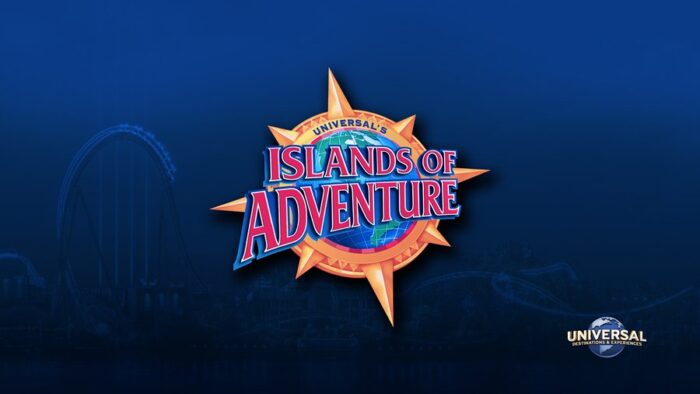 A quick backstory: there are several pieces of merchandise over the years that can bring theme park guests right back to a certain moment in time. For example, one item I got at a theme park that I will never let out of my possession is the Mickey and Goofy Explore the Universe of Energy comic book from EPCOT Center. It will always bring me back to a certain time in my life and fill me with memories of a park that (unfortunately) doesn't exist anymore. When Universal opened Islands of Adventure in 1999, it offered guests the opportunity to purchase a CD version of the park's background music, and trust me, this soundtrack slaps.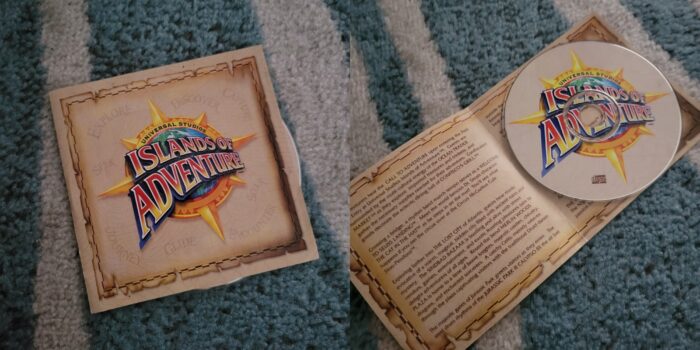 Notice on the original CD that it features the logo for Universal Studios Escape. This was the legendarily awful marketing campaign that ended up setting Universal back years, and it wasn't until the opening of the Wizarding World of Harry Potter – Hogsmeade Village when they put themselves back on solid ground.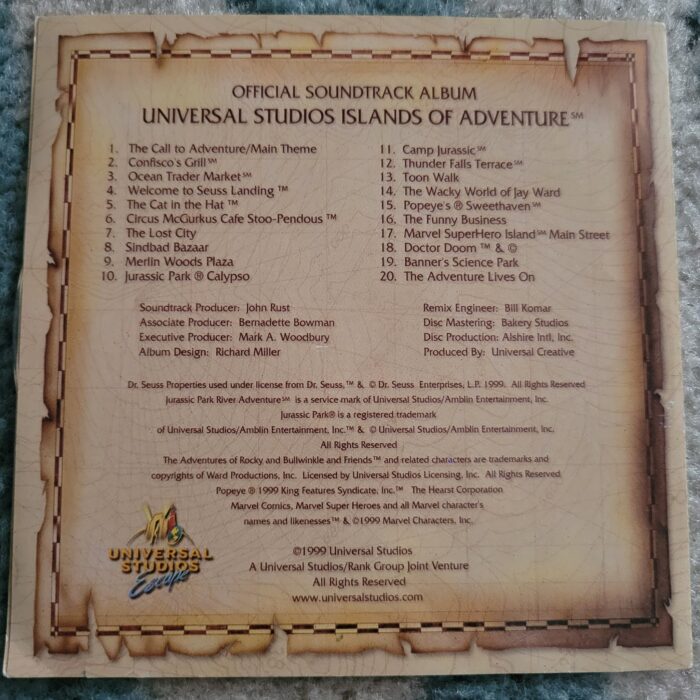 Not only did the failure of "Universal Studios Escape" hurt Universal fans, it also hurt Disney fans. Rumors and Innuendo suggest that Disney was prepared to counter-strike Universal, but held off on many projects when it was clear "Escape" wasn't going to take much away from their share of the marketplace.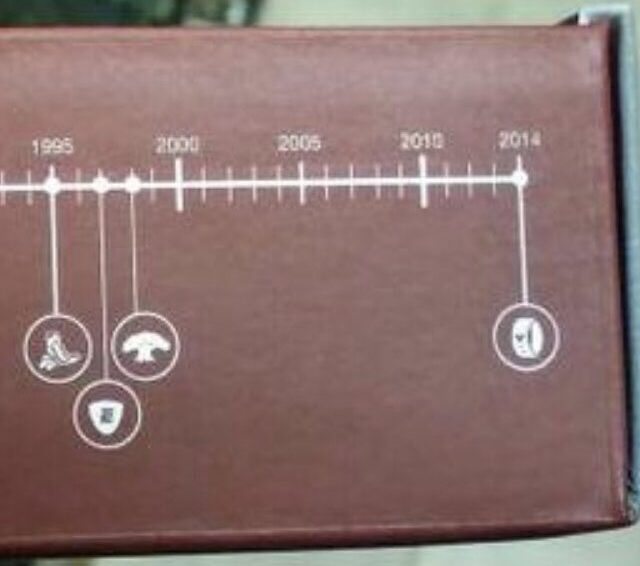 Okay, back to the Islands of Adventure soundtrack.  This highly requested music wasn't released on streaming services such as Apple Music or Spotify, NAY NAY, it was released on YouTube.  You can see the entire album by CLICKING HERE. The YouTube page includes 4 songs that were not on the original soundtrack including Skipper Island Tours, Seuss Landing Quartet, The Flying Unicorn, and The Force of Storm.
There are a lot of awesome themes you can now officially listen to, including the iconic Call To Adventure and the serene Ocean Trader Market, but my personal favorite of the bunch? Jurassic Park Calypso! Just a truly terrific version of John Williams' classic score.
Speaking of Universal history, this month the digital maestro Scott Walker compared two aerial photos of the Universal property: the picture on the left is from 1994 (after Universal Studios Florida opened, but several years before Islands of Adventure, CityWalk, and all the on-site resorts were built) and the picture on the right is from 2023. What a difference!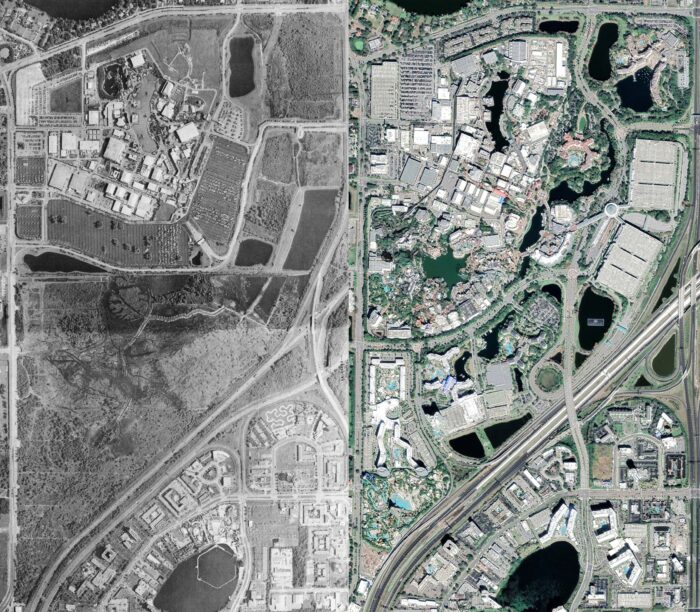 TPEI Score: + 2 – Islands of Adventure turns 25 next year, so hopefully we get a re-release of the soundtrack on physical media, or at least the ability to purchase/listen to the songs on a streaming service. The original IOA soundtrack is as good as anything you'll find at the Disney parks, and that's the highest praise you can give because Disney set the gold standard when it came to combining music with theme parks.
*HHN 32 is almost here…

One of the most underrated aspects of the creativity at Universal over the past few years are the teases we get in the park for things that are coming in the near future. Recently we have seen this in various Tribute Stores, as the current version will have an Easter egg that gives clues to what the next Tribute Store will be themed to. Last year, the Red Coconut Club in CityWalk was transformed into the Dead Coconut Club during Halloween Horror Nights and beforehand there were teases of that in a window in the New York section of USF. This year we got another window tease, this time near the Horror Make-Up Show.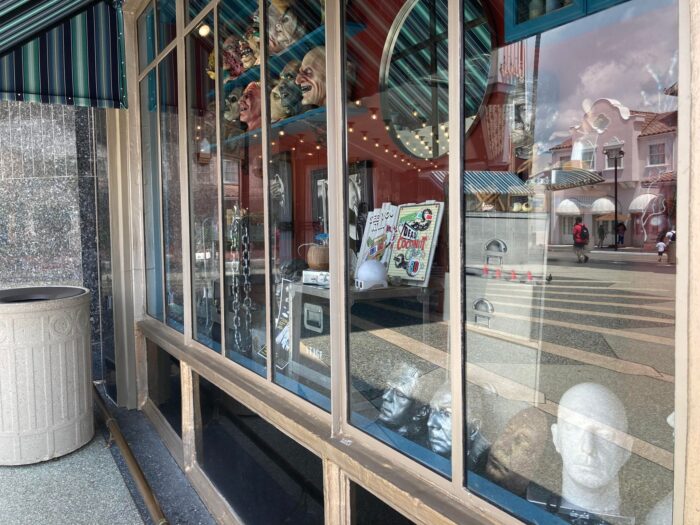 The window reveals some details for Revenge of the Dead Coconut Club in 3D.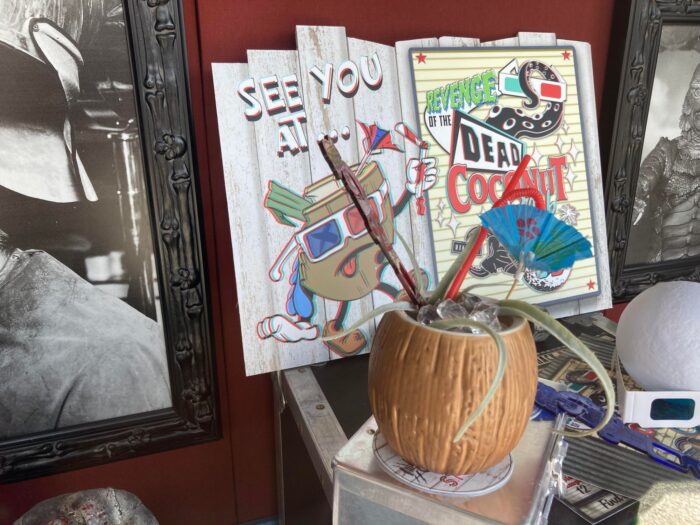 Including a swizzle stick in the shape of old-timey 3D glasses!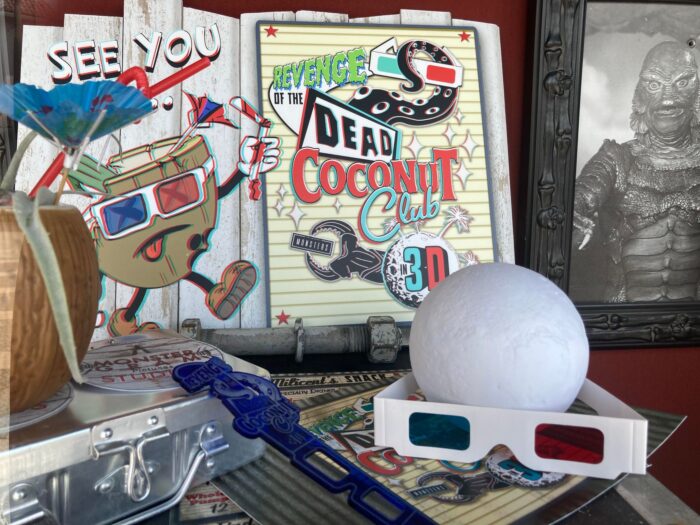 Soon afterwards, Universal officially announced this year's makeover of the Red Coconut Club in CityWalk: "The frightful fiends of Monstergram Pictures have completed their latest B-movie epic: Target Planet Coconut, and they are premiering it at the one and only Dead Coconut Club."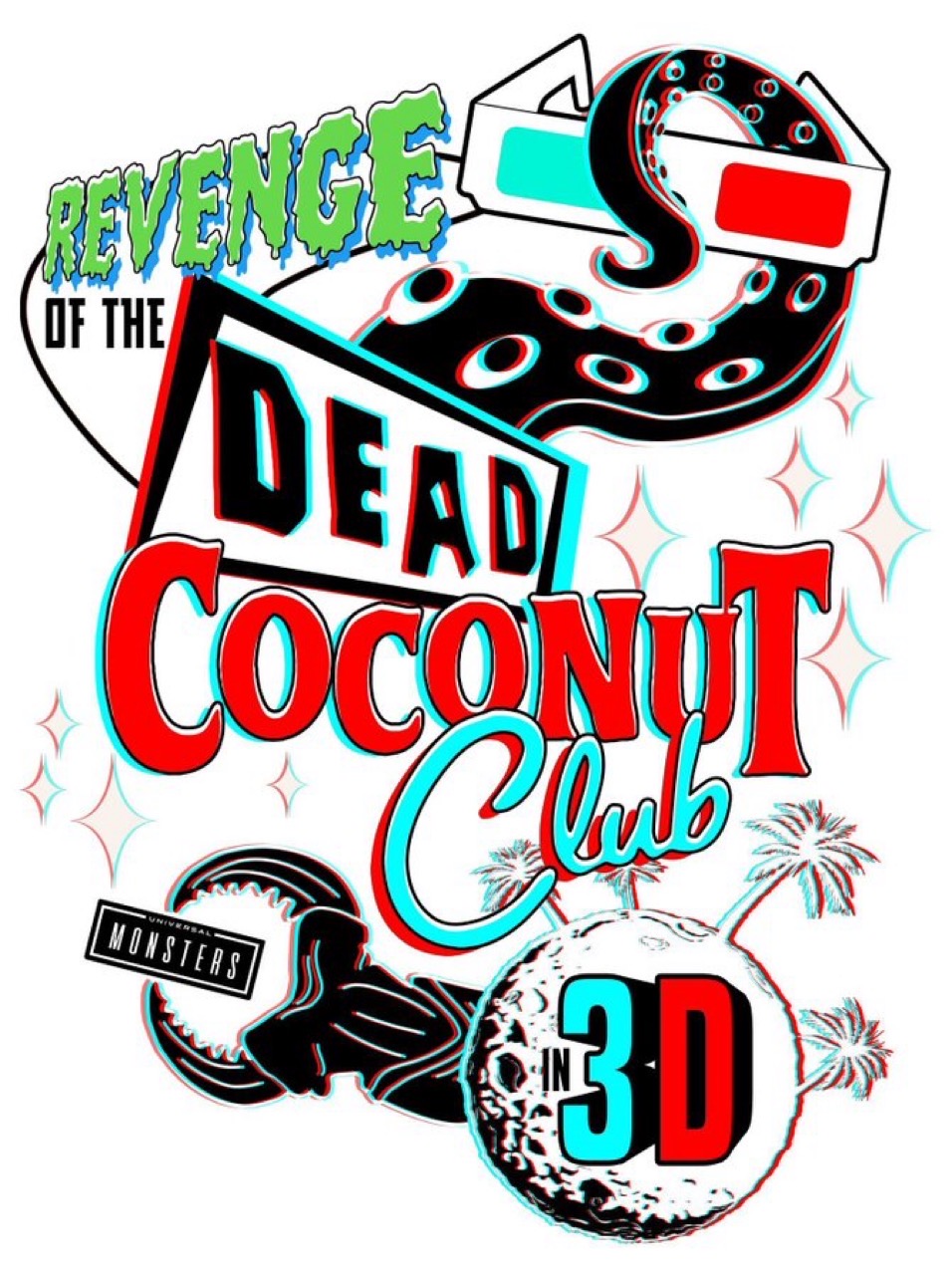 Earlier this year in Islands of Adventure, at the All Hallows Eve Boutique, we saw the film crew of Monstergram Pictures featuring some well known characters…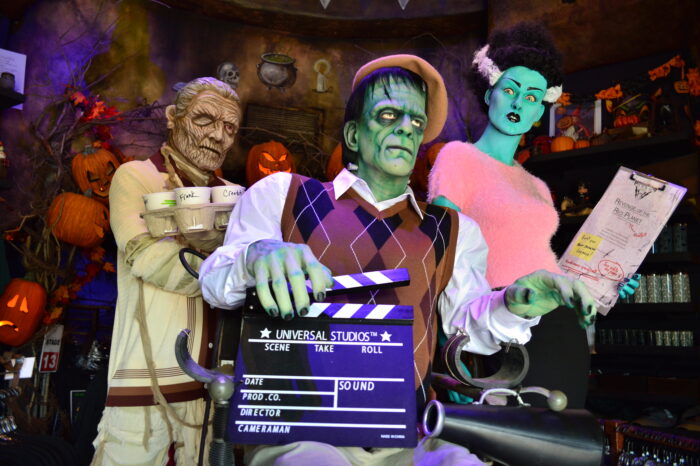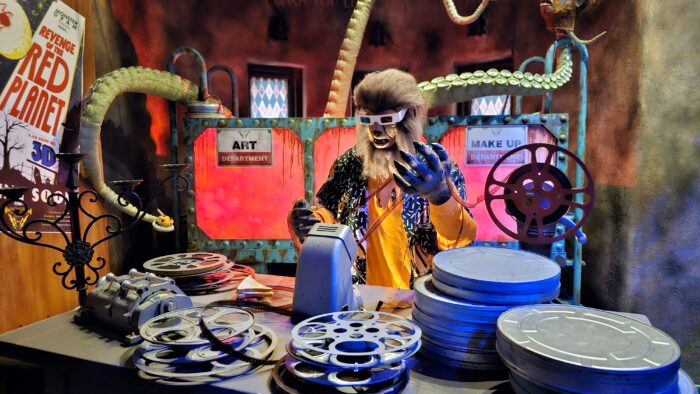 The current theme for the All Hallow's Eve Boutique in IOA is directly connected to HHN 32 and features this year's Icon, Dr. Oddfellow.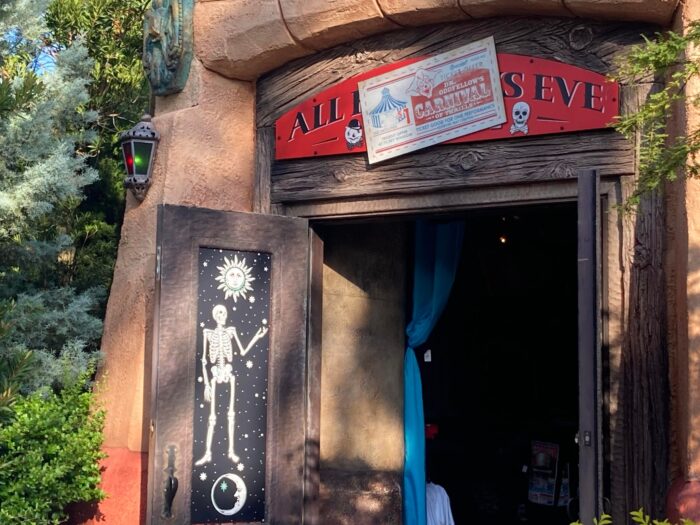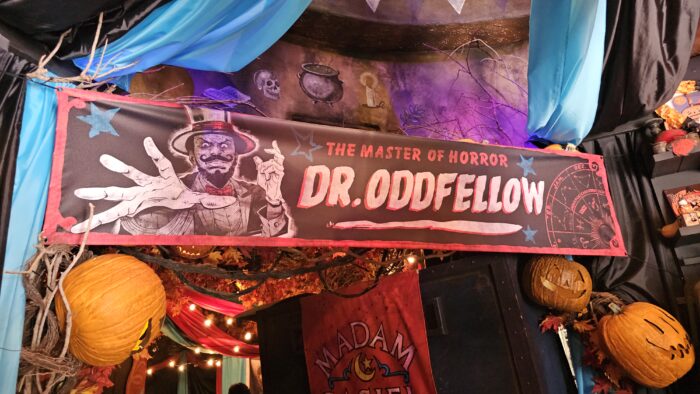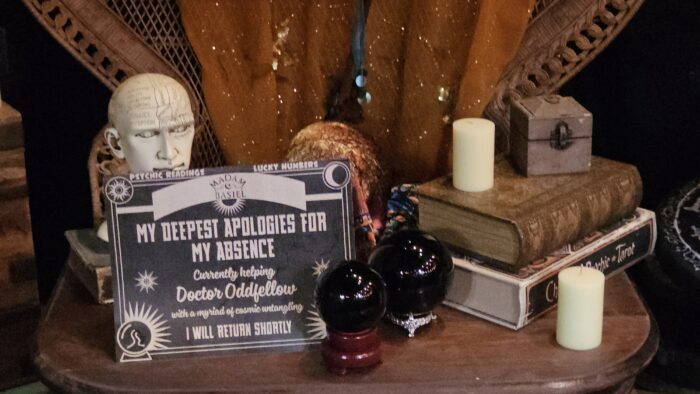 YETI: Campground Kills is one of the ten haunted house experiences at HHN 32.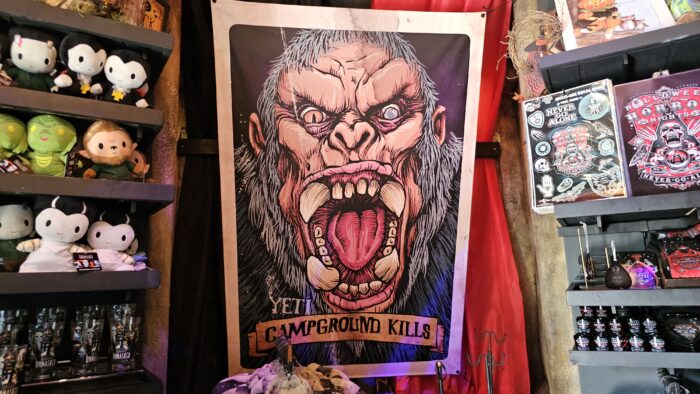 Guess who's back…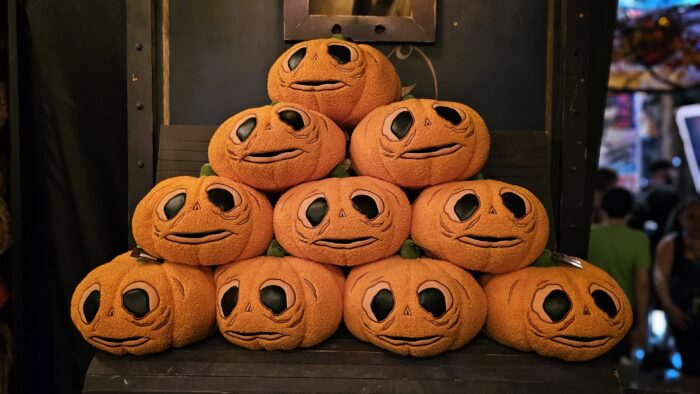 We'll be having a whole bunch of HHN related articles over the coming months, but it's crazy how the entire resort goes all-out for the spooky season. Even places like the Hard Rock Hotel have their own merch line just for Halloween.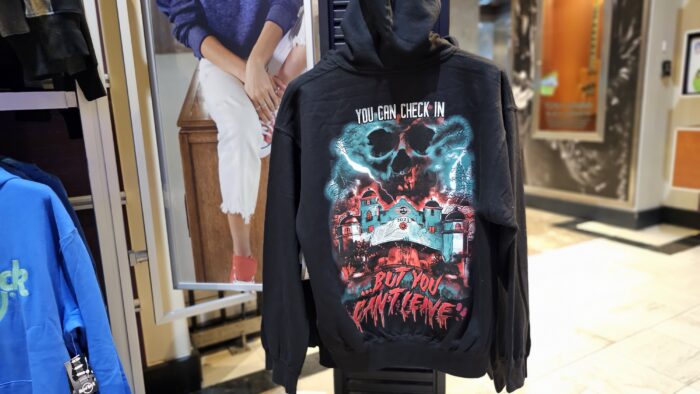 We've mentioned in previous years that HHN inspires the fan community in a way that very few things do in the theme park world, and this year may break the record for fan creations because we have a unique combination of HHN 32 using properties that many of us love, including The Last of Us, Stranger Things, and Dueling Dragons…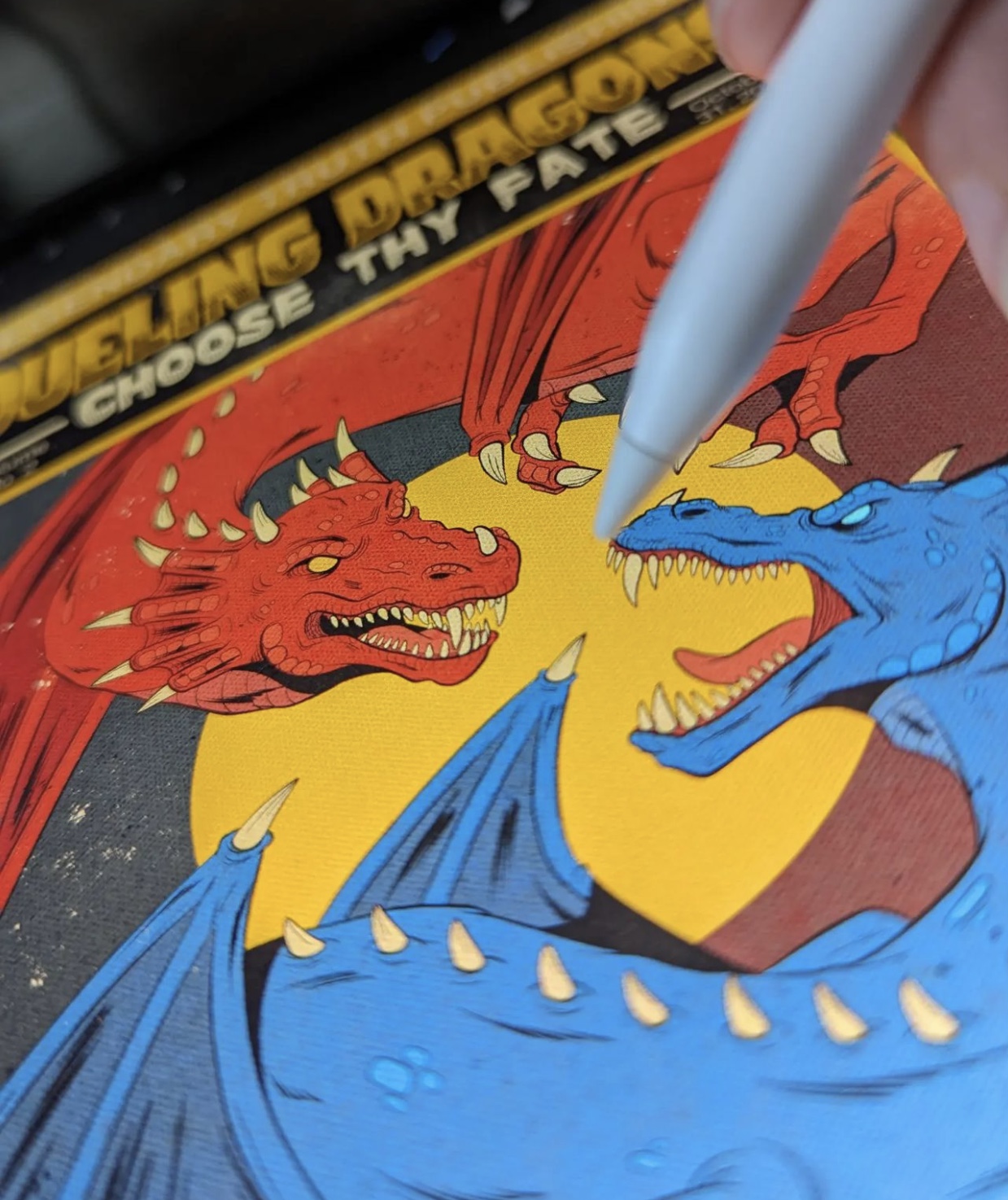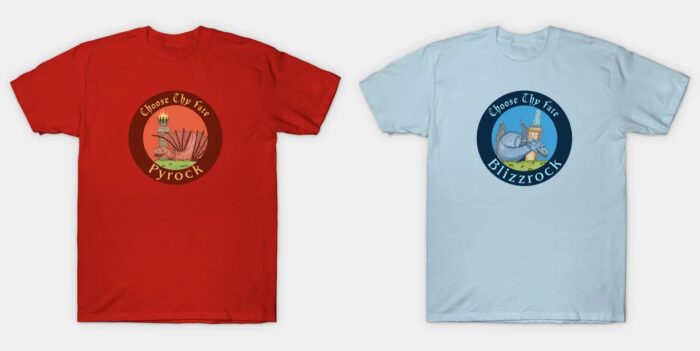 …but the Taylor Swift "Eras Tour" phenomenon of fan made bracelets will also be making a major impact on this year's event.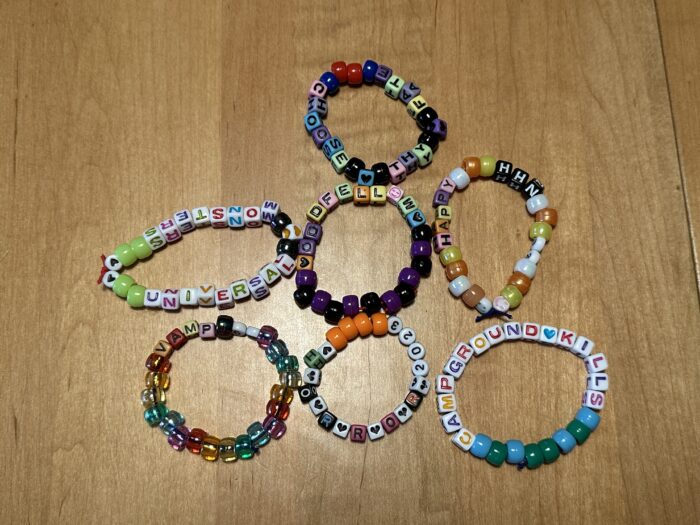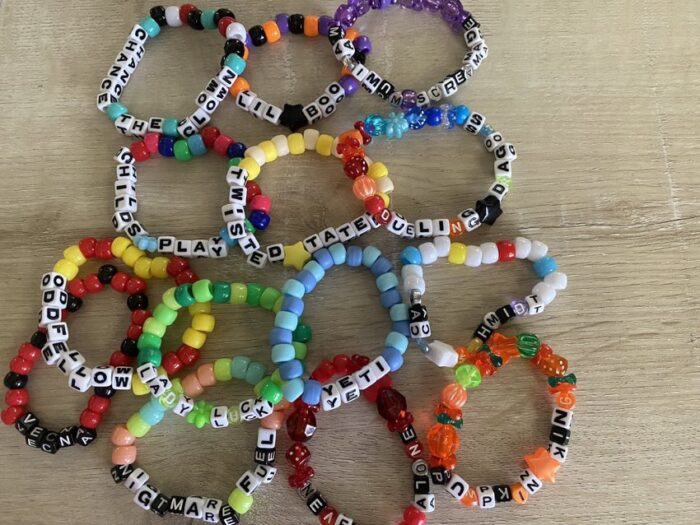 Artist @cecetron has made some truly marvelous HHN-themed bracelets you can get at her online shop, including this awesome one for one of my all-time favorite Universal food item, PIZZA FRIES.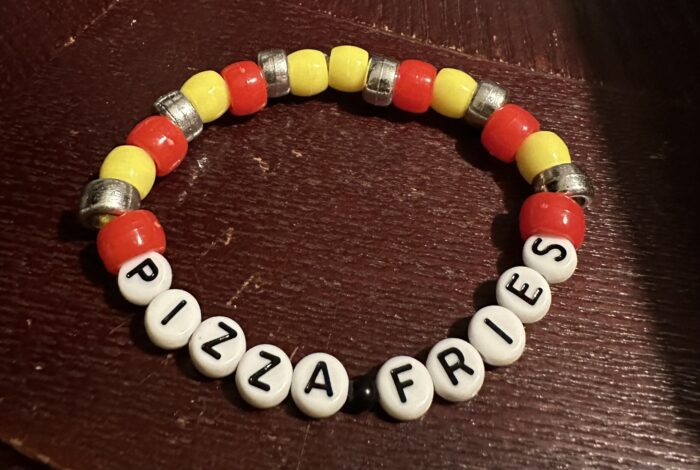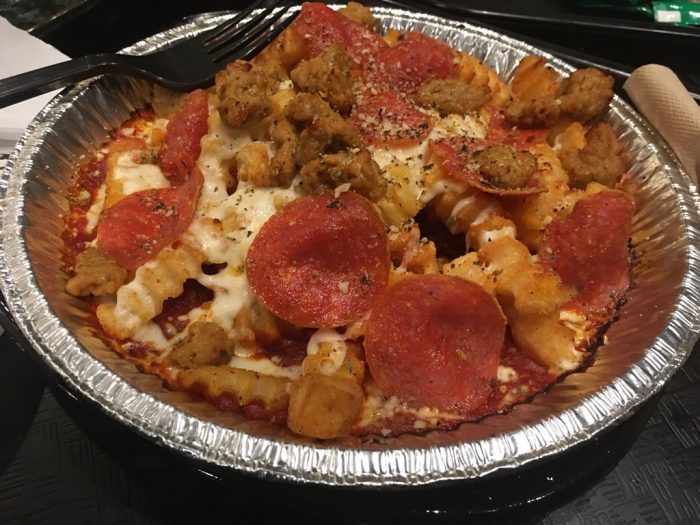 After the massive success of Pizza Fries, Universal came out with a dessert version: S'Mores Fries!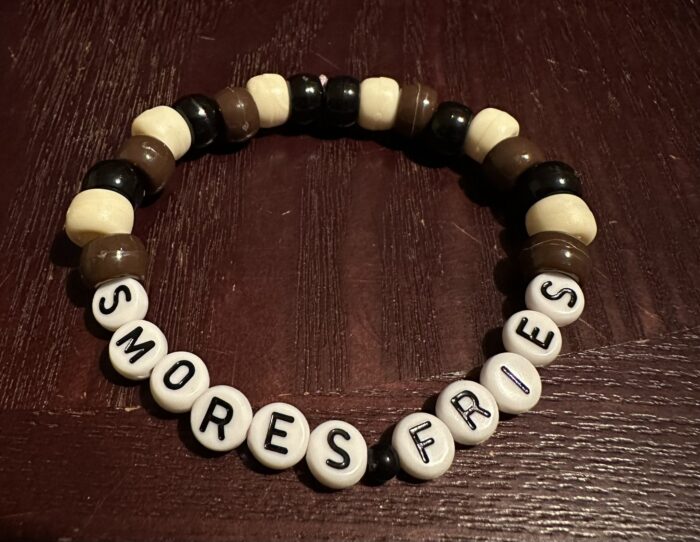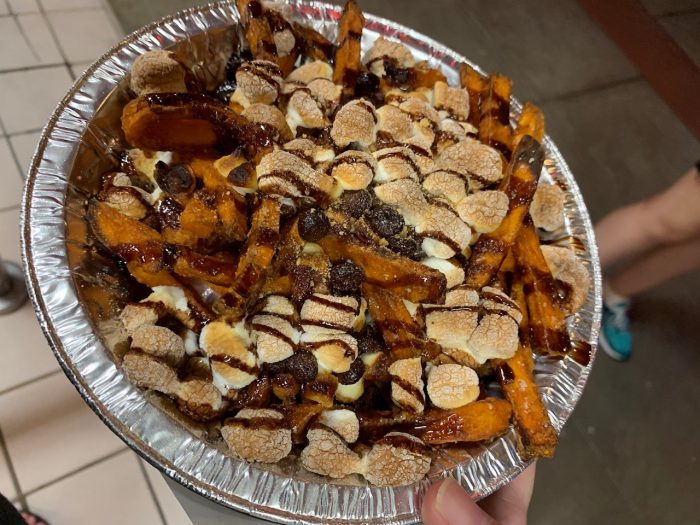 Another iconic element of each year's HHN is Mel's DIE-IN, and we have an amazing bracelet for that too (which you can get by CLICKING HERE.)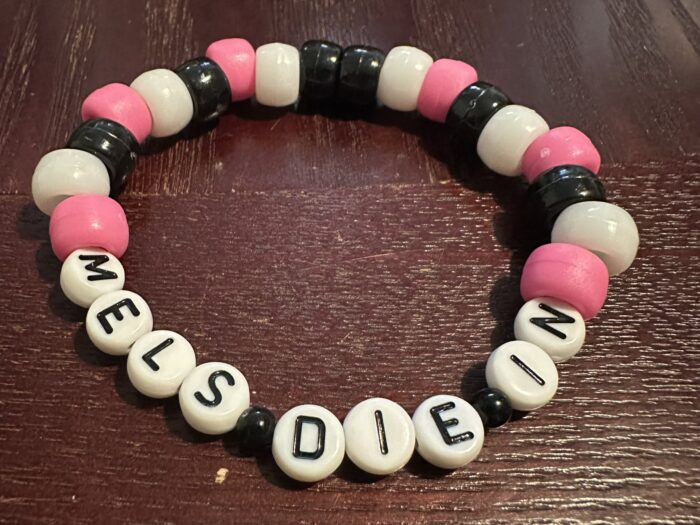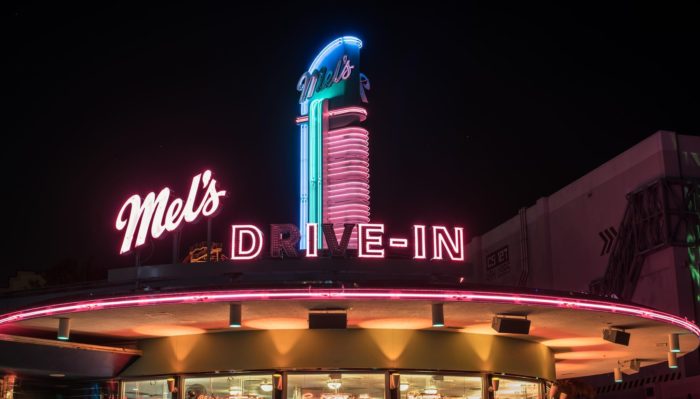 Loved this piece of fan art by artist @BBindman that combines the bracelets and HHN with another recent pop culture phenomenon, the smash hit movie Barbie!
Meanwhile, back in Universal Studios Florida we have the façade for this season's Tribute Store taking shape.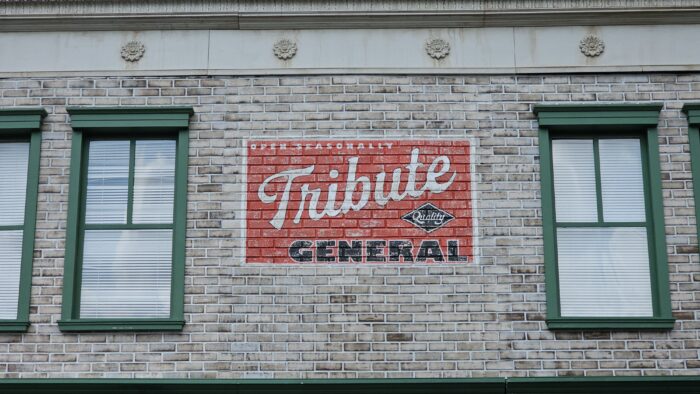 The theme of this year's HHN Tribute Store is a haunted comic book shop.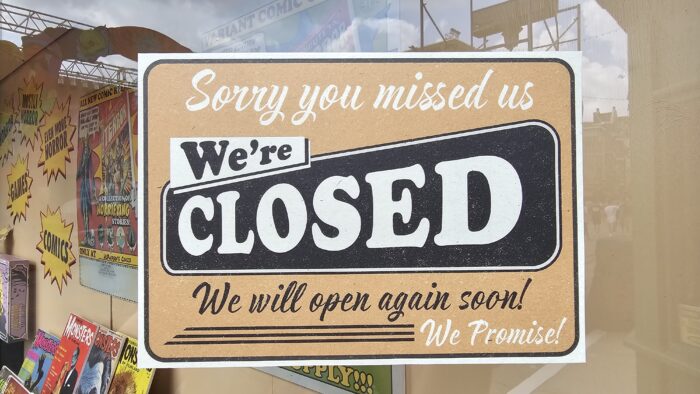 We'll be covering this store in a dedicated article once it officially opens, but the details in the windows alone are incredible.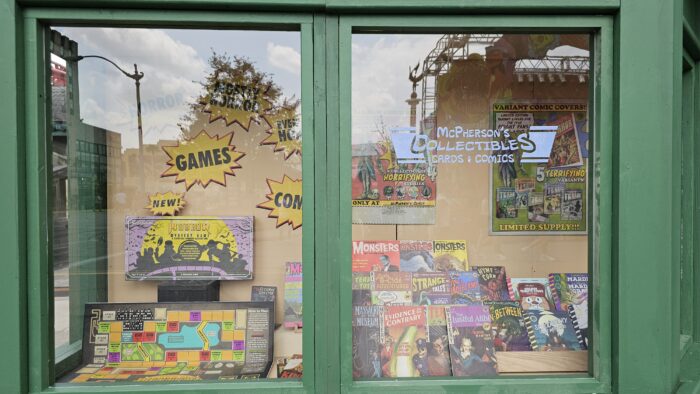 Below we have a shout out to HHN side character Boris Shuster, who has a dedicated window display in Universal Studios Florida throughout the year.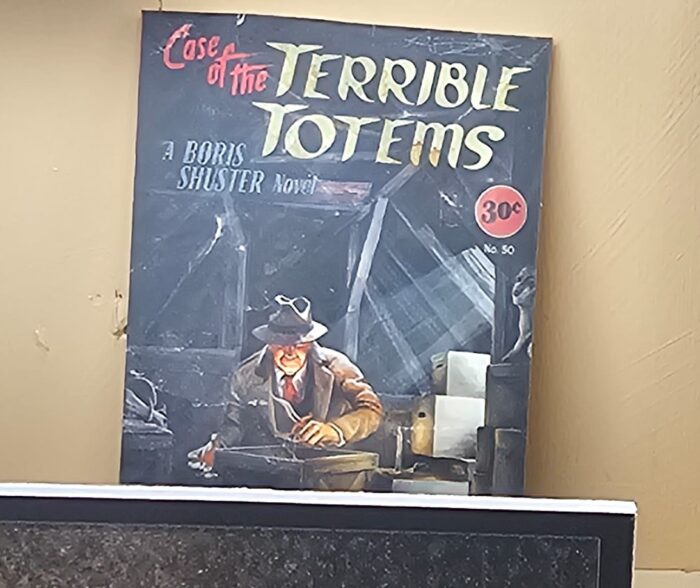 Check out these faux comic book tributes to previous HHN, Christmas, and Mardi Gras themed Tribute Stores! I know I must sound like a broken record at this point, but I can't believe how much effort Universal puts into these stores – along with all the references for hard core fans – when compared to the sterile and lifeless Creations Shop over at EPCOT.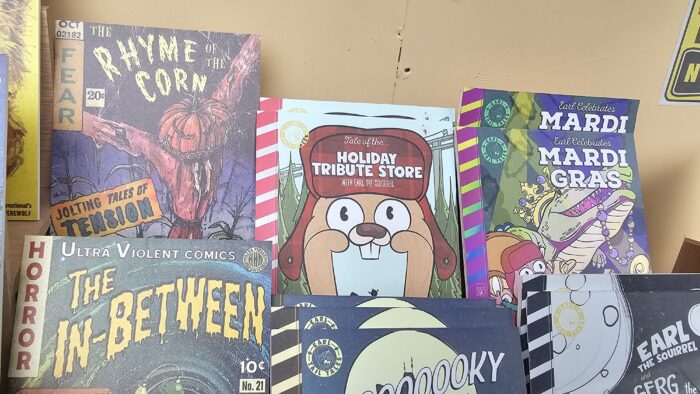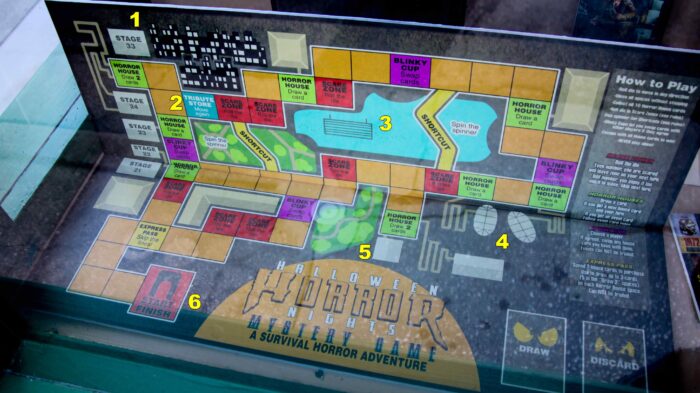 One element that has been in several of the Tribute Stores recently is the option for guests to purchase a display which will feature them in the park. Think of it as Universal's version of EPCOT's Leave a Legacy gimmick. For example, in the Mardi Gras Tribute Store earlier this year, guests could be featured on a bottle of Tribute Spirits inside the store.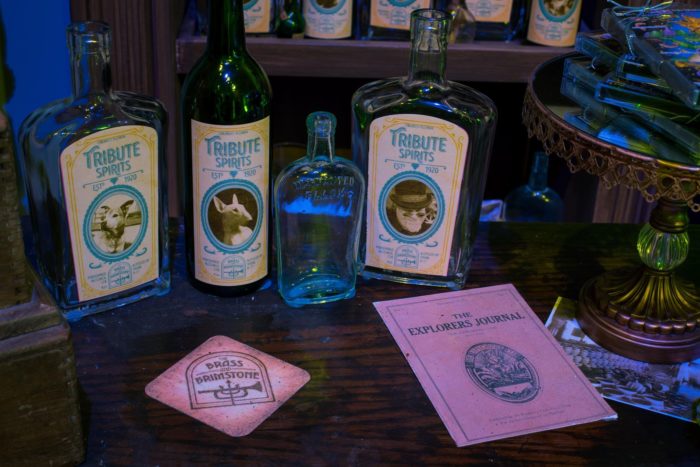 For last year's HHN, guests could purchase the opportunity to be featured in a mausoleum-inspired area.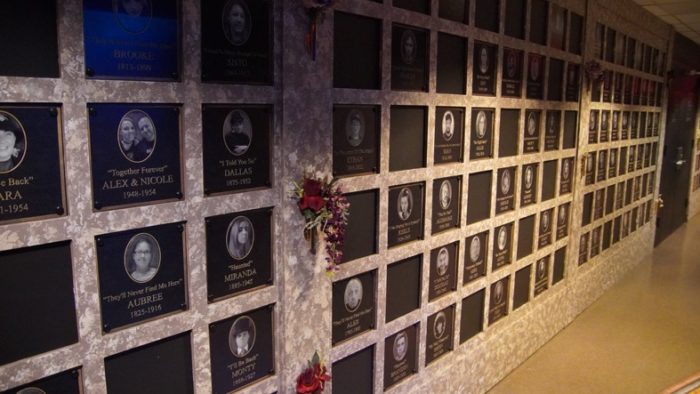 Not only could guests themselves be featured, but you could also put a spotlight on a family pet.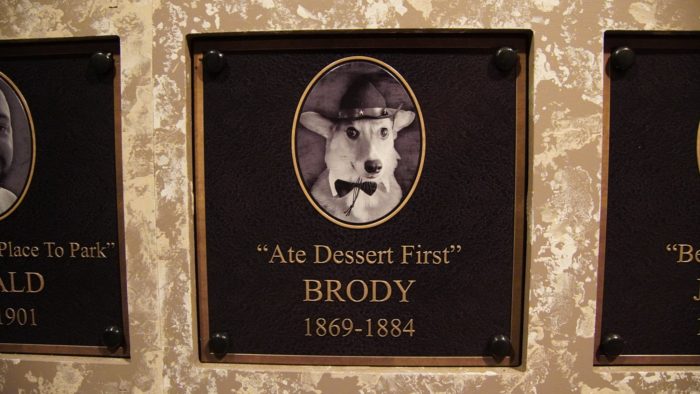 As you can imagine, seeing this ignited a spark in me. I knew that soon enough I would make sure that Bacini – the official dog of DisTwitter – would one day be featured in a Tribute Store and this year's HHN Tribute Store is literally Worlds Colliding in a way I could have never foreseen. Seriously, two of my all-time favorite loves (comic books and theme parks) coming together. This is like when peanut butter met jelly, pepperoni met pizza, or EPCOT met long construction times (well, maybe not the latter.)
My heart went pitter patter when advertisements went up in USF that explained what this year's HHN Tribute Store would be doing with guest photos…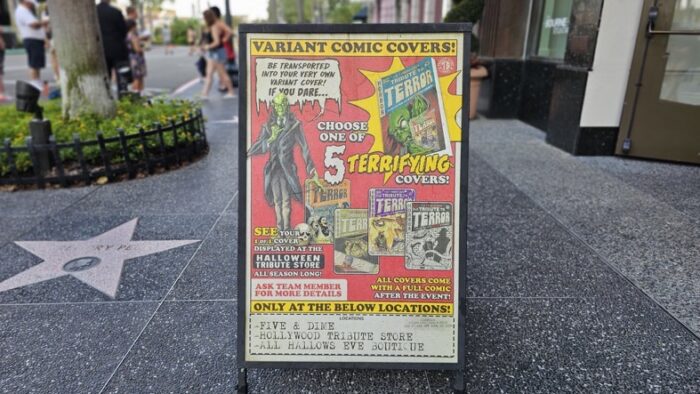 …because this Tribute Store would feature guests on actual comic book covers!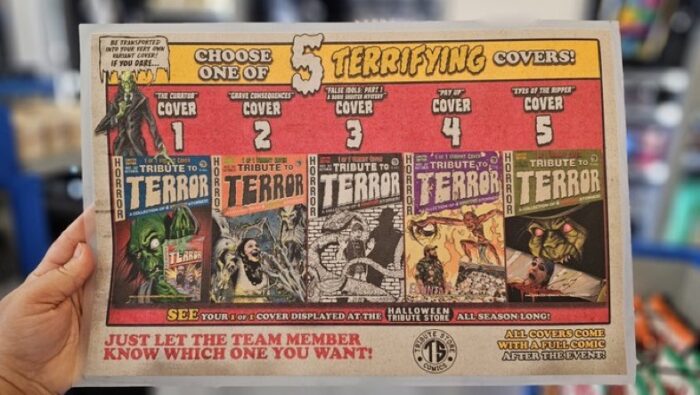 Immediately I reached out to artist Brian Cooper and pitched an idea. WHAT IF… we took the characters of Derek and Bacini (from TouringPlans' David & Derek series) and see how they would look on one of these covers.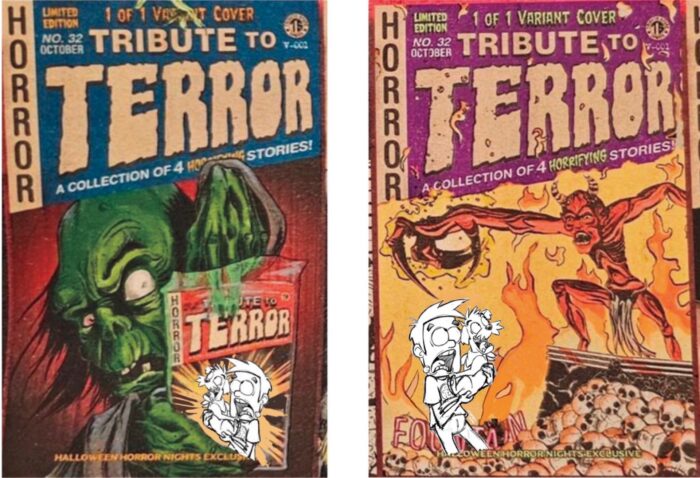 We both realized COVER 1 would be the best fit, so Brian went to work on working on a finished drawing. The rules from Universal were that the photos submitted by guests had to be a full length body shot, and that you needed to be "afraid" in the picture. This drawing is definitely an outside-the-box concept, and something I don't think Universal has ever done before, but like they sang in Hamilton, I am not throwing away my shot.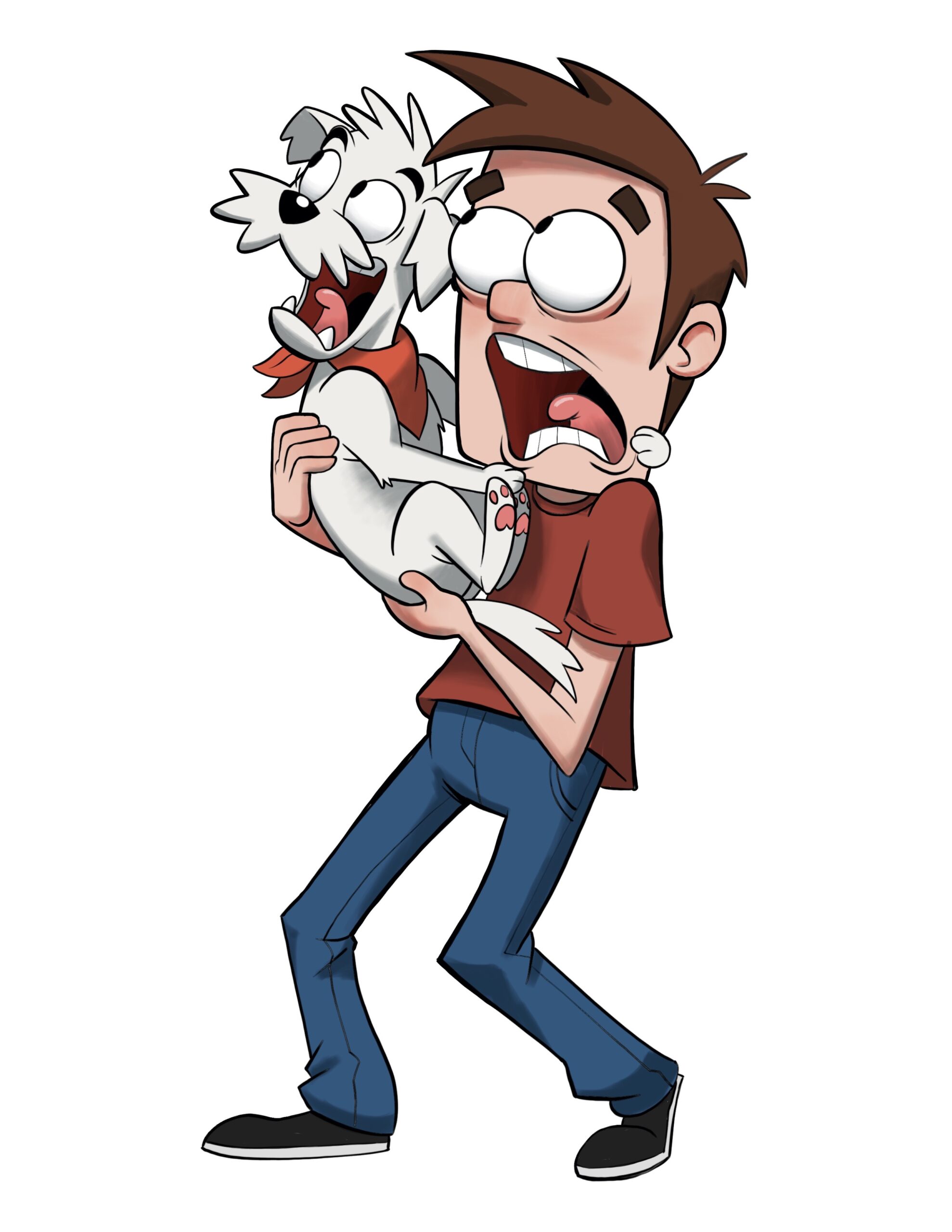 Will Bacini be making his first ever appearance inside a Universal park? STAY TUNED TRUE BELIEVERS!
TPEI SCORE: +8 I've said many times that I avoided Halloween Horror Nights for YEARS. I have zero interest in 99.44% of horror films, and figured the event was just stuff geared to people who are into that (no judgement here…you're a bunch of weirdoes, but no judgement.) When Universal brought The Walking Dead into HHN back in 2012, I decided to give it a try because I was a gigantic fan of The Walking Dead comic book and TV show. I found out right away that the event was so much more than I thought and that I absolutely loved it. In fact, it became my favorite event at either Universal OR Disney, and I can't tell you how much I love Universal's Christmas season, Mardi Gras Season, and EPCOT's Festival of the Arts.
I will also say that, despite never wanting to watch stuff like Insidious or the upcoming Exorcist movie, I do love things that put a twist on the horror genre like the Scream series and movies like Get Out, Cabin in the Woods, and Tucker and Dale vs. Evil.
*The BE FAIR TO FLORIDA Movement Takes a Beating
Early next month, Disney will be holding their Destination D23 convention in Walt Disney World at the Contemporary. I'm not exactly sure what Destination D23 exactly is, but it seems like a poor man's D23 Expo, or maybe a rich man's Disney shareholder meeting. Generally you would expect big announcements being made at something like Destination D23 – especially when it is only days away – but earlier this week we got some pretty amazing information for some attractions coming to Tokyo Disneyland Resort. First let's check out the concept art of the upcoming FANTASY SPRINGS addition to Tokyo DisneySea.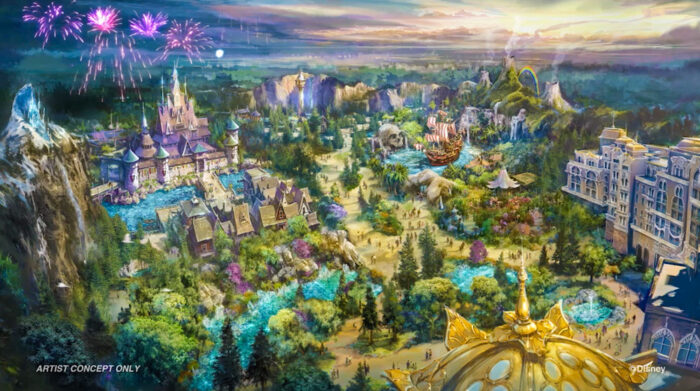 Be sure to follow theme park journalist Scott Gustin, as he is always Johnny-on-the-spot when it comes to covering these stories as they develop. Thanks to Scott we received BREAKING NEWS on DisTwitter with all the Fantasy Springs details, including a look at what's coming in the Frozen Kingdom area…

…Rapunzel's Forest…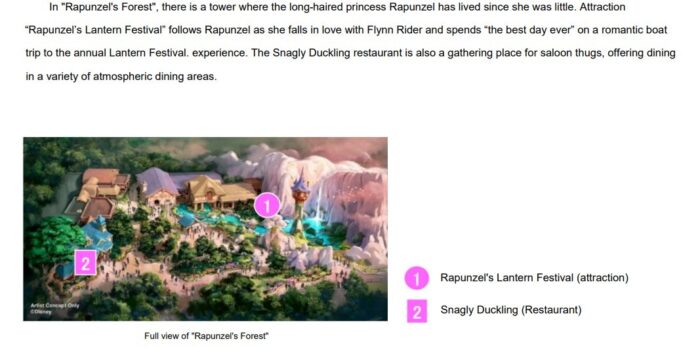 .. and Neverland.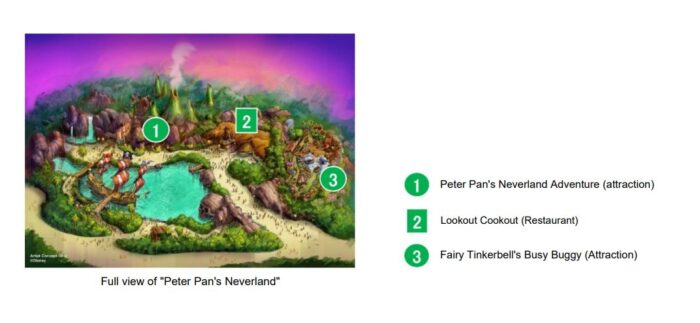 As you can see in the concept art above, Disney also announced the names of the rides which are coming to Fantasy Springs: Anna and Elsa's Frozen Journey, Rapunzel's Lantern Festival, Peter Pan's Neverland Adventure, and Fairy Tinkerbell's Busy Buggy. Also revealed, small scale ride vehicles for each attraction (which we should normalize selling in theme park gift shops!) Huge thanks to the Disney Tourist Blog for these amazing pictures below (you can also read their ongoing coverage of the Fantasy Springs news by CLICKING HERE!)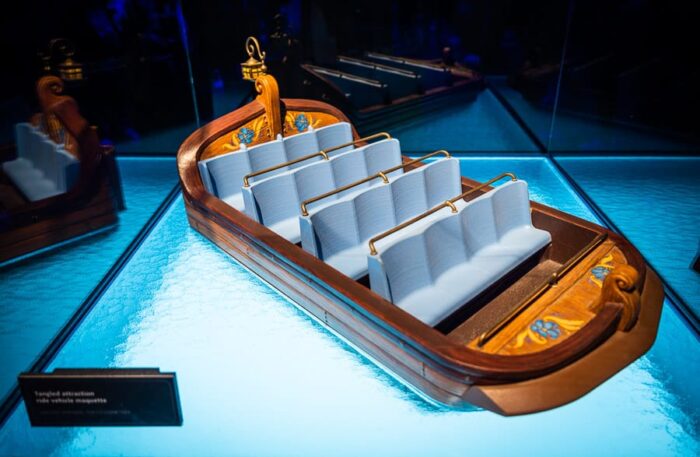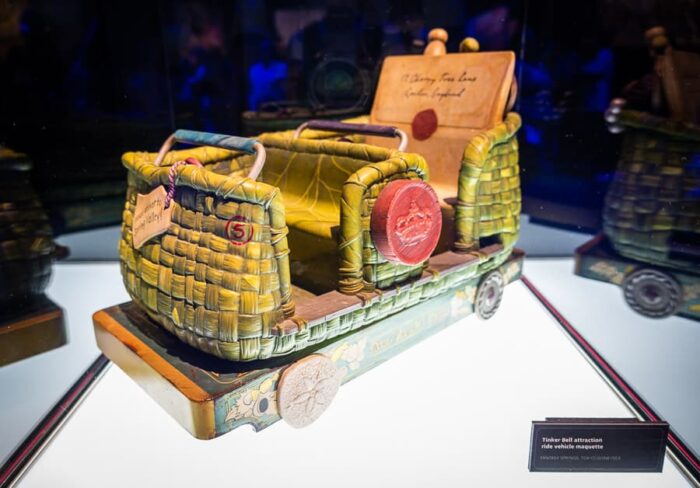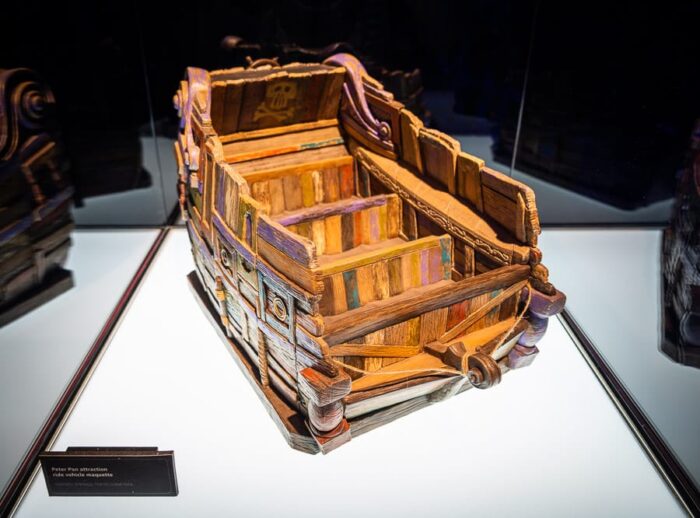 TPEI Score: + 2 Recently I pointed out how great I thought our New Fantasyland was in Walt Disney World. After seeing this concept art and information about what is coming to Fantasy Springs, I now realize that our New Fantasyland is – in fact – not great and actually sucks (that's a joke for the literal minded).
**QUICK HITS**
*E-Ticket tease from the Disney Cruise Line
Getting closer and closer to the debut of the Disney Cruise Line's newest ship, and this past week they put out a teaser for the Disney Treasure with this next level awesome "treasure map" which gives people plenty of opportunities to speculate what's going to be included on the upcoming ship. Scott Gustin posted a hi-res version of the map where you can get a closer look at all the details by CLICKING HERE.

Below we have what looks like an area themed to Frozen along with characters from Zootopia sharing an ice cream sundae. Rumors and Innuendo suggest the Frozen reference could be alluding to this ship having an ice skating rink onboard, which would be a first for the Disney Cruise Line. Royal Caribbean has ice skating on several of its ships, and on my recent sailing on their Wonder of the Seas I saw an absolutely amazing ice show. The Disney Treasure ship could take the concept of an ice skating show to the next level with a recreation of the great Disney On Ice traveling shows. My gut tells me IF something like this is on the Disney Treasure it will be a humongous hit with guests.
You have to think the Judy Hopps and Nick Wilde reference is basically telling us that the ice cream/sweets shop onboard will be themed to Zootopia, similar to the Wreck-It-Ralph themed Vanellope's Sweets-and-Treats on the Disney Dream.

Spaceship Earth?! That opens up some cool possibilities…

Love seeing an Omnidroid from The Incredibles in the concept art. I think the world needs more of The Incredibles in every way possible. I'd pitch another movie, a cartoon series on Disney+, a comic book, and a bigger influence in the theme parks. The one thing I wouldn't pitch? That next level bonkers Incredibles stuff at Disney's Contemporary Resort.

Rex and Trixie playing in water seems like a natural fit for a Toy Story themed splash pad area for the kiddos on the pool deck.

*Creative Genius Marcelo Vignali
It was another crazy month over on DisTwitter, but as bad as the new management is trying to make that app, I still firmly believe there are some great reasons to stick around. Case in point: this month we got a chance to see a great post by @ToughPigs, a dedicated Muppets account. ToughPigs linked us to a story on Disney Imagineer Marcelo Vignali, who – among many things – produced concept art for a never built attraction at Disney-MGM Studios based on The Muppets. You can read the article by CLICKING HERE and it gives a fascinating behind-the-scenes look at what we possibly could have seen inside the Disney parks if Jim Henson had not tragically passed away in 1990.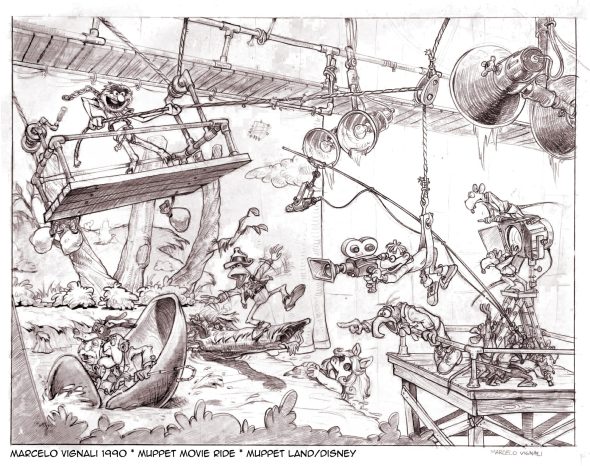 Another piece of concept art we see in the ToughPigs article is this one below for Great Gonzo's Pizza Pandemonium Parlour. This unbuilt restaurant is something theme park historian Jim Hill has talked about many times on various podcasts over the years. I had always pictured something in my mind, but it was amazing to see what the actual concept was! Look at the Muppet rats running above the guests…just awesome.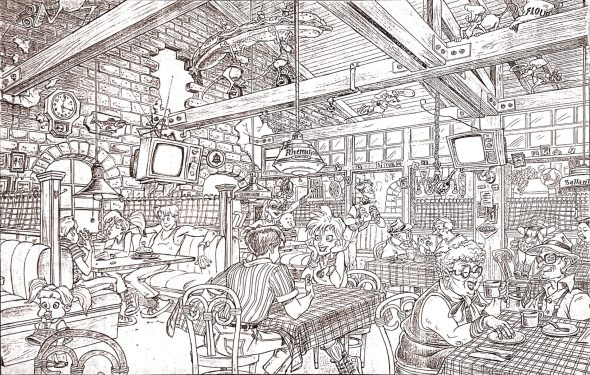 Instead we got Mama Melrose's Ristorante & Pizzeria?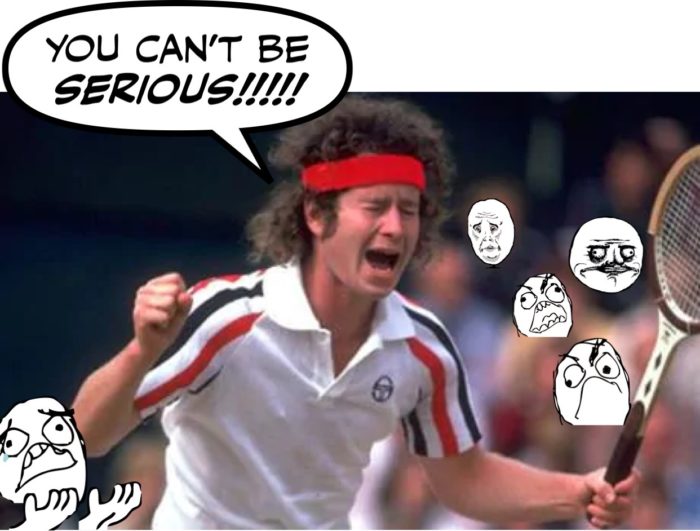 Anyway, now that I'm calmed down, just being able to get a story like that out of the blue is a great reason to stay on DisTwitter, but that's not the best part. NAY NAY. What DisTwitter does best is inspire other people to share their own stories. Creative Genius Howard Bowers saw the Marco Vignali story and showed us that Marco also created concept art for the time Disney played around with the idea of re-theming the Columbia Harbor House restaurant to more align with its neighbor The Haunted Mansion.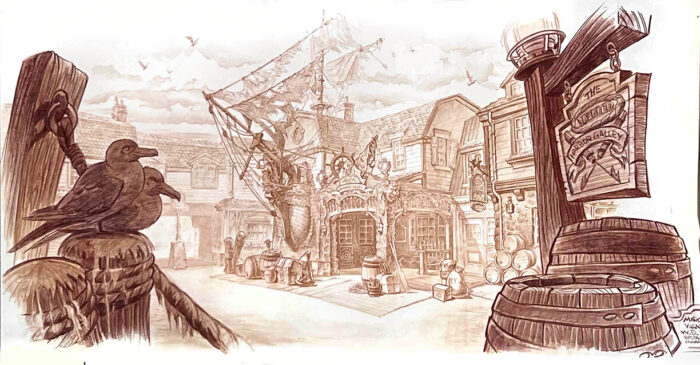 While I think this idea would have been absolutely INSANE, it is so cool to see concept art like this and wonder What If…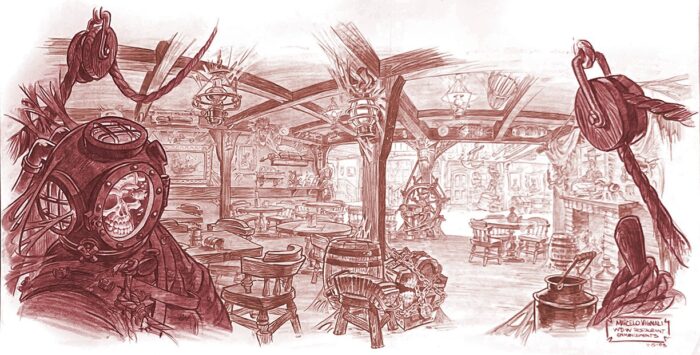 Superstar artist Rob Yeo also wrote how much he was inspired by Marco Vignali, and that Marco's art style is what led Rob to originally pursue a path on being an Imagineer.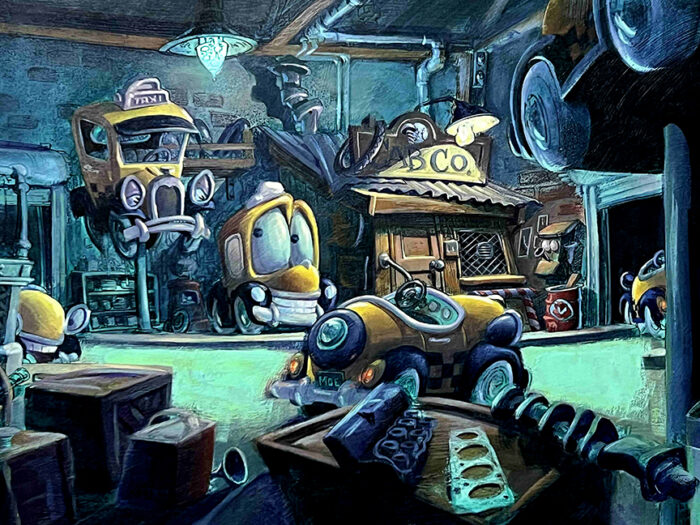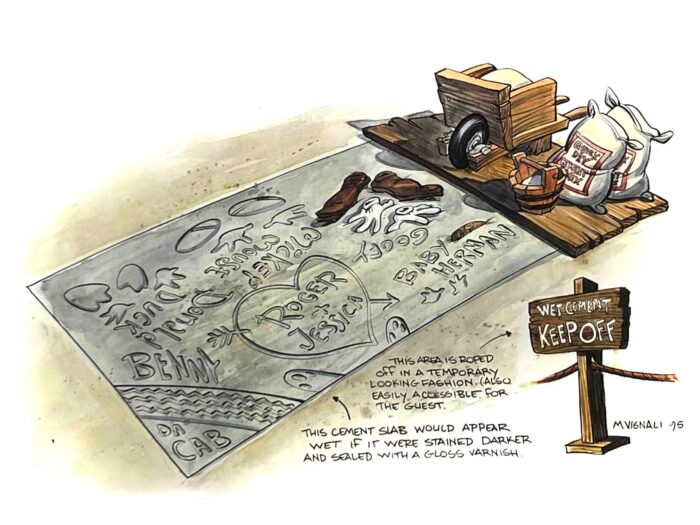 Rob also directed us to Marco Vignali's website, where there is an entire section on his theme park work, including concept art for a native American village in Disney's unbuilt America theme park that was planned for Virginia. As a comic book fan, I loved clicking on the section which displayed Marco's comic book work, including a whole bunch of stuff he did for the Spider-Man, Into the Spider-Verse film.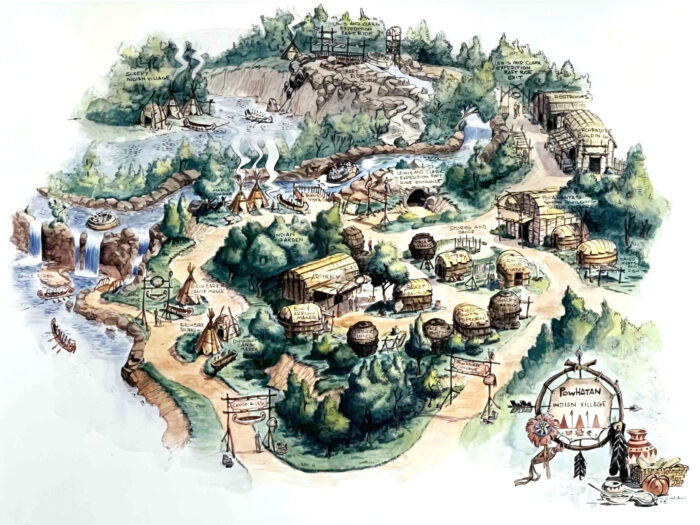 DID YOU KNOW: Marco also designed the character of Ice Gator, the official mascot of Disney's Blizzard Beach.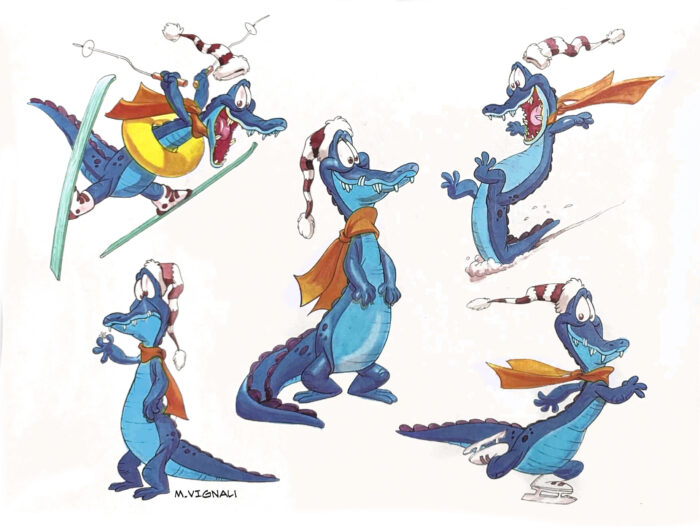 *Speaking of Rob Yeo…
One of the most talented people in theme park fandom, Rob Yeo celebrated 7 years of Rob Yeo Design this month.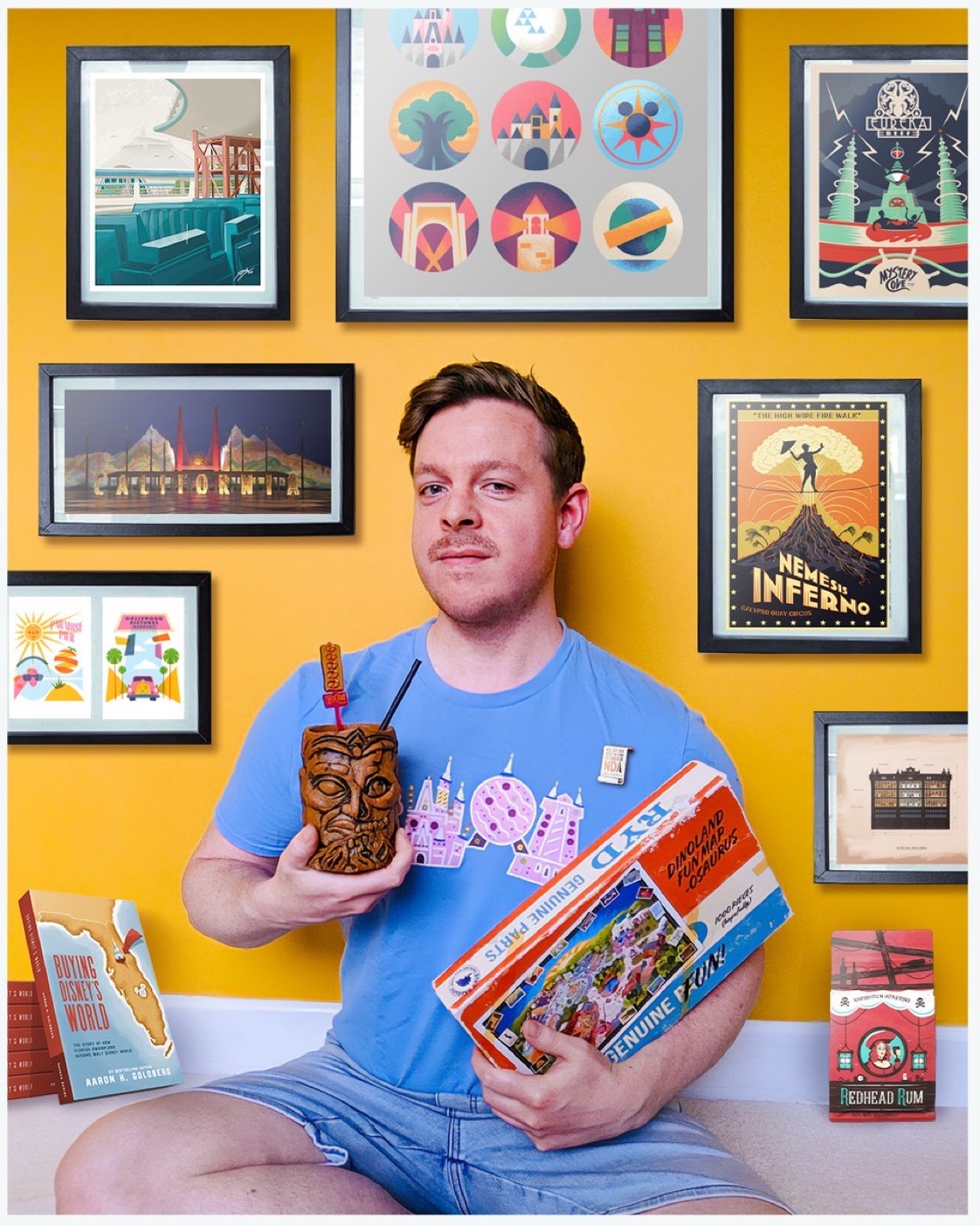 You've undoubtedly seen Rob's work commissioned by many of your favorite theme park related websites, including one of my all time favorite pieces, this artwork below for the 50th anniversary of Pirates of the Caribbean that Rob produced for WDWNT.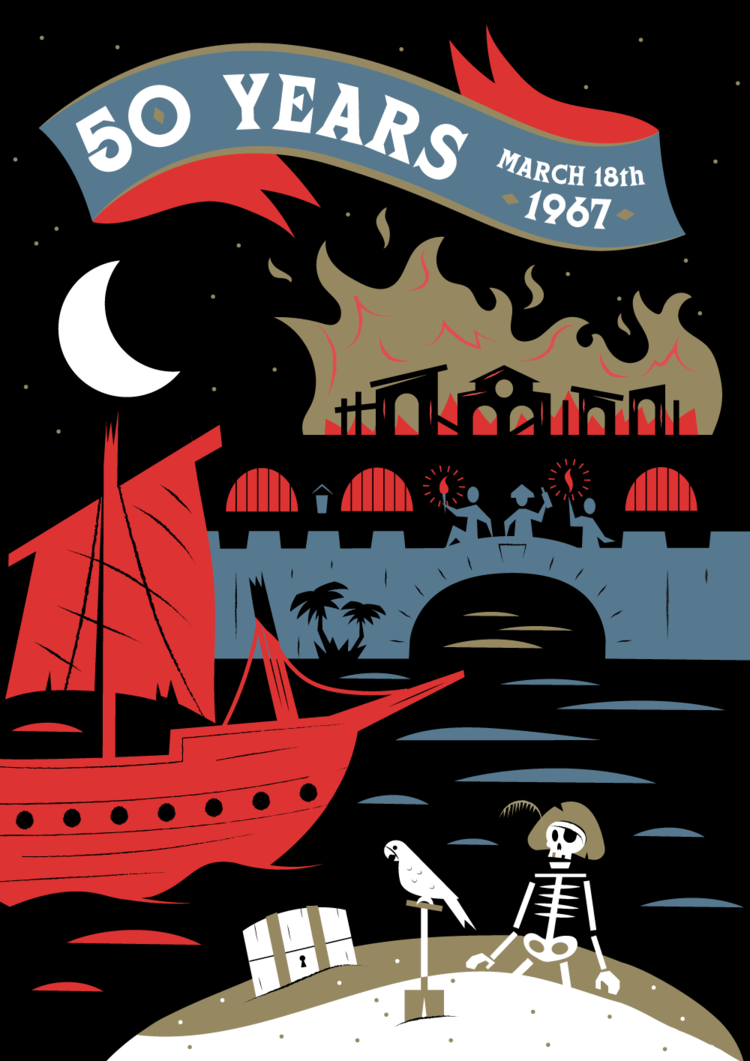 In fact, TouringPlans itself worked with Rob on a recent redesign of the TouringPlans app.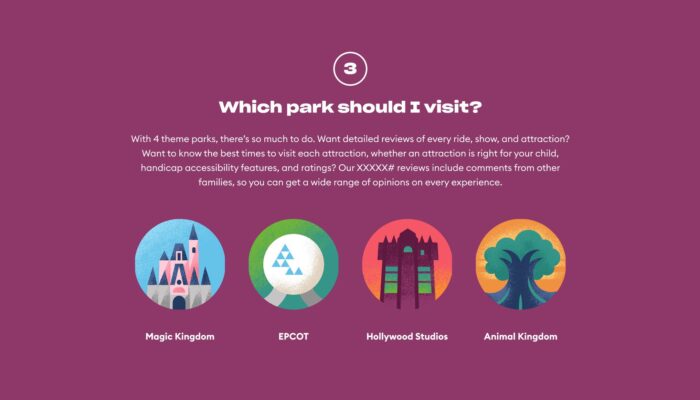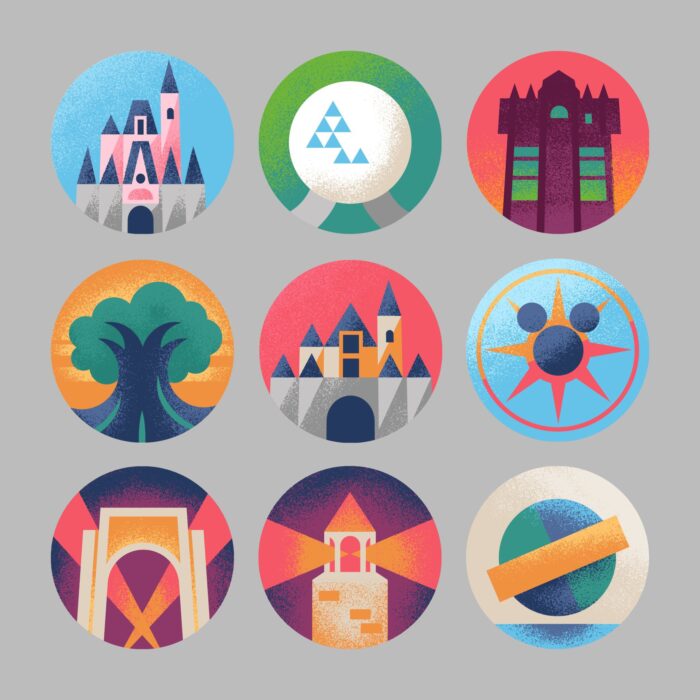 In an earlier story above, Rob mentioned how he was inspired by Marco Vignali, and I can't even comprehend how many artists Rob himself has inspired with his amazing work over the years. I've personally contributed to several Kickstarter projects which Rob did over the years just to get a hold of the fantastic pins, shirts, and even jigsaw puzzles he was producing. For theme park fans, BY a theme park fan.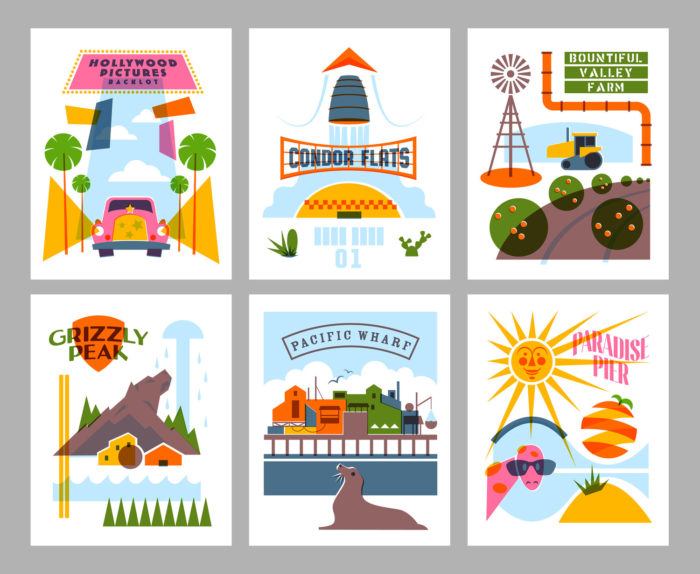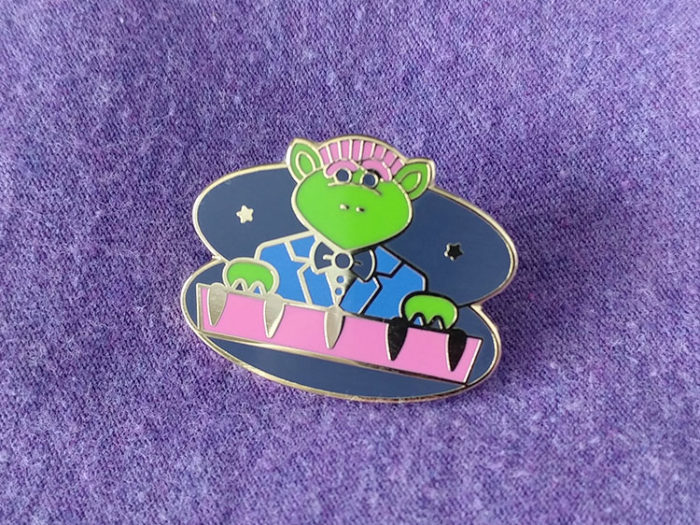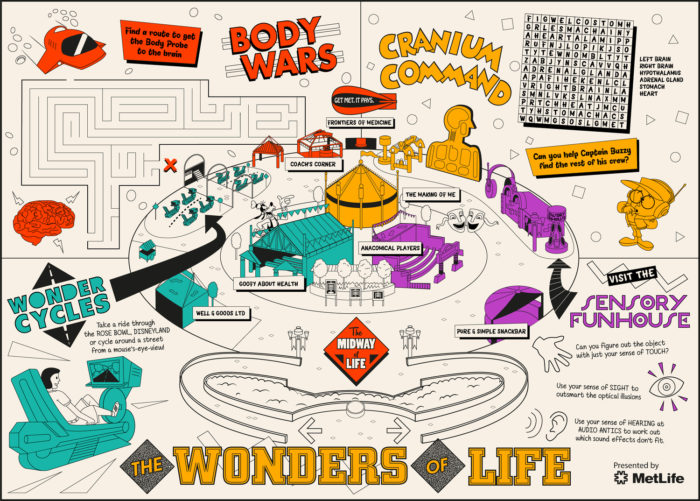 Several years ago, I commissioned Rob for a SAT SIX logo. Currently I'm saving my pennies to get a drawing of Bacini out of him.

Cheers to the last 7 years of Rob Yeo Design, and here's look forward to the next 50 years of his talent.
*Photo Updates From @bioreconstruct
Always love when Bio gets shots of things I've seen a million times from the ground, but finally get to see a Bird's-Eye view of, like the shot below of the Disney Welcome sign at the corner of SR 535 and Hotel Plaza Blvd. In previous years, this was directly across the road from the iconic CROSSROADS shopping district.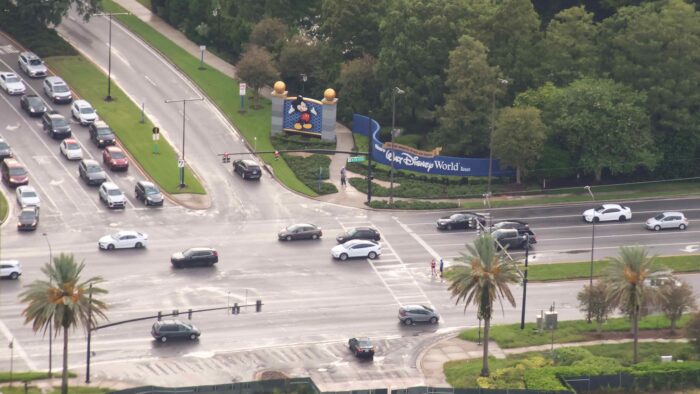 Bio had boots on the ground this month covering the construction of HHN 32 at Universal Studios Florida…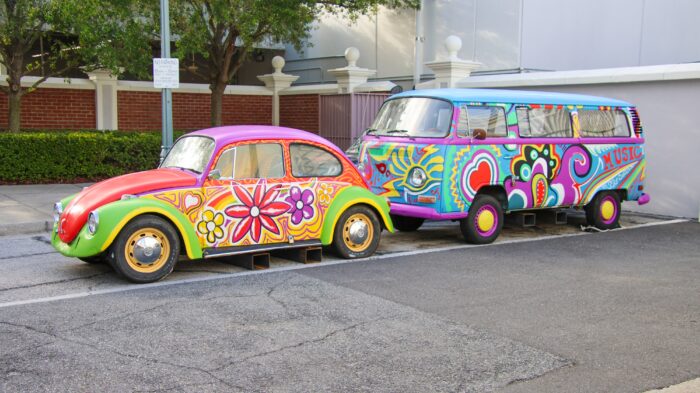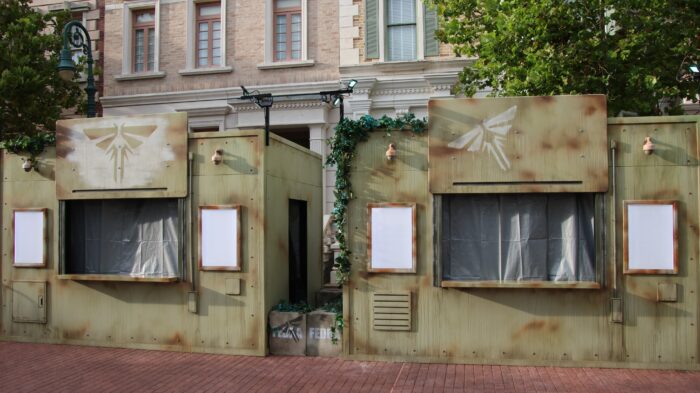 …but was also in the air, getting great shots like this of one of this year's tent houses.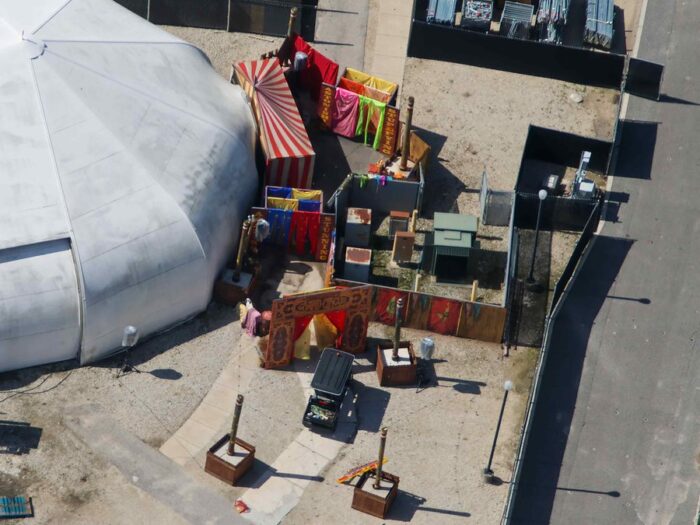 Of course everyone is always anticipating the latest aerials of EPIC Universe. We'll be doing an entire article dedicated to the developments at EPIC Universe in the near future, but I highly recommend watching THIS VIDEO by the Permit Princess Alicia Stella as it gives us our best look yet at what is coming with this incredible theme park. The video combines Bio's E-Ticket aerial photos along with all the information gleaned from patents, trademarks, and permits that have been filed. Trust me, YOU'LL WANT TO WATCH THIS.
We'll close this section with a few of Bio's fantastic EPIC Universe shots from this past month, including the one below which is one of those HOW DID HE GET THAT?!! type of shot. Bio has made this shot available to all. You can CLICK THIS LINK to see the photo at 4000 x 3000 pixels. However, for those of you die-hards who want an even better look, head on over to Bio's personal site to download the version that is a whopping 6952 x 4393 pixels!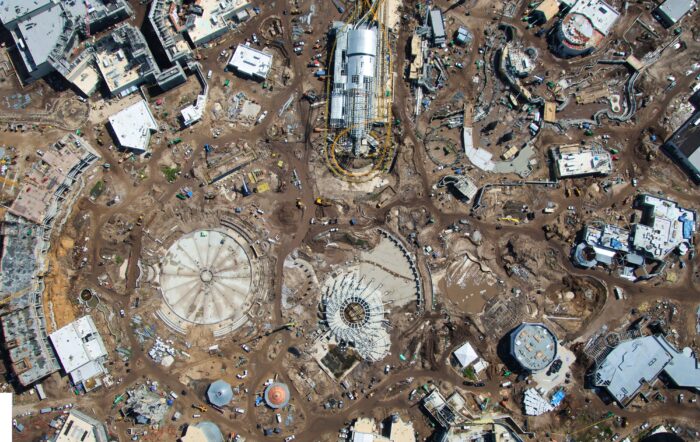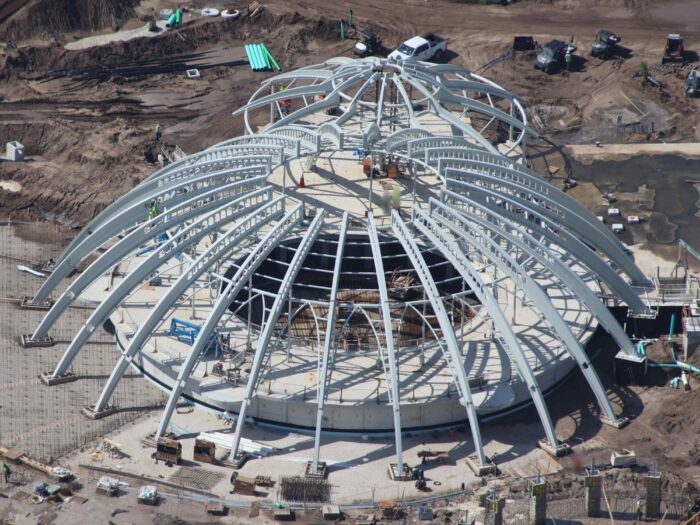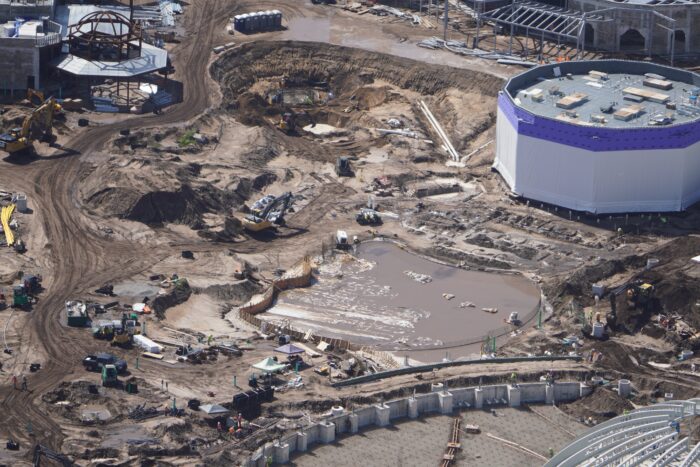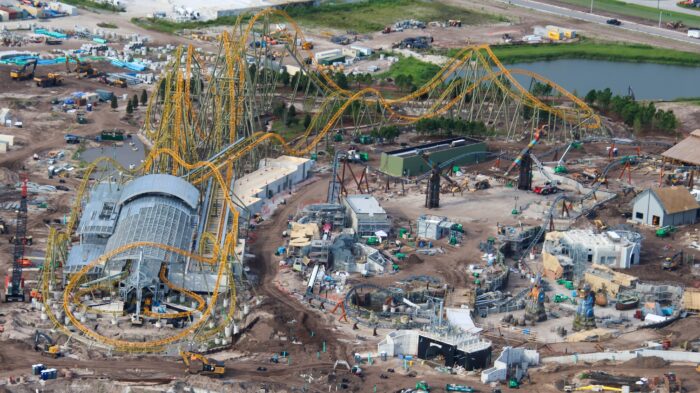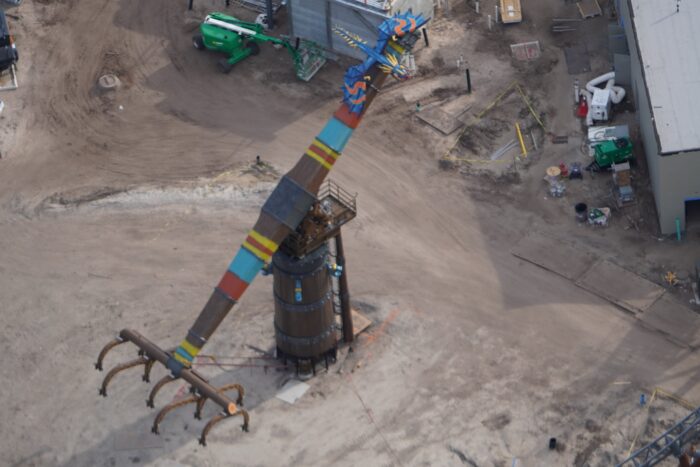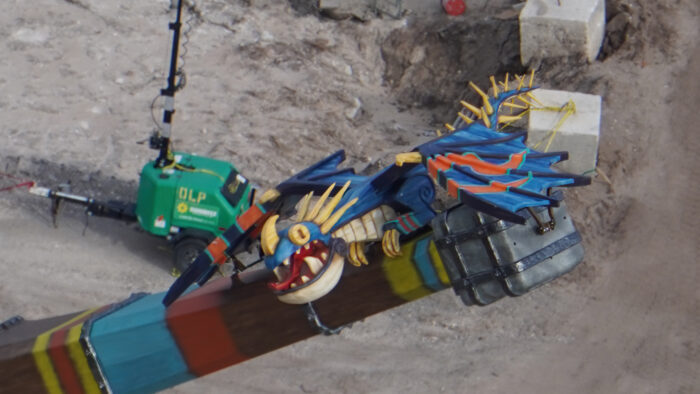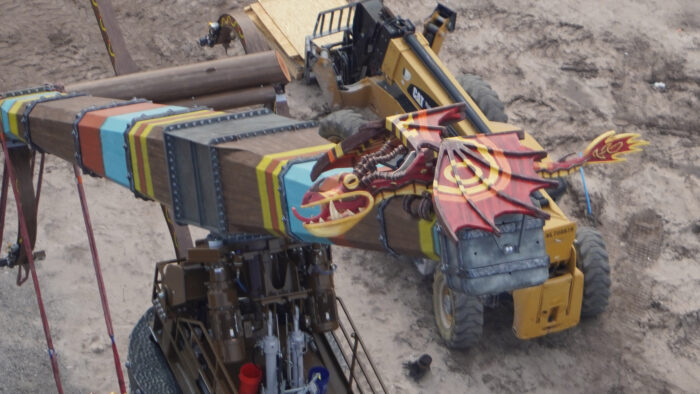 The onsite hotel at EPIC Universe is going to be next level awesome, but check out the hotel Universal is building across the street from the new park. This is going to be STUNNING once finished.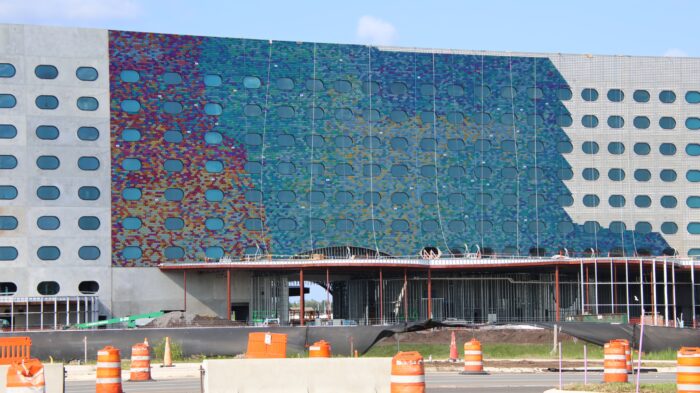 *Always in the mood for great theme park pictures….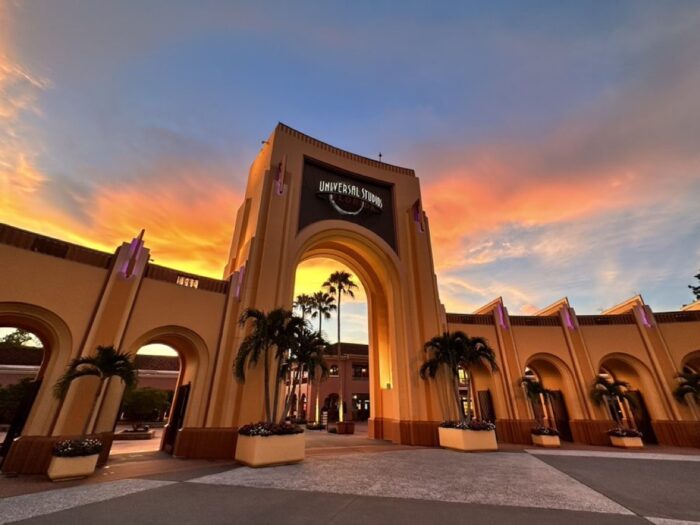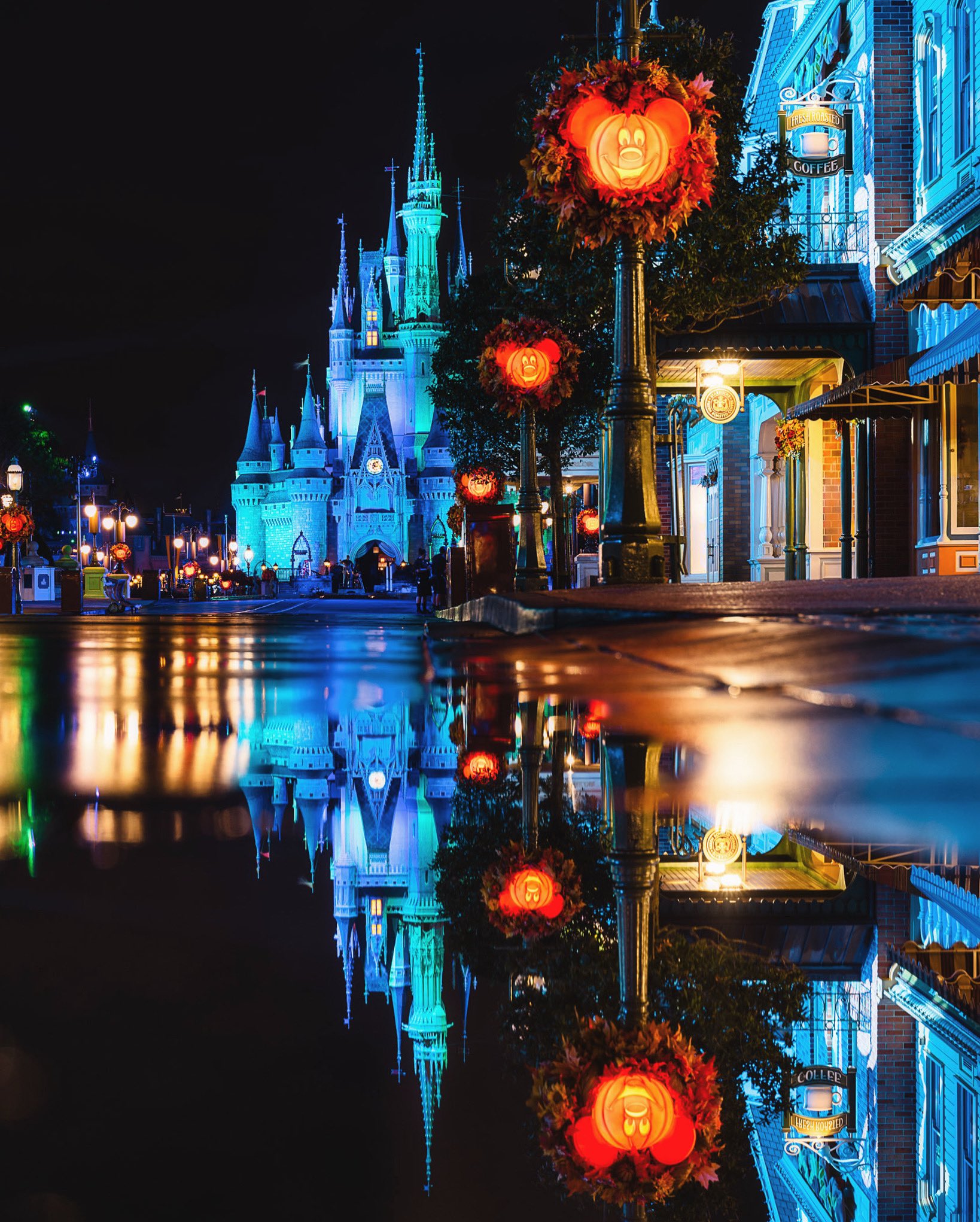 *Merchandise Update
Professional rabble rouser @schmoofy noted that we often cover the worst merchandise in this Fine Blog Series (in fact, we created the Disney Merchandise Hall of Shame that is constantly updated) and felt it was time to focus on some GOOD merchandise for a change, like this toy set inspired by Buzz Lightyear's Space Ranger Spin… that arrived on the shelves 25 years late. Still really awesome though. Box says that it's a projection game but I just want the Zurg figure because that's such an iconic set from the ride itself.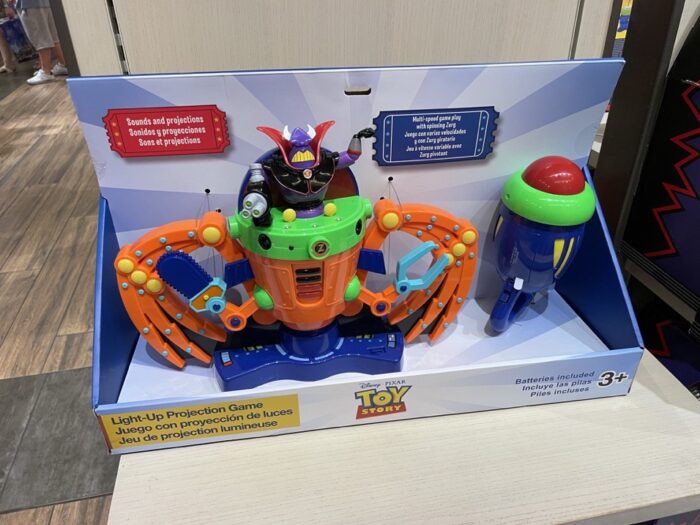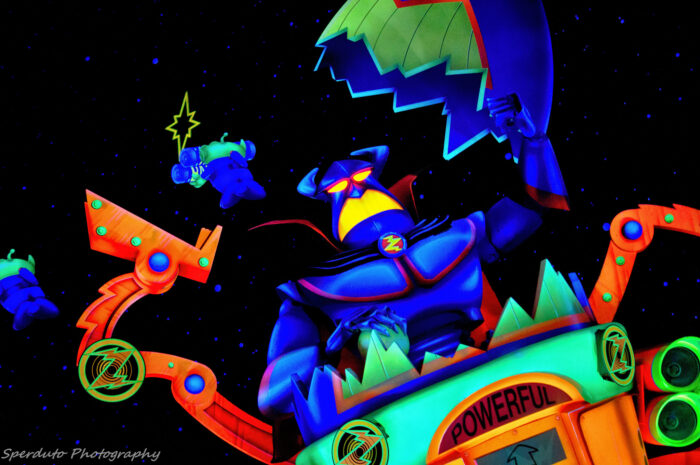 Speaking of great merchandise, let's take a quick look at Disney's Fort Wilderness Campground which is currently KILLING IT when it comes to resort specific merch…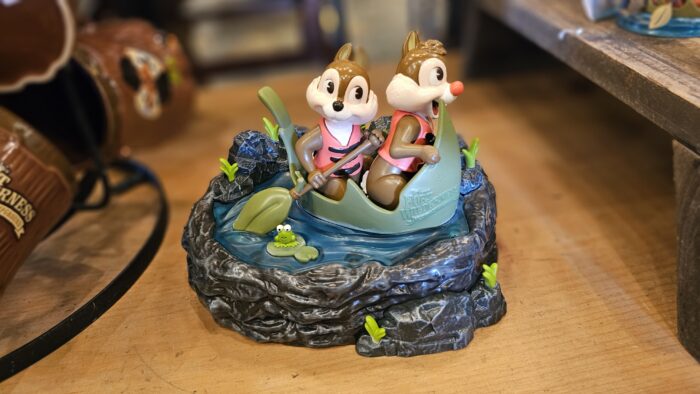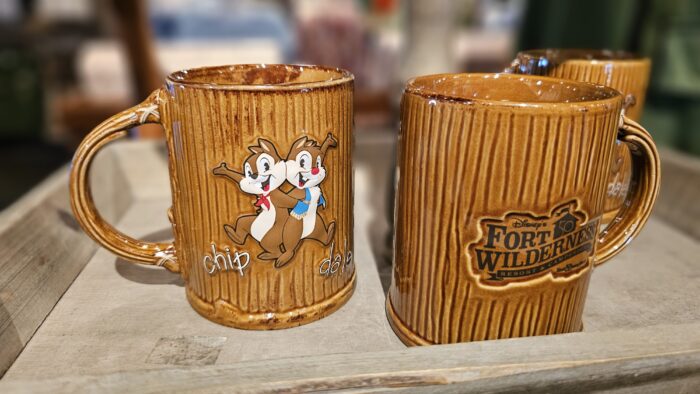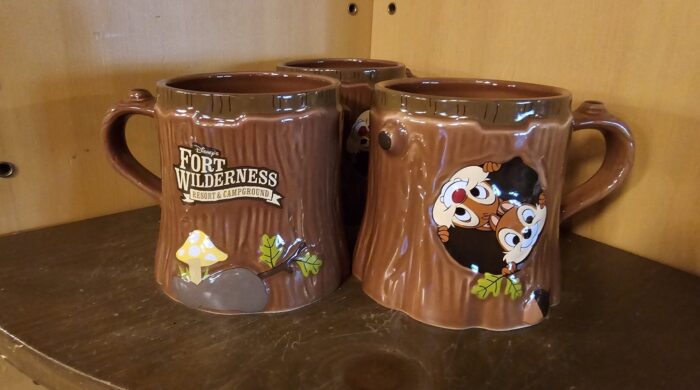 This Fort Wilderness checkers set is going to make a perfect Christmas gift for the kiddos.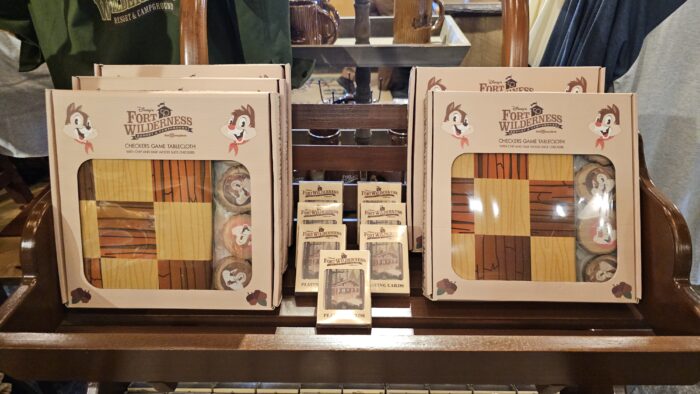 I'm not a headband guy, but this pair is actually pretty cool.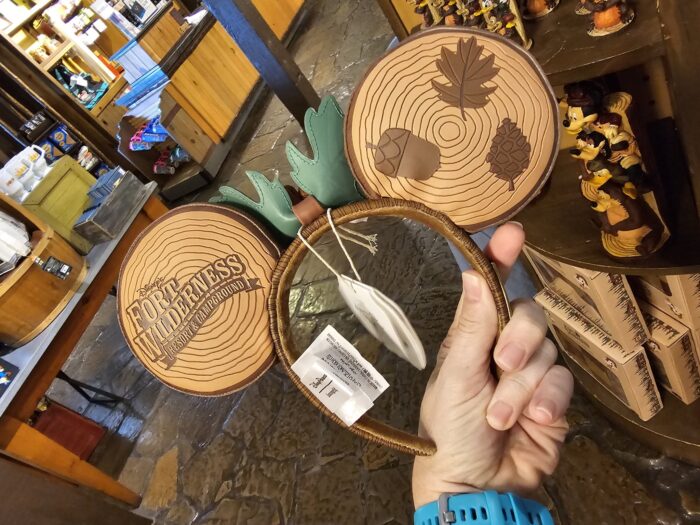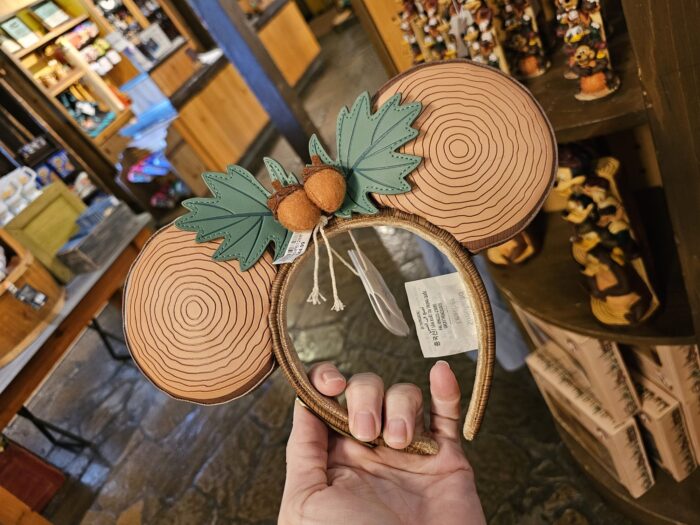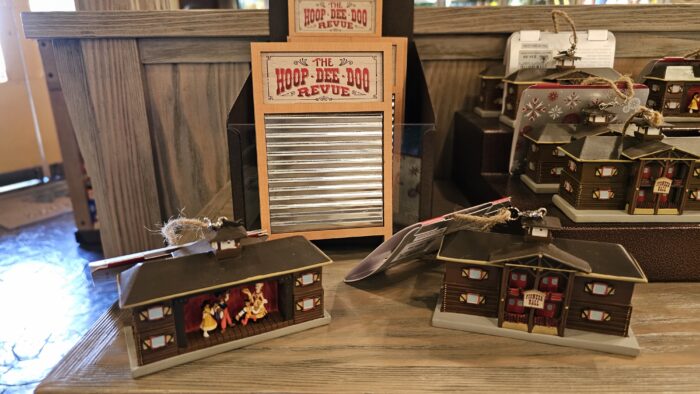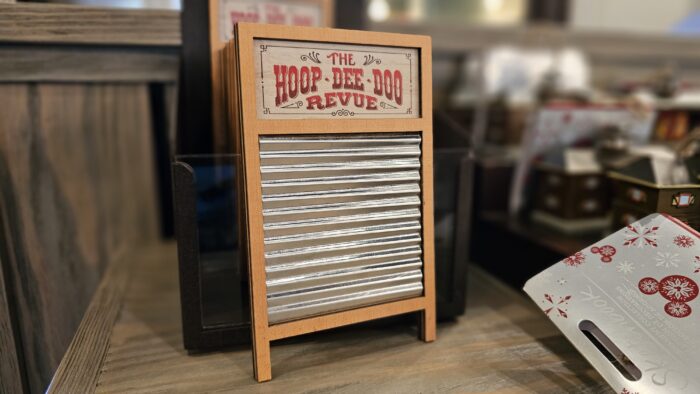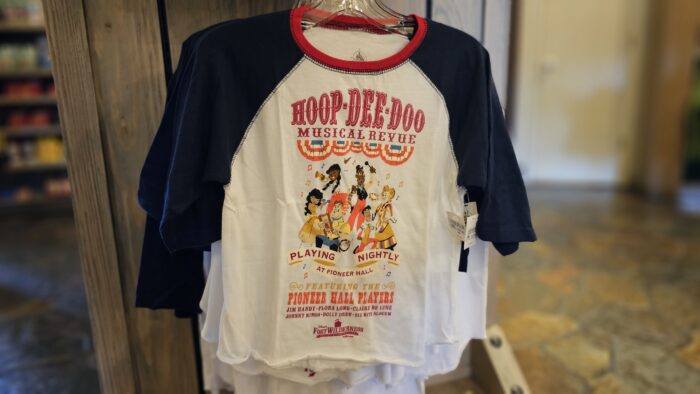 *How cool is this?!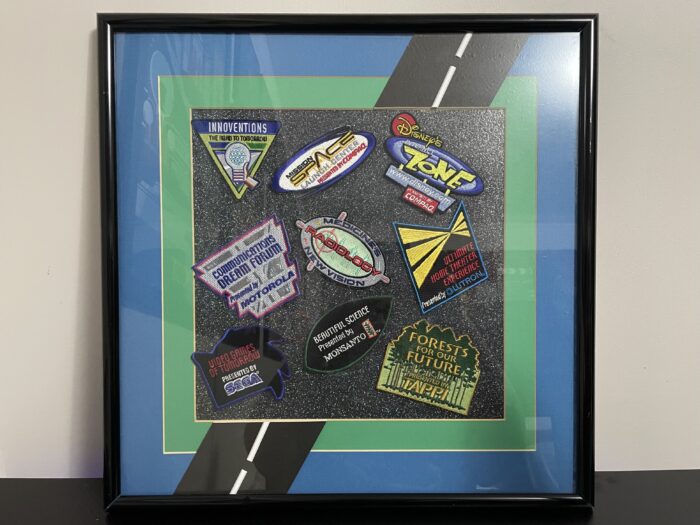 *SonderQuest Spotlight
Our boy Sondy was working hard this month producing some top notch art based on Disney's Animal Kingdom, including this drawing featuring the infamous Animal Kingdom Poop Snacks.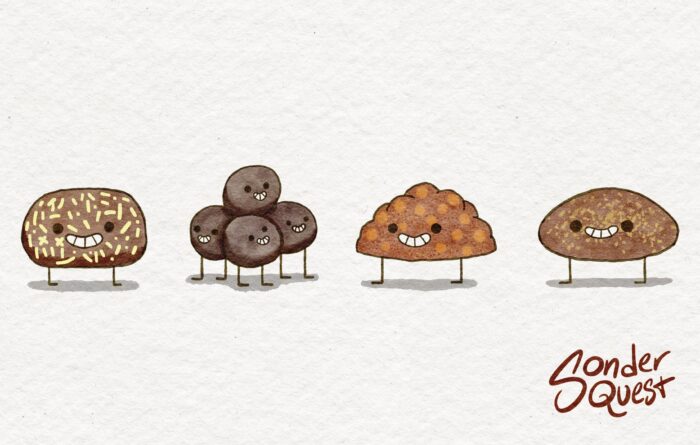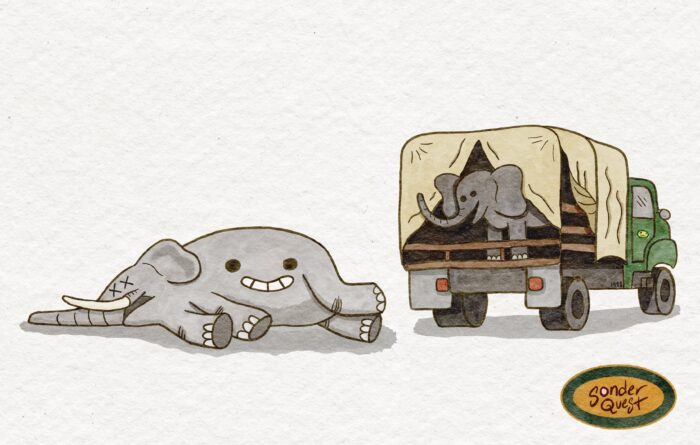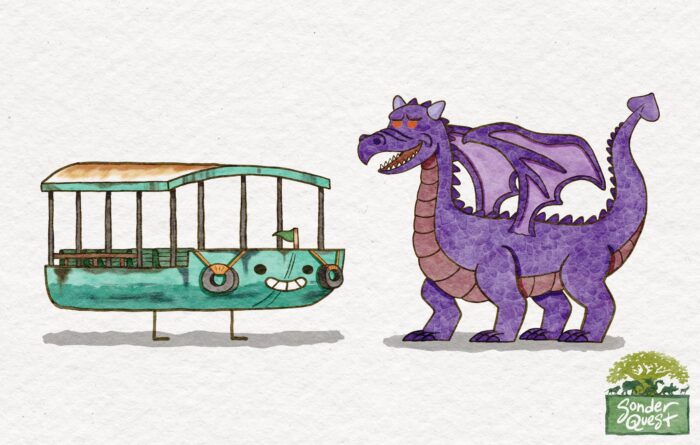 In our article on the Best Replacements in Theme Park History, we wrote about New Fantasyland replacing Mickey's Toontown Fair in Disney's Magic Kingdom. Well, one of the things you could see in Toontown fair was Minnie Moo, a cow who had a "hidden Mickey" birthmark.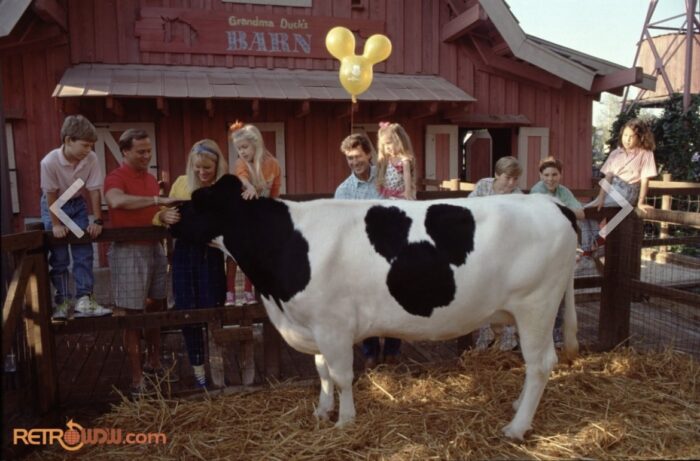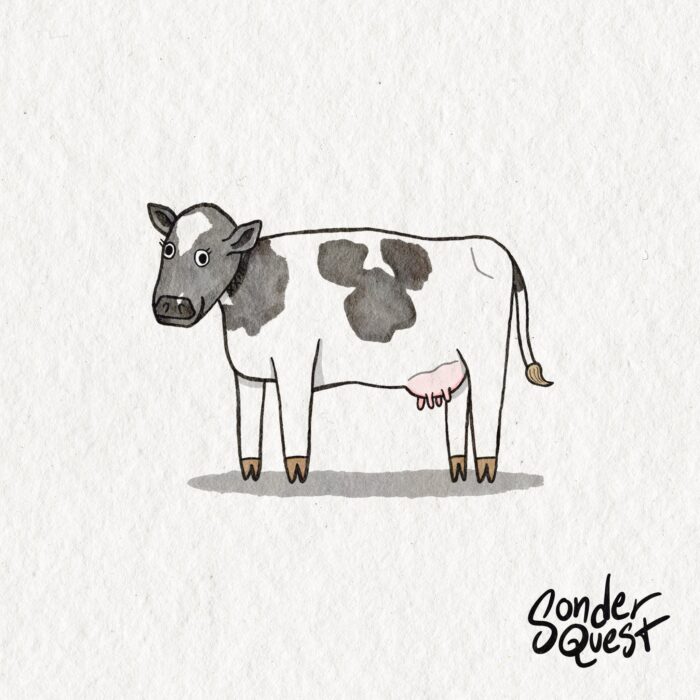 Sondy was also out and about and noticed that the latest edition of The Unofficial Guide to Walt Disney World was out. This invaluable book features a brilliant photo of Tron Lightcycle Power Run that was taken by another one of TPEI's favorite theme park photographers, Ivonne Ramos!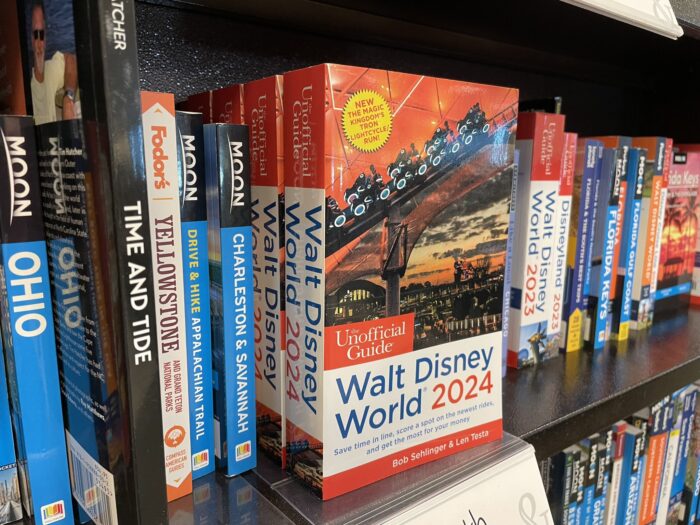 *LEGO Corner
We are truly blessed in this community to have so many talented people in it. You've seen me previously praise the work of @TheHorizoneer and his terrific theme park recreations in LEGO form, and this month he blew me away again with this awesome Seven Dwarfs Mine Train ride vehicle. The kit is already sold out on his ETSY STORE, but you should still go there and check out his other work as this guy is working on another level. I mean, c'mon, a ride vehicle from Guardians of the Galaxy: Cosmic Rewind?  A Time Rover from Dinosaur?! A Jungle Cruise "Backside of Water" set?! Love 'em all.

*Rest In Peace, Pee Wee
After TPEI went to press last month, the world lost actor Paul Reubens on July 30th.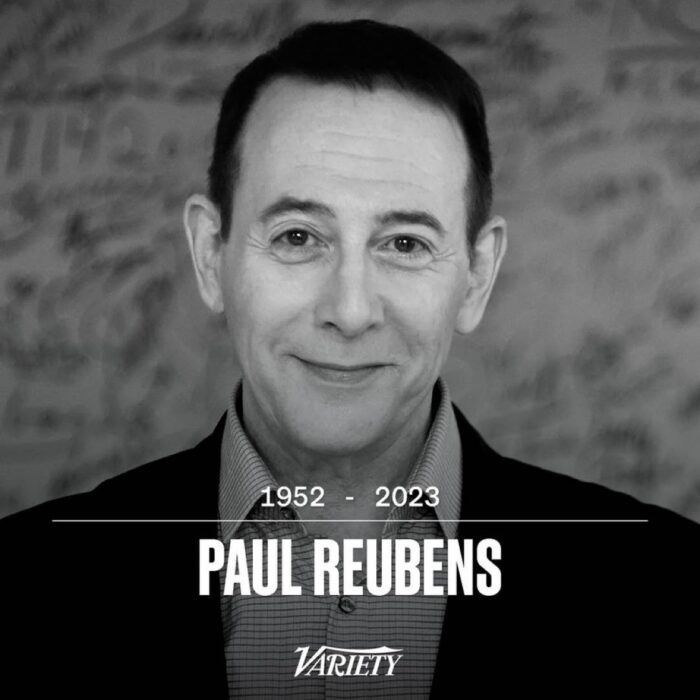 Paul Reubens – best known as Pee Wee Herman – has made several appearances at Disney parks over the years, most notably as the voice of droid RX-24 in the original Star Tours attraction. It's almost unfathomable to look back at how popular the Star Tours attraction was when it made its debut. In fact, Disneyland stayed open for 60 STRAIGHT HOURS when the ride originally opened in California. We didn't get Luke Skywalker in the ride. We didn't get Han Solo. We didn't get Princess Leia. What we did get was droid RX-24 – affectionately known as Rex – and he was great.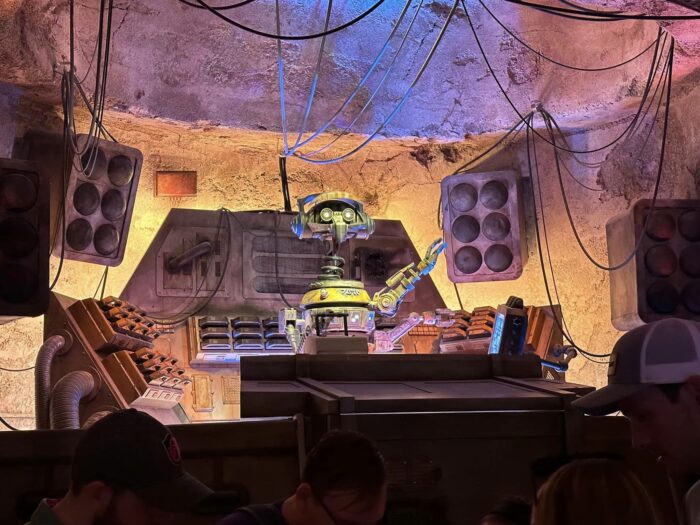 For me personally, I grew up on Pee Wee Herman. I watched his television show and constantly re-watched his movies. Pee Wee's Big Adventure is undoubtedly in my Top Ten Films of All Time List just based on the amount of times I have seen it and all the lines I can directly quote from it. The film has nowhere near that type of impact on the rest of the world, but it's meaningful enough to me that I have constantly referenced it in articles over the years.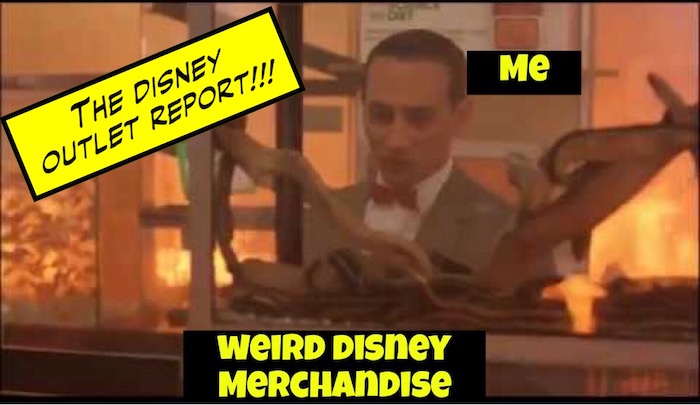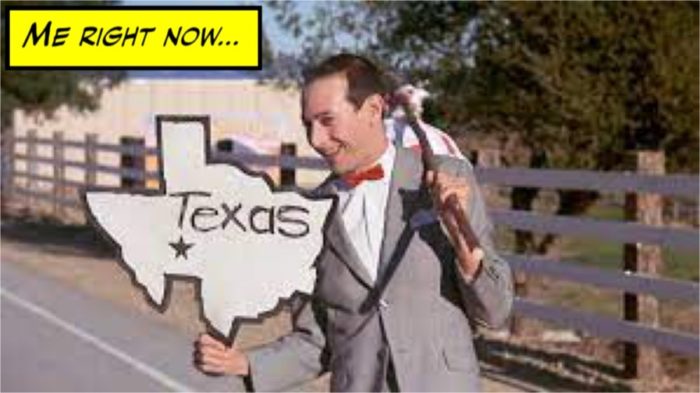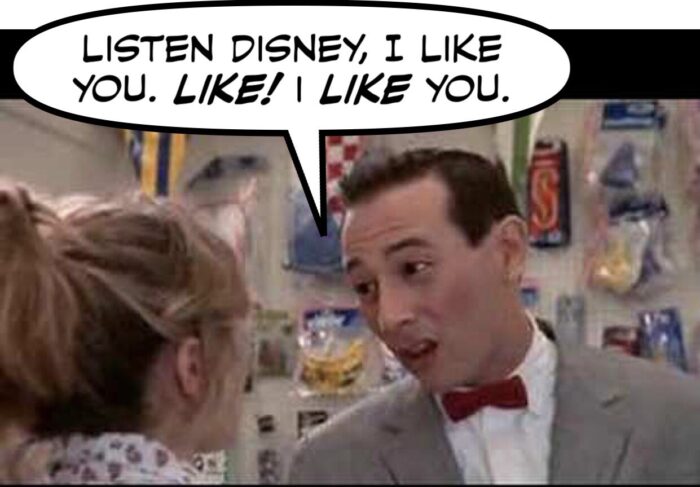 Last month's Theme Park Enjoyment Index: 57
This month's net change: + 11
Current enjoyment level: 68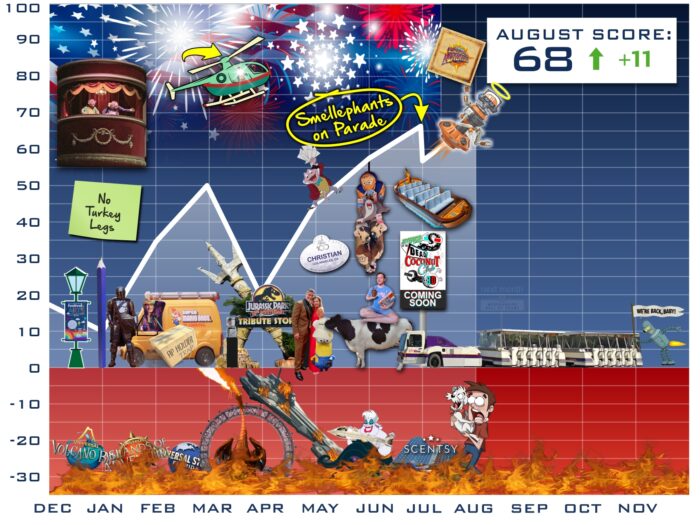 Writer Derek Burgan, when not cleaning Len Testa's pool, can be found reading comic books, watching professional wrestling, organizing his various Tsum Tsums in alphabetical order, and taking his dog Bacini to Universal and Disney.. He will not, we repeat not, be found at a Disney Outlet Store. An official DisTwitter Influencer, you can interact with him @derekburgan
Digital Artist Scott Walker hails from Scotland and is the fifth most famous person from this country following Alexander Graham Bell, Ewan McGregor, Gerard Butler, and Groundskeeper Willie.