2023 Tokyo Disneyland Trip Planning Guide
In this 2023 Tokyo Disneyland Trip Planning Guide we'll cover all aspects of planning a trip to Tokyo Disneyland and Tokyo DisneySea. This post will break down the trip planing process in steps and cover the best ways to save money on airfare, when to visit, how to pick the right hotel, how to buy park tickets, transportation in Tokyo, and anything else we think will help you along the way. This Tokyo Disneyland Trip Planning Guide is a condensed version of our full Tokyo Disney trip planning site, which you should absolutely check out if you want to go more in depth on every aspect of Tokyo Disney Resort. As you start exploring TouringPlans for Tokyo Disney, I recommend starting at the overview pages for Tokyo Disneyland and Tokyo DisneySea.
Before we get started, Tokyo Disney Resort's official website is extremely picky with US credit cards. Purchase your Tokyo Disney Resort tickets easily and securely with Klook. We've used them for years and they're fantastic. Using our Klook link supports keeping this guide updated.
Last updated 7/25/23
Step 1: When to visit Tokyo Disney Resort
Tokyo Disney Resort, or TDR, is always going to have huge crowds and high wait times, especially on the weekends. I've spent thousands of hours in the American Disney parks but have never seen anything like the crowds during a weekend in Tokyo Disneyland. With that being said there are a few times out of the year where crowds are smaller than they usually are, but this luxury may come at the cost of poor weather or multiple attraction closures due to refurbishments.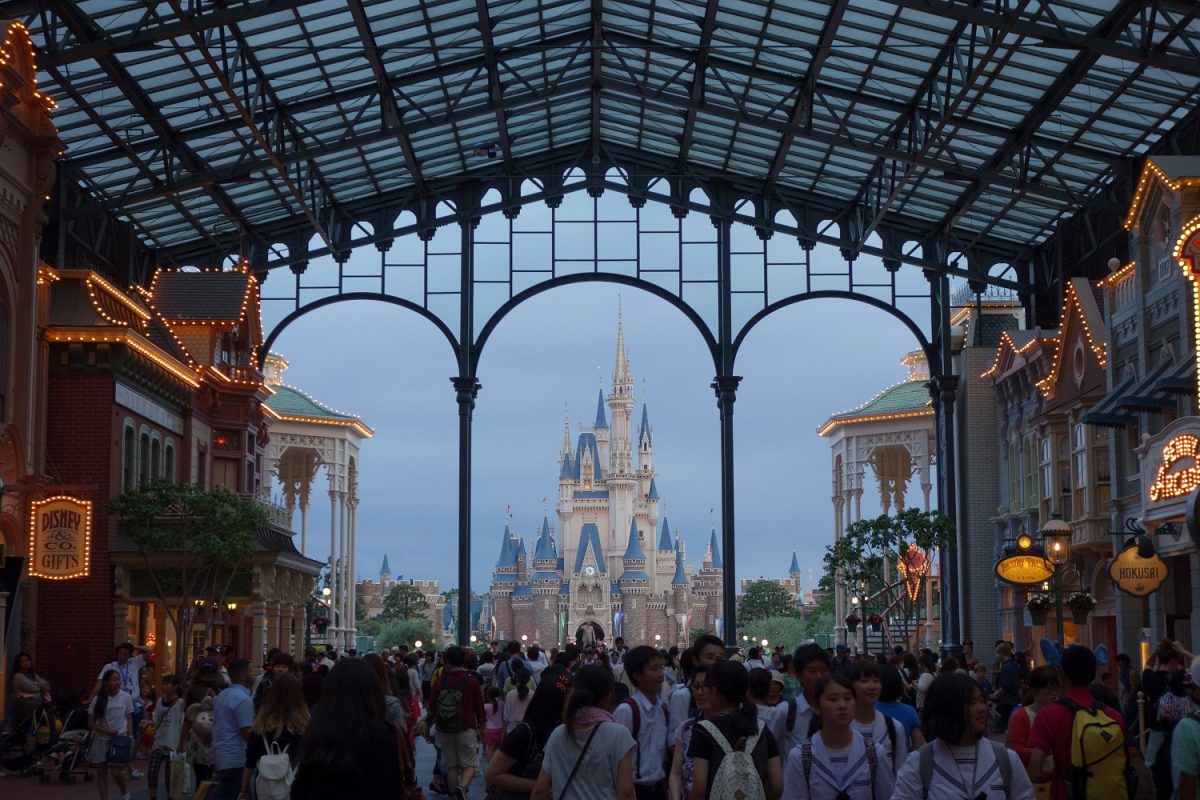 The end of May has pleasant weather and mid-level crowds. I've visited Tokyo in mid-January. We found the weather to be absolutely frigid, especially to a wimpy Southern Californian like myself. Temperatures were in the low 30s, which doesn't sound bad. But it's made much worse by the constant freezing wind that blows in from the surrounding Tokyo Bay. (Tokyo Disneyland is built on landfill inside Tokyo Bay and is surrounded by water on three sides.) On the plus side the crowds were very light on most days of the trip. This was the least busy I have ever experienced TDR.
In April the crowds during the weekdays are light but there's usually several marquee attractions closed for refurbishment. Some entertainment is also dark during this time, like Tokyo Disneyland's parade. Obviously missing out on Pirates isn't a big deal for most frequent Disney theme park visitors, but Harmony in Color is a fantastic parade that I recommend seeing. During June the crowds are mid-level during the weekdays but there was also constant rain and humidity.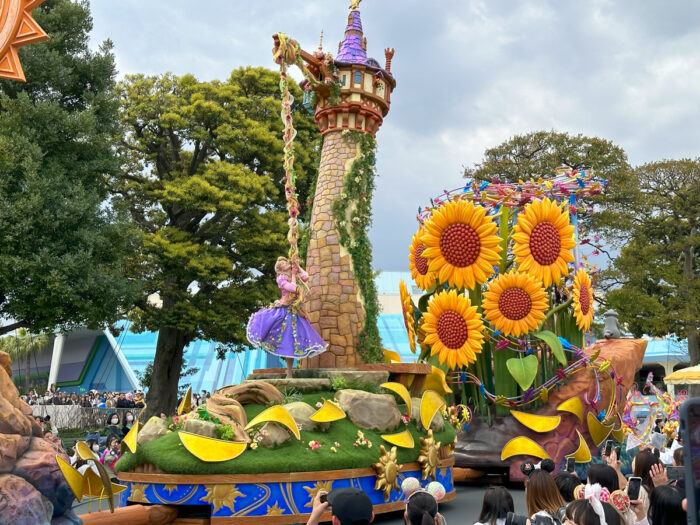 It's important to adjust your expectations for wait times no matter when you visit TDR. Even if the crowds are "low" you're still going to be waiting over a half hour for marquee attractions like Pooh's Hunny Hunt. But that's a lot better than waiting 140 minutes on a busy day. The days you should absolutely avoid Tokyo Disney Resort is during public holidays in Japan. (Wikipedia has a helpful list.) Besides holidays I recommend avoiding the parks during weekends altogether. Use that time to see the rest of Tokyo (or other parts of Japan). There's a lot worth seeing and it's a fun city to explore even if you don't have any set plans.
There will be a seasonal celebration going on at Tokyo Disneyland and Tokyo DisneySea no matter when you decide to visit. These seasonal promotions are known for their large, multi-month celebrations with elaborate shows and parades. I've visited during the Halloween, Easter, and Christmas seasons and was surprised by the scope of it all. Tokyo Disney celebrates the main holidays like Christmas, as well as distinctly Japanese celebrations every now and then.
You're probably wondering how many days do you need to visit Tokyo Disney Resort to see everything. The answer I would give to any other Disney freak like myself is that any amount of days is not enough. But a more realistic answer would be three days. That way you have enough time to see as much as possible for each park on the first and second day, and then on the third day you can revisit some of your favorite rides, or see some shows and parades you may have missed the first time around.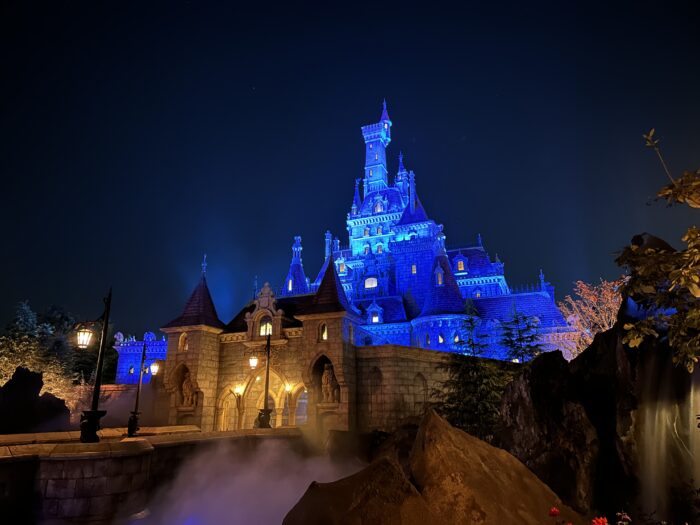 Step 2: Buy airfare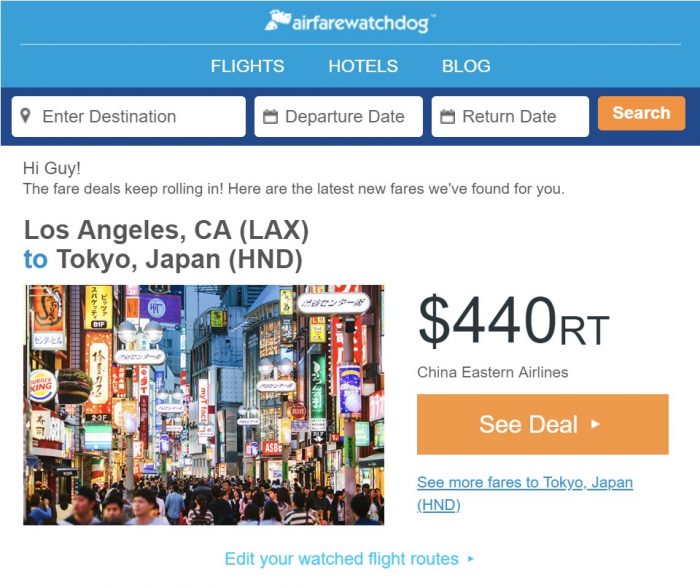 Airfare will probably be the most expensive hurdle you have to overcome to get to Tokyo. Luckily there are several tools you can use to save as much money as possible. I recommend using AirfareWatchdog.com's fare alert feature. To set up an alert, visit AirfareWatchdog.com and click on "My Alerts" at the top of the screen. Enter your email address and then select "City-to-City Fare Alerts" from the list. You will then be prompted to type in the departure city you want to travel to Tokyo from. After this you are asked how often you want to receive alerts. If you're really hardcore you can be sent travel alerts 7 days a week. I opt for the "2-3 time a week" alert option and was sent deals for as low as $440. Keep in mind that you'll receive deals with a wide range of travel dates. Some could require booking and travel within the next month or two, while other deals are for over six months down the line. For example, in 2017 I booked using an Airfare Watchdog alert about 7 months in advance.
Another tool to use is Kayak.com's fare forecast. To use this go to Kayak.com and click on flights. Enter the dates you are thinking about traveling and then search for fares. In the top left corner you will see there advice about if you should buy now, or wait. To test this out I'll type in a random date right now.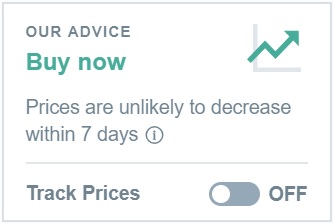 As you can see Kayak is advising me to buy the tickets now because their analytics say the price will go up in the next 7 days. Kayak bases their prediction on analysis of historical price changes, and they have a good reputation.
As far as airports, you'll either fly in to Haneda (HND) or Narita (NRT). Narita is the more common of the two for flights coming in from the U.S. If you have the choice, I'd pick flying in to Haneda because it's both closer to Tokyo and closer to Tokyo Disney Resort. But if there is a large different in cost, go with whichever is cheaper.
If you don't live in a major "gateway city" your airfare to Tokyo may be a bit more expensive. Something you may want to consider is buying the cheap airfare you find departing from the gateway city nearest you, and then looking for another cheap airline ticket to the gateway city.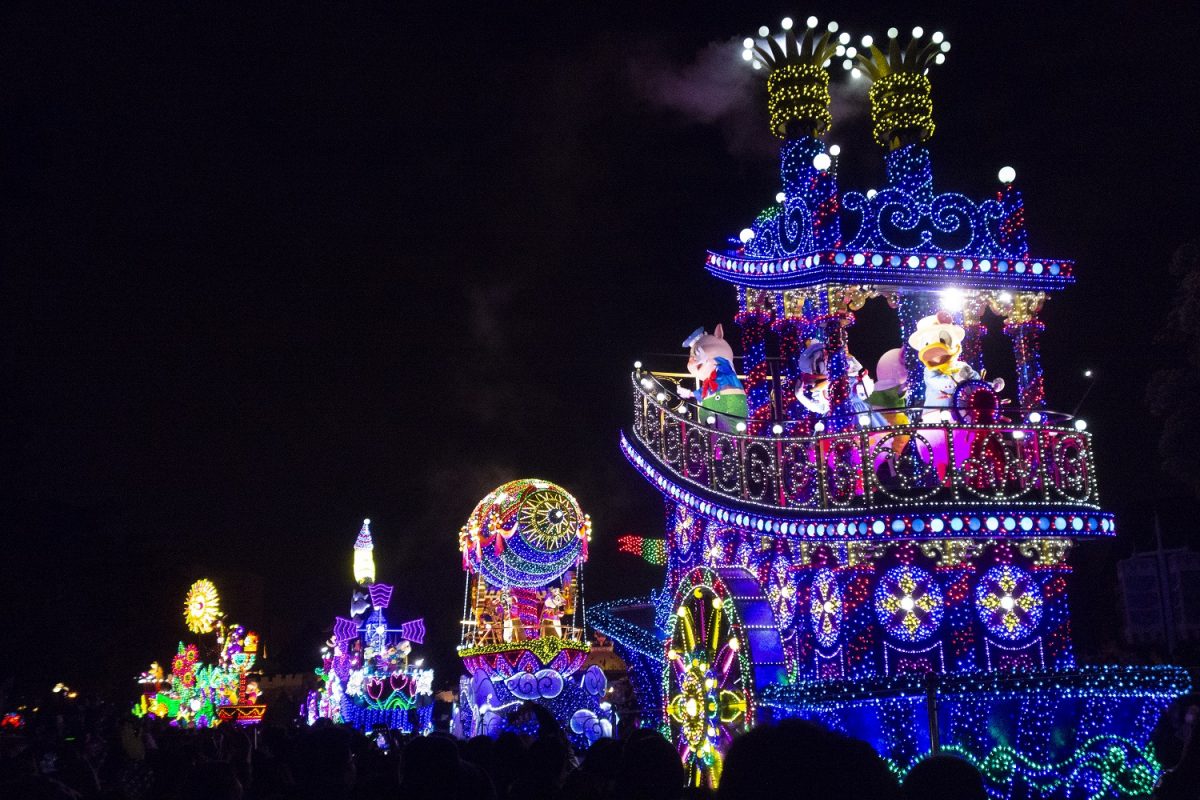 Step 3: Selecting a hotel
The first thing you must decide when selecting a hotel is if you want to stay on-site or off-site. A huge benefit of staying on-site is that all hotels in Tokyo Disney Resort (both the three Disney-branded hotels, and the six non-Disney hotels) have easy access to the Tokyo Disney Resort Line, aka the monorail. This is great because it means you don't have to take a train in from the city every morning and then transfer to the monorail before entering the park. You can simply make the 5-10 minute walk (or take the complimentary shuttle) from your hotel to Tokyo Disney Resort Line's Bayside station, and then ride the monorail to the front entrance of Tokyo Disneyland or Tokyo DisneySea. It's incredibly easy and fast, and getting in line to enter the parks as early as possible is crucial if you want to beat the crowds.
The two non-Disney on-site hotels that are most convenient for foreign travelers are Sheraton Grande Tokyo Bay and Hilton Tokyo Bay. Both offer large rooms, staff that is fluent in English, good amenities, and are the two hotels closest to Tokyo Disney Resort Line Bayside station. If the prices between the two were the same I'd go with Hilton Tokyo Bay due to its large, and more modern looking rooms, but you can't go wrong either way. You'll be paying a slight premium to stay at these two hotels. Prices on the Hilton and Sheraton can range anywhere from $150 during some parts of the year up to $500 during the busy times of year. We have video room tours of the Hilton Tokyo Bay and Sheraton Grande Tokyo Bay on our YouTube channel. The other four hotels on-site (Sunroute Plaza Tokyo, Tokyo Bay Maihama Hotel, Tokyo Bay Maihama Hotel Club Resort, Hotel Okura Tokyo Bay) are owned by Japanese companies and have varying levels of quality. The only one of these four hotels I've stayed at is Hotel Okura. Okura's rooms were a bit dated, but clean and spacious. The only problem I had was that the beds were rock hard. This has been my experience in many hotels that are Japanese brands. We have a video room tour of Hotel Okura Tokyo Bay here.
The benefit of staying off-site is, of course, the lower price per a night. But then you'll have to rely on public transportation to get in and out of the resort. There are plenty of good, affordable hotels with a short train ride to TDR. Another off-site option is Airbnb. This will save you the most money, especially if you're traveling during a busy tourist season like Summer or during cherry blossoms season when hotel rates skyrocket. Airbnb will be the cheapest option of all, plus you'll be staying in someone's actual apartment/house, so you'll get a taste of how the locals live.  If you want to save as much money as possible, and the thought of riding in and out of the resort on busy trains or buses does not bother you then you should go with the off-site option. Overall, it's cost versus convenience. During my trips to Tokyo my travel party stays in one of the on-site hotels during the week we are visiting TDR, and then moves to an Airbnb during the weekends. Moving luggage around is a bit of a pain but we've saved hundreds of dollars using this method.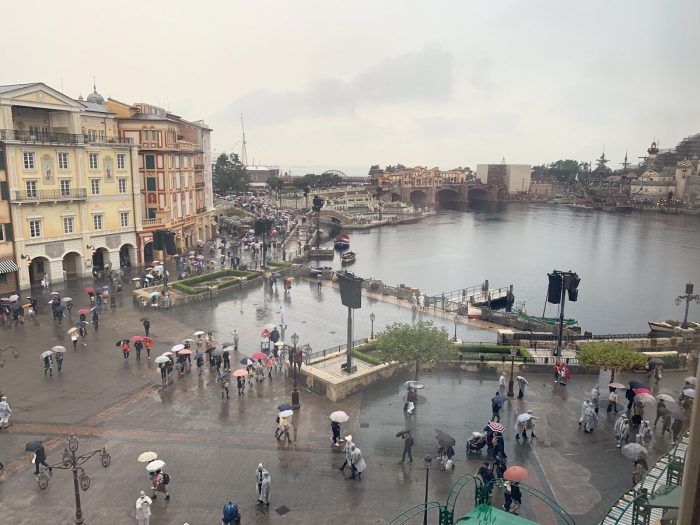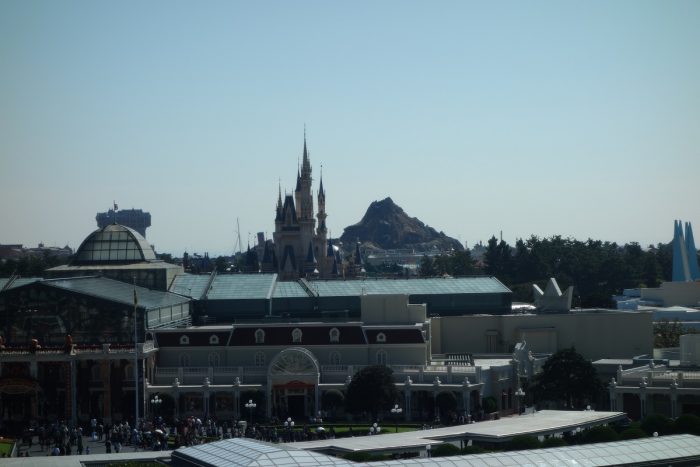 The third and most lavish option is staying on-site in one of the three Disney hotels, Tokyo Disneyland Hotel, Tokyo DisneySea Hotel MiraCosta, or the slightly cheaper option, Disney's Ambassador Hotel. The benefits of these include incredible views of the parks, the closest possible distance to the parks, free Tokyo Disney Resort Line tickets (yes, the monorails cost a couple of dollars to ride), and 15 minutes early access to the parks (called "Happy Entry"). Fifteen minutes may not seem like a lot but it'll give you just enough time to beat the huge crowd of thousands of people running towards rides like Enchanted Tale of Beauty and the Beast. The official Disney hotels also have the nicest theming by far, including special rooms decorated after Alice in Wonderland, Beauty and the Beast, and other Disney classics. You'll pay a large price to stay at these hotels, usually in the $500 per a night range. In 2014 during my first trip to TDR my group of 4 decided to splurge and stay 3 nights in the official Tokyo Disney hotels (after staying at Hilton Tokyo Bay for the first 4 days of the trip), which ended up costing around $650 a night for theme park view rooms. As you can see from the pictures the view was incredible, especially at Hotel MiraCosta which is actually inside DisneySea. We have video room tours of Tokyo Disneyland Hotel and Hotel MiraCosta (note that MiraCosta's rooms have been refurbished since we recorded that video) on our YouTube channel.
I see a lot of confusion with people regarding room categories with Hotel MiraCosta. I made this map to help you get a better idea of where room categories are located and what kind of view you can expect to see from them: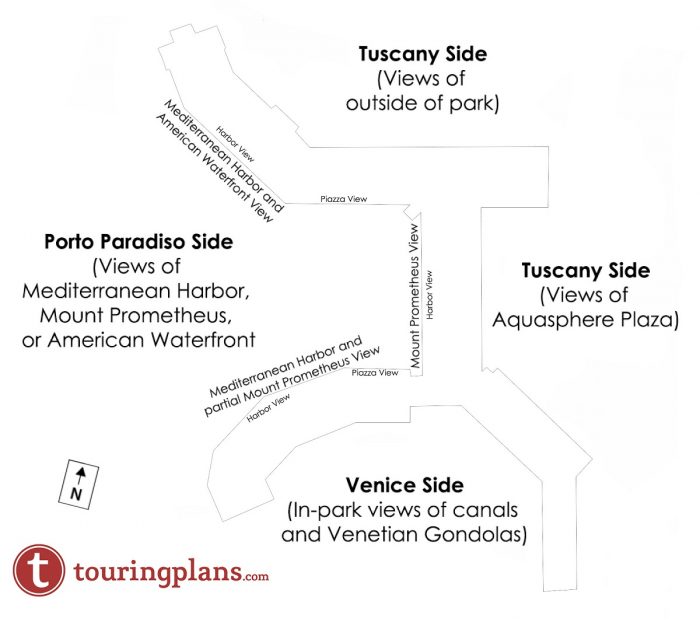 There is another official Tokyo Disney Resort Hotel, Tokyo Disney Celebration Hotel, but we don't see many positives to staying there. It's cheaper than the other officials hotels, but the rooms and hotels are bare bones, and most importantly they are located outside of the resort. Walking to the parks from Celebration Hotel isn't impossible; it would just take over an hour and a half. Instead, Celebration Hotel offers free shuttle buses that take about 15 minutes to reach the parks. Rack rates for Tokyo Disney Celebration Hotel range from around $200 USD to $450, depending on the time of year.
Tokyo Disney Resort Toy Story Hotel is another official Disney hotel. It is located on-site, but it's in the cluster of on-site hotels that are not owned by Tokyo Disney Resort. We like the theme, and the close location to the Tokyo Disney Resort Bayside Station (the resort monorail station), but it's significantly more expansive than its neighboring hotels. Save the money and visit the grounds and lobby of the Toy Story Hotel if you want to take a look.
The non-Disney on-site hotels (Hilton, Sheraton, etc) can all be booked via each hotel's website, or any third party sites like Expedia or Priceline. The official Tokyo Disney Resort hotels need to be booked on the Tokyo Disney Resort Online Reservation & Tickets website, which is in full English. Please note that the official TDR hotels sell out extremely fast, sometimes as soon as the reservation window opens, which is 9 AM (JST), six months before your arrival date. When your reservation window opens, be ready and waiting at your computer.
Step 4: Buy your tickets
Tickets can be purchased at any of Tokyo Disney Resort ticket booths in front of Tokyo Disneyland and Tokyo DisneySea, but you can also purchase them online via the Tokyo Disney Resort Online Reservation & Tickets website. If you live outside of Japan, and purchase your tickets from home, your only option will be to print out the tickets, so be sure you have a printer with plenty of ink available. TDR recommends printing tickets on non-standard A4 size paper, but I've printed tickets using regular sized paper with no problem (your mileage may vary). Like I said before, you can also buy the tickets at the park but remember that some busy days may sell out and no more tickets will be sold. When you purchase TDR tickets you will be required to enter the dates in which you will be using the tickets. These dates cannot be changed, so if you're going April 15 your ticket will only be valid April 15. Multiday tickets are currently not being sold for Tokyo Disney Resort. They have been sold in the past and we hope they will return in the future.
How to buy Tokyo Disney Resort Tickets in the US
Tokyo Disney Resort's official website is extremely picky with the type of foreign credit card it will accept for payment. Klook is a way to bypass this. They're a travel discount website like Priceline, and are reputable. Please use our link. It supports keeping this guide updated.
Current Tokyo Disney Resort Ticket Prices:
1-Day Passport
Adult
7,900 yen – 9,400 yen

Junior
6,600 yen – 7,800 yen

Child
4,700 yen – 5,600 yen

Fixed Date and Time Passport (from 10:30 a.m.)
Adult
7,400 yen – 8,900 yen

Junior
6,200 yen – 7,400 yen

Child
4,400 yen – 5,300 yen

Early Evening Passport
Adult
6,500 yen – 7,400 yen

Junior
5,300 yen – 6,200 yen

Child
3,800 yen – 4,400 yen

Weeknight Passport
Adult
4,500 yen – 5,400 yen

Junior
4,500 yen – 5,400 yen

Child
4,500 yen – 5,400 yen

Step 5: Transportation
When you arrive at Narita or Haneda you'll need to find a way to get to TDR — luckily you have a lot of options. My favorite option is Airport Limousine Bus, which you can find outside of the airport (follow the signs or ask the information desk if you need directions). Tickets are around $20 and can be purchased at the Limousine Bus desk, or at automated ticket machines near where the bus loads. The travel time from Narita to TDR is around 60 to 90 minutes, while the travel time from Haneda to TDR  is 30 to 60 minutes. You can also take the Limousine Bus back to the airport from any of the Tokyo Disney Resort on-site hotels. Tickets can be purchased from the front desk. The major downside to Limousine Bus is that the buses leaving TDR hotels stop running around 5 PM. Buses going to TDR from the airports stop around 7 PM.
Your other option to/from the airport is to use public transportation. This will be your cheapest option, but also the most intimidating to first time visitors. If you rent a mobile WiFi hotspot and pick it up from the airport (which you should absolutely, 100%, beyond a shadow of a doubt do) you can use the greatest invention of all time for travelers, Google Maps! Just type in Tokyo Disney Resort in to Google Maps and it will tell you the exact lines to take, how many stops between you and your destination, when to transfer, and the expected travel time. It works great and I wouldn't be caught dead without it. If you've never been to Japan before and you're considering using public transportation to get to your hotel from the airport, consider this: You've just been on a plane for over 10 hours, you spent at least 40 minutes going through customs, and maybe another 30 minutes picking up your bag, you're exhausted and maybe not thinking clearly, and after all that you know have to use a complicated transportation system with multiple stops and transfers between you and your destination. This may not be a big deal to some people, but to others it will be.
Another option is to use a taxi, which is both the fastest and the most expensive. Make sure you're sitting down for this one, the cost of a taxi from Narita airport to Tokyo Disney Resort can run around $150 for a one way trip, or over $200 if you travel between 10 PM and 5 AM.
When you're in Tokyo Disney Resort you can travel around via the Tokyo Disney Resort Line, aka the monorail. There are four stops, Resort Gateway Station (which is next to Maihama railway station), Tokyo Disneyland Station, Bayside Station (where all the non-Disney on-site hotels are located), and Tokyo DisneySea Station. Tickets cost a couple of dollars a day. The monorail runs daily 6 AM to 12 AM.
We have a page dedicated to Tokyo Disney Resort transpiration located here.
Step 6: Rent some mobile WiFi hotspots or simcards
The frivolous reason you should get a mobile WiFi hotspot is to share your experience on social media. Show people how much fun you're having exploring Mysterious Island in DisneySea, or maybe you'll want to show off the weird food item you just ate (bean paste and chocolate ice cream on top of mango shaved ice? Ok!). Some people like to go on vacation and disconnect from the world. I am not one of those people. The serious reason why you need to be connected to the internet is that you're in a foreign country, obviously. What if you get lost in the city and can't find your way back to the hotel? What if you need to let your mom know that you arrived safely? It's not too expensive and free public WiFi isn't easily found outside of your hotel, so for all those reasons I think renting a WiFi device is a necessity. You won't be able to make calls or send regular texts, but iMessage (on iPhone) works, as well as any other app that uses the internet. Using iMessage to communicate with the rest of my group played a crucial roll making sure none of us got lost during the times we got separated, plus having access to the internet killed time when we were in all those long attraction lines.
So far I have used Globaladvancedcomm.com during all my trips and have had zero problems. When you're at home you can reserve a WiFi device, or sim card if you have the right kind of phone, and then pick up the package from the post office inside the airport after you arrive in Tokyo. At the end of your trip when you're leaving Tokyo you can simply drop it off in any post box. They provide the packing material and the postage is already paid. It's very easy. The price as off the time this post was published is about $75 a week. I recommend renting one WiFi device for each person in your party because there will be times when groups get separated.
There are other options to rent WiFi devices, such as B-Mobile, which a lot of people recommend. Several shops inside the Tokyo airports rent WiFi devices and simcards but I found these to be expensive and severely lacking in the amount of data you can use.
Step 7: Get some foreign currency (or inform you credit card company about your trip)
Check with your bank to see if they offer currency exchange. Some banks will have online order forms where you can exchange money directly from your bank account, and they will then send the money in the mail. From my experience, most banks do not have Japanese yen on hand to do the exchange in person, but maybe yours does. Keep in mind that most banks will charge a small transaction fee when you exchange currency. Your local airport may have a kiosk where you can exchange currency, but these are infamous for their high fees.
If you don't want to carry around cash, all of the shops and restaurants in Tokyo Disney Resort take standard US credit cards. Some shops and restaurants outside of the resort require credit cards with the "Smart Chip" inside. You will not be able to purchase anything from these retailers if you do not have a credit card with a smart chip. No matter what kind of credit card you have, be sure to call your bank before you leave home and let them know you will be traveling. If not, your credit card will probably immediately be blocked for suspicious activity. Another thing you want to watch out for is your credit card's foreign transaction fee.
The credit card we recommend for travel is the Chase Sapphire Preferred, which has no foreign transaction fees and earns you 2 points on dining and travel per $1 spent, as well as 1 point per $1 spent on everything else. When you redeem points through Chase Ultimate Rewards portal they're worth 25% more, and you can also transfer them at a 1:1 rate to many other loyalty programs. There is a $95 yearly fee, but if you travel more than a couple times a year the points you earn more than make up for it. We can't say enough good things about this card. Use our affiliate link to sign up and see if there's any point bonuses.
If you run out of cash, there is an ATM in Ikspiari (which is basically Tokyo Disney Resort's Downtown Disney), which accepts American debit cards. It is located on the first floor, near the grocery store.
Step 8: Create your game plan for the parks
You've got your flights booked, hotel picked out, tickets purchased, internet on lock, and transportation is set. Now you need a game plan for the parks. Like we say for the American Disney parks, the morning hours are crucial for getting ahead of the crowds. Plan to arrive at least 30 minutes before park opening. Chances are that there will already be thousands of people in front of you, but don't let that scare you off.  You're going to want to run to a marquee attraction and ride it as soon as possible. For Tokyo Disneyland ride Enchanted Tale of Beauty and the Beast and then quickly move on to Pooh's Hunny Hunt. That way you'll have two the parks marquee/exclusive attractions knocked out within the first couple of hours of the day. After this you'll want to ride the other headliners as early as possible.
For Tokyo DisneySea, the vast majority of park guests will be running towards Soaring Fantastic Flight. The morning rush for that ride is insane. Because the ride is new it will be the first destination for many park visitors. That means lines will form early and remain long for the rest of the day. To ride with minimum wait we recommend arriving at the front gate 1 hour before park opening. Alternatively if you are skipping Soaring (you should definitely ride Soaring at least once during your trip) you may want to Journey to the Center of the Earth since it's unique to Tokyo DisneySea and it's spectacular. Disney Tourist Blog has fantastic 1-day touring plans for Tokyo Disneyland and DisneySea. 
Be sure to make use of single rider lines at both Tokyo Disneyland and DisneySea. At Tokyo Disneyland, Splash Mountain offers a single rider line. This is a big help because it's one of the most popular attractions in the park and not that many people use the single rider line so your wait will be very short. At DisneySea, Raging Spirits and Indiana Jones Adventure both offer single rider lines. There won't be any signs for single rider lines. To enter them walk up to the start of the queue and tell the cast member that you are a single rider. It should go without saying but you and your party will be split up if you use the single rider line.
Tokyo Disney Resort FASTPASS Changes
Tokyo Disney Resort no longer offers FASTPASS. In its place are Premier Access and Priority Pass, which are similar.
Tokyo Disney Resort Disney Premier Access
Disney Premier Access provides expedited access to certain attractions in both parks. This often saves a substantial amount of time waiting in line. The charge for each Disney Premier Access pass is between ¥1500 and ¥2500, about $10 to $15 USD. Guests can purchase one Premier Access pass per a ride, per a day. Premier Access purchases must be made in the official Tokyo Disney Resort app.
Disney Premier Access is offered at the following attractions:
Tokyo Disneyland
Disney Harmony in Color Parade – ¥2500
Tokyo Disneyland Electrical Parade Dreamlights – ¥2500
Enchanted Tale of Beauty and the Beast – ¥2000
The Happy Ride with Baymax – ¥1500
Splash Mountain – ¥1500
Tokyo DisneySea
Believe! Sea of Dreams Nighttime Spectacular – ¥2500
Soaring: Fantastic Flight – ¥2000
Toy Story Mania! – ¥2000
Tower of Terror – ¥1500
Journey to the Center of the Earth – ¥1500
Tokyo Disney Resort Priority Pass (formally known as FASTPASS)
Priority Pass is Tokyo Disney Resort's free ride reservation system. Reservations can be made as soon as the parks open for the day. After a reservation is made, you're given a return time with a 1 hour window. Priority Passes do run out, especially on busy days, so you should prioritize rides that are important to you. All Priority Pass reservations can be made in the official Tokyo Disney Resort app.
Priority Pass is offered at the following attractions:
Tokyo Disneyland
Star Tours: The Adventures Continue
Space Mountain
Buzz Lightyear's Astro Blasters
Pooh's Hunny Hunt
Haunted Mansion
Monsters, Inc. Ride & Go Seek!
Tokyo DisneySea
Aquatopia
Indiana Jones Adventure: Temple of the Crystal Skull
20,000 Leagues Under the Sea
Turtle Talk
Nemo & Friends SeaRider
The Magic Lamp Theater
Raging Spirits
What's New For 2023?
In 2023 Tokyo Disneyland is celebrating its 40th birthday. The celebration, called "Dream-Go-Round," will feature special decorations and food offerings in both parks. The biggest part of the celebration is a new parade called "Disney Harmony in Color."
Disney Harmony in Color cavalcade of characters include Tinker Bell, Vanellope and Ralph from "Wreck-It Ralph," Wasabi, Fred, Honey Lemon and Go Go from "Big Hero 6," and many more. Tokyo Disneyland's parades never disappoint, so we expect Harmony in Color to be a fantastic addition to the park.
What's new from the past few years?
In 2022, Believe! Sea of Dreams premiered as Tokyo DisneySea's new nighttime spectacular. The show is full of lasers, searchlights, projections, water effects, fireworks, and of course, Disney characters. Believe! Sea of Dreams takes place in the waters of Mediterranean Harbor and is a replacement for the park's version of Fantasmic!
In 2020 Tokyo Disneyland opened its newest mega E-Ticket ride, Enchanted Tale of Beauty and the Beast. Based on the 1991 classic film, Enchanted Tale of Beauty and the Beast takes riders through Beast's castle and recreations of iconic moments from the movie. Guests ride in giant teacups that make use of trackless technology (just like the one used in Pooh's Hunny Hunt). We expect Enchanted Tale of Beauty and the Beast to have huge crowds for the foreseeable future.
Also at Tokyo Disneyland The Happy Ride with Baymax opened in 2020, which is a spinning ride, similar to Alien Saucer Swirl in Disney's Hollywood Studios at Walt Disney World, or Mater's Junkyard Jamboree in Disney California Adventure.
Soaring: Fantastic Flight is Tokyo DisneySea's custom version of the popular ride from Disney California Adventure, Epcot, and Shanghai Disneyland. OLC says Soaring "will feature original scenes and the newest visual images." We do know that DisneySea's Soaring will feature a new original storyline where riders are greeted by the spirit of the fictional aviator, Camellia Falco. Guests are invited to ride on her newest invention, the "Dream Flyer." As with the other versions of the attraction, riders sit in rows of seats that lift in to the air, and are then suspended in front of a large screen. Guests then embark on a hang-glider tour with a large-format movie projected all around them. Special effects include wind, sound, and smell.
Mickey's Magical Music World is a new stage show in Tokyo Disneyland. It's the first show in the park's new state-of-the-art theater in the park's new Beauty and the Beast area.
Rules and Etiquette
Before visiting Japan, or any foreign country, it's good to get informed on some of the rules, cultural differences, and types of etiquette to remember during your visit. For example, tipping after a meal, taxi ride, or any other service is not expected and should not be done. Tipping is simply not something that is practiced in Japan, including Tokyo Disney Resort. Any tips you try and give will usually be refused. We go much further in-depth on the subject of rules and etiquette on our Tokyo Disney site.
Is Tokyo Disneyland "English friendly?"
I've been posting these Tokyo Disneyland guides for over 5 years now and one of the most frequently asked questions I get is: "How English friendly is Tokyo Disneyland?" or "Is there an issue with the language barrier?" or "Will I enjoy the parks if I don't speak Japanese?" along with many other variations of the same question. In my many visits to Tokyo Disneyland for both pleasure and to research for this website, I have never experienced any issues with communicating with the resort staff. As to be expected in a country that is not your own, most Tokyo Disney cast members will not fluently speak your native language. But, most will know enough to help you with whatever you need. If a cast member can't understand what you are asking, they will do their best to find a colleague who can. If you find that you are having difficulty communicating with a cast member, be patient, don't raise your voice, show respect, and anything you are asking will be handled in a short amount of time. Also keep in mind most cast members at ticket booths, guest services, and the hotels will usually speak fluent English. Will you enjoy the rides and shows if you don't speak Japanese? Yes. Themed entertainment uses visual storytelling. While some rides and shows are in English, most are not, but they're still just as enjoyable visually. Is Pooh speaking a little Japanese on Pooh's Hunny Hunt going to ruin your enjoyment of the ride? No, it shouldn't.
Food Recommendations
I love food and especially Disney food, luckily Tokyo Disney Resort has tons of great options. Twice now I have ranked every single snack and meal I consumed during my trips, and each time it's
been a ridiculously high amount (during my June 2015 trip the total number of food items I ate ended up being 25). Chances are that you aren't as crazy as I am, and you probably won't want to eat that much food, but your mouth and stomach won't be disappointed if you do. Some must try restaurants include Hungry Bear Restaurant (great curry), Magellan's (one of the best Disney restaurants on earth), Sherwood Garden Buffet (the best buffet on property), and Queen of Hearts Royal Banquet Hall (photogenic food items). There's also dozens of small snacks you'll want to try. When I'm in the parks I find myself examining the menu of every food cart and kiosk I pass in the hopes of finding some new delicious treat. Check out my previous 2014 and 2015 blog post on Tokyo Disney Resort food for more recommendations. Also check out these two videos I did with Tom Bricker where we try dozens of Tokyo Disneyland and DisneySea food items.
A word about Tokyo Disney merchandise
At some point you've probably seen a picture on someone's social media account of a really cool piece of merchandise that is exclusive to Tokyo Disneyland. "Tokyo Disney gets all the good merch!" is what you said to yourself. My advise is to adjust your expectations and assume that the cool merch item you saw in the social media post will be long gone by the time you get there. Sure, there will be a few items you'll want to pick up, but most of the items available heavily feature characters, or are souvenir tins filled with cookies or crackers. There are few, if any, items that simply say "Tokyo Disneyland" on them. Most merchandise at TDR comes and goes very fast, which is good and bad. Sorry if I sound harsh, I just don't want you to be disappointed. If you do find items you want, expect to pay more than you would in the American parks. For example, I bought a small Country Bear Jamboree plush keychain (which was only sold for less than one week) was a little under $17.00 USD.
Hopefully using the information in this Tokyo Disneyland trip planning guide you'll be able to plan the perfect Tokyo Disney Resort vacation. If you have been before I'd love to hear any tips or strategies you may have picked up while you were there. If you've never been, feel free to leave any questions or comments below.
Your Thoughts?
Are you a first time visitor planning a trip to Tokyo Disney Resort and have questions? Have you been before and have advice to share with other people? Let me know in the comments below. Also let me know about your favorite things about TDR, or what you're looking forward to seeing this year.