TouringPlans WDW Resort Tournament – Elite Eight
What an exciting round of voting! The total number of participants jumped up to 376. And the tournament is now much more contentious. Your votes determined which resorts are moving into the elite eight, and which will join the first 16 eliminated resorts in the Trash Heap. LOTS of upsets this round. But before we reveal the full results, let's highlight a few matchups.
Closest Matchups

The matchup that ended up the closest started out as a blow-out in favor of Kidani Village. BoardWalk Villas surged throughout the day. But at the end of the day, it wasn't enough. Kidani edged out BoardWalk Villas, 52.4% to 47.6%.

The next matchup didn't end up quite as close to 50/50. But it was the most hotly contested throughout the day. As late as 250 votes in, it was exactly evenly split.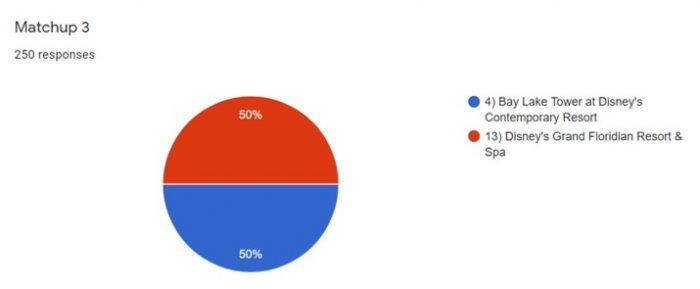 But at the end of the day, Grand Floridian beat out Bay Lake Tower 53.5% to 46.5%.
Biggest Blowout

This round, there weren't any 90:10 smack-downs. But there was one battle that was over almost before it began. Polynesian Resort took down Riviera Resort 77.1% to 22.9%.
Full Results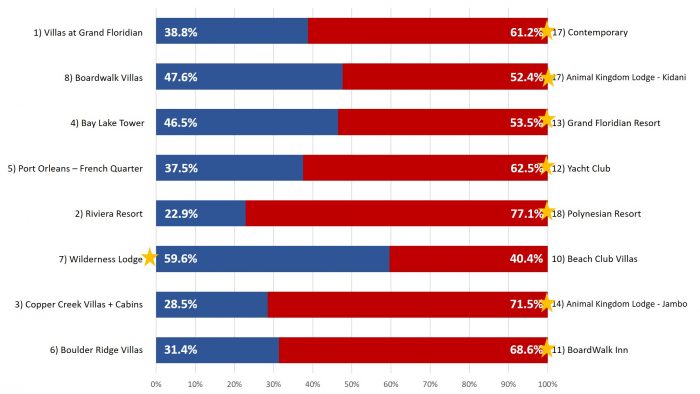 Your eyes aren't deceiving you. 7 out of the 8 matchups resulted in upsets! The drama! The intrigue! The exclamations! Going into the Elite Eight, the highest remaining seed is #7, Wilderness Lodge. Thankfully Wilderness Lodge winning will delight at least one survey-taker. Let's look at the hot takes:
"If Wilderness Lodge doesn't win, I'll riot" – Survey-taker, Mary
"It's not a surprise to me how Poly beat Riviera. When I looked at that matchup I thought 'iconic vs blah'" – New TouringPlans blogger, Jennifer Heymont
"AKL will always win against everything – even convenience" – Survey-taker, Abigail
"To me, the most odd thing about the way this turned out is that the Contemporary beat out the Villas at Grand Floridian, while people would apparently preser to stay at the Grand Floridian than the villas at the Contemporary, i.e., Bay Lake Tower." – James Rosemergy
"I don't understand how All-Star Sports didn't make it this far…" – Survey-taker, Gabriel (thank you, Gabriel, for making me chuckle)
The Tournament Continues
The Elite Eight survey will be open until 9:00 p.m. Eastern. Competition is fierce – will there be more upsets? Make your vote count! Tune back in on Monday to see which resorts make it to the Final Four of our WDW Resort Tournament. And if you're interested in all things Resorts, keep an eye on the blog tomorrow, when I examine the differences in guest satisfaction pre-pandemic vs post-reopening in the next installment of the By The Numbers series.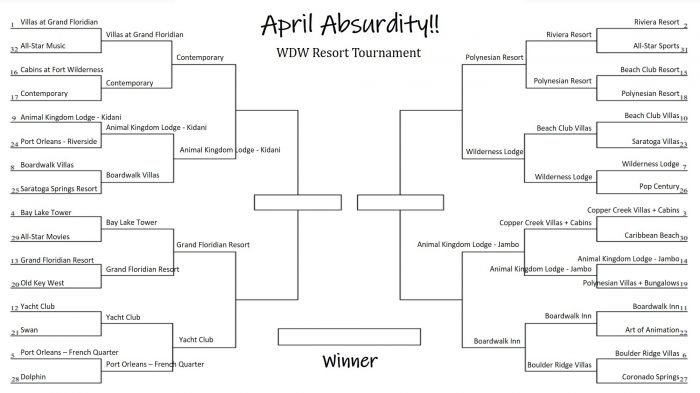 What are your reactions to the Elite Eight? Are your favorites still in contention? Were there any resorts that were robbed? Let us know in the comments.