Trattoria al Forno To Go or No?
Trattoria al Forno is an Italian-style restaurant located on the Boardwalk between the AbracadaBar and the Boardwalk Pizza Window.
The restaurant itself has three different dining rooms with an Old World feel complimented with rich reds and browns.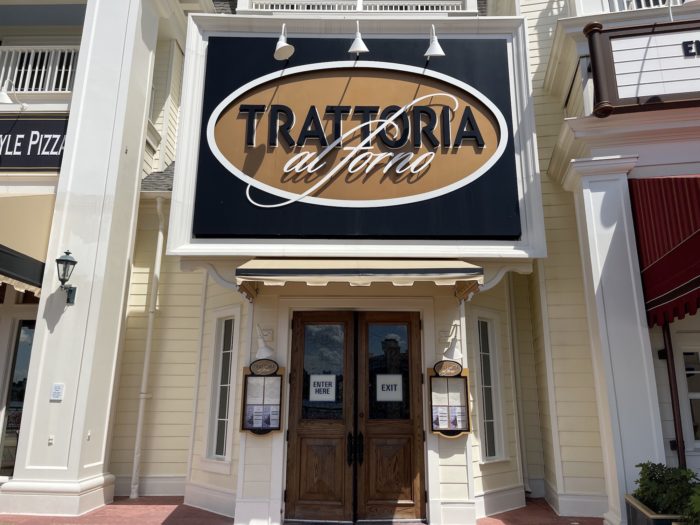 Before COVID-19, Trattoria al Forno was home to the Bon Voyage Adventure Breakfast character meal featuring Ariel and Prince Eric, as well as Rapunzel and Flynn Rider. That experience is currently suspended.
Due to safety precautions and limited restaurant capacity, several Disney World restaurants (including Trattoria al Forno!) have begun offering food to go. Our park reporter Chrissy recently dropped by the Boardwalk to try Trattoria's to-go experience to see if it's worth checking out on your trip.
What You Need to Know
Trattoria al Forno serves breakfast from 7:30 a.m. through 11:30 a.m. Dinner begins at 5:00 p.m. Both menus range in price from $15.00 to $34.99. In addition, both indoor and outdoor seating is available.
To-go orders can be placed on the My Disney Experience app. Chrissy secured a 5:00 p.m. slot before she drove to the Boardwalk Inn Resort. While non-resort guests are usually not allowed to park, Chrissy said she had no trouble at the gate when she showed her app order on her phone.
She pushed the "I'm Here Prepare My Order" button on the app at 5:00 p.m. on the dot. However, her food wasn't ready until 5:42 p.m. Once she got the notification it was ready, it took a few minutes to get the attention of a Cast Member in the crowded entryway to be able to pick up the order.
Once Chrissy picked up the meal, she also had to sort through all of the bags to make sure she had everything so it wasn't exactly the best pick-up experience. She also noted that no matter how you treat your bags and boxes, your items will be jostled and the presentation simply won't be what it looks like on the menu. Way less Italian Elegance and way more "Plopped on Plastic." This isn't a surprise for anyone who has been doing carryout for a while, but something to keep in mind if presentation is important to you. With those disclaimers in place, let's get to the menu and Chrissy's overall experience, shall we?
The Appetizers
Trattoria's appetizer menu is what you might expect from an Italian restaurant with items like Calamari, Bruschetta, salads, and Minestrone soup.
Kale Caesar Salad – $12.00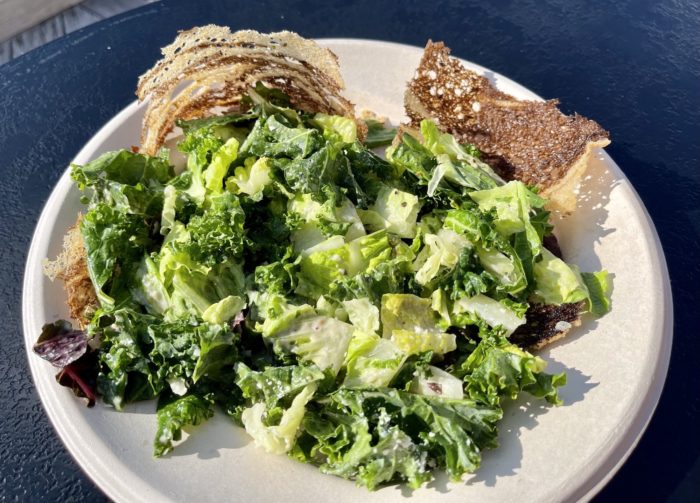 Chrissy says this salad looked gorgeous on the menu as it was pictured in a beautiful, formed bread basket. However, it didn't quite look like that when she opened the to-go container. Instead, it was cracked in half when she opened the box and was just a plain Caesar salad. Delicious and a good value, but not all that pretty.
Salumi – $15.00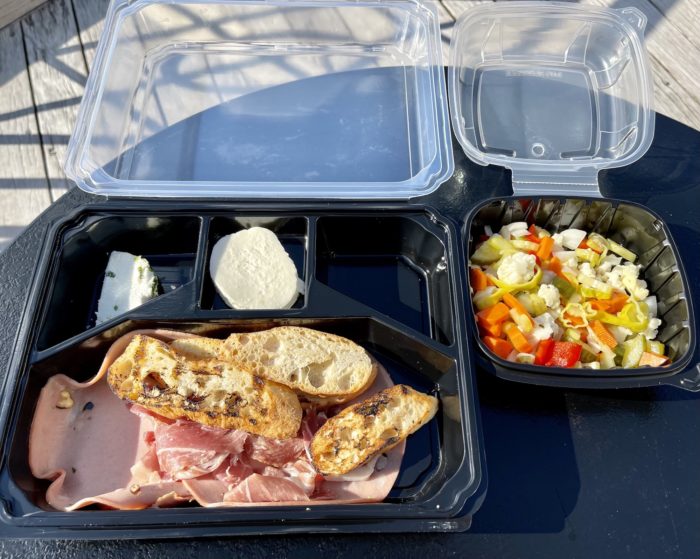 Described as cured meats, cheeses, and pickled harvest vegetables, this was a hard pass for Chrissy. The quart of pickled veggies was odd and felt cheap.  There are a TON of other charcuterie options at Walt Disney World offering better quality and at a better value.
While she admitted that the poor presentation likely clouded her opinion, nothing from this dish actually stood out flavor-wise. The bread was good, but the cheeses were only okay and simply not worth the money.
The Kids' Create-Your-Own Entree Menu
For kiddos, Trattoria al Forno's kids menu offers grilled white fish, grilled chicken breast, meatballs, and a Mickey cheese pizza or Mickey pepperoni pizza.
Mickey Pepperoni Pizza – $12.00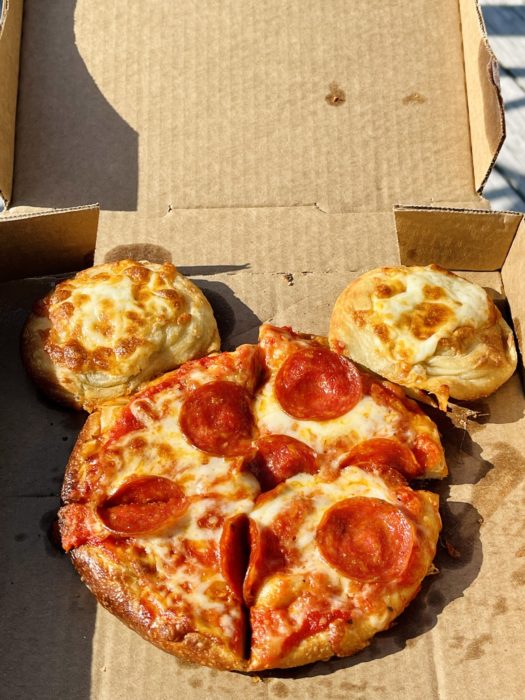 A Mickey-shaped pizza: you just have to order that, right? Chrissy's little one thought this was the greatest thing she had ever seen so the taste would have been irrelevant. The pepperoni was spicy for kids, and the ears were basically cheese and no sauce. But Chrissy's daughter loved it and has already asked for it again–proof positive that everything tastes better when Mickey shaped.
The pizza comes with the choice of two side dish "selections" and the choice of a small low-fat milk, a small Dasani water, or a small Minute Maid apple juice.
The Pizza Menu
In addition to Trattoria's entrees, the restaurant has a selection of pizzas that are baked in the restaurant's wood-burning oven.
Pizze Margherita Pizza – $19.00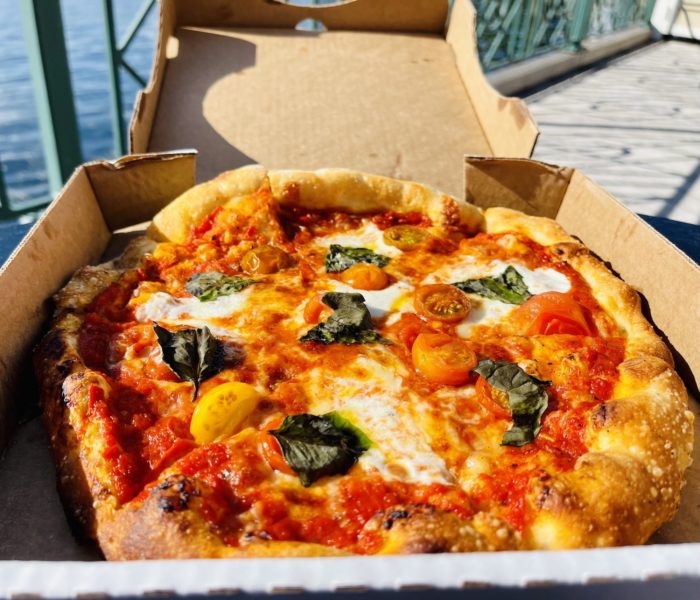 Chrissy says this was delicious. It was salty and chewy with good quality mozzarella and sauce. Basically, she loved it. By their nature, the pizza options are able to stand up well to the carry-out process, and so if you're looking to do a to-go meal from Trattoria, the pizza may be one of the better options.
The Entrees
Oak-grilled Strip Steak Florentine – $39.00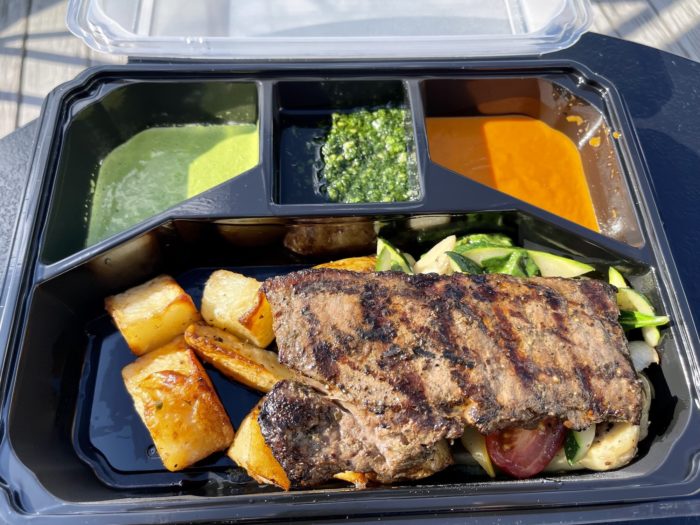 Served with hearth-roasted vegetables, olive oil potatoes, and Amarone butter, Chrissy said this steak was so good that she would consider going back to dine inside to see what the presentation would be like in person!
She ordered the steak medium rare with the expectation that it would be actually prepared medium. But it wasn't! It was a perfect medium-rare-pink inside with great sear, tons of flavor, and tender enough to cut with a plastic knife. Plus, it was Fred Flinstone-sized. Enormous, tasty, and a decent value!
Parmigiana di Pollo – $26.00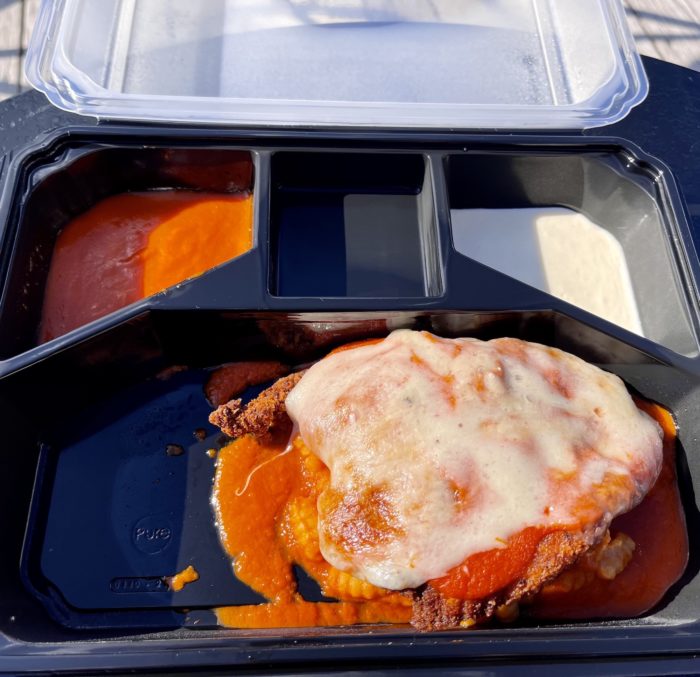 Described as breaded chicken breast, Parmesan-Reggiano, Provolone, and rustic tomato sauce, Chrissy said this dish was just decent. Still, the sauce was good and the breading was surprisingly crispy considering it was steaming in the container for around 30 minutes as she took pictures and video. But yeah, nothing remarkable. Stick with the pizza instead.
Other items on Trattoria's entree menu ranged from Veal Osso-Buco to Truffle Gnocchi to Lasagna al Forno.
The Desserts
Trattoria's dessert menu was a compilation of traditional Italian desserts like house-made gelato, Tiramisu, panna cotta, and the like. But Chrissy decided to go for the dark chocolate torta.
Dark Chocolate Semolina Torta – $10.00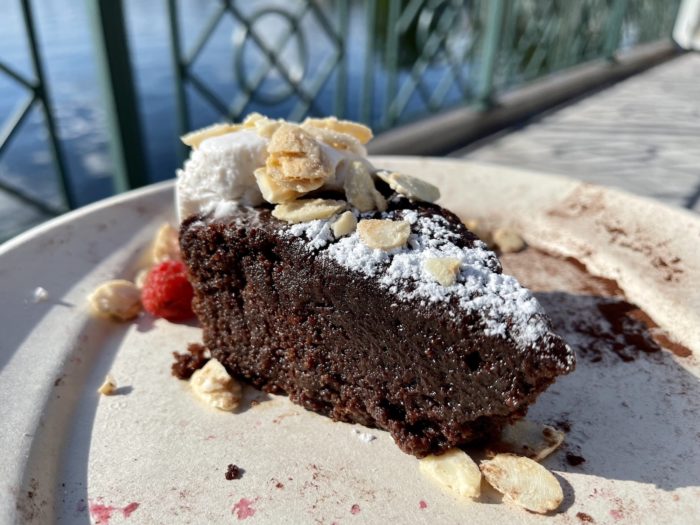 The presentation could be forgiven if it was delicious. Sadly, it wasn't. The picture showed a glossy chocolate cake, but how can it be shiny when it's so dry? Granted, it could be because of the dark chocolate, semolina, and cocoa powder dusted on top. Whatever the reason, this was dry, bitter, and blech.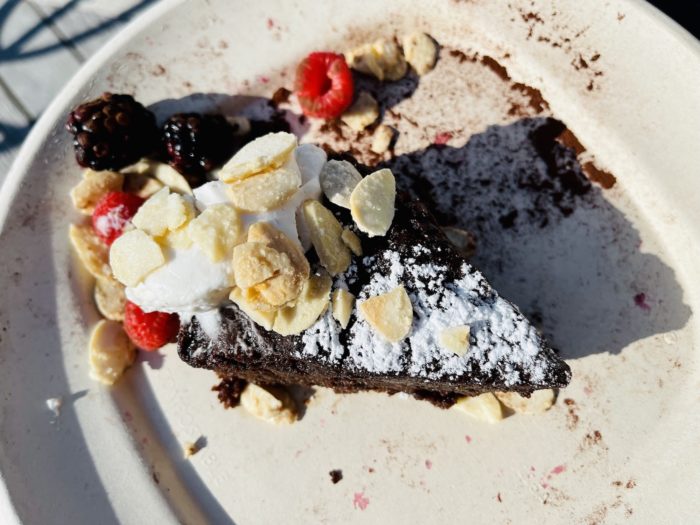 After Chrissy posted her photo to Instagram, a number of people asked things like "Is it still awful?" and "Have they fixed it?" Yes to the first, and no to the second. Skip it.
It is challenging for a restaurant to pivot from table service to carryout, and so Trattoria is to be commended for having some items that are exceptional, like the steak and the pizza. Still, your best bet is to eat in person to truly enjoy this meal — and skip the torta for dessert!
We have reviews for all restaurants at Walt Disney World, and our readers give Trattoria all Forno a 91% thumbs-up rating.
Have you ever dined at Trattoria al Forno? Will you give its to-go option a try? Let us know in the comments!