Tropical Weather Update: Tropical Storm Laura
The forecast cone for Tropical Storm Laura has included the Florida peninsula for several days now. While the track has slowly shifted to the west of Orlando, it's still likely the area will feel some effects as this tropical system passes through. What can we expect?
The Forecast: Intensity and Track
Tropical Storm Laura is expected to pass close to Puerto Rico and the Dominican Republic through Sunday, and be located near the Florida Straits between the Keys and Cuba by early Monday morning. The storm should then travel through the Gulf of Mexico along Florida's west coast throughout Monday and Tuesday, where it should strengthen into a hurricane and finally make landfall along the Alabama/Florida panhandle on Wednesday.
Possible variations? Absolutely. Tropical Storm Laura could also make landfall in south Florida and move north through the peninsula, or pass more west into the Gulf of Mexico.  When you look at the forecast cone, notice how wide it gets at Days 4 & 5. The three-day cone, in white, is much more accurate. This gives us a good idea of where Laura will be through Sunday, and all the possibilities that model data is giving us from Monday onward.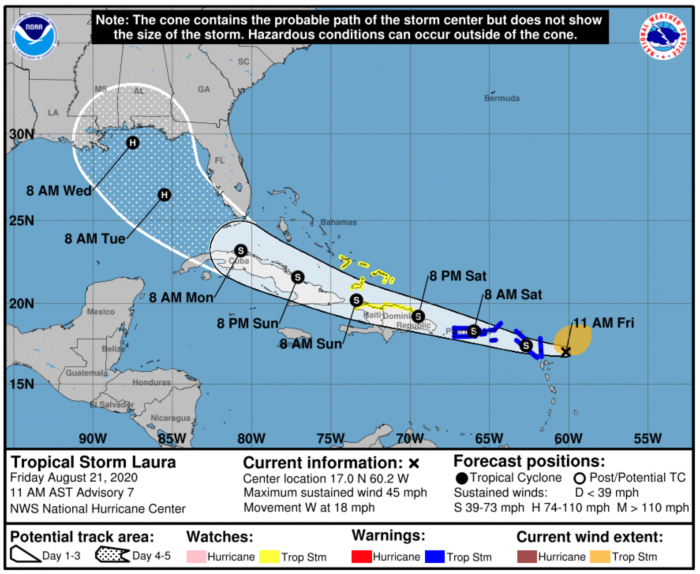 As for intensity, wind shear is affecting Tropical Storm Laura today. By tonight or Saturday morning, Laura will begin entering a more favorable area for development. If the storm manages to hang on to its organized circulation today, chances of intensification in the warm waters north of Puerto Rico grow. This is where models differ on intensification, so we could really be looking at either a rainy depression or a strengthening hurricane on Saturday. It's a wait and see for now.
The Forecast: Likely Impacts to Central Florida
Currently, the most likely impacts from Tropical Storm Laura will be an uptick in rainfall, including heavy tropical squalls. Storms and eventually rain-bands will likely push onshore Monday and into Monday night, when the storm's center of circulation is located somewhere near the Bahamas or the Florida Keys. Monday will probably have a 70-80% chance of thunderstorms. Tropical storm squalls typically move very quickly and contain torrential rainfall, very gusty winds, and sometimes a chance of a quick tornado.
If you have plans in Central Florida this weekend, they likely won't be affected by Tropical Storm Laura. Just be sensitive to the possibility of a potential storm Monday into Tuesday. If the storm suddenly intensifies and the forecast track wobbles it closer to Central Florida, locals will probably react by filling up their gas tanks and making a grocery store run. We'll be watching closely over the next few days!