TSA and Disney Cruise Travel Restrictions for Galaxy's Edge
Have you ever had that moment when you buy a souvenir and then suddenly have the moment of "How am I going to get this home?" Some of the unique items purchased at Galaxy's Edge can give some pause before that flight home. And if your next step is a Disney cruise, some of the items that are permitted on planes are not permitted on DCL. Here's the run-down of what you need to know on unique TSA restrictions and permissions, and the rules for Disney Cruise Line regarding items purchased in Galaxy's Edge.
TSA Restrictions
For the full list of TSA restrictions, visit the TSA "What Can I Bring?" website here.
The two most common items that will be asked about are lightsabers and droids. Here's the official TSA statements.


When we traveled with our droid from Droid Depot from California to Florida, we did have to take the droid out of its carrier and had special screening. Also remember to put the remote with the unit when you have it screened.
When it comes to other items that you may purchase at Disney (including in Galaxy's Edge) or Universal, the TSA has various rules that may apply.





And one amusing one to show that the TSA does have a sense of humor.

Disney Cruise Line
The list of restricted items for Disney Cruise line can be found here. According to Disney's official page, lightsabers are permitted on Disney Cruise Line.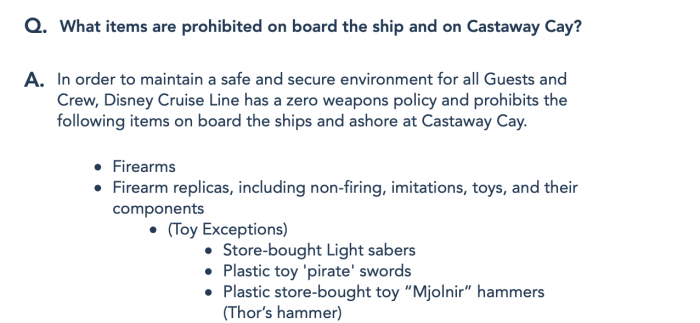 Unfortunately, they don't serve droids on Disney Cruise Line — if you build a droid at Droid Depot, it is a remote-controlled device, and not permitted.


Like other prohibited items, if you build a droid at Droid Depot and have a cruise scheduled afterwards, bring the droid with you in your carry-on and let security know when you check in. Your item will be tagged and held during the cruise, and you'll pick it up on the morning you leave the ship.
Have any other questions about TSA or DCL restrictions on items you can find at Walt Disney World? Let us know in the comments.