Universal for Newbies – MyUniversalPhotos
Whether you are a long-time Walt Disney World guest looking to switch your vacation up or you are visiting Orlando for the first time, planning a visit to Universal Orlando Resort poses many questions. In this article, we are looking at the MyUniversalPhotos photography package. What is included? How much does it cost? Is it worth it? We will cover all of that and more.
What is MyUniversalPhotos?
MyUniversalPhotos (MUP for short) is Universal's in-park photography program, similar to Disney's PhotoPass and Memory Maker. On-ride photos, photos taken by Team Members throughout the park, and photos from self service stations are included in the program. Special video experiences are also offered at Hollywood Rip Ride Rocket (on-ride music video) and Shutterbuttons in Diagon Alley (famous scenes in the Potter universe).
Photographs are available a la carte (physical or physical + digital) or part of an unlimited downloads package. Videos are a la carte or purchasable through a special packages online.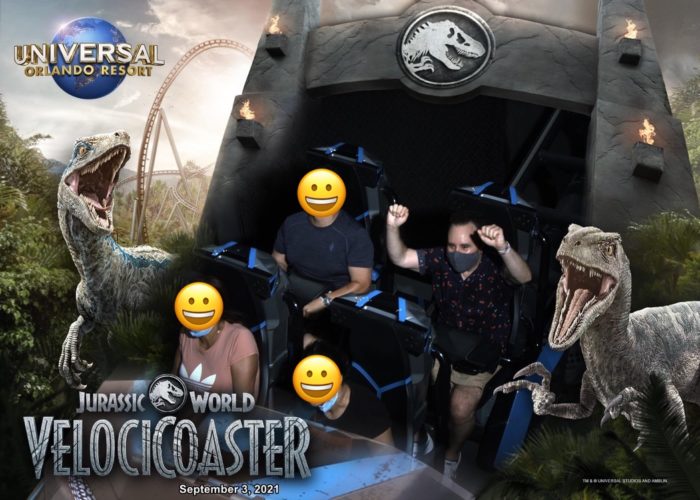 How Much Does MyUniversalPhotos Cost?
Individual 5 x 7 printed photos cost $21 plus tax, that same photo with a digital download costs $26 plus tax. Purchases come in a themed photo sleeve.
Unlimited download photo packages start at $39.99 plus tax for one day at Volcano Bay and $69.99 plus tax at Universal Studios and Islands of Adventure. Prices range all the way up to $139.99 plus tax for a full year of downloadable photos at all three parks. The Universal Studios and Islands of Adventure packages also include one free 5″ x 7″ print, one free 4″ x 6″ print, and reduced pricing on additional prints.
1-day and 3-day packages are available in the park or on Universal website, longer packages are available on the MyUniversalPhotos website (at the time of writing this point of sale was down for mainteance).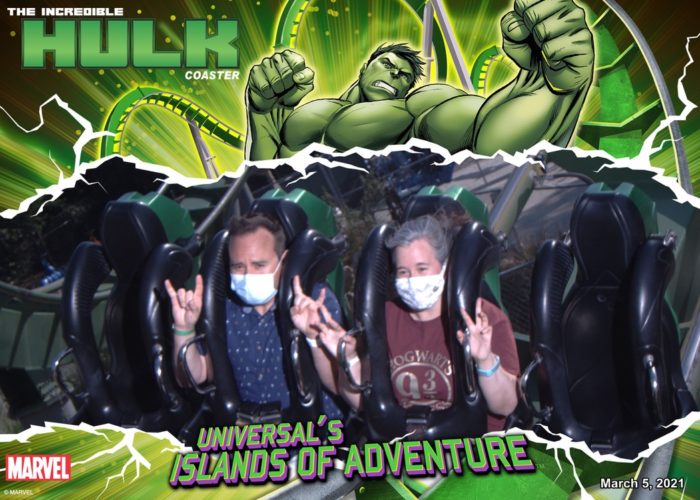 How Do I Use MyUniversalPhotos?
Individual attraction photos at Universal Stuidos Florida and Islands of Adventure are purchased at the end of the attraction at an on-ride photo booth. At Volcano Bay the photos are linked through your Tapu Tapu and are purchased at the Waturi Marketplace photo sales counter.
Photos taken throughout USF and IOA are linked through a QR code on printed cards the size of a business card. These cards are available at all photo locations and are linked to an online account through the web or the AmazingPictures app. Linked photos are purchasable in park at On Location in USF or DeFotos Expedition Photography in IOA. Make sure to purchase your photos before the end of the day, all photos are wiped at the end of the day.
Guests who purchased a package online or in the park are provided a QR card once they redeem their purchase. Present this QR card to Team Members at photo locations, using automated kiosks, or at Selfie-Posts to redeem photos online or in the app. At Volcano Bay, a Team Member can link your QR card and Tapu Tapu at the Waturi Marketplace photo sales counter. Do not worry about purchasing any print outs that day, they will be available online in the future.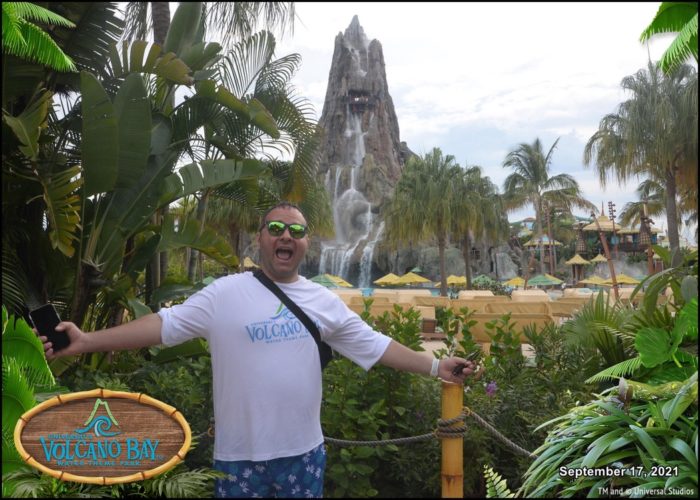 Where Are MyUniversalPhotos Locations?
Universal offers four different photo opportunities:
On-ride Photos – Select attractions feature photos take on the attraction to capture your excitement. Photos are redeemed at the exit of the attraction either through a Team Member or automated station.
Meet & Greets – Team Members stationed at select meet & greets will take several photos with you and Universal's biggest characters.
Stationed Team Members – Located throughout the park, Team Members will take your photo in iconic locations. You will mostly find these Team Members at the park entrances and at select locations during special events.
Selfie-Posts – These automated photography stations are set up in front of iconic photo spots, such as the Volcano Bay Krakatau volcano, Jurassic Park jeep, or Back to the Future DeLorean.
These are the advertised MUP locations at the time of publishing:
On Location (park entrance photos)
E.T.'s Toy Closet & Photo Spot
MEN IN BLACK™ Alien Attack™
Revenge of the Mummy
Hollywood Rip Ride Rockit
Meet The TRANSFORMERS™
Back to the Future Selfie-Post™
The Dark Room Photo Studio
DeFotos Expedition Photography (park entrance)
The Amazing Adventures of Spider-Man®
The Incredible Hulk Coaster®
Dudley Do-Right's Ripsaw Falls®
Jurassic Park River Adventure
Spinosaurus Selfie-Post™ in Jurassic Park
Raptor Encounter Photo Op in Jurassic Park
Harry Potter and the Forbidden Journey™
Hagrid's Magical Creatures Motorbike Adventure™
Krakatau Aqua Coaster
Ohyah of Ohyah & Ohno Drop Slides
Ohno of Ohyah & Ohno Drop Slides
Tonga of Taniwha Tubes
Raki of Taniwha Tubes
Punga Racers
Honu of Honu ika Moana
Ika Moana of Honu ika Moana
Family Selfie-Post™
Volcano Selfie-Post™
Hug-A-Mo Selfie-Post™
Splash and Snap Selfie-Post™
Waturi Marketplace (Photo Sales Counter)
Krakatau Katy's (Photo Kiosk)
Additional photographers are located throughout the park at park entrance, character meet and greets, and during special events.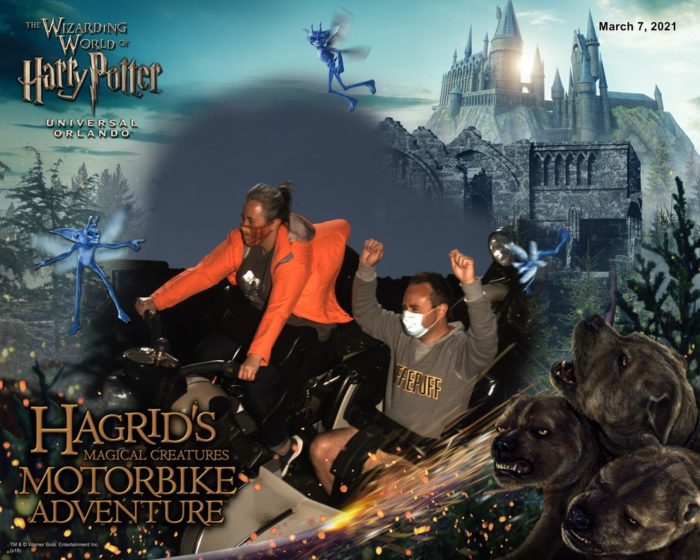 Is A MyUniversalPhotos Package Good For Me?
Short answer: A good option if you want every on-ride photo, but we cannot recommend it if you are looking for a Disney Memory Maker-like option.
At $21 plus tax per each on ride photo, simply purchasing three equals the price of buying a one-day photo package. But the Universal photographers scattered around the parks are not as present as the Disney PhotoPass photographers. During previous vacations I saw three to four times as many Disney photographers in the parks as Universal ones. Our advise is to weigh what sort of photo options you prefer and purchase based on your use of on-ride photos. If you do not think you will get much use out of the Team Member photography then skip the multi-day package and buy a one-day package online. Pick a day to activate the package to acquire all the on-ride photos and experience the meet and greets that day.
Guests with Annual Passes frequently receive discounts on multi-day packages, including a deal for a year of photos for $99.99 plus tax. Keep an eye on these deals around holidays on the MyUniversalPhotos website.

Have you used MyUniversalPhotos? Do you like the program? Leave your opinions and questions in the comments below!