Getting to Know Universal – Loews Royal Pacific Resort
This week we look at one of our favorite Universal hotels – Loews Royal Pacific Resort! In this article, we will give you a glance at this amazing resort's amenities, rooms, and dining options. Plus we will compare and contrast it to Disney's competing Polynesian Village Resort.
Overview
Guest Rating: ★★★★
Touring Plans Rating: ★★★★1/2
Level: Premier
Price Range: Starting at $319 plus tax for standard rooms, $419 plus tax for club level rooms, $440 plus tax for suites
Number of Rooms: 1000
Theme: Modern Polynesian
Fees: No resort fee, $28 per night self-parking fee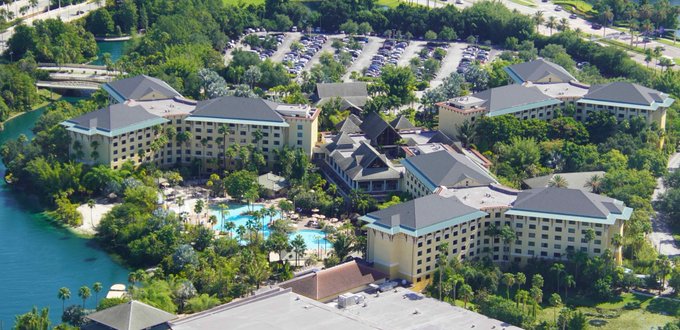 Theme & Layout
Loews Royal Pacific Resort gets compared to Disney's Polynesian Village Resort frequently and for a good reason. Both are high-end hotels, themed to the south pacific islands, feature lush grounds, and are close to the theme parks. That is primarily where both comparisons end with the Polynesian focusing on a rustic, Don the Beachcomber 1930s aesthetic while Royal Pacific feels more regal and modern.
Royal Pacific is next to Universal's Islands of Adventure theme park, about a 7-minute walk from the resort to CityWalk. Guests entering the resort first pass over a large bridge over calm ponds full of plants. Inside the lobby is an open-air courtyard with an elephant fountain in the center. Huge windows bring light into the lobby which houses the resort's check-in, back check, Universal Studios Store, a grab-and-go food location, a sushi restaurant, and a lobby bar.
Unlike the Polynesian Resort's longhouse design all the rooms at Royal Pacific split off from inside the lobby to three Y-shaped towers. So no need to run between buildings during the rain, but the resort lacks some of the Polynesia's  charms. The resort also does not feature any balconies, unlike the Polynesian.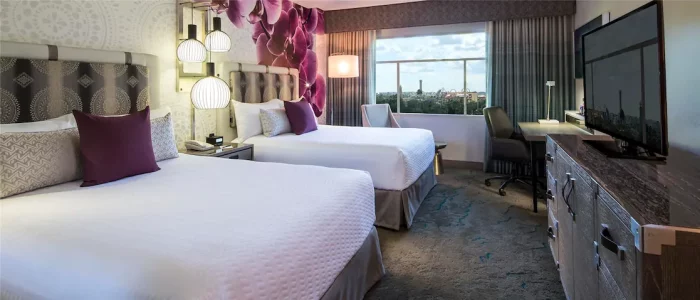 Rooms
Recently refurbished in 2016, Royal Pacific's rooms are bright and airy, featuring large flora patterns on the walls, south pacific inspired light fixtures, and high-thread-count linens. Amenities include a flat-screen TV, Keruig coffee maker, hair dryer, iron, alarm clock, and mini-fridge. The bathroom is split with a dressing and sink area accessible if someone is using the toilet or taking a shower. At 355 sq ft. the Royal Pacific Rooms are the smallest of the Premier hotels, compared to Polynesian's 415 sq ft.
Families with dino-loving kids will flip for the Jurassic World-themed family suites. Suites are slightly larger than a standard room at 370 sq ft, but include a Jurassic World-themed bedroom with two twin beds with Gyrosphere headboards. The rest of the room layout and amenities remain the same. Larger suites, including a Presidential Suite, are also available.
The Royal Club is this resort's club-level option starting at $419 plus tax per night. All-day snacks and non-alcoholic beverages are offered along with a continental breakfast, dinner, and complimentary evening wine and beer. The lounge operates from 7:00 am to 9:30 pm daily.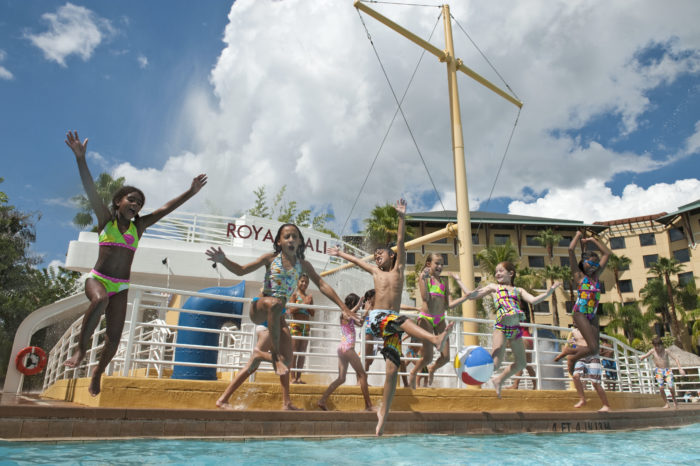 Amenities
The number one amenity at Royal Pacific is the complementary Unlimited Express Passes included with your stay. Every guest in the room will receive Unlimited Express Passes with their room key for each day of their stay, including check-in and check-out dates. Unlimited Express Passes start at $99 per person per day (and go all the way up to $380 per person per day), so if you want to tour with Express Passes then a stay at Royal Pacific might be cheaper than staying elsewhere and buying Express (Blog: Universal's Best Secret – Complimentary Hotel Express Pass). Polynesian guests must purchase Genie+ and Individual Lighting Lane for each person for each day of their visit.
Royal Pacific's pool is large and features plenty of lounge chairs, a pool bar with chair delivery, cabanas to rent, and a huge children's water play area themed to a freight boat. Universal hosts themed movie nights, trivia, water games, and even a DJ at the pool throughout the day. The atmosphere is lush and tropical but does not offer the amazing views of the Magic Kingdom like at the Polynesian. Unfortunately, the pool does not feature a water slide and you can no longer lounge on the sand by the waterways. Pool hopping is encouraged at Universal and the next-door Sapphire Falls features a large pool with a water slide if your little otters (Blog: Getting to Know Universal – Hotel Pool Showdown).
Shopping at Royal Pacific and the Polynesian is roughly equivalent. Royal Pacific's Universal Studio Store is located in the lobby and features theme park merchandise and toiletries. Themed gifts and clothing can be found in shops on the bottom floor next to the fitness center. Speaking of the fitness center, the 2,000 sq ft facility is modern and up-to-date with the latest machines free weights.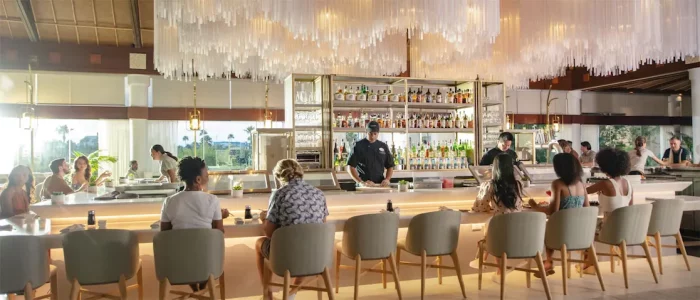 Food & Drink
In the lobby are Tuk Tuk Market and Orchid Court Lounge & Sushi Bar. Tuk Tuk Market fulfills the fast-casual and grab-and-go market for Royal Pacific, similar to Polynesian's Captain Cooks. You will find bottled drinks, snacks, pastries, and lunch and dinner quick-service meals. This is also the location of the hotel's Starbucks for you iced coffee fans.  Tuk Tuk gets 80% thumbs up from our readers. Orchid Court Lounge serves fresh cocktails, beer, and wine while the sushi side offers a familiar selection of sashimi, nigiri, and sushi rolls. We rate Orchid Court ★★★.
Located below the lobby, Jakes's American Bar is open for lunch and dinner for picky eaters and beer fans. The atmosphere is casual but ex-pat themed with aviation theming and sports on the bar TV. The menu consists of appetizers, burgers, pizza, sandwiches, salads, and entrées. Several beers are offered on tap along with a large bottle list and beer-pairing dinners are offered on select nights. Our readers rate Jake's at 80% thumbs up, we give it ★★★.
Also below the lobby and next to Jake's is Islands Dining Room, a large dining space serving breakfast and dinner. The atmosphere is casual, like Kona Cafe, with fun South Pacific statues and architectural flourishes. Breakfast options include bacon, eggs, pancakes, waffles, and avocado toast for us Millennials. Kona fans will appreciate the Tahitian French Toast which is very similar to Tonga Toast. Dinner options skew towards pan-Asian fusion cuisine, which is a fancy way of saying they have a Bahn Mi Meatloaf on the menu. Hungry kids will love the Wok Experience, offered Fridays and Saturdays, an all-you-can-enjoy fresh stir-fry station. Choose your protein, starch, vegetable, and sauces then watch the chefs prepare your creation right before you. This option is great for fans of 'Ohana but at half the cost. Our readers rate Islands Dining Room 84% thumbs up and we give it ★★★.
Wantilan Luau is a dinner and a show featuring fire handlers and grass-skirt dancers. Offered only on Saturdays for dinner, this fun feast includes roast pig for the adults to chicken tenders for the kids. If you prefer something more despicable for breakfast then check out the Despicable Me character breakfast offered on select days.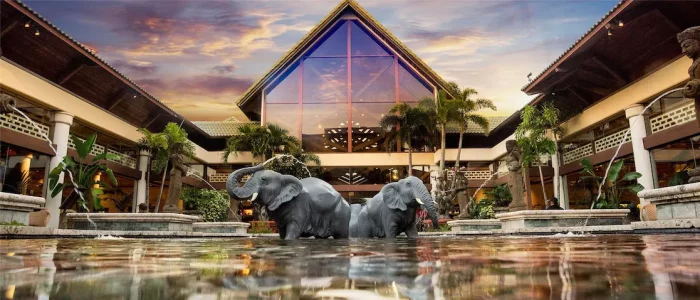 Impressions & Thoughts
Loews Royal Pacific is a fantastic resort for guests focused on theme parks but craving a relaxing hotel stay. This is frequently one of the least expensive hotels to offer complementary Express Pass and guests love the atmoshere. Downsides include the weakest food options of the hotel tier, no water slide at the pool, and small bathroom space. If you want better food and more room space then consider Portofino Bay Resort; if you want a water slide, don't need the Express Pass, and/or want to spend less on the hotel room look at the next door Sapphire Falls Resort.
Have you stayed at Royal Pacific? Leave your thoughts in the comments below!