Universal Orlando: How Stranger Things Changed the Food
Food has become such an indelible part of Universal Orlando over the past decade, starting with the arrival of Butterbeer alongside The Wizarding World of Harry Potter – Hogsmeade in 2010 and progressing more recently to the resort's major annual events, where we've seen the advent of some rather Disney-esque premium dessert-party add-ons (well, before COVID-19 struck, at least). At the heart of this progression lies, of course, Halloween Horror Nights, the crown experiential jewel in Universal's tiara, which has proven to be the laboratory for the company's culinary mastery – and at the heart of this expansion lies no other than Stranger Things, the phenomenally successful Netflix property.
Before 2018, when the hallmark television series first appeared at the nation's biggest Halloween festivities, Universal towed a rather timid gastronomical line: while such fan-favorite dishes as Twisted Taters and, in particular, Pizza Fries were to be had, most of the food roster was dominated by that year's ever-changing specialty alcoholic beverages (replete with blinky cups!). There was, of course, still the occasional piece of experimentation, such as the instantly popular Scareactor Dining Experience, a 2015 addition that has since become a regular part of (non-pandemic) Horror Nights – a combined dinner buffet and character interaction, various scareactors from that year's haunted-house and scare-zone lineup make the rounds for photos with guests.
It served, in retrospect, as both preamble to and preview of Stranger Things's explosive arrival three years later. Eager to leverage all the attention (and ticket sales) that were sure to descend that fall on Universal Studios Florida, Universal unleashed, for the very first time, a veritable explosion of snacks, drinks, and desserts, all thematically derived from the TV show – most especially in the form of waffles, whether that be the Triple Decker Extravaganza (various candies and whipped cream stuffed in between three layers of waffles) or Syrup & Waffles (a frozen non-alcoholic concoction that blended the two breakfast favorites together, topped with tiny waffles). What's more, CityWalk found itself getting in on the culinary Halloween action, with the then-brand-new Voodoo Doughnut offering up a few limited-time donuts that celebrated the holiday itself or Netflix's hallowed franchise (including with waffles, naturally). And acting as icing on the evolutionary cake, one of HHN's many food tents was christened Benny's Burgers, after a diner that is briefly glimpsed in Stranger Things's first season – and though there was no theming beyond its name and, arguably, its menu of hamburgers and chicken sandwiches, it still constituted another type of turning point, opening the door for more (and more fleshed-out) tie-ins in the future.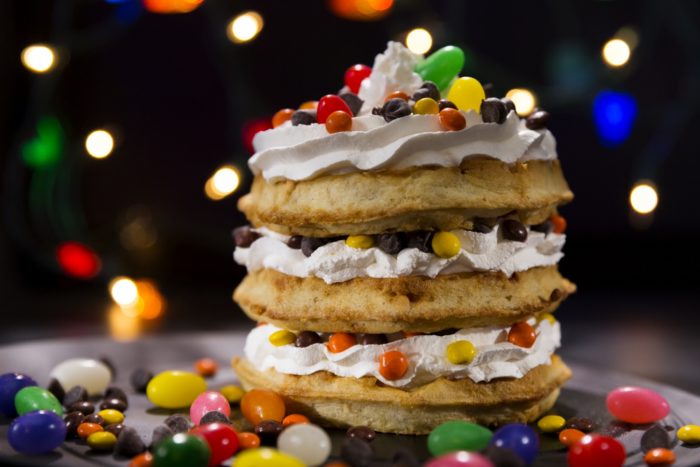 In the meantime, however, the company was already busy brainstorming how it could keep its newfound gravy train going full steam ahead. The answer, it turned out, was to incorporate its other headlining annual events: 2018's Holidays celebration and 2019's Mardi Gras not only pioneered upcharge food add-ons (which included such perks as special viewing areas for the seasonal parade or nighttime spectacular), but the latter even went so far as to assemble a far-reaching "carnaval around the world" smorgasbord, which came with a Tasting Lanyard that enabled patrons to acquire sample sizes of various entries for a (relatively) small fee. Much like with Halloween Horror Nights itself, once this dining door was opened, it has never been able to be shut.
All of which takes us to Horror Nights 2021, which is proving to be something of a food-and-theming apotheosis. Nearly all of the event's quick-service kiosks are devoted to one haunted-house property or another in aesthetics and offerings, if not necessarily in name: the barbecue stand, for instance, has been themed to The Texas Chainsaw Massacre (with the Leatherface Cherry Pie, "crust-spattered with sweet cherry sauce," being one of its signature dishes); the sweets shop ties into Revenge of the Tooth Fairy, an original haunt which makes for the perfect joke here; and even the time-tested Twisted Taters tent has been given the Beetlejuice makeover, looking like something that has stepped right out of director Tim Burton's zany mind. (A personal favorite, however, would have to be Nell's Tea Party Sandwiches, a booth inspired by The Haunting of Hill House and named after one of the series's climactic scenes, which features a poison tea party [a description which does double-duty here as a drink name!].)
Going hand-in-hand with the locations' theming upgrade, of course, are the food items themselves, which now run a more thorough gastronomical gamut. As an illustrative example, some of the dishes that have most caught our eye include: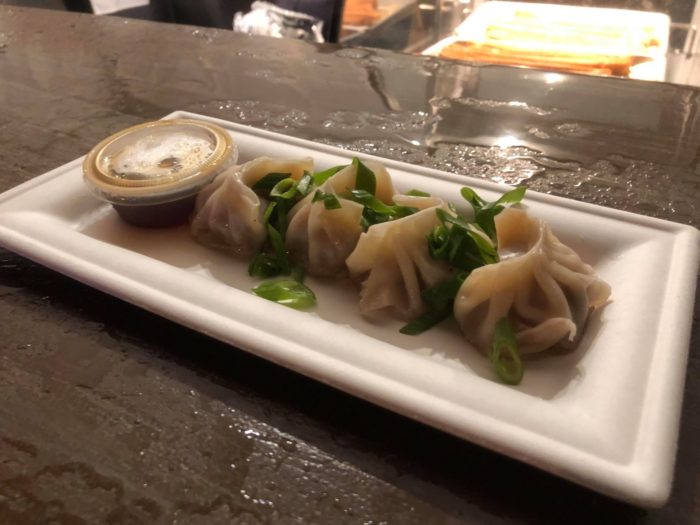 Field of Screams Gyoza – spicy ground turkey and butternut squash-filled dumplings.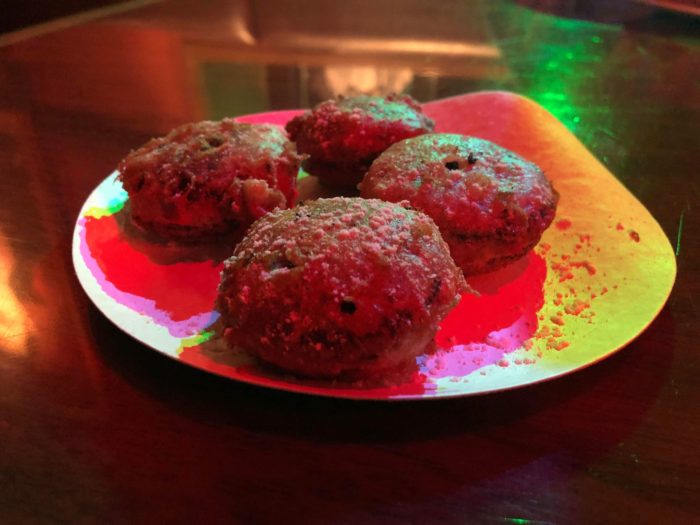 Dr. Pinetti's Confetti-battered Oreos – cookies hand-dipped in confetti-cake batter, fried, and dusted with powdered sugar.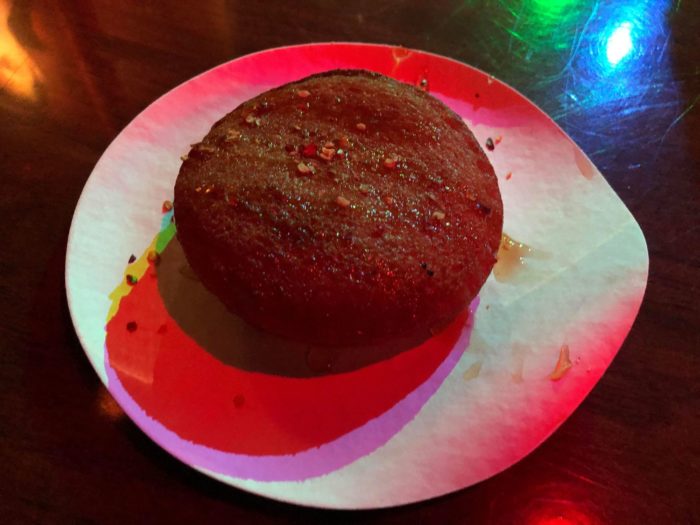 No "Chance" in Hell PB&J – fried peanut-butter-and-grape-jelly sandwich with a hot honey drizzle.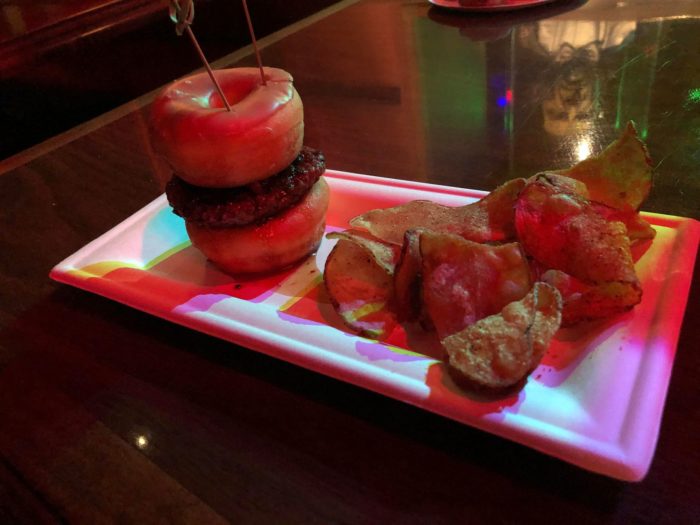 Jack'd Donut Slider – beef patties with bacon jam and American cheese on bourbon-glazed doughnuts.
Finally for 2021 – and showing the full breadth and depth of Universal's modern epicurean scene – several other facets of Universal Orlando Resort have also gotten more involved with the Halloween action than ever before. This most-robust-of-all rosters looks like this: an HHN bar at Cabana Bay Beach Resort, Universal Classic Monsters-themed treats at Voodoo Doughnut, and a full selection of seasonal baked goods at the Tribute Store, which itself has become a recent institution. In fact, each of these additional elements can have its very first iteration linked back to 2018 and to Stranger Things, underscoring the singular importance the intellectual property has had on Universal's present – and its ever-more-promising future.
What's the best themed food that you've experienced at Universal Orlando's Halloween Horror Nights? Let us know in the comments.