Universal Orlando's Tribute Store – Complete History
The Tribute Store may only be six years old, but it's already become something of an institution unto itself. This walk-through attraction/quick-service eatery/retail store hybrid is easily a must-do stop for any guest, no matter her level of interest in the intellectual properties that may be on-hand – and, in some die-hard fans' views, it's only a matter of time before it becomes a year-round, full-fledged experience that gets exported to the other Orlando theme park resorts, as well.
But we're getting ahead of ourselves. The best way to understand Tribute – much like anything else on this strange, wonderful planet of ours – is to trace its history, to see where it came from and how it's evolved into its present, sublime state of affairs.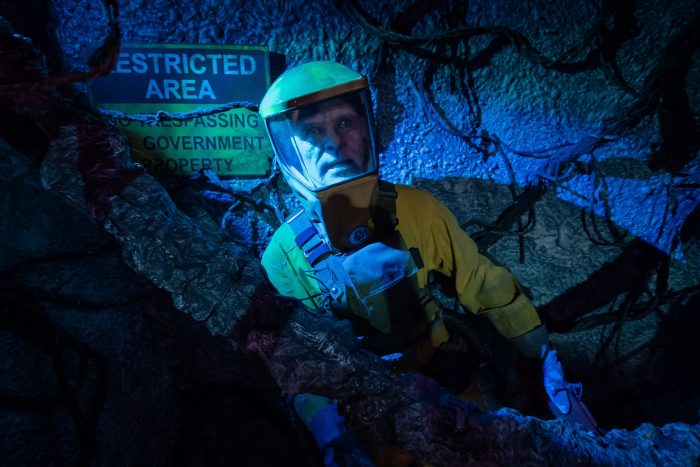 The original Tribute Store truly lived up to its name: commissioned for the big Halloween Horror Nights anniversary year of 2015, it was meant to celebrate all two-and-a-half decades of that hallowed event's past, bringing together a wide and delightful collection of props, costumes, and other bits of Horror Nights memorabilia. It set up shop within Aftermath, the gift store of Twister… Ride It Out (an attraction which, funnily enough, was retired the day after HHN 2015 ended), and it very much looked like the temporary, pop-up experience that it was.
The store struck a nerve with the horror faithful, however, and Universal eagerly brought it back for the following year – and upgraded it. It received its own dedicated space, a two-room affair in the Macy's façade located right next-door to Revenge of the Mummy (which has since become its customary home). And, much more importantly, its very premise received a slight overhaul: instead of celebrating Halloween Horror Nights's past, it would pay homage to its present by showcasing all of the properties that were featured in the event's haunted house roster for 2016. In this way, all of the various t-shirts, mugs, and other assorted tchotchkes were presented in beautiful displays complete with decorations inspired by and props directly taken from their originating films and television series. And just to complete the immersive effect, on the walls surrounding them were movie or haunt posters and the occasional mannequin, highlighting such iconic figures as Twisty the Clown from American Horror Story (in 2016) or Saw's Jigsaw on his trusty tricycle (in 2017).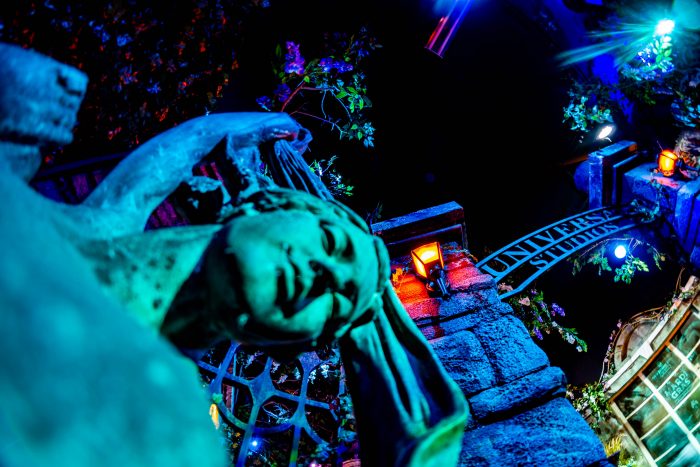 This theming status quo would get a slight-but-irrevocable push in 2018, with the introduction of a little franchise called Stranger Things. Just as Netflix's TV show upped the ante in Horror Nights's food game (and overall crowd levels), it did the same with Tribute, most especially; whereas, previously, the shop's two rooms were evenly distributed in representing all of that year's IPs, Stranger Things claimed the second room almost entirely for itself, dedicating its layout to the parallel dimension known as the Upside Down. It proved to be an effective move – from here on out, Universal would lean a little less on the "store" part of the Tribute Store's name and more fully embrace the immersion aspect that undergirded the enterprise all along.
That result can clearly be seen in 2019, the year that the space's footprint grew significantly larger – not only was a third room tacked on at the end, but a small-but-scene-setting vestibule was added to the beginning of the experience, as well. This meant that attendees got to take a little trip through the worlds of Ghostbusters, Stranger Things (yes, again, though in a new configuration), and the Universal Classic Monsters, finally making Tribute more of a walk-through attraction than a mere gift shop.
The final two components of the modern Tribute Store arrived in 2020, despite that year's 78-day COVID-19 closure, and both represented a fundamental expansion of the experience. On the one hand, the shop was broadened from its strict Halloween-only purview and embedded within two other major annual events at Universal Orlando Resort, bringing the same level of theming and depth to the new subjects: for the landmark 25th year of Universal's Mardi Gras, the classic environs it recreated were a French Quarter flat, Lafayette Cemetery No. 1, and the bayou; and for the Holidays celebration, guests got to explore a mini-Santa's workshop, a traditional German Christmas market, Dr. Seuss's How the Grinch Stole Christmas, a yuletide Wizarding World of Harry Potter store, and Earl the Squirrel's Tree Farm (Earl was a formerly team-member-only mascot of sorts who became an overnight sensation among Universal's fandom).
On the other hand, Tribute's wares grew yet again starting that fall, now incorporating a fourth room (!) and, even more strikingly, a series of pre-baked goodies that are just as themed as the rest of the proceedings – including some that use rather ingenious tricks to, say, make gummy hearts beat or gummy Christmas lights light up. This was especially appreciated during the Halloween season, as Horror Nights was cancelled that year and, as such, having Tribute rooms devoted to Frankenstein's laboratory, Jack the Clown (along with the other HHN icons), a spooky attic, and Beetlejuice were much needed.
2021 seems to have settled into a now-permanent state of affairs, with the sole exception being the arrival of the Jurassic World Tribute Store on May 28, which may or may not herald the next stage in the space's evolution: from this point forward, we could see Tributes arrive all throughout the summer, linking the Mardi Gras and the increasingly earlier Halloween Horror Nights periods, and, furthermore, with just one property being used as the basis for the whole undertaking. Whatever comes to pass, the future is wide open, creating an ever more perfect union between immersion, shopping, and dining.
What more could a theme park fan ask for?
Are you a fan of the Tribute Stores at Universal? Which do you think is the best one they've had so far? Let us know in the comments.