Universal Orlando Resort for Newbies – Universal Hotels Overview
Whether you are a long-time Walt Disney World guest or visiting Orlando for the first time, planning a visit to Universal Orlando Resort poses a lot of questions. In this article, we will discuss the Universal hotel tiers, their pros and cons, and amenities. You can find even more detailed information about choosing the right hotel here.
Hotel Basics
Note: Universal uses the term "resort" and "hotel" almost interchangeably in the names of their hotels. We will be using the term "hotel" for each property and "resort" for the whole Universal Orlando Resort.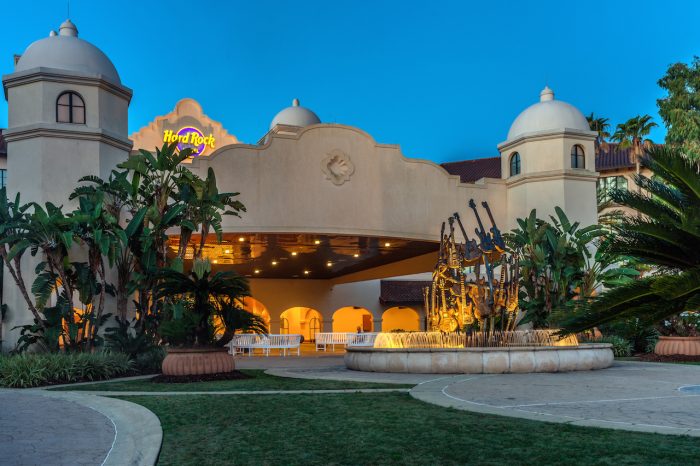 Universal Orlando offers seven on-site hotels priced from under $100 to over $500 per night. Universal's advertised pricing on their website is based on a four-night stay; the longer you stay on property the bigger the discount.
Universal's hotels are operated by Loews Hotels, a luxury hotel company that operates hotels around the USA. Universal's properties are modern, clean, well lit, and feature on-site security. Speaking of safety, all hotels have automatically locking side doors, monitored front entrances, room safes, and locked gated access to hotel amenities.
All on-site hotels include the following benefits:
Resort-wide complimentary transportation – bus, boat (where available), and a hotel-to-hotel shuttle
Room key charging around the resorts and theme parks
Club-t0-club access at CityWalk
Resort-wide package delivery to the hotel
On-site dining
Pools and pool bars
Fitness Centers (yes, even Value hotels)
Game Rooms
Universal Studio Stores with resort merch
Premier hotels also feature these additional benefits:
Priority dining at select Universal sit-down restaurants
Sit-down dining
Club Level rooms and concierge service
A deposit of one night is taken at booking; the remainder is due at the time of check-in. Cancelations five nights or more before check-in will receive a full refund; cancelations four days or less forfeit the deposit amount.
Finally, overnight parking is not free – parking fees range from $15 to $28 per night depending on the hotel.
Premier Hotels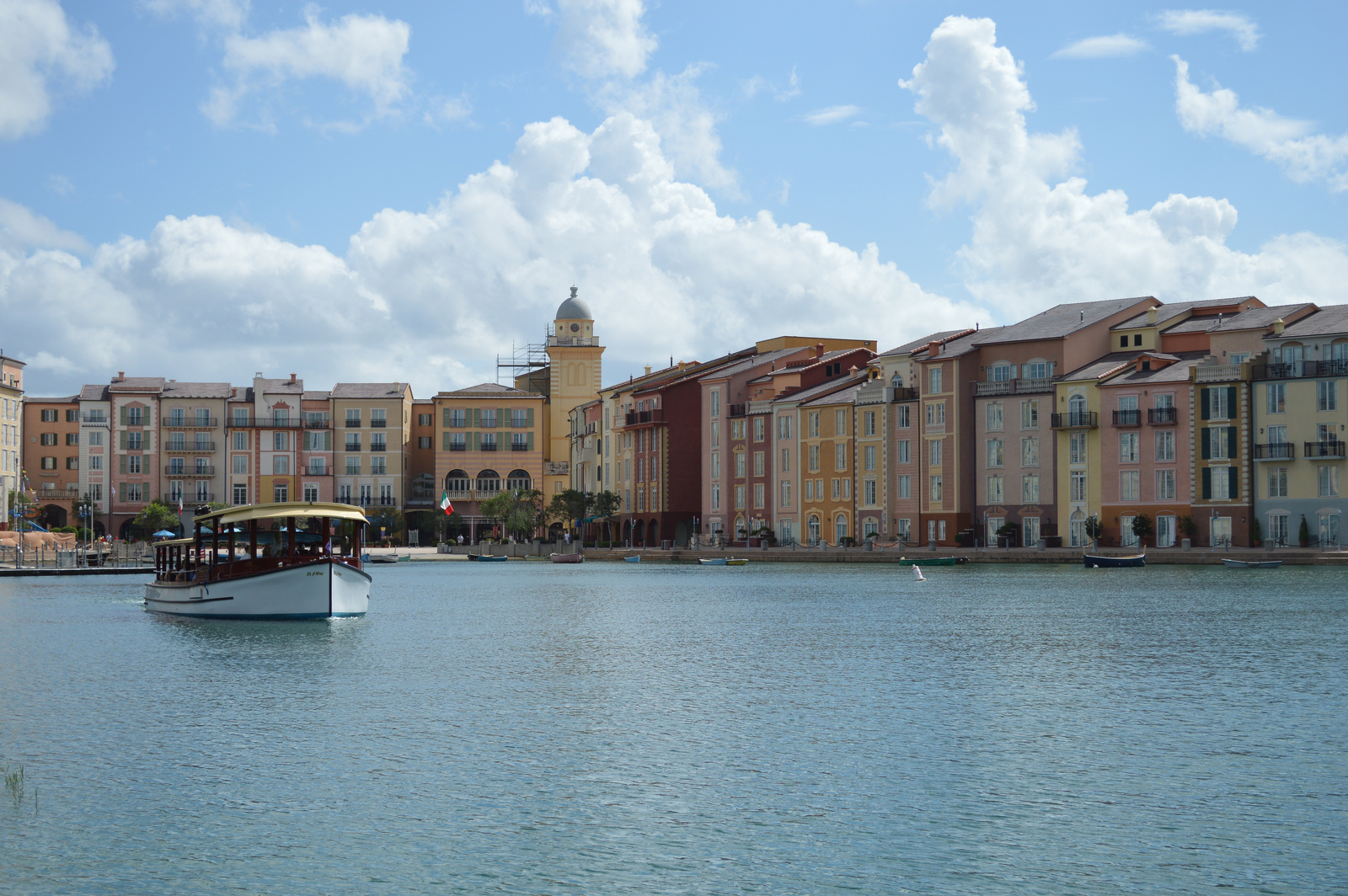 Equivalent to Disney's Deluxe Magic Kingdom monorail hotels, Premier hotels are the top tier at Universal and are rated four diamonds by AAA. These hotels offer high-quality textiles, large rooms, sit-down restaurants, lounges, spas, and luxurious amenities. Prices start in the mid-to-high $200s to $500 during peak season per night for standard rooms based on a four-night stay.
There are three Premier Hotels:
Loews Portofino Bay Resort – Italian ambiance in the middle of Central Florida.
Hard Rock Hotel – A little rock'n'roll attitude in a Southern California-inspired setting.
Loews Royal Pacific Resort – Lush South Pacific island-themed hotel.
Pros:
The most luxurious hotels at Universal Orlando
Unlimited Express Pass included with each room for up to five guests
5-10 minute walk to the parks
Boat & bus transportation
A complete resort feel with elaborate pools, special events, entertainment, and unique dining
Cons:
Cost – rates run from mid $200s up to and over $500 per night depending on the time of year
Preferred Hotels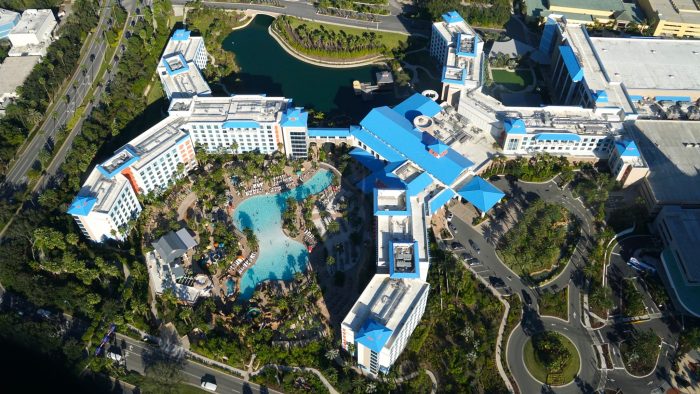 Preferred is equivalent to something like Disney's Yacht and Beach Club. Amenities are similar to Premier hotels except they lack Unlimited Express Passes and are not rated four diamonds by AAA. Prices for standard rooms start in the high $100s to low $300s for a four-night stay.
There is one Preferred Hotel:
Loews Sapphire Falls Resort – Caribbean-themed hotel inspired by rum production and Jamaican waterfalls.
Pros:
Premier amenities at a lower price
Covered access to conference rooms at Loews Royal Pacific
Boat and bus transportation to the parks
Cons:
No Unlimted Express Pass
Longer walk to the parks
Prime Value Hotels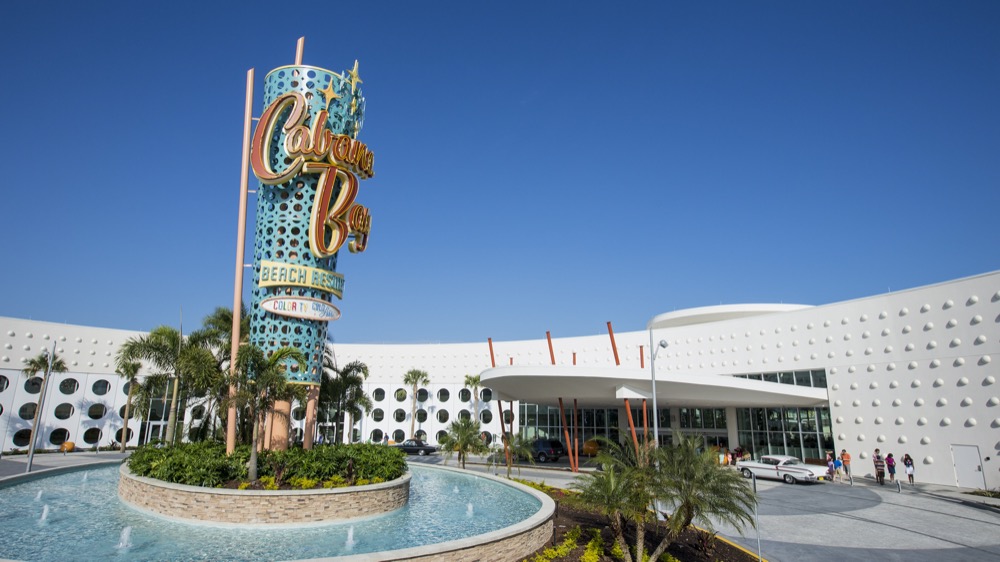 Prime Value is equivalent to Disney's moderate resorts and offer unique amenities at a low price. Standard rooms start in the low $100s to mid $200s per night for a four-night stay. Do not be fooled by the name of the hotels, they are still run by Loews.
There are two Prime Value hotels:
Universal's Cabana Bay Beach Resort – Kitschy mid-century design of Atlantic seaboard motels with modern hotel luxuries, including an on-site bowling alley.
Universal's Aventura Hotel – Sleek, contemporary high rise hotel inspired by Miami skyscrapers with high-tech rooms.
Pros:
Closest walks to Volcano Bay water park
Each hotel has unique features not available at other hotels
Cons:
No Express Pass
Sacrifices textile and furnishing quality for lower prices
Longest walks to the theme parks
No boat access to the theme parks, just busses
Value Hotels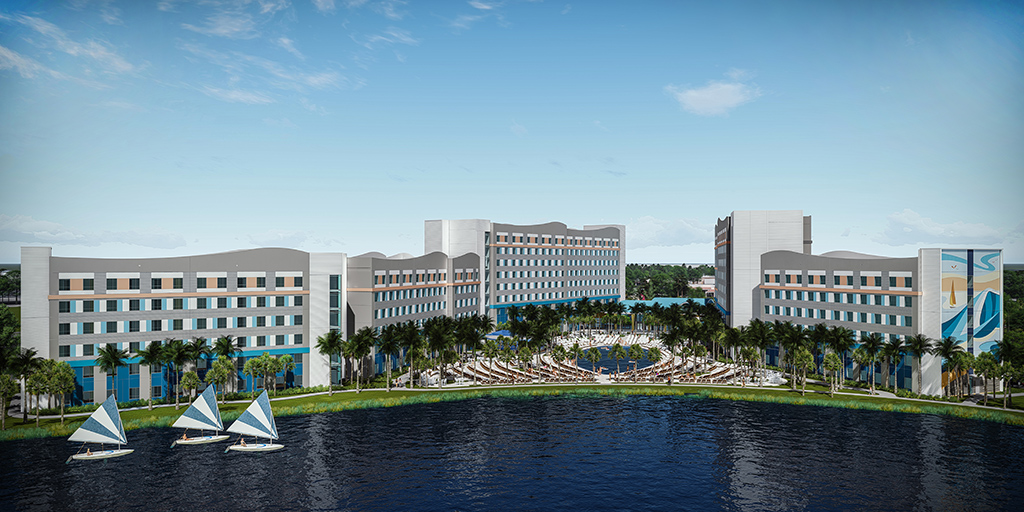 Universal's Value category are equitable to Disney's All-Star Resorts: high value, low frill hotels. Standard rooms start under $100 per night with a four-night stay. Like Prime Value these hotels are operated by Loews.
There is one Value hotel complex:
     Universal's Endless Summer Resort Surfside and Dockside offer a laid-back California beach vibe with surf- and pier-inspired design.
Pros:
The cheapest on-site rooms
Low priced food and drink options
Cons:
No Express Pass
Minimal frills or extras – bare-bones rooms
No walking or boat access to the parks, just buses
Fewest amenities of the hotel options
Do you have questions about which Universal hotel to stay at? Leave your questions and comments below!
First published October 24, 2020. Revised May 25, 2021.