Universal Orlando Resort Halloween 2020 Event Review & Touring Advice
Universal is offering a new, daytime Halloween event that entices fun-sized candy connoisseurs to the biggest horror aficionados. We braved the sun, rain, heat, and crowds to give our review and the tips to efficiently tour the event.
Update 9/27: Article updated with changes to the event: removal of Circus Peanut drink, stand by options for the haunted houses, operation times for Skeleton Bar.
What is Universal's Daytime Halloween Event?
Universal's unnamed daytime Halloween event (also referred to as Universal Fall Fright Fix and #TeamHalloween) is a collection of daytime Halloween activities at Universal Studios Florida and Islands of Adventure:
Two Haunted Houses
Unique Food and Beverages
Themed Walk-Throughs
Candy Scavenger Hunt (All Ages)
Trick or Treating (Under 12 Only)
Similar to Walt Disney World's modified Halloween offerings, this event is included with admission to the parks. Universal's Halloween 2020 runs September 19, 20, 26, 27, October 3 – 31, and November 1 during normal operating hours of Universal Studios Florida and Islands of Adventure.
Haunted Houses Reviews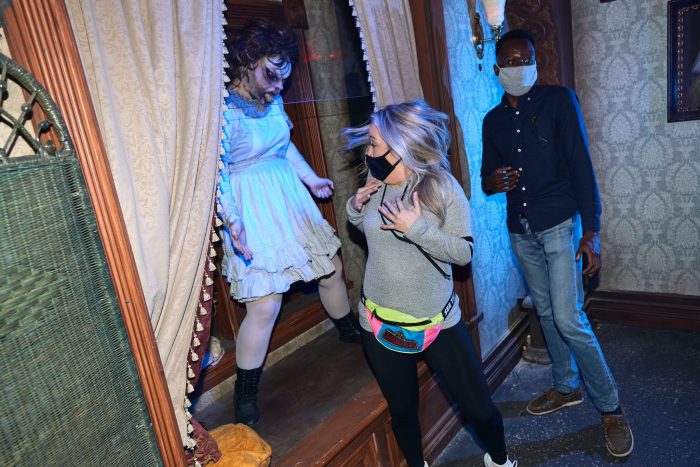 Universal's haunted houses are E-ticket-level walkthrough experiences. These attractions are grand in scale and execution, on par or surpassing the most elaborate rides designed by Disney or Universal.
WARNING: Universal's Halloween haunted houses are NOT for children. Reconsider bringing kids under the age of 13 and use your judgment for anyone under 18. Houses feature low lighting levels, fog, strobe lights, startling imagery, mature themes, and confined spaces.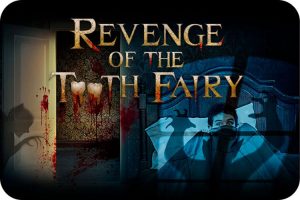 Revenge of the Tooth Fairy
"All children must give up their baby teeth to the goblinesque tooth fairies or pay a gruesome price."
An original concept house, here Universal's designers postulate what happens if the Tooth Fairy's promised teeth are not delivered? Guests walk through a Victorian mansion as it is besieged by the grotesque goblins who will collect their bounty at any cost. Of the two houses we toured, this one was the most grotesque and unsettling with many human victims.
Our group preferred Brides over Tooth but found this house was the most consistent with scares. We never had a weak walkthrough but also never an outstanding one.
Rating: 3.5 stars out of 5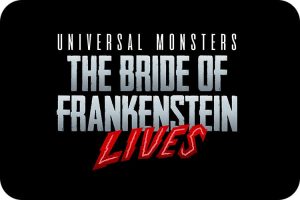 Universal Monsters: Bride of Frankenstein Lives
"'We belong dead.' The last words of Frankenstein's monster on that fateful night when his Bride rejected him. But his end was her beginning."
A sort-of-sequel to last year's Universal Monsters, this house takes place immediately after The Bride of Frankenstein as the castle is destroyed and The Monster dies. The Bride, grieving, is dead-set on resuscitating the Monster. She begins to experiment with the local residents, Brides of Dracula, and us to bring him back to life.
Bride's scares are the most advanced between the two houses, using instances of misdirection and special effects. This house also suffers the most if all positions are not staffed, meaning the quality of the house can be impacted. While not unanimous, an informal poll between sixteen friends found a majority preferred this house over Tooth Fairy.
Rating: 4 out of 5 stars
Touring & Virtual Line Tips
Haunt fans descended upon Universal Studios Florida opening weekend which caused quick sell-outs of Virtual Line passes for the houses. Now that the event has been extended into November we expect haunted house demand to lessen. As of September 27 at noon, posted waits hovered around 20 minutes for each house.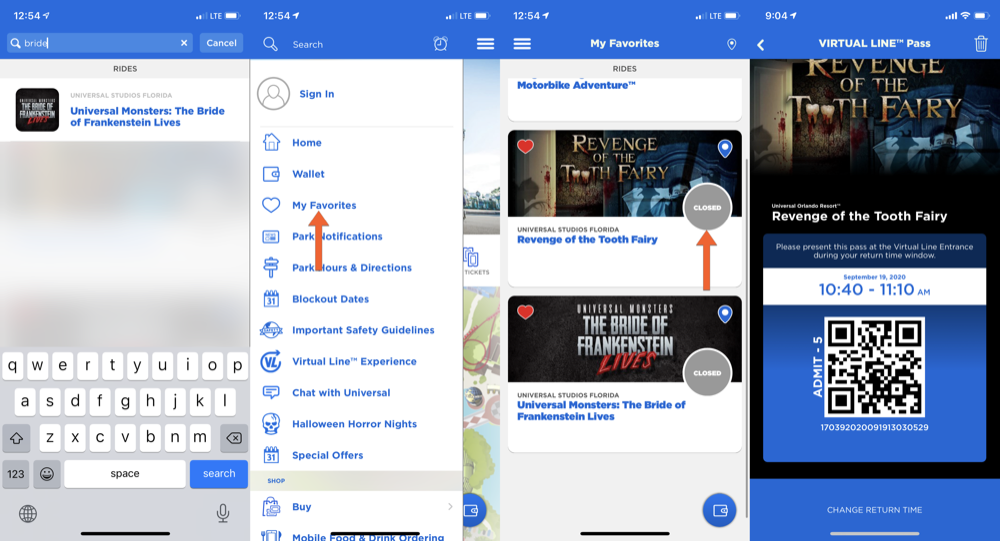 At the time of publishing, Universal implemented both a stand-by and Virtual Line for the haunted houses. Stand-by is the typical queue for an attraction, Virtual Line acts as a reservation system for priority access to the attraction.
We were able to acquire Virtual Line passes using the following method:
Download and set up the Universal Orlando app prior to your arrival.
Search for the house names in the search field, add to favorites.
Around 15 minutes prior to the park opening the house will open Virtual Line.
Select the attraction's name and scroll down and tap "Virtual Line Pass".
Select your party size and your desired return time. Tap "Reserve" on the bottom of the page.
A QR code will display for Team Members to scan. Take a screenshot of the code in case of technical issues.
Universal pre-loads the queues in the morning, which results in wait times of 30-40 minutes in the morning. Waits diminished in the late afternoon and by the early evening, the queues were empty. To minimize your wait we suggest selecting a time after 3:00 p.m. or visiting the last two hours the park is open.
Food & Beverage
Universal is conjuring some tantalizing new food options featured around the park in addition to the seasonal Voodoo Donuts and Pizza Fries at Louie's.
Food Trucks
Two food trucks serve unique spins on traditional theme park food. The food truck located next to the Music Plaza Stage features a fried chicken and funnel cake with strawberry sauce and pork rind nachos. Despite the weird dichotomy between the chicken and strawberry sauce, it works.
The second food truck is located in front of the Tribute Store in New York. This truck features the classic Twisted Taters, a spiraled potato placed on a stick and fried, and a Twisted Tater variant served with a hot dog. Both food trucks sell alcoholic and non-alcoholic drinks.
Skeleton Bar
The Skeleton Bar is a combination counter service restaurant, bar, and spooky walkthrough located at Cafe LaBamba. Food options include tandoori chicken skewers, vegan mac and cheese, shrimp cocktail, and 'smores fries. The bar is located in the dark bayou themed walkthrough and features three new alcoholic mixed drinks:
Loup-Garou – a rum-based cocktail with tropical juices. Our favorite of the three, very refreshing.
Mango Inferno – tequila, mango, jalapeno, and yellow curry spice. An acquired taste, only order if you enjoy yellow curry flavor and spice.
Vampire's Curse – spiced rum, fruit punch, sour mix.
Waits for the bar ebbed and flowed through the day. If the food, drink, or atmosphere piqued your interest we recommend lining up 10 minutes prior to opening (11:00 a.m.) or visit in the late afternoon. The Skeleton Bar is open weekly, Friday through Sunday.
Trick or Treating
Universal Studios Florida Scarecrow Stalk Scavenger Hunt
Find all the unique skeleton statues in a scavenger hunt through the Studios park with the all-ages Scarecrow Stalk. Pick up a map and guide at participating stores throughout the park, then head on a search for all 13 themed scarecrows. Each location's scarecrow is slightly different, with the Transformers scarecrow featuring car parts and the Despicable Me Minion Mayhem scarecrow decorated as a merry-go-round.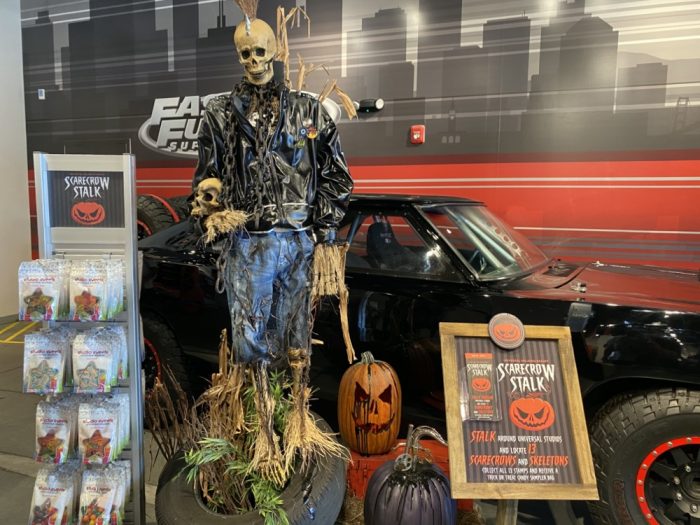 Proceed to the main counter at each store to receive a stamp, once the map is complete guests will receive a complimentary small bag of candy. On average guests can complete the scavenger hunt in around 30-45 minutes.
Islands of Adventure Trick or Treating
Guests 12 or younger, accompanied by an adult, can Trick or Treat in Islands of Adventure. Pick up a trick or treat bag and find Pumpkin stickers at select retail establishments for special treats. Despite our offers of "cheap child care", no family would allow a group of five 30-somethings to take their kid trick or treating; let us know your thoughts in the comments if you participated.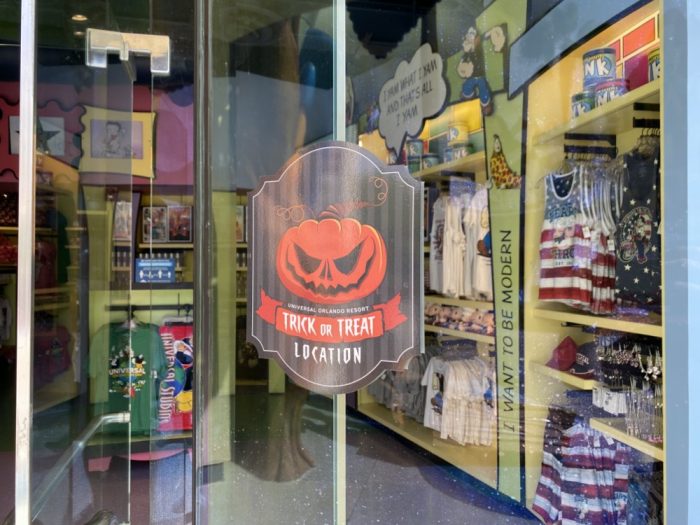 Per Universal's terms, you must use one of their supplied bags. We suggest you procure a bag immediately at the park opening on weekends and hold onto it till the afternoon once the major attractions are visited.
Costumes
Had a amazing day @UniversalORL for #HHNLite very well done to all involved, @Michael_Aiello my fav house was Bride of Frankenstein #Oldschool #universalmonsters pic.twitter.com/j1fxifAg8z

— James (@randomtales30) September 20, 2020
Guests are encouraged to wear costumes to the parks during the event. During our trip, we saw dozens of Beetlejuices (Beetlejuici? Beetlesjuice?), Mario & Luigi, steampunk Scooby gang, and more. If you wish to dress to impress we suggest choosing a costume that is breathable in the Florida weather and conforms to Universal's costume guidelines.
Have you experienced Universal's Halloween activities this year? Leave us your comments and thoughts below!