Uva Bar – A Disneyland Dining Review
Uva Bar, located in the heart of the Downtown Disney District, is one of Disneyland's many hidden gems and a perfect place to hit when you're looking for a quick bite to eat. A few weeks ago I headed out for a last-minute weekend getaway to the Disneyland Resort and was looking for an exciting late-night spot to check out on my first evening in LA. After taking the car service from the airport to my friendly Disneyland Good Neighbor hotel, I quickly dropped my bag in my room before enjoying the short walk to the Downtown Disney District in search of a tasty dinner.
The Downtown Disney District at the Disneyland Resort is home to close to 20 different dining options from food stands to fine dining and everything in between. On this particular evening, I had eaten only a handful of pretzel M&Ms on my flight so I was looking for a fun place to sit down, relax, and soak up some of the electric Disneyland atmosphere while having my meal. I knew exactly where I needed to go…Uva Bar.
Uva Bar can be found in the center of the Downtown Disney District adjacent to the Catal Restaurant. Both locations are part of the Patina Group and are operated by celebrity chef Joachim Splichal. There are a few things that I love about Uva specifically. It is an open-air lounge, which is ideal for taking advantage of the gorgeous Southern California weather. Its central location allows for some fantastic people watching while sipping your favorite cocktail. Also, it does not accept reservations so no advance planning is required.
On this spectacular mid-September evening, I strolled into Uva Bar and was promptly seated at a table right in the middle of all of the action. The menu here is small, which I love; it makes it so much easier to decide, and I would much rather see a few interesting selections than pages and pages of mediocre choices. Uva serves up traditional bar food with a bit of a Mediterranean flare. They offer a variety of salads, burgers, sandwiches, and plates to share in addition to the full bar that features an extensive selection of fine wines, craft beer, and specialty cocktails.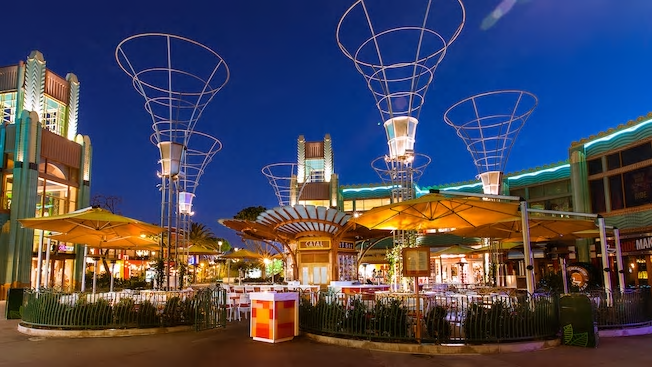 By this time I was starving, and it didn't take me long to decide. I went with the All-American Burger: a large cooked-to-order burger made from their signature beef blend, topped with crunchy onion strings, sharp cheddar cheese, smoked Applewood bacon, and a sweet BBQ sauce, served with a side of crispy garlic fries, and to drink – a Henry Weinhard's craft root beer.
As I waited for my meal, I had a few minutes to take in the scene. The crowds were light that evening, just a few people here and there wandering the area, popping in and out of the nearby shops. In the distance a guitarist and singer could be faintly heard entertaining the carefree tourists as they leisurely strolled by toting their many souvenir purchases. The atmosphere at Uva Bar was delightful and relaxing; just what I needed after a long day of travel. Moments later my dinner arrived, and it did not disappoint.
The burger was cooked to perfection and seasoned nicely. The combination of the salty onion strings with the sweet BBQ sauce worked together well, and how do you go wrong with smoked Applewood bacon, am I right? Even better than the burger itself were the garlic fries. These beauties were crispy on the outside, filled with fluffy potato goodness on the inside, and topped with just the right balance of salt, garlic, and spices. And the Henry Weinhard's craft root beer was top notch as well…a hint of sweetness like Barq's, but with a bit of tang like Mug. I made quick work of my meal, almost finishing it. It was so good in fact, that I returned again later over the weekend to have the exact same thing. If you're a burger fan and enjoy places like D-Luxe Burger in Disney Springs at the Walt Disney World Resort, you can't go wrong with Uva Bar!
Uva Bar Basics
Location: Downtown Disney District at the Disneyland Resort
Hours: Open seven days a week, usually from 8:00 or 9:00 am to between 10:00 pm and midnight
Serves: Breakfast, Lunch, and Dinner
Price Range: Moderate $14 – $22 Per Adult
Style: Table Service, Bar/Lounge, Open-Air
Dress Code: Casual
Family Friendly: Yes
Reservations: No
Cuisine: Mediterranean
Discounts: For Disneyland Annual Passholders
Have you tried Uva Bar? What is your favorite entrée or cocktail there?
Please leave a comment; we would love to hear from you!