Value or Value Plus for You at Universal Orlando Resort
Recently, I have been planning a trip to Universal Orlando for the Mardi Gras event. Since part of this trip will be "work", I was planning to select either a value on-site resort hotel (Endless Summer:Dockside or Surfside) or Aventura, which is considered like Cabana Bay Beach Resort to be a value plus resort hotel. As the name "value plus" would imply, Aventura is a better hotel than Dockside or Surfside.
For my dilemma on this solo trip, the price difference per night between Dockside and Aventura is about $30 (including taxes). I am staying on-site for a week. When you do the math that means it is over $200 more to stay at a better on-site hotel. Sometimes the price can be even higher — even as much as $60/night or more.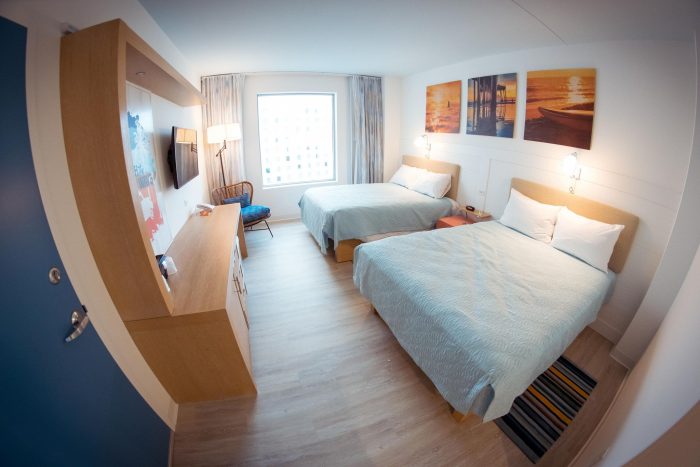 For me, if it were over $400 difference for a week, I would just stay at Dockside. This would enable me to have far more money to do other things. In my current scenario, the prices are closer together. As I have stated in recent weeks on several UK-based theme park podcasts, Aventura is my favorite Universal Orlando hotel.
Why would I consider staying at Aventura over Dockside? I need to place one large disclaimer here. This is a discussion of comparing standard rooms with two queen beds at each level of resort hotel. If you need/want more sleeping surfaces, this gets more complicated. The Endless Summer Resorts have "suites" with three queen beds, so if you need more sleeping surfaces then those are good choices. The value plus resorts have rooms that will accommodate more people. However, the price point is much higher, or you are utilizing a sleeper sofa.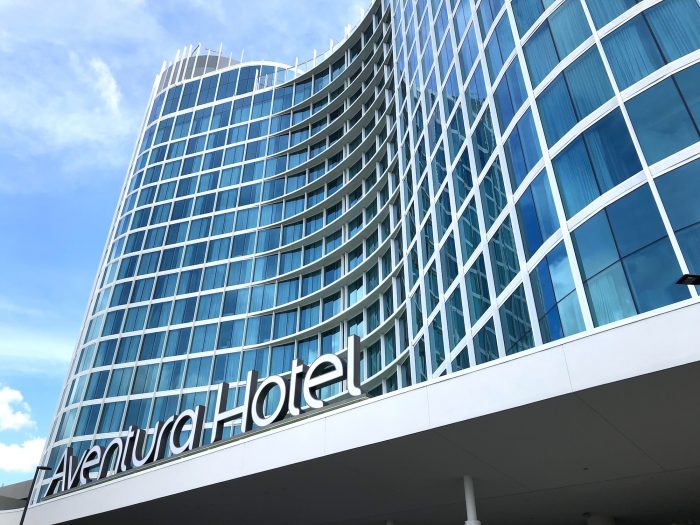 Now, I will list a few reasons why I probably will spend an additional $200+ for a week on a better room for just myself:
Both value plus options have dedicated walkways to Volcano Bay. If you have any desire to visit the water park, this will make your visit far more enjoyable compared to using the bus system.
The food courts at both value plus resorts are superior to the value resort food courts. Now the price point may be a bit higher, but food is better with more variety. Also, annual pass holders get 10% discount at value plus food courts but not at value level food courts. Cabana Bay has superior pool bars. Aventura has a rooftop bar and bistro. Aventura also has shortest waits at their lobby Starbucks. Cabana Bay has a Starbucks that stays open until 10 p.m.
On a related note, the value plus resorts offer "length of stay" Coke freestyle cups for $18. The value resorts do not cap the maximum at $18 so if you stay for a week, the price is $27 and no annual pass discount. If you stay two weeks, like our UK friends, the freestyle cup is $48 at the value resorts. For someone who possesses a diet soda addiction, this is important.
Value plus resorts have far more amenities like a bowling alley, a VR game room (when it reopens), and better fitness centers.
The pool areas at both value plus resorts are better than the value-level resort pools. Also, if staying at a value plus or higher resort you can pool hop to any higher-level resort pool. If you stay at a value level, you cannot do that. If staying for several days, the ability to visit other on-site pools on a non-theme park day is a great bonus.
Aventura and Cabana Bay Beach Resort feel like you are on-site in a type of Universal Orlando bubble. This is not true at the value options which are located on International Drive.

Both Surfside and Dockside are excellent value level hotels. However, Cabana Bay Beach Resort rates much higher with families with older children and teens. Aventura rates far higher with adults. For the record, most of the time I am considered an adult so this a factor to me.
The shuttle bus service is slightly better for the value plus hotels. This is especially true with the current shuttle bus drop-off area construction project.
Not that I would encourage this BUT, Aventura and Cabana Bay are reasonable distance to Sapphire Falls Resort to use the boat transportation to CityWalk. That is not an option at the value resort.
Last and most important, the bed quality and noise factor are far better at the value plus resorts. Now, Cabana Bay can be very noisy when cheer groups are staying there. However, when staying in a standard room at both Dockside and Surfside, you can understand your next-door neighbor's conversation in the standard rooms. No matter how loud it might get in the hallways, I cannot clearly understand my next-door neighbor at either Cabana Bay or Aventura. For record, the noise level at Aventura may be lowest at any theme park resort I have ever enjoyed.
Yes, the final choice is mine. For your group, the final choice is yours also. Choose wisely because every group has different needs.
Do you prefer staying at a value plus for a slightly higher price? What's your tipping point between the two? Let us know in the comments.