Theatrical Review: Finding Nemo – The Musical
TouringPlans is pleased to welcome guest author Ted Wioncek III.
Attention Must Be Paid to the Clown Fish!
The medium of theme park entertainment has yet to receive the proper kudos it deserves from the masses worldwide. Though a large fandom may exist (exalting select acts in cult-like fashion), rarely does the artform receive the attention of professional theatre critics. I suppose what makes this style of live entertainment so difficult to assess is that it refuses to follow a format and continues to play by its own rules. Perhaps that is what we love most about it.
There are countless touches of entertainment throughout the parks, all remarkable in their own way. Yet, one manages to rise above the rest, hitting all the marks – the inspired and (now) retired, Finding Nemo – The Musical.
For those who failed to catch the original version (there is a new "reimagined" version currently in auditions) allow me to say; it was fresh, innovative, and relentless in its pursuit to change the way we look at the medium.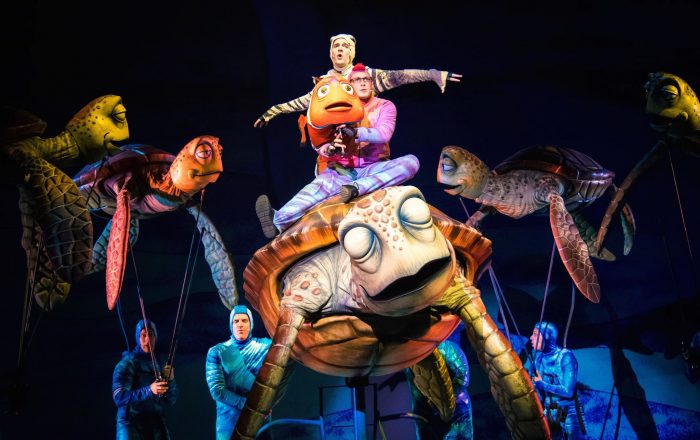 Throughout the 40-minute musical, we are taken through a masterful kaleidoscope of high-theatrics, from puppetry and acrobatics to physical comedy and animated backdrops. Under the knowing hand of Tony Award-winning director Peter Brosius, a beautiful tapestry of skillsets are woven together to make one big (blue) world unfold before our very eyes. The puppetry, designed by Michael Curry (The Lion King), is particularly breathtaking and truly inspired. This is achieved by having on-stage human performers operating colorful, larger-than-life puppets – some as big as a car and requiring multiple people to manipulate. Dripping with ingenuity – there is seldom a minute that goes by that we aren't being introduced to a new convention.
Equally impressive is the score, written by Tony Award-winning composer Robert Lopez (Avenue Q, Book of Mormon) and his wife, Kristen Anderson-Lopez. The music is so catchy and infectious – you could have sworn you've heard it before. Meanwhile, the lyrics are heartfelt and cheeky, frequently making pop-culture references ("haven't you seen Jaws?") and breaking the fourth wall. Even the truncated book that mirrors the beloved 2003 film does not leave us wanting – a rarity when tasked with entertaining audiences of all ages.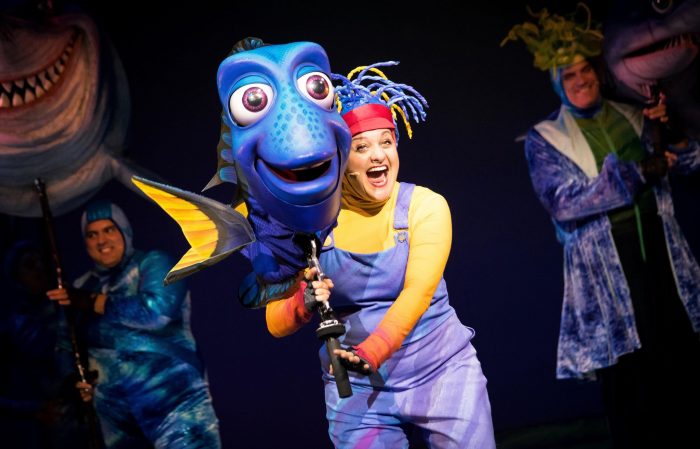 The blocking is tight, sharp, and effective. Though much of this helps make for a well-paced and syncopated production, it also is for safety's sake. Remember, these talented thespians are not just in charge of their own performances, but are the guardians of their puppets, as well. The cast is tasked with keeping to very specific movements and therefore must refrain from deviating from the precise actions that they have been assigned.
What is most impressive is how Brosius and Curry manage to make us buy in – believing that the puppet and puppeteer are one in the same. Unlike Voyage of The Little Mermaid (where they go to great lengths to hide the strings), Finding Nemo – The Musical embraces the strings, allowing them to play in plain sight and become part of the story! The payoff is extreme emotional resonance.
Sometimes, it is pure fun – like when Marlin and Dory fly about the stage in Mary Martin fashion – zipping and zooming from wing to wing.  Other times, it is heartbreaking – when Nemo defiantly swims away, the puppeteer lets go of the puppet, allowing it to swim a few yards away, as the puppeteer continues to keep her arm extended out. The moment is so raw and the accompanied physicality so vulnerable that it is hard to believe we're not watching a snapshot of our own childhood – that irreversible moment when we stop wanting to "grow up" and realize we're already there.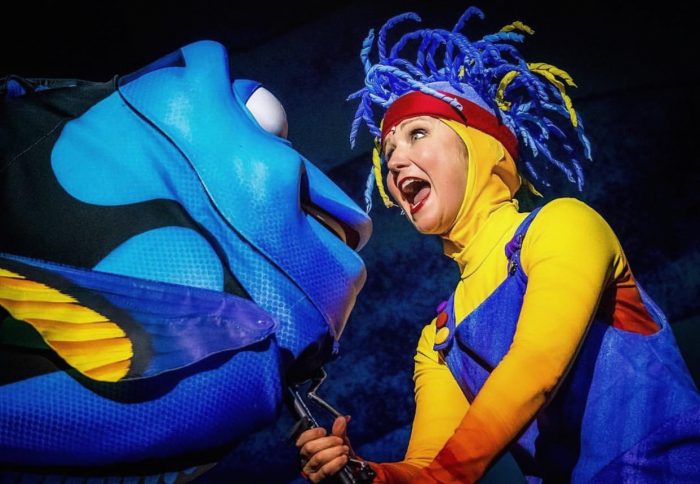 Though the puppetry is masterful, oftentimes the charm is found in the most simplistic of movements, such as the silly acknowledgement and interplay between Dory (the puppet) and Dory (the puppeteer). This little self-referential nod is a puppetry standard, dating back to the days of Punch and Judy and perfected by ventriloquist Edgar Began and Charlie McCarthy. Proving to audiences of 1,500 at a time… that there is no such thing as an old joke… if you've never heard it before.
The lighting design may be the unsung hero of the show. Along with an effective glistening water effect, there is nary an accent missed that isn't further punctuated by light. It is far less utilitarian than it is visceral, making for a Broadway-style experience.
One issue I did find with Finding Nemo – The Musical is its abrupt and unconventional buttons. If you listen closely, you can hear the audience's delayed response after each scene and/or song. Yet, we know this is not indicative of their overall impression of the production. In fact, on the contrary – when it comes time for Curtain Call, triumphant cheers can be heard as far as EPCOT!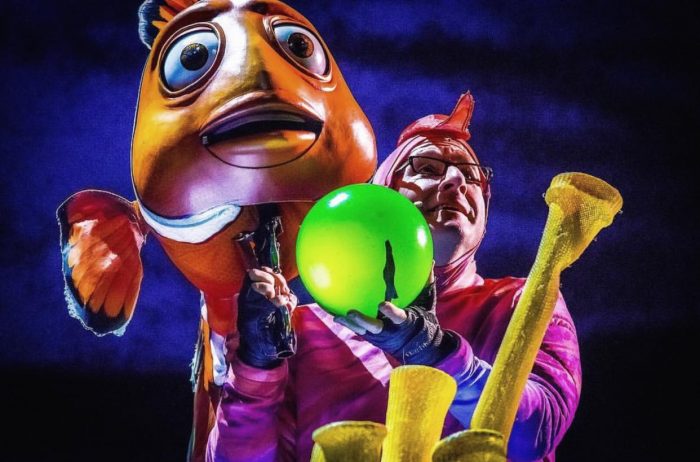 In addition, some plot points are rushed and trampled over. However, it is evident that this is due to a lack of time, not imagination! Even the pivotal "We Swim Together" seemingly comes out of nowhere. But believe you me – I'm picking nits here! All in all, an extra ten minutes on the shot clock and these holes would be patched up tout de suite.
Before closing out this gushing review, I do wish to state that I am concerned with the plans for the recently announced "re-imagined" version of Finding Nemo: The Musical. Once upon a time, the phrase "re-imagined" would have dazzled and delighted me to my very core. Now, too often it is used as a half-hearted attempted to give a budget-friendly facelift to work that should have otherwise been left well enough alone. In addition, the phrase implies that there is a need for a bit of freshening-up to be done. In my not-so-humble opinion, I don't think Finding Nemo – The Musical was showing its age.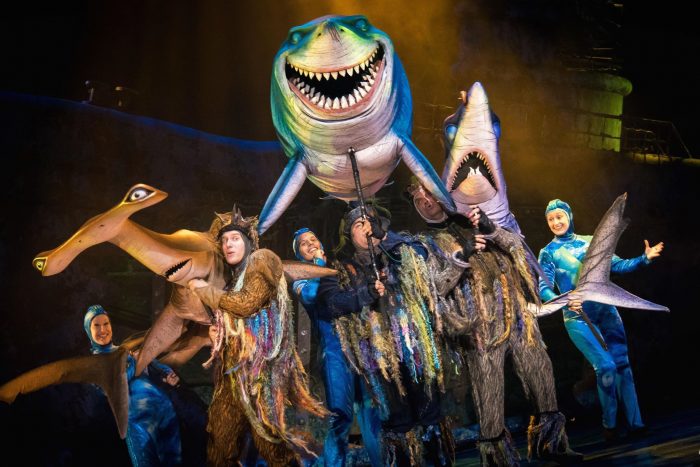 I am worried that Bruce (due to his size and therefor his presumed daily upkeep) will be deduced to a projection – that the brilliant 18-person cast will be thinned out – that unnecessary cuts will be made to shave a few measly minutes off the runtime in hopes of getting the guests out of the seats and back into line to buy popcorn buckets. Forgive my skepticism – for it is simply out of love from what was that I fear for what will be.
And yet, I am excited for what is to come! For better or worse, I am just happy to know that Finding Nemo – The Musical will just keep swimming!
What are your thoughts about Finding Nemo – The Musical? Let us know in the comments.
Ted Wioncek III is a Walt Disney World Annual Passholdin'-D23 lovin'-DVC card carryin'-Theme Park Journalist, whose work has garnered him a reputation as a "master in storytelling." He specializes in theatrical review, food critique, travel planning, and double-blind Dole Whip taste testing. Ted lives in sunny Florida with his beautiful wife, Kimberly, and their adorable rescue beagle, affectionately named, Professor Indiana Bones. You can contact him at TheRealTraderTed@gmail.com. You can also enjoy his tips for visiting the parks at his YouTube channel, The Disney Passport.