Victoria and Albert's First Night Review
It's been more than two years since Victoria & Albert's restaurant at Disney's Grand Floridian Resort closed, but they reopened their doors for dinner July 28. TouringPlans was there for it (and the second night, just for good measure) and we are here to give you the scoop.
For those not familiar with Victoria & Albert's (V&A), it is the nicest (and fanciest) restaurant at Walt Disney World and one of the best in Central Florida. Unfortunately V&A was not open in time to be evaluated for this year's Michelin Guide, but many expect it to join Capa at The Four Seasons Walt Disney World and other Orlando restaurants with at least one star next year.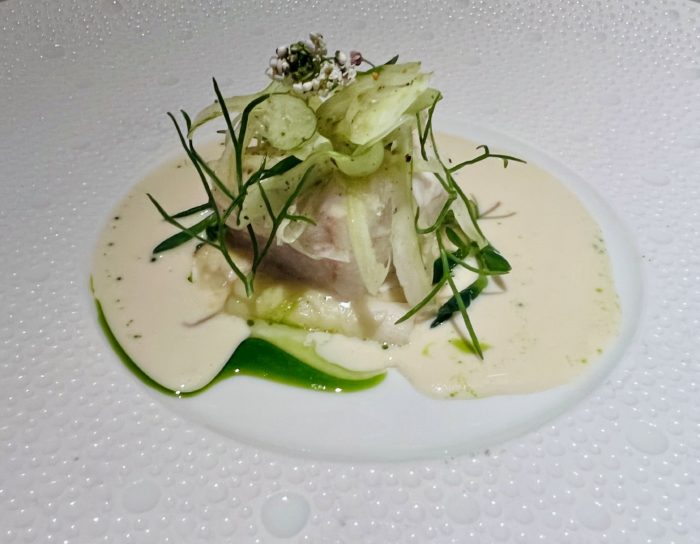 What hasn't changed at V&A?
The dress code: Dress is semi-formal or formal. In fact, a tuxedo would not be inappropriate.
The age restriction: Diners must be age 10 or older.
The need for reservations: V&A is always in demand.
The structure of the menu: V&A serves prix fixe tasting menus available with or without wine pairings. Non-alcoholic pairings and wine by the glass are also available.
The dining room experiences: There are the Dining Room, Queen Victoria's Room, and the Chef's Table.
The high level of service and most of the staff.
What has changed at V&A?
The price: Our tasting menu for opening night was $375.
The decor: During the closure, V&A was able to refresh its dining rooms to a more modern but still traditional look.
The cuisine to a point – Repeat guests will remember seeing several dishes in the style of molecular gastronomy. The menu we were served had fewer dishes with fussy presentation and more of a focus on the story of the course.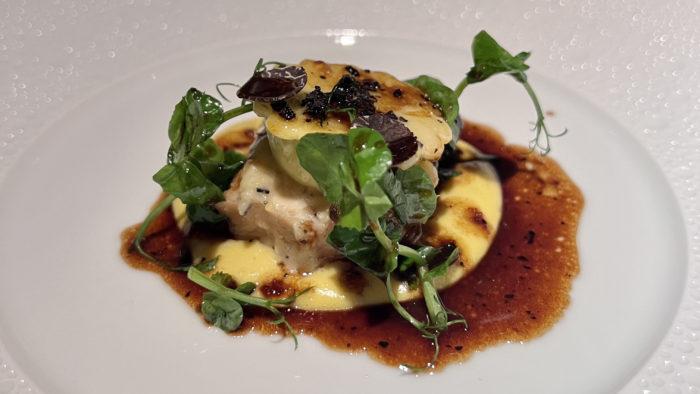 How much is a meal at V&A?
The Chef's tasting menu at Victoria & Albert's is $375 per person with an optional wine-pairing for $200 per person (not everyone at the table needs to choose it). The Dining Room menu is $295 per person ($150 wine-pairing). A non-alcoholic beverage pairing of specially chosen beverages  $110. There is even a water sommelier who can recommend pairings for your dishes in the $16 – 20 up to $126 per bottle range! There is an automatic 20% gratuity for parties of 6 or more and $100 per person charge if you cancel or remove people from your reservation fewer than 5 days in advance.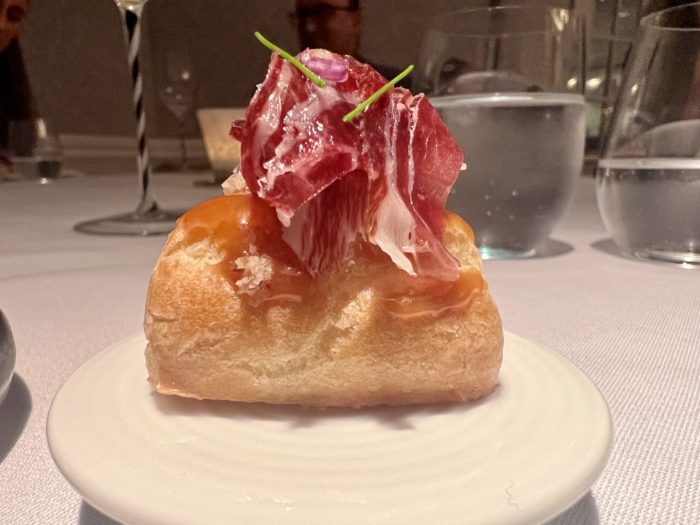 Is V&A worth the price?
We paid for our meal just like any other guest and believe Victoria & Albert's is absolutely worth the price. The price and quality is in line with similar restaurants in major cities. Unlike other table service restaurants at Walt Disney World, V&A is not charging you the "Disney price" for your meal; they are charging the going rate for a very upscale dining experience. Does that mean that we can eat there as often as we would like? Of course not. A Porsche 911 is worth the price, but you're not going to see us driving one any time soon either. To put it in perspective, a meal at Victoria & Albert's is less than the cost of a VIP tour and at least as memorable.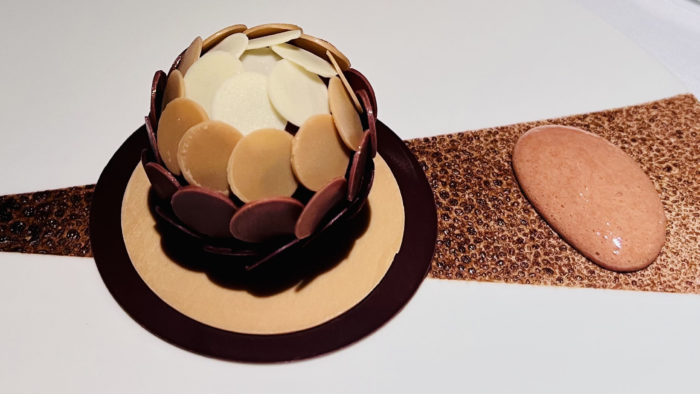 Our V&A first night review
We dined in the regular dining room and had the Chef's Tasting Menu and the Chef's Vegan Tasting Menu:
Chef's Tasting Menu courses:
Pink Pineapple, Thai Basil, Spiced Mango, Langoustine Tartlette, Watermelon, Finger Limes, Cinco Jotas Iberico, "Eclair"
Royal Belgian Caviar, Cauliflower Panna Cotta
Danish Hiramasa, Carrot Okinawan Potatoes
Wild Turbot, Fennel, Baby Leeks*
Glacier 51 Toothfish, Charred Mushrooms, Sambal
Green Circle Chicken, Australian Black Truffle, Corn
Lamb, Pickled Blueberries, Violet Mustard
Miyazaki A-5, Potato Rosti, Romesco*
Cheese course
Desserts: Honey Elderflower Ice Cream, Warm Chocolate Cookie, Spectrum of Chocolate, Pistachio Petit Four, Praline Truffle, Pavlova Tropical Caramel
*Chef's menu only, not on $295 Dining Room menu)
Vegan Chef's Tasting Menu courses:
Pink Pineapple, Thai Basil, Spiced Mango Panisse, Shiso, Tempura Potato Glass, Radish, Celery
Beets, Plum Wine, Yuzu Meringue
Heirloom Tomatoes, Gazpacho, 100 Year Balsamico
Arrowhead Cabbage, "Pastrami," Rye Gnocchi
Charred Mushroom, Bamboo Rice, Sambal
Huitlacoche, Corn, Australian Black Truffle
Heirloom Beans, Potato, Turnips
Carrot Tikka Masala, Cilantro, Puri
Cheese Course (plant-based)
Desserts: Acai, Granita, Warm Peach Raspberry Cookie, Praline Temple, Rhubarb Pie, Sticky Toffee Pudding, Banana Gateau, Tahini Mousse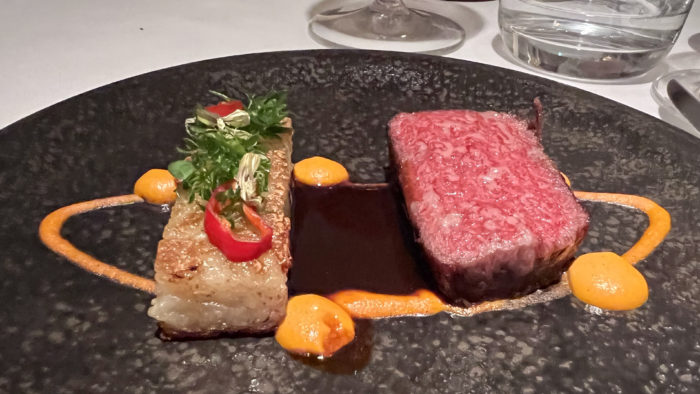 Disney is definitely going through more changes these days than a pubescent boy, and we were not sure how these would affect the best restaurant at Walt Disney World. Victoria & Albert's is same exquisite event we have always loved. Every item was chosen with intent, prepared perfectly, and presented with care. It may seem pretentious to serve dishes like "Spectrum of Chocolate" or ingredients you need a dictionary for, but the amazing cast members at V&A are as convivial, accommodating, friendly, and reassuring as any we've ever experienced. Our servers guided us through each course, explaining the elements, how the dish came together, and how to enjoy each bite. The food is top notch (as one would expect for the price), but the staff make the night unforgettable. This is a meal for anyone who enjoys food.
Thanks for reading our first look at Victoria & Albert's. We will publish a full review in the coming days. Are you dreaming of a meal here? Talk about it in the comments.