WDW Crowd Calendar Update: October and November 2021 Again
Typically we don't do a Crowd Calendar update just a week after an update. On October 7, we lowered crowd levels. After having two months of very low crowds, and no significant bump in wait times for the WDW 50th Anniversary we assumed that we would not see higher crowds until Thanksgiving. We are reverting our crowd predictions after having a week of higher crowds this week, especially at Magic Kingdom and Disney's Hollywood Studios.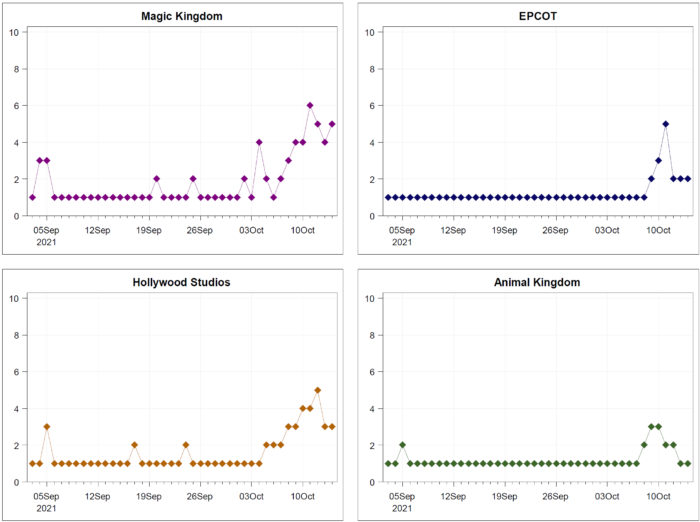 What Went Wrong (We Think)
Fred's blog post addresses this question. Our goal is to have the most accurate Crowd Calendar. We are the only Crowd Calendar that uses quantifiable data to generate and evaluate the accuracy. We try to be transparent and we publish actual crowd levels even if we get them wrong. We do not control the crowd levels, we just monitor and report on them.
Prior to the pandemic, October was a popular time to visit Walt Disney World. Typically the weather becomes more moderate and about 25% of schools have a fall break during October, with Columbus Day week being the most popular week for a fall break. Even for schools that don't have an official fall break, about 40% of schools have Columbus Day off. This makes a good week to pull students out of school for a vacation since they will only miss four days of classes. We minimized the impact of fall breaks this year as we had seen less travel in August and September. Florida's lower COVID-19 numbers seem to be making people more comfortable traveling.
What To Do If Crowd Levels Are Wrong
You can have an excellent day in the parks regardless of the crowd level. The TouringPlans Lines app dynamically updates based on conditions in the parks. Re-optimizing plans throughout the day will create the optimal plan regardless of the crowd level. To be clear, the prediction for the crowd level will not change but the predictions for the wait times on your plan will change. This is true every day of the year. Every five minutes we refresh our predictions for wait times but the figures in the Crowd Calendar are updated manually on an ad hoc basis.
As always, we stand behind the quality of our product and all the benefits that you get for your subscription, however if you are interested in a refund, please email webmaster@touringplans.com.
Have any questions about this update? Let us know in the comments.