What Do You Count as a Visit to Disney World?
This morning I got an email survey from Walt Disney World. Because the questions sometimes telegraph new procedures or attractions, I complete every Disney survey I receive. This one happened to be unremarkable; I clicked the boxes I was supposed to click.
And then I got to the demographic questions.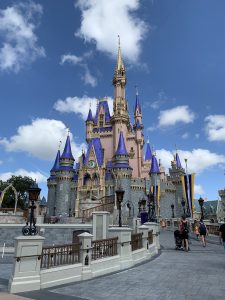 One of the demographic questions Disney ALWAYS asks in its online questionnaires is "How many times have you visited Walt Disney World?" Every time I encounter this, I stumble. I want to look the survey designer in the eye and ask them, "What do you mean by visit? Please define your terms. What counts as a 'visit' to Walt Disney World?"
Here are some of the many ways I've experienced Walt Disney World:
A pre-cruise overnight hotel stay where I didn't enter a theme park.
A two-hour stop in a theme park on my way to another destination.
An stay in an off-site hotel where I experienced several Central Florida attractions, one of which was a brief stop in a Disney theme park.
A three-day trip where I stayed on WDW property, visited several Disney hotels, but never went in a theme park.
A weekend at a Disney World hotel and a three-hour pop into a theme park.
A five-day stay where I visited all four theme parks.
A weekend stay where I only went to Disney Springs.
A trip where I went to the Disney theme parks for two days, then went on a four-day Disney cruise, then went to the parks for two more days.
A week long stay where I went to all four theme parks, a water park, and Disney Springs.
A two-week stay where I briefly entered the theme parks but spent several hours at all of the Disney-owned resort hotels.
A three-week stay where I went to each of the theme parks multiple times, but only visited my own resort.
Do all of these things count as a "visit"? Do any of them count as more than one visit?
In addition to my own situation, there are other even more complicated versions of "What is a visit?" For example, I have several friends who are former cast members or have participated in the Disney College Program. Does their time working at WDW count as multiple visits? Or are only vacations "visits"?
What about people who live in Central Florida? What if they just grab dinner at a Disney resort hotel, is that a visit? What if they go to the theme parks regularly, but have never set foot in a Disney hotel?
When thinking about this topic, I sometimes circle back to the Castaway Club at Disney Cruise Line. For the purposes of Castaway status, all cruises hold the same weight. A Caribbean three-nighter in the least expensive inside cabin has the same impact on your status as does an 11-night cruise through Europe in a concierge stateroom. If DCL thinks all cruises are equal, does this mean that Disney World thinks all visits are equal?
I know there's not a real answer here. And I know it doesn't really matter. I assume that the Disney survey folks are mostly trying to gauge whether you're a newbie or a loyal customer. But still, I'm curious. What counts as a "visit" to Walt Disney World in your mind? Standard week-long vacations or something else?
Let us know in the comments.