REVIEW: Backlot Express Serves Up Quick Food and Nostalgia
As attendance increases at Disney's Hollywood Studios it is important to have a variety of dining options available. Thankfully, Disney's Hollywood Studios already has more quick service dining options currently open than Magic Kingdom. And, the hours of one of the original quick service locations are now extended. Our team revisited Backlot Express this week and it is good reminder of solid menu offered here.
Our readers have submitted over 500,000 surveys over the past few years and give Backlot Express a 85% thumbs up rating, ranking it number 50 out of 109 quick service options at Walt Disney World. This middle-of-the-pack rating doesn't make it a blockbuster success, but if your family prefers burgers, sandwiches, and salads, it is a solid choice.
Mobile ordering is available at this location which is very helpful, and there are customization option available. There is ample seating both inside and at an outdoor area with an overhead covering, providing some great shade.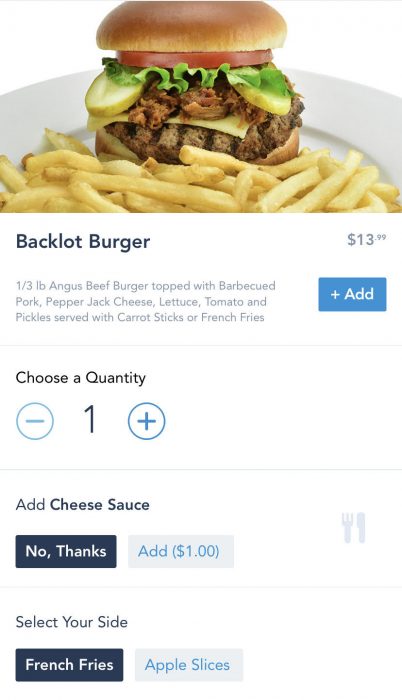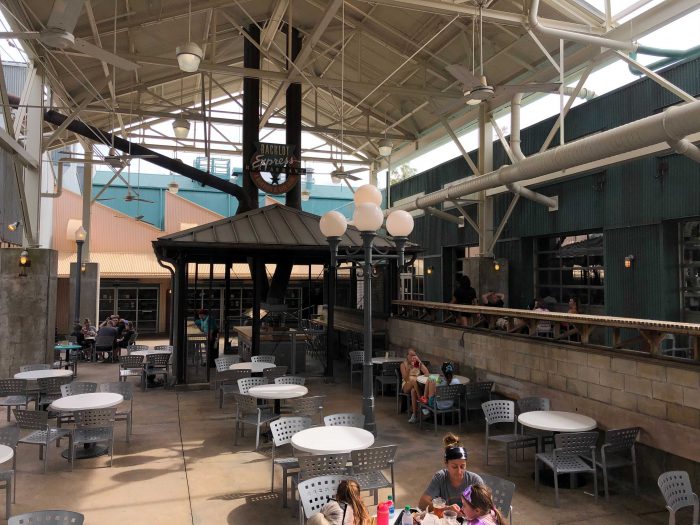 This quick service dining location is unique for its props and decor. Back when Disney's Hollywood Studios was Disney-MGM Studios this was one of the original dining locations. The decor and props throughout the dining area speak to these original days of when the park's focus was on the inner workings of the television and movie industry. Sadly, very few of the original props remain, but the decor still evokes 1989 MGM.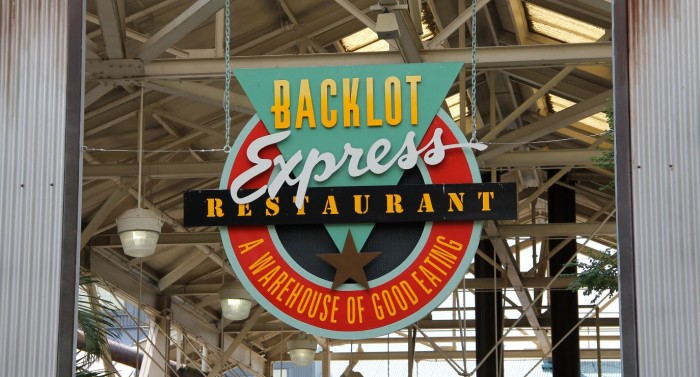 The menu at Backlot Express is full of approachable and familiar fare like burgers, sandwiches, and salads. Many items are elevated with specialty toppings like Pepper Jack Cheese. There is also the Two Suns Hummus which is a nice platter for a plant-based lunch or to share as a healthful snack.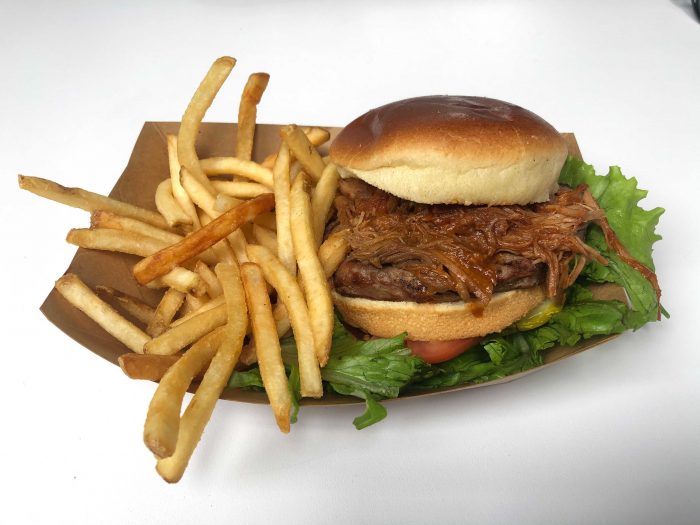 Our team selected the Backlot Burger. This specialty burger offers so much more than the standard Disney quick service burger. This something extra is indicated in the price of $13.99, but the serving is pretty large and the 1/3 lb Angus beef burger is loaded with barbecued pulled pork, pepper jack cheese, lettuce, tomato, and pickle. The brioche bun holds this big pile of tasty food together, and you can have apple slices or french fries as the side. Pro tip – if you go with french fries use them to catch any pulled pork that falls off your burger–voila, you've got toppings for your fries.
If you're looking for more creative, flavorful fare you may want to consider Docking Bay 7 inside Star Wars Galaxy's Edge. But, if you prefer the classics then Backlot Express is a solid pick. If you like being in the know about Walt Disney World and other Disney destinations then become a TouringPlans Subscriber. You'll have access to all our resources and tools.
Which is your favorite place to grab lunch inside Hollywood Studios?