What You Need to Know about the Restart of U.S. Disney Cruise Line Sailings
With the successful completion of her simulated cruise, the Disney Dream has been cleared to start sailing again from Port Canaveral on August 9, 2021.
I was lucky enough to sail on the final cruise on the Disney Dream before the shutdown, and some of the changes that were implemented on that cruise will continue when cruising starts. There are also a variety of additional changes listed. These changes may change over time, and the changes are currently for the Disney Dream only, since that is the only ship that is approved for U.S. sailings at this time. Details about U.S. sailings for the Wonder, Magic, and Fantasy will come at a later time.
Pre-Cruise Requirements
Guests are highly encouraged to be fully vaccinated before sailing. If a guest is not fully vaccinated (either children who are unable to be vaccinated at this time or those 12 and over who have not been vaccinated), they will need to undergo a variety of new requirements.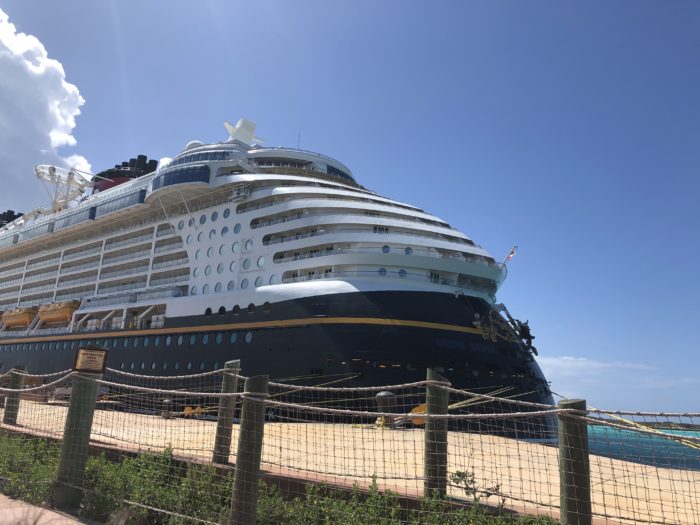 At 33 days before sailing or after, all guests must create an account with Inspire Diagnostics, Disney Cruise Line's third-party testing and vaccine verification system. Those guests who are vaccinated may upload a copy of their vaccination card for verification. This will allow you to opt out of pre-cruise testing.
For those guests who do not have a verified vaccination, between 5 days and 24 hours prior to your sailing, you must obtain a negative PCR test result. You can choose to find a local provider, or you can pay for it through Disney. The cost is $98.33 per test. This is required for unvaccinated adults and children. If you go to a third-party testing site, you are required to upload your information into the Safe Passage website through Inspire Diagnostics for verification. Should any in your traveling party have a positive COVID-19 PCR test result, the traveling party will be prohibited from boarding. You can read more details here.
All unvaccinated guests ages 12 and older will also be required to purchase and provide proof of a valid travel insurance policy with a minimum $10,000 medical expense and $30,000 medical evacuation coverage with no COVID-19 exclusions. (At TouringPlans, we recommend travel insurance for cruises in general, regardless of vaccination status!)
You will also need to complete online checkin as usual, and complete a pre-trip embarkation health questionnaire through the Disney Cruise Line Navigator App.
Port Arrival Information
All guests will be required to select a port arrival time. This includes Platinum Castaway Club members. It is important to note that should you arrive before your port arrival time, you will not be granted access to the parking area or the terminal and will be asked to leave the Port to wait somewhere until your time.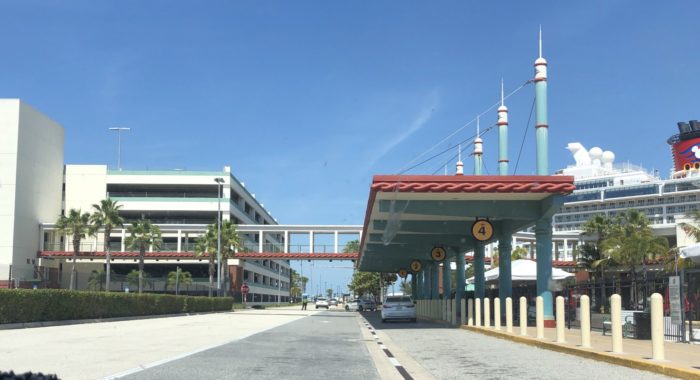 Upon arrival, guests who are not fully vaccinated are required to undergo a Rapid PCR COVID-19 test at the port. A charge of $65 per guest will be applied to the stateroom folio of all guests 12 and older. Should a guest test positive, all members of their travel party will be denied entry.
Disney highly suggests that all bags and luggage be checked in. The bags will go through a sanitation process before being sent to your stateroom.
Masks are required for all guests ages 2 and up upon arrival at the terminal. Mask information can be found here.
Once you are permitted on the ship, you must complete the Mandatory Emergency Drill through the Disney Cruise Line Navigator app. Staterooms will not be ready until 4 PM, and reading between the lines, it sounds like you will not be able to access your stateroom until you have done the emergency drill.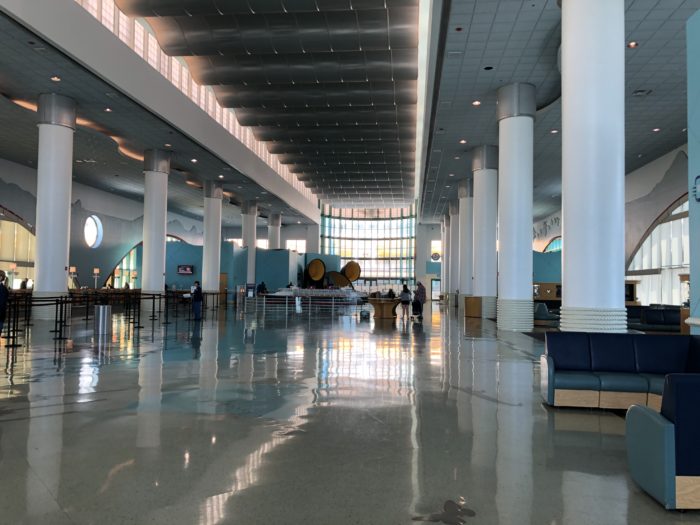 Sailaway may be as late as 7 PM, and there will not be a sailaway deck party offered. There will be dining options available on embarkation day.
Face Coverings
Directly from Disney's web site: All Guests (ages 2 and up, including those who are fully vaccinated against COVID-19) are required to wear appropriate face coverings indoors, except when in their staterooms or actively eating or drinking (while stationary and maintaining an appropriate physical distance). Face coverings are not required for Guests outdoors while on board the ship and at Disney Castaway Cay. Face coverings may be required in ports of call based on local government requirements. 
Activities for All Ages
Many activities will be offered, however some will be modified and others will not be offered at present.
Live shows will be offered at the Walt Disney Theatre on a first-come/first-served basis. Physical distancing measures will be in effect. Each itinerary will offer one show with multiple performances.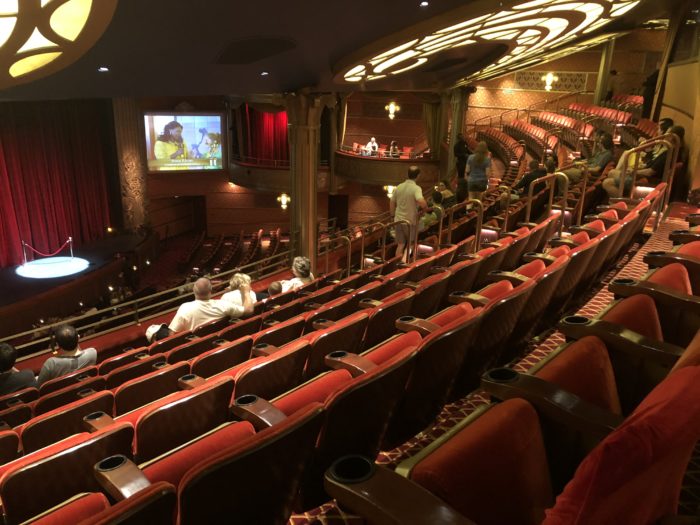 Movies will be shown in the Buena Vista Theatre and on the FunnelVision. Seating will be first-come/first-serve, with physical distancing measured and capacity limits in effect.
Deck parties, including sailaway party and pirate deck party, have been suspended at this time.
Splash zones, wading pools, and whirlpools will be open with limited capacity. Waterslides will be open with queue locations to encourage physical distancing.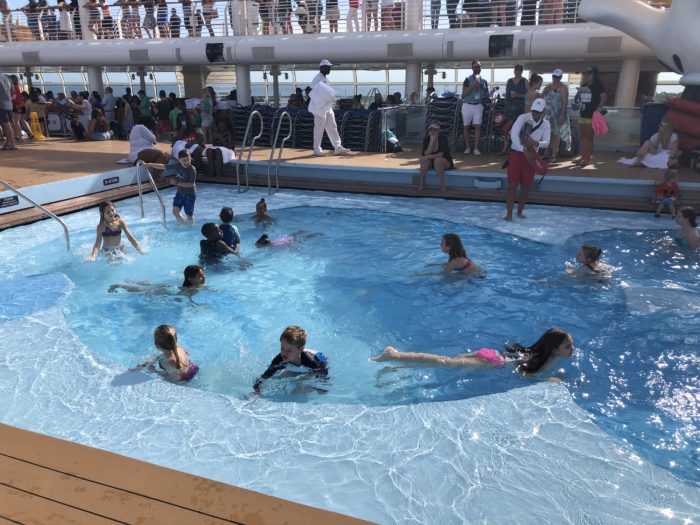 Fireworks will be provided — you will be assigned one of two nights to attend a 10:30 p.m. slot for viewing on the upper deck.
Character meet and greets have been modified. Autographs and up-close meet and greets will not be held, but there will be socially distanced meet and greets and characters appearing around the ship for distanced interactions and photographs.
Dining room seating times will be staggered, and only one traveling party will be seated per table. Digital menu usage through the DCL app will be encouraged, but paper menus will be available upon request.
Dining locations that were previously self-service (including drink stations and Cabanas buffet) will be available, but will be attended by crew members who will serve guests.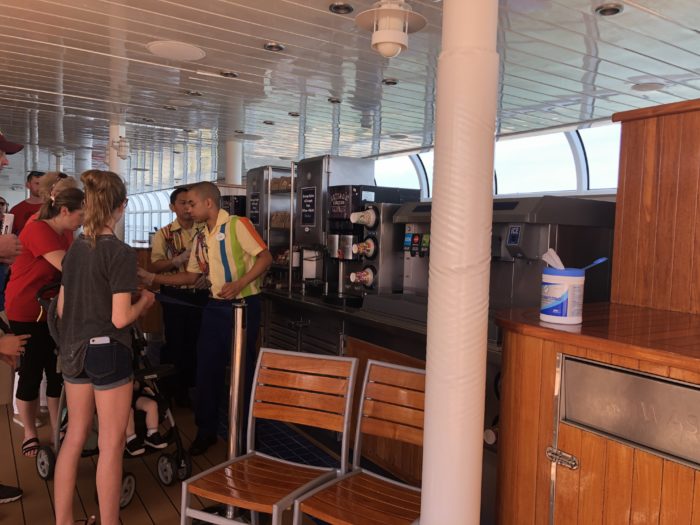 Fish Extender programs or other gift exchanges are not permitted at this time.
Housekeeping will proceed as normal with thorough cleaning and Housekeeping twice a day. Hight-touch loose soft goods (such as sofa pillows and paper stationery) have been removed.
Onboard shopping will be available, but use of the Key to the World card will be done in a way so transactions are contactless and receipts will be provided through the DCL app.
The notes about photography is interesting — it mentions social distance photographs with characters using your own camera or mobile device, but it doesn't mention professional photographers for those. It is mentioned that there will be photo backdrops, and roaming photographers to take photos at "iconic ship locations". Guest will be allowed to briefly remove masks for photos while maintaining physical distancing and while stationary.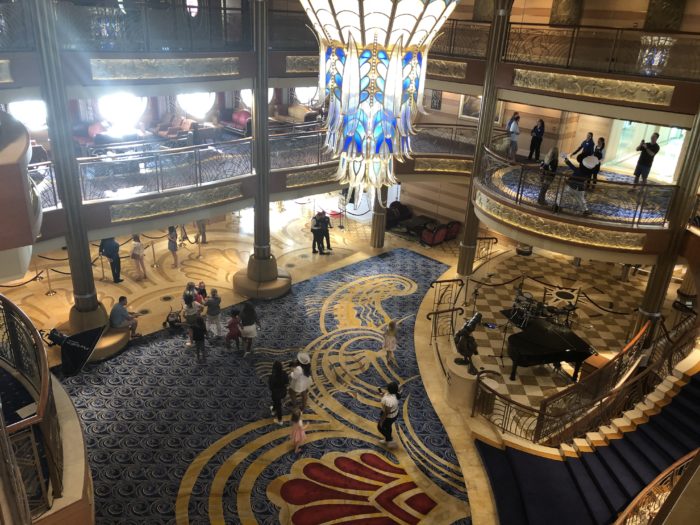 Ping pong, shuffleboard, and baseball courts have been temporarily paused. The basketball court will be a sun deck for sunbathing.
Activities for Kids
The Royal Court Royal Tea will be offered, however in a modified format. Princesses will do socially distanced greetings only, and journals and lithographs will be provided instead of autograph books. Photos sessions have been paused.
Children ages 3-12 will be able to attend the Oceaneer Club and Lab, however you will have to reserve a specific session time online. It is first-come/first-served and only one session can be booked per day. Groups within the youth spaces will be limited to 15 children with one counselor.
Limitations are in place about drop off and pick up — adults will not be permitted to access the club, and only one adult can be present for drop off or pick up.
All children MUST wear face coverings when inside the Club or Lab, and hand washing is required. Cleaning procedures for the high-touch surfaces has also been enhanced.
Vibe (teens) and Edge (tweens) will be open with no reservations required. Face masks will be required.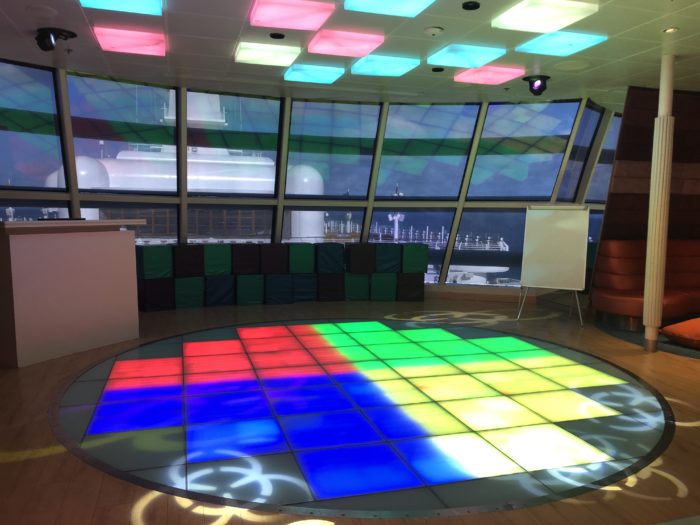 It's a Small World Nursery will be unavailable.
Bibbidi Bobbidi Boutique is available for ages 3-12, however children must wear face coverings during this experience.
Activities for Adults Only
Many spa services are available for booking. All guests, included those vaccinated, will be required to wear face masks during their therapies and treatments. Locker rooms and changing rooms will be unavailable, except for those needing to prepare for select treatments.
The following services will be temporarily unavailable: Rejuvenation Spa, Couples Massage, Senses Juice Bar, Teeth Whitening, Facial and Barbering services, Chill Spa teen treatments, and Relaxation and Locker Rooms. The following services will be available by appointment: Individual massages (aroma stone therapy, bamboo, deep tissue, Swedish, Castaway Cay Cabana), Acupuncture, Body Therapies (Ionithermite Cellulite Reduction, Aroma Seaweed Massage), Manicure and Pedicure, Hairstyling.
Rainforest Room will be available by appointment only. One travel party of up to 10 guests may make a Rainforest Room appointment. Each appointment is $174 per travel party and is a time slot of 1 hour 45 minutes. Reservations must be made on board the ship.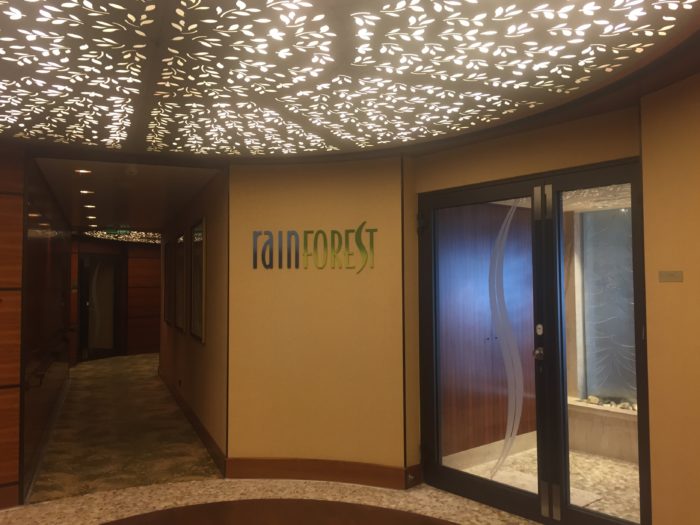 Fitness Center is available for guests 14 and older (with 14-17 required to have an adult). Fitness classes can be reserved through the app on a first-come/first-served basis. Sessions with personal trainers are provided with physical distancing. Masks will be required.
Changes to Itineraries and Castaway Cay
We've noted that many of the early Disney Dream cruises have now had their day at Nassau changed to a second day at Castaway Cay. Disney is very clear — this is a fluid situation so expect changes at different ports of call as information changes.
At any ports of call, including Castaway Cay, you will be required to join a virtual queue through the DCL app to arrange to leave the ship. You will receive a push notification through the app on your phone when it is your turn. During less busy times, virtual queue may close, and you'll be able to leave the ship at your own leisure.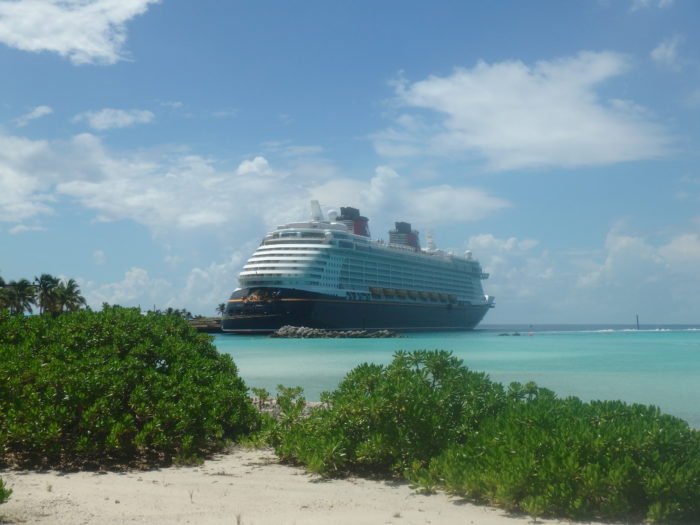 Regarding mask usage, according to Disney: Face coverings are not required for Guests outdoors while on board the ship and at Disney Castaway Cay. Face coverings may be required in ports of call based on local government requirements. 
Port Adventures will operate at reduced capacity and will only be DCL guests — no other cruise line guests will be on these Port Adventures.
Characters will appear in "surprise appearances" around Castaway Cay, plus they will appear on vehicles for a "Party Patrol".
Photographers will be available at designated places of photographs.
Scuttle's Cove, the kids' club on Castaway Cay for ages 3-12 will not be available. Teen Hideout and In Da Shade Game Pavilion will be open with limited capacity. Pelican Plunge will be available, but will have a queue on land.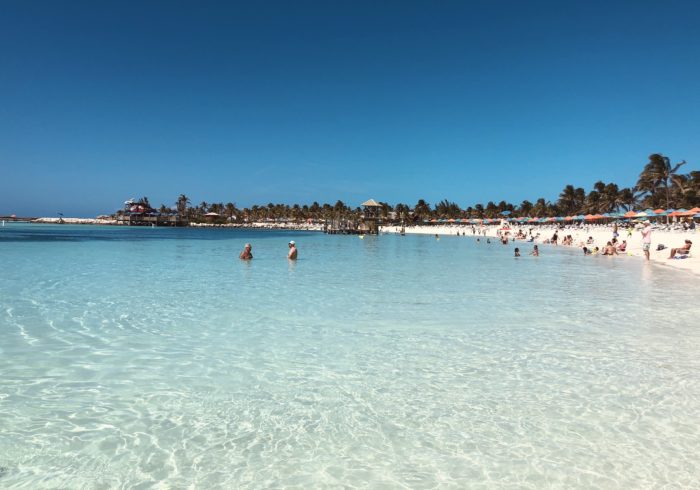 Bike and Water Rentals are available with enhanced cleaning protocols.
Trams are available with enhanced cleaning and modified seating.
No package pickup will be available.
The group 5K race on Castaway Cay will not be offered, but you may run on your own and pick up a finisher medallion at a later time.
Debarking Information
As usual, you have the option to take your luggage with you off the ship or to place it outside your stateroom the last night of your voyage.
Breakfast will be provided at the restaurants with assigned, staggered seating times, or Cove Cafe will be open for coffee from 6:30 to 8:30 a.m. You will be assigned a debarkation time based your dining time.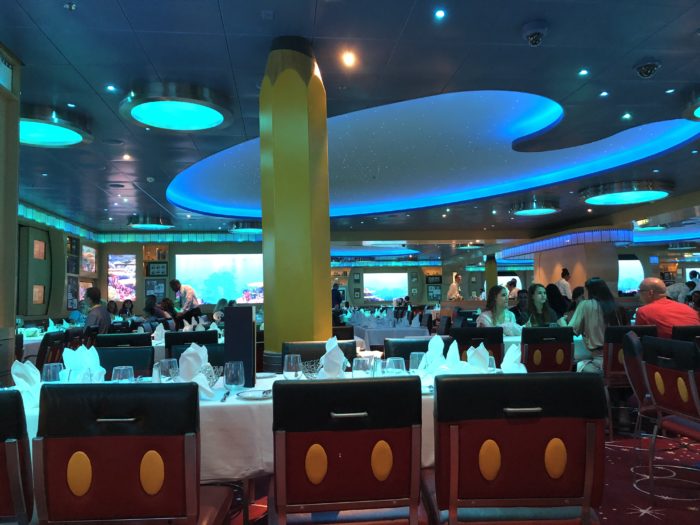 Masks are required for debarkation and in the terminal.
The motorcoach to Walt Disney World for paid transfers will depart promptly at 9:00 a.m. If you've purchased ground transportation to MCO through Disney, continuous motor coach service will be provided during debarkation and check-in will be done at the airport.
Note: photos were taken prior to the March 2020 shutdown of Disney Cruise Line and may not reflect operating procedures upon return to sailing. 
Whew! There's a lot of information to digest, and there certainly will be more changes and announcements throughout the rest of this year. In the meantime, do you have any questions about what was announced today? If so, let us know in the comments.