What's New With DAS at Walt Disney World
Along with the Genie system, there are changes, dare we say upgrades, to the DAS (Disability Access Service) policies. The new system saves a lot of time and energy and works exceptionally well if combined with  DAS Advance Selections 
Let me start by saying if you are not comfortable using the technology, you may still use the DAS in person.
Here is how it works for guests who would like to make return times using their smartphones instead of going all the way to the attraction or a blue umbrella.
Before coming to the park, ensure your iOS system is current. (Check the night before because this update can take a long time.) Also, make sure you have a My Disney Experience account, and that your app is updated.
If you have a current DAS (either because of pre-registering or yours is still current) after you enter a park, the more My Disney Experience App page will have an added box with the DAS logo. (To find more pages, click the three lines at the bottom of your screen.)
When you click the DAS button, a list of all attractions with their current wait times will appear. Click your choice.
The next screen will show a return time. If that works for you, click the button. If you also have the Genie+ you will see a return time and a LL button; click the DAS.
Then a screen will confirm your party.
Then you go to the attraction and typically tap in at the Lightning Lane and again at the second touchpoint. (The Jungle Cruise is an exception, head to the cast members with iPads near the handicapped sign.)
Questions and Answers
Q: I'm at home trying this and don't see the DAS button. What am I doing wrong?
The DAS button will not appear unless you are currently in the park AND have a current DAS.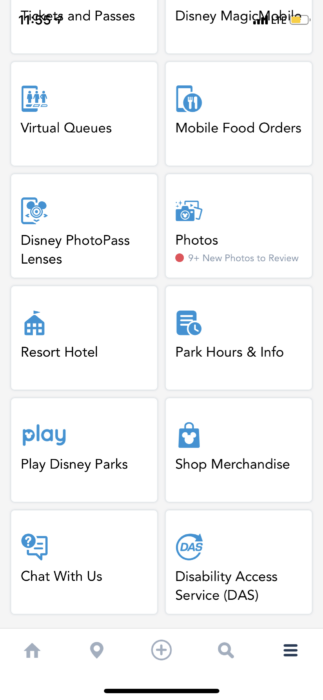 Q: I made a DAS Advance Selection before our visit. Do I have to wait to use them before I can get a DAS return time in the park?
No, DAS Advance and DAS return times are two different things. You can have two DAS Advance Selections, a DAS Return Time, and a Lightning Lane, all at the same time.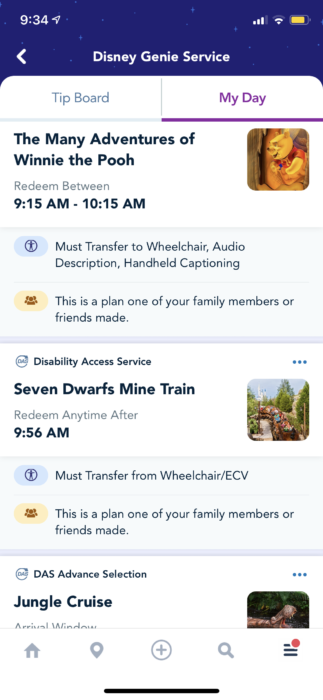 Q: I'm in the park for early resort times, and it won't let me make a DAS. Is this an error?
The park must be open to make a DAS–this was usually true with the in-person way too.
Q: I made a DAS Advance Selection, but I didn't know my sister would be joining us. She's on our DAS party; can she join us anyway?
Unfortunately, only the pre-selected members can join. But they are welcome on any return times throughout the day.
Q: Can I use the DAS on attractions that have Individual Lightning Lanes, such as Seven Dwarfs Mine Train and Rise of the Resistance?
Yes, all attractions with a standby line are available with DAS.
Tron and Guardians of the Galaxy: Cosmic Rewind currently has a virtual queue, and you need a boarding pass or Lightning Lane.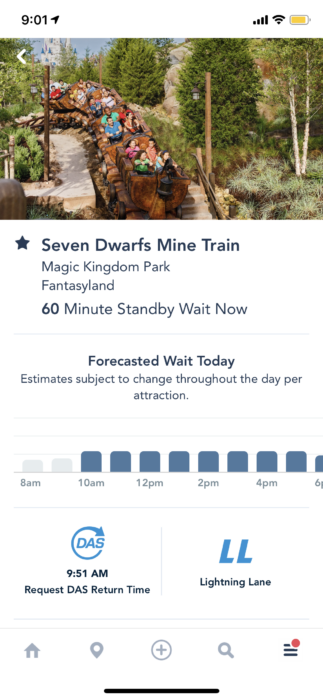 Q: Genie+ won't let you use a Lightning Lane for the same attraction more than once a day. Can you ride a ride multiple times with DAS?
Yes, there is no limit on how often you can ride with DAS.
Q: Can I use Genie+ with the DAS?
Yes, Genie+ and the DAS system work together. For guests that use DAS and are more comfortable with structure, Genie+ will be a struggle. Obviously, there is no need to spend on the Individual Lightning Lane attractions.
Q: Genie + has a defined return time.  Does the DAS have a strict return time?
The DAS Advance Selection has a one-hour time period. Be careful with that when you are chatting with the cast member and setting those up. 
A DAS return time has no end time.
Q: Can anyone in the DAS party schedule a return time?
Yes, anyone in the party will have the DAS button on the More page.
Q: Can I make a DAS for another park if we are park hopping?
No, you must be in the park to make a DAS.
Q: My sister is about to join us but isn't in the park yet, can I make a DAS for her?
Yes, we were able to make a return time for my daughter before she arrived. We were not able to do that with a Genie+ Lightning Lane.
Q: I'm in the park, I already have a current DAS, and it isn't showing on the app.
Try closing the app completely, then look again. Sometimes it needs a reboot to recognize you.
Do you have any thoughts or questions about the  DAS procedures? Let us know in the comments.