The Kevin Rafferty Imagineer Touring Plan Challenge
Touring Plans are step-by-step customizable guides for touring each of the parks at Walt Disney World, saving guests up to four hours in line. We even have Ultimate Touring Plans designed to help guests see every attraction, show, parade, and live performance in a Disney theme park in a single day.
Today, I'm introducing a Touring Plan that's not focused on a single park, but rather a single individual: an Imagineer! Since I've already shared the Joe Rohde Imagineer Touring Plan, and the Tony Baxter Imagineer Touring Plan, today I'm introducing the Kevin Rafferty Imagineer Touring Plan focusing on attractions and locations that best represent Kevin Rafferty's contributions to the parks.
Who is Kevin Rafferty?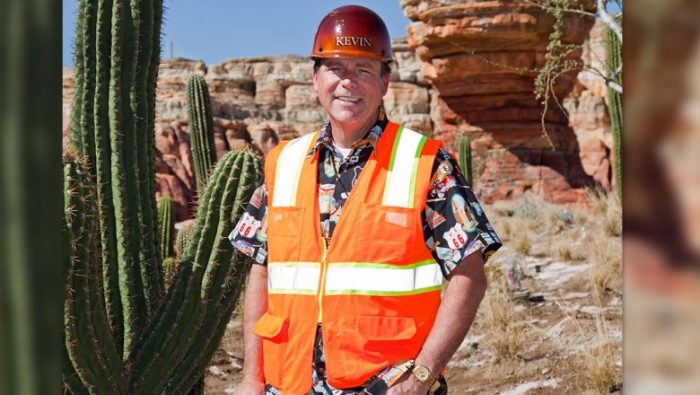 Kevin Rafferty is a Creative Director and Show Writer at Walt Disney Imagineering responsible for a number of popular Disney attractions, such as the Twilight Zone Tower of Terror, Toy Story Midway Mania, and Mickey and Minnie's Runaway Railway.
Rafferty started his career with Disney as a dishwasher at the Plaza Inn and worked his way up to Club 33. He landed his first job at Imagineering during a recruitment period for EPCOT where he eventually became a writer.
The Kevin Rafferty Touring Plan Challenge
While I usually use a preexisting Touring Plan as a base model for the Imagineer Touring Plans, this didn't quite work for Rafferty's slate of attractions. However, the order of attractions seen in this plan are still based on strategy to save you time in line. Also, participants will need a Park Hopper Ticket in order to fully experience this Touring Plan.
Note: While this plan can't include every project Kevin Rafferty has worked on, the attractions and activities I've included hopefully best reflect his work and overall impact on Walt Disney World.
Suggested FastPass+ Reservations and Start Times: 
Rock 'n' Roller Coaster

Arrive to ride or book a FastPass+ reservation for park opening

Twilight Zone Tower of Terror:

Arrive to ride or book a FastPass+ for 9:45 a.m. or 10:00 a.m.

Mickey and Minnie's Runaway Railway:

Arrive to ride or book a FastPass+ for 11:00 a.m.

Toy Story Mania:

Book a FastPass+ if/when possible
1) Rock 'n' Roller Coaster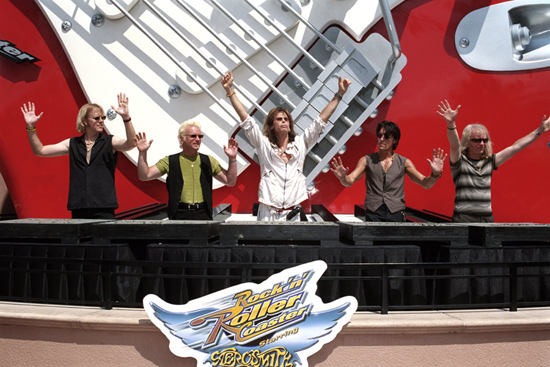 This attraction is a high-speed roller coaster in the dark where guests ride in a limo-esque ride vehicle decked out with an insane audio system playing one of Aerosmith's songs such as "Sweet Emotion," "Walk This Way," "Dude (Looks Like a Lady)," and more! The coaster begins by launching guests from 0 to 57 mph in less than 3 seconds and boasts 2 loops and a corkscrew.
Rock 'n' Roller Coaster's grand opening was held on  July 29, 1999 and attended by Aerosmith. You can still see a framed photo of the event on display at the exit of the attraction. Rafferty worked with Aerosmith and was present when pre-show was recorded. In his book, Magic Journey: My Fantastical Walt Disney Imagineering Career, he said,
"When I set the script on the stand in front of Steven, the tech asked for a sound level check and I leaned into the mic and made the sound of a water drip by tapping my finger against my cheek and forming the sound with my lips. 'Whoa!' reacted Steven with surprise. 'Teach me how to do that!' I gave him 'drip' lessons and he became obsessed with mastering that sound, which took us all the way up to our lunch break."
2) Twilight Zone Tower of Terror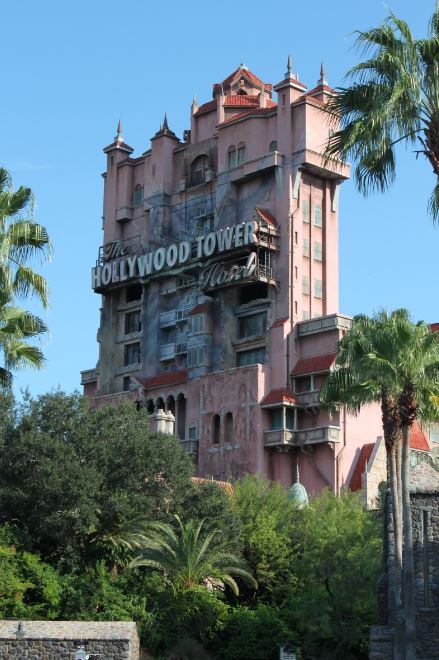 The Twilight Zone Tower of Terror is a thrilling drop tower attraction based on The Twilight Zone television series hosted by Rod Serling. Guests enter an eerily abandoned hotel where they board an elevator that transports them to the Twilight Zone!
When the Tower of Terror debuted in 1994, it was an instant hit and is still one of the best themed thrill rides at Walt Disney World.
"The first major ride-through attraction story and name I ever 'planted,' pitched, and sold, The Twilight Zone Tower of Terror, was born out of a request by our management to add some thrill to the park."
3) Mickey and Minnie's Runaway Railway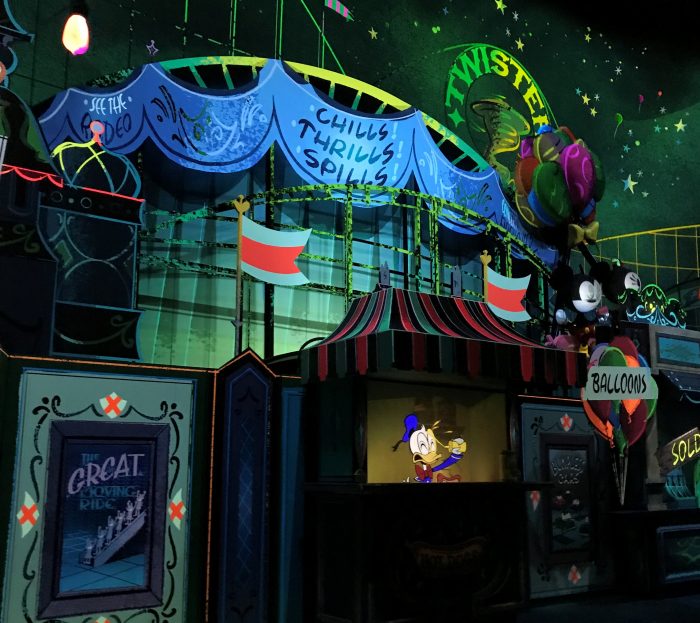 Guests enter a Mickey Mouse cartoon and board a train bound for a picnic with Mickey and Minnie. When things go wrong, guests are whisked through a variety of vivid cartoon scenes where literally anything can happen!
"We've taken our whole grab bag of theatrical tricks and blended them together so seamlessly you won't be able to tell what's what… There is more happening in each and every scene than you could possibly have time to see in just one experience."
4) Muppet*Vision 3D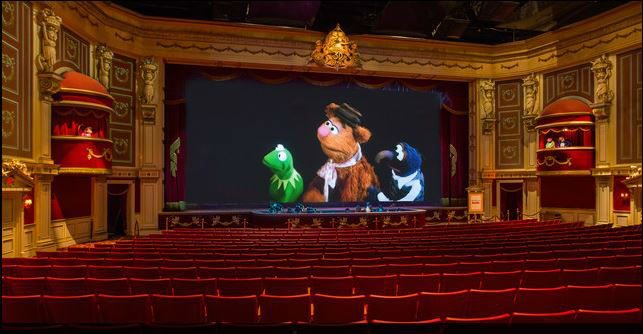 Muppet*Vision 3D is a 3-D show with additional live in-theater effects starring the Muppets as they offer a demonstration of their lab and new movie-making invention. The show opened May 16, 1991, and is housed in a replica of the Muppet Theater from The Muppet Show series. It stands as the final released film directed by Jim Henson and the last to feature his voice as Kermit the Frog.
"Although I added some bits that made it into the show, including Miss Piggy as the Statue of Liberty, I received more from those story sessions with the good Henson folks than I contributed because I spent most of the time closely observing them, their creative development process, and especially Jim Henson himself."
5) Toy Story Mania!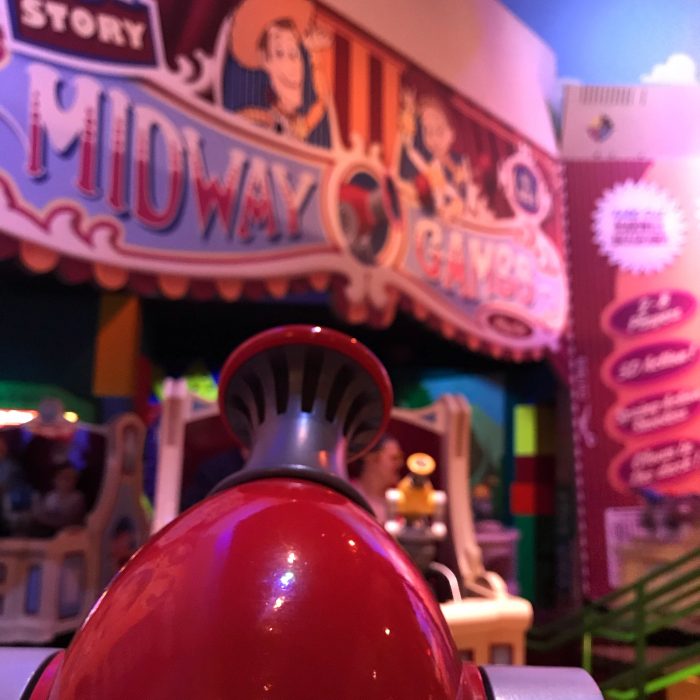 Toy Story Mania can best be described as a virtual dark ride through an interactive midway-style shooting gallery. The premise for this attraction is Andy has a new midway carnival game that Woody, Buzz, and the gang are having some fun with. Guests, who have been shrunk down to the size of a toy, are going to test their skills at the individual games and compete for the highest score.
"Usually 3-D is chosen because it's the best way to deliver gratuitous in-your-face gags. But more important to us than 3-D gags, was making the booths and the games inside them believable. They had to look as if they had real depth and dimension."
6) EAT LUNCH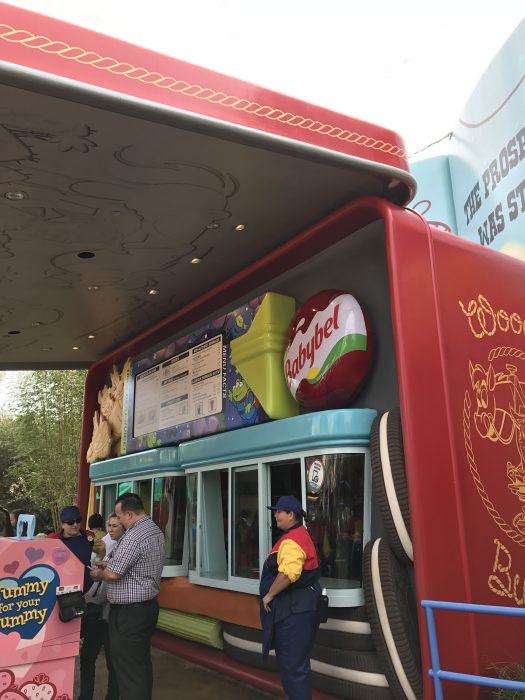 While Kevin Rafferty worked on the names of eateries at Typhoon Lagoon and Blizzard Beach, he hasn't worked on many in-park restaurants. To keep with the spirit of the touring plan, I'm going to recommend lunch at Woody's Lunchbox since it keeps with the Toy Story theme.
Woody's Lunchbox is a quick-service walk-up window in, of course, a lunchbox! This location offers a grilled three-cheese sandwich, a BBQ brisket melt, tomato-basil soup, and lunch box tarts.
PARK HOP TO EPCOT
7) Test Track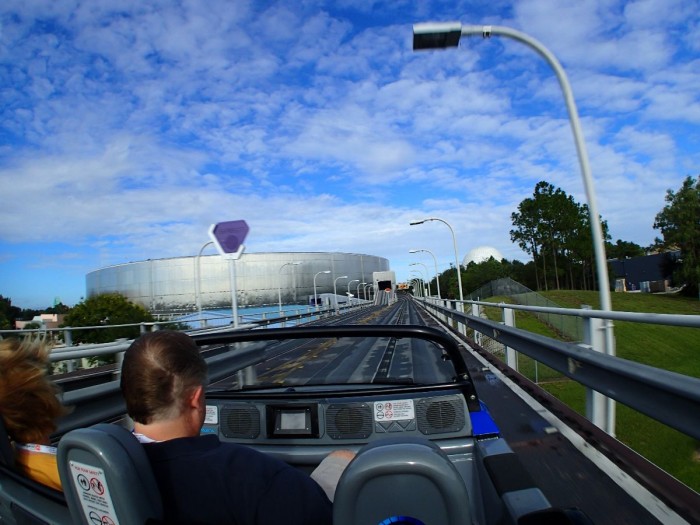 Feel the need for speed? Test Track allows guests to design their own car and put it through a series of tests. The finale is a high-speed drive around the pavilion topping at 65 mph! While originally scheduled to open in 1997, Test Track didn't make its official debut until March 17, 1999. This original version of Test Track had guests enter a repair center of test facility and involved guests being put through the same tests as the crash dummies!
In 2012, the original Test Track closed and then reopened later in the year with futuristic new sets and the ability for guests to design a car and test it while they ride.
"…we designed a new ride vehicle that not only looked and behaved like a real car but could zip along a high-speed track that extended for quite a distance outside the pavilion. It would also be capable of hitting any speed in between the range being set and could travel over any road surface with real tires like an actual car."
PARK HOP TO ANIMAL KINGDOM
8) It's Tough to Be a Bug
It's Tough to Be a Bug is a 3-D/multi-sensory show starring Flik from Disney Pixar's film A Bug's Life. Through the use of a 3-D screen, audio-animatronics, and effects, Flik and other bugs attempt to demonstrate the importance of bugs, but also that it's really tough to be one! It's Tough to Be a Bug and Disney's Animal Kingdom park both opened April 22, 1998, even though A Bug's Life wasn't released in theaters until November 25, 1998!
"Several entomologists came to Imagineering with live creepy crawlies. These were not my favorite research days!"
PARK HOP TO THE MAGIC KINGDOM
9) Mickey's PhilharMagic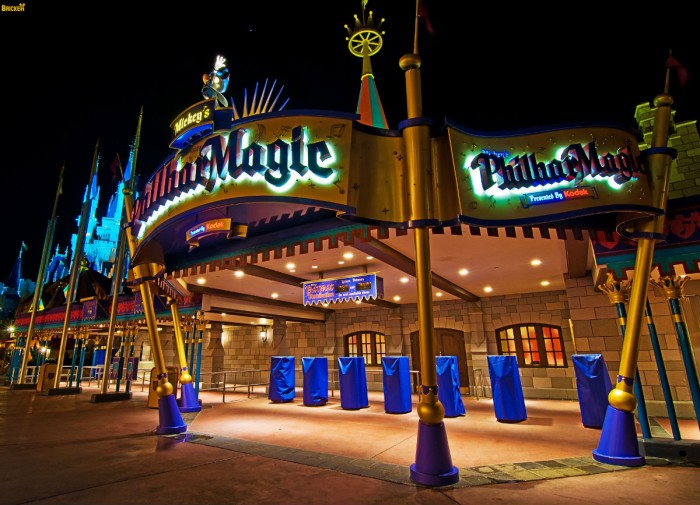 Mickey's PhilharMagic is a family-friendly 3-D show where guests follow Donald Duck through musical numbers from classic animated Disney films!
"I became obsessed with my self-imposed challenge of creating a 'classic' sound for Mickey's PhilharMagic by building Donald's entire vocal track out of existing record sessions of Ducky Nash through the decades… There are only three spoken lines by Donald in Mickey's PhilharMagic that are not performed by Ducky Nash, plus a musical bit where Donald hums along to 'Be Our Guest'."
10) 1994 Carousel of Progress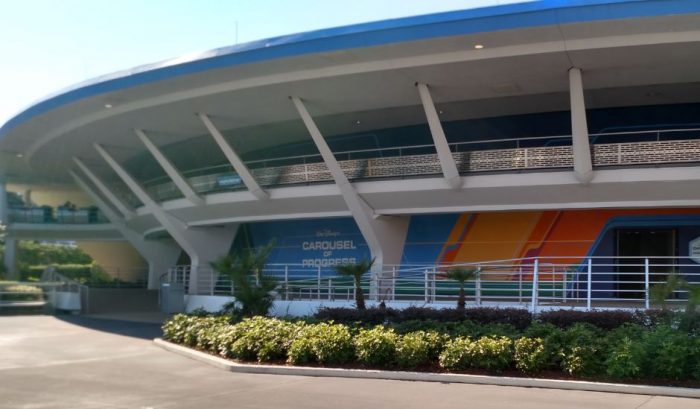 Walt Disney's Carousel of Progress is a four-act audio-animatronic show illustrating how electricity and technology improved the lives of an American family during the 20th century. The show is presented in a theater that revolves around the stage and features one of the best and most iconic Disney theme park songs, "There's a Great Big Beautiful Tomorrow," written by the Sherman Brothers.
Kevin Rafferty was assigned to update the show back in the '90s where he changed the song from "The Best Time of Your Life" back to "There's a Great Big Beautiful Tomorrow." He also worked on updating the final scene, coordinated  the show's voice talent, and encouraged adding Walt Disney's name to the show's title.
"I also thought, in the spirit of change, it would be fun to celebrate a special time of the year for each scene, such as Halloween and the Fourth of July. I asked my musical partner, George Wilkins, to jump in to bring the Shermans' original theme song back and to arrange it, with his own special twist, in the time periods and seasons depicted."
11) EAT DINNER
Cosmic Ray's Starlight Cafe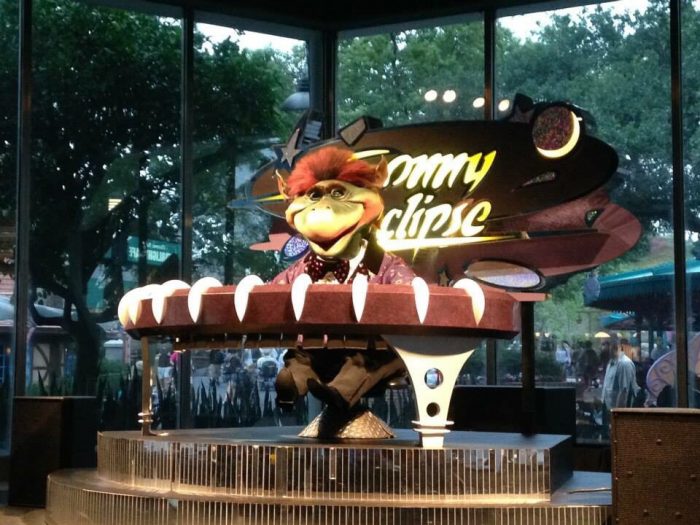 Check out this Magic Kingdom quick service restaurant in Tomorrowland to visit Sonny Eclipse. Yes, Kevin Rafferty worked on this obscure audio-animatronic alien singer and organist and penned his tunes such as "Yew Nork, Yew Nork" and "Gravity Blues".
"I thought it would be fun for Sonny to sing different types of music, from ballads to rock to blues to "Bossa Super Nova," so we wrote in all those styles. I penned the lyrics and jokes to reflect Sonny's outer space perspective."
12) The Many Adventures of Winnie the Pooh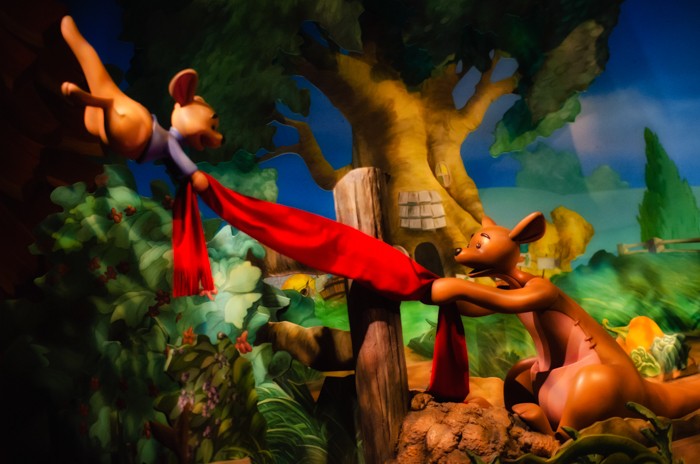 This family-friendly dark ride whisks guests through the Hundred Acre Wood aboard a hunny pot! During your ride, you will experience a blustery day, bounce with Tigger, encounter Heffalumps and Woozles in a dream, and then float through a flood. Of course, in true Pooh fashion, your adventure will end with a smackrel of honey. This attraction opened in Fantasyland June 5, 1999, and replaced Mr. Toad's Wild Ride.
"I was the last person ever to direct Paul Winchell performing the voice of this most beloved character. After he covered all of the material, Paul asked if he could perform one more line for the road… Paul winked at me, took a deep breath, and said, 'TTFE. Ta-ta for ever."
BONUS: Typhoon Lagoon & Blizzard Beach
Typhoon Lagoon was one of Rafferty's first projects for Imagineering. His witty writing skills were employed in creating those amusing names and titles all throughout the park. He also worked on Blizzard Beach and the adjoining Winter Summerland Miniature Golf. Adding a visit to both water parks in addition to this lengthy touring plan is a tad ambitious; although, if you can pull it off, you gotta let me know! But anyway, that's why I'm making a visit to the water parks a bonus activity on the Kevin Rafferty Imagineer Touring Plan Challenge!
Will you give the Kevin Rafferty Imagineer Touring Plan Challenge a try when the parks reopen? Let us know!