10 Dark Rides at Disneyland Ranked and Rated
Lately I've been thinking about dark rides and what constitutes a dark ride. We've all heard that term before, but what does it mean? We were in Elitch Gardens in Denver recently, and we came across a ride I hadn't seen there before called Ghost Blasters. It was essentially a very low tech Buzz Lightyear Astro Blasters. We boarded a vehicle on a track, proceeded into the dark building and through a haunted house where we shot ghosts and other targets with our laser guns. My sister called it a dark ride and said they have something similar at their Six Flags. That got me thinking. Was that a dark ride? Does it even deserve to be called the same thing as the fully immersive, heavily themed dark rides at Disneyland?
For this list, I'm going to go with no. For the purposes of this list, I'm going to define a dark ride as an indoor ride where guests sit in a guided vehicle and travel through elaborate scenes. And when I say travel through, that's all I mean. Not shooting at things, not holding on for dear life and ducking as invisible poisonous darts fill the air above you, just travel through. I feel dark rides are one of the things that Disney does best. Three of them were there at the beginning of Disneyland. Before the awesome thrill rides of today, there were seemingly simple dark rides. While I love the Indiana Jones Adventure and Buzz Lightyear and would never miss a chance to ride either one, sometimes things are happening so quickly, it's easy to miss the glorious details.
So this is a list of 10 dark rides at Disneyland where you can just sit and look on in wonder.
1. Haunted Mansion – Haunted Mansion fits my qualifications but, admittedly, not perfectly. There is an excellent pre-show that doesn't fit the "ride" part of "dark ride", but the ride itself definitely does. Slide into your doom buggy for a not so scary ride through the best dark ride in Disney's repertoire. Excellent special effects, elaborate scenes, and even some hidden Mickeys make this ride a visual feast. The holiday overlay of Nightmare Before Christmas characters and themes from September through December is not to be missed.
2. it's a small world – I can't leave out this classic feel good ride. The update in 2009 with some beloved Disney characters even adds to the enjoyment for me. I love picking the characters I recognize out from the beautiful singing and moving dolls. Unlike Walt Disney World's version of the ride, Disneyland breaks out yet another elaborate holiday overlay at small world every year around November. It's just another reason to visit Disneyland during the holiday season.
3. Finding Nemo Submarine Voyage – Nemo is different than the other dark rides in that it's not particularly fast or easy to board, but once you do, you just sit back and enjoy the ride. And the genius of these scenes that you travel through is that they're underwater! And so are you for that matter, although you are safely and dryly encapsulated in a traveling yellow submarine. The scenery is beautiful, but the wait to ride can be exceptionally long, so go early in the morning, late at night, or during parades.
4. The Little Mermaid–Arial's Undersea Adventure – This relatively new dark ride is exceptionally well done. The boarding is quick, and the ride itself at 10 minutes is long enough to make you feel like it was worth waiting in whatever line you did. You'll find all of the beloved, and not so beloved (I'm looking at you giant octopus Ursula), characters from the movie in life size form. Just try not to sing or dance along with Sebastian when he's conducting "Under the Sea" while you're surrounded by dancing sea creatures!
5. Monsters, Inc. Mike and Sully to the Rescue – I'll be honest, my hubby walked off this ride for the first time saying he was not impressed. I, on the other hand, loved it! I laughed out loud at the name of the snacks in the snack machine in the queue. I do agree that you probably have to see the movie, and maybe even had to like the movie, to appreciate everything that's happening. Randall disappearing in stages is cool and all, but cooler when you know the story line. At the end of the ride, make sure you listen and even talk to Roz. She's hilarious! Or, as she would say in a very deadpan voice – huh-lare-eee-us. It will be interesting to see what Disney does with this ride (if anything) when the Monsters, Inc. sequel (Monsters University) comes out next summer.
6. Peter Pan's Flight – On this lovely dark ride, you sit in a ship that flies from the Darling children's bedroom on to the beautiful Neverland. That's right, your ship flies! Your ship is actually suspended from the ceiling! Peter Pan is one of the original Disneyland rides and it has stood the test of time. You can see evidence of that just about every afternoon when it has the longest wait in all of Fantasyland. If you want to ride it, ride early! Unlike its Disney World counterpart, there is no FASTPASS!
7. The Many Adventures of Winnie the Pooh – Sing it with me, "Winnie the Pooh, Winnie the Pooh, cutie little patootie Old Bear!" Or something like that. It's Pooh! He doesn't care if you've got the words right, he's just happy you're singing. And in true Pooh fashion, his ride is an explosion of happiness! You ride in a honey pot for goodness sake!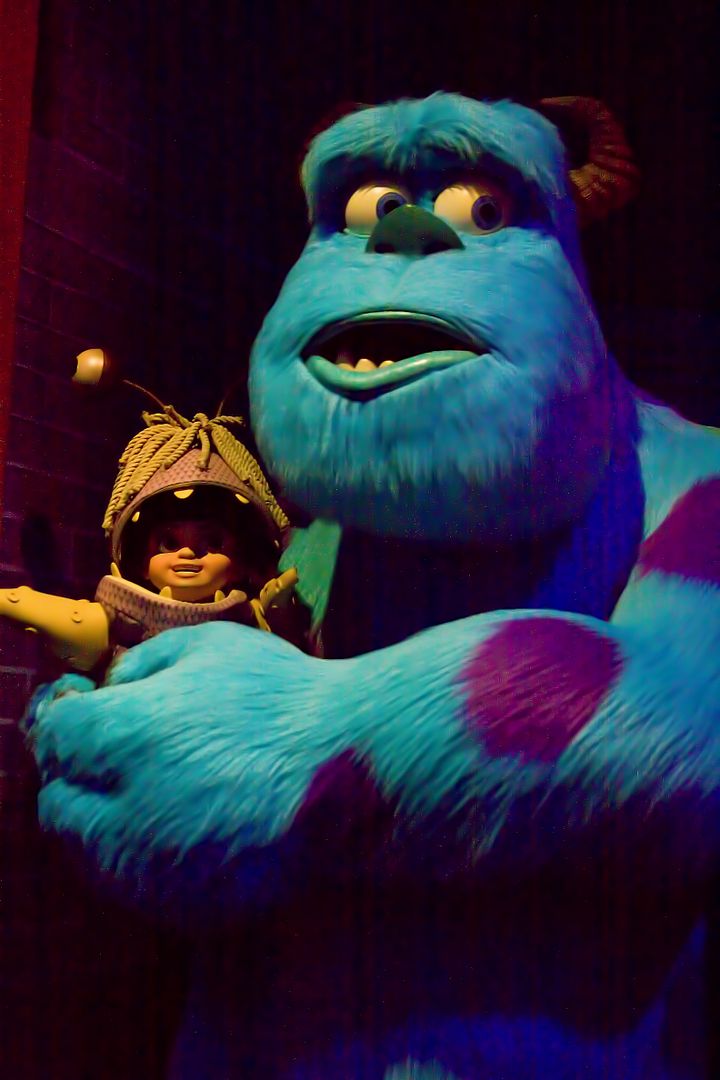 8. Alice in Wonderland – Alice in Wonderland is a delightful ride in a caterpillar through colorful scenes from the animated story. The scenes are a bit confusing and a somewhat random, but really, wasn't the movie? Just soak in the vibrant chaos and enjoy.
9. Snow White's Scary Adventures– Snow White and Mr. Toad's had to make the list because they are originals. There from day one! And now, since both rides have closed at Disney World, they're the last of their kind! I do like Snow White and I like the improvements through the years. It may have even ranked higher if not for the scary factor. Scary is certainly okay, but scary when you are expecting only a charming little princess ride is not! Speaking of scary, don't forget to watch the tower outside for a few minutes to catch a glimpse of the evil queen glaring at the revelry happening in Fantasyland below.
10. Mr. Toad's Wild Ride – Again, it's an original. It's not the best dark ride by any means, but it's got some serious sentimental value. It's just a cute little twisting spin through the dark with some funny and some "what in the world was that?" and "Did we just get hit by a train and die and go to Hell?" scenes. No, really. Not like, that scene was so awful I feel like I died and went to Hell, but that's really what your vehicle does. Gets hit by a train and goes to Hell. Okay, it's too hard to explain, you have to ride it.
So what do you think? Are any of these your favorite? Did I leave any off that you love?