10 Ways Dining at Disneyland is Different than Dining at Walt Disney World
As I've discussed before, a vacation at Disneyland is different than a vacation at Walt Disney World.  I love both, and will continue to do both, but they are different.  One major thing that's different at Disneyland is dining.  While there's delicious food and restaurants on both coasts, there are some differences in the way you should approach dining at Disneyland.  I've talked before about some of the big differences.  Differences like:  advance dining reservations are no problem at Disneyland and don't have to be planned months in advance; there's no real dining plan at Disneyland; when you do make dining reservations at Disneyland, you only make them 60 days before your trip; you can email your dining requests; and there's no booking advantage for onsite guests.  That alone is a pretty big list!  But here are a few more differences that you may want to consider when you're planning.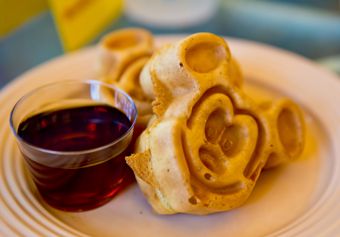 1. No Confirmation Numbers – Disneyland doesn't generally give you confirmation numbers.  At Disney World, those confirmation numbers are essential if you ever have a reservation go missing.  I always recommend people bring their confirmation numbers with them when in Florida.  At Disneyland, your confirmation number is your last name.  Recently, there was one interesting change to this.  If you make a dining reservation by email, Disney will send you a confirmation number.  I was so surprised the first time I got one!  It's a short combination of numbers and letters unlike the 12 digit numbers you get at Disney World, but a confirmation number nonetheless.  Still, don't expect a confirmation number when you call for dining reservations at Disneyland!
2. No Credit Card Guarantees – Nowadays at Disney World, several restaurants require a credit card number to hold a dining reservation.  And, if you don't cancel outside of a certain time period, you will pay a penalty.  That's not necessarily a bad thing.  In fact, it's helped make it easier to get into some very popular restaurants because guests either aren't making multiple reservations when they're not sure where they want to eat, or they're actually cancelling reservations they know they won't use.  The downside is that's a pretty hard and fast rule, and Disney doesn't tend to make exceptions for late cancellations, even for perfectly valid reasons like illness.  True to form, Disneyland takes a much more relaxed approach, even at its more popular restaurants.  No credit card guarantees or cancellation fees.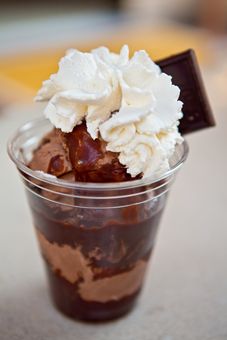 3. Better Counter Service – I've read several message board posts where people insist that counter service is better at Disneyland (while claiming table service is better at Disney World).  I'm starting to come around to that way of thinking.  While Disney World has upped their game with things like the chicken waffle sandwich at Sleepy Hollow Refreshments, Disneyland has a wonderful selection and variety of counter service options.  Just see my blog post on my 10 favorite options and all the comments beneath!  There are some great options!  So not only are advance dining reservations much easier to get at Disney World, they may not even be necessary if you stick to the great counter service options!
4. Different Snack Options – We've all got our favorite snacks at Disney.  I'd never turn down a classic like a Premium Mickey Bar or Dole Whip Float.  Never, I tell you.  Disneyland has some other great options too!  Snacks that haven't made their way over to Florida yet or are no longer in Florida for that matter.  Like the amazing peanut butter sandwich from Critter Country.   It's graham cracker, peanut butter, chocolate covered goodness.  If I'm not mistaken, they don't sell them at Disney World anymore.  And how about all the new popcorn flavors at California Adventure?  And Churro bites?  I'm one of those crazy people who finds a regular size churro a bit much.  But bite size?  With chocolate to dip it in?  Yes please.  And I would be greatly remiss if I didn't give Mickey shaped beignets a shout out.  A very loud, craving-them-right-now, kind of shout out.
5. Dessert Packages – There are dessert packages at both parks!  At Disney World, there is the Tomorrowland Terrace Fireworks Dessert Party.  You eat desserts in a special viewing area for Wishes, the wonderful fireworks show.  At Disneyland, you eat desserts in a special viewing area for Fantasmic!.  I would argue that Disneyland's package is the more necessary of the two.  At Disney World, it's not hard to see Wishes.  A good spot can be found without saving a spot for hours beforehand.  At Disneyland, if you don't want to camp out for Fantasmic!, odds are you're not going to be able to see it very well.  Paying for expensive desserts is one way to assure yourself a good viewing experience of one Disneyland's premiere shows.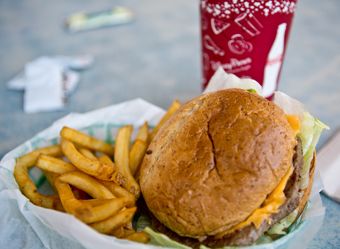 6. Offsite Restaurants are within Striking Distance – At Disneyland, offsite restaurants are a viable option even if you're staying onsite without a vehicle.  At Disney World, they're not unless you want to pony up for a cab.  At Disneyland, if you get the urge to spend less than $20 for a cheeseburger (I may be exaggerating, but not as much as you'd hope), you can just walk across the street.  Seth has had some great blog posts on offsite options.
7. Dine Outside – While there are many places to eat outside at Disney World, the oppressive humidity in the summer makes that a rather unpleasant option.  The moderate California temperatures, however, make it much more appealing at Disneyland.  It's hard to find a restaurant at Disneyland that doesn't offer outdoor dining as an option.  In the summers at Disney World, my touring plan involves getting from one air conditioned space to another as soon as is humanly possible.  With some exceptions, in California, eating outside can actually be quiet pleasant year round.
8. Tables in Wonderland is Not Necessary – At Disney World, if you have an annual pass you can purchase a discount card for meals called Tables in Wonderland.  At Disneyland, you don't have to purchase anything!  If you've got an annual pass, you'll be getting discounts on meals.  Well, you'll be getting them if you show your annual pass.  At Disneyland, I've found the cast members to be excellent about asking for them, so it's not hard to remember.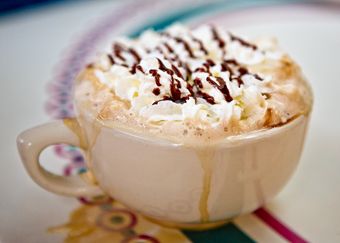 9. Dining Reservations Do Not Have To Rule Your Day – I've alluded to this before, but let's get down to brass tacks.  At Disney World, if you have an ADR at Be Our Guest, your day is going to be wrapped around that reservation.  You may have decided since making the reservation 6 months beforehand, that you wanted to spend the day at Disney's Hollywood Studios.  If you do that, you're going to have to start heading out of the park about an hour before your reservation to ensure that you're at Be Our Guest on time.  At Disneyland, that's just not necessary.  Odds are good that you made your reservation recently, if at all, and it's not hard to change if it doesn't work into your plans.  Not to mention, you're probably only about 15 minutes away from your reservation wherever you are on the property.  So enjoy a little more flexibility!
10. Dining is Never Free – The mere mention of the words "Free Dining" can make some Disney World veterans break out into hives.  Some good hives, some bad.  But we can all agree that free dining is a discount that makes a lot of people very happy.  At Disneyland, until the dining plan is changed, I'll go out on a pretty strong limb and say there will never be free dining.  That's just not the way the dining plan works at Disneyland.  But don't let the lack of a big name discount discourage you.  There are still discounts to be found.  They're a little harder to come by in this post Cars Land time of craze, but they'll come back!
So what other differences have you noticed?  What did I leave out?