11 Reasons You and Your Little Ones Will Love Typhoon Lagoon
The Walt Disney World theme parks get all the attention, but there's a lot to love at the Walt Disney World water parks too, especially when the summer heat kicks in. And while you can't go wrong with either, for young kids (and their parents), there's plenty to love about Typhoon Lagoon.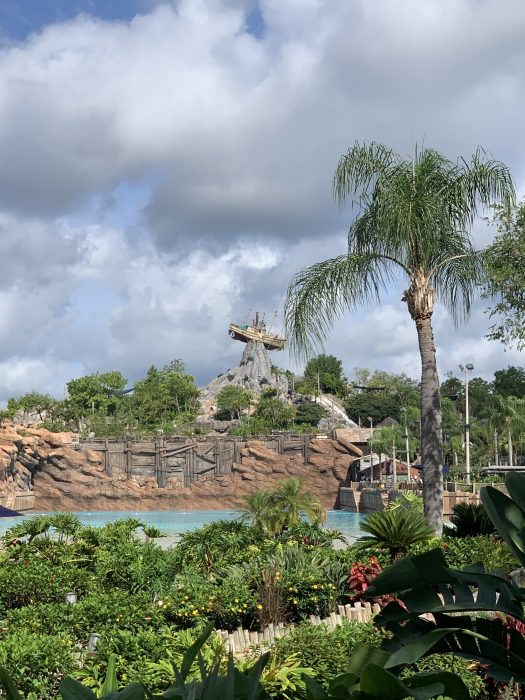 When most folks think about water parks, the image that comes to mind is giant slides. Typhoon Lagoon certainly has those, but it's also the perfect place to hang out with young kids. Here's eleven reasons why.
1. It's clean. No yuck face necessary! Even people who have permi-yuck face about water parks enjoy Typhoon Lagoon. Cleanliness and sanitary conditions are a must in public, but especially so in water parks where you may be wandering barefoot. Disney's janitorial crew does a fantastic job of keeping the area clean, and staff enforce rules to make sure people aren't wandering around the wave pool with their food and drink.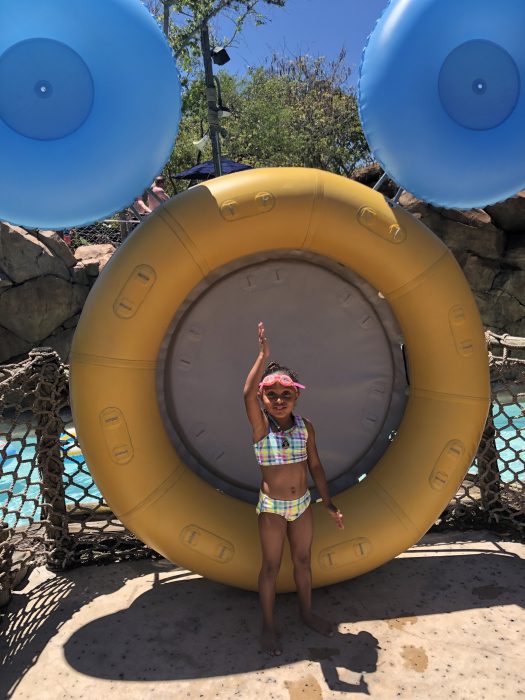 2. Florida weather is made for water parks. It's hot and humid and miserable most summer days before 9:00 a.m. Take a day to just hang out in a bathing suit and some SPF 50 and you'll all be less cranky during your vacation.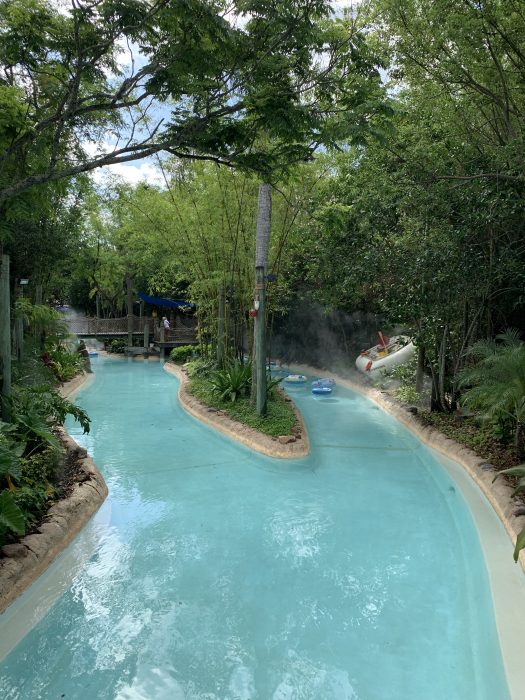 3. Emphasis on safety. Like any parent, my child's safety is my number one priority, especially around anything that could be dangerous like parking lots, those powdered candy tubes that are sold everywhere now, and water. You do need to maintain focused supervision at Typhoon Lagoon–it is a water park after all–but you can blink once in a while knowing there are well-trained lifeguards at every turn. The lifeguards take their jobs seriously, calling out every infraction and safety risk.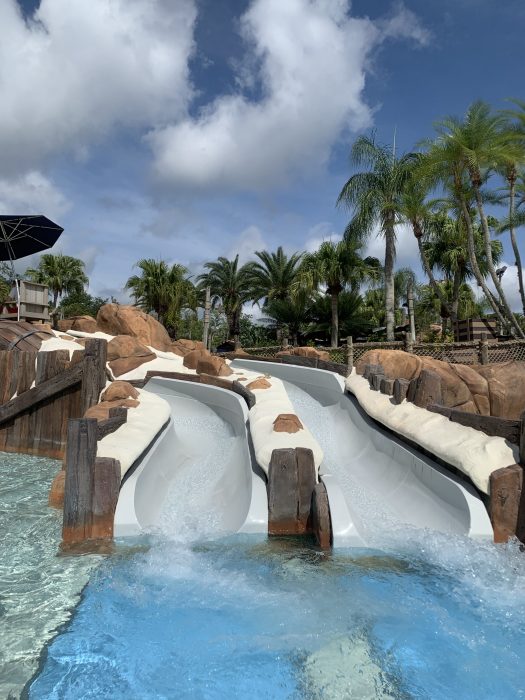 4. The lazy river, Castaway Creek, provides enough water sprayers, waterfalls, bird sounds, music, and jets to amuse your kiddo while you get an actual rest. You're welcome to free-walk the path (the maximum depth is less than 4 feet deep) or you can float along on a square noodle, a large individual float, a double float, a child-size float, or a low-slung seat (suited to anyone not willing or able to fling themselves on the traditional donut style rafts), all included in the price of admission. You can enter or exit Castaway Creek at any of five landings around the park. The landing are all close to snacks and drinks, so there's no waiting until you get back to the start for refreshment if your child gets hungry.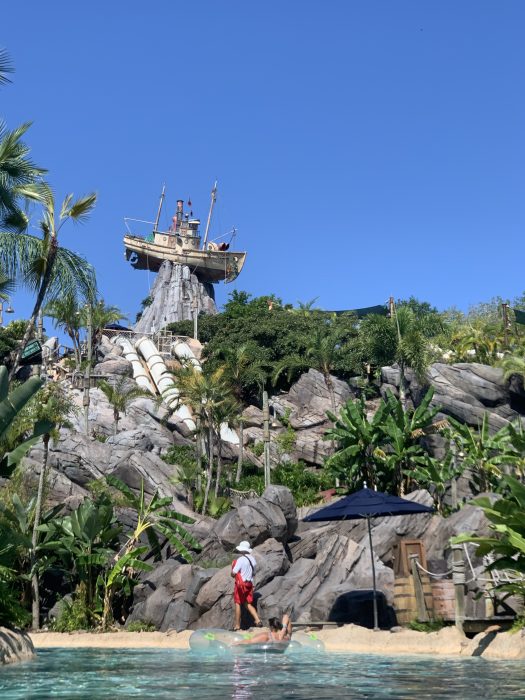 5. Ketchakiddee Creek. Anyone with a preschool-aged child (or a 1st grader under 48 inches like mine) is going to love Ketchakiddee Creek, a zone with kiddo-sized slides, a waterfall, adorable alligator and seal fountains, and a replica ship, all within sight of the seating areas. Ketchakiddee Creek has ample shaded seating along the water, with large umbrellas in the sand along the creek and two large covered shelters. Rentals are not required for any of the umbrellas or covered seating in the KC section of the park. The seating area is sandy, and young architects are often busy building castles. The inches-deep creek provides moat water when your angel decides to create a Riverrun replica. (Wait, the similarity to Riverrun was probably just in my head. I'm still mourning Game of Thrones.) The best part is you won't need to move from your chair in the shade while construction is in progress.
A quick word on the cast members inside the Creek area. I've been so many times that I have a favorite umbrella and optimal chair layout and still I am continually impressed with the interactions my daughter has with the lifeguard cast members in the Creek area. When the park opens, cast members ask little guests to help them spray unsuspecting-ish guests in Castaway Creek floating below. They use enormous rubber hoses that are part of the splash pad/playground type slides at the entrance to the Creek. Supervisors often walk through the entire Creek area to check on cast members at each post. More than one has stopped to help little guests with sand castle construction.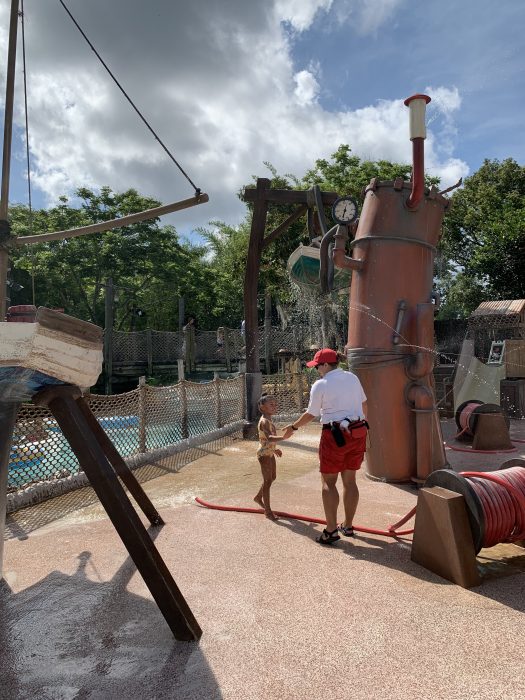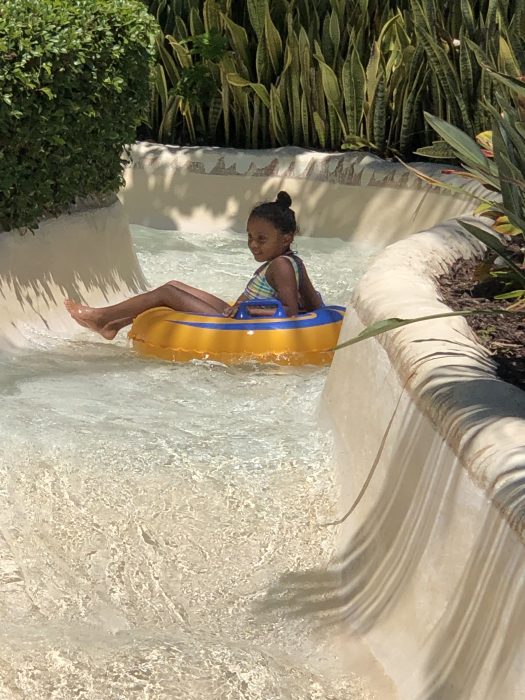 6. Surf Pool waves. The Disney website says the Surf Pool is "North America's largest wave pool, with 6-foot waves coming at you in 60 second intervals. Watch a few waves come in and pick a spot that is safe and suited to your child's swimming ability. For first timers, the Bay Slides to the left of the Surf Pool offer the best introduction to the big event. A lifeguard prompts little people down two slides that empty directly into the edge of the pool. This will give your child a chance to stay amused, get a bit of the big wave excitement, and keep you within an arm's reach of your team.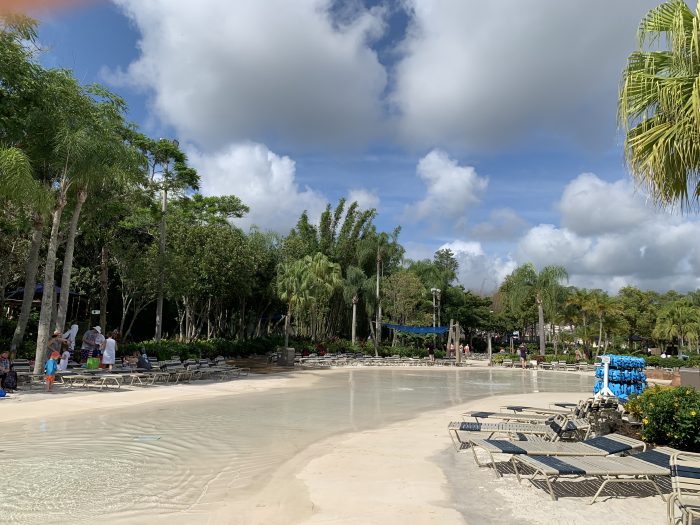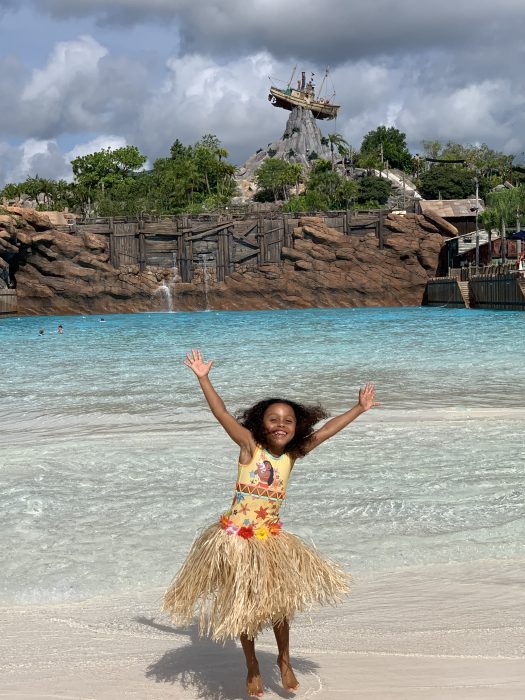 7. The FOOD. It's no secret that the TouringPlans team enjoys trying the food in Walt Disney World parks, and Typhoon Lagoon is no different. While you can find kid food standards like chicken nuggets, burgers, and Uncrustables, we're excited to report that Typhoon Lagoon also has a full plant-based menu. The things we've tried are delicious. Leaning Palms has a full allergy-friendly menu for anyone with gluten, wheat, fish, shellfish, milk, egg, or nut concerns. We've dug into the nutrition/food prep issue recently and the results are impressive. On the four occasions that we have been to the park in the last month, we've asked countless questions about food prep and nutritional information. Each time our questions have gone beyond the scope of the regular or allergy-friendly menu, a senior and specially trained cast member was called to assist us. The cast members that we encountered were solicitous and made sure they understood our concerns and truly went to great lengths to accommodate us. This is where that Disney magic happens for sure. They want every guest to experience the same magic and nutrition is a huge part of that journey.
Ice Cream! No discussion on Typhoon Lagoon is complete without a few words on ice cream. Your child is inevitably going to see someone (or an entire soccer team) eating a ginormous sundae served in a sand pail. Budget the $13.99 now. The Sand Pail Sundae truly is enough for a family of four. If your kids fight about who gets to eat what, we strongly recommend asking for an extra serving of the rainbow Mickey sprinkles. You can't buy these online and they don't sell them in the parks except at ice cream locations. (Truly. I've asked way more times and more forcefully than I enjoy admitting.) If the Sand Pail is not part of your plan, the Mickey ice cream bar is delicious and will make for a fantastic picture. One word of caution on the Happy Landings menu: steer clear of the new Cookie Dough Sundae trios. Nope, nope, nope. We tried them all and regretted it immediately. Maybe it's the absurd amount of dye or the super unnatural tasting flavors, but even my 6-year old pushed them away. A first and probably last.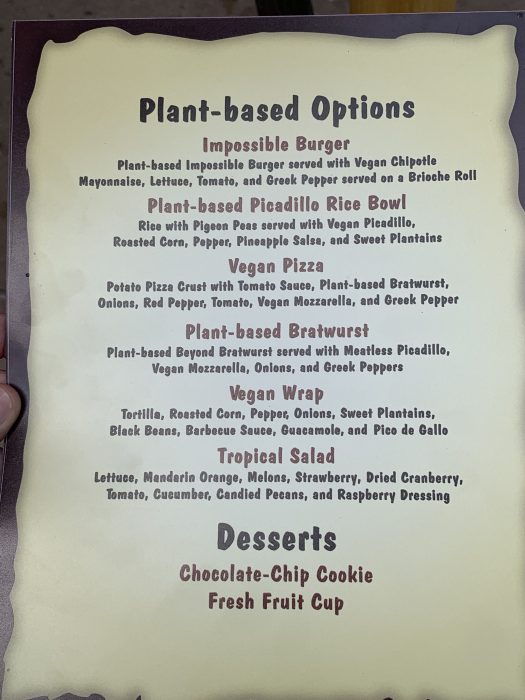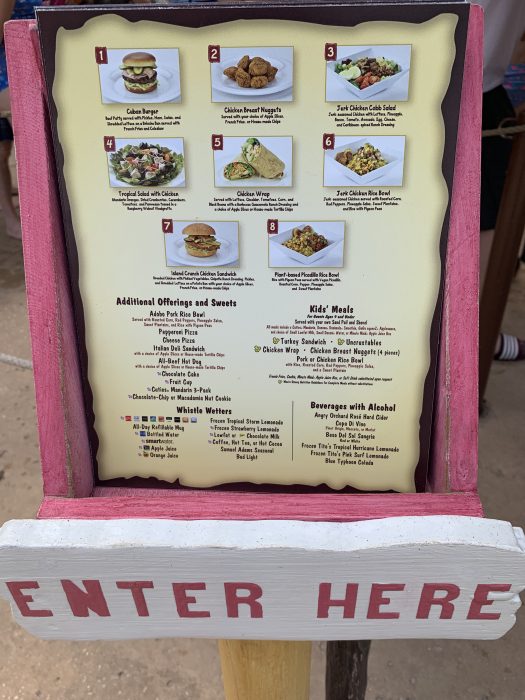 8. Family Rides! While you really can spend the entire day bouncing between the Surf Pool, Castaway Creek, Ketchakiddee Creek, and the snack stands (we've happily done it many times), you may want something a little more adventurous. There's no rider swap needed when you head to Gangplank Falls or Miss Adventure Falls. At Gangplank Falls, up to four people board one raft to enjoy a brief, languid float down the slide. This is a great place to start if you have little ones with no thrill ride experience. If Gangplank Falls leaves them yelling for more, they're ready for Miss Adventure Falls, a faster experience. There are no height or age restrictions for either ride, but MAF is the longer, more intense of the two.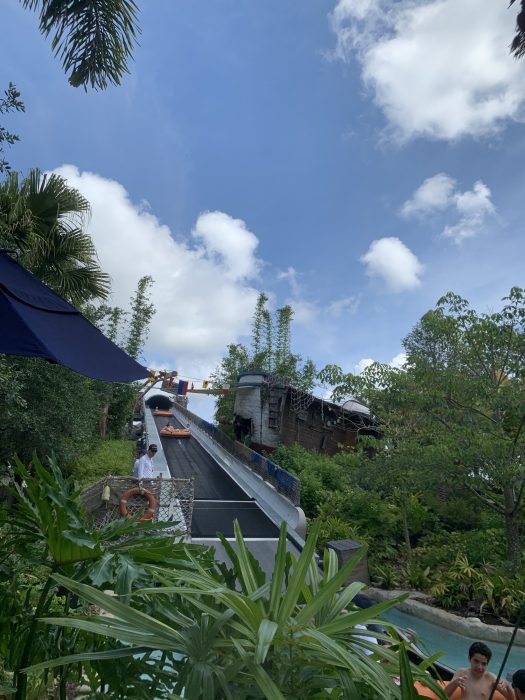 9. Restrooms, changing rooms, and showers. Like many water parks, Typhoon Lagoon has an enormous restroom at the front of the park complete with rows of changing booths, showers, restroom stalls, mirrors, and benches. Unlike many other water parks, this one is clean and has a dedicated attendant. Showers are equipped with a liquid soap dispenser that can double as shampoo if you've forgotten to pack yours. Showers are also double curtained, meaning you can close off the spray to provide a bit more privacy or even a dry space to dress one kid while the other showers. Each shower has a bench large enough for the five bags you probably have. Wheelchair and handicapped-accessible changing rooms, showers, and restroom stalls are available. My favorite aspect of this amenity is that the roof is partially open (but private) so you aren't constantly walking around in a haze of steam no matter how crowded it might be that day.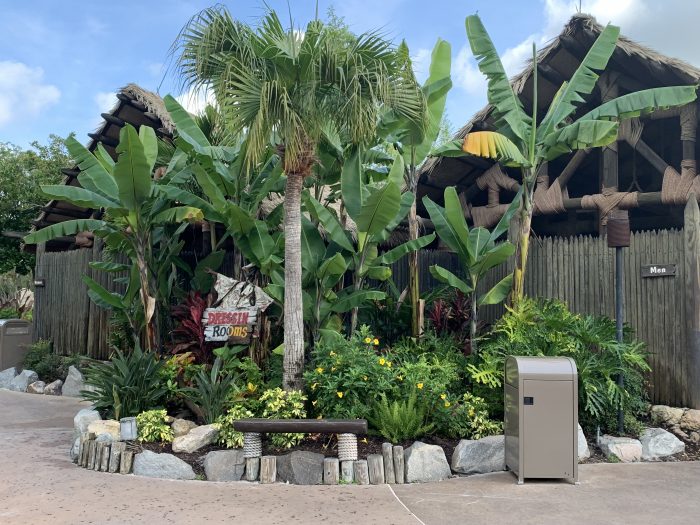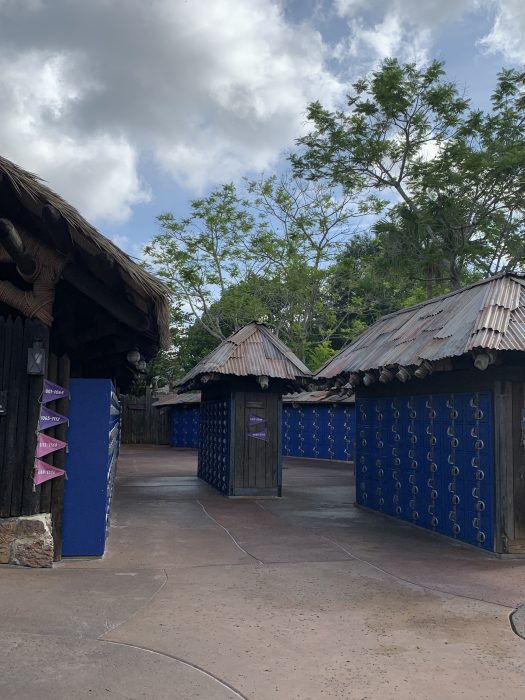 10. So. Much. Shade. As someone who has been to water parks all over the country, one thing I am always disappointed with is the lack of shade. Assuming you're like most parents I know, you'll walk in with stick, cream, and spray sunscreen options, plus a rash guard and swim shirts for your kiddos, hats, glasses, goggles, and maybe even water shoes – basically, the full list from the book of How to Protect My Offspring from Sun, Glare, Chlorine, and Sand. That said, you're still going to want lots of shade. I am happy to report Typhoon Lagoon has that covered (badum bum) too. Even if you decide to camp out in a location other than the spectacular Ketchakiddee Creek, there are lots of umbrellas, shelters, and shaded spots included in your admission.
If you are going during a busy season for the water parks (May–September) and it's in your budget, a Beachcomber Shack (cabana) may be a splurge you won't regret. The pricing for Shacks is:

$362.10 (includes tax) for a party of 6 from 10:00am – close and water park admission is NOT part of this fee. Each member of your party must have park admission.
$25.00 for each additional person with a maximum of 10 allowed in each Shack
The fee includes:
Towels
Cushioned seating (and comfortable napping for little ones and their exhausted parents)
A locker inside the Shack with a removable key
Refillable drink mugs for everyone in your party
A cooler filled with bottled water and ice
Your Shack also comes with a cast member / attendant to help with directions, questions, and even food orders! Separate charges apply for any food or beverage you order through your attendant, but if you're going for a full-blown relaxation, luxury water park day it's a must!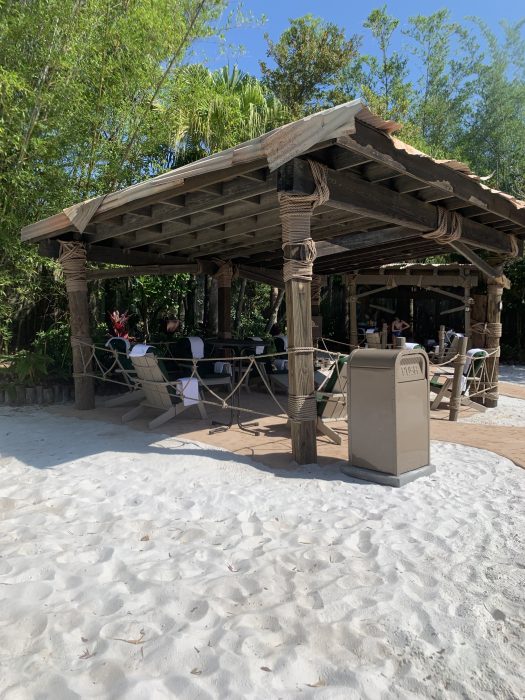 11. Proximity to Disney Springs. Typhoon Lagoon is just yards from the Orange Garage parking deck at Disney Springs. Spend the day enjoying Typhoon Lagoon water, nap in the shade after your ice cream sugar high, shower, and hop the bus down the street to Disney Springs for tea time at Amorette's, shopping, LEGO store fun, free entertainment, or any of the countless other things Disney Springs offers. On days that we plan to transition directly from Typhoon Lagoon to Disney Springs, we pack much lighter since there are currently no lockers at Disney Springs. A backpack is a must and renting a towel at Typhoon Lagoon instead of bringing your own ($2 each or free for Disney Resort Guests) at the park will prevent lugging around extra pounds of wet laundry.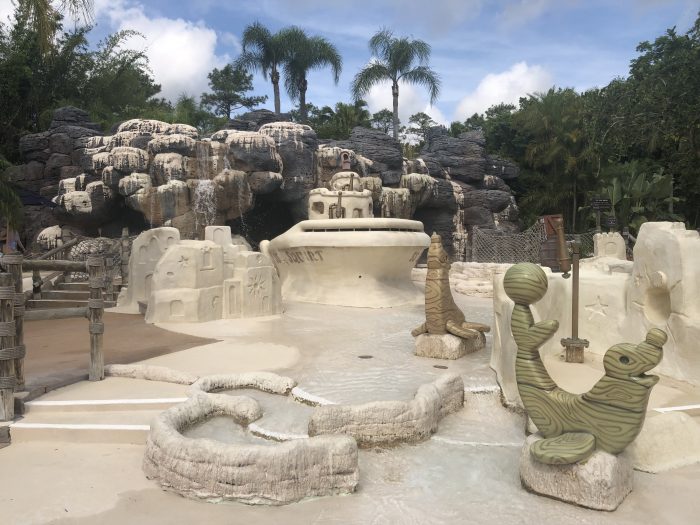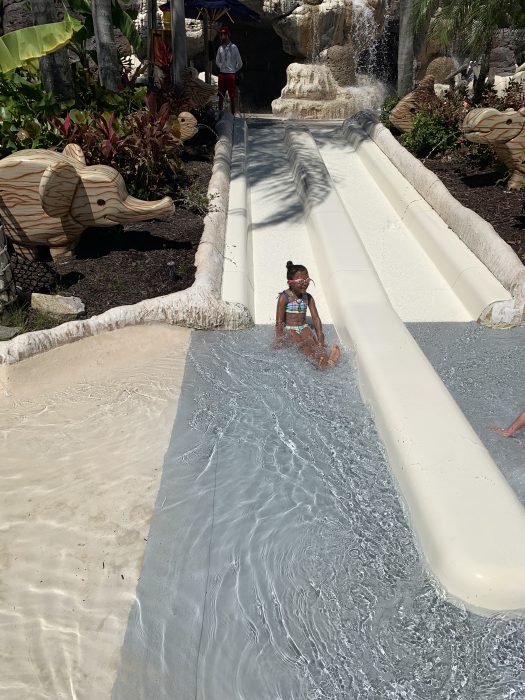 Do you have a favorite Disney water park? Do your young kids like them? Let us know in the comment.