2023 Epcot International Festival of the Arts Preview
The 2023 EPCOT International Festival of the Arts is happening from January 13 to February 20. The Festival will include the typical components of every EPCOT festival: commemorative merchandise, themed entertainment, educational elements, park decor, and, of course, food booths.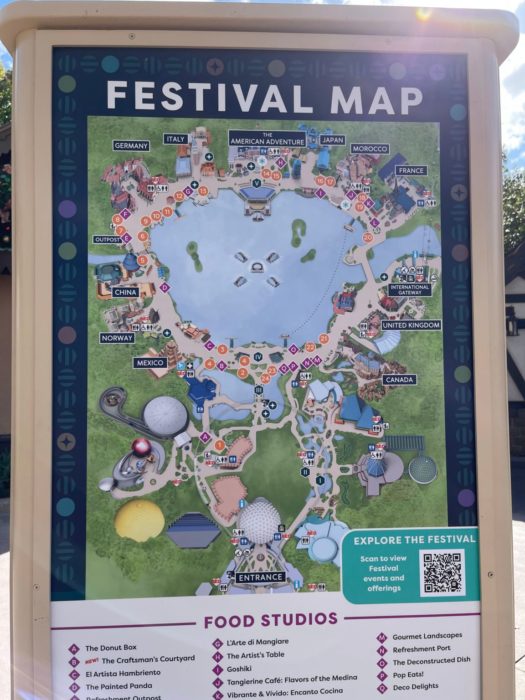 Themed Entertainment – Disney on Broadway
The showcase entertainment for the Festival of the Arts is the Disney on Broadway series. Disney on Broadway features performances by singers who have starred in Disney shows on, you guessed it, Broadway. As a regular New York City theater-goer, I've seen many of this year's artists on stage and can assure you that they are indeed stellar.
Shows take place at the America Gardens pavilion in the World Showcase area of EPCOT. There are three performances each night – at 5:30 p.m., 6:45 p.m., and 8:00 p.m. The performances are free with your EPCOT park admission ticket, with seating first-come, first-served. If you'd like to avoid waiting in line. you can book a Festival dinner package that includes preferred seating with little to no wait.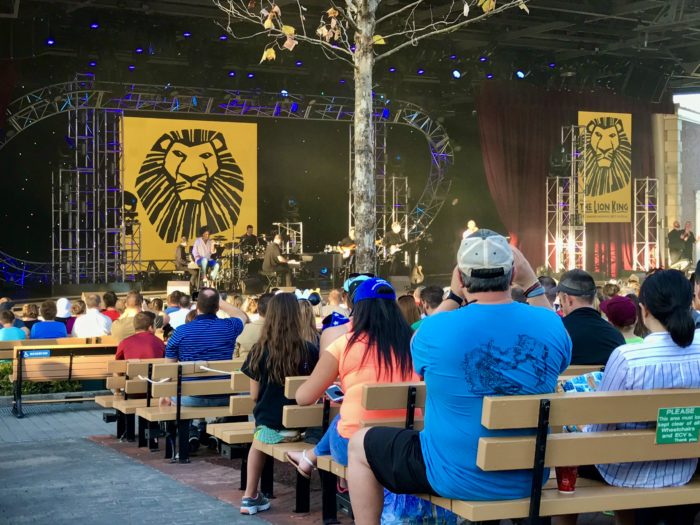 This year's narrators are:
Kara Lindsay (Newsies) and Kevin Massey (Tarzan) January 13, 15, 16, 19, 20
Arielle Jacobs (Aladdin) and Adam Jacobs (Aladdin) January 14, 17, 18, 21, 22
Patti Murin (Frozen) and Robert Creighton (Frozen) January 23, 25, 26, 29, 30, February 2 and 3
Mandy Gonzalez (Aida) and L. Steven Taylor (The Lion King) January 24, 27, 28, 31, February 1, 4, 5
Ashley Brown (Mary Poppins) and Michael James Scott (Aladdin) February 6, 8, 9, 12, 13, 16, 17
Kissy Simmons (The Lion King) and Josh Strickland (Tarzan) February 7, 10, 11, 14, 15, 18, 19
Special finale with Ashley Brown, Josh Strickland, Kissy Simmons and Michael James Scott on February 20
In addition to the Broadway performers, look for featured musicians daily in the World Showcase Plaza (check the My Disney Experience app for showtimes): Nicholas Marks, playing guitar Thursday through Saturday, and Victor Espinola, playing harp Monday through Friday
Educational Elements
Guests can learn the art of animation at daily drawing classes. Lessons are held at the America Gardens Theater at 12:30 every day. Featured artists include:
Will Gay
Lon Smart
Ron Cohee
Matthew Dewater
Brian Blackmore
Sarah Schmidt
David Holbrook
Michael Montgomery
Alex Maher
Andy Quiles
You may also find instructional workshops that introduce you to the art forms of the various World Showcase countries.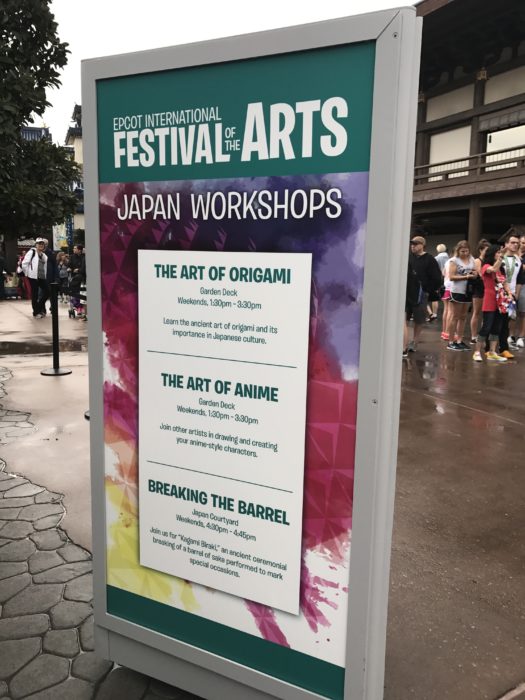 Park Decor
Park decor elements for the Arts Festival feature, not surprisingly, art. Among the main features is a giant wall where guests can contribute to the painting of a mural – a super-sized paint-by-numbers of sorts. Anyone who wants to participate will be given a brush and a small cup of paint, along with a key of which number squares need to be painted their color. Over the course of a few days, thousands of guests collaborate to create a massive artwork. The process repeats several times over the course of the Festival.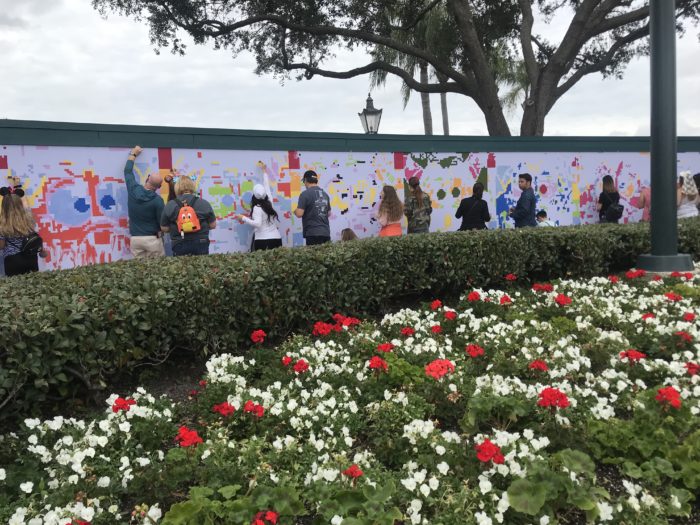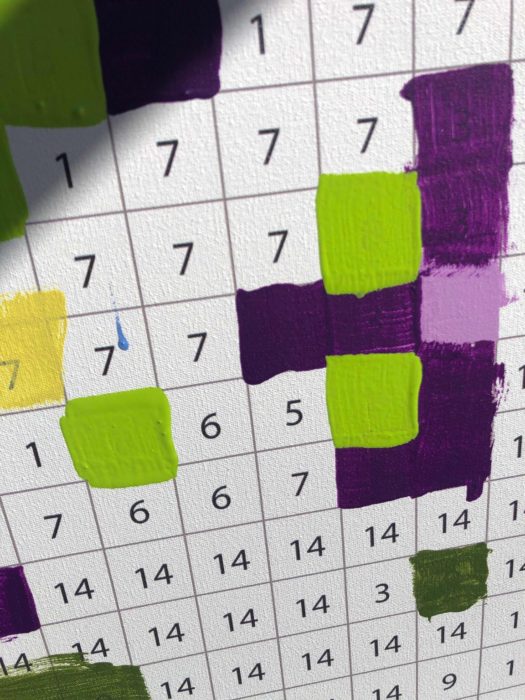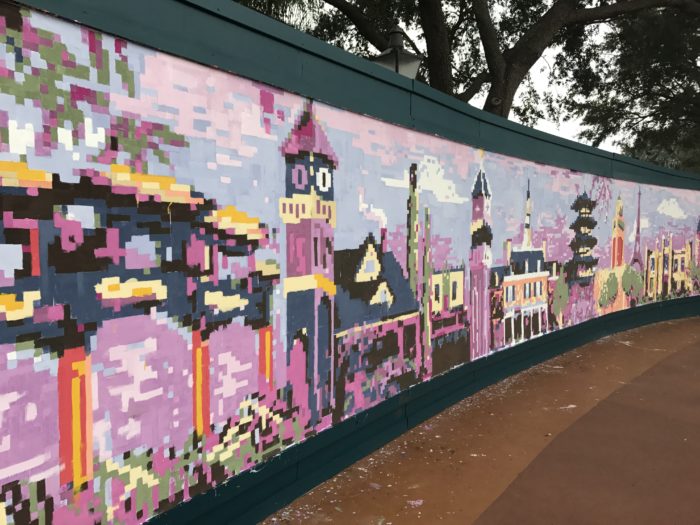 Most years, guests will receive a postcard with an image of the completed mural, as a thank-you for helping to create the artwork.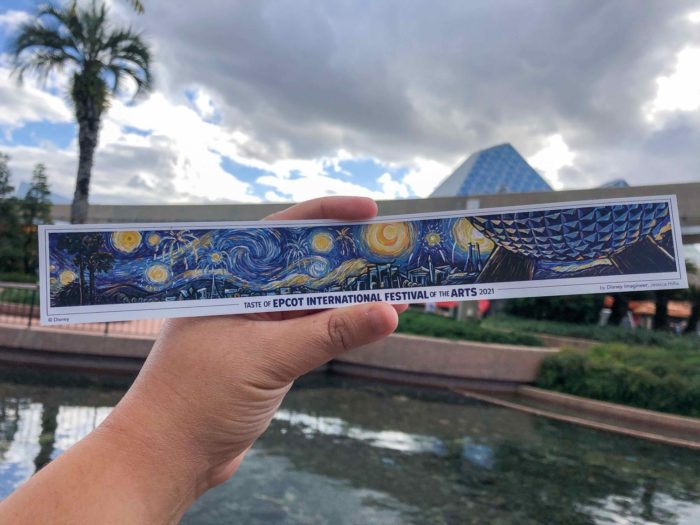 At the Festival of the Arts you'll also find dozens of hand-colored chalk drawings along the central hub walkway. The chalk art is created live during the day, so guests can stop to walk the process and chat with the artists. Many of the pieces are gorgeous and some have interactive elements where guests can pose to be part of the art.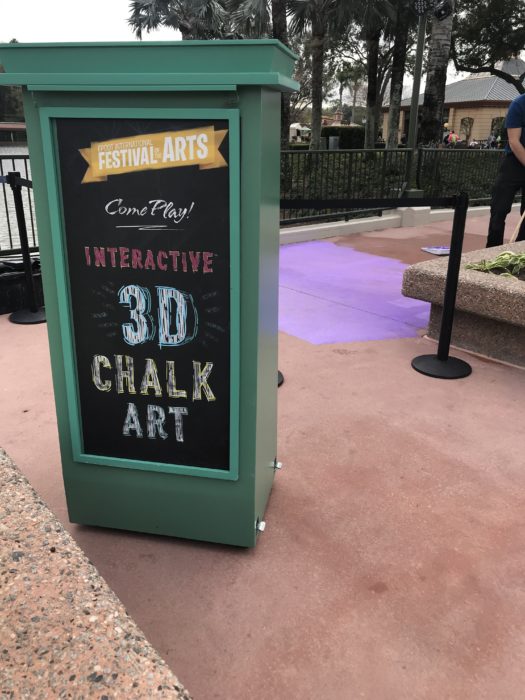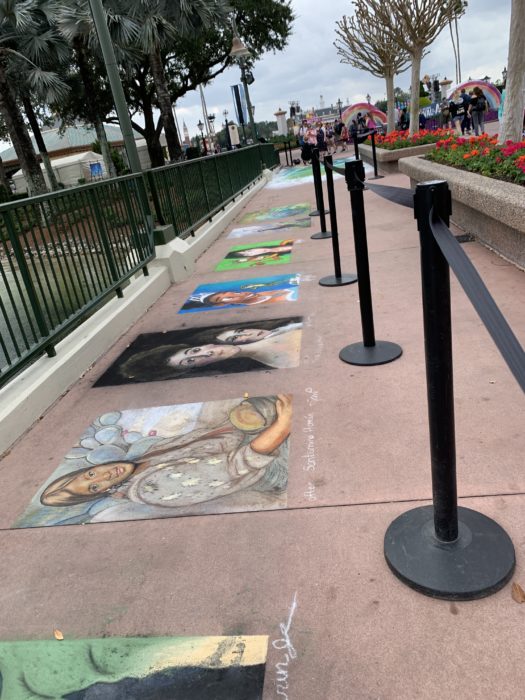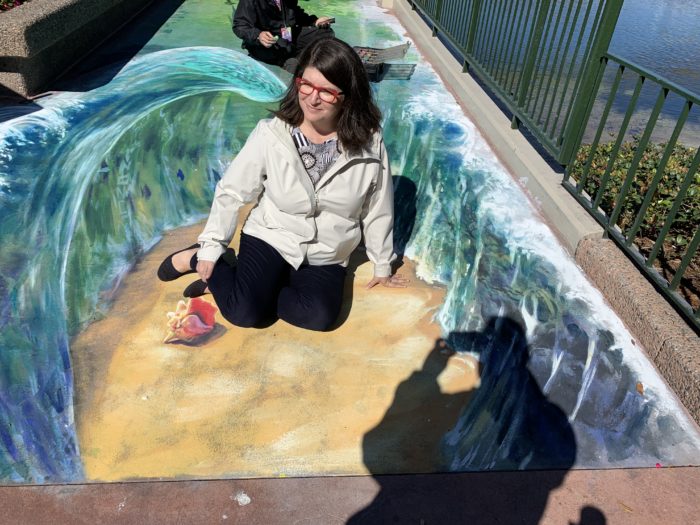 Guests visiting the Festival will also find several photo stations, positioned throughout the park, that allow you pose inside a replica of a famous painting. PhotoPass photographers will be on hand, or you're welcome to use your own camera.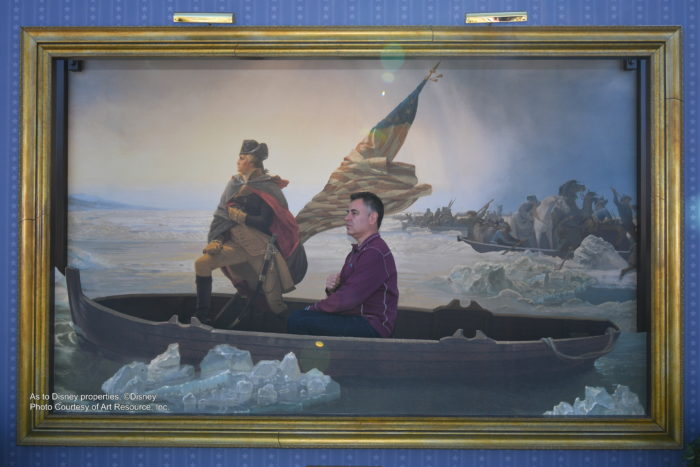 Also keep an eye out for random art backdrops that are perfect for Instagram posing.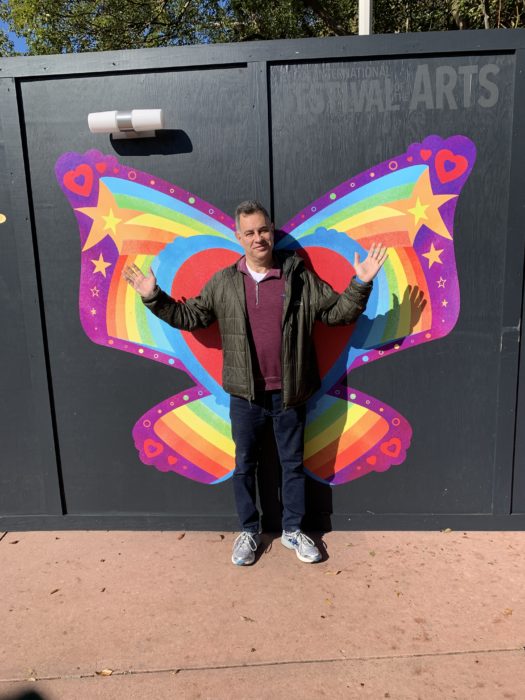 In addition to the planned Festival of the Arts decor elements, guests attending toward the end of the Arts festival will find bonus decor in the form of topiaries that will be main elements of the Flower & Garden Festival, which immediately follows the Arts festival.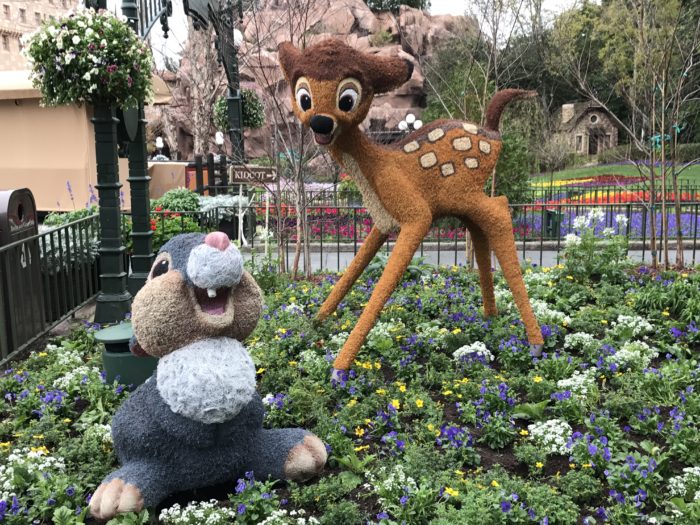 Outdoor Kitchens (aka Food Booths)
No Epcot festival would be complete without specially themed food booths dotting the park. The Arts festival offerings are a bit more avant garde than those at the other festivals, with more items that have a unique look or unusual styling. This year there will be 16 outdoor kitchens (you can see full menus here), including:
The Artist's Table (American Adventure) Elevated comfort foods—like meatloaf, dumplings, hummingbird cake.
The Craftsman's Courtyard (Near Disney Traders) Classics like beef Wellington and roasted mussels.
Deco Delights (Near Port of Entry) Desserts inspired by Art Deco.
The Deconstructed Dish (Near Port of Entry) Favorite dishes fragmented and presented in a playful way.
El Artista Hambriento (Mexico) Classic Mexican fare.
Figment's Inspiration Station at the Odyssey: Art, Food and Little Sparks of Magic New this year! Colorful treats, like fruit pizza, rainbow cake and the Pop't Art—a sugar cookie with a fun twist.
Goshiki (Japan) Dishes featuring "the 5 colors" of Japanese cuisine. Highlights include sushi donuts, daifuku mochi and sake.
Gourmet Landscapes (Canada) Dishes artfully composed with ingredients that have been farmed and foraged from Canada.
L'Art de la Cuisine Francaise (France) French treats and baked goods.
L'Arte di Mangiare (Italy) Baroque cuisine.
Moderne (Near Test Track) New this year! Experimental menu items, including compressed watermelon, soft-shell crab and more.
The Painted Panda (China) Decorative cuisine inspired by Chinese art.
Pastoral Palate (Germany) Dishes inspired by rustic settings where Bavarian Folk Art was painted.
Pop Eats (Near Port of Entry) Dishes inspired by Pop Art of the 20th century.
Tangierine Café: Flavors of the Medina (Morocco) Moroccan dishes such as grilled kebabs, almond phyllo pockets and more.
Vibrante & Vívido: Encanto Cocina (Between Morocco & France) Colombian cuisine inspired by the Disney animated film Encanto.

Additional locations:
Refreshment Port (near Canada): Serving poutine, the Artist Palette Jumbo Chocolate Chip Cookie and refreshing beverages
Refreshment Outpost: Serving plant-based bratwurst, the Artist Palette Jumbo Chocolate Chip Cookie and assorted beers
Funnel Cake: Serving a specialty funnel cake
Joffrey's Coffee & Tea Company (all 4 in-park locations): Serving a unique art-inspired beverage at each location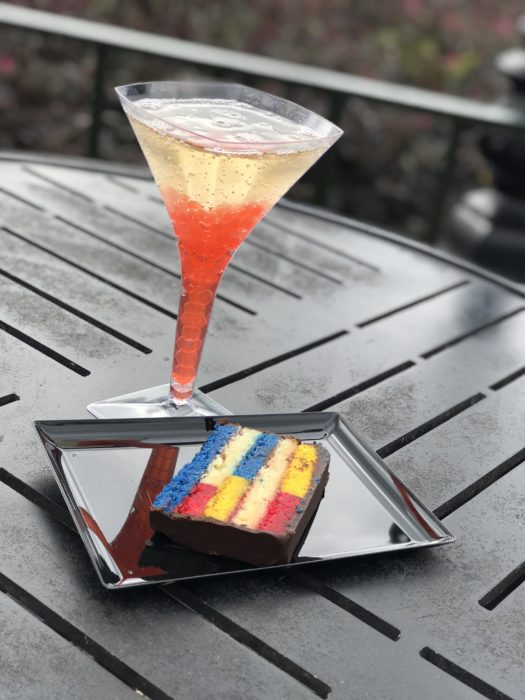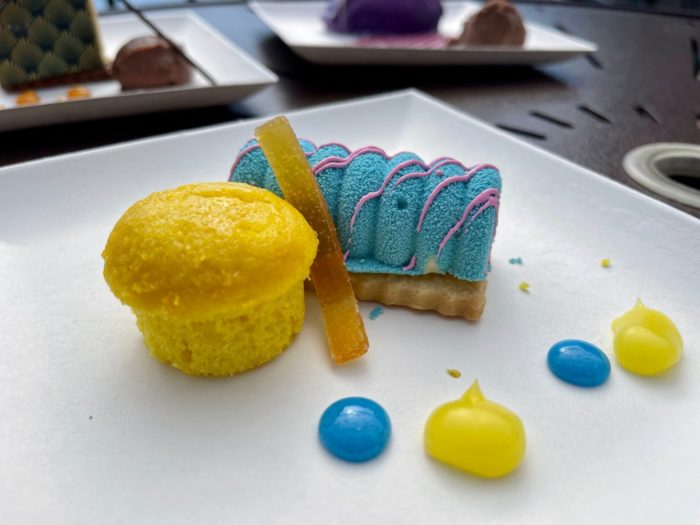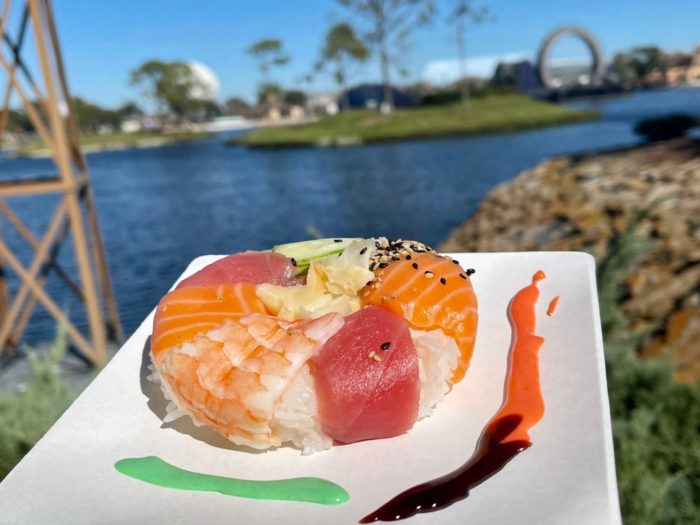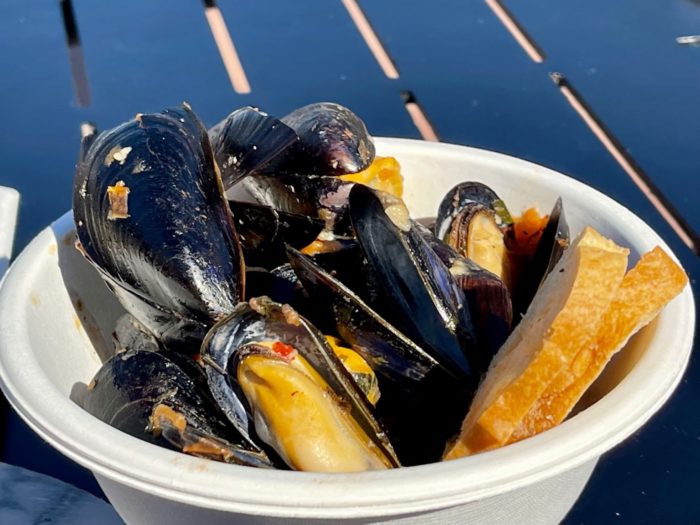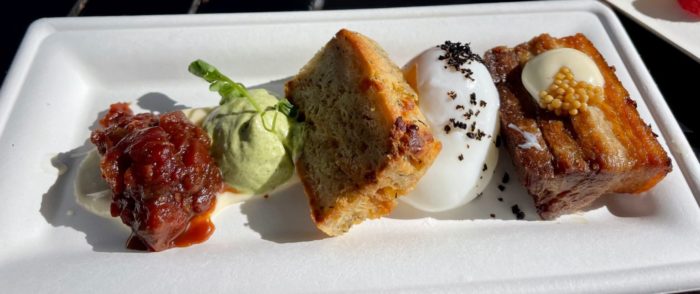 We'll be at the Festival as soon as it opens to test out the new offerings and revisit some of our favorites from previous years. For up-to-the-second coverage of this, follow our Instagram account where our intrepid parks reporter Chrissy will post all the details.
Meanwhile take a look at our thoughts on past Arts Festival foods: New Favorites and Best Values, Best Way to Spend $50, the Cost to Eat Everything at the Festival, Food Review One, and Food Review Two.
If you want to add some structure to your food booth experience, you can embark on a tasty stroll – The Wonderful Walk of Colorful Cuisine. Use the Festival Passport (available free at the park entrances and at many booths) as your guide to look for special menu items, then track your progress by collecting a stamp after each purchase. (Ask your food service salesperson at each booth to stamp your Passport.)
After you've sampled at least 5 of the 7 specified dishes, and collected the corresponding stamps, bring your Festival Passport to the Deco Delights Food Studio to receive a complimentary Artist Palette Cookie.
The Walk can be completed on your own timeline, even over several visits to Epcot on different days, just bring your stamped passport to the Deco Delights booth before February 20.
The food items involved in last year's Walk included:
Gourmet Landscapes – Red Stamp. Blood Orange-Braised Beet Tartare with Mustard Vinaigrette, Pickled Clamshell Mushrooms and Golden Beets
Moderne – Orange Stamp. Pan-Seared Scallops with Vanilla-Butternut Squash Purée, Brown Butter Cauliflower Purée and Lime Foam
Vibrante & Vivido: Encanto Cocina – Yellow Stamp. Chorizo and Potato Empanada with Turmeric Aïoli and Annatto Aïoli
The Deconstructed Dish – Green Stamp. Deconstructed Key Lime Pie: Flexible Key Lime Curd, "Key Lime" Mousse, Graham Cracker Cake and Meringues
Deco Delights – Blue Stamp. Orange Mousse with Lemon Cake and Raspberry Meringues
Pop Eats – Indigo Stamp. Almond Frangipane Cake layered with Raspberry Jam and Belgian Chocolate
Figment's Inspiration Station at the Odyssey: Art, Food and Little Sparks of Magic (NEW) – Violet Stamp. Pop't Art: Sugar Cookie with Blueberry Filling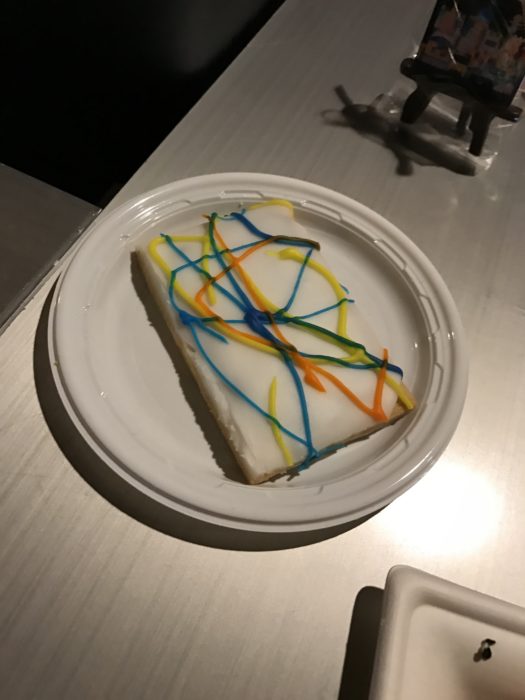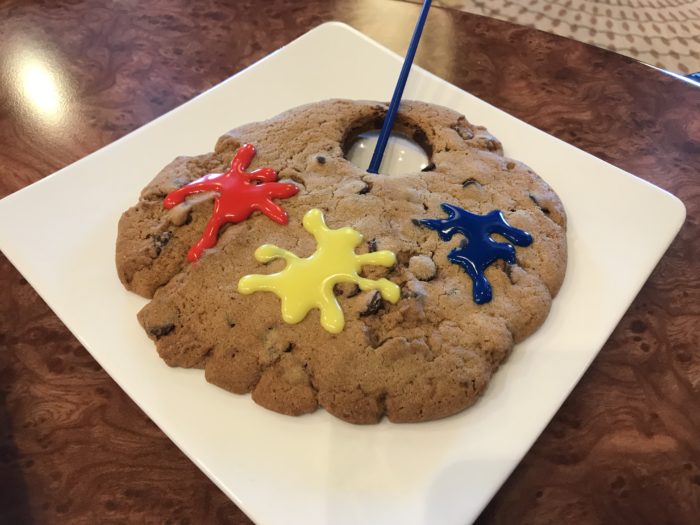 Merchandise
Festival of the Arts merchandise comes in three forms: Disney-created items embellished with the Festival logo, individual works created by artists (these may depict Disney entities, or they may be wholly original), as well as items that you create yourself on site.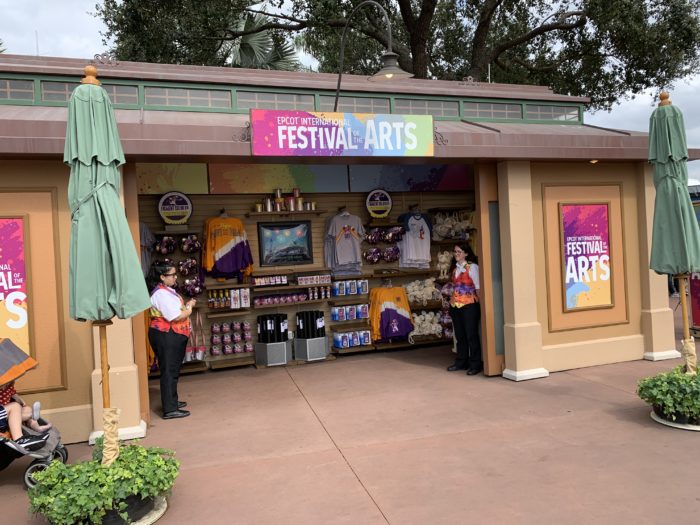 The Disney merch is similar each year, albeit with images on the usual spirit jerseys, tee shirts, mugs, and ball caps. Figment is the mascot for the Arts Festival because he knows how to use his imagination. Below is a first look at some of the merch you'll find at the 2023 festival.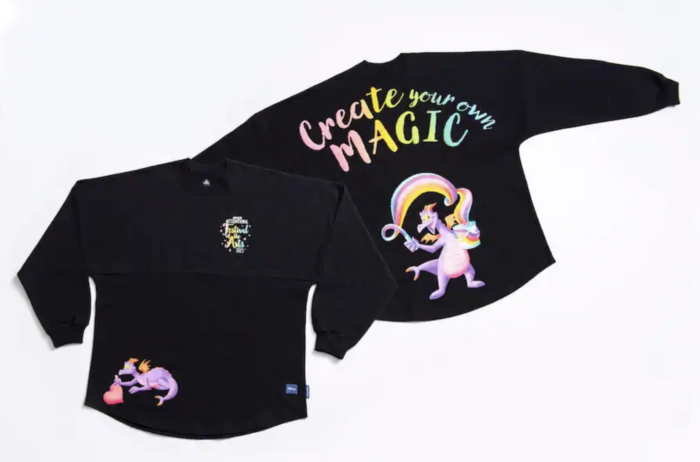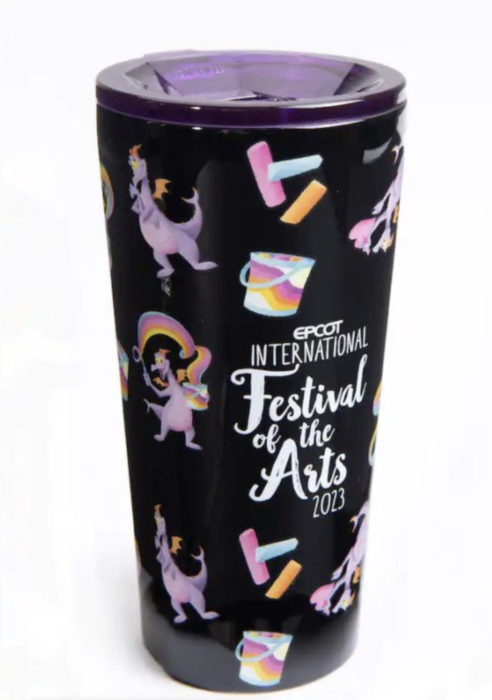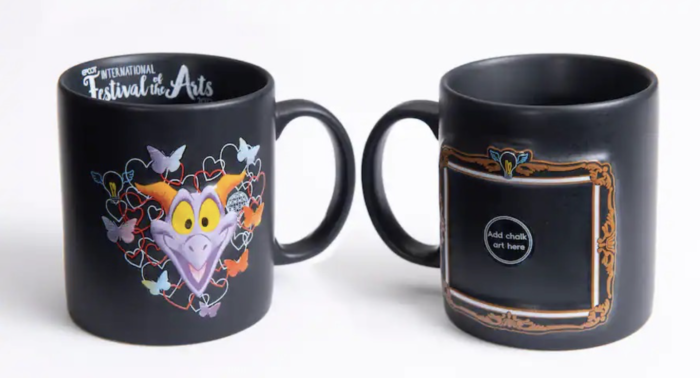 Original artworks and prints come from people whose work has been used by Disney itself and from folks who are selling pieces entirely devoid of Disney imagery.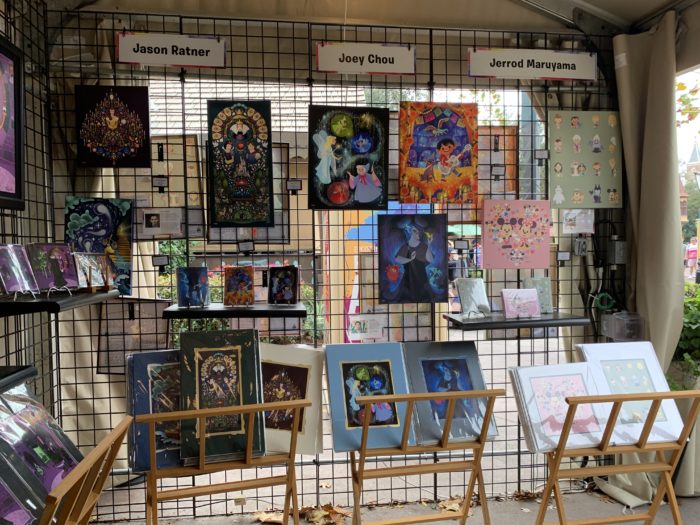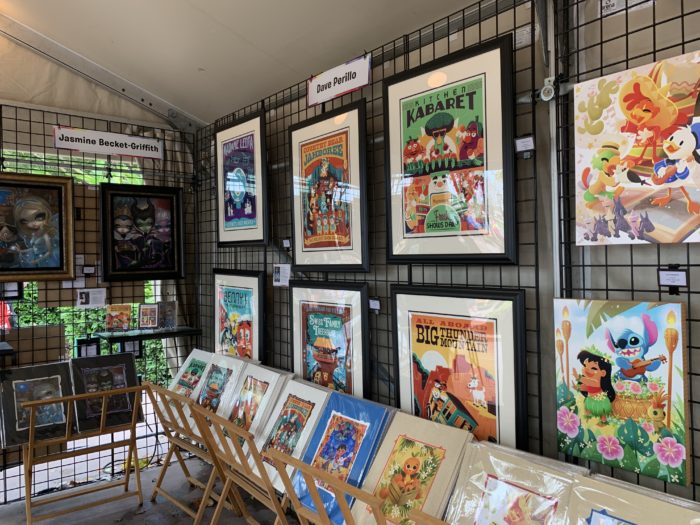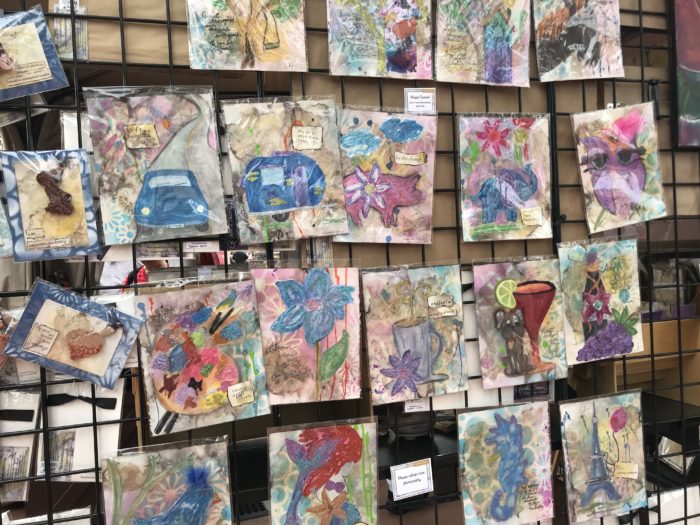 Keep a special eye out for stations where you can make art pieces yourself!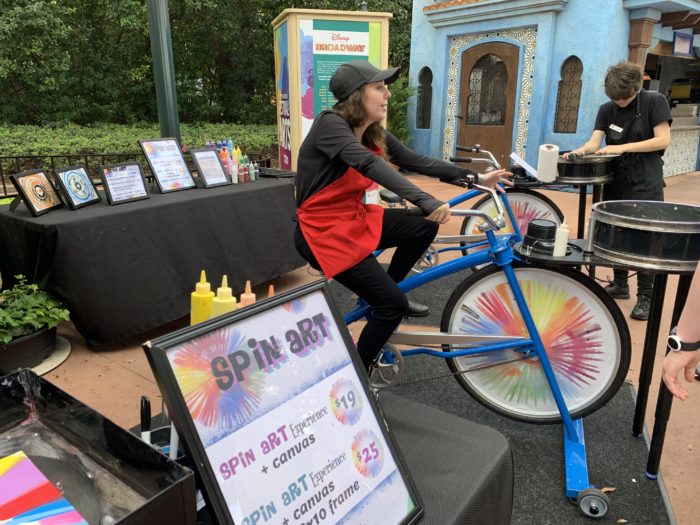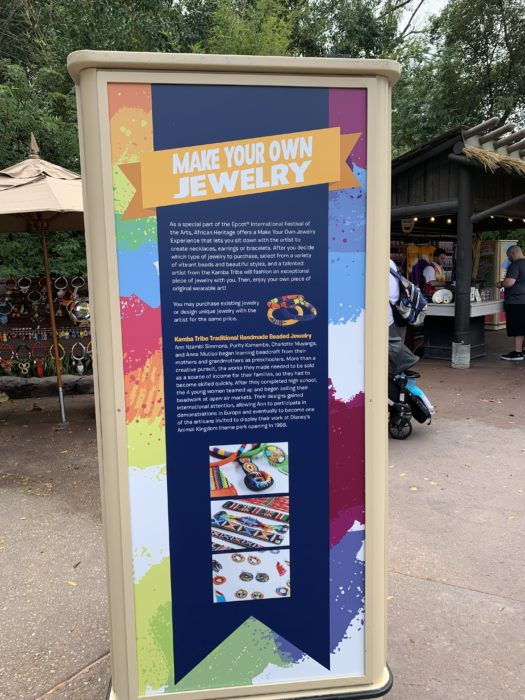 Let us know what you're most looking forward to this year!