5 Fantastic Vintage Disney Ads From Spring 1996 Disney Magazine
I love vintage Disney Magazine ads! If you're unfamiliar, the magazine ran from from 1965 all the way to 2005. It was THE only way to get breaking Disney theme park news and behind-the-scenes info in the pre-internet era. One of the best things about these magazine are the ads, and what's great is they were light on any non-Disney ads. That means there were Disney ads that are absolute gems. Today we'll take a look at 5 of them, all from the Spring 1996 issue.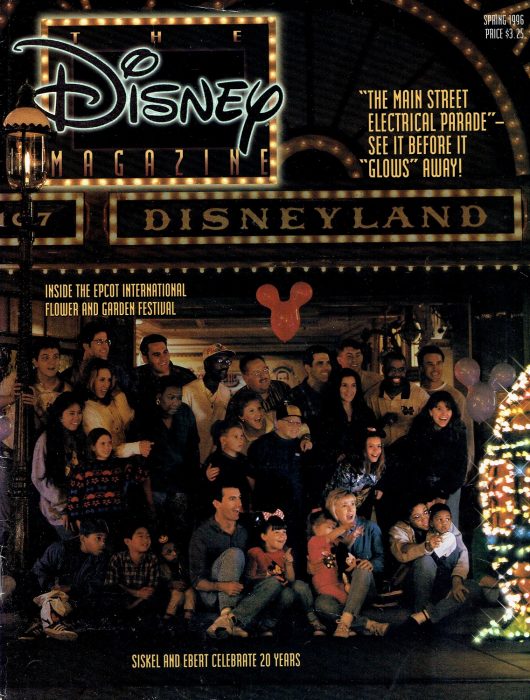 The featured story in this issue was The Main Street Electrical Parade's retirement. If you didn't experience it at the time it's hard to convey how much of a big deal this was. Every TV newscast and newspaper in the LA and OC area had multiple stories about it, a special party was held at Disneyland to see the final performance, and Disneyland was packed every night with tens of thousands of people trying to see the show for one last time. As you now know, The Main Street Electrical Parade has returned and retired multiple times from Disneyland. But at the time we all had no idea that would happen. Disney made it clear the parade would never return. Anyway, that's not what this post is about. Let's get to the ads!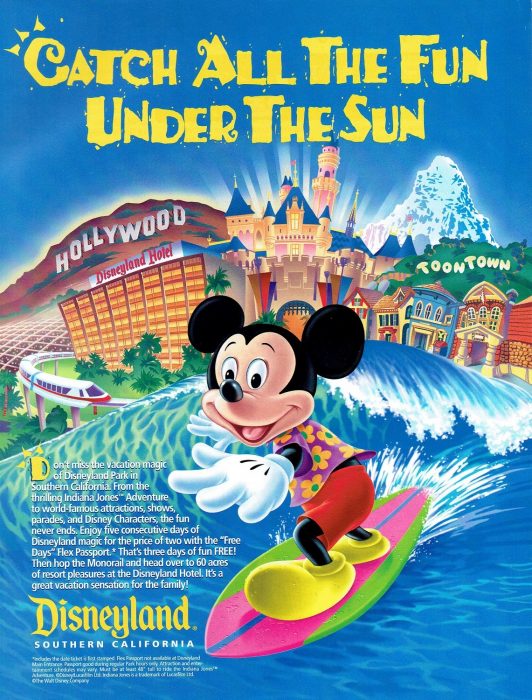 This colorful Disneyland ad not only shows off a lot of what the resort has to offer, but it also serves a heaping helping of 90s RADitude. We'll just ignore that fact that Mickey's head looks like it's turned in the most unnatural and uncomfortable position ever. Also I wanted to point out that there's no mention of "Disneyland Resort." That's because Disneyland didn't receive that moniker until Disney California Adventure opened in 2001.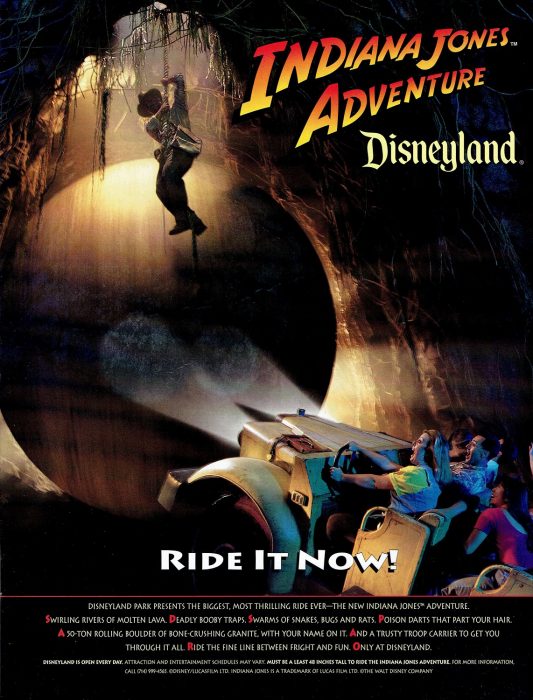 Indiana Jones Adventure may have been a year old by the time this issue released, but make no mistake at that point it was still the hottest theme park ride in the world. The marketing blitz for Indy was still going well in to 1996 and the ride was still the most popular ride in the park.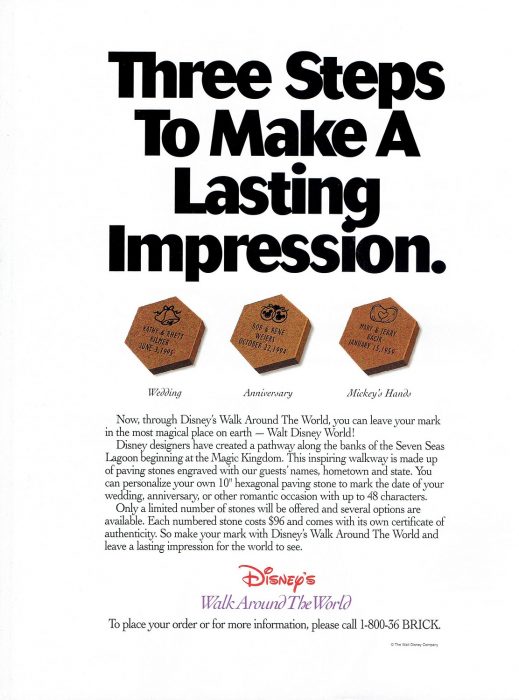 I've had friends who worked at Magic Kingdom who have told me EVERY DAY they would get asked about how to buy one of the bricks in front of the park (and around Seven Seas Lagoon). The bricks haven't been for sale in almost 20 years now, but back in 1996 you could purchase a brick for the low price of $96. That's $160.96 when adjusted for inflation.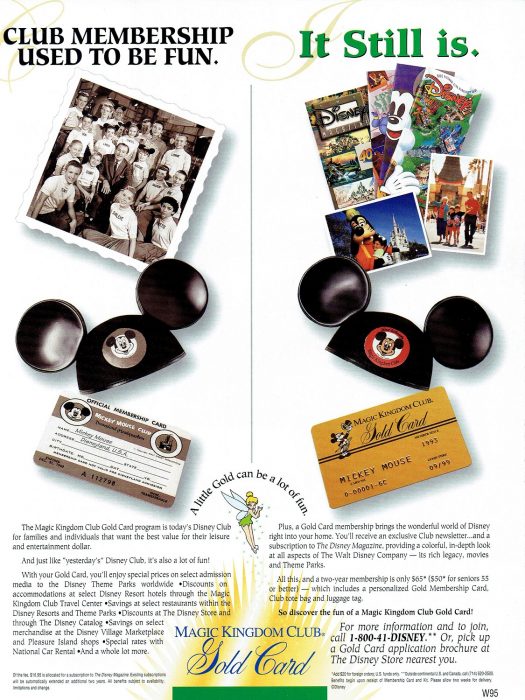 Several of my previous vintage magazine ad posts have featured Magic Kingdom Club ads so I'll shamelessly take on of my previous descriptions:
The Magic Kingdom Club was a big deal–at least to me as a kid growing up in Southern California in the 80s and 90s. It gave my family discounts at the Disney Store and on tickets and annual passes to Disneyland. More importantly we got a free subscription to Disney News Magazine! I read every issue cover to cover multiple times. It was the only way to get news on international Disney parks and obscure Disney facts before the internet came around. As far as I was concerned, Magic Kingdom Club was a necessity along with toys, video games, and oxygen.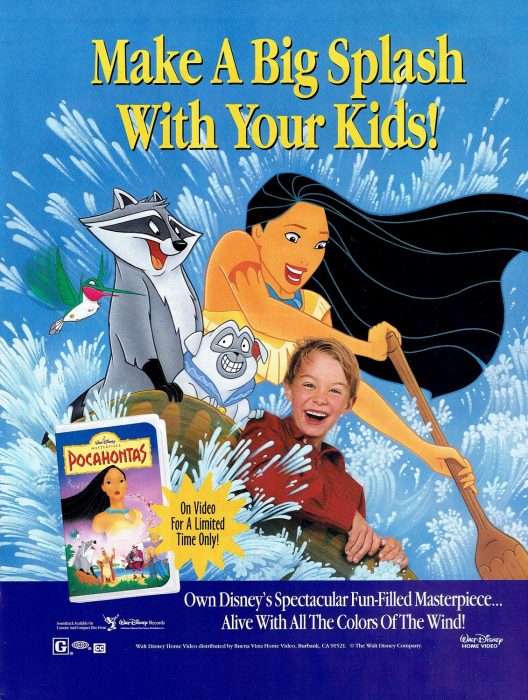 For some reason the human non-animated child stands out to me like a sore thumb in this ad for Pocahontas' VHS release. Also unsettling is the look on Percy's (that's the dog) face. He looks like he is in the middle of having a nervous laugh and would rather be anywhere in the world besides in that raft.
What's your favorite ad featured in this post? Let me know in the comments below. 
Check out my other posts with even more vintage Disney News Magazine content:
7 Vintage Disney Ads From Spring 1997 Disney Magazine
6 More Vintage 90s Disney News Magazine Ads
Five 80s and 90s Disney Theme Park Recipes from Old Disney News Magazines
5 Gloriously 90s Ads from the Fall 1990 Disney News Magazine
Even More Vintage 90s Disney Magazine Ads!
9 Must Have Items from the 1988 Disney Spring/Summer Catalog
Top 7 Vintage Disney Ads of Ancient Rental Cars Sitting In Disneyland and WDW