7 Vintage Disney Ads From Spring 1997 Disney Magazine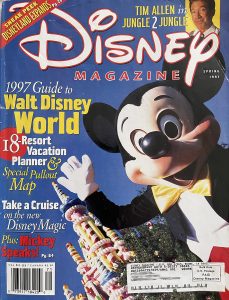 I'm back with another selection of vintage Disney ads from the beloved Disney News Magazine. If you're unfamiliar, the magazine ran from from 1965 all the way to 2005. It was THE only way to get breaking Disney theme park news and behind-the-scenes info in the pre-internet era. One of the best things about these magazine are the ads, and what's great is they were light on any non-Disney ads. That means there were Disney ads that are absolute gems. Today we'll take a look at 7 of them, all from the Spring 1997 issue.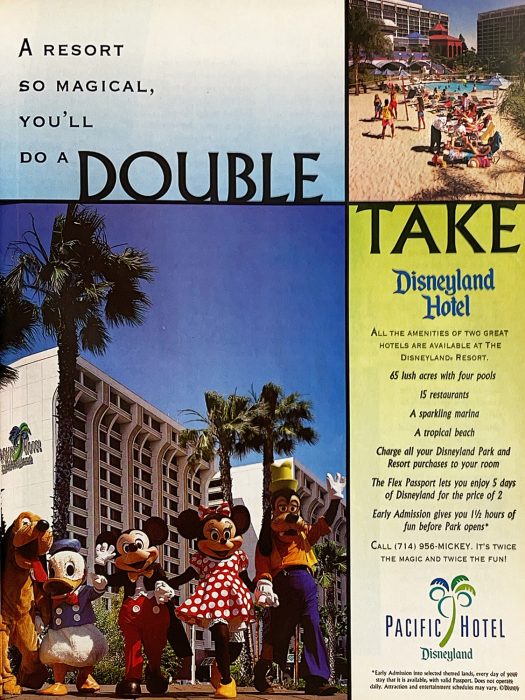 This VERY 90s looking ad shows off Disney's two hotels at Disneyland Resort in California. One of the hotels is the Pacific Hotel, which I wrote about in a recent post showing off vintage Disney post cards:
[Pacific Hotel] would be renamed to Paradise Pier Hotel after Disney's California Adventure opened in 2001. This hotel was built in 1984 as the Emerald Hotel of Anaheim, and then later renamed to Pan Pacific Hotel. Fun fact: The hotel was originally owned by a Japanese company, which is why it still to this day has a 13th floor. The reason is Japan does not have the same superstition as America when it comes to the number 13.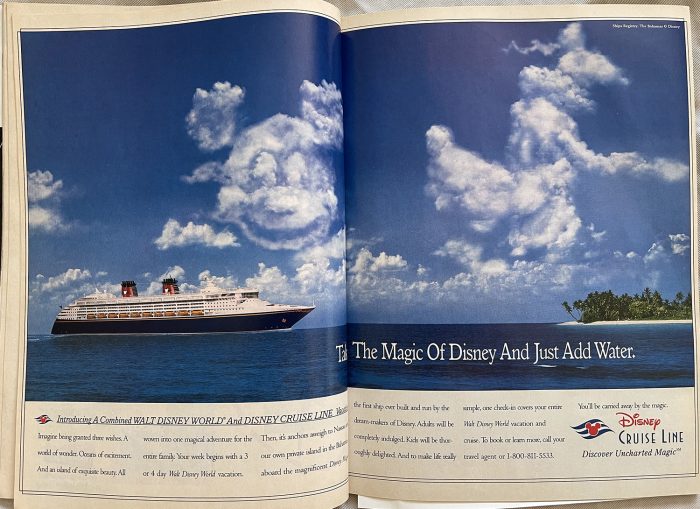 This Disney Cruise Line ad has to be one of, if not the first, ads for Disney's new-at-the-time cruise company. While DCL was founded in 1995, the first Disney ship didn't set sail until 1998. That means this ad is from 1 year before the Disney Magic made its debut.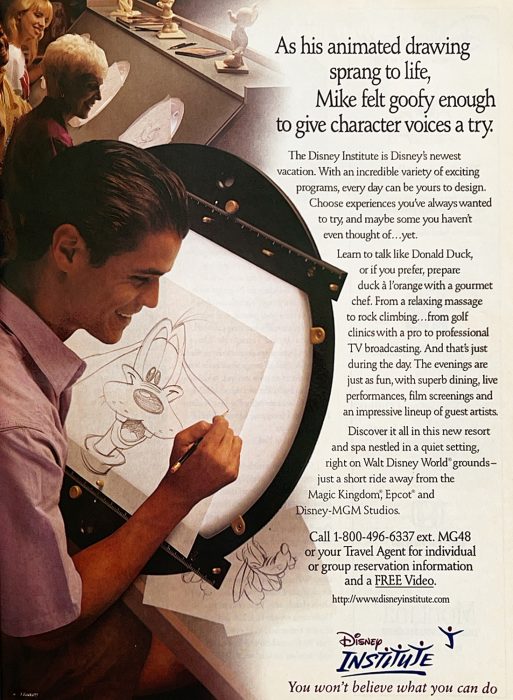 The Disney Institute is still around today as a series of seminars for business professionals, but it started out much different. The original idea was to have multi-day programs where families could learn about the following categories: Animation, Culinary, Gardening, The Great Outdoors, Photography, Television and Youth. A very interesting and unique idea that unfortunately didn't catch on. The Disney Institute complex is now the Disney's Saratoga Springs Resort.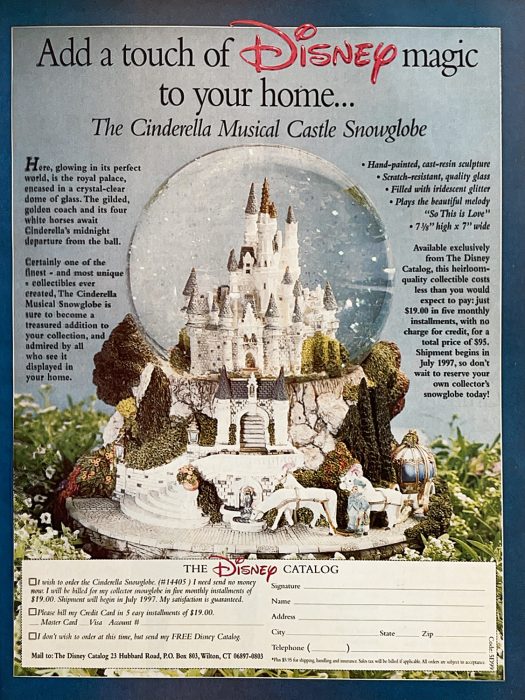 I had to include this Cinderella Castle snow globe in this post only because of the price. FIVE payments of $19.00. Adjusted for inflation that's FIVE payments of $30.97, for a grand total of $154.85!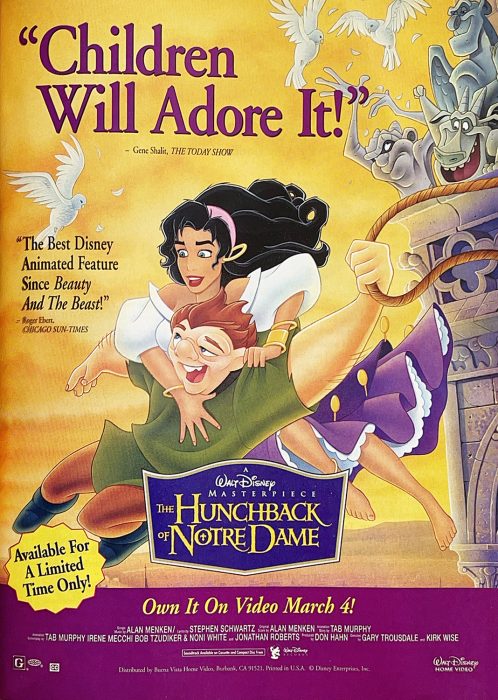 Disney's Hunchback of Notre Dame is a good movie in my opinion. But the film did not have the box office success or critical acclaim Disney was hoping for. That's why I think it's pretty funny this ad features a huge quote "CHILDREN WILL ADORE IT!" more prominent than anything else on the page.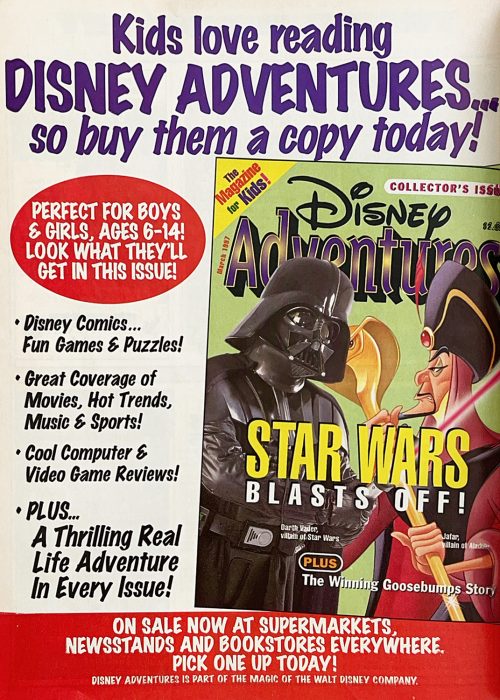 What is there even to say about Disney Adventures magazine. It was without a doubt required reading for any Disney-loving kid who grew up in the 90s. Each issue featured comics, celebrity interviews, entertainment news, and movie and game reviews. Disney Adventures is still well remembered by fans and I see it constantly brought up on social media sites.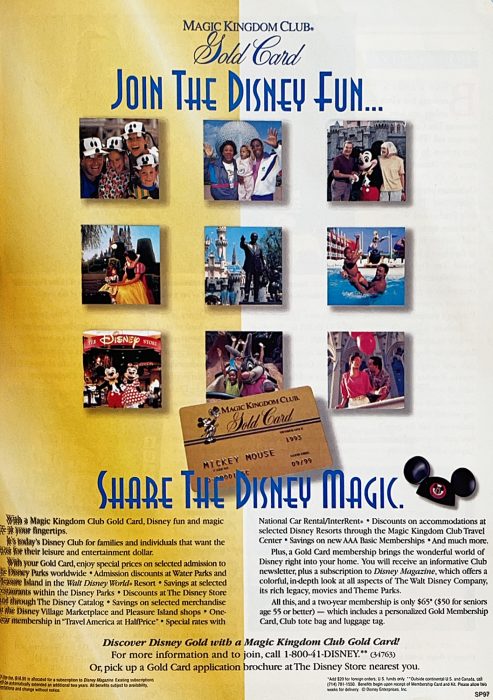 If you were a Disney fan in the 80s and 90s and didn't have a Magic Kingdom Club membership, what were you even doing? With it you got discounts at the Disney Store, as well as tickets and annual passes to Disneyland. You also got a free subscription to Disney News Magazine, which alone made it worth it in my eyes.
What's your favorite ad featured in this post? Let me know in the comments below. 
Check out my other posts with even more vintage Disney News Magazine content:
6 More Vintage 90s Disney News Magazine Ads
Five 80s and 90s Disney Theme Park Recipes from Old Disney News Magazines
5 Gloriously 90s Ads from the Fall 1990 Disney News Magazine
Even More Vintage 90s Disney Magazine Ads!
9 Must Have Items from the 1988 Disney Spring/Summer Catalog
Top 7 Vintage Disney Ads of Ancient Rental Cars Sitting In Disneyland and WDW