5 Gloriously 90s Ads from the Fall 1990 Disney News Magazine
The 90s issues of Disney News Magazine are a treasure troves of Disney oddities and obscure Disneyland and Walt Disney World tidbits. One of the best things about these magazines are the gloriously 90s ads. In this post we'll go through some of the best ads from the Fall 1990 issue, which feature Disney Dollars, an exploding mailbox, and more.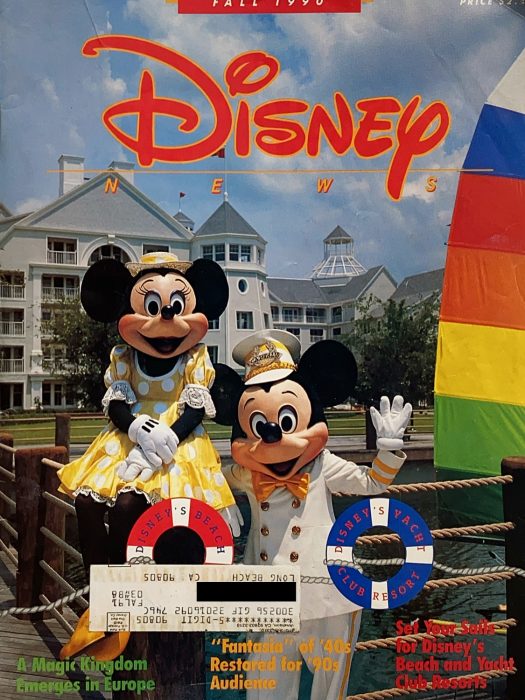 The cover of this issue features the newly opened Yacht & Beach Club Resorts in Walt Disney World. Mickey is looking great in his captain's outfit. They must have taken this picture while there were no cast members around because Minnie would have surely been told not to sit on the fence. Also in this issue is information about the recently announced Euro Disneyland project, and information on a re-release of Fantasia.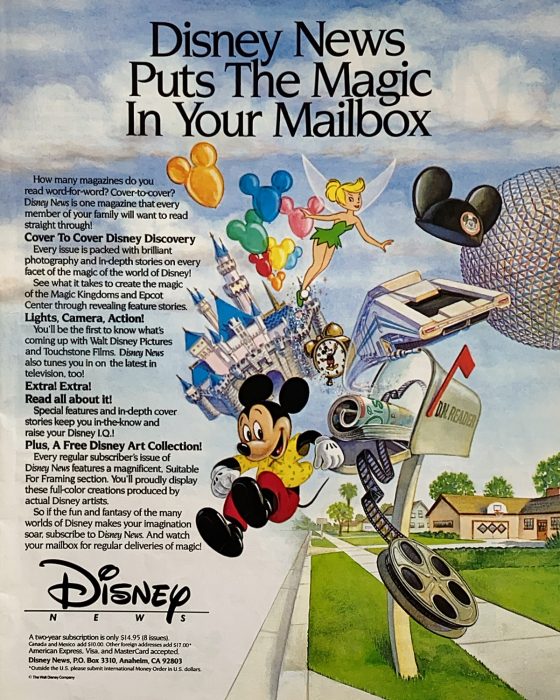 This is the mailbox we wish we all had. Imagine opening your mailbox only to find that Mickey Mouse, an alarm clock, several balloons, and an ear hat has exploded in to your face. You then cling to life after being bulldozed by these items, and you think the worst is over. But no there's more. Sleeping Beauty Castle, a Star Speeder 3000, and Spaceship Earth fly at your with the force of an atom bomb. As the last seconds of your life count down you see the new issue of Disney News Magazine sitting in your mailbox. It was worth it.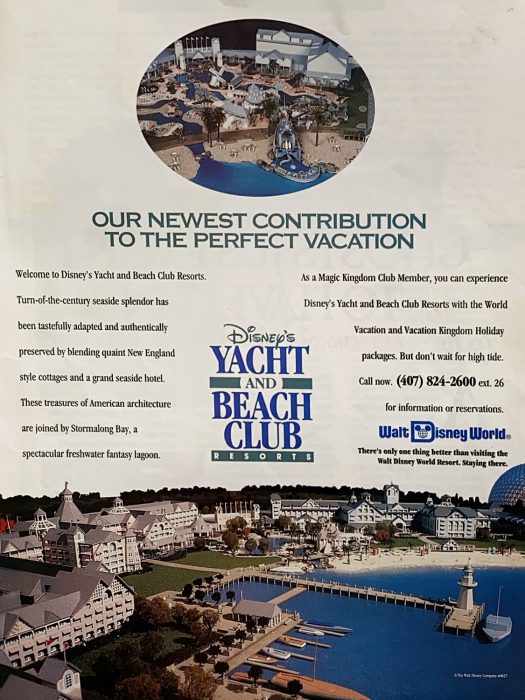 It's hard to believe the Yacht and Beach Club opened 30 years ago. Some other notable events in 1990: the Exxon Valdez oil spill occurs in Alaska, Driving Miss Daisy wins the Academy Award for best picture (the live action Teenage Mutant Ninja Turtles movie was robbed!), and Super Mario Bros. 3 is released in North America. Elsewhere in Orlando, Universal Studios Florida opens its doors. Also, this ad is cool because there's some great shots of that nice scale model.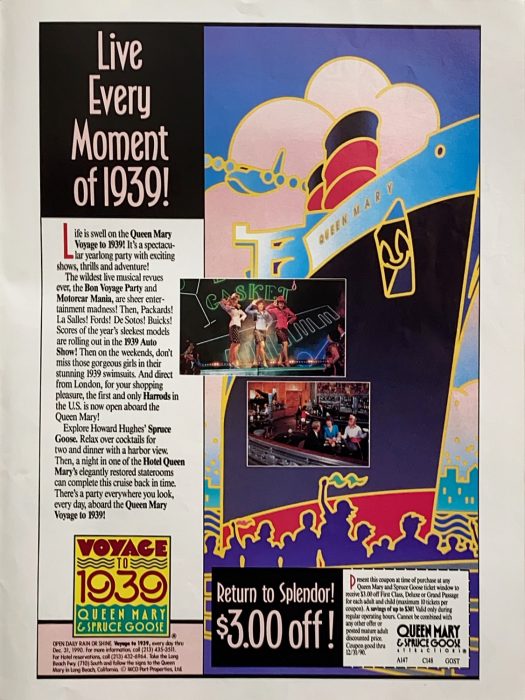 Did you know at one point Disney owned the Queen Mary? The company obtained it when they bought the Wrather Corporation in 1988. Until then the Disney company did not own the Disneyland Hotel. Walt was short on cash in 1955, so he licensed the Disney name to Jack Wrather, who built, owned, and operated the hotel. After Jack died his widow sold the entire company to Disney, and in the deal they obtained the Queen Mary, Spruce Goose, the Lone Ranger IP, and the Disneyland Hotel itself. Disney gave up on the Queen Mary and sold it in 1992 after it was clear they would not be building DisneySea in Long Beach as they originally intended. But at first they did put some effort in to reviving the ship. A massive renovation was done that restored much of the ship's original 30s and 40s decor. The Queen Mary even had period appropriate actors walking around who interacted with guests, just like the streetmosphere characters in Disney's Hollywood Studios. This ad even has a $3 off coupon, but unfortunately it expired on 12/31/90.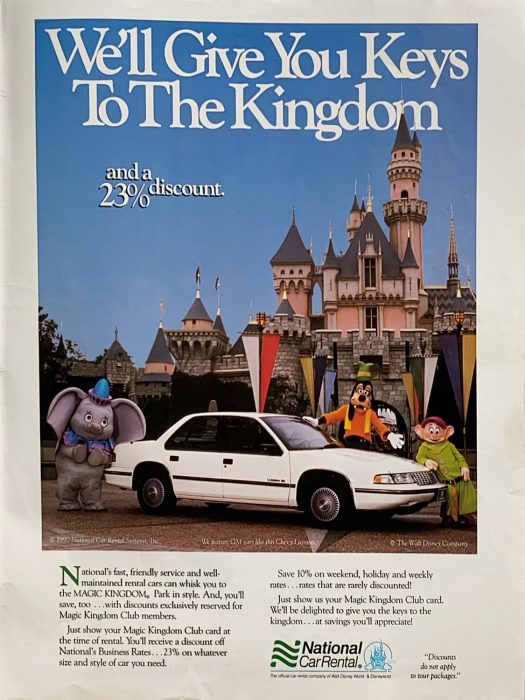 It doesn't get much better than this. Bulky, early 90s, mid-sized sedans parked in front of Sleeping Beauty Castle is the gold standard of 90s Disney ads.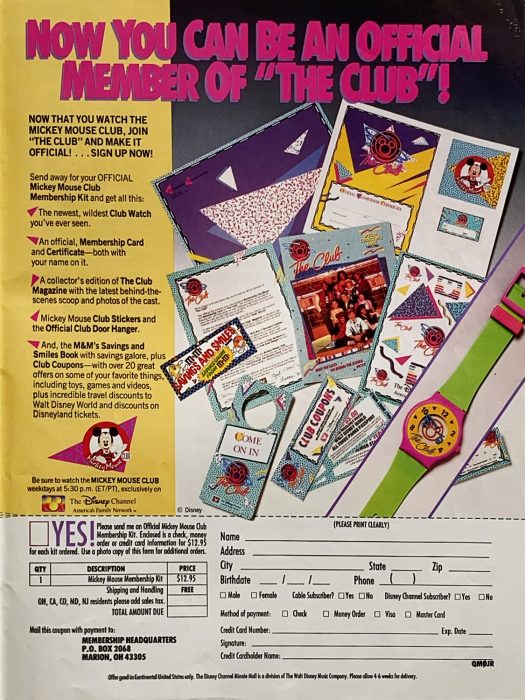 This ad features a cacophony of bright colors, bold fonts, and totally radical merchandise and ephemera. For just $12.95 ($25.67 adjusted for inflation) this could have all been yours. Couldn't you see D23 replicating this as a members' gift and it being a huge hit?
That's it for now, stay tuned for 5 MORE Gloriously 90s Ads From The Fall 1990 Disney News Magazine. For now let me know what you think in the comments below.