A Meal at 50s Prime Time Cafe Is a Step Back in Time
The 50's Prime Time Café is located in the Echo Lake area of Hollywood Studios, adjacent to Hollywood & Vine. Appetizers range from $9-12, entrees from $17-28, and desserts from $7.50-10. A full three-course meal will run you about $40-50, not including drinks and gratuities. The same menu is served at lunch and dinner.
The restaurant strives to live up to its name, tapping all the nostalgia of the 50's that we saw on prime-time TV shows like Leave it to Beaver, The Donna Reed Show, and Father Knows Best. If you weren't around in the 50's, think Brady Bunch or Full House. We all know that life was never that simple and real people had problems that couldn't be smoothed over in half an hour, but Disney is all about make-believe and when you step through the doors of the Prime Time Cafe you'll be invited along for the show.
50's Prime Time Cafe is one of a few Disney restaurants where the theming extends off the walls and into the experience. Servers will refer to you as 'cousin', your kids will be invited to set the table from a tray of silverware, and if someone in your party has their elbows on the table they may hear about their lack of manners. (Pro tip: Mom rarely gets a rebuke unless the transgression is egregious.) We've dined here many times over the years and every server does it a little differently (we once had one who asked our kids what color the soap was on their return from the bathroom), but it's always in good fun and not in a mean way.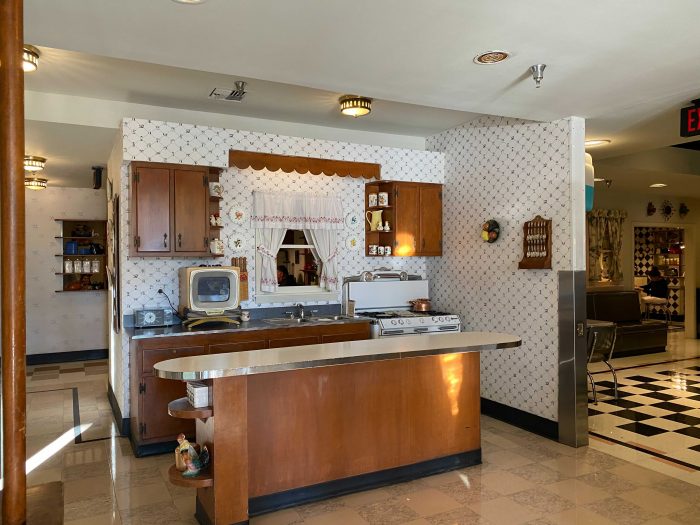 The retro decor is on point, with boomerang formica (google it), metal-leg chairs, and other staples of mid-century interior design. But the food is perhaps the best theming of all. There are a million and one pot roast recipes, but if you close your eyes and try to picture "Midwest pot-luck church supper pot roast", that's what you'll find on your plate. Even the intentionally haphazard plating calls back to the idea that you're sitting at June Cleaver's dinner table.
Reservations are accepted; while you don't need to book right at the start of your 60-day reservation window they'll often be slim pickings as you get closer to your dining date. As you might expect, the dress is casual – although your server will not hesitate to point it out if you show up with your shoes untied.
Some pictures and descriptions below were contributed by Becky Gandillon, who ate at 50's Prime Time Cafe on a different date shortly after our visit.
Beverages
Although we don't have any pictures (I'm not great at pictures of drinks, sorry), it's worth taking a minute to talk about your drink options. The Tune-In Lounge adjoins the restaurant, with a full bar and all that jazz. We hear it's lovely, but we're too busy ordering shakes – definitely large enough to share if you want to leave room for dinner – floats, or my favorite, the flavored sodas.
Perhaps this is TMI, but I cannot stand cherry coke in a can, nor vanilla or any of the other pre-mixed flavors. That's not what's on the menu here, instead it's the fountain drink with a dash of cherry or vanilla syrup, and since it's not pre-mixed you can get the syrup in Sprite or other soda of your choice. If cherry-lime is your thing, I've always had success asking for a couple of lime wedges with my cherry Sprite.
Appetizers
Fried Herb and Garlic Cheese – $10.00
Served with Raspberry Sauce, Grapes, Apples
A lovely tangy bite of cheese with just a bit of crisp breadcrumb coating that spread easily onto the provided slice of toast-crouton. The grapes were grapes, the apples apples, and the raspberry sauce an unfussy puree. That might sound like a knock, but the straightforward flavors of the fruit accompaniments meant that they all complemented the cheese and none of them fought with it. This is a Tupperware Party hors d'oeuvre at its finest. Becky's group had strawberries instead of grapes, so you may find that your fruit selection varies with whatever Mom found at the market that day.
Beer-battered Onion Rings – $12.00
with Horseradish Sauce
A golden crunchy ring; the onion had just enough firmness left to ensure that you could bite through it without pulling the rest of the ring out of the coating.
Deviled Eggs – $11.00
Ask your Server about today's selection
Ours were jalapeño, but that appeared to mean just the addition of a ring of the cut pepper on top. The filling was creamy, tangy, and not particularly spicy. The eggs had been lightly pickled with turmeric after boiling, giving them a bit of a yellowish tint, a hint of acid, and a firmer texture than you would usually expect.
Entrees
Aunt Liz's Golden Fried Chicken – $26.00
Served with Roasted Garlic Mashed Potatoes, Chicken Gravy, Seasonal Vegetables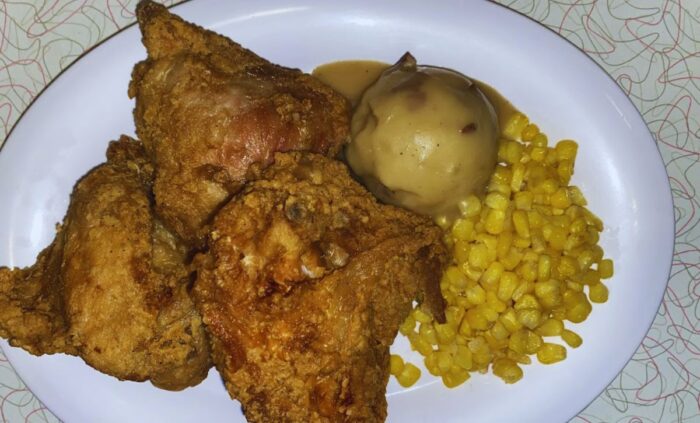 The thing that really doesn't come through in that picture is the *crunch*. You look at that chicken when it's in front of you, and you can just see the crunch. If you are one of those people who thinks cold picnic fried chicken that has lost its crunch is just as good as the hot, CRUNCHY kind, this might not matter so much to you. But if you are one of those people who lives for the ethereal crunch of chicken skin that has been coated in batter and deep fried until all the fat on the skin itself has melted away, you'll be in heaven. I can't swear that Prime Time has a pressure fryer in their kitchen, but if they don't they're doing a darned good imitation somehow. The corn and mashed potatoes have the yummy iconic flavors you'd expect, but they're still gonna play second fiddle to that chicken.
A Sampling of Mom's Favorite Recipes – $28.00
Golden-fried Chicken, Fork Tender Pot Roast, and Traditional Meatloaf with all the fixin's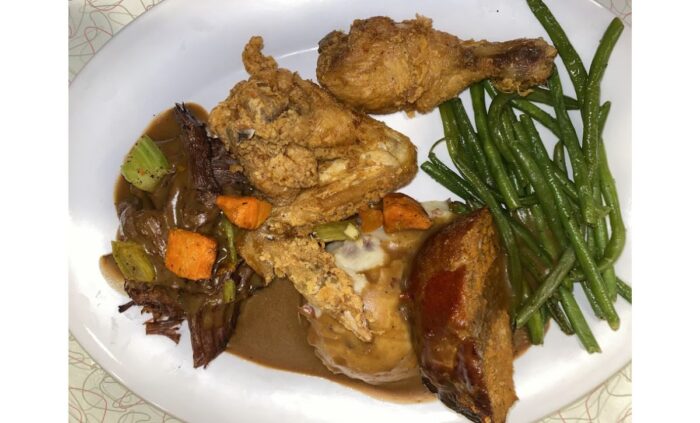 If indecision strikes you when reading the menu, with all those calls back to your childhood kitchen (imaginary or otherwise), Mom's Sampler is a good compromise. You'll get a little bit of everything most likely to cause people to be changing their minds every two seconds about what they're going to order. On the flip side, our experience over many visits is that there's always something you wish you'd had more of on that plate. Is it the same thing for every person? No. It's not even the same thing for the same person every time. Still, if you really can't make up your mind, or you don't have enough people in your group to sneak bites off of other people's meals, the sampler is a strong dish with no losers on the plate.
The individual dishes are covered elsewhere in this review, except for the pot roast which we didn't have separately on this visit. It was – like everything else on this plate – very classic; a braised brisket (could have been chuck) that was fall-apart tender with a savory brown gravy and veg.
Caesar Salad with Chicken – $17.00
Romaine tossed with Caesar Dressing, Grated Parmesan, and Garlic Croutons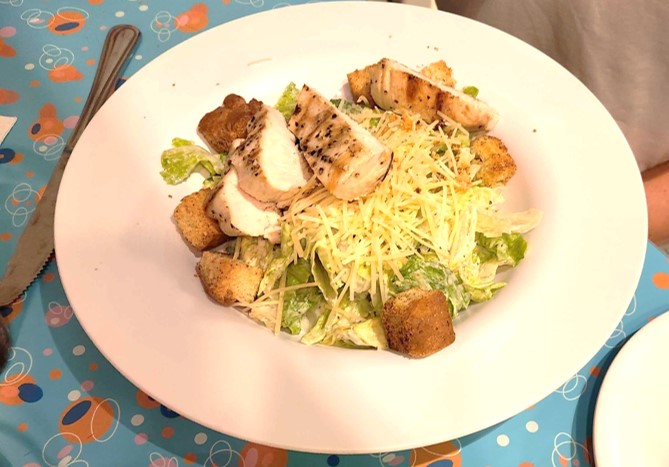 This was … a Caesar salad with chicken. But honestly, if you want a healthy-feeling option at Prime Time, this is a solid choice. The chicken to cheese to lettuce ratio was really good. The protein will certainly fill you up and keep you fueled for your park day, without weighing you down too much.
Cousin Harold's Vegetable Garden – Market Price
A Seasonal Alternative with all the Fixings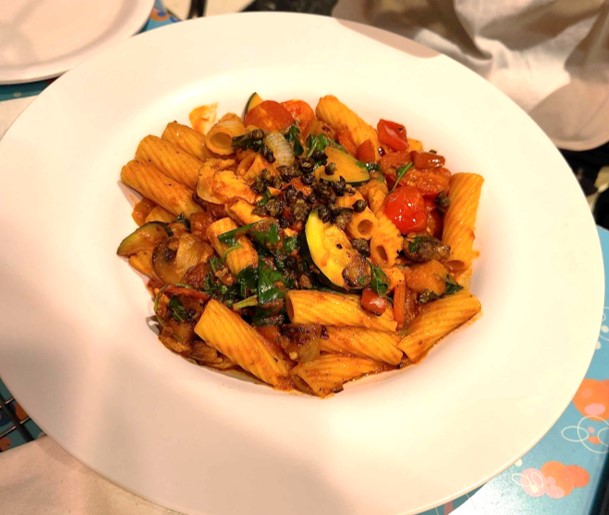 If you're looking for lighter food, and don't just want a salad, you may be tempted to order the "vegetable garden". Which is exactly what one member of our dining party did. She was warned that it might be spicy, and she said that was fine. And then she was delivered this very not-light pasta dish that also had a healthy portion of chicken in it. Thankfully she isn't a vegetarian, so she took it all in stride. But learn from our mistakes and ask lots of questions before ordering!
Sustainable Verlasso Salmon – $27.00
Seared Fresh Salmon with Grain Mustard-Beurre Blanc, Fingerling Potatoes with Olive Oil, and Green Beans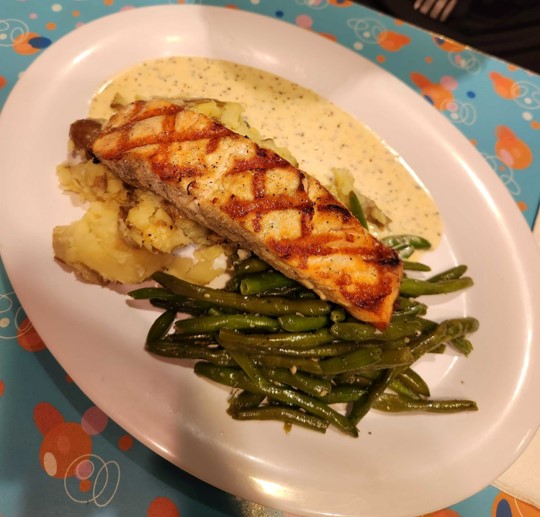 This is not the most visually pleasing salmon that I've seen at Disney. Like most plating at Prime Time Cafe, it's a little heavy-handed with the sauce slopped on. But don't let the look fool you, this was a very well-executed dish and the flavors all worked together well when you got bites with an appropriate mix of sauce. This plate was totally clean by the end of the meal, even without the poking and prodding of our "Mom".
Cousin Megan's Traditional Meatloaf – $23.00
A blend of Beef and Pork topped with Tomato Glaze served with Roasted Garlic-Mashed Potatoes and Green Beans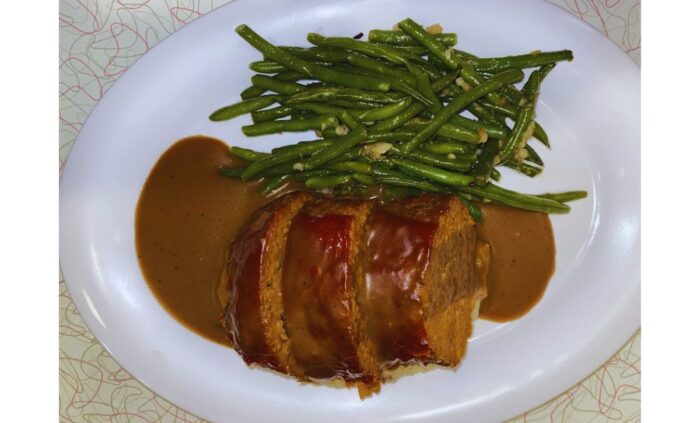 Can't get enough of mom's meatballs? Well, roll it in a loaf, add some gravy on the bottom, put a sauce on top that clearly speaks to its ketchup-based ancestry and you've got a winner. This meatloaf is not going to fall apart on your fork, but it's quite a ways from the other end of that meatloaf-tenderness scale where "leaden" sits, and the flavor is excellent. It's worth mentioning that although the beans might look like they're over-cooked, in fact they're just short of it. No crunch to be found, but with all the flavor intact and definitely not mushy.
50's Prime Time Café Blue Plate Special – Market Price
A Seasonal Alternative with all the Fixings (Market Price)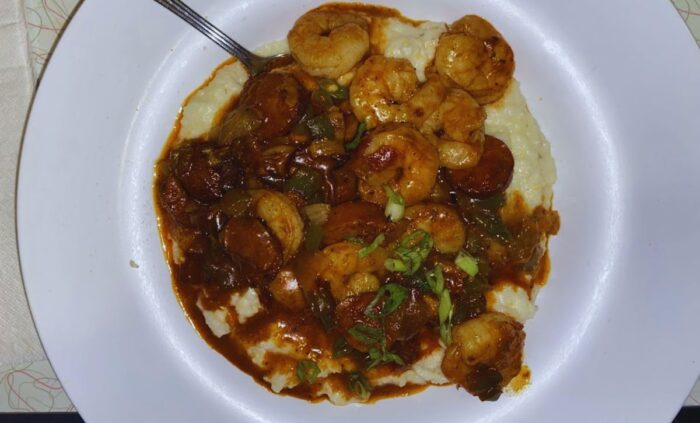 Shrimp & Grits was the special on the day of our visit, and like the rest of the dishes it was a super-traditional preparation with a lot of flavor. The grits and the shrimp were both perfectly cooked. If we had a complaint about this dish, it would be that the sausage was clearly visible in the bowl but didn't come through in the sauce quite the way it should have and although the sauce was flavorful it was tomato-heavy. I've had shrimp & grits with a lot less sausage in it that somehow managed to have more salty-spicy-umami punch than this one. Maybe they should have stuck to bacon instead of andouille (was it even andouille? we couldn't tell), but overall the dish was still very tasty.
Dessert
Dad's Favorite Chocolate-Peanut Butter Layered Cake À la Mode – $10.00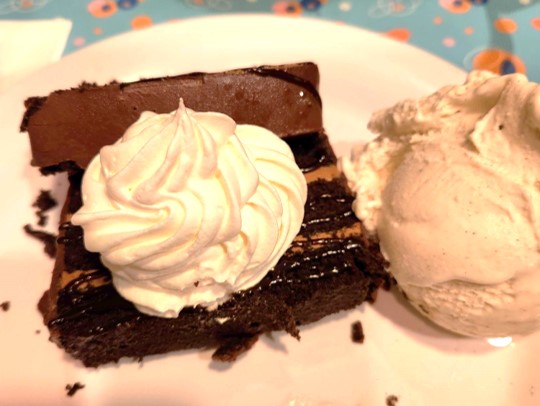 This was the perfect end to a classic meal for the chocolate-lovers in our party. It wasn't a giant-sized portion that overwhelmed us, and the sweetness of the chocolate and whipped cream was balanced well by the savory peanut butter. Reese's fans will enjoy this one.
Bonus Round: Kids' Meals
All kids meals come with one entree and two "selections", which include sides and desserts.
Goofy's Salmon with Mac and Seasonal Cupcake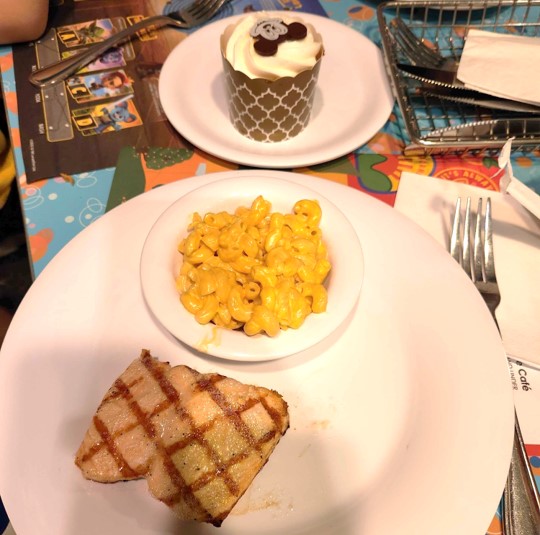 Like the adult portion, the kids salmon was flavorful and the full fillet disappeared from the plate. It was a little drier (more well-done) than the adult version, but wasn't terribly over-cooked. The mac and cheese was declared to be "very cheesy!", and the cupcake was apparently the highlight of the meal. It was just a simple vanilla cake with vanilla buttercream and chocolate Mickey. A fun and safe treat for kids.
Aunt Betty's Chicken Strips with Mac and Stained Glass Dessert
The fried chicken was a great no-bones version of the adult portion, and was served with its very own chicken. When we asked what the stained glass dessert was, we were told that it was a bowl full of different flavors of Jello. Instead, we got about 4 or 5 cubes of Jello and a bowl of a lot of whipped cream cheese dessert with whipped cream on top. Our kids ended up disappointed and wanting more Jello!
Wrapping Up
One more thing we need to mention … should you happen to finish everything on your plate, you just may be the next member of the Clean Plate Club.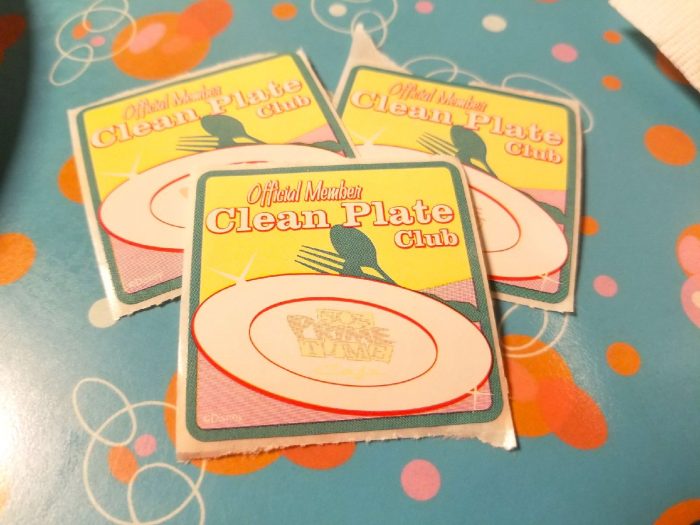 We've never had a bad time at the 50's Prime Time Cafe, and this one was no exception. If you're looking for a restaurant that offers more than just a meal, but less overhead than, say, a character dining experience, Prime Time Cafe might be just your ticket. You're unlikely to go wrong with any of the famous pot roast / meatloaf / fried chicken trio, but other dishes are solid and tasty. It's not fine dining that you'll find at Signature restaurants, but it's every bit as satisfying and it's a fun time to boot.
Have you dined at the 50's Prime Time Cafe? What did you think? Let us know in the comments!